Support TFG by using the links in our articles to shop. We receive a small commission (at no extra cost to you) so we can continue to create helpful free content. We earn from qualifying purchases made to the featured retailers. Thank you, we appreciate your support!
Unlike a regular vacationer, digital nomads are often on the road for weeks, months, or years at a time, so they have to make the most of their outfits. Check out the ultimate digital nomad packing list we created for you and find out how to create a digital nomad capsule wardrobe.
---
Digital Nomad Packing List
Written By: Maggie Fogg
---
Table Of Contents
"Digital nomad" is a term that has been popping up increasingly, particularly among our community of travel lovers. But what the heck is a digital nomad?
Essentially, a digital nomad is a location-independent professional. A digital nomad can be someone who owns her own business, works remotely for an employer, or works as a freelancer.
The concept of a digital nomad has been getting a lot of hype because it sounds like the ultimate dream – being able to work from anywhere in the world, due to the 'digital nature' of how business is conducted, and enjoying all the perks of travel and adventure along the way!
The desire to enjoy life as a digital nomad is particularly popular among older millennial professionals, who prioritize experiences like travel and adventure over material goods like owning a home or car.
This lifestyle works particularly well for this group because they're generally tech-savvy and can better manage their schedules for working remotely. Plus, they tend to be established enough in their careers and incomes to afford global travel while working, but not yet in a phase of life where they're ready to settle down.
To get started, read these helpful packing articles on traveling long-term: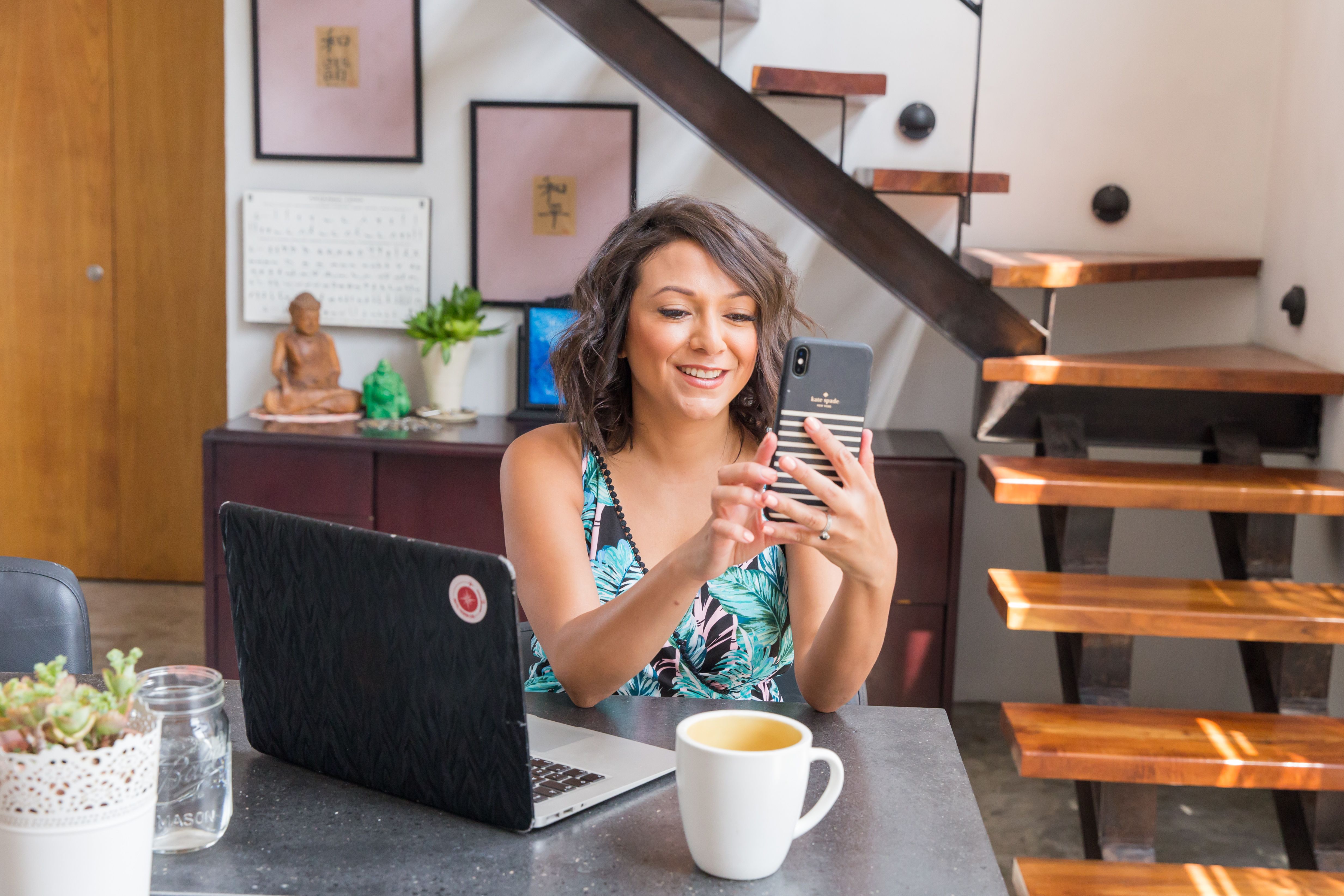 TFG editor-in-chief Alex being a digital nomad in Playa del Carmen
Life as a Digital Nomad
Over the past year, I explored the life of a digital nomad, while participating in the Remote Year program. The model was one where our cohort of 65 professionals lived in a different city across four continents each month over the course of a year.
During the experience, my fellow travelers and I spent our days working out of a local co-working space in each of the 12 cities in which we lived.
While I did plenty of research about the digital nomad lifestyle before setting off on my first flight, there were many practical digital nomad packing list tips that I didn't learn until I was on the road.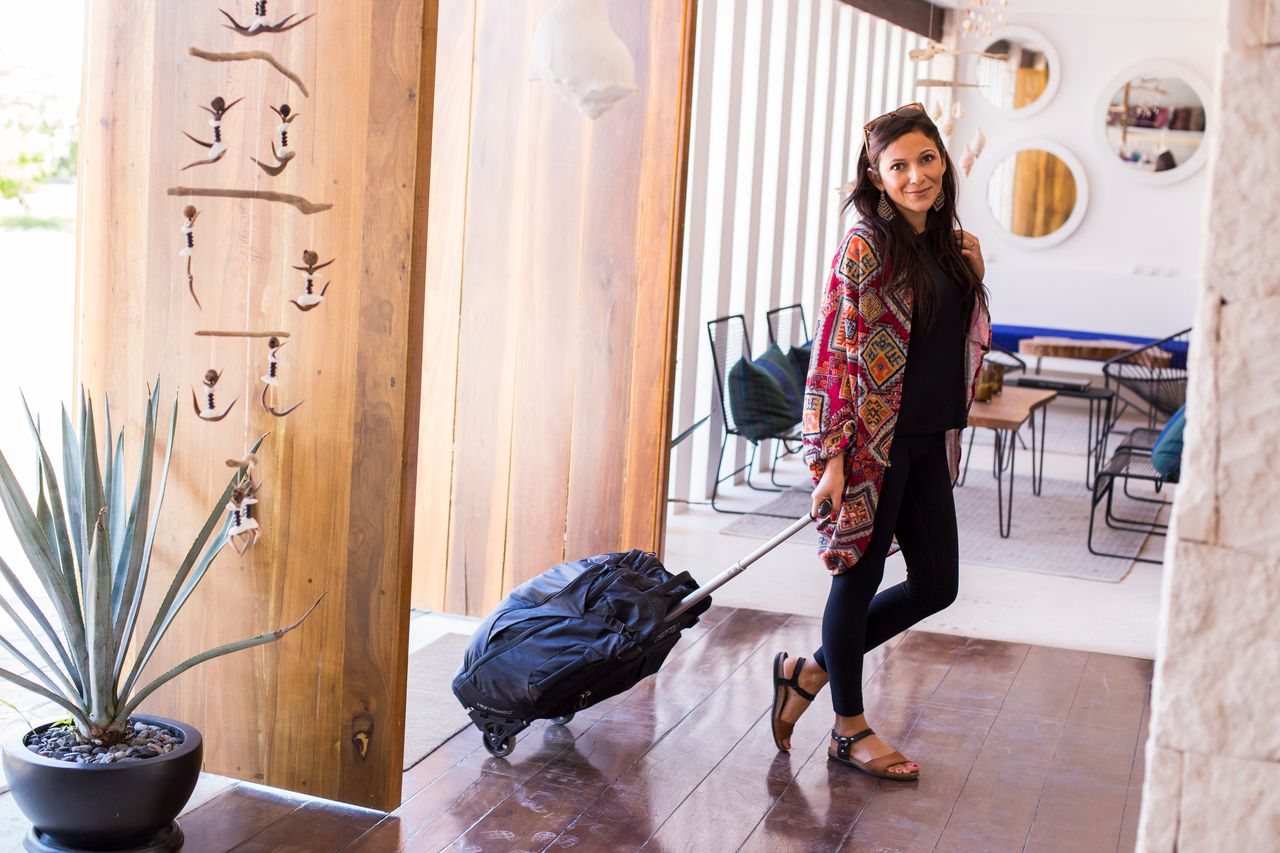 TFG editor-in-chief Alex with her Osprey Ozone 19.5" – always packing light!
The Digital Nomad Packing Challenge
One of the biggest challenges was what to pack. Being a self-proclaimed fashion babe, my concern was whether I'd have enough.
However, I quickly learned that I not only had enough – I had way too much. Even when I purged items while leaving a city, I always seemed to have too much, and the reality was that it made each of my flights, bus or train rides cumbersome and frankly – frustrating!
It took me far too long to understand the true magic of being a digital nomad – it's a lifestyle all about freedom and flexibility! Being bogged down with too much stuff will quickly leave you feeling trapped by limitations.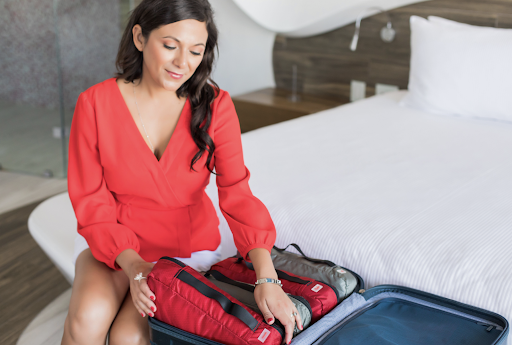 Packing smartly with Compass Rose Packing Cubes
Packing Minimally as a Digital Nomad
Still, how do you pack minimally with such a variety of occasions in mind? One week you might be more in an active traveler mode, hiking and camping, or taking long walking tours around a new city. The next week, you might have a series of meetings with local or prospective clients, or even attend an industry-related conference.
The challenges of dressing under such varied circumstances are made even more complex by the fact that you're likely traveling out a small suitcase with minimal options for each occasion.
Yet, it's undeniable that dressing from a minimalist, digital nomad capsule wardrobe makes choosing outfits easier and less stressful.
Dressing well entirely comes down to selecting key wardrobe pieces that flatter you, are high quality, mix and match well, and are simple yet chic in design. The answer to the digital nomad packing list is a digital nomad capsule wardrobe.
Check out these tips on packing for remote year!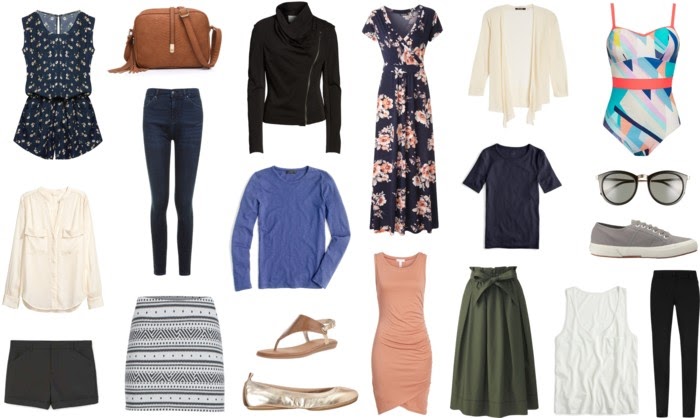 Romper | Crossbody | Jacket | Maxi | Cardigan | Swimsuit | Tunic | Jeans | Longsleeve | Tee | Sunglasses | Sneaker | Shorts | Skirt 1 | Sandals | Flats | Dress 2 | Skirt 2 | Tank | Pants
Digital Nomad Packing List: Clothing
A digital nomad capsule wardrobe is a simple collection of essential items that are basic and timeless in nature, and can be mixed and matched and accentuated with the addition of seasonal items, which are often a little more trendy. (What's a capsule wardrobe? Find out here.)
Based on my experiences, a sample digital nomad packing list should include the following clothing: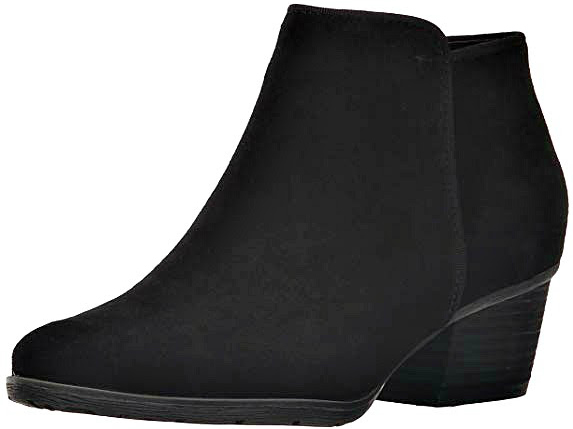 Blondo Villa Black Waterproof Ankle Bootie
3 Pairs of Shoes
Choose ones that are comfortable for walking – depending on your lifestyle, this might include a pair of wedges, flat sandals, sneakers, and ballet flats or loafers.  For the winter, a pair of waterproof ankle boots can be used in inclement weather but still be wearable in the fall and early spring.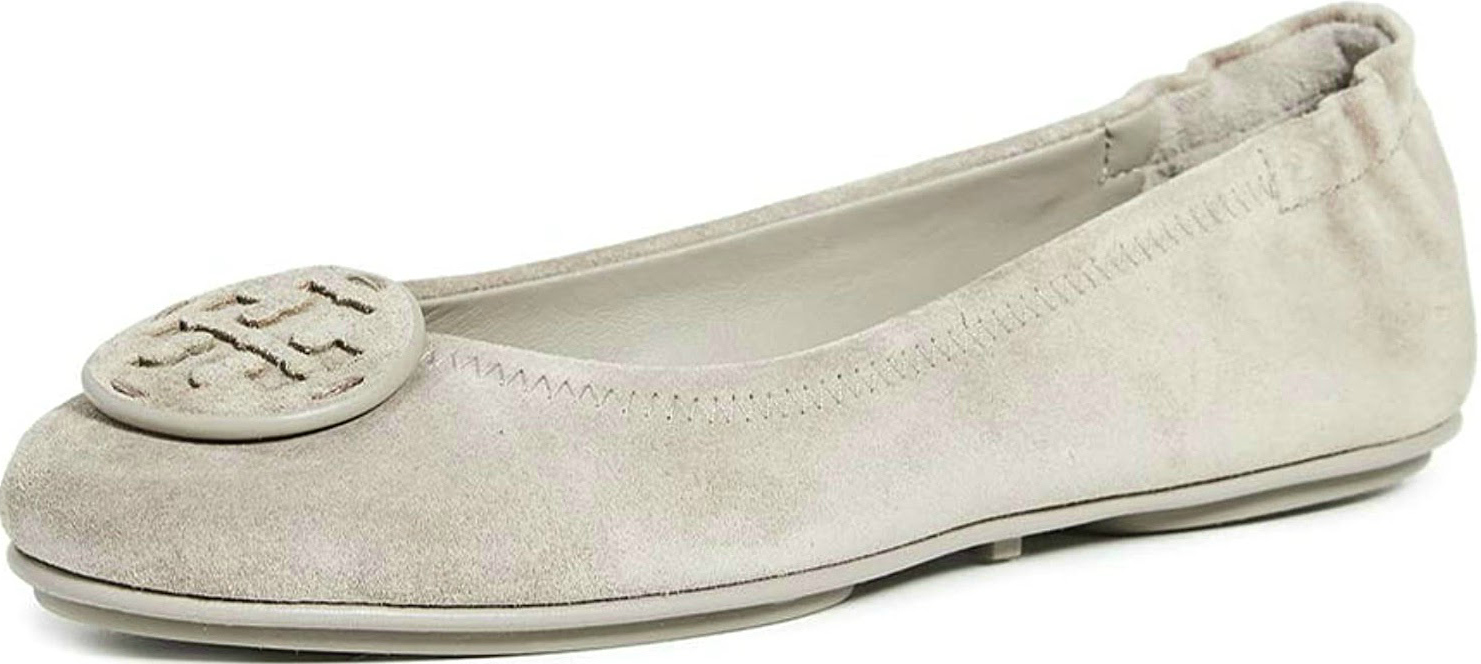 Regardless of what you choose, definitely comfort matters the most, fashion is second. Make sure you've also broken them in a bit before your digital nomad adventure so you can hit the ground running! 
Some more resources on comfy walking shoes: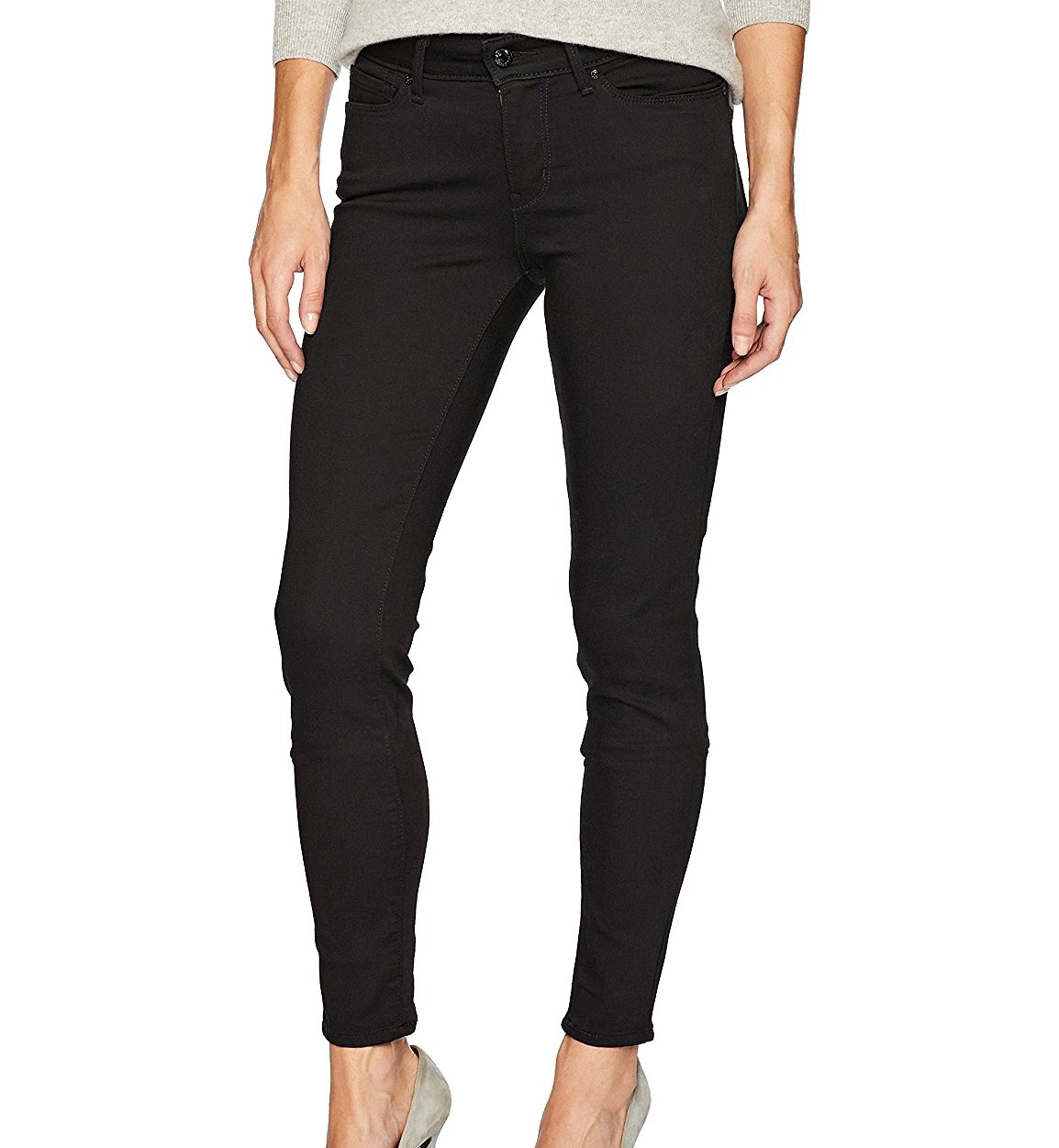 Levi Strauss & Co Modern Skinny Jeans
2 Pairs of Jeans
Go for one casual pair and one dressier option. This might be a light wash and a dark or black wash.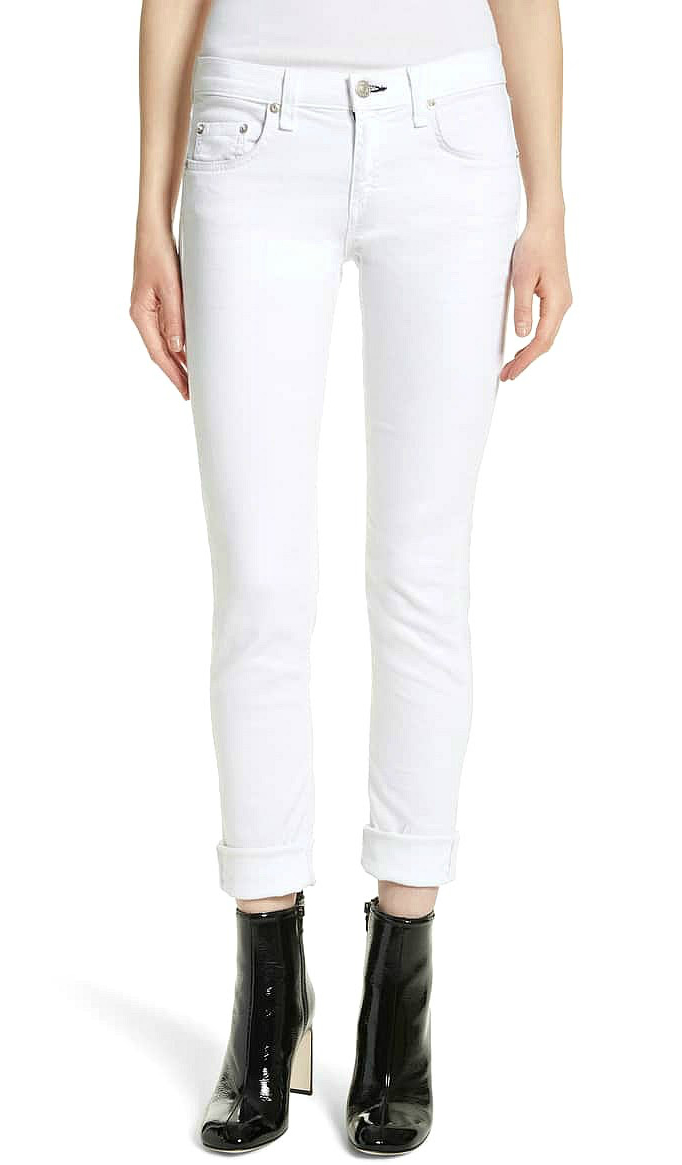 Make sure they're comfortable and the fabric is lightweight enough that it won't bog down your suitcase.
Get more tips on jeans with these resources: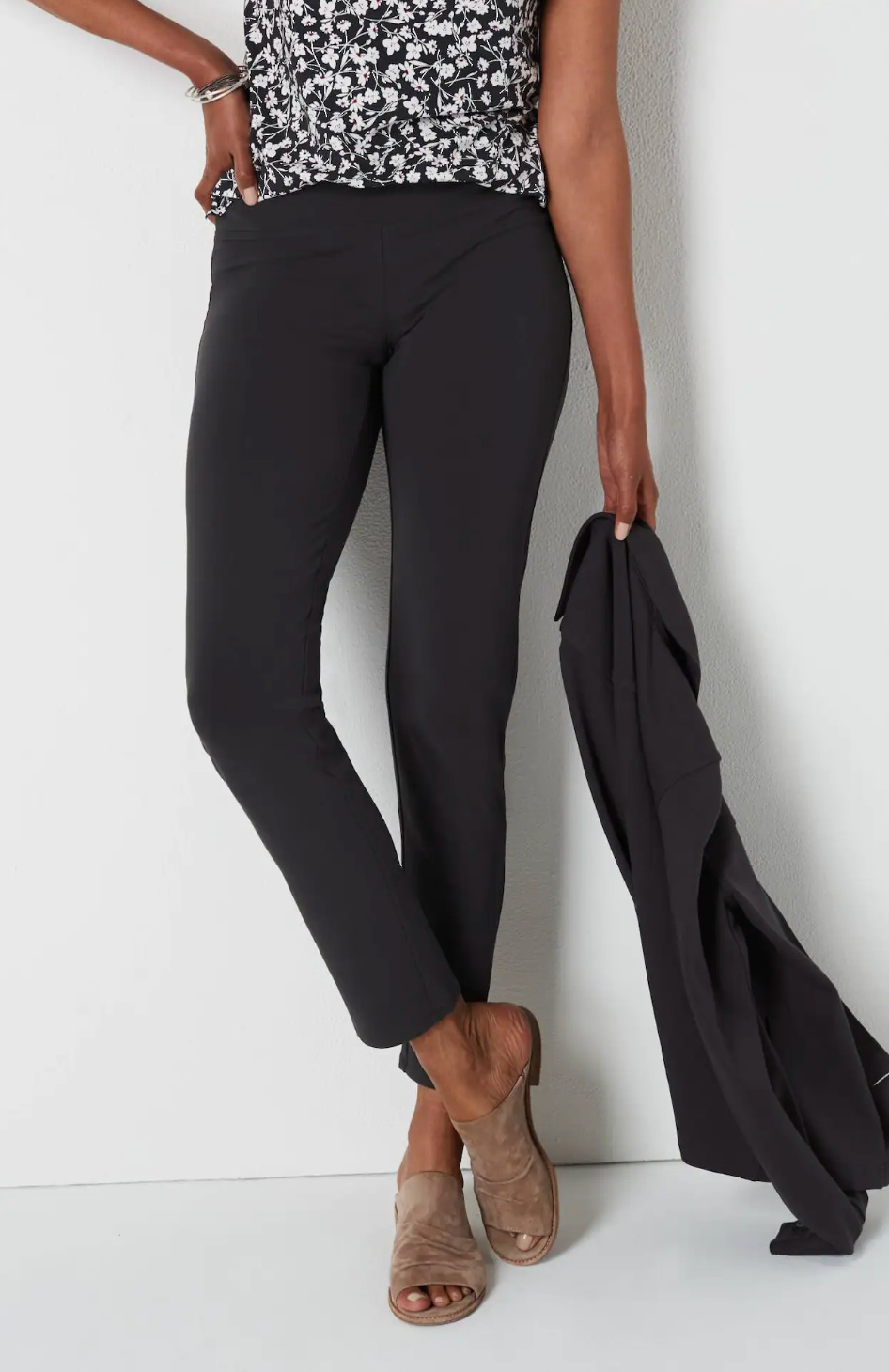 Shop Sizes XS-4X: J.Jill
2 Pairs of Trousers
Consider choosing one light and one dark-colored pair of pants, or one patterned and one solid pair.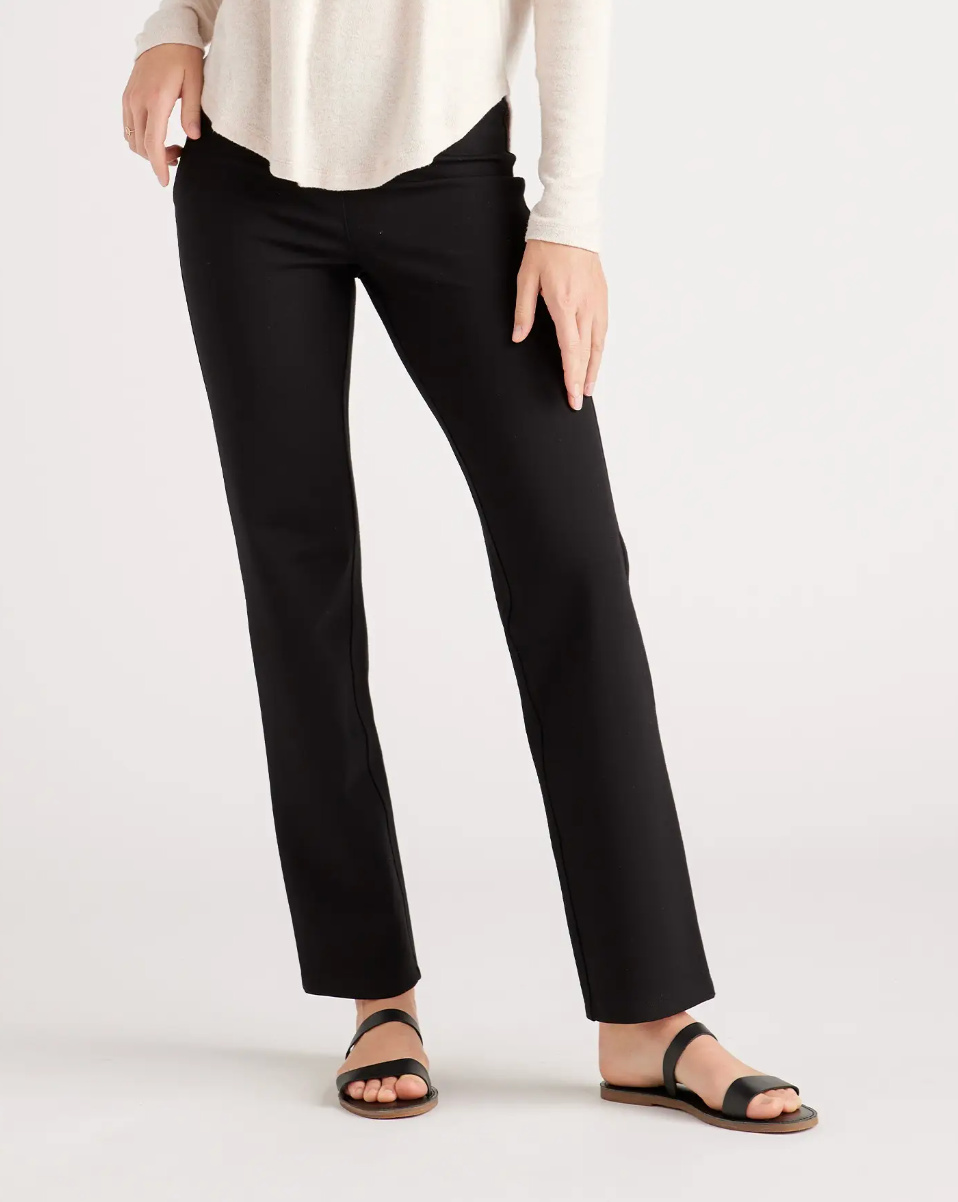 Shop sizes XS-XL: Quince Ultra-Stretch Ponte Straight Leg Pant
Make sure your pants are stretchy in the waist and knee like the Quince Ultra-Stretch Ponte Straight Leg Pant (since you'll be sitting on planes, trains, and in co-working space), and they can be worn with several different tops and go from casual to a conference in seconds!
Check out more awesome travel pants options: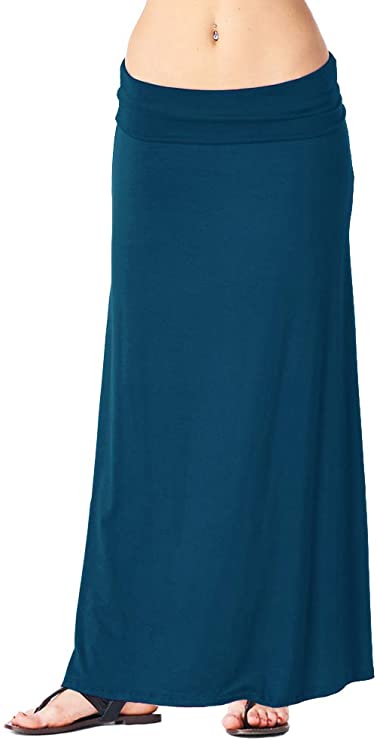 Popana Casual Long Convertible Maxi Skirt
2 Skirts
Go for a maxi length and a knee-length. These are awesome for using at a co-working space or also bottoms to cover-up at the beach, or dress up with flats and a blouse for a networking cocktail event.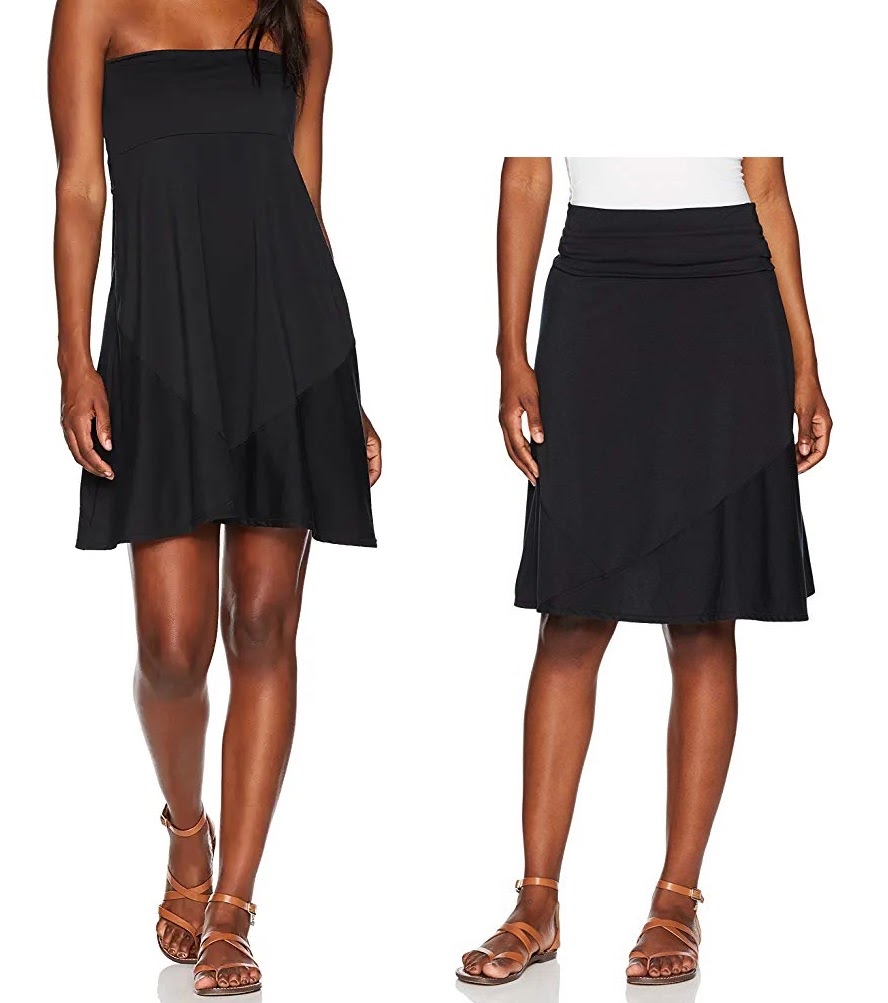 ExOfficio Wanderlux Convertible Skirt
You can even opt for convertible clothes that can turn from a dress to a skirt so you'll pack less! 
You can find more inspiration for skirts in these resources: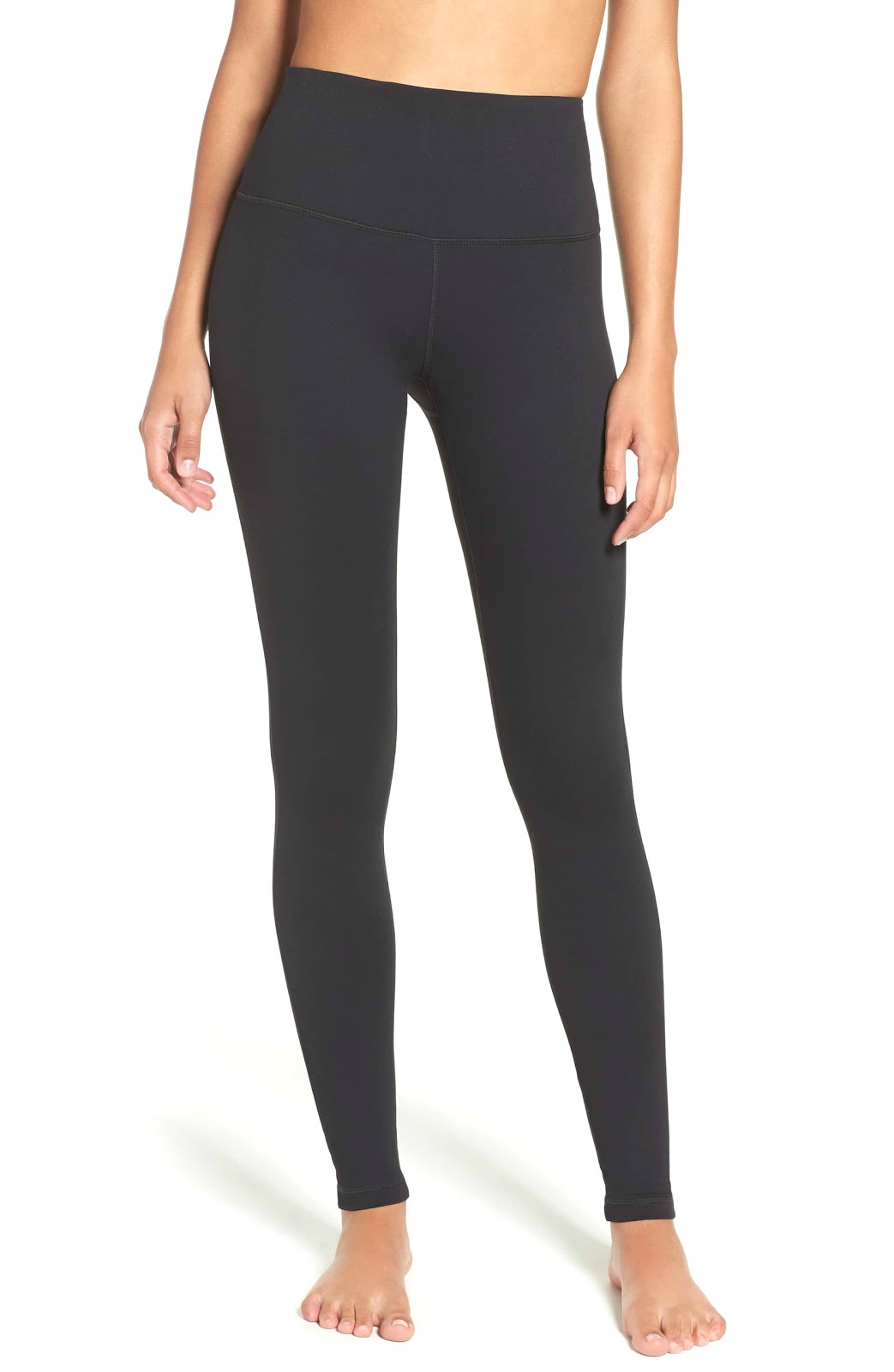 Zella Live In High Waist Leggings
1 Pair of Leggings
These work for plane rides and exercise classes! Leggings are comfy, and super versatile, able to be dressed up or down.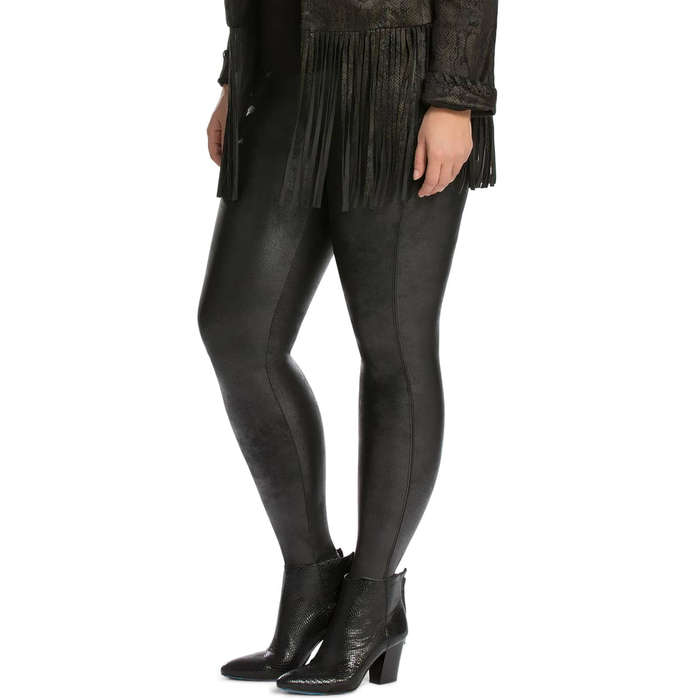 Spanx Faux Leather Leggings: Sizes XS-XL |  Sizes 1X-3X 
They even help with extra layering when you need a bit of warmth in fall or winter. 
Leggings are wildly popular for travel, check out these other resources: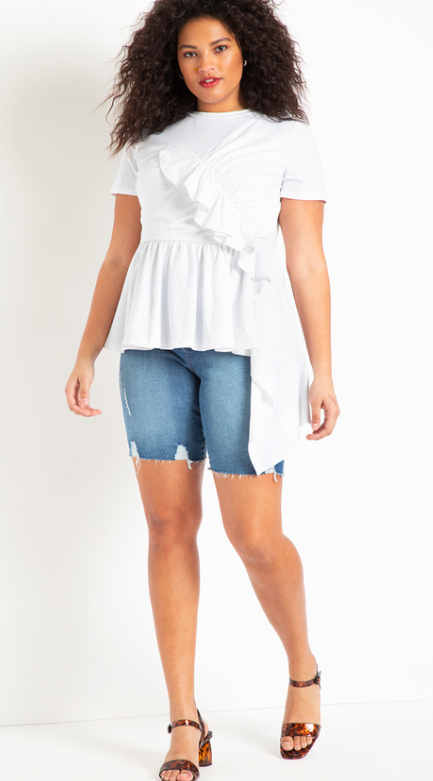 Eloquil Denim Shorts | Sizes 14-28 Available
2-3 Pairs of Shorts
Try to choose a pair of shorts that can be used from casual to dressy and if you really need it, one athletic option.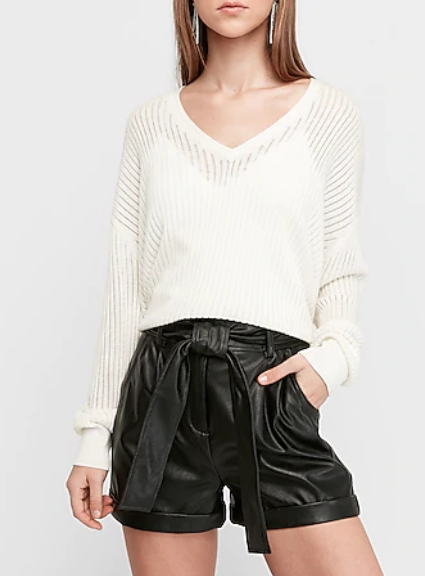 Versatility is the key here. While shorts aren't super weighty, even a little less helps to keep packing light. 
We love shorts around here and these other resources are stylish and comfy: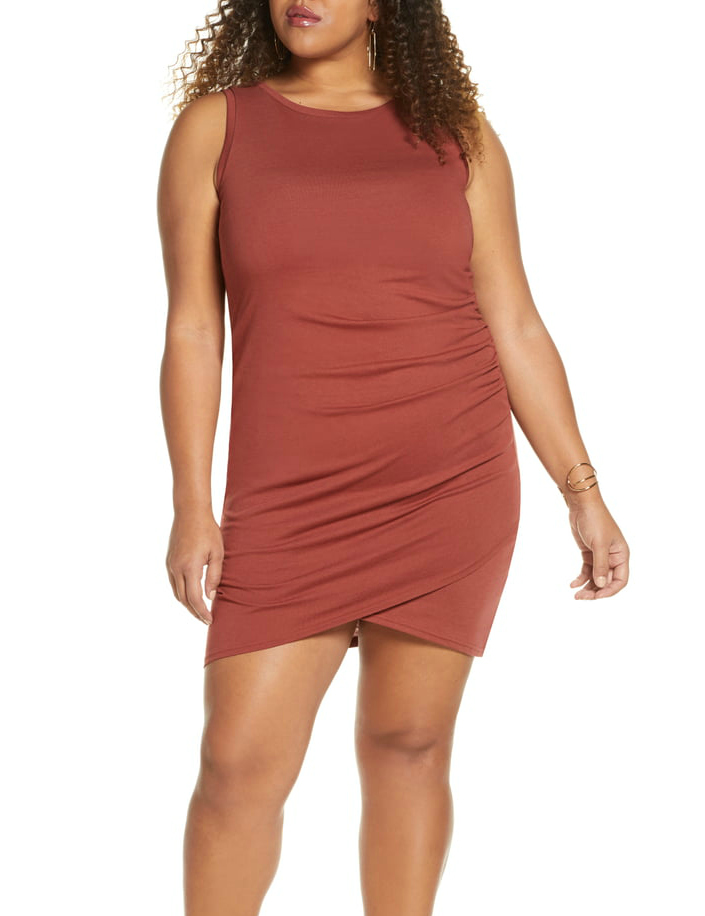 Treasure&Bond Body-Con Tank Dress: Sizes XXS-XL | Sizes 1X-4X
2 Dresses and 1 Romper
This could be a mix of maxi and short length options or dressier and casual options. Dresses are so versatile for wearing on their own in warm weather or layering up with leggings or tights when it gets chilly.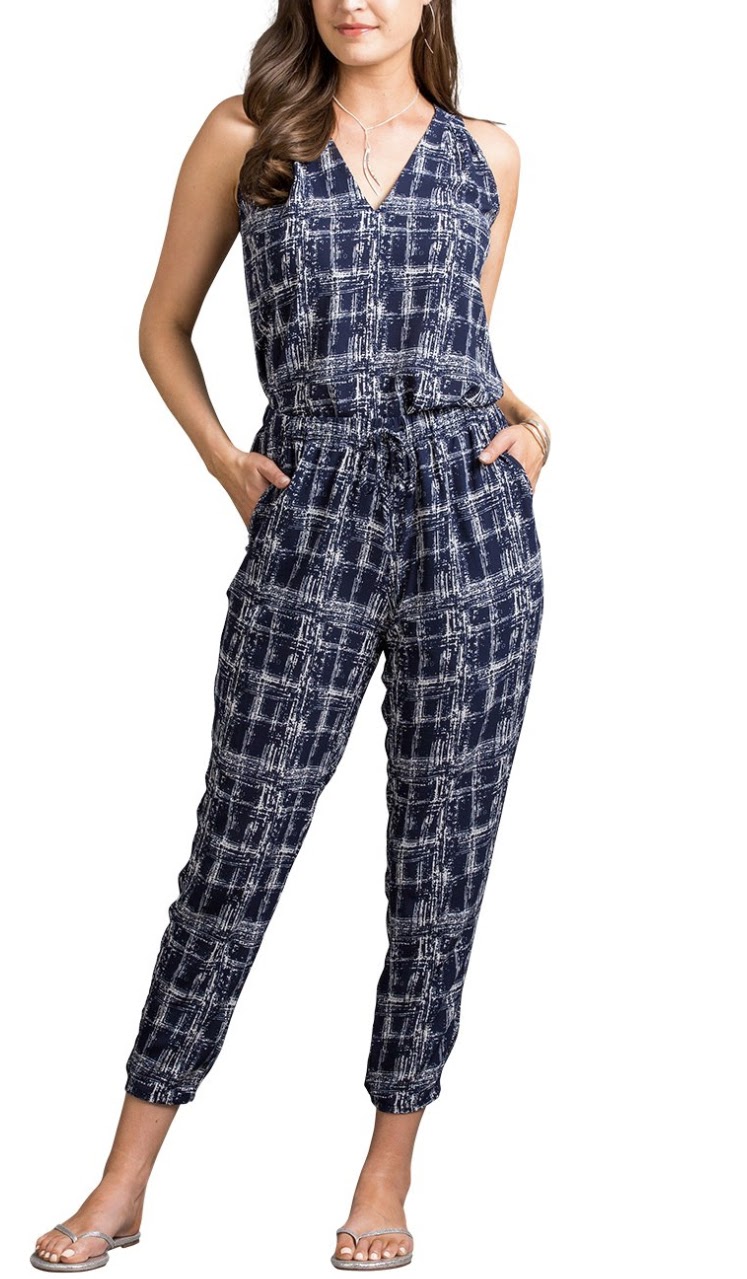 I recommend a classic black dress,  a maxi or midi style, and a romper or one-piece pantsuit. These allow you to go from casual to dressy easily! 
Get more awesome dress or romper picks from these posts: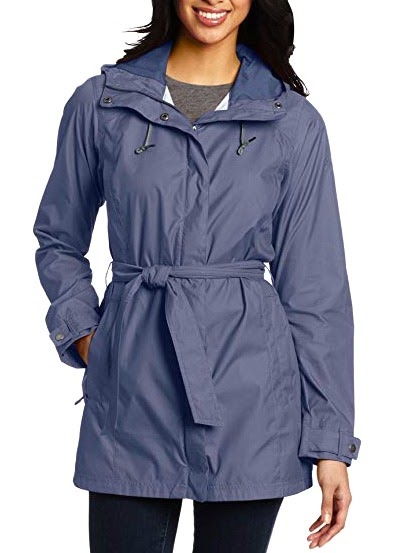 Pardon My Trench Rain Jacket | Sizes XS- 3X Available
1 Multi-Purpose Jacket
Ideally, you want a jacket that can go from day to night, unless you plan on traveling to an extremely chilly climate. A stylish waterproof jacket can be versatile for both and the ones made nowadays are lightweight and breathable too.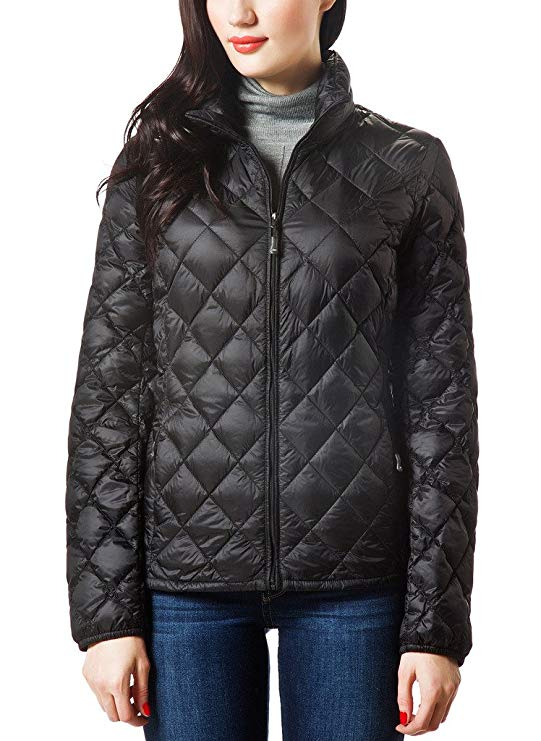 In the case of colder climates, a packable down jacket could be just what you need to stay warm and cozy. They're filled with down and/or insulation yet the modern construction renders them super packable!   
These extensive resources on packable, lightweight jackets might help: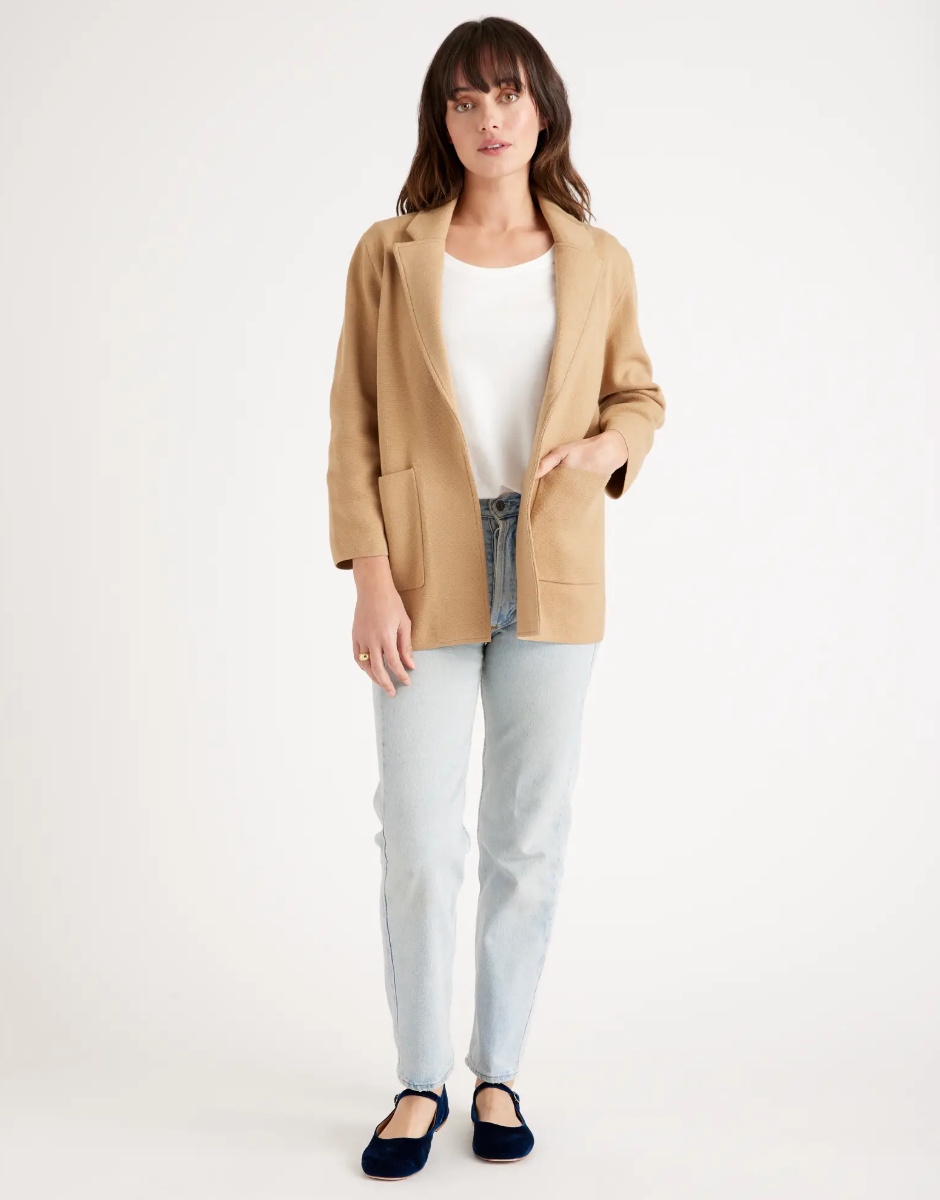 Shop Sizes XS-XL: Quince
1 Blazer or Super Lightweight Jacket
 While being a digital nomad is all about breaking barriers in business, every once in awhile a blazer, or a lightweight jacket is needed for certain occasions, especially speaking engagements.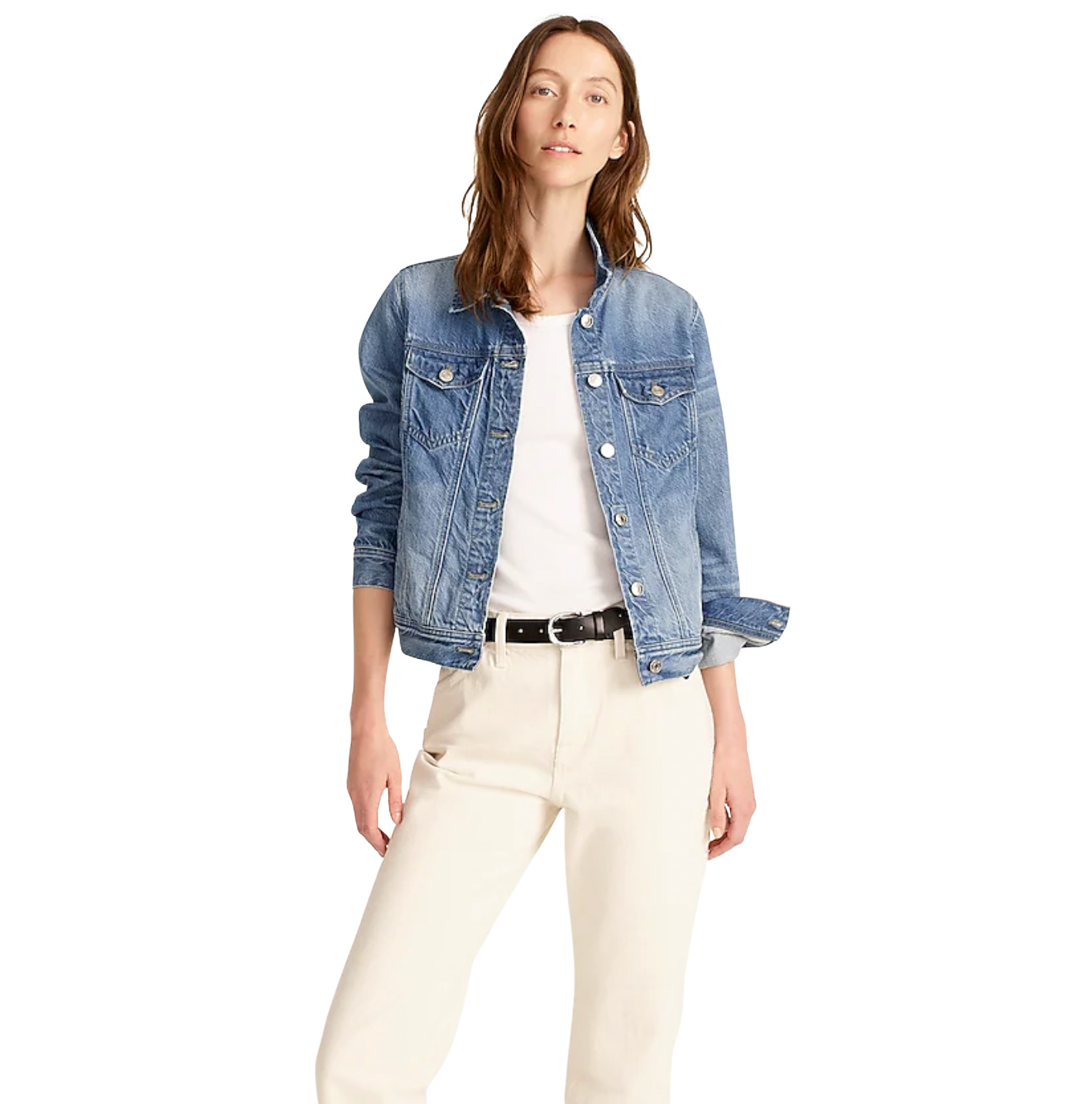 J Crew Classic Denim Jacket | Sizes XXS – 3X
A neutral-colored blazer can be dressed down with jeans or dressed up with a skirt, dress, or trousers. Or a very lightweight jacket too can be used as a substitute blazer.
These blazer or lightweight jacket choices might inspire your digital nomadism: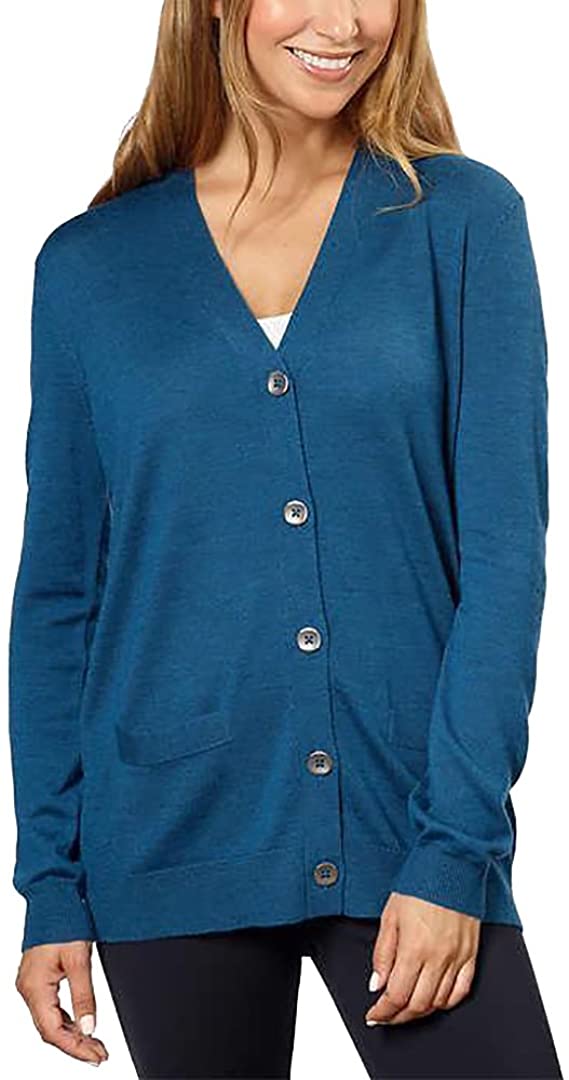 Kirkland Signature Merino Wool Cardigan
1 Sweater or 1 Cardigan
If you're moving from warm to cold climates in one trip, layering is the key.A cardigan made of merino wool will keep you warm, can be washed less than other fabrics, and won't smell—making it perfect for cooler days!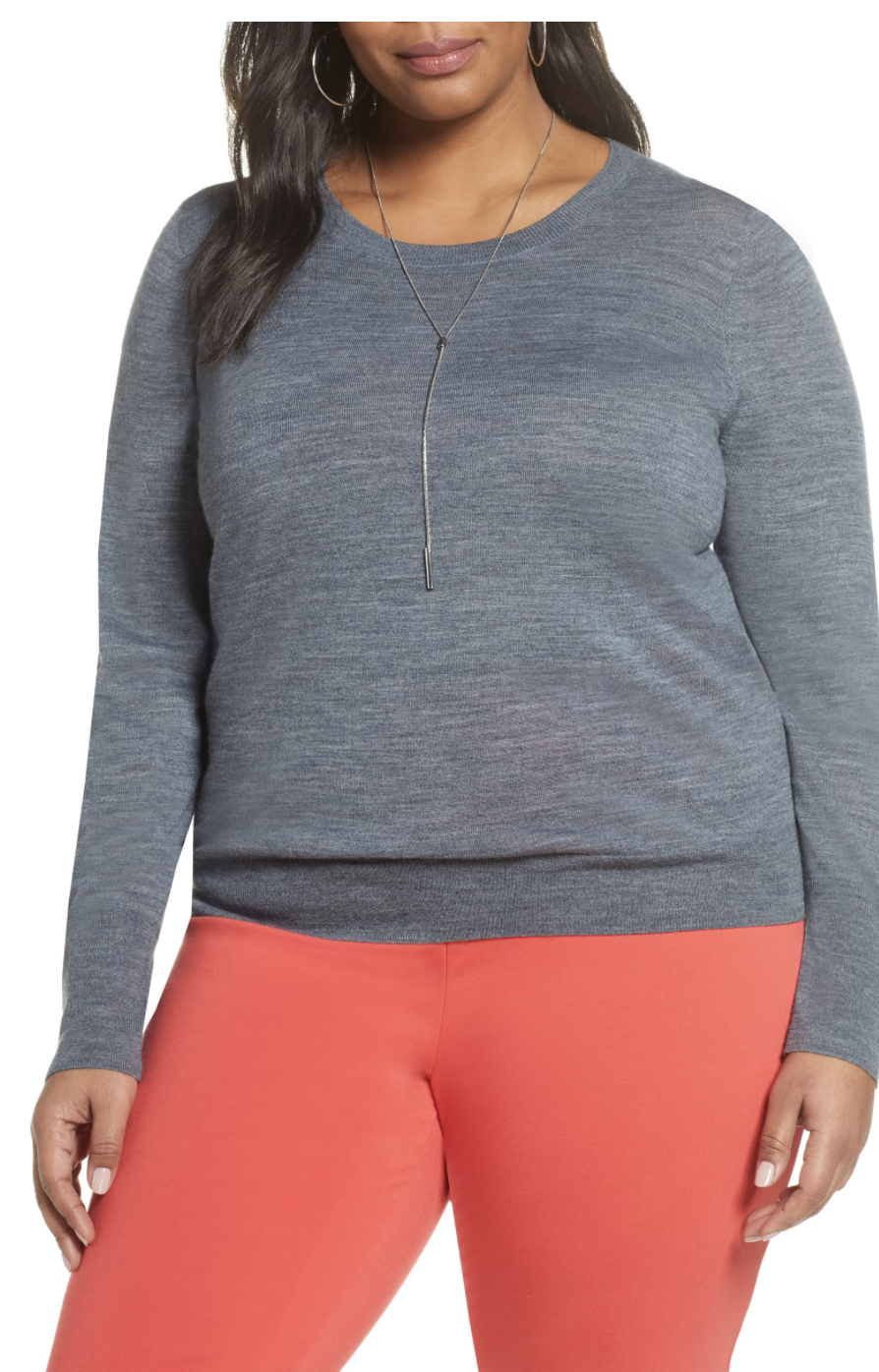 HALOGEN Crewneck Merino Wool Sweater: Sizes XS-XXL | Sizes 1X-3X
A sweater is a great alternative to a cardigan and again, merino wool is recommended. It's a packable, miracle fabric that is surprisingly lightweight. Choose one in neutral, like black, gray, or blue, and then add interesting details like jewelry accessories.
Get cozy with any one of these other sweater picks: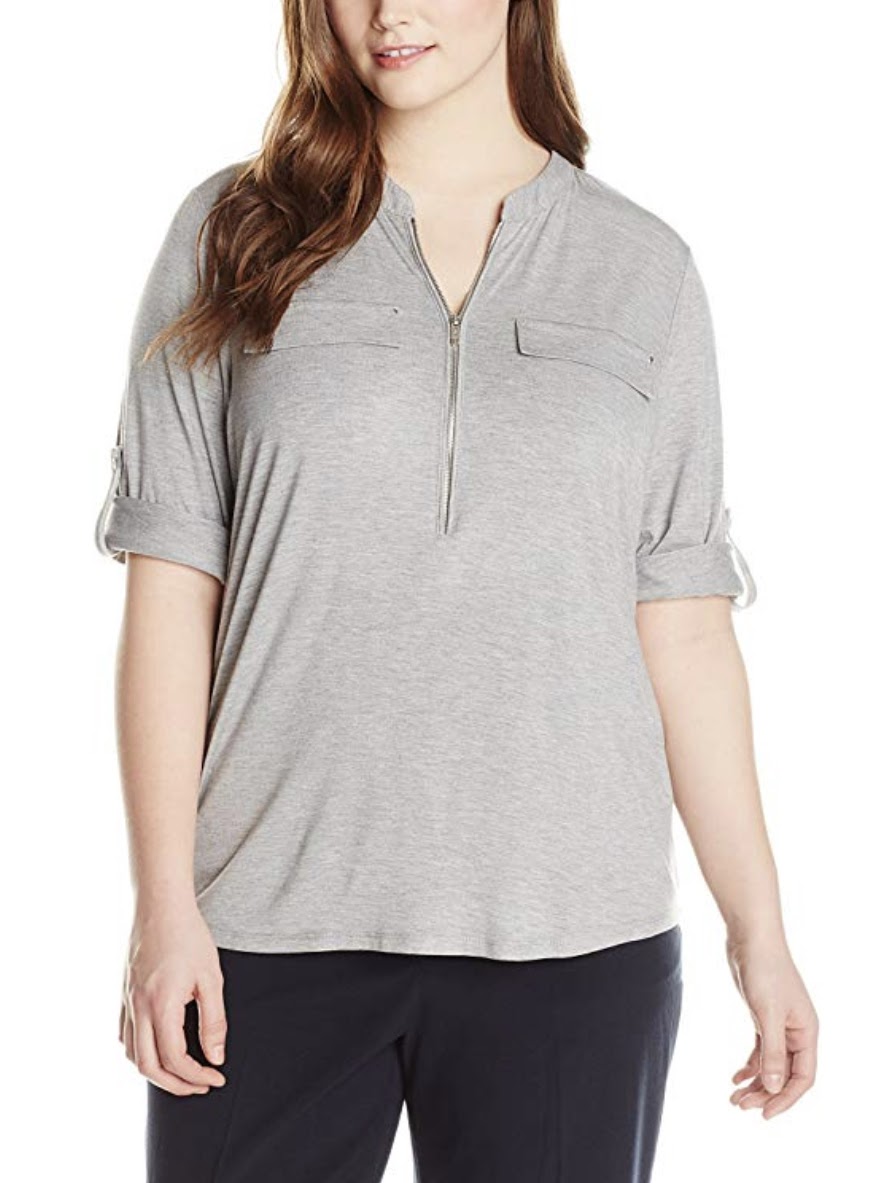 Calvin Klein Roll Sleeve Blouse | Sizes XS-XL and 0X-3X Available
4 Tops or Blouses
If you're working and networking on the road, some dressier looking options are vital to look fresh, yet serious about what you do!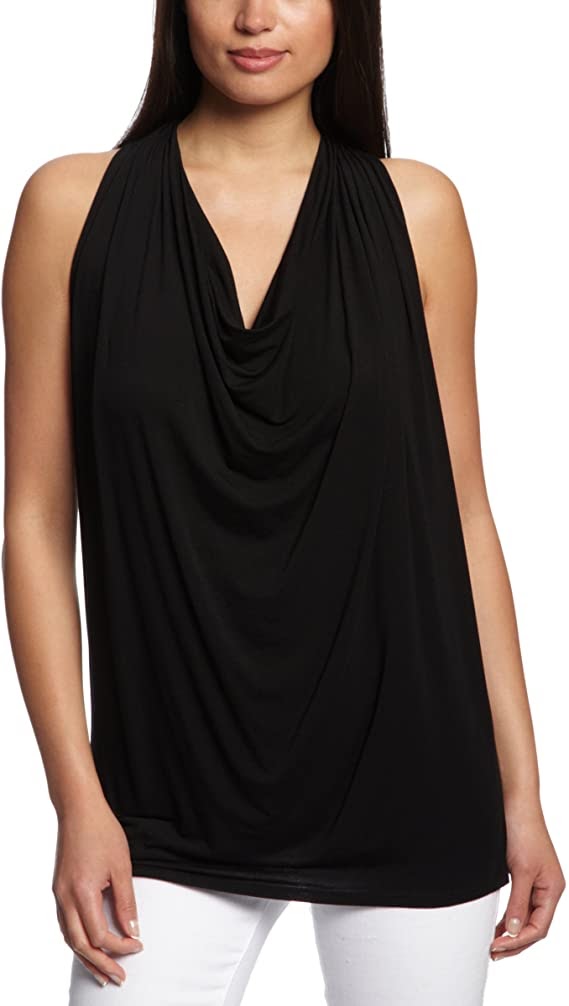 You can also go for patterns, solids, and different sleeve lengths for variety. Regardless, choose items that can mix and match with the rest of your bottoms!
Find more choices to liven up your digital nomad wardrobe: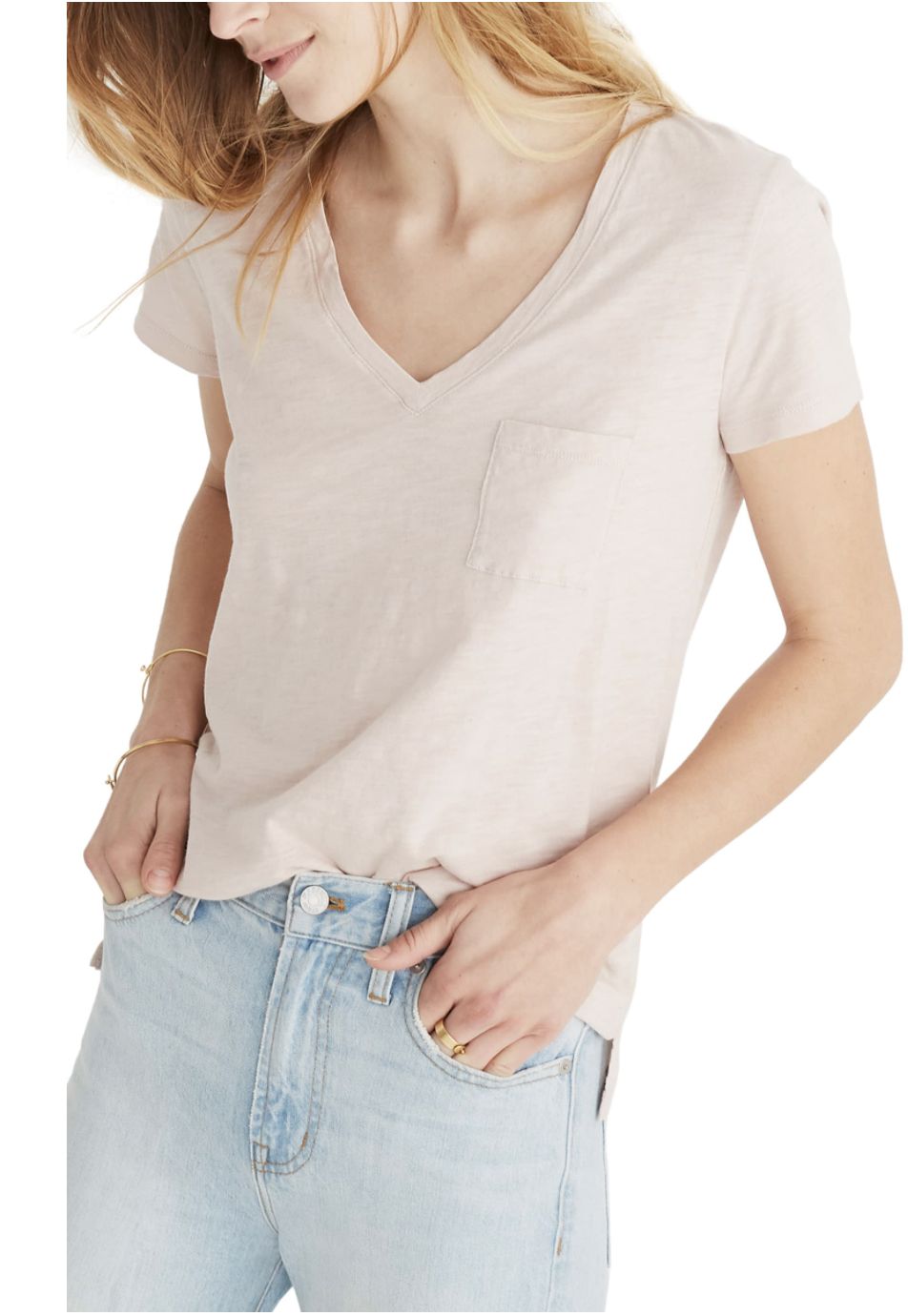 Whisper Cotton V-Neck Pocket Tee
4 Basic T-Shirts or Tanks
As usual, any tops your bring should follow the rule of 3: casual, dressy, or activity uses. T-shirts, tank tops, and even ones that have a slightly dressier look are wonderful versatile options.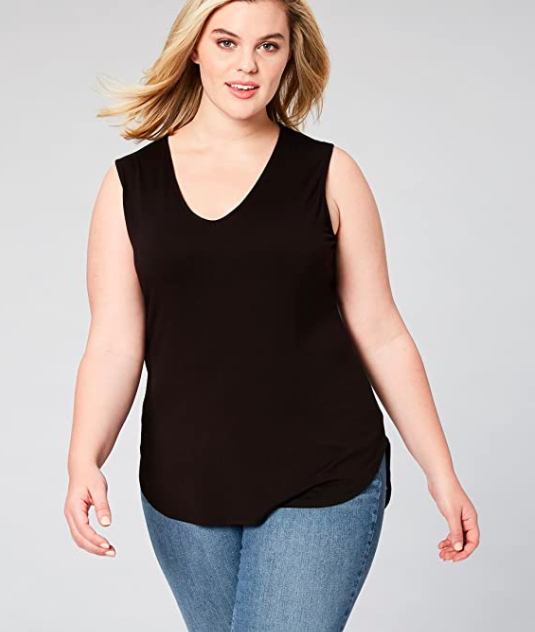 Daily Ritual V Neck Tank Top: Sizes XX-XX | Sizes 1X–7X Plus
For these, it's best to go for solids and neutrals that can be layered.  At TFG, these are beloved as super comfy and adaptable items to always have in your digital nomad capsule wardrobe!
Check out these other t-shirts and tank top options: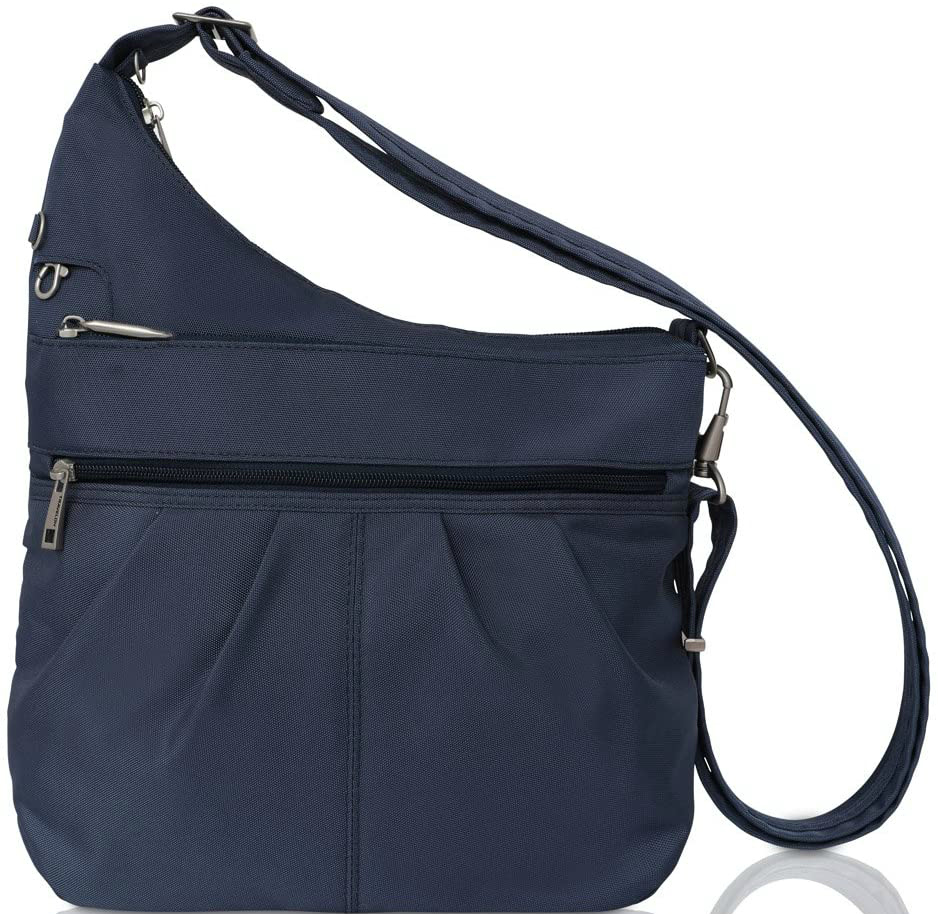 Travelon Anti-Theft 3-Compartment Blue Crossbody
1 Crossbody Bag
They're the easiest bag style to carry and are popular for a reason. The best ones have enough compartments to carry things on the go, and having it drape over your body (across the shoulder) means it's harder for thieves to grab, and choosing one with RFID protection can give you peace of mind.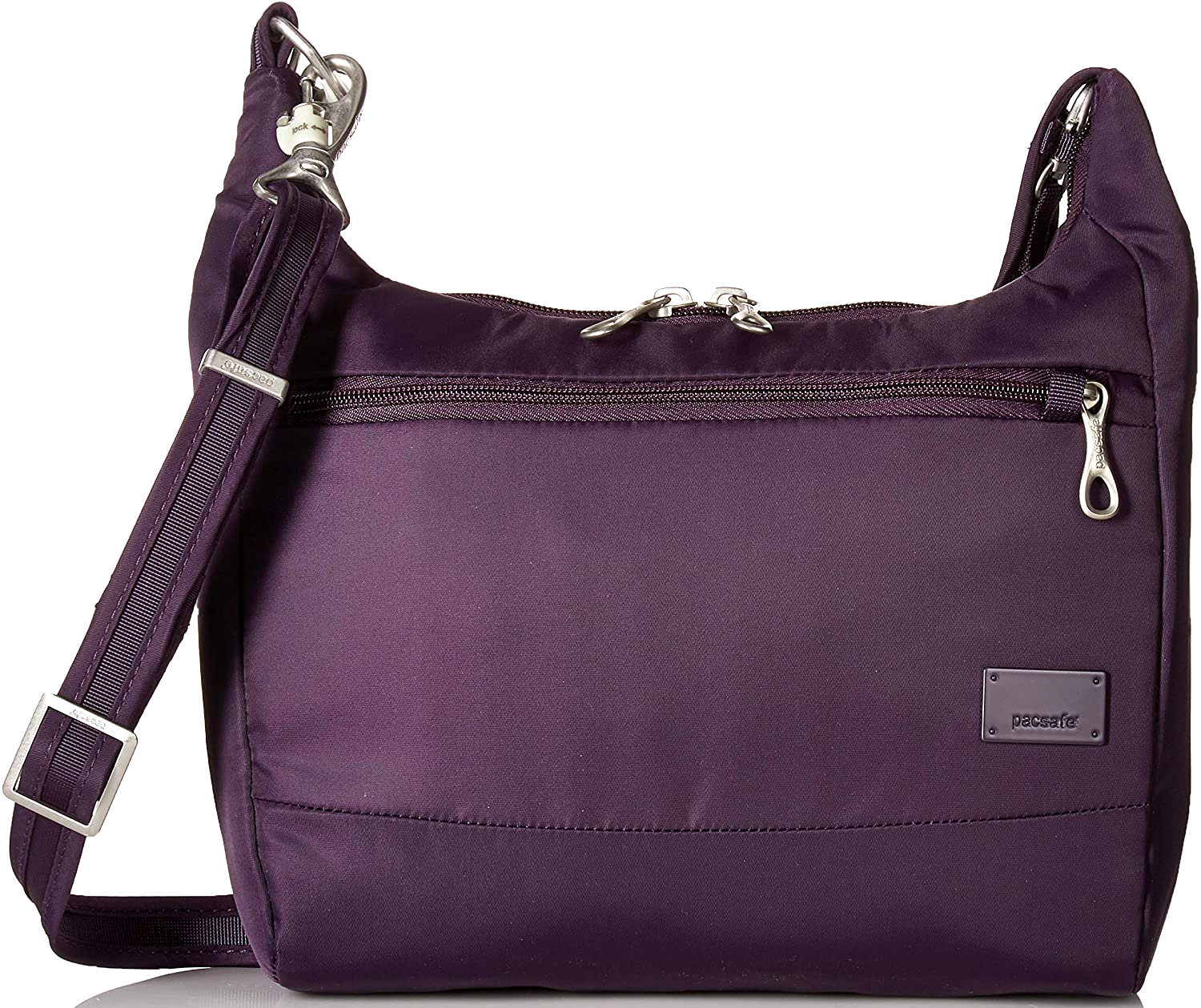 Pacsafe Citysafe CS100 Anti-Theft Black Travel Handbag
Look for a durable material that can handle the elements and still have you looking stylish! Alternatively, you could also opt for a trendy hip bag (aka, fanny pack) as well.
Here's a list of popular crossbody purses and fanny packs: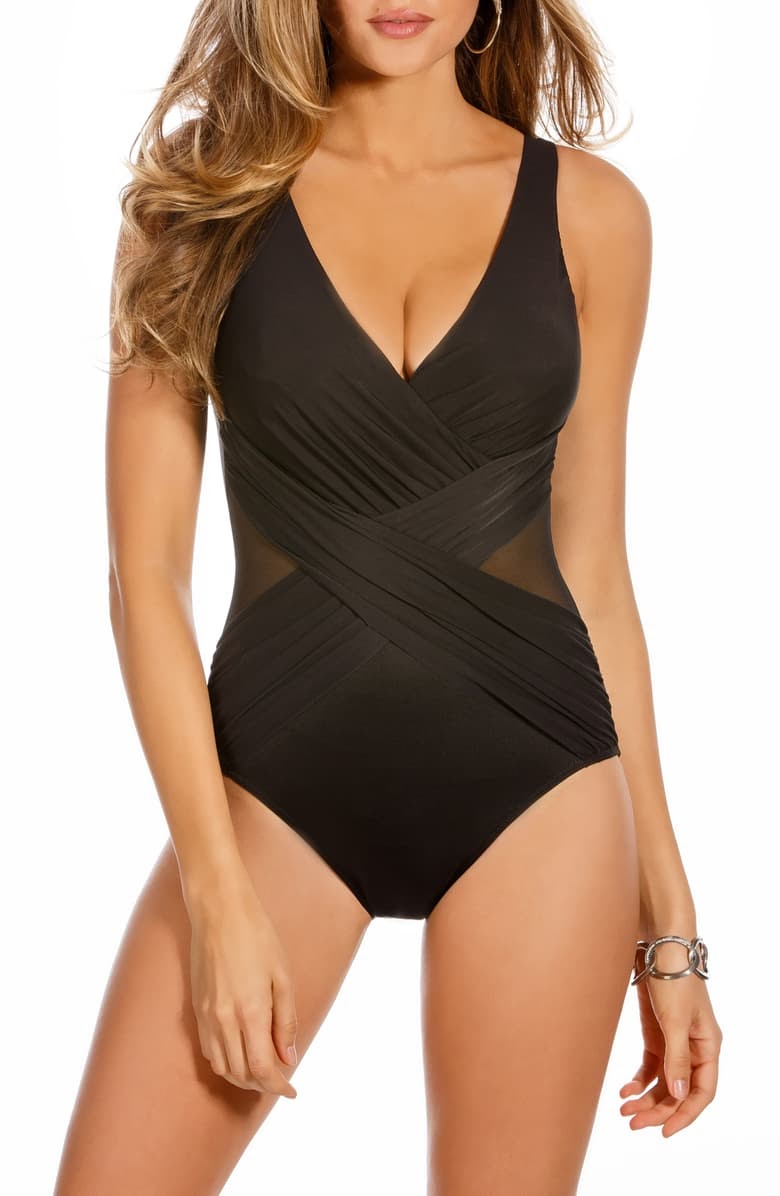 Miraclesuit Crossover One Piece
1-2 Bathing Suits
Being a digital nomad isn't all work, there is play time as well! I was lucky enough to co-work in some gorgeous beach locales, so after a day of work, it felt great to jump in the water. Packing a suit or two is essential!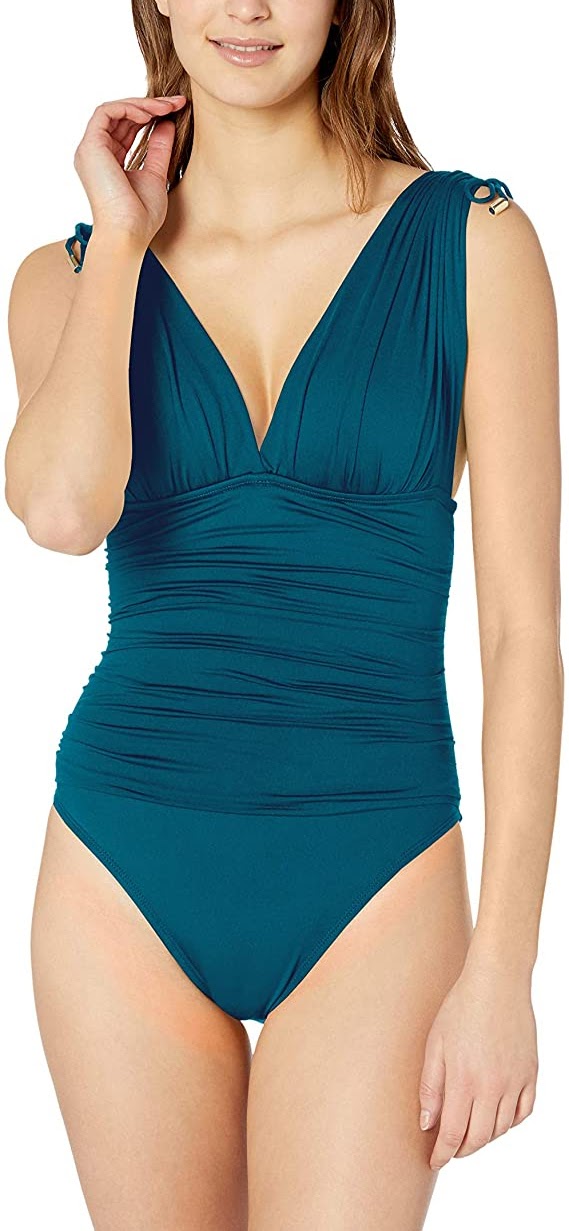 La Blanca Island Goddess Convertible Swimsuit
Consider a reversible/convertible suit to get the most wear out of it or one with a built-in underwire like these, which can double up as a bra. 
Get beach-ready with more adorable bathing suits here:
At the end of the day, choose pieces that make you feel attractive and comfortable. Remember that you'll be traveling to wonderful countries with many beautiful local pieces, so leave a little room in your suitcase for something special.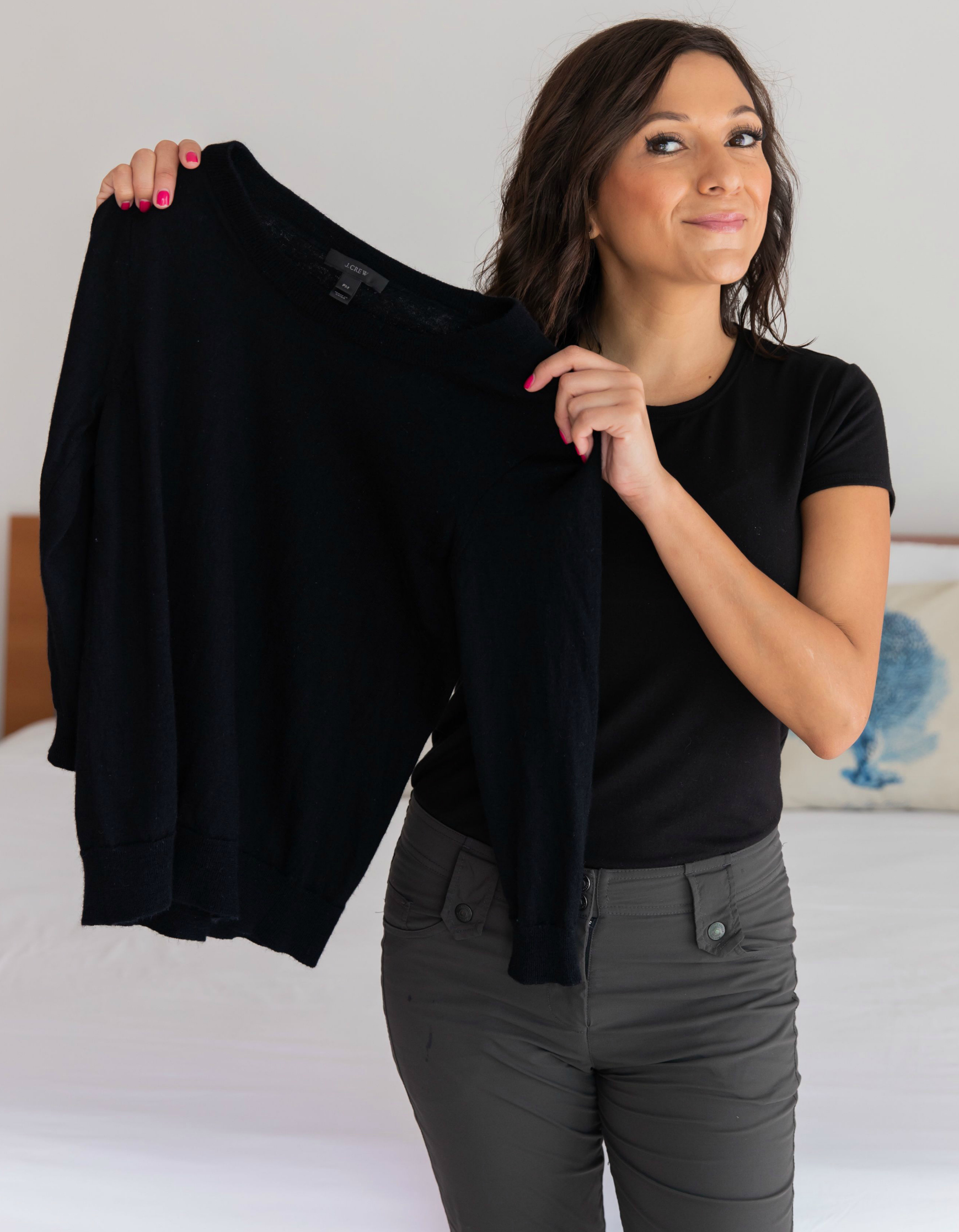 A timeless black sweater and t-shirt go with everything!
Tips for a Digital Nomad Capsule Wardrobe
There are a few general rules that will help to make a truly varied lifestyle easier to pack for:
Stick to a simple color palette – Choose neutral colors for basic pieces that you will make and match frequently.
Add one or two accent colors and patterns for interest – Incorporate these 'pops' with trendier pieces that you can switch up seasonally.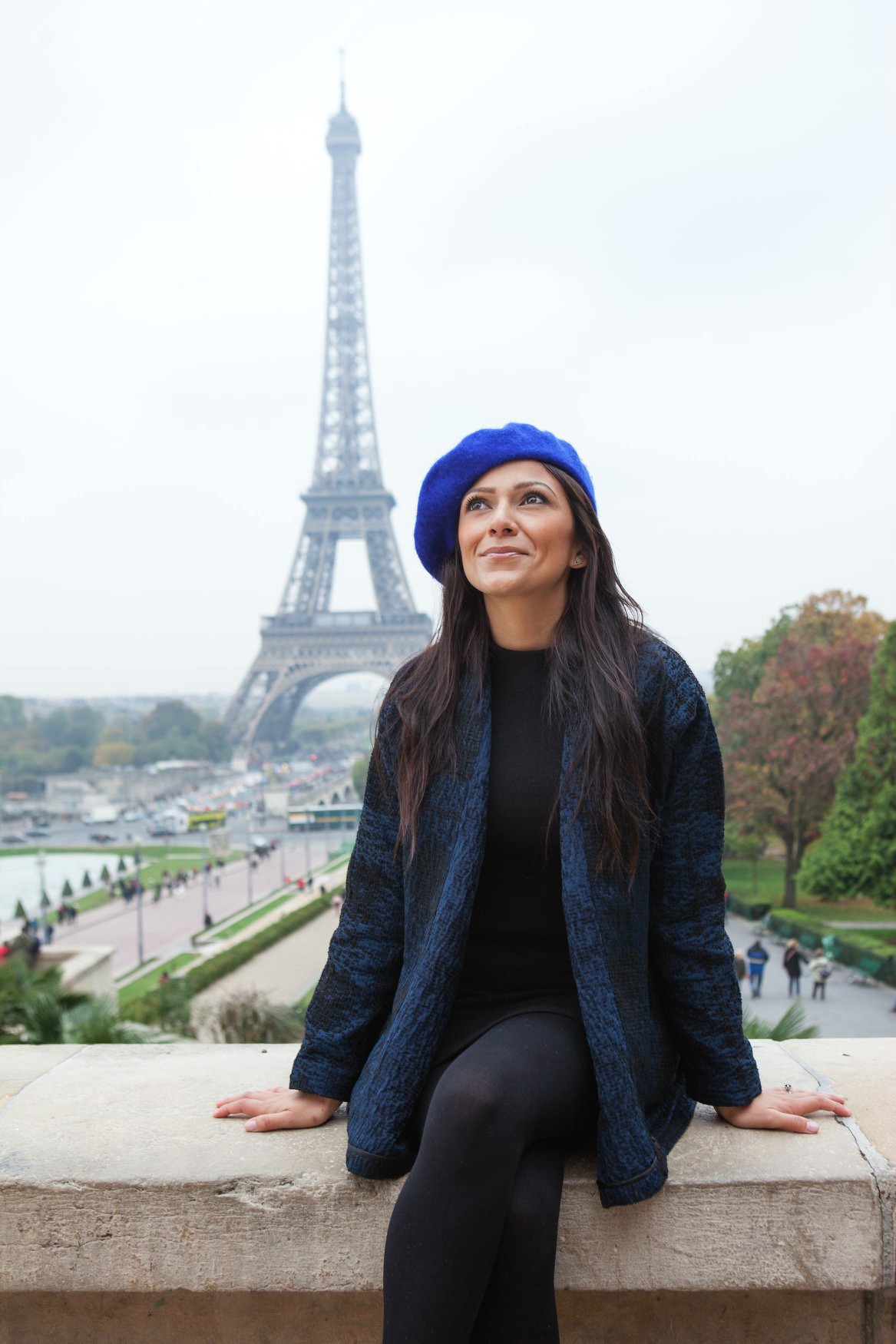 All these colors (black and blue) flow together
Opt for well-made, durable fabrics and pieces that are easy to clean – Consider choosing antimicrobial fabrics, particularly in active wear. These are the best travel fabrics.
Go for muted colors that show dirt less easily – These are better options than a lot of bright whites or light beiges, as you may not always have consistent access to a washer and dryer.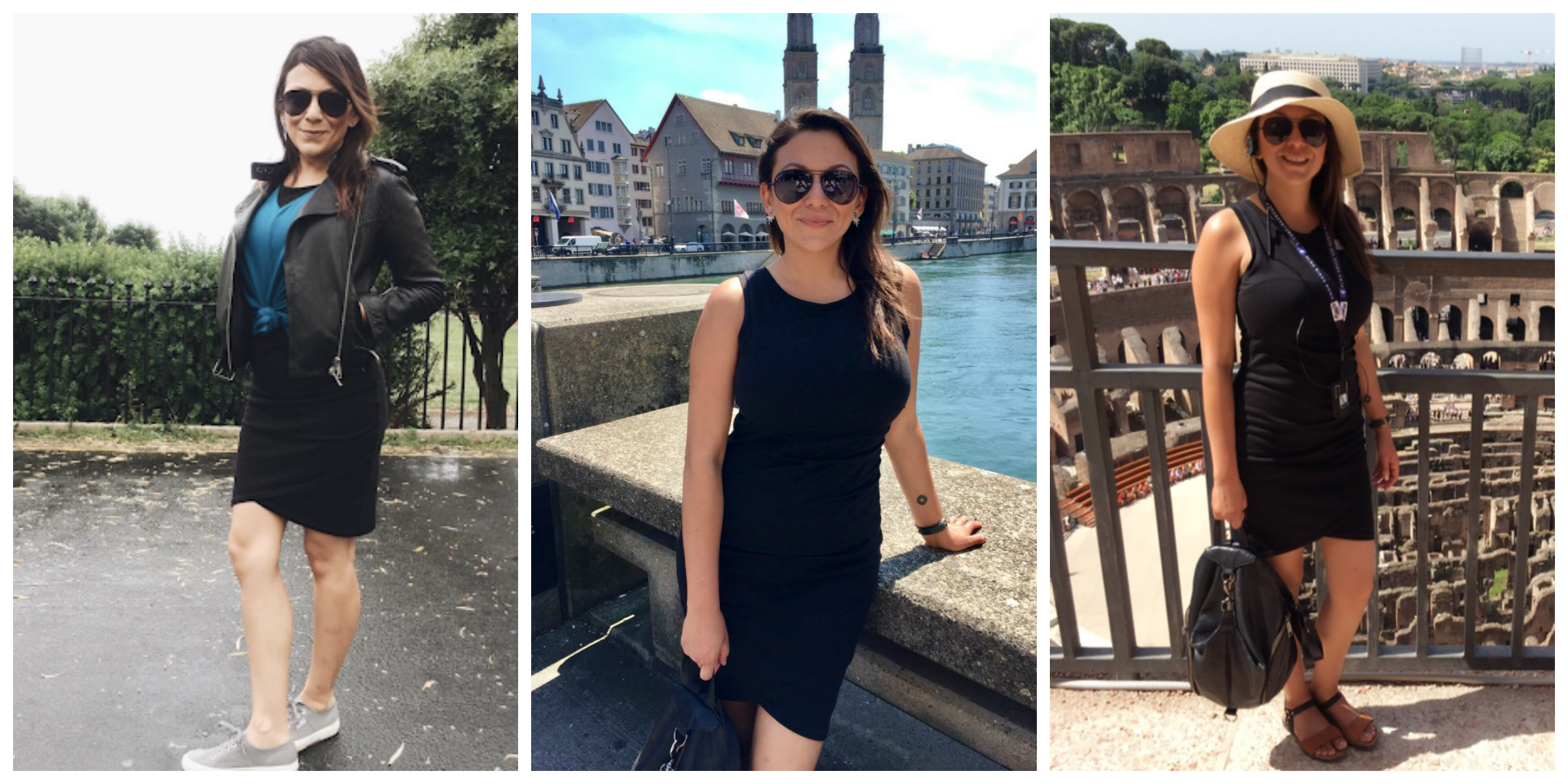 Leith dress worn 3 ways, in 3 different settings
Consider in which seasons you'll be traveling – Will you be chasing summer? Or will you be in a variety of climates in multiple seasons? If you need to, you can always leave seasonal pieces in a home base and have them shipped to you as needed. Read this packing guide for mixed weather trips.
Pack versatile pieces that can be worn for multiple occasions – Choose soft trousers that can be worn with a blazer and wedges for a meeting or a sweater and tennis shoes on travel day. Or, select a chic pair of shorts that can be dressed up for a night of drinks and dancing, or worn with sandals and a casual top for roaming around tourist attractions.
These other comprehensive resources can help jumpstart your entrepreneurial capsule wardrobe: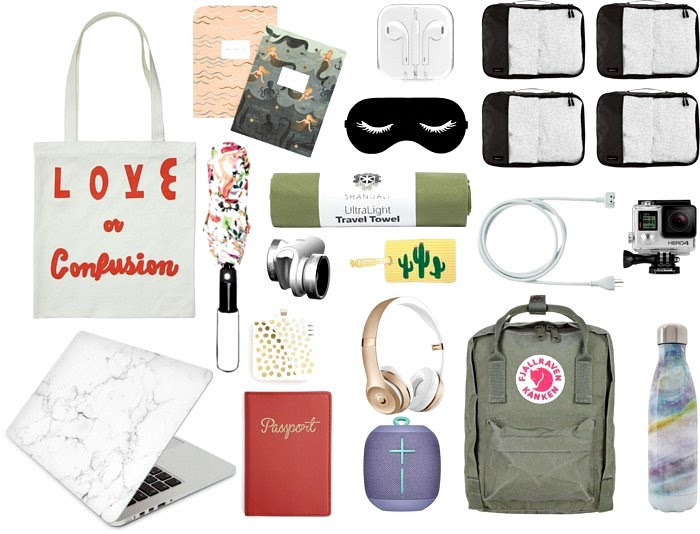 Tote | Notebook | Earphone | Packing Cubes | Umbrella | Mask | Towel | Lens | Tag | Cable | Camera | Laptop Skin | Passport Holder | Powerbank | Headphone | Speaker | Backpack | Bottle
Digital Nomad Packing List: Gear
When you're working on the road, packing the right gear becomes essential to staying organized and not missing a beat. While specific gear may depend on your industry, there are some standard must-haves that you won't want to miss.
If you're traveling every couple of weeks, the last things you want is to be lugging around a large suitcase, packed to the brim and a bunch of bags.
As you start to consider what to pack your belongings in, make sure you include these musts: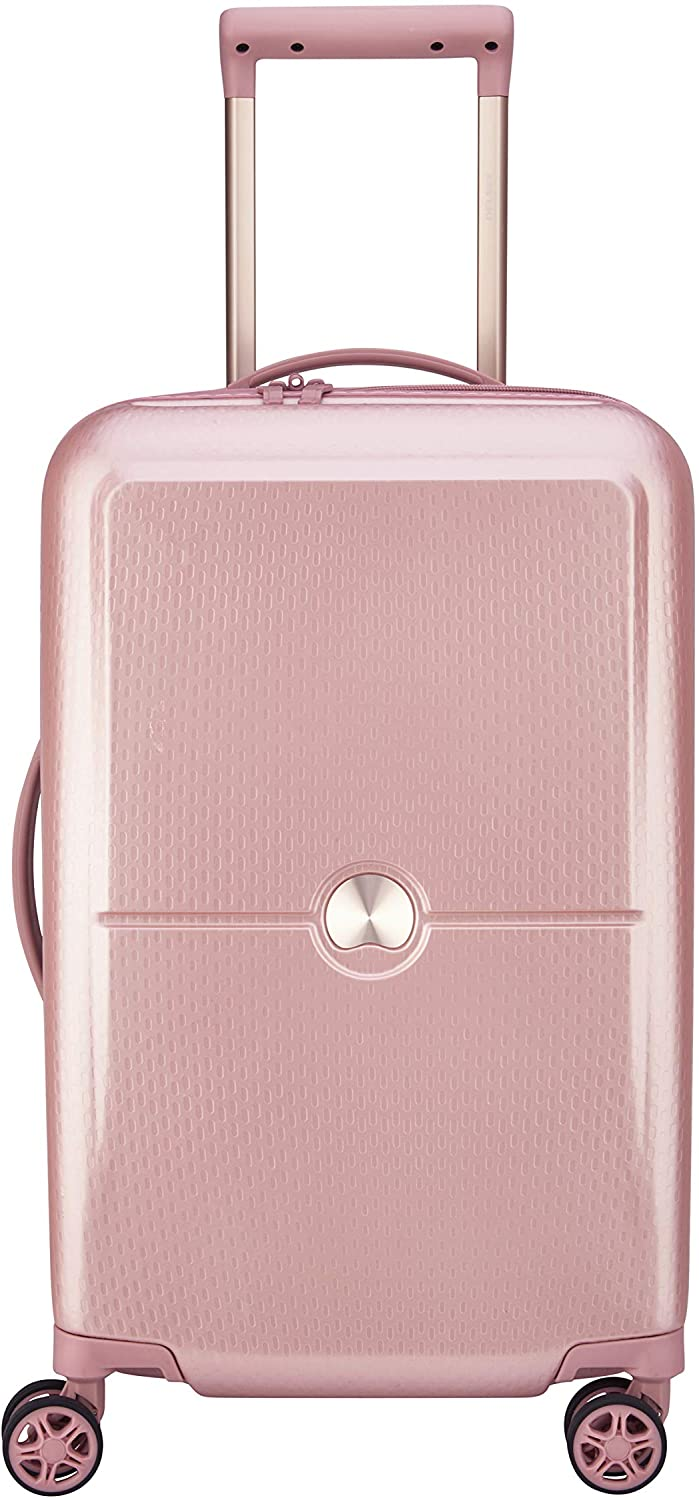 Delsey Paris Turenne 20" Carry-On Suitcase
Carry-On Suitcase
If you can, stick to carry-on only with a small rolled back and a backpack for your gear. A good size carry-on suitcase is around 20" to 24".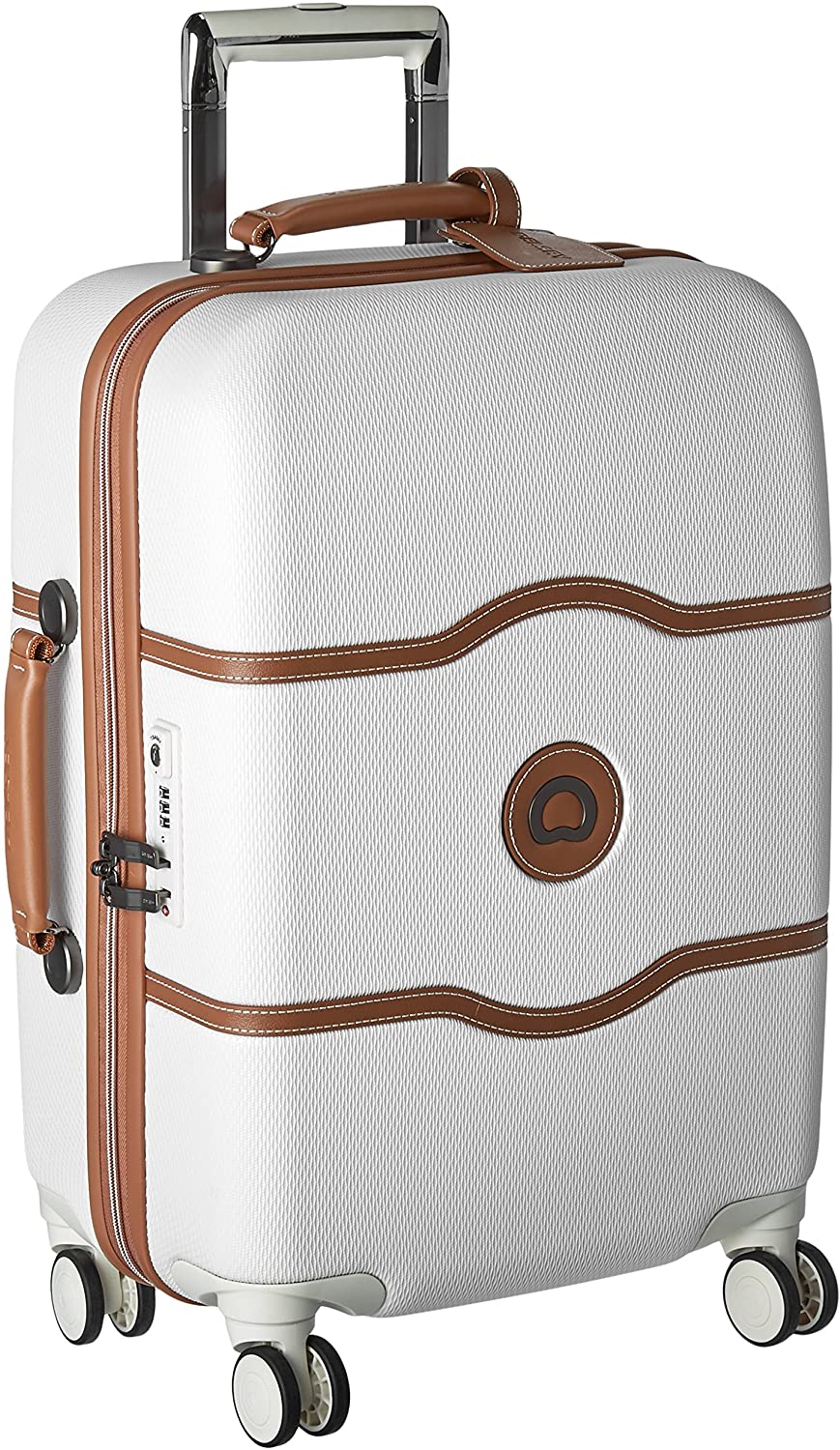 DELSEY Paris Chatelet Hardside 21" Carry-On Suitcase
Hardside ones are super durable and a quality one will be spacious to fit your wardrobe. You could also opt for a zipperless suitcase which adds a bit of extra security (no zipper to tamper with!).
Check out these other suitcase options or helpful tips: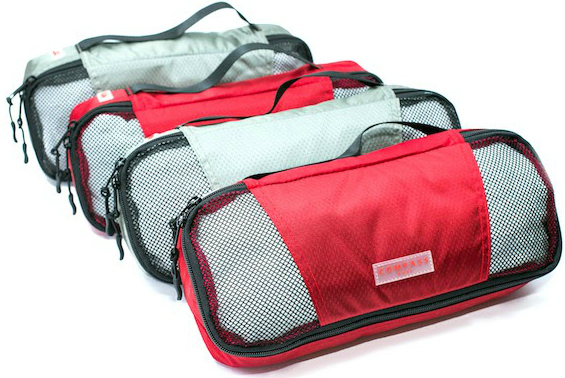 Packing Cubes
Packing cubes also go a long way to keep clothing organized and compact, particularly if you're traveling with a carry-on only. We recommend these packing cubes—they're ours! You can see how easy it is to use them in the video below.
Learn our hacks with packing cubes in the video above!
We also put together a five-part YouTube series showing the different methods to use packing cubes for travel. If you use this specific packing strategy, packing cubes can also compress your belongings. This is the secret to traveling carry-on only!
It's also helpful to pack medications, toiletries, and tech cords in reusable Ziplock bags. A great tip is to travel with extra empty bags; they will always come in handy.
Here are a few resources about packing cubes: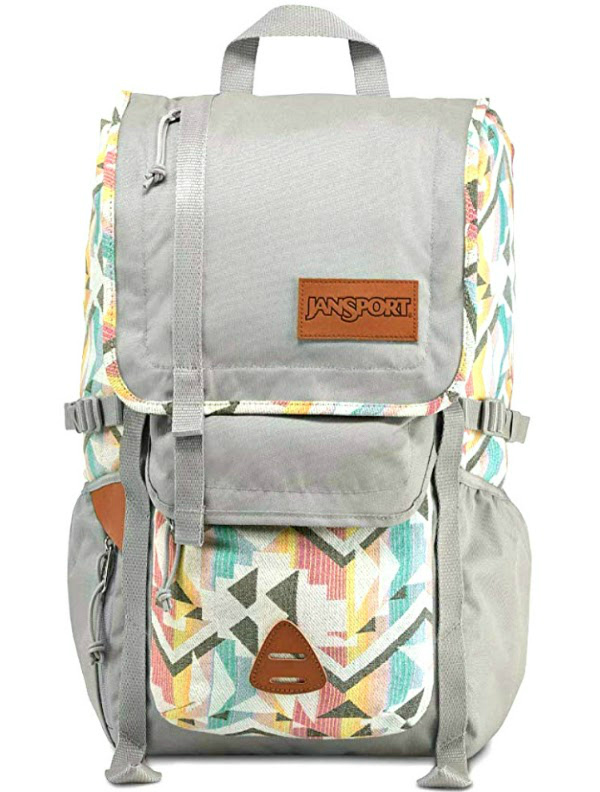 Day Pack or Backpack
A big must for a digital nomad backpack is having enough compartments for cords, tablets, laptops, and headphones. After all, our office is mobile and therefore, your bag needs to be as well!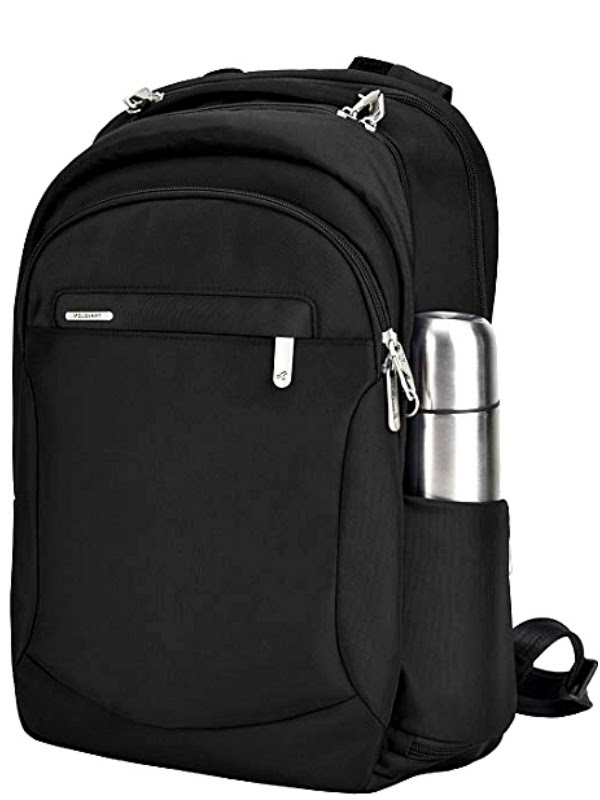 Travelon Anti-Theft Classic Large Backpack
Always look for a durable material that can withstand moving from city to city and one that has some anti-theft features as well. You always want to make sure your electronics stay as safe as possible.
Choose a backpack or day pack from these other recommendations: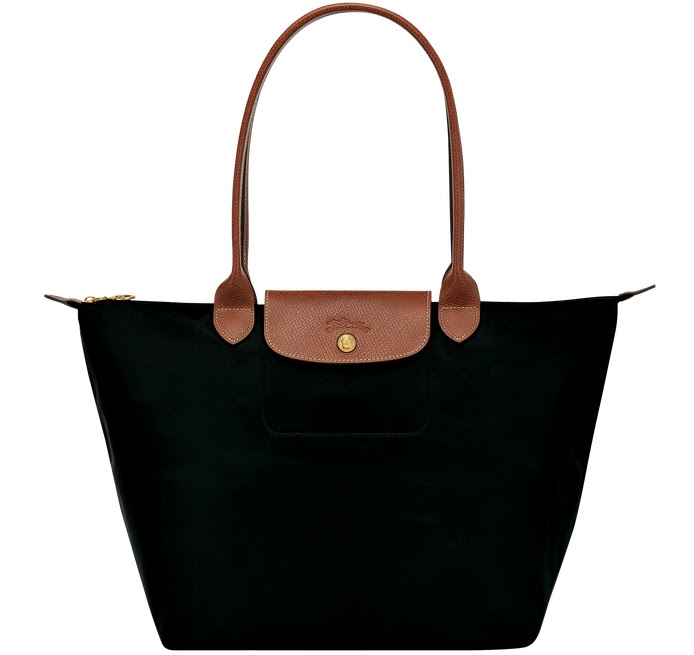 Longchamp Le Pliage Large Shoulder Tote Bag
Tote Bag or Day Bag
A foldable tote bag or day purse that can fit into your suitcase when not using it is helpful when out. Look for something with enough space and/or compartments to fit any essentials.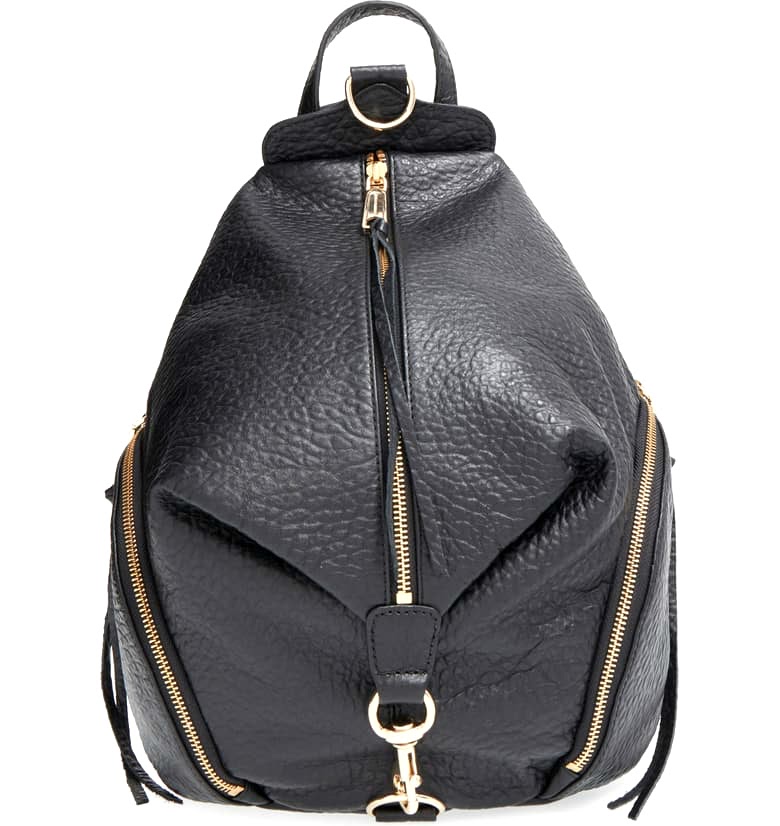 Rebecca Minkoff Julian Backpack
Even a cute, fashionable-looking backpack could work as well, which would be different than a work backpack. That said, you could also just use a plain nylon tote bag too, which is handy to haul things you buy at the market.  
You can grab more tote bag or day purse ideas from these posts:
And of course, as an intrepid digital nomad, it's vital to also bring these extra must-haves for you to work and live happily on the road:
Editor-in-Chief Alex in Her Digital Nomad Outfits and Accessories
---
Share your digital nomad packing list in the comments below!
---
For more tips on packing for a trip like this, please read the following:
---
LIKED THIS POST? PIN THIS PIC TO SAVE IT!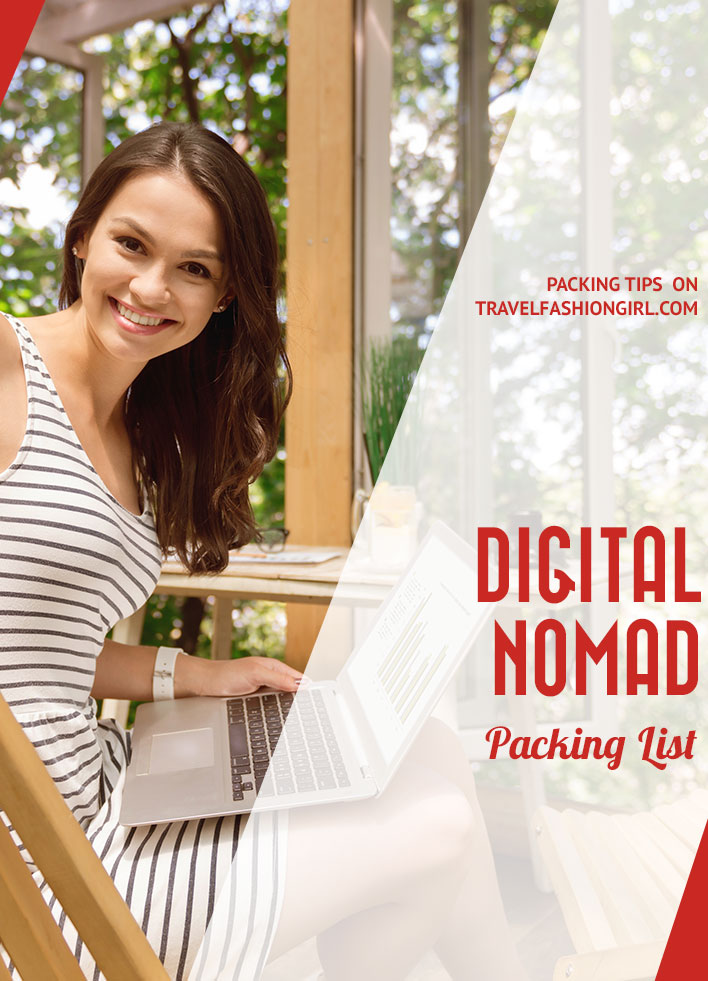 ---
We hope you liked this digital nomad packing list. Please share with your friends on Facebook, Twitter, and Pinterest. Thanks for reading!
---
Author Bio: Maggie Fogg is a full-time traveler and writer. She left Toronto with a one-way ticket to Spain and has been making her way around the globe ever since. Currently, you can find her dancing and hiking her way around South America. Follow Maggie on Instagram.
---