Support TFG by using the links in our articles to shop. We receive a small commission (at no extra cost to you) so we can continue to create helpful free content. Thank you, we appreciate it!
Long-term travelers aren't the only ones that should pack fast-drying towels. They're an absolute must-have in my packing list. Find out what's the best travel towel for you to take on your next trip!
---
Best Travel Towels
---
Many travelers don't realize how essential a travel towel can be. It comes in handy when hotel towels aren't up to snuff, or if you take an impromptu trip to a lake or beach. And as they're quick drying, a travel towel is a must for road trips, camping, and trekking.
We've rounded up our favorite travel towels that will work for any traveling situation.
Sea to Summit
This DryLite Towel from Sea to Summit is exactly what you want in a travel towel: it's soft but compact and quick drying. Available in five sizes from hand towel size up to a beach towel size. Ideal for backpacking, travel, boating or camping.
The microfiber has a super soft, ultra suede finish yet is still machine washable and easy to pack. It's also lighter than your average towel so it won't add weight to your luggage.
Packing cubes provide the perfect solution to protect your clothing from dirty towels.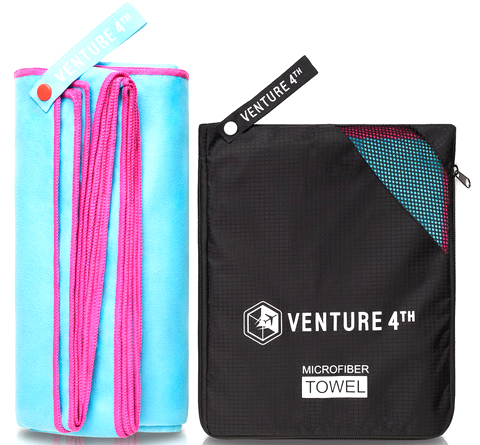 Microfiber Travel Towel
The travel towel from Venture 4th is lightweight, quick drying, and compact. Whether you're going to the gym, the beach, or camping, this towel is easy to toss in your bag so you'll always be prepared for your next adventure. Plus, it comes in an adorable bag.
The high quality microfiber cloth provides an extra soft and gentle feel. Thin and ultra absorbent, this towel will dry you quickly and comfortably without taking up space in your bag or weighing it down.
You'll want to look your best when you travel! Read my travel tips to Pack Light Stylishly!
McNett Tactical Ultra-Compact Microfiber Towel
Micro Net
Rigorous, outdoor adventures call for durable supplies, like this McNett Tactical towel. This towel's high-density microfiber weave is aggressive yet soft enough to comfortably clean off oil, dirt, and perspiration from your face and body. This can easily double as a medical towel, blanket, or wrap.
One of its most unique features is the silver treated microfiber. This makes it not only light weight and super absorbent, but it also inhibits the growth of odor causing bacteria, eliminating the need to wash daily.
Aquis Adventure Microfiber Towel
Aquis Adventure Microfiber Towel
The Aquis Adventure is the perfect travel towel for any type of traveling. Made from microfibers, it absorbs 4 times its weight in water while providing comfort and durability. Drying quickly, you won't have to wait around or carry a wet towel with you as you head to your next destination.
Incredibly thin and compact, its light weight makes it easy to take with you anywhere. The medium size is perfect to take with you on a run or hike, as you can fit it into a small day pack.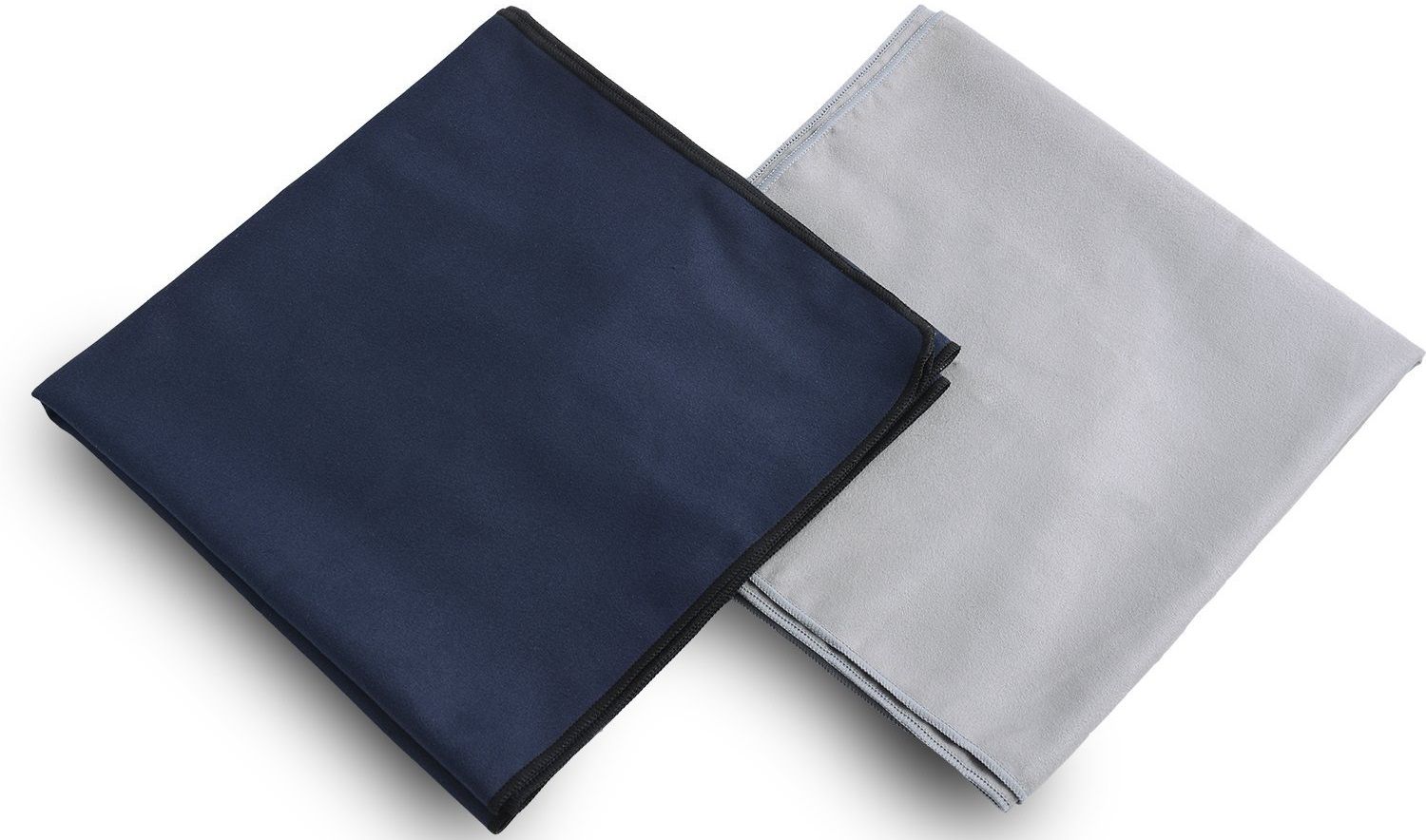 The Friendly Swede Microfiber Sports Towel
Microfiber Yoga and Travel Towels
This Friendly Swede travel towel is lightweight, compact, quick drying and soft to the skin – everything you want in a travel towel. This makes them superior to regular cotton towels, especially when traveling or going to your sports practice. As these towels take up less than 25% of the space of a regular towel, they are easy to bring everywhere.
Available in two sizes, the smaller size is a perfect compact size to dry your hair, while the larger size can easily wrap around your body as a full-size towel or blanket.
Lightweight Antibacterial Towels
Discovery Trekking Outfitters Ultra Fast-Dry Towel
If you don't like the feel of microfiber, try the Discovery Trekking Outfitters fast-dry towel, which is made from an antimicrobial, lightweight fabric that offers SPF protection. This antimicrobial feature discourages bacterial growth, keeping your towel smelling fresher longer.
This towel is available in three sizes. The small is great for using as a hair wrap, while the medium and large can work as a beach towel or airplane blanket.
SportLite Microfiber Hand Towel
SportLite
This towel from SportLite is the official towel of the Los Angeles County Lifeguard Association, so you know it's a good one! This towel utilizes 100% microfiber technology, making it perfect for the beach, the bath, airplane, or hiking.
People love this towel because it's light, super absorbent, fast-drying, travel-friendly, and durable. It comes with a convenient hang-loop sewn in, so you can hang it up anywhere.
Sunland
This super compact Sunland microfiber towel is made of microfibers and is lightweight and compact, making it a must for travelers, backpackers, and hikers. The fabric feels kind of like that suede fabric and can absorb tons of water while promoting rapid evaporation.
It's amazing how much this small towel can soak up so much water and dry off your body quickly, cutting down your drying time in half.
Youphoria Sport Multi-purpose Travel Towel
Youphoria Sport
On the go and need a towel that can keep up? Try this one from Youphoria Sport. This microfiber towel can dry up to 10X faster than normal terry cloth or cotton towels. Just hang it outside for a few minutes and you can quickly use it again.
Using the finest blend of microfiber, it's thin, soft, compact and super absorbent, making it the perfect post workout or shower towel because of its unique non-abrasive feel.
Packtowl Personal Ultra-Soft Towel
Packtowl
PackTowel's Personal Towel is a silky-soft hand towel that's perfect for the face and body with a microfiber blend that offers unmatched softness on your skin. The antimicrobial treatment reduces odor retention and increases the life of your towel.
This towel can soak up four times its weight in water. Just wring it out and it's nearly completely dry. We love this towel because you can machine wash it and leave it to air dry in a short amount of time.
Sinland Ultra Absorbent Travel Towel
Sinland
Made from an 80/20 blend of polyester and polyamide, this Sinland microfiber towel is thirsty, soft, hypoallergenic, anti-bacteria, lightweight, compact, quick-drying and easy to clean. It's compact enough to bring on your travel, hiking or camping without taking up much space in your bag.
It comes with a convenient mesh carry bag and hanging loop for easy and convenient packaging and drying.
Active Roots Microfiber Travel Towel
Active Roots
Gone are the days of using hostel towels, or waiting hours for your bath towel to dry. This absorbent, lightweight, quick-drying microfiber travel towel from Active Roots is the solution to all your problems.
The microfiber cloth is smooth like silk, while the durable material is antibacterial and odorless. It even comes with a snap hook to hang wherever you want. It is a great travel towel for the beach, hiking, or city stays where you want your own towel.
Which of these is the best travel towel for me? The Sea to Summit DryLite Towel in a pink color, size large. (I'm 5'2″ 110lb and a size large just barely fits around my body.)
---
What is your favorite travel towel? Share in the comments below!
---
For more tips and ideas on travel essentials, please read the following:
---
LIKED THIS POST? PIN THIS PIC TO SAVE IT!
---
Hope you enjoyed this post on the best travel towels. Please share it with your friends on Facebook, Twitter, or Pinterest. Thanks for reading!
---