This post contains affiliate links. Visit our Disclosure page for details.
---
Join our community of 500,000 stylish female travelers! Sign up for Travel Fashion Girl's newsletter and never miss a thing!
---
With vacation time just around the corner, summer rompers are quickly returning as the must-have item of the season. They're the perfect item for comfortable travel in warm weather and create stylishly simple outfits!
Rompers for women are also referred to as either playsuits or jumpsuits but whatever you call them, they're super travel-friendly! Read on for our recommendations on many ways to wear this comfortable, versatile item!
---
Summer Rompers
Written By: Sydney Woolery
---
What's not to love about summer rompers? They provide the ease of a dress with the coverage of shorts. They create an outfit in an instant while still managing to look perfectly put together.
While dresses top the list as one of the best travel clothing items, rompers are a close second due to their ease and stylish appeal. Find out why dresses are perfect for travel here – rompers can be used the same way!
In fact, if you love the idea of dresses and rompers, one of our favorite vacation lines took this idea to the next level and made a 2-piece romper dress. Have a look!
Rompers effortlessly encapsulate the breezy look of summer and come in a million different styles, with a vast selection working for all sorts of occasions. Feeling a bit overwhelmed? No worries, we went and did some of the guess work for you.

Listed below is a broad yet curated selection of summer rompers perfect for your warm weather travels. As a bonus, we've featured various sleeve lengths, styles, and size options, too!


Button Short | Collared Shirt | Tie-Belt | Tie Waist
Short-sleeve Rompers for Women

Love the look of sundresses but want a bit more mobility? Then a short-sleeve romper is the item for you. A trendy moss green utility romper is great for dancing around in at a concert while a gorgeous floral summer romper can work for dates, a nice brunch, or basically any occasion where you want to feel fancy and pretty.
A tie-waist romper in a breezy linen will become your best friend on your next sunny getaway while a simple polka dot romper will be the perfect complement to any warm, summer day out and about.
Cotton, rayon, silk, or linen–what are the best fabrics for travel? Find out here!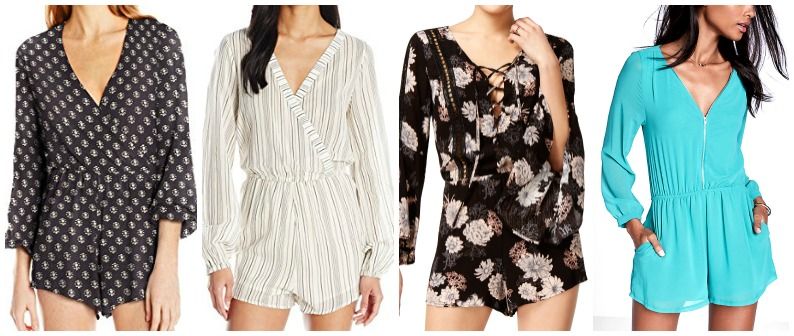 Printed | Coastal Break | Bell-Sleeve | Zip Front
Long-sleeve Rompers for Women
With a silhouette that provides a bit more coverage but still maintains its breezy nature, you really can't go wrong with a classic, long-sleeved summer romper. Bell sleeves, in particular, complement these garments wonderfully, infusing your look with just the right amount of free spirited, '70s flare.
Choose one in lighter weight fabric such as rayon or cotton so you can still wear them in warm weather without roasting. These are also good when traveling in mixed climates and create a more sophisticated look balancing the shorts with a longer sleeve.
Wondering which kind of purse to pair with your romper? We think cross-body purses are the best bags for travel! Learn more.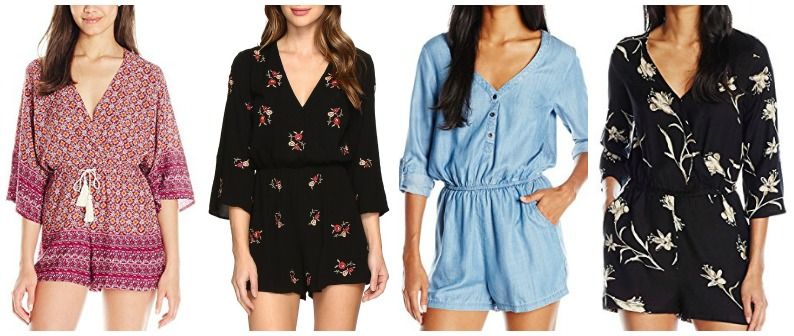 Bell Sleeve | Overlap Romper | Chambray Romper | Flowered Romper
Three-Quarter Sleeve Rompers for Women
If you're not feeling a short sleeve, find a long sleeve to be too stuffy, or simply want to show off some fabulous bracelets, then opt for a three-quarter length sleeved romper. These are a particularly good option for women that feel more comfortable wearing sleeved tops.
Again, make sure to have some fun with the sleeves every now and then! Whether it has a classic rolled up design or features some killer ruffled bell sleeves, this style of romper is a flattering silhouette to rock all season long.
Who needs heels when you've got wedges? Here's our list of the 10 most comfortable wedges!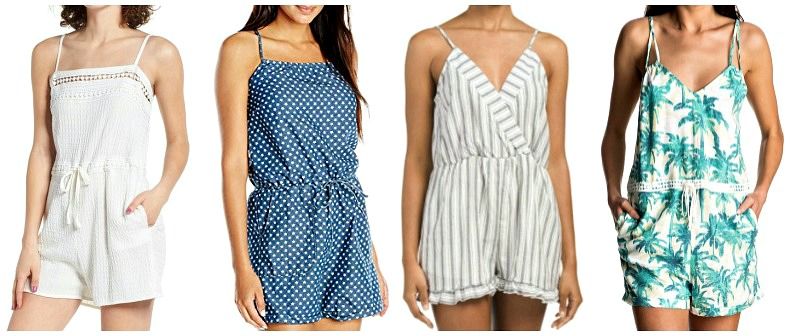 Feminine | Strap Chambray | Striped | Tropical
Spaghetti Strap Rompers for Women

As one of the breeziest summer rompers out there, a spaghetti strap is a great choice for that upcoming tropical vacation you've got planned…or you know, just summer in general.
The straight neck silhouette, in particular, is a stylish option that's also very strapless bra-friendly. If you opt for one of these beauties, don't forget to apply extra sunscreen on your shoulders!
Don't think you can strapless bras? THINK AGAIN. Read this post – it's a game changer!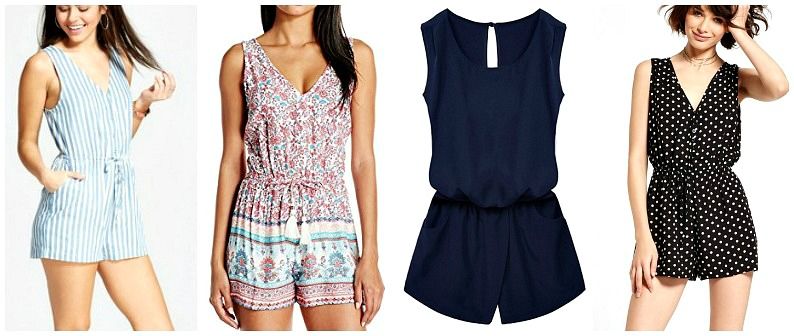 Stripe | Floral | Cut-Out Back | Sleeveless Printed
Sleeveless Rompers for Women

A sleeveless summer romper has a clean, classy silhouette that can easily transition from day to night. As a bonus, it's bra-friendly, too! (These are the best bras for travel.)
Choose a brightly patterned piece for some instant resort chic vibes or keep things sleek in a solid toned navy garment. And if you're looking to add some fun into your look, bring on the polka dots.
Pair your romper with one of our favorite comfy and cute summer sandals!

Jacquard | Halter Neck | Button-Front | Striped
Halter Rompers for Women

When a summer-perfect garment takes on a summer-perfect silhouette, you know it's an instant must-have for the season. A halter romper in a bold print is an easy statement item to rock during the summer days, whether you're strolling through your local farmer's market or going to brunch.
They're laid back while still giving your look some easy glam and they also have plenty of potential to be dressed up. If you're looking for breezy, daytime fabulosity, then a halter romper is the item for you.
Ballet flats are a great pairing with a feminine romper. See the best comfortable ballet flats for travel!
Kimono Sleeve | Eyelet Romper | Lace-Detail | Lace
Dressy Rompers for Women

We all know about the LBD. But have you heard about the LBR? The little black romper is an ultra chic option that takes formal wear to a whole new level. It's an unexpected yet stylish silhouette that gives the classic LBD look a fantastic modern flare.
Pair it with a dazzling clutch and a swipe of your favorite lipstick for your next warm night out on the town. If you want to keep things more summer-chic, opt for a pretty white lace romper with wedges or an embroidered, deep-V romper in a bold mustard.
A dressy romper is perfect for summer travel to Europe! Read our full Europe packing guide here.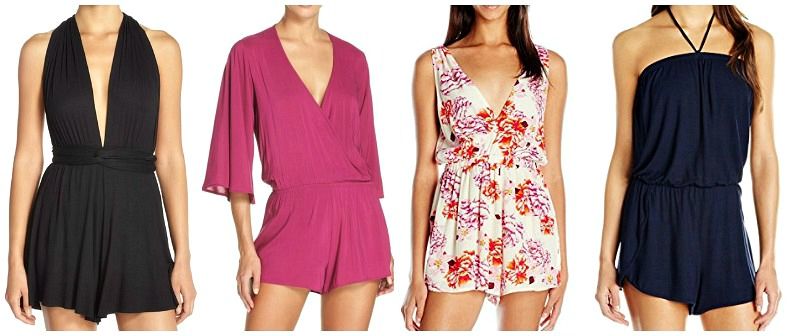 Convertible | Cover-Up | Playsuit | Hem Halter
Swimsuit Cover Up Rompers for Women

Because who wouldn't love a swim cover that you could easily wear from the beach to lunch? Get added versatility by choosing a summer romper you can wear on and off the beach. 
Convenience aside, you'll also be looking pretty darn fabulous. It's a win-win situation!
Swimsuit season is nearly here! Discover the best styles of athletic bikinis and cute sporty swimsuits!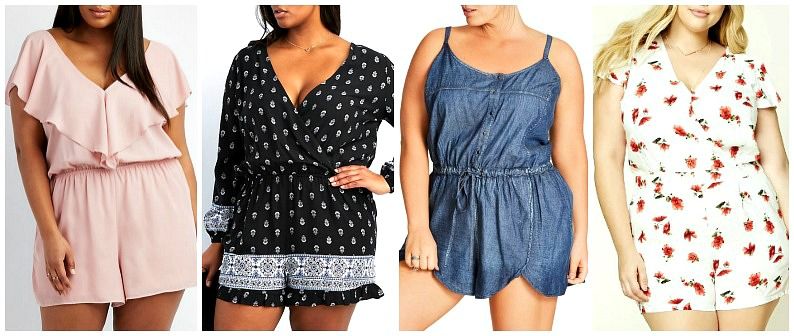 Flutter V-Neck | Border Print | Chambray | Rose Print
Plus-Size Jumpsuits and Rompers for Women

Ranging from breezy chambray to flirty florals, your style will be effortless with this beautiful selection of summer rompers with a range of size offerings. As a bonus, there are a variety of options that are bra-friendly, too! 
Learn our reader's plus-size packing tips and how she rocks a carry-on wardrobe!
Cuffed Knit | Drape Front | Cuff Sleeve | Ribbed Knit
Lounge / T-Shirt Romper for Women

Cute enough to be styled up and worn out, but casual enough to just lounge at the hotel or resort, the t-shirt romper is that staple item you probably didn't realize you needed.
Let me give you a few reasons why: most are made out of soft knit fabrics and thus ultra cozy, they're extremely versatile, they make an instant outfit, and they maintain the perfect balance of loungewear meets daywear.
You can even wear them as travel pajamas. Need I say more?


---
What are your favorite summer rompers? Share in the comment section!
---
For more travel fashion tips, please read:
---
LIKED THIS POST? PIN THIS PIC TO SAVE IT!
---
I hope you liked this post on summer rompers. Please share with your friends on Facebook, Twitter, and Pinterest. Thanks for reading!
---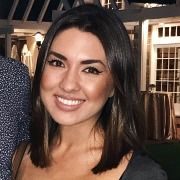 Author Bio: Sydney Woolery is a recent UCLA graduate who loves a good adventure just as much as she does a fabulous dress. Check out her fashion blog at www.tokyoglitter.com and follow her visual escapades on Instagram – @tokyoglitter.
---
Liked this article? Check out similar posts: