Support TFG by using the links in our articles to shop. We receive a small commission (at no extra cost to you) so we can continue to create helpful free content. As an Amazon Associate, we earn from qualifying purchases made on Amazon in addition to other retailers featured on the blog. Thank you, we appreciate your support!
---
I've discovered an entirely new packing strategy and if you're not already traveling carry-on only, this might be the game changer you need!
Introducing: the TFG Carryon Packing System! It's my new design, which offers you an efficient way to organize your luggage. Separate your belongings by color or by number so you'll always know exactly where to find what you need. Keep reading to learn more and reserve yours before it's too late!
---
Travel Fashion Girl Packing Cubes
---
When I started Travel Fashion Girl, my goal was to learn how to travel carry-on only. In July 2011, I had been traveling for four years full time and I was so tired of overpacking all the wrong things and dragging around a heavy backpack around the world. Frustrated with the lack of packing advice for female travelers, I set out to figure things out for myself.
I spent one year testing out different packing ideas and interviewing other female travelers on the road. In August 2012, I launched Travel Fashion Girl to share my findings and give others insight on how I was able to downsize my travel clothing using the concept of a capsule wardrobe.
However, it wasn't until I started using packing cubes that I was finally able to travel with a carry-on size backpack. This was a major milestone for me! Gratefully, I've been able to travel carry-on only ever since, despite traveling full-time and permanently living out of a suitcase.
I've spent the past six years perfecting my packing skills. In doing so, I also discovered many flaws in the existing packing cubes available on the market.
Now, I've taken matters into my own hands and I'm happy to introduce you to my very first product:
Compass Rose Carryon Packing Cubes!
Because I live, breathe, and dream about packing 24/7, I've designed these packing cubes to be so much more than a typical suitcase organizer. The TFG Carryon Packing System offers you a new, efficient way to organize your luggage. Separate your belongings by color or by number, you'll always know exactly where to find what you need.
They're the ultimate packing cubes!
Buy Compass Rose Packing Cubes here!
---
The one-of-a-kind color and numbered organizational system enables you to pack using one of five unique packing strategies. You can use the packing cubes to pack based on the clothing item, weather, family member, outfit, or destination.
Pack your luggage using one of five unique packing strategies:
SEPARATE BY ITEM
Tops
Bottoms
Outerwear and Accessories
Pajamas, Undergarments
SEPARATE BY WEATHER
(RED) Hot Weather
(RED) Hot Weather
(GREY) Cold Weather
(GREY) Cold Weather
SEPARATE BY OUTFITS
Day One
Day Two
Day Three
Day Four
SEPARATE BY DESTINATION
Destination One
Destination Two
Destination One
Destination Two
SEPARATE BY FAMILY
Adult One
Adult Two
Child One
Child Two
Depending on the length of your trip and the weather, you may only need to use some, not all of the packing cubes.
Watch the packing tutorial on Youtube!
I put together a five-part YouTube series showing you the different methods to use packing cubes. If you use this specific packing strategy, they can also compress your belongings. This is the secret to traveling carryon only!
Buy Compass Rose Packing Cubes here!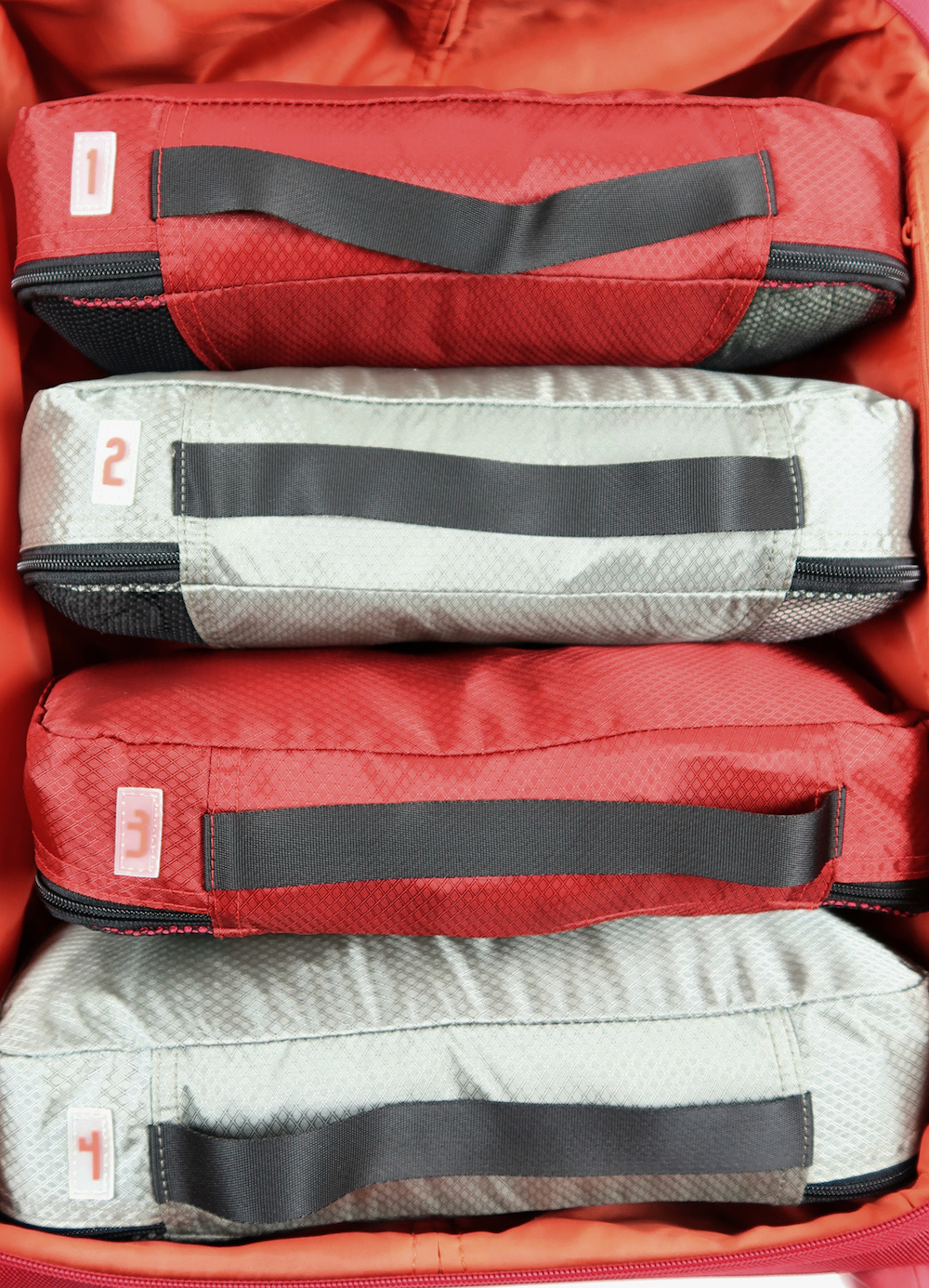 Why are these packing cubes different than the rest?
Not only are they an awesome Travel Fashion Girl product, but they are also more functional than any other packing cube available.
In addition to the one-of-a-kind color AND number coded system, TFG's Carryon Packing System features include:
4 packing cubes in each set
They're sized to fit international carryons, this is the ONLY packing cube that is the correct width for international carryon sizes
Unlike other packing cubes, they have a structured fabric ensuring the cubes retain their shape so they fit neatly inside your suitcase
They're not just a luggage organizer. They're a packing system that allows you to use five unique packing strategies for an efficient, stress-free travel experience.
Stop wasting time trying to figure out where your clothing is hiding. Make the most of your trip by being well-organized and prepared every single time! Buy Compass Rose Packing Cubes here!
As a plus, the TFG Carryon Packing System also offers:
International carryon sizing so your packing cubes will fit perfectly for a wide range of airlines worldwide.
Versatile packing options. Position the cubes vertically like drawers to use the entire height of your suitcase or stack them flat on top of each other. If you're traveling with a backpack, you can slide them in vertically.
Color-coding helps families, friends, and couples share a suitcase. Each member can have their own color to easily identify their belongings.
Easy to clean, water-resistant fabric: just wipe and go. This is perfect if you have kids or are taking them on an outdoor adventure!
Use them at home, too. TFG's Carryon Packing System can be used to organize your daily items, too. Use them at home, work, school, or even in your car – they're not limited to luggage.
Not only can you use them to store clothing but you can also use them for toiletries, snacks, electronics, food, and so much more.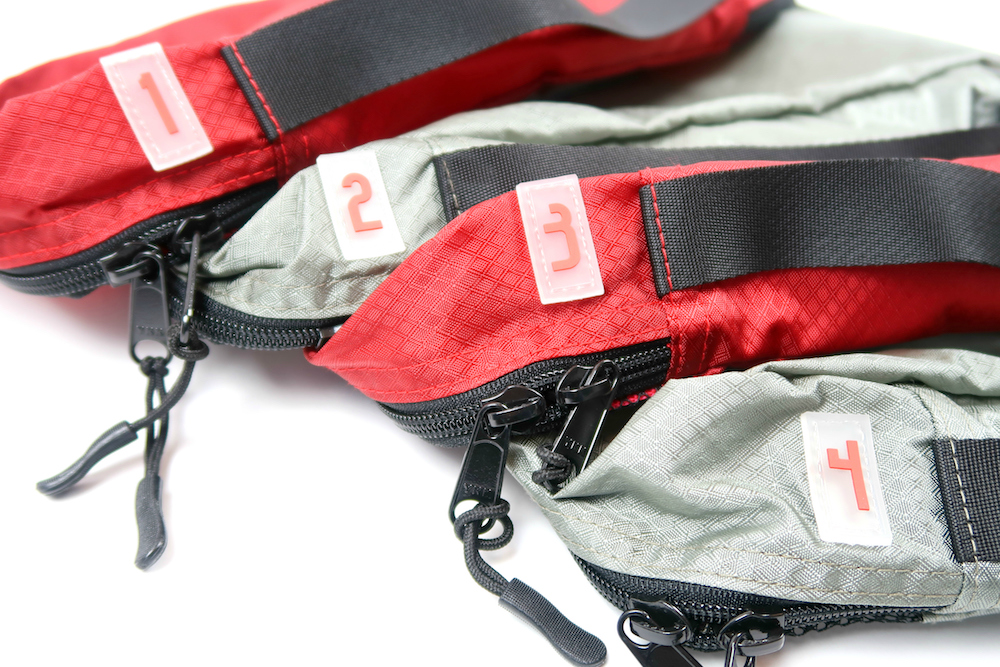 Will you offer more colors?  
The initial packing cube set features the Travel Fashion Girl signature colors: red and grey. This set will act as the core of our collection just as every capsule wardrobe has its essentials items.
What is the size of the packing cube set?
The dimensions are 13 x 5 x 2.8 inches and there are four packing cubes in each set.
How much do the packing cubes weigh?
 2.4oz each
Will you offer more sizes? 
My hope is to launch more sizes, colors, and products, too. I have so many ideas I'd love to share with you! If we can gain enough momentum with this special pre-order time period, I can go full force into production of new products in 2018.
Why did you name the collection Compass Rose, not Travel Fashion Girl?  
Five years before starting Travel Fashion Girl, my goal was to create a clothing line called Compass Rose featuring practical but fashionable items. Hopefully the travel products are just the beginning and I'd love to grow the collection to have clothes in the future!
Buy Compass Rose Packing Cubes here!
---
Where will you travel with these packing cubes? Comments below!
---
For more tips and ideas on packing organizers, please read:
---
I hope you liked my new packing cubes. Please share with your friends on Facebook, Twitter and Pinterest. Thanks for reading!
---