Support TFG by using the links in our articles to shop. We receive a small commission (at no extra cost to you) so we can continue to create helpful free content. Thank you, we appreciate it!
Call it a travel day bag, daypack, backpack, purse, personal item, etc. – it's the smaller bag you take in addition to your carry-on, and it's what will accompany you while you hike Machu Picchu or explore the heart of Paris. There are so many daypacks on the market, how will you choose what's right for you?
The three qualities you should consider are size, complexity, and style. Let's take a look at the best day bag options for every type of trip!
---
How to Choose a Travel Day Bag
Written by: Claire Gros
---
A travel bag for the day is a must have for any journey you take and an essential part of your capsule wardrobe. To help you choose the perfect bag for you, we're looking at the most important features of a travel day bag, including:
Let's dive into our recommendations:
Rebecca Minkoff Julian Backpack
Size
By default, travel day bags will be smaller than your carry-on, but how much smaller? Before you make any decisions, make sure to check what your airline defines as a personal item. Their website will often list the maximum dimensions allowed (to give you an idea, United Airlines' max dimensions are 9 in x 10 in x 17 in / 22 cm x 25 cm x 43 cm.)
Now think about how you see your day-to-day going while you're traveling. Carrying around a bag that's larger than necessary is never fun, so what are the essentials that you'll need on you at all times?
If during your trip you'll mostly be visiting cities, there will probably be a moment during the day when you can run back to your hostel or hotel to grab a sweater and a change of shoes. Look for a medium handbag that will comfortably fit a map, your on-the-go cosmetics, and maybe a scarf. Use a packing cube to keep your belongings organized in your day bag so that way you can have access to what you need right away!
If you plan on eating out during the day, you don't even need to worry about room for a water bottle.
Read my full review and find out why we think this is one of THE best purses for travel ever!
Functionality
Now that you know how big your travel bag should be, think about what kind of compartments you'll need. This is the bag that you'll put all of your valuables in while you're on the move (when the nice man asks for your luggage to put under the bus for your 10-hr overnighter, keep your daypack on you!).
If you plan on bringing your laptop, look for a bag with a built-in laptop sleeve like the Backpack from Herschel.
Fjallraven – Kanken Classic Pack
Depending on how much space you have, your travel bag may double as your purse. If this is the case, look for a bag with small zipper pockets to hold your bills and loose change.
I carry a petite cross-body purse with me in addition to my daypack, so I went with the Fjallraven Kanken backpack in peach pink which just has two compartments – a small one in the front for things I need to access easily (boarding passes, maps, etc.), and a large one that I can place everything else in, including my small purse.
Here are out top cross body purses for travel!
Marc Jacobs Domo Arigato Packrat Backpack
Style
Here "style" refers both to aesthetics and comfort. Your day travel bag will be the item that you'll have on you most often. You want to find one that you'll be happy to see in most of your travel pictures and that you'll be happy to wear all day long.
If you plan on walking around a lot, don't get a bag that will wear you out. Your daypack has to be comfortable to carry. Look for a backpack with thin fabric and padded shoulder straps. This doesn't necessarily mean you need to go with a 'sporty look,' you can opt for a fashion backpack like this one from Marc by Marc Jacobs.
Take a look at these cute backpacks for women including TFG's Top Pick: this black leather backpack by Rebecca Minkoff – WE'RE SO IN LOVE!
If you'll often be in crowded areas notorious for pickpockets, you'll want to be able to keep an eye on your travel day bag while not attracting attention from others. Look for a shoulder bag in an earthy tone that you can pull around the front of you, like this one from Fossil.
For more security conscious travelers, take a look at this list of "theft-proof" bags for travel!
---
Once you've zoned in on the travel day bag of your dreams, make sure to take it for a spin before your trip to make sure no unpleasant surprises are waiting for you. Good luck finding the perfect sidekick for your trip!
What do you prefer to use for a travel day bag? Share in the comments!
---
For more travel accessories related post, please read:
---
Hope you liked this post on how to choose a travel day bag. Please share it with your friends on Facebook, Twitter, and Pinterest. Thanks for reading!
---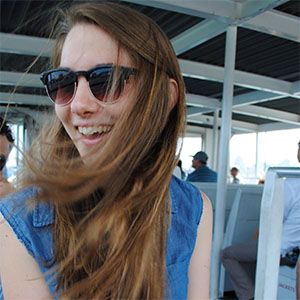 Author Bio: After three exciting years in New York, Claire Gros left the big city in pursuit of the alluring unfamiliar.  She now finds inspiration in the traveling summer solstice and the affordable flights that keep the sun in her sky. Follow her journey on instagram: clurrgros.
---