Support TFG by using the links in our articles to shop. We receive a small commission (at no extra cost to you) so we can continue to create helpful free content. We earn from qualifying purchases made to the featured retailers. Thank you, we appreciate your support!
We've received tons of questions about this bag from readers wanting to know, "Is it really that good?" We're tackling all your big questions and sharing readers' Rebecca Minkoff Julian backpack reviews. Find out why we think this is one of THE best purses for travel ever!
---
Rebecca Minkoff Julian Backpack Review
---
Table Of Contents
I first purchased the Rebecca Minkoff Julian Backpack in 2015, and it's still one of the best purchases I've ever made. In fact, it's the ONLY purse I owned for two years aside from one small cross-body bag.
It was ideal for my needs, and I used it for everything. I even used it to travel for one week luggage-free! It's stylish, versatile, and perfect for carrying all your essentials.
Since I've had this bag, I've raved about it all over the blog, and many other female travelers also caught on to the fact that this purse was ideal for traveling. In fact, so many of our readers love using this bag for travel that even the Nordstrom and Rebecca Minkoff brands started marketing it for that purpose. (Note: We don't have a relationship with either of those companies.)
We've put together this Rebecca Minkoff Julian Backpack review because many of our readers want to know why there is so much buzz around this bag. Not only will you hear my feedback, but you'll also read Rebecca Minkoff reviews from the readers who own this backpack purse. We're answering all the biggest questions so you can decide if this bag is worth it.
It's important to note that this is a backpack-style purse that wasn't necessarily designed for travel. However, it has various features that make it the ideal traveling purse for women looking for an alternative to the popular cross-body bag.
Learn to Pack Light Stylishly with my e-book!
I traveled for one week luggage-free with the Rebecca Minkoff Julian Backpack.
Read about it here.
Rebecca Minkoff Julian Backpack Basics
Style: Rebecca Minkoff Julian Backpack
Dimensions: see details below
Material: leather, canvas, or nylon
Weight: the regular size is 1.9 lbs and the medium is 1.0 lbs
Color: various sizes, prints, and textures
Opening Type: front loading
Features: three exterior pockets (including one back "secret" pocket), three interior organizational compartments
Security: exterior latch has the option to cover main zipper access when locked at the top ring, unofficial "secret" back pocket
Travel Type: perfect for carry-on, vacation, business, and city break travelers
What's the Big Deal About the Rebecca Minkoff Backpack?
A quick summary as to why I love this bag: It looks attractive, it's spacious enough for all my daily sightseeing or plane essentials, it has a secret pocket for my passport or wallet, and I'm happy wearing it with all my outfits every single day of the year at home and while traveling.
Choosing the best travel purse can be stressful? There are lots of factors to keep in mind so we've happily broken down the criteria you should consider when selecting one. Take a look!
What Size is the Rebecca Minkoff Julian Backpack?
The Julian backpack-style purse is available in several sizes. We focus on the regular (or large) backpack and the slightly smaller medium Julian backpack. First, here are the dimensions of each bag:
Regular Size Dimensions: 11.25" W x 12" H x 6" D: Rebecca Minkoff | Nordstrom | Amazon 
Regular (Large) Size
The regular size (also known as the large size) is more appropriate so you can fit taller items, like a water bottle or iPad. I've even used it with an 11″ MacBook Air.
Medium Size Dimensions: 6" W x 10" H x 5" D | Rebecca Minkoff 
Medium Size
I've found that the medium size Julian Leather backpack is perfect for minimalist travelers or for women who don't regularly use large purses.
As you can see, there isn't too significant of a size difference. The biggest difference between the two sizes is the height. However, you'll want to base your decision on how much you want to pack.
I own both sizes and personally prefer the regular size because it holds so much. It can act as my personal item on a flight or as a spacious day bag for sightseeing. The medium size feels more limiting due to its shape, so I use that size when I don't need much space.
Someone asked about fitting an iPad into the backpack, and one reader says, "I have the medium backpack, and it's a real struggle to get my iPad Air in it. Definitely go for the large!" Another reader adds, "I also recommend going for the larger size in leather. It's not that large or that heavy."
You can also buy a Rebecca Minkoff mini backpack purse, which is a very small so might not be as suitable for travel.
Jumbo Size Dimensions: 12″ W x 17″ H x 6.5″ D: Rebecca Minkoff | Amazon | Zappos 
Jumbo Size
The jumbo size Julian backpack is perfect for anyone who prefers larger purses or needs a bigger bag for an overnight or weekend trip. It's also suitable for a business traveler, as it combines the convenience of a backpack but has an elevated, polished  look because of the luxe leather and stylish shellac hardware. 
If you notice, there's more of a width and height difference between the regular and medium sizes. So, if you need a bit more room for a laptop, a change of clothes, and a small toiletry bag, this is ideal. 
For longer bouts of travel, it can be as my personal item on a flight or as a spacious day bag for sightseeing, especially if you plan to be gone all day. 
A repeat buyer and traveler shares their experience with the bag, "I love my Julian so much, this is my fourth. I'm using this one for travel and it's the perfect size to fit what I need but still look stylish. My laptop fits perfectly in the back pocket so it's very functional."
Julian Backpack Purse (regular size) can fit quite a lot but doesn't look bulky
How Much Can You Fit in the Rebecca Minkoff Julian Backpack?
One reader says, "I LOVE this bag for travel and use it as my purse/personal item. It easily holds everything I need for a day out and about — my friends call it my Mary Poppins bag!"
While traveling in Paris and London in winter, I was able to fit all this inside the regular size Julian backpack: sunglasses, reading glasses, water bottle, travel-size umbrella, knit hat, gloves, blanket scarf, extra thermal top, phone, wallet, and small daily essentials such as tissue, travel brush, hand moisturizer, chapstick, eye drops, etc.
Another reader who has the larger sized bag says, "It held my iPad with a keyboard, my clutch wallet, my eyeglass case and sunglass case, a sweater, a pouch I keep my earbuds, charger, and other cords in, snacks, a water bottle, and a pair of flip-flops."
However, the medium is still roomy enough for many travelers. One reader who has the medium size says, "It held my iPad mini, and a very small water bottle fits in the side pockets (barely). It's very light and the perfect size. Feels good on my back."
And another adds, "The medium nylon was perfect for me. Fits a lot of stuff! I took an iPad mini, too."
Read this for tips on how I packed for one week with only one bag — the Julian backpack!
Julian Backpack available in two materials including nylon (shown) and leather
What Material Is the Rebecca Minkoff Julian Backpack?
This backpack comes in two fabrics — leather and nylon. My favorite is the leather, because it's so classic of a style. However, the nylon is lighter weight and less expensive.
One reader says, "I have both the leather and nylon and used the nylon all over Iceland. If it's not full, it is compact, very lightweight and I could stuff a water bottle and sweater in if needed. Works for both city and sporty styles. Also the rain was repelled!"
Another reader adds, "I just traveled for three weeks all over Europe with the nylon backpack and love it! Hiked in Switzerland in the Alps and as far as Portofino! Even through rain the backpack still looks brand new! I carried two bottles of wine and picnic lunch with no problem."
However, another reader says, "I prefer the leather version as the nylon one sags unless you have a reasonable amount in it."
Not sure whether to choose the Longchamp Le Pliage Backpack or the Rebecca Minkoff Julian? We've compared the two, check out the pros and cons of each purse in this review!
The Julian Backpack features two side pockets
How Heavy is the Rebecca Minkoff Julian Backpack?
Weight is an important factor for a backpack, especially for long days walking and sightseeing, as you don't want to end up with back pain. In fact, using a reasonably weighted backpack might be more comfortable for travelers who suffer from back pain as it evenly distributes the weight across both shoulders.
Back pain was one of the biggest reasons I stopped using shoulder or cross-body bags — the backpack felt more comfortable. I don't find this backpack to be too heavy, even when I pack a ton in it, and many readers agree.
Even if you have back issues, this bag may still work for you! One reader says, "I have back issues (degenerative disc by my back of neck/shoulder area) and the weight on the leather has worked out fine for me. That said, I'm very careful about how much I carry on a daily basis."
One reader says, "I have the larger Julian backpack, and I don't find it heavy at all." Another adds, "I have the leather backpack, and although I am sensitive to the weight of my other leather purses, the weight of this backpack is a non-issue. I'm 5'2″ and I can walk all day with it."
As one reader says, "Leather is leather, and if it was a lightweight bag, it wouldn't be good quality leather."
And another adds, "Personally, I don't think it's that heavy for a leather backpack. I'd question the quality of the leather if it weighed less."
Consider minimizing your luggage weight when you travel!
Rebecca Minkoff Backpack features the ability to lock at the top or bottom.
Is the Rebecca Minkoff Julian Backpack Good for Travel?
This definitely isn't a backpacking bag or a backpack you'd take when trekking through the jungle, but I highly recommend this small backpack purse if you're visiting major cities instead of rural areas. I love how many compartments and pockets this bag has, making it easy to organize your essentials.
One reader who has the regular sized bag says, "I think this bag is going to be a great 'everyday' bag as well as a good 'personal item' for travel. It easily holds everything I could need while out and about and will fit my Lenovo laptop if I needed to."
Aside from being stylish, convenient, and roomy, it also looks like a regular purse vs. a utilitarian "travel" purse. And while it's not technically an anti-theft bag, some of the features are perfect for keeping your belongings secure.
One reader says, "I bought the black nylon medium as my purse for a recent two-week trip to Spain and Portugal. I reversed the direction of the hook and clipped it to the top ring to help deter pickpockets. It looked a little weird, but I didn't care!
"I also used a carabiner clip or my Lipault combination luggage lock clipped through the zipper to the top ring when we were in particularly crowded areas. I kept my phone, passport, and credit card/cash in the back zipper pocket so it was against my back. I know it's not a slice proof bag, (but I wanted it!) and it worked for me."
Note: We recommend you use it clipped to the top not the bottom ring.
The Rebecca Minkoff Julian features a "secret" back pocket large enough for a passport.
Is the Rebecca Minkoff Julian Backpack Worth the Price?
In my opinion, absolutely. This bag is so stylish and on trend, and it won't be going out of style anytime soon. I love that these designer backpacks come in several sizes and fabrics, as well as so many different colors. From classic black and camel to fun blues and reds, you can find one for any style.
Several readers who own this bag love it, too. One reader says, "The leather seems to be good quality and the bag is very practical. Worth every penny if you ask me."
Another says, "I would buy this again in a heartbeat."
And a third adds, "I love mine! It's my everyday purse now, and it's really helped alleviate the back pain I was feeling from my cross-body bag. I certainly feel I've gotten my money's worth out of it."
For purses like this in other price points, read this round up of cute backpack purses!
The Rebecca Minkoff Leather Backpack shown here locked at the top as an "anti-theft" precaution
Why I Love this Purse
Many readers wonder why this bag gets mentioned on the blog so much.
The truth is, I only owned this one purse for two years, so I didn't really have any other purses to talk to you about. And, I didn't need to own any other purses because this bag was simply perfect for me.
Just like for many of our readers, buying the Julian backpack was not an easy decision for me — it was an investment buy.
After seeing it online on the Rebecca Minkoff website (but hesitating to purchase because of the price), I found it on sale during the Nordstrom Anniversary Sale. I closed my eyes, handed over my card, and didn't think twice.
It was years since I'd spent that much money on anything, so I felt so guilty about making the purchase. Years later, the bag has suited my needs so well it's been the ONLY bag I needed, so I've had ZERO reason to shop for any other handbags.
This experience taught me a big lesson in my purchase mentality. Seeing how that one perfect purchase has kept me from the need to buy a bunch of unnecessary bags, I've come to appreciate quality versus quantity.
Please note: The version that I own is no longer available. It is the regular (large) size Julian in black leather with quilted pockets and gunmetal hardware.
Watch this video
Rebecca Minkoff Julian Backpack Packing Video
I used my Julian backpack as my only travel bag for a one-week vacation. Watch this video to see how I was able to do it! If you're an ultra minimalist, you can do it, too!
Read this article to find out how I packed for one week "luggage free" using only this bag. Tip: I packed all my clothing using just two slim packing cubes and this packing hack.
Where to Buy the Rebecca Minkoff Julian Backpack
Here's where you can buy Rebecca Minkoff purses; Amazon, Nordstrom and  Zappos, and directly on the Rebecca Minkoff site. There are a variety of styles available, and different ones go on sale throughout the year. That's when we like to shop!
Shop for Rebecca Minkoff Julian Backpacks here!
Don't forget to subscribe to my YouTube Channel for access to all my packing videos!
Watch the video to see how everything fit into my purse on my one-week summer vacation luggage free! Here are more pictures wearing my Rebecca Minkoff backpack purse:
Buy the Rebecca Minkoff Julian Backpack here!
---
What favorite feature would you add to this Rebecca Minkoff Julian backpack review? Share in the comments below!
---
For more travel purse reviews, please read:
---
LIKED THIS POST? PIN THIS PIC TO SAVE IT!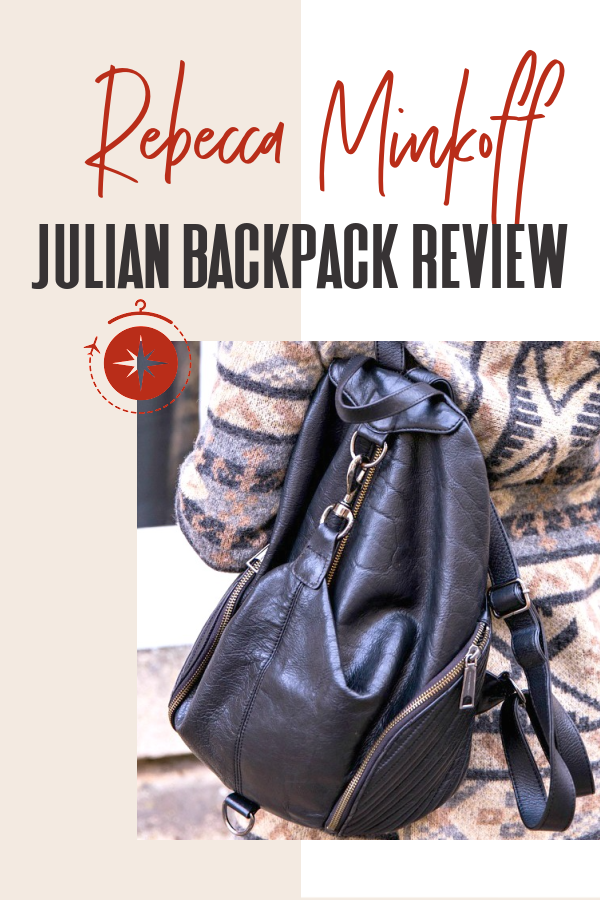 ---
I hope you enjoyed this Rebecca Minkoff Julian backpack review. Please share it with your friends on Facebook, Twitter, and Pinterest. Thanks for reading!
---