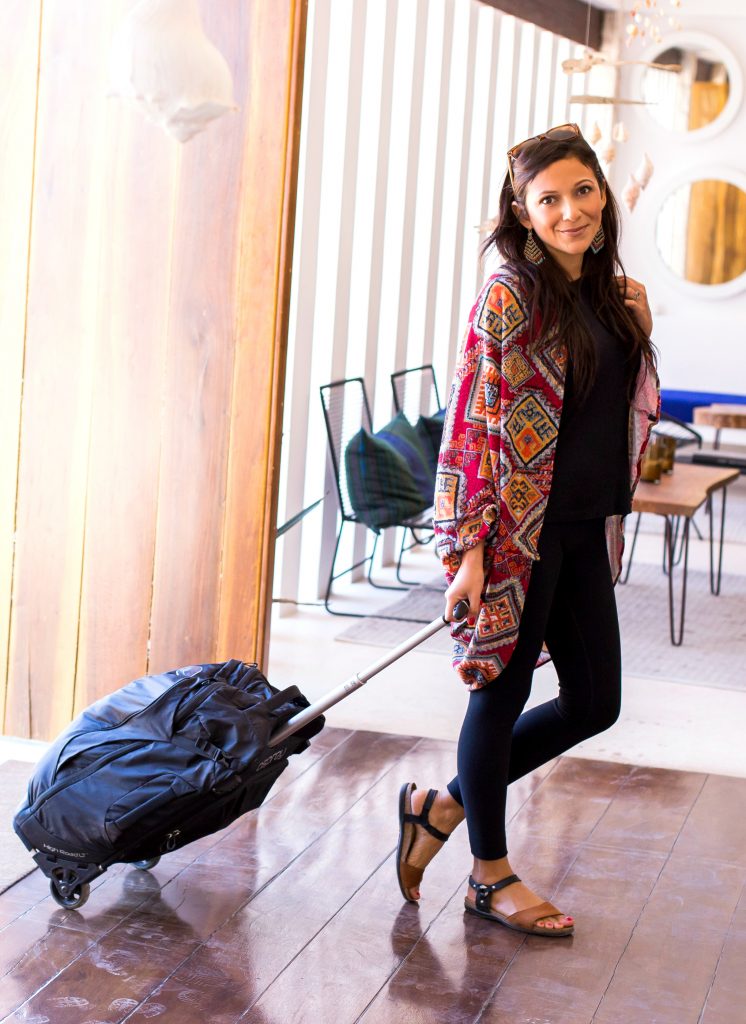 I know how you feel. You're planning for a trip and have no idea what to pack.
Perhaps it's your first time traveling, you're visiting an entirely new destination, or maybe you're just tired of overpacking all the wrong things.
You might even think packing light is completely unrealistic. I mean, how can you actually have everything you need in one tiny little carry-on especially when you're traveling for a really long time?
Well, I am about to share my top packing secrets with you.
These are the strategies I've used to go from overpacking to traveling the world carry-on only full-time for months at a time.
These tips have helped millions of women transform their packing habits and they will also change the way you think about packing.
If you have no idea where to begin packing, scroll down and review the step-by-step breakdown below. If you're looking for specific topics, browse our categories: packing tips, luggage, clothes, shoes, or toiletries.
STEP 1: PACKING LIST
Before you do anything else, download our FREE printable packing list. Not only can you print it, but you can customize it and save it, too!
Everyone says it's the most comprehensive travel checklist online. And the best part? It's free!
STEP 2: PLANNING
Before you even think about buying luggage and other travel gear, you need to think about what you plan to bring on this trip. The first step in the process is to research your destination.
To help you achieve this, we have an entire section dedicated to what to wear in specific destinations so you know exactly the type of clothing you need (and don't need) for your trip.
Choose one of our packing lists for specific advice on destinations around the world:
If you don't see your city or country listed within the above regions, visit the Travel Fashion Girl Facebook Group and post any questions you may have for your trip. It's a fabulous community of helpful female travelers that love to share their best tips on shoes, clothes, and travel tips. It's free. Join here!
One of our goals is to determine the best clothing for every destination. Not one style works for everything. We want to make sure you look stylishly appropriate everywhere you go.
STEP THREE: CLOTHING
Once you've done your research, it's time to learn the art of creating a capsule wardrobe. Without this, you'll find it challenging to travel carry-on only and stop overpacking.
The main factors to consider when planning a capsule wardrobe for travel are:
Each piece can be worn in various settings
All items must mix and match
All colors should work well together
Shoes should be neutral and suitable for all outfits
The weather should be taken into consideration
We've created two super helpful FREE resources that will help guide you through this process with ease:
Four Customizable Capsule Wardrobes for Travel: Choose from summer or winter examples featuring six to fifteen items per set. You won't believe how many outfits you can make with just ten pieces of clothing!
Travel Wardrobe Essentials: This free guide shows you exactly how to choose the right clothing for travel. Spoiler alert: no convertible pants required! In fact, these are the best travel pants for women and they're so stylish and functional, too!
Read this guide on how to choose clothing to learn what items work best for travel. Browse all our travel clothing articles or look for specific clothing sections below:
Want to learn everything about how to make a capsule wardrobe for travel ASAP? Read our ebook Pack Light Stylishly!
STEP FOUR: SHOES
Choosing the right shoes for a trip is challenging but it's not impossible. The main thing to remember is that comfort is king – you can't enjoy your trip to the fullest extent if you're in pain and can't walk.
While the ideal shoes will be both comfortable and fashionable, style will have to take a back seat if it means you can't wear a pair of shoes for hours at a time.
We have an entire category dedicated to shoes because 1) we love shoes and 2) its really hard to find stylish yet comfortable shoes.
Search for our suggested travel shoes here:
Learn exactly how to choose the best travel shoes with our FREE downloadable guide!
STEP FIVE: TOILETRIES
The biggest mistake travelers make with toiletries is not considering how much product they actually use. There are five key steps when it comes to downsizing your toiletries properly for a trip:
For useful tips such as downsizing toiletries and choosing the best travel makeup, read our Ultimate Guide to Packing Toiletries. It includes a free printable checklist!
STEP SIX: LUGGAGE
Start with luggage. If you don't already own a suitcase, choose one wisely. Read these tips on how to pick a suitcase and consider one of these top brands. Make your life easy with our best suitcase recommendations.
There are times when backpacks are better than wheeled bags. If you're going on an adventurous trip, learn how to choose the best travel backpack.
Use packing organizers. Do you want to know the ultimate tool to travel in a carryon? PACKING CUBES! They changed everything for me and thousands of other travelers. See my packing tutorial on how to use them! Trust me, they are a must!
Use tried and tested packing strategies. For a summary, read our top 75 packing tips.
I've recently taken on a few extreme packing challenges to show you that packing carry-on only is possible for any trip. If I can pack like an ultra-minimalist (with style of course) then you can pack more comfortably in a regular carry-on. Watch these packing videos to learn more:
Watch all my packing videos here!
Don't forget about safety: Be cautious about where you stash your cash. The safest place for your passport is locked in your accommodation. Carry a photocopy or other ID when you're sightseeing or are out at night.
Keep your valuables safe with these anti-theft products:
Read these tips on how to keep your passport safe when you travel!
I traveled full-time for over eight years. If I could travel carry-on only for my indefinite travels (that means months and even years at a time) then you can do it, too!
Safe and stylish travels!
alex 🙂