Support TFG by using the links in our articles to shop. We receive a small commission (at no extra cost to you) so we can continue to create helpful free content. We earn from qualifying purchases made to the featured retailers. Thank you, we appreciate your support!
One of the tees most recommended by readers is the J Crew t shirts women's 365 stretch style. I just bought one for myself a few weeks ago, and I love it! Find out why it's a must-have in this review!
---
J Crew T Shirt Review
---
Table Of Contents
As a fan of comfortable clothes that still look stylish, a classic tee is a piece I adore. So, when readers raved about the J Crew 365 stretch t shirt, I picked one up recently and have fallen in love!  Check out my review on why this piece is my new go-to when I'm traveling or when I'm not!
J.Crew is now selling an identical looking womens t shirt. We haven't had a chance to compare, so if you take the plunge and purchase one, let us know what you think!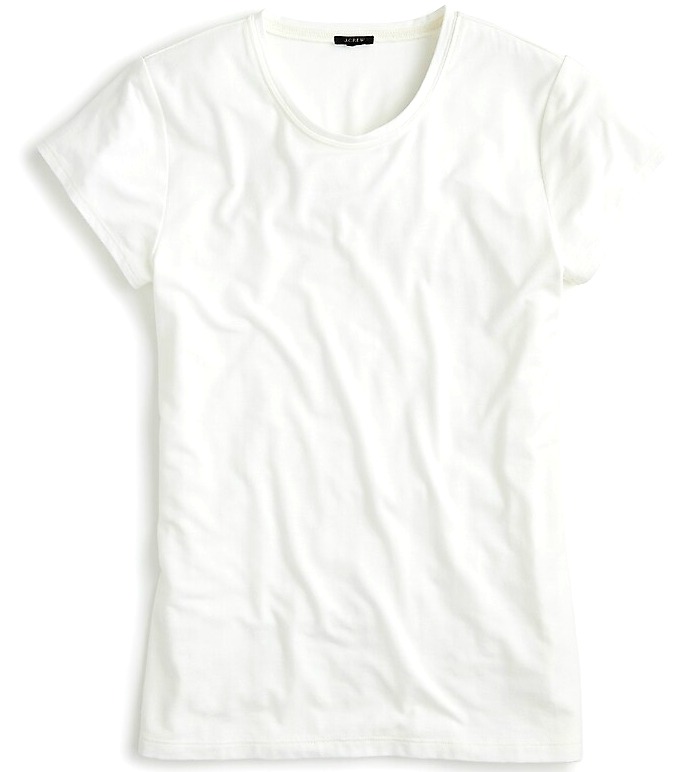 J.Crew 365 Stretch T-Shirt in white
J. Crew 365 T-Shirt Specs
Brand and Style: 365 Stretch T Shirt by J Crew
Price: $8.99-$26.99
Fabric: Tencel lyocell/elastane
Features: Slight cap sleeves with a rounded neckline. Fitted look, yet roomy and breathable. Chic, casual feel
Sizes: XXS-XXL and plus 2X-3X
Colors and styles: Comes in a variety of colors
Weather: Spring and summer temperatures, but cozy underneath a sweater or blazer when it's chilly
Travel Type: From the beach to the city and everywhere in between, there's nowhere you can't wear it!
J Crew 365 T Shirt Features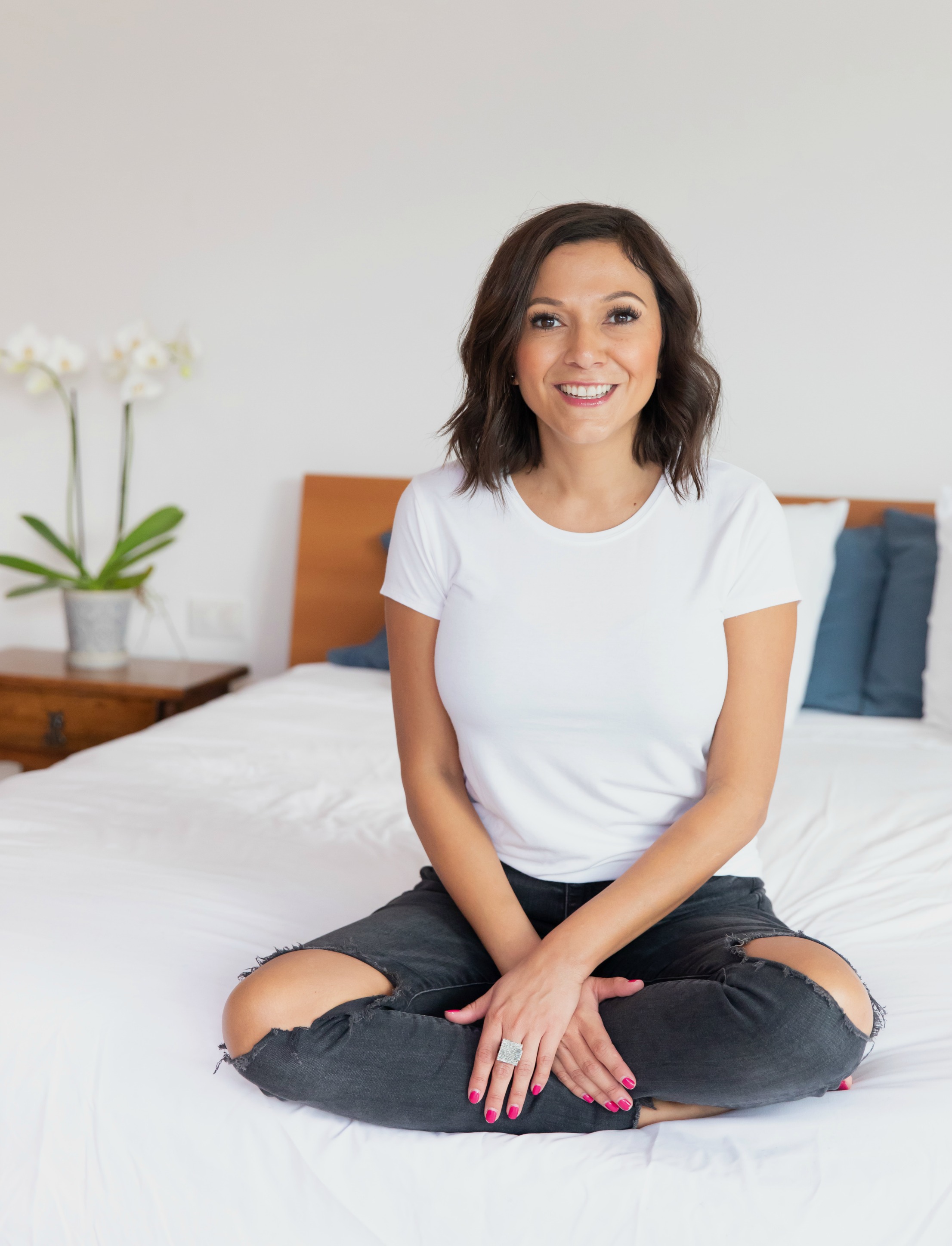 Comfort


The tee is made with TENCEL fibers, which makes it buttery soft to wear. I was skeptical at first, but TFG readers raved about it so much, I had to see what the fuss was about. They didn't steer me wrong (they never do), and I immediately fell in love with it.

Besides the softness, it's not paper thin; you don't feel constricted in it or as if everything is showing. One reader agrees on this point, saying, "The most comfortable shirts I own. It's hard to explain how they are not clingy at all and really flattering—everyone should try them on and see!"
To take care of it, I air-dry it because I want it to last a long time, and even after multiple washings, it's held up incredibly well and is not piling.
Discover our readers' classic picks for the best white t-shirts for travel!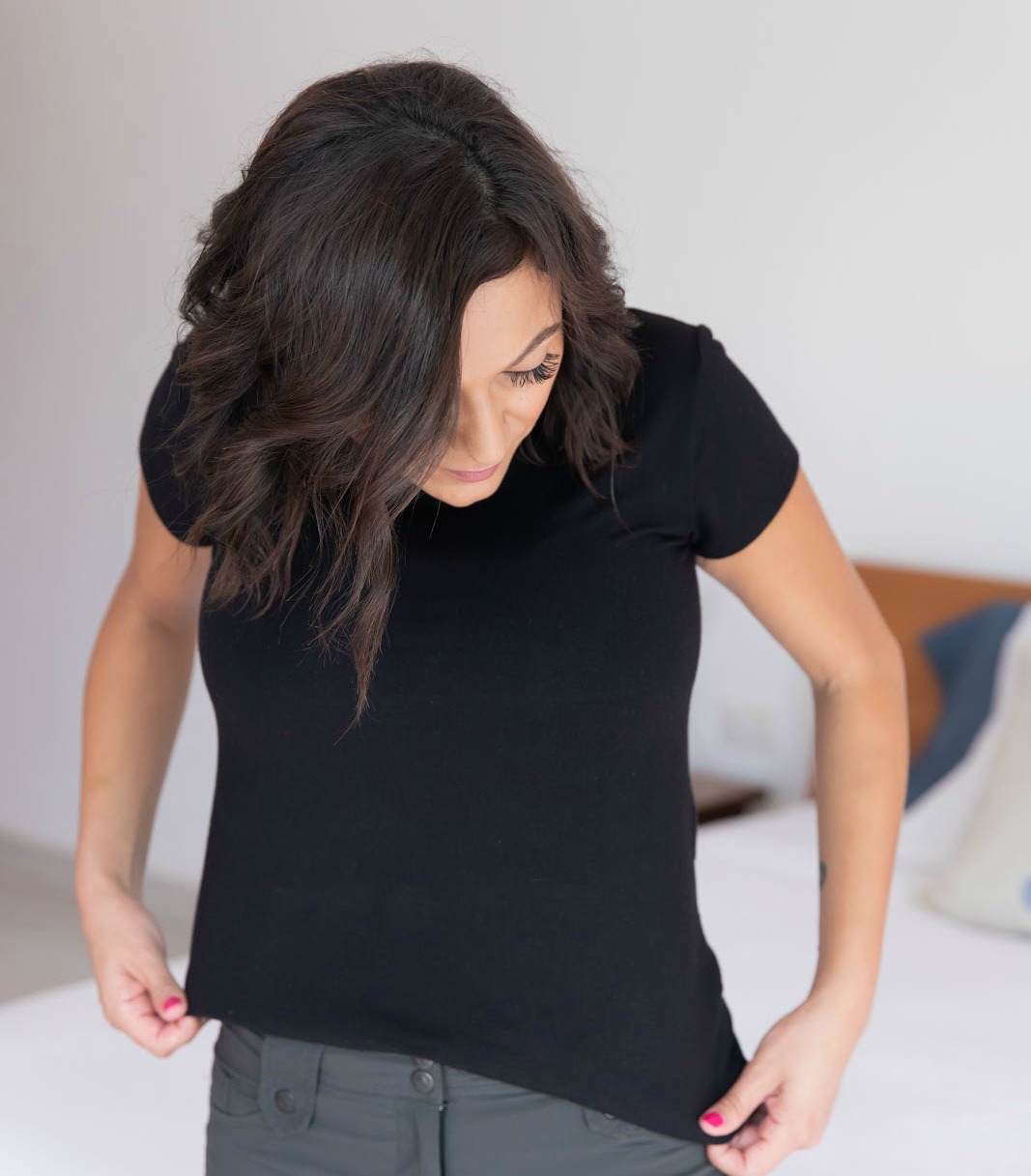 J.Crew 365 Stretch T-Shirt in black color
Sizing
J Crew shirt sizing is both fitted and roomy at the same time, but the top is not boxy to the point it takes away from your shape. I usually wear a size small for a comfortable, fitted look that still has give. 
Readers also agree that it fits well and doesn't look sloppy, and love this tee's ability to accommodate all shapes and sizes. Sizes range from XXS-XXL and plus 2X-3X.

It has a round neck, but it's a nice soft neckline. It's not too deep, which is great because I like to have a lot of coverage. It also isn't too high as well.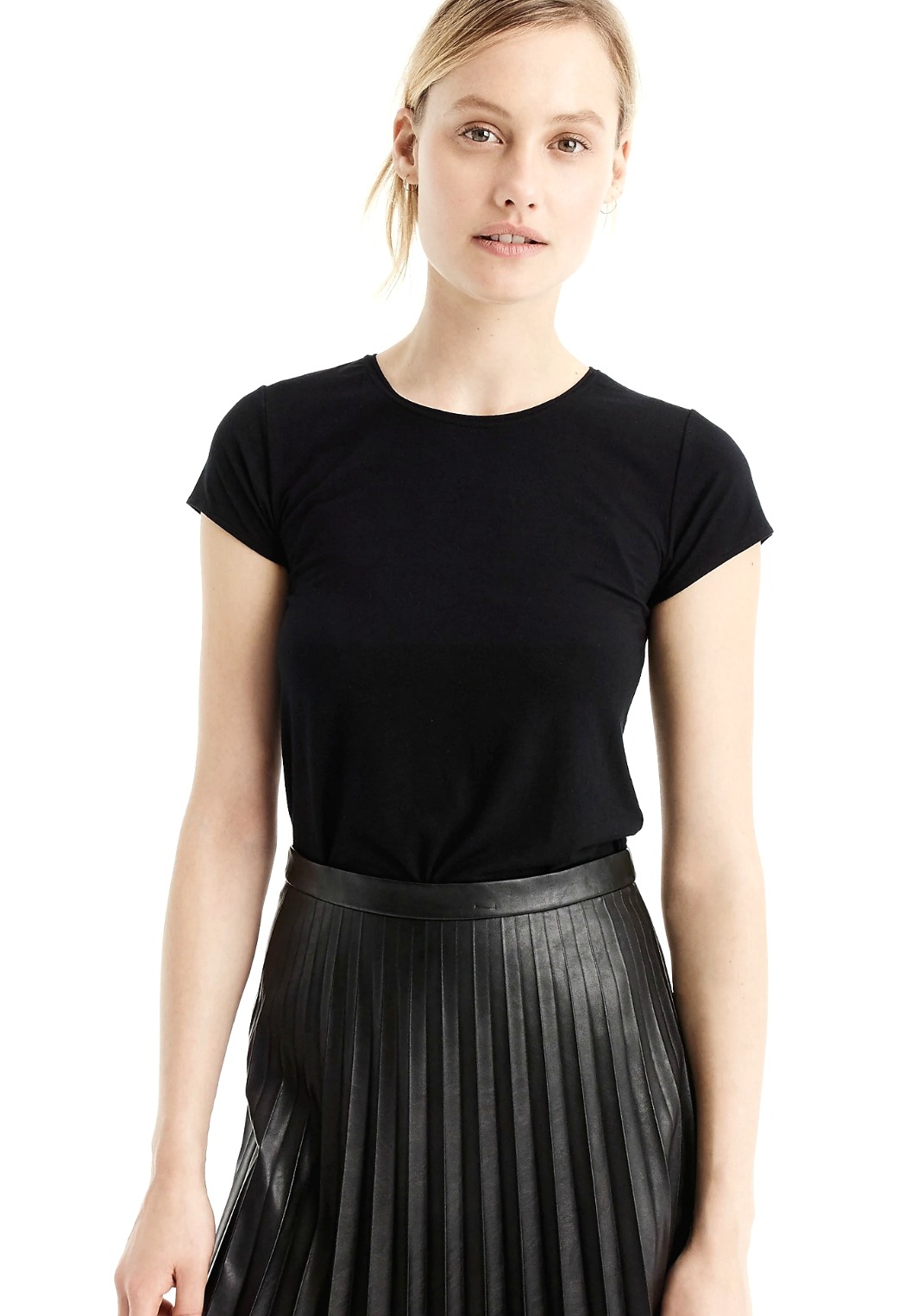 This t-shirt has very slight cap sleeves—instead of going straight down, they're at a slight angle. I find this cut to be very flattering and a bit more feminine than a tee with sleeves that go straight across.
However, some readers say that the sleeves can be constricting. One says, "They're not great if you have broad shoulders. Unfortunately, I'm returning mine." 
The same reader does recommend sizing up, though. "They're really well-made shirts. J. Crew has a great return policy. Order another size and return the one that doesn't work." 
Another factor for some readers is the length. One reader says, "I've found these shirts to be a little short! I wish they were about three inches longer." 
While length can vary for the wearer, readers, for the most part, say this tee works for them.
Read our J. Crew Tippi sweater review and find out why this item is a must-have!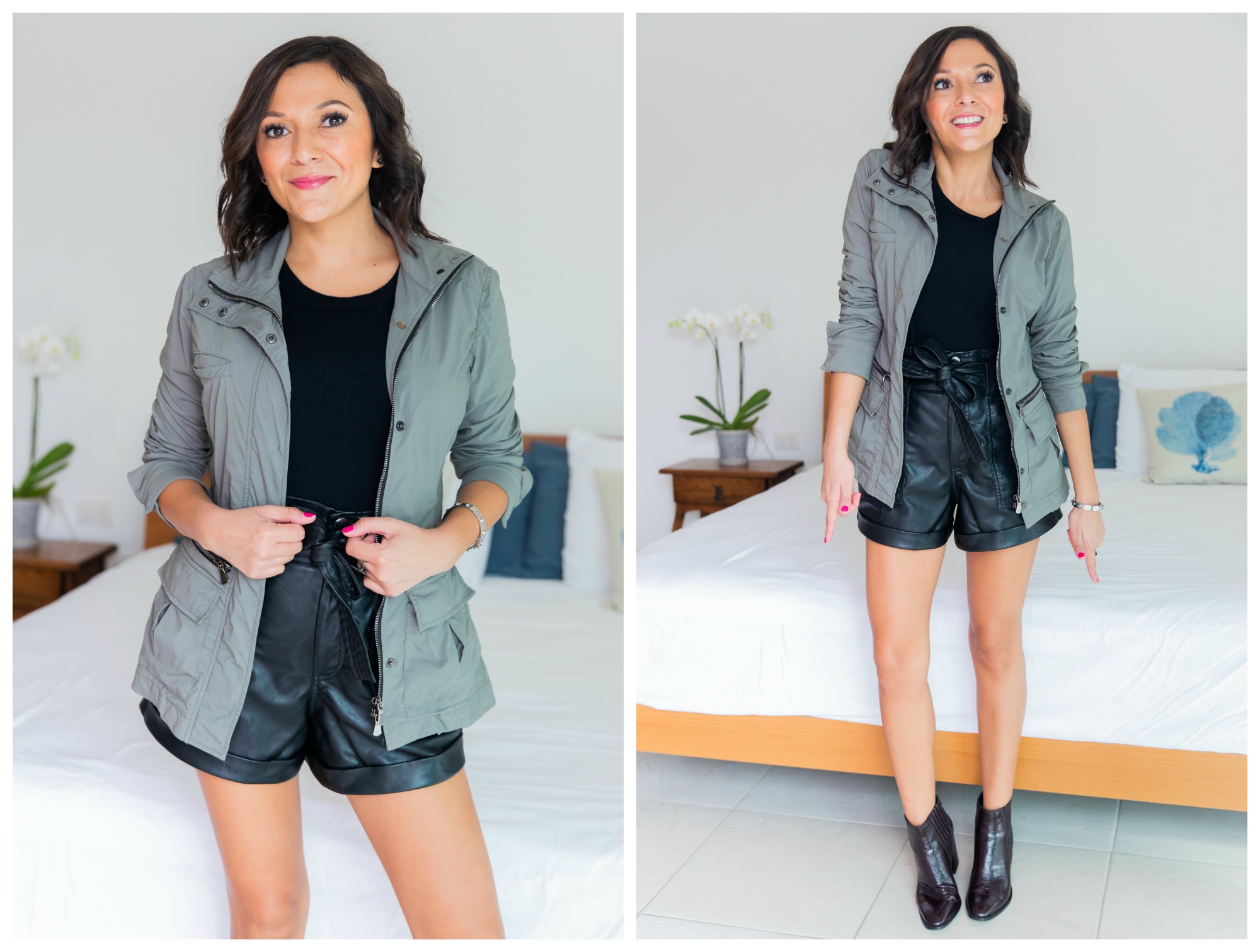 Styling
There's a fine line between wearing something casual that looks sloppy and wearing something casual that has a sleeker, streamlined appearance, and the J Crew tee captures this balance well.

The awesome thing about a chic and classic tee like this one is you can dress it up with a skirt or a blazer with heels, or down with a more casual outfit like jeans, joggers, and your favorite sneakers.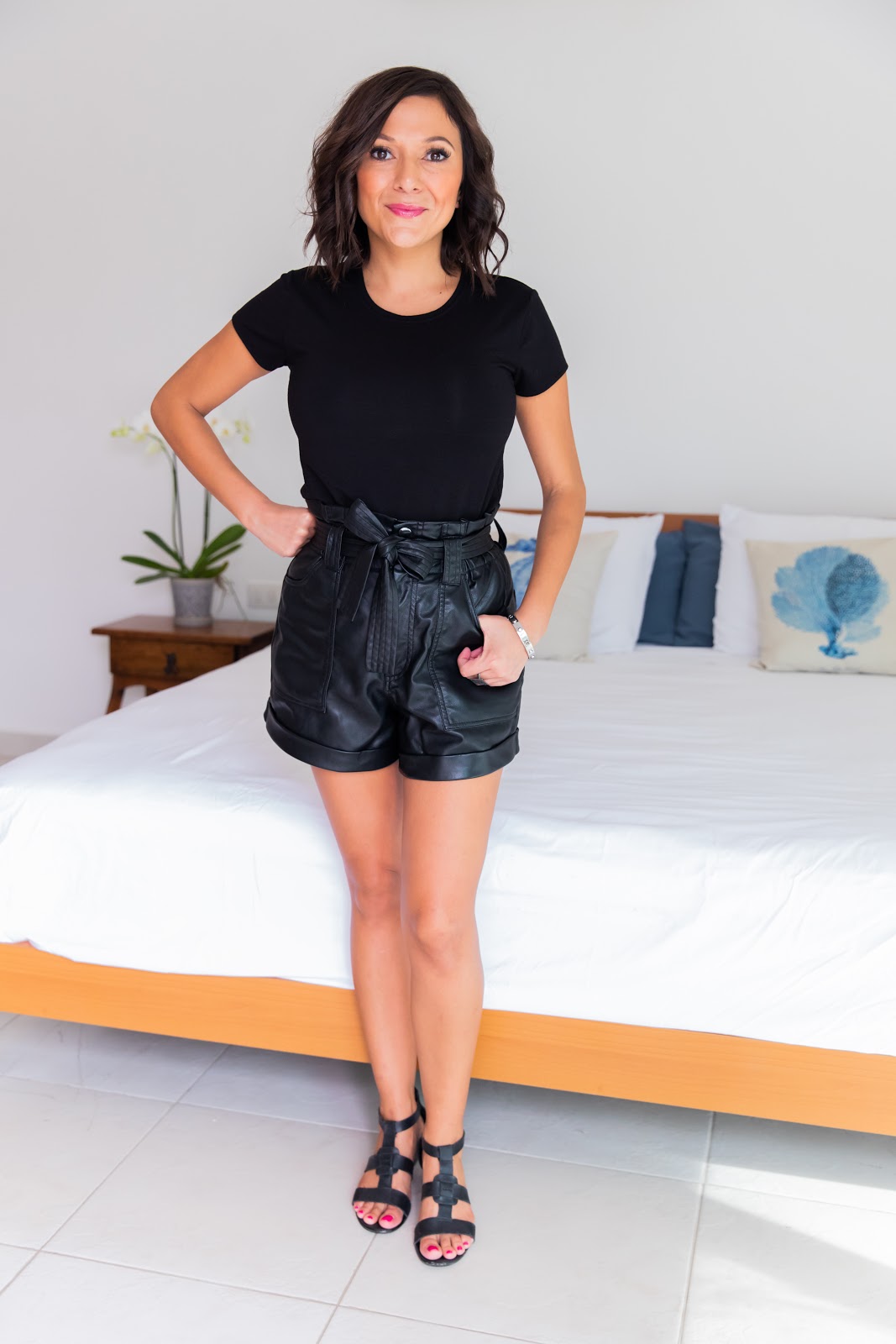 One reader shares her styling tips. " I am 5'7", and these are the perfect length for tucking in very comfortably even with a slightly lower rise jean, but would not be a problem with my mid-rise when I do a half tuck."
I'm short, so I wear a small for a comfortable, casual look.  When I want something more polished, I usually do a front tuck. Sometimes, I'll tuck it in entirely if I'm wearing high waisted pants. The shirt doesn't overwhelm me, no matter how I choose to wear it. 
Bra tip when wearing the J Crew white t shirt: These rock any way you style them, but I make sure to wear a nude (not white) bra under a white top. This makes things look even more seamless. "Nude" is the color closest to your own skin tone.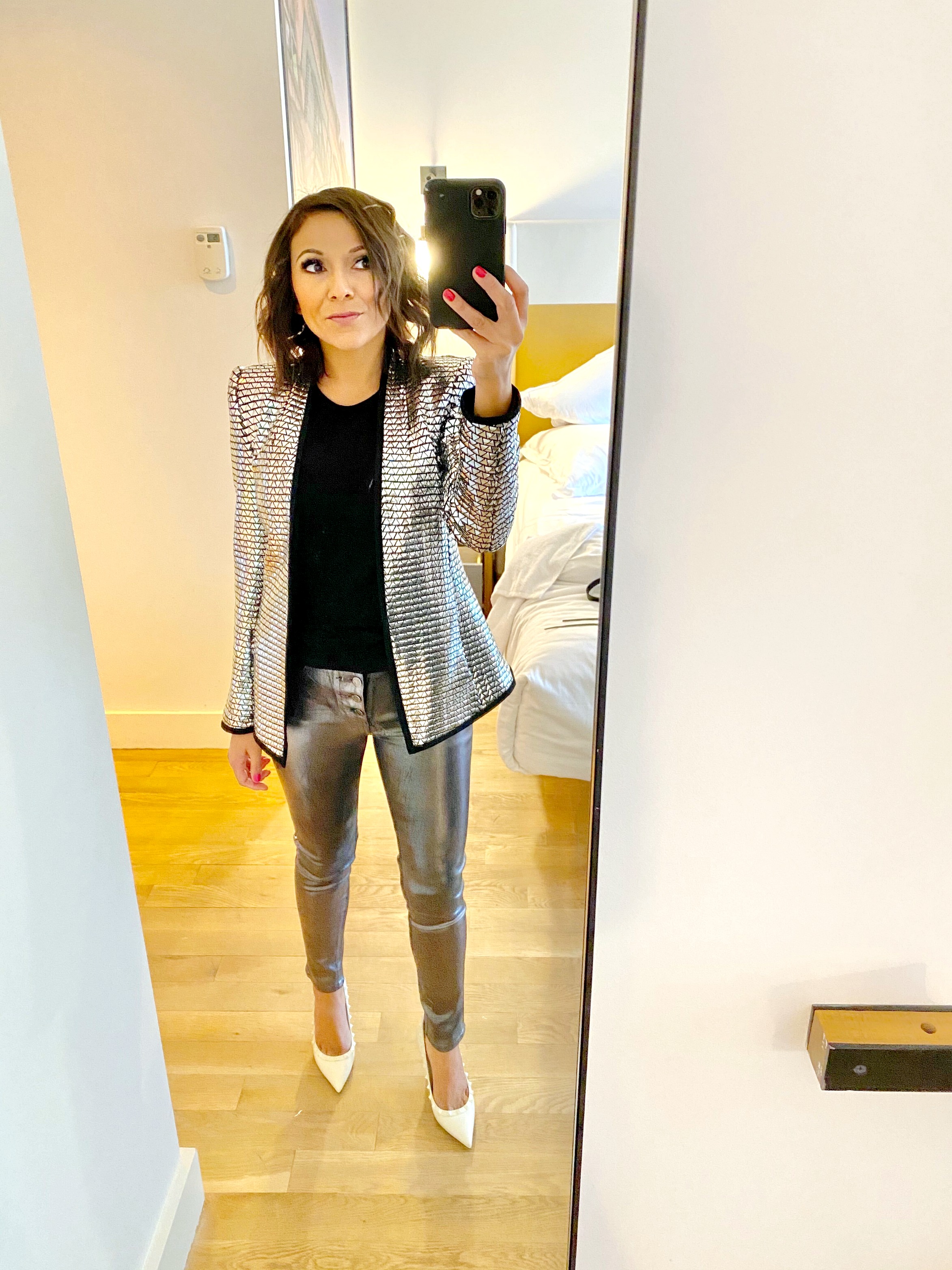 Worn as part of a keynote speaker outfit at Women's Travel Fest
Versatility


The tee has become a staple for me. I've worn it with leather shorts and comfy jeans. I've dressed it up with a blazer and heels. It goes with nearly everything I own. It's a truly versatile piece. 
One reader agrees, saying, "These are my favorite! I wear them all year round." Another reader shares her experience. "I'm a size 12 and bought both the large and XL—I love the large for layering and wear the XL by itself. The most comfortable shirts I own. It's hard to explain how they are not clingy at all and really flattering—everyone should try them on and see!"
It's now part of my off-travel and capsule wardrobe when I'm jetting off. Just love the many ways I can wear it!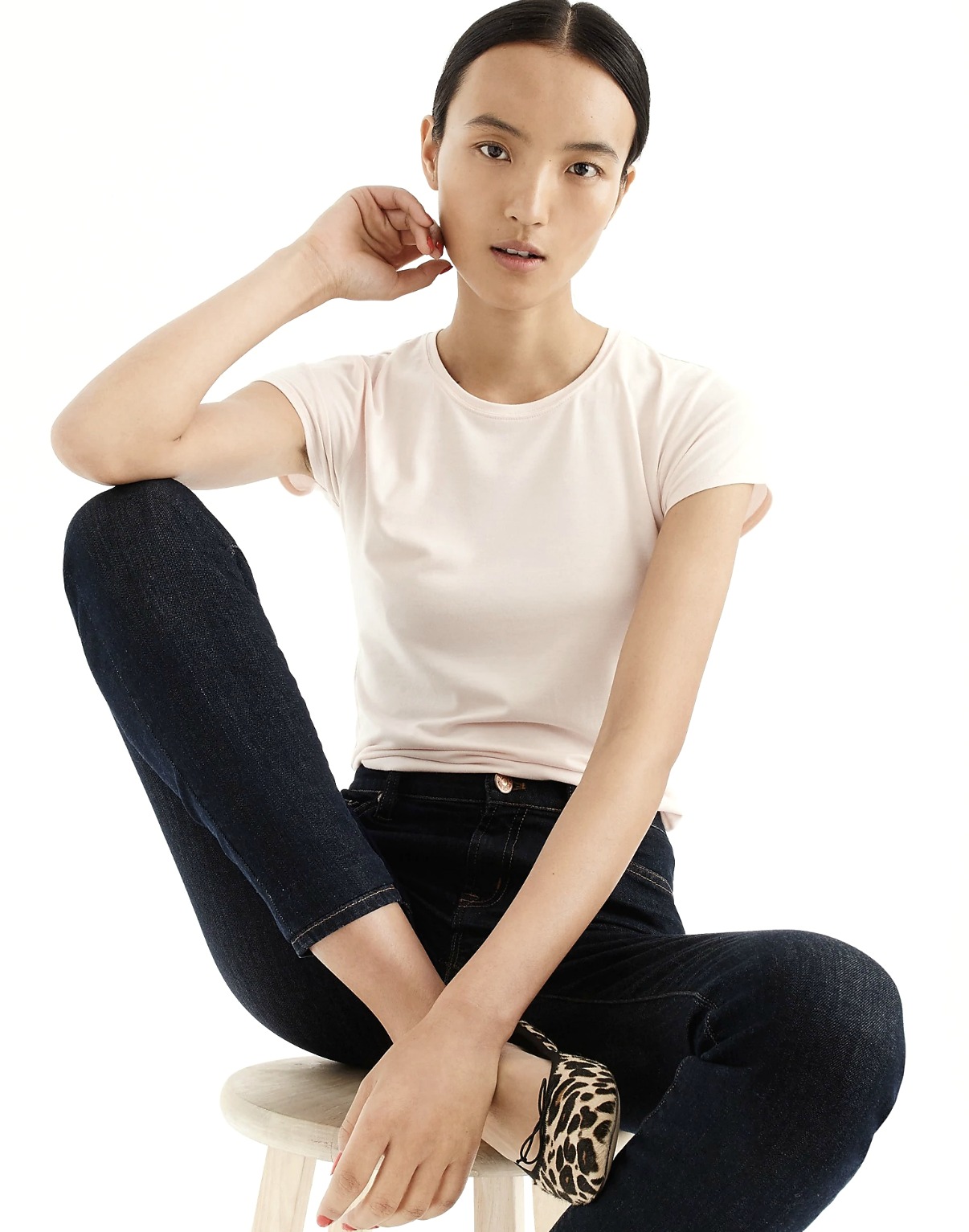 J.Crew 365 Stretch T-Shirt in Subtle Pink color
Sustainability
This Crew J shirt is made of Tencel, and many wearers love that this fabric is more sustainable than manufacturing with other types of materials.
Tencel is similar to viscose or rayon but is created from "regenerated cellulose" fibers, aka wood pulp, which is dissolved into a solvent and pushed through an extruder to form fibers.
Fabric like rayon requires more chemicals and energy to produce, thus it's more wasteful all around. Overall, Tencel uses minimal waste, and the wood utilized derives from sustainable-harvested forests.
The result for purchasers is how soft the fabric is and long-lasting, which readers wholeheartedly agree on, with the knowledge that they're wearing something that is environmentally-friendly, too!
Pair it with one of our favorite travel pants!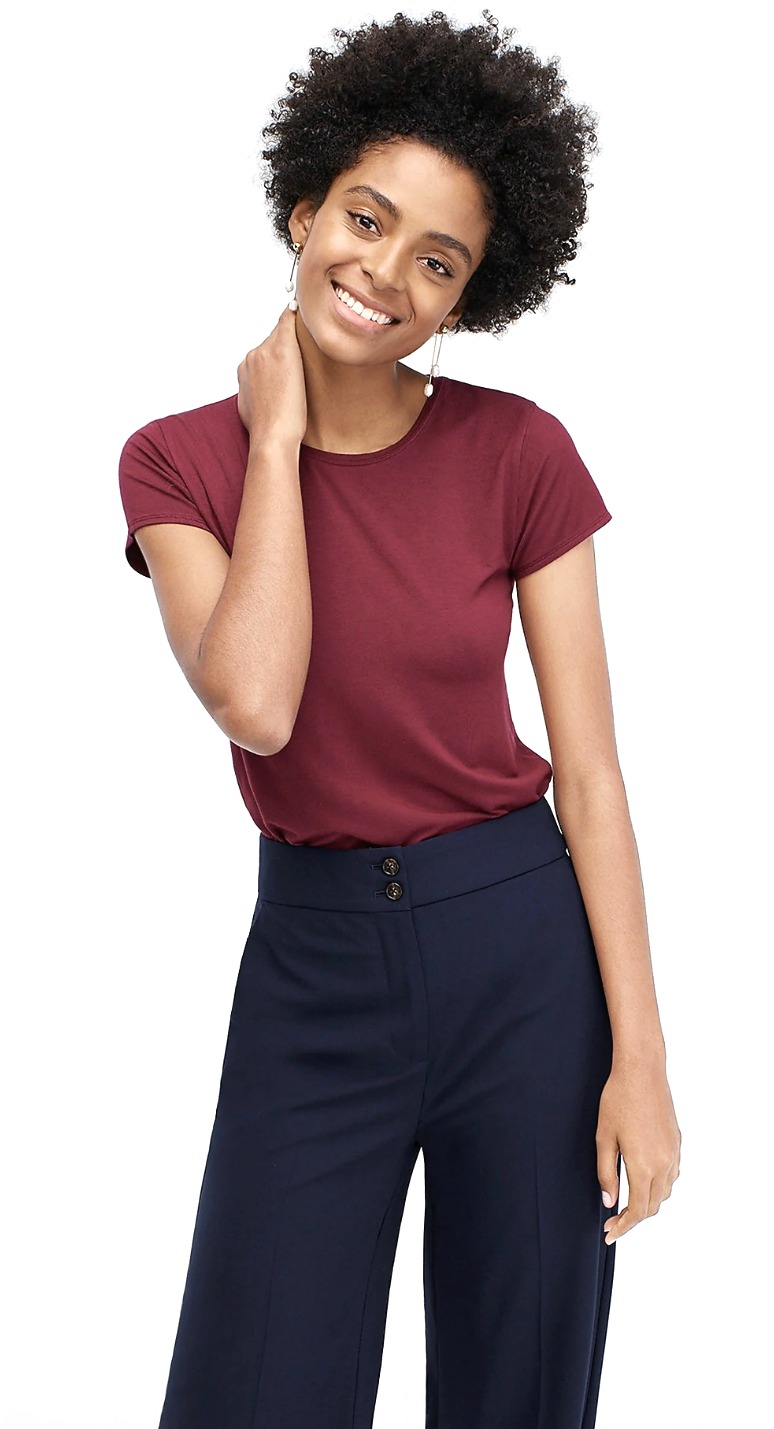 J.Crew 365 Stretch T-Shirt in Vintage Burgundy color
Price
The J Crew womens t shirts regular price is about $30 online, but you can always find it on sale. Some colors can be as low as $8.99. I got mine for under $20, so I stocked up when I saw it was such a bargain. 
There are always incentives when shopping online, so I try to take advantage of those when I see a J Crew sale.
Readers feel this tee is a stellar value for how versatile and useful it is for so many situations!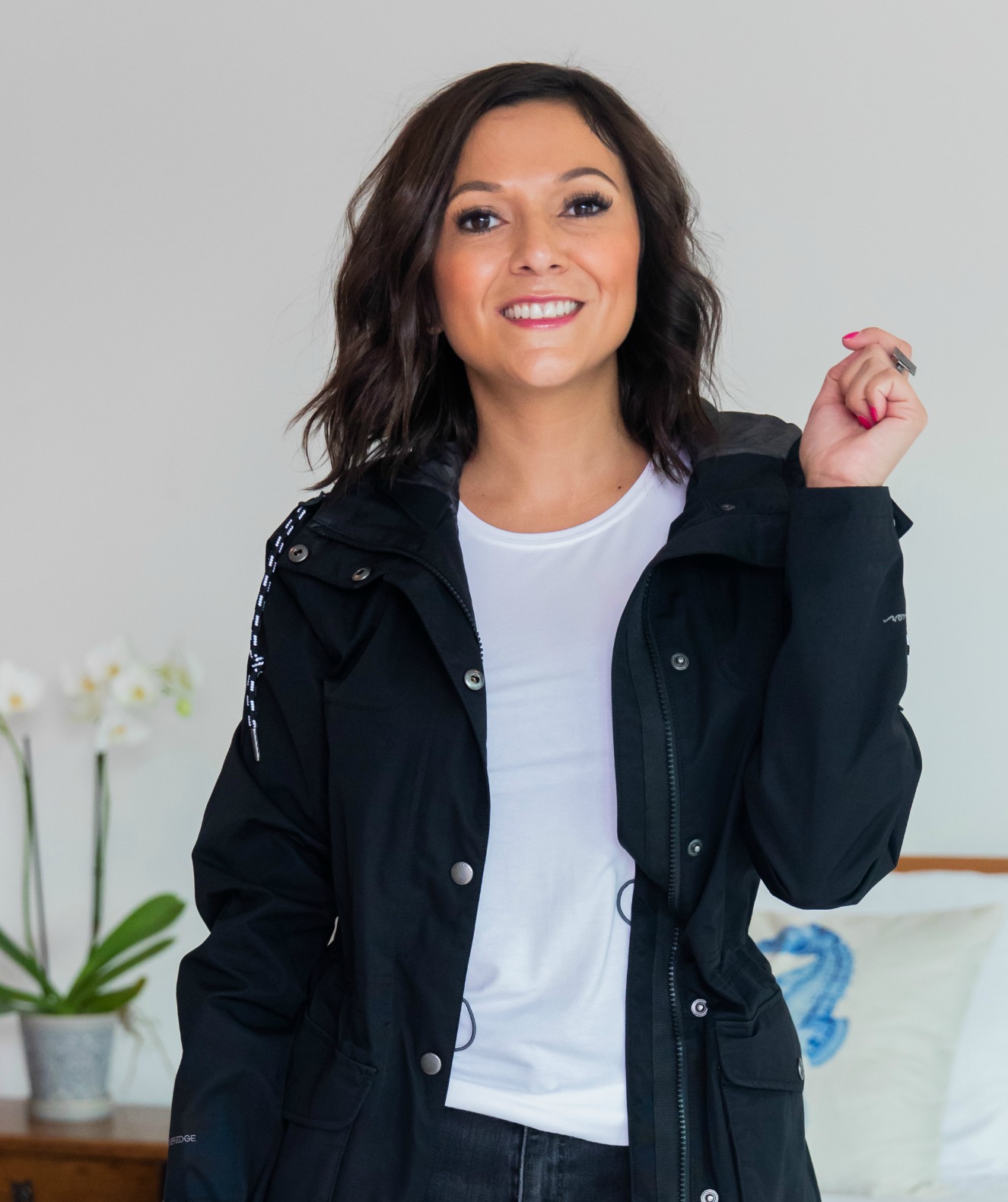 J.Crew 365 T-Shirt worn with Eddie Bauer Jacket
Pros
This is one of the t-shirts most recommended by the readers. It's soft, easily washable, versatile, and a rocking basic that can be dressed up or casually. 
It's the type of piece perfect for layering on fall days or can be worn on its own during the spring or summer. It's rollable into packing cubes, and many readers will buy several colors to fit their personal style!
One reader says, "They hold their shape, have decent coverage without being too boxy, and come in a variety of colors. Plus, they always have some kind of sale going on, so you can stock up."
Readers also love that it's a sustainable piece of clothing made from Tencel, a process that uses minimal waste.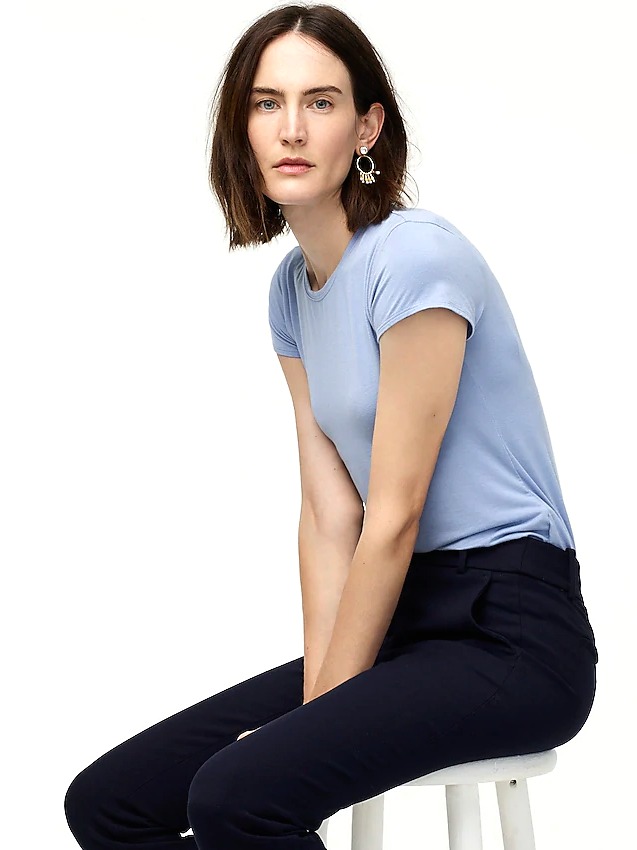 J.Crew 365 Stretch T-Shirt in Shale Blue color
Cons
The cap sleeve detail and length has been a concern of some readers. If you prefer a looser fit, size up. Otherwise, go with your regular size. 
One reader shares some tips on sizing, saying, "According to J.Crew, for my height and weight (5'7", 125 lbs), I should be an extra small. I have found over time that the shoulders on J.Crew tops are on the narrow side. Surprise, the medium is a perfect fit for me! Not super clingy but not oversized through the body either, and the shoulder seams fall exactly where it should."
If you're interested in buying this t-shirt, make sure to try it on first if you can. J.Crew has an excellent return policy, so you've got a bit of wiggle room!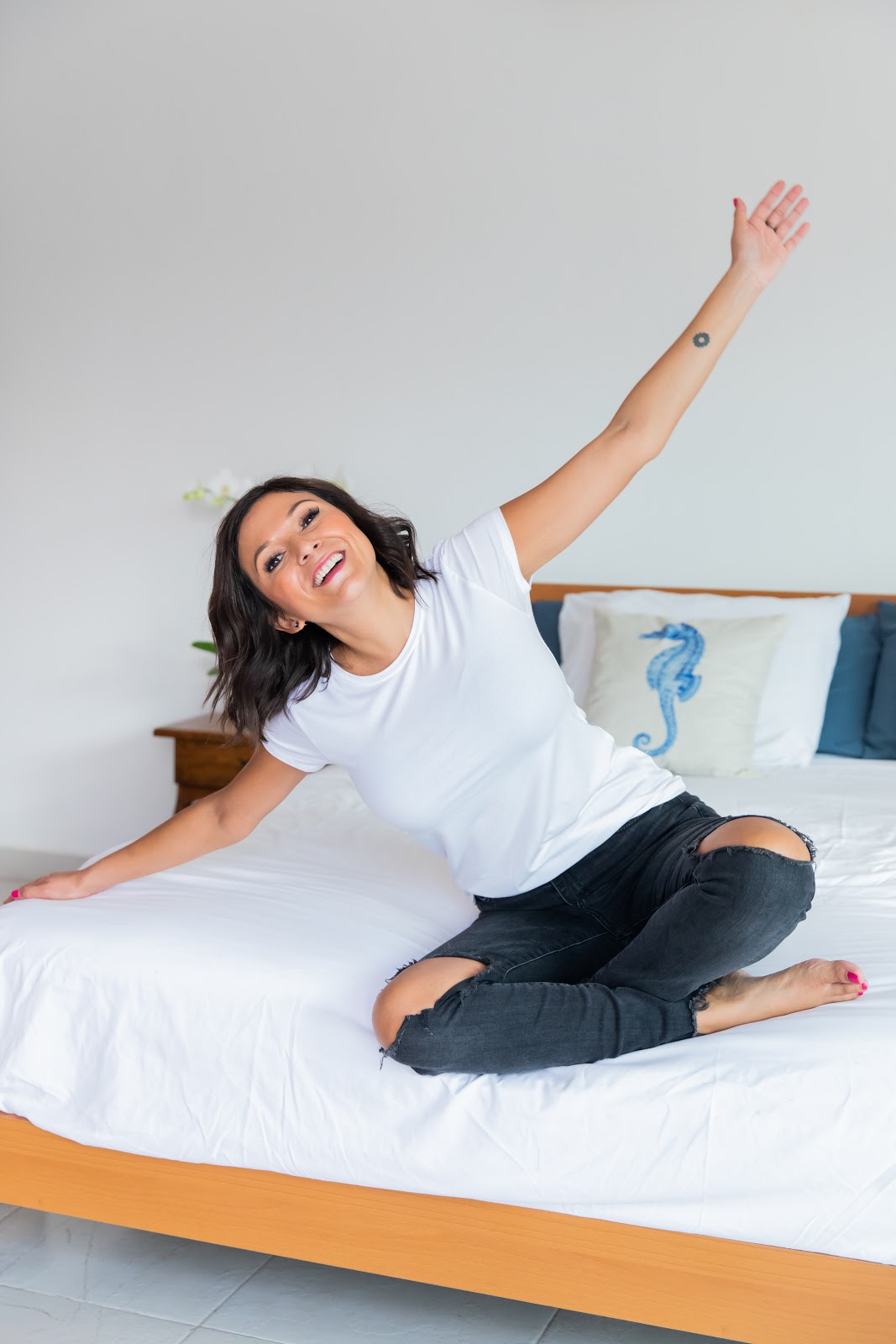 Verdict
The 365 Stretch is my top tee! I wear it for its comfort and multiple style options. It's available in a variety of colors and sizes from XXS to 3X, which readers appreciate. Frankly, I can't thank TFG readers enough for turning me onto it!
I'm glad they feel the same way, and it's reciprocated, as one reader says, "Thanks to Alex, I bought two crew neck tees and love them. Mine are XL but fit very nicely." 
Another reader sums it up well. "I don't own any other t-shirts, so I wear these at home and while traveling. The perfect combo."
I now have it in white, black, blue, and also red. It's a phenomenal shirt that's packable and comfy, yet stylish, and I couldn't recommend it more!  
If you want to find out more of the readers' favorite t-shirts, please head over to the article about the best t-shirts for travel. They happen to be really good for everyday life too.
Watch my video review of the J. Crew 365 Stretch T-shirt!
Video: J Crew 356 Stretch T-Shirt Review
I did a video review on this awesome staple and why it works for everyday and travel!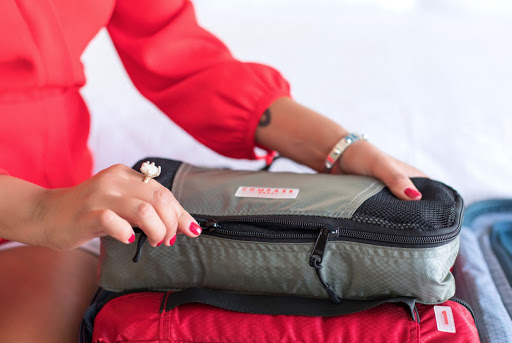 How to Pack Your Tees
The J Crew tee has the ability to pack light, which is super easy to do with slim packing cubes, along with fitting in the other clothes you plan to bring. Just fold them then roll them up inside the cube. Compass Rose packing cubes are just the perfect size for tees! The video below demonstrates this.
Learn our hacks with packing cubes in this video!
We also put together a five-part YouTube series showing the different methods to use packing cubes for travel. If you use this specific packing strategy, packing cubes can also compress your belongings. This is the secret to traveling carry-on only!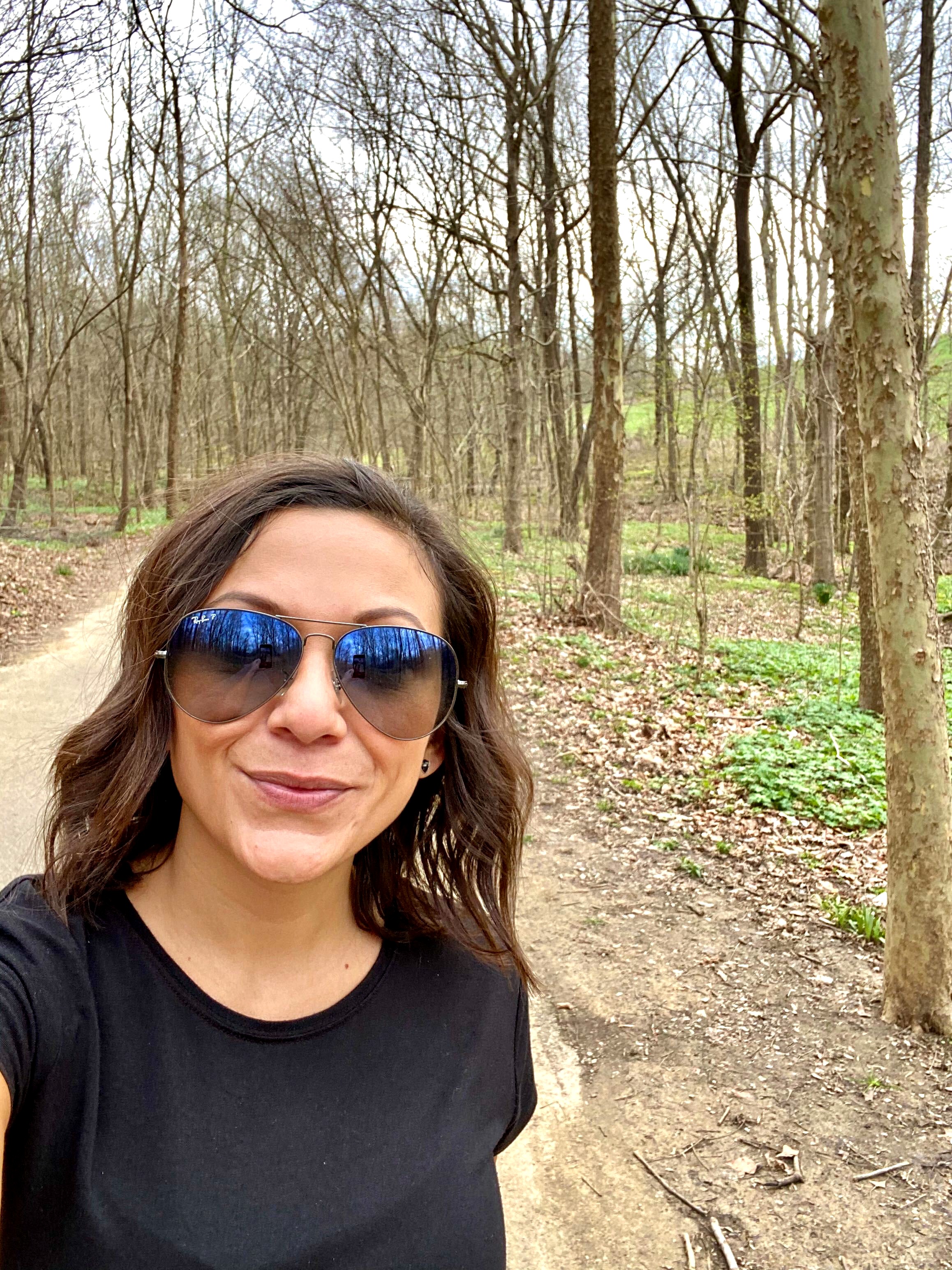 Where to Buy the J Crew 365 T-Shirt
To purchase the 365 tee and other J Crew shirts visit J.Crew.com!
---
What's your review of the J Crew 365 Stretch t shirt? Tell us about your experience below!
---
For more travel clothing, please read:
---
LIKE THIS POST? PIN THIS PIC TO SAVE IT!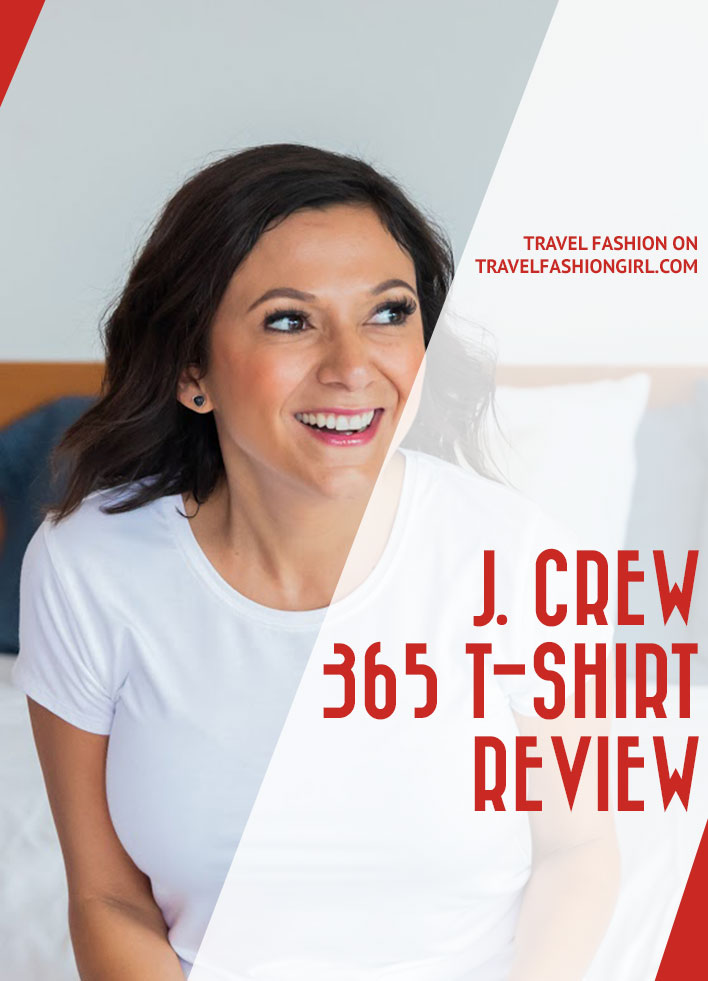 ---
We hope you found this J Crew T Shirt review helpful. Please share with your friends on Facebook, Twitter, and Pinterest. Thanks for reading!
---