Support TFG by using the links in our articles to shop. We receive a small commission (at no extra cost to you) so we can continue to create helpful free content. As an Amazon Associate, we earn from qualifying purchases made on Amazon in addition to other retailers featured on the blog. Thank you, we appreciate your support!
Jeans don't take up much more space than some bulky travel tech convertible pants and you can buy them in a variety of fabrics making them more lightweight and travel friendly than ever before. Here are a few key points helping you choose the best jeans for your trip!
---
Choosing The Best Jeans for Travel
---
Table Of Contents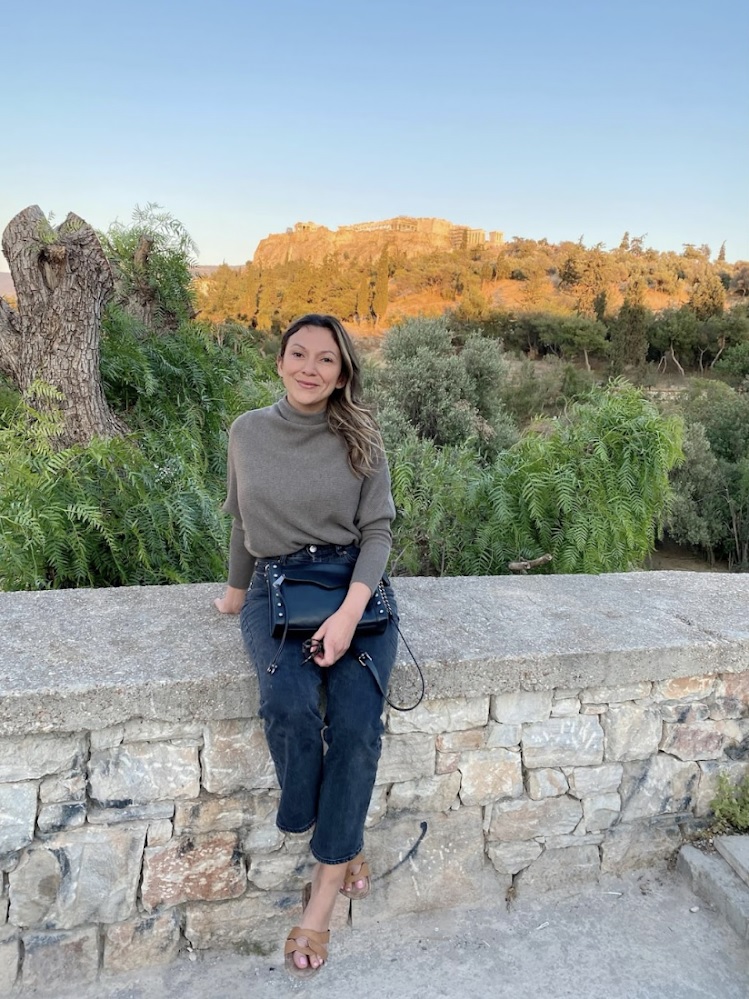 In Athens, wearing my H&M Jeans, All Saints Sweater, and using the Rebecca Minkoff M.A.B Crossbody as a day purse
When you Need Jeans
Jeans are essentials when visiting large cities and they are also the perfect travel clothing item in cold climates.
I'm going to use Africa an example because this is one destination where everyone thinks you need Safari gear. Believe it or not, jeans are great travel pants if you are doing an overland tour in Africa. If you find this surprising, the fact of the matter is, with the exception of the Congo and the Okavango Delta which are standard destinations on many safari trips, you'll hardly spend much time out of your off-road vehicle so as long as you're comfortable, it doesn't matter how many cargo pockets your pants do or don't have.
In fact, the majority of safaris in Africa are experienced from a vehicle, so travel pants or cargos can only take you so far. When you're just sitting on your bottom 70% of the time on your overland tour, why not just wear leggings or jeans if you feel comfortable wearing them for long periods.
Also, as I experienced on two separate occasions in May and August in Kenya and South Africa. It gets cold! Jeans are a life saver in cities like Nairobi and Capetown.
Switching continents – I can't imagine not having jeans in Peru or for cities in Europe, Oceania, and North America. They're a must!
Jeans can help you minimize your travel wardrobe. Read more tips about how to create a functional but minimalist capsule wardrobe with Pack Light Stylishly!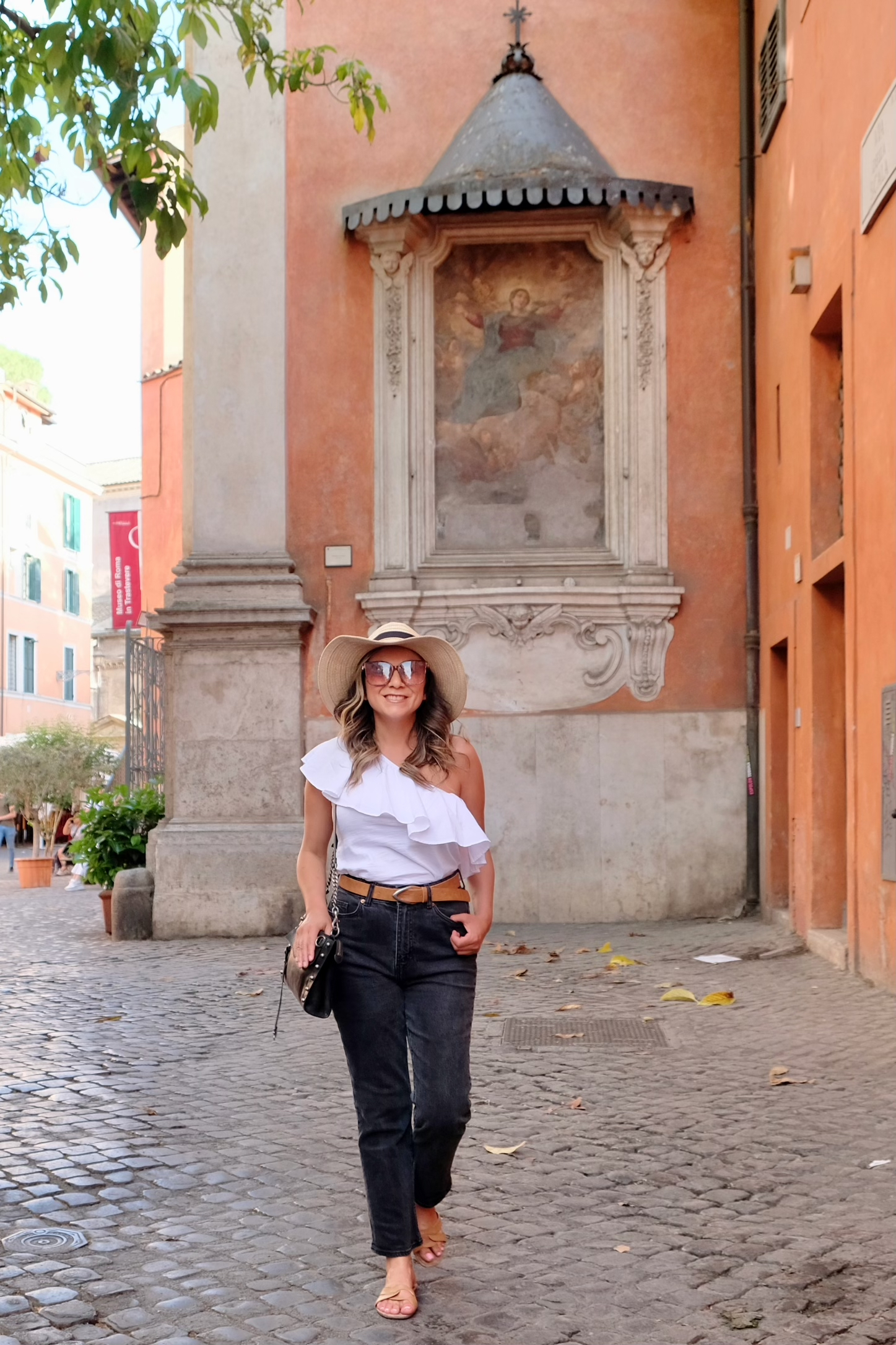 Exploring Rome in my H&M Jeans, Cloth and Stone Sleeveless Top, Madewell Sun Hat, and Coach Sandals
Why Jeans make Great Travel Pants
Although jeans don't dry quickly when you wash them, you hardly have to wash jeans making them ideal travel pants. Because of their sturdy fabric, they are also very durable and don't show stains easily.
The biggest argument against jeans is that they don't dry quickly. Well they don't, but unless you're only planning to hand wash your clothing; there are cheap laundry services in every part of the globe. From Africa to South America, and hostels in Australia and Europe; you can pay someone to wash your clothes starting at just $1/kilo or wash them yourself using hostel machines.
Jeans are also versatile. You can mix and match your clothing with ease and dress them up or down. With so many options in fabrics to flexible sizing options such as petite or tall womens jeans, denim is scoring high on comfort level making them practical and functional. You just can't go wrong with denim.
Use slim packing cubes to pack your jeans and save space in your suitcase.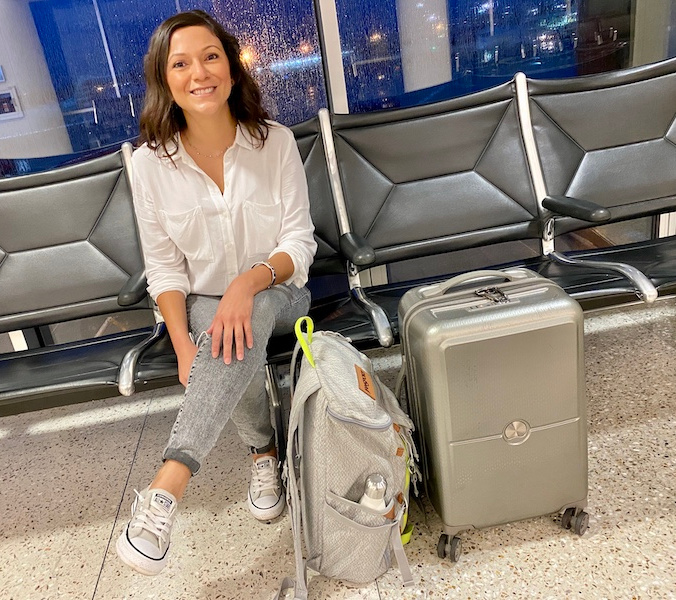 H&M Jeans Worn with an H&M Top and Converse All Star Shoreline Slip Ons
How to Choose the Best Jeans for Travel
Fit: Choose a style that you find most flattering to your body. Pack clothes you feel great wearing!
Fabric: Look for lightweight fabrics that use minimal space and weight. Stretch denim fabrics are good.
Color: The color should match all your clothing to maximize your travel outfits- the key to packing light.
Cost: Choose a price tag you're comfortable losing, giving away, or damaging – especially if on a RTW trip.
My personal choice for the best jeans for travel are "disposable" ones from Forever21 or H&M that I can easily give away or ditch should I decide jeans are no longer necessary for my trip. Lightweight and easy to wear in a stretch denim fabric, you can't beat their price points starting at just $10!
Find some of the best lightweight jeans for women:
Best Travel Jeans for Women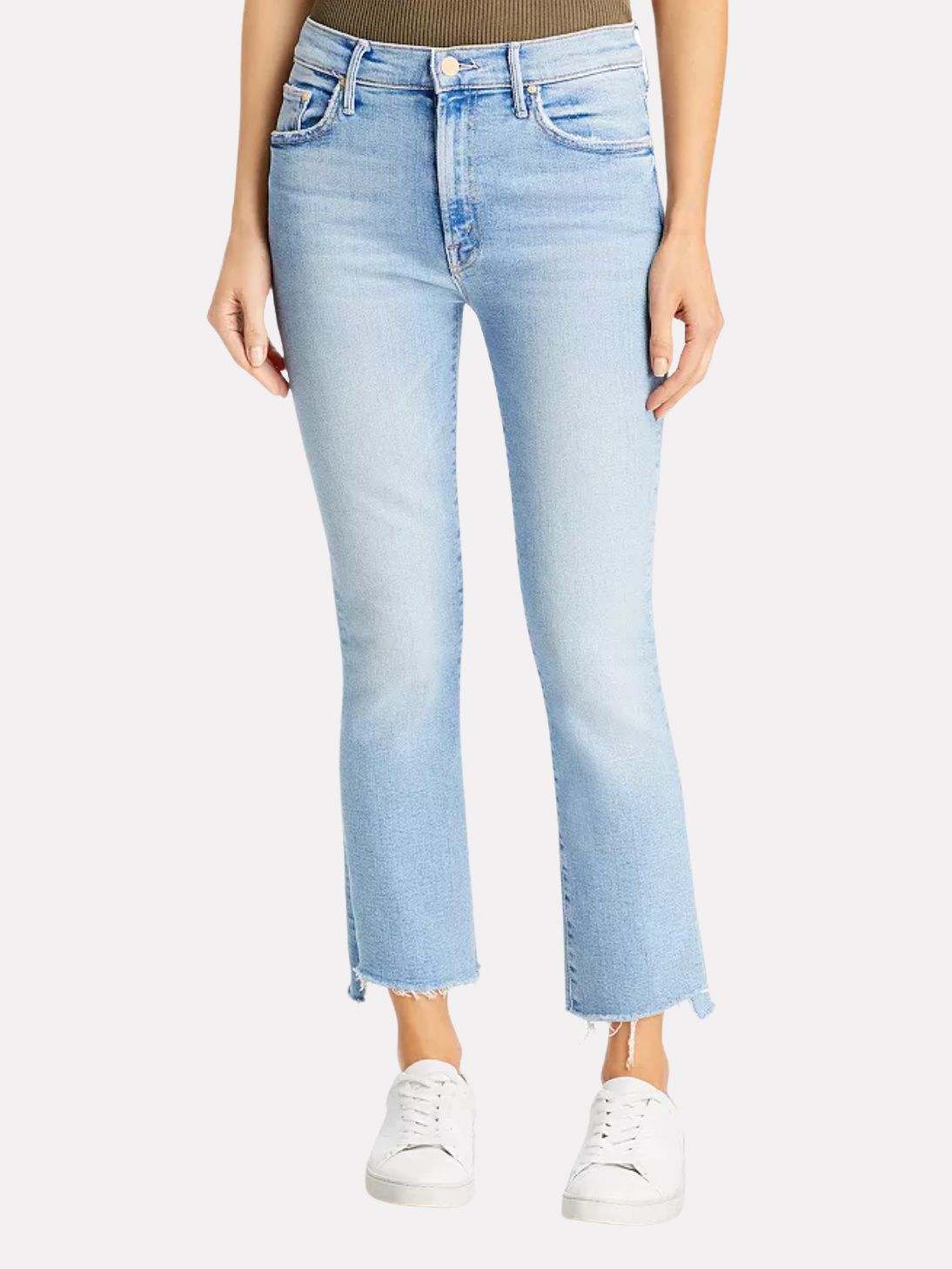 Shop: Amazon | Nordstrom | Bloomingdales | Mother
Editor's Pick: Mother High Waisted Cropped Womens Comfy Jeans
These Mother cropped jeans have a relaxed vibe, with a straight leg fit and a slight flare at the hem. Described as super flattering and fitting well, they have a good amount of stretch, too! TFG editor says, "After a soul-destroying search purchasing jeans that were "ok" and "good enough", I finally found THE most flattering, most comfortable jeans ever: MOTHER DENIM. I'm 5′ 2″ so the ankle length fit me so well I don't need to worry about hemming. An even bigger reason why they're perfection!!!" She also loves the Hustler Ankle Bootcut Jeans from the same brand.
This pair is versatile enough to be worn with a jacket and ankle boots in London or with sandals and a tank at the beach!  Available in sizes 23-34.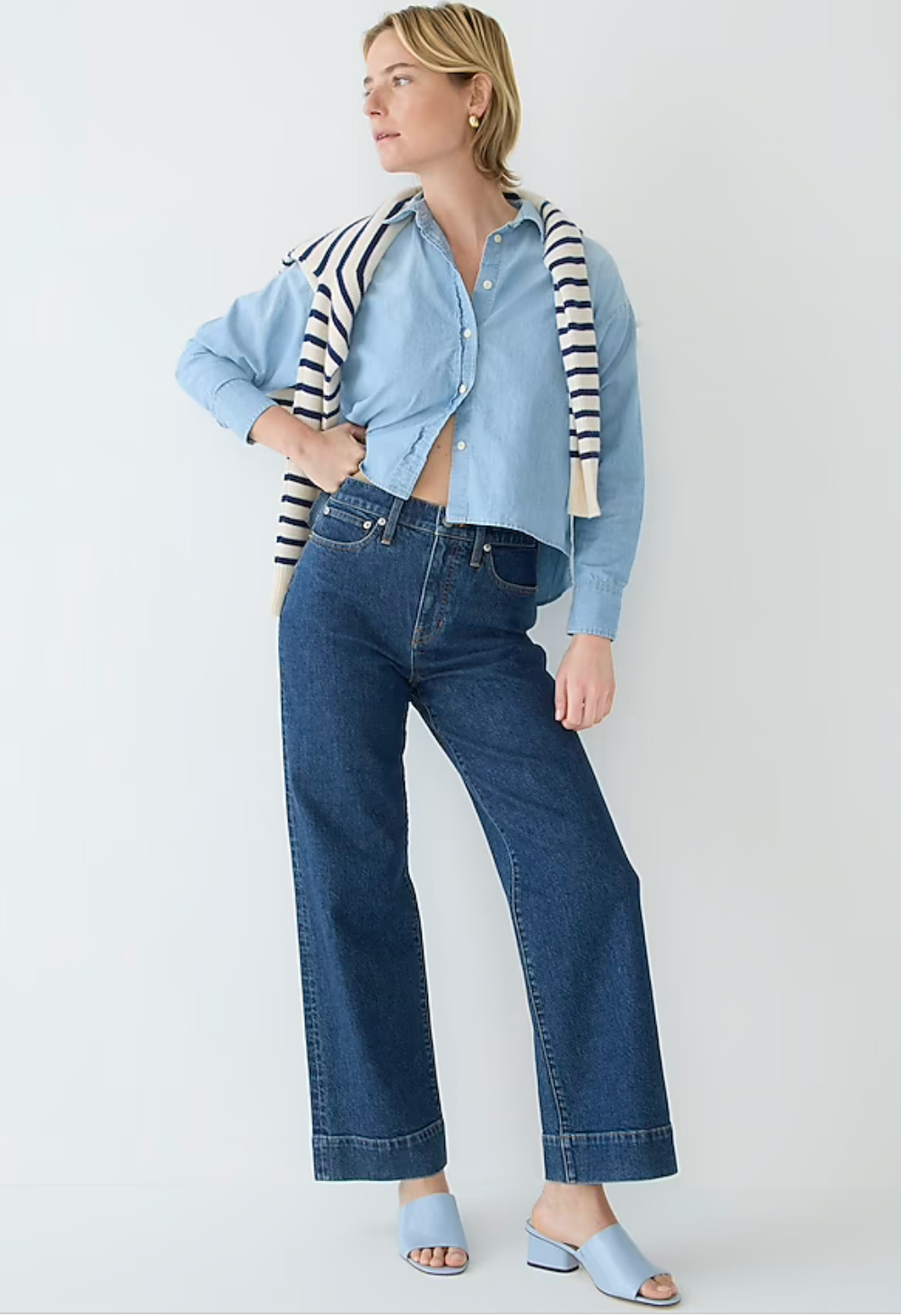 Shop: J.Crew
J. Crew Lightweight Jeans Women's Wide Leg Jeans
J.Crew is a hugely popular brand with TFG readers, and for the most comfy jeans, try this slim wide leg jean, which is a highly rated and a very in-fashion style! These are slim-fitting at the hips, with a wide leg and a cropped fit which gives them an effortlessly chic look. Wearers say they're beyond flattering, and as a plus, the lightweight denim fabric makes them a dream to wear.
These jeans will make an amazing addition to your travel wardrobe, as you can stroll around in them casually or dress them up with flats and a blouse for a night out at your destination! They come in a wide range of sizes, too, from 23-37, petite 23-32, and tall 25-32.
A traveler shares, "Very on trend with the wide legs, but with their own twist – slim fit! Fit true to size with a classic stretch. Will be very cute now and into spring/summer!"
Use slim packing cubes to pack your jeans and save space in your suitcase.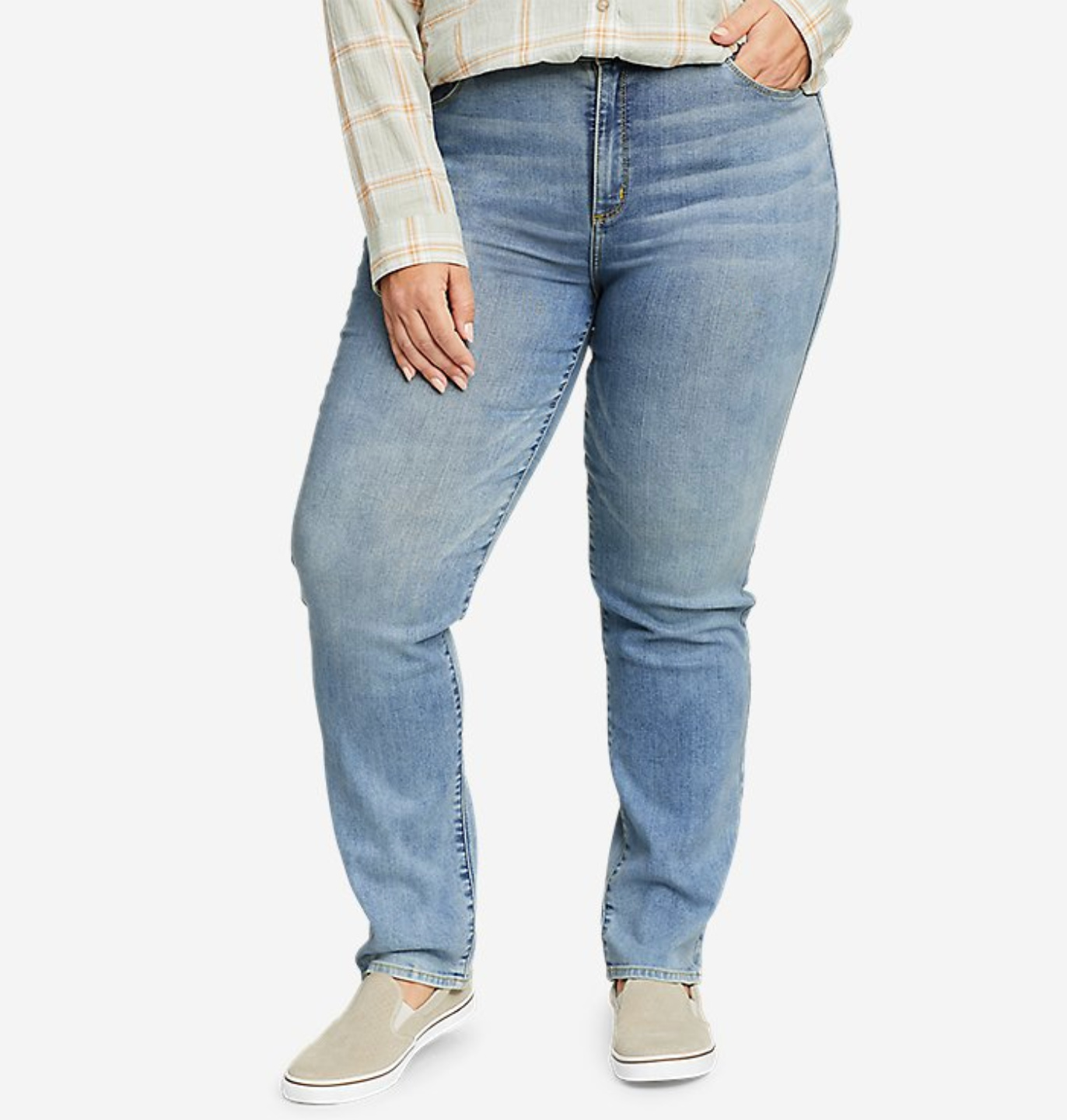 Shop: Eddie Bauer
Eddie Bauer Voyager Comfortable Womens Jeans (Petite, Tall, Plus Sizes Available)
Talk about real comfortable jeans! Eddie Bauer describes the Voyager as just that, the most comfy pair you'll ever wear! These beauties  have two-way stretch that's soft, cozy, and moisture-wicking, so you can wear these in hot or warm climates, walking or road-tripping!
They have a high waist and a straight leg fit that's slim and feminine. Wearers rave about how well they fit! You can get these jeans in three shades of blue and in white, and in sizes 0-16, petite 0-14, tall 6-18, and plus 18-24.
A wearer shares, "I was so happy to find a basic jean that fits great and is comfortable. The straight leg and high waist are flattering, and the length actually reaches the top of my shoes. The size is perfect without being too tight and no gaping at the back."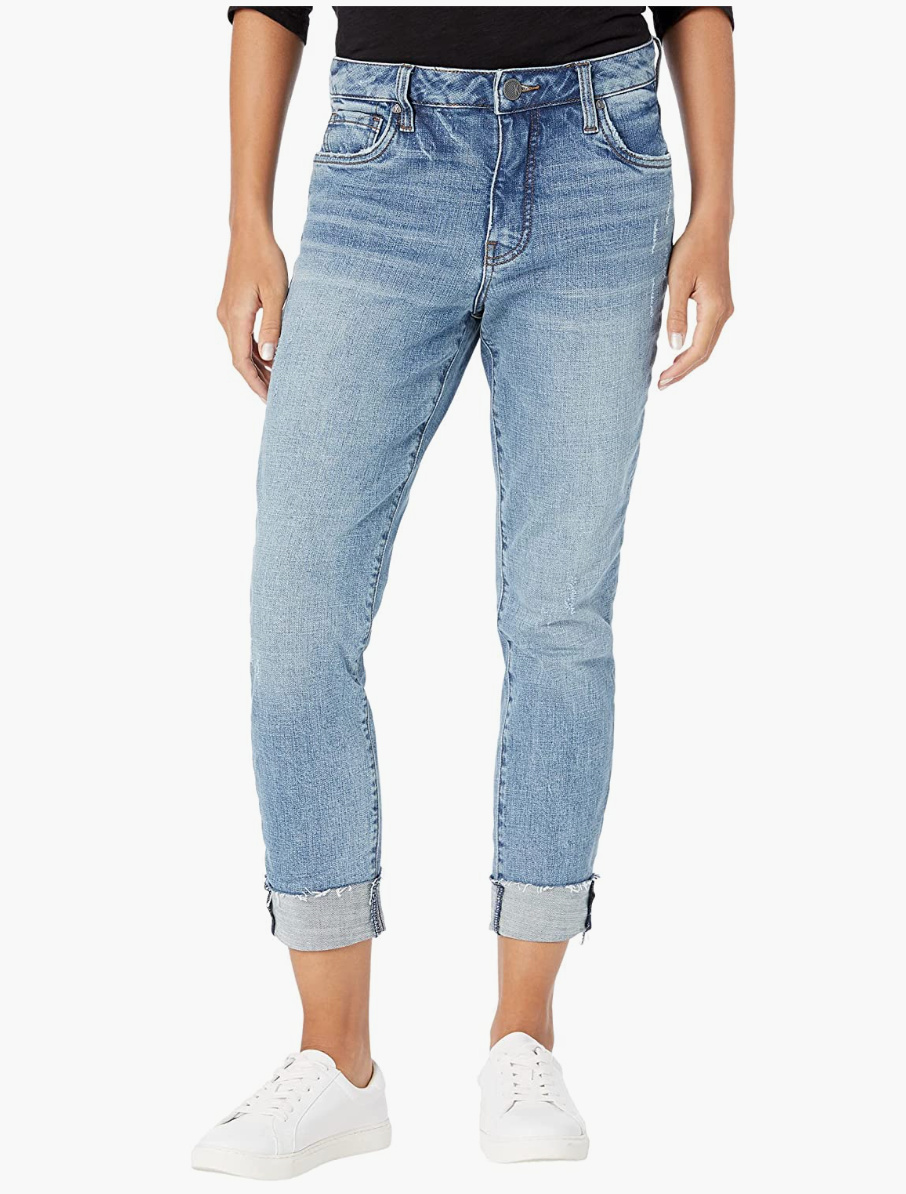 Kut From The Kloth Catherine Lightweight Jeans Womens
Readers have voted Kut from the Kloth as some of the best jeans women option for travel. Their Catherine boyfriend jeans are made of soft stretch denim, making them super comfortable to wear all day long. They have a worn-in denim look and feel, while the dark wash elevates them. 
The cuffed look adds a cute touch, but they can be unrolled for full length, too. The boyfriend style is modern and stylish. Pair with slip on sneakers and a tee for an easy travel outfit!  
A TFG reader says, "Kut are the only jeans I own! I love them, always hold their shape and are so comfortable!" Available in regular sizes 2-18, also available on Nordstrom.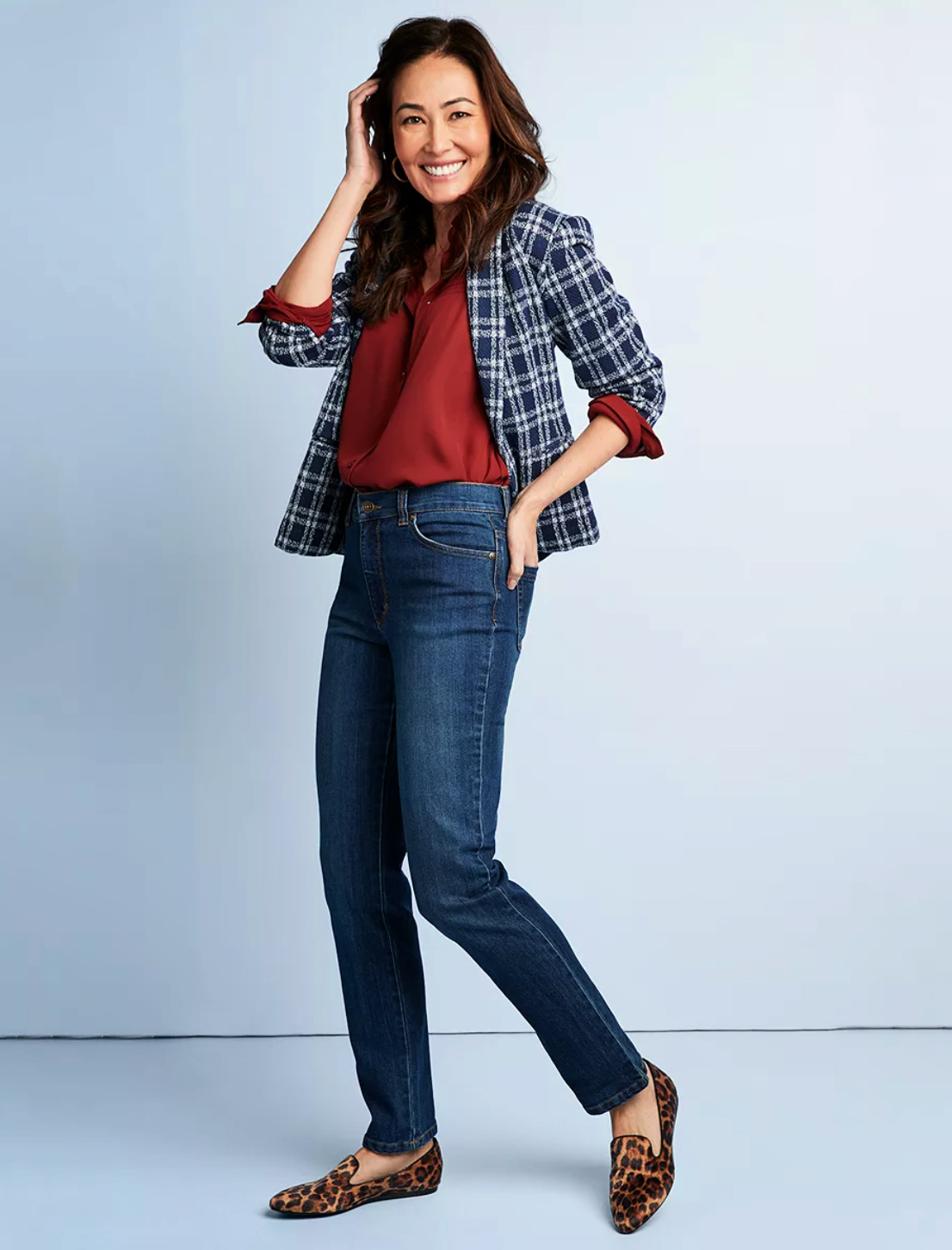 Shop: Kohl's
Gloria Vanderbilt Womens Comfortable Jeans (Petite and Plus Sizes Available)
A wider leg is all the rage at the moment, and this comfy jeans womens option by Gloria Vanderbilt has over 1,200 glowing reviews!
Many users not only say these are a great value, but the stretch is just right and the fit is flattering! One says, "These are so comfortable and nice-looking! Exactly what I want at a great price! It's hard not to wear these everyday."
These are offered in numerous colors and 4-18, petite 8-16, and plus 16-26 right here!
Best Womens Black Jeans

Shop: Amazon
PrAna Kara Travel Jeans Women Style
Many TFGs wonder what are travel jeans truly? Well, once our readers discovered PrAna, they never looked back!
The Kara jeans are highly popular or travel because they're breathable and crazy comfortable! Their soft stretch gives ample mobility for active travel days, but they're also cozy enough to be worn on long drives or flights. As a bonus, these are sustainable and made of organic cotton and come in 20 colors to suit your style!
One wearer speaks to the versatility of these pants, sharing, "My go-to jeans. I have slept, hiked, and traveled in these jeans, but have also dressed them up and gone out in them!" Available in sizes 00-18.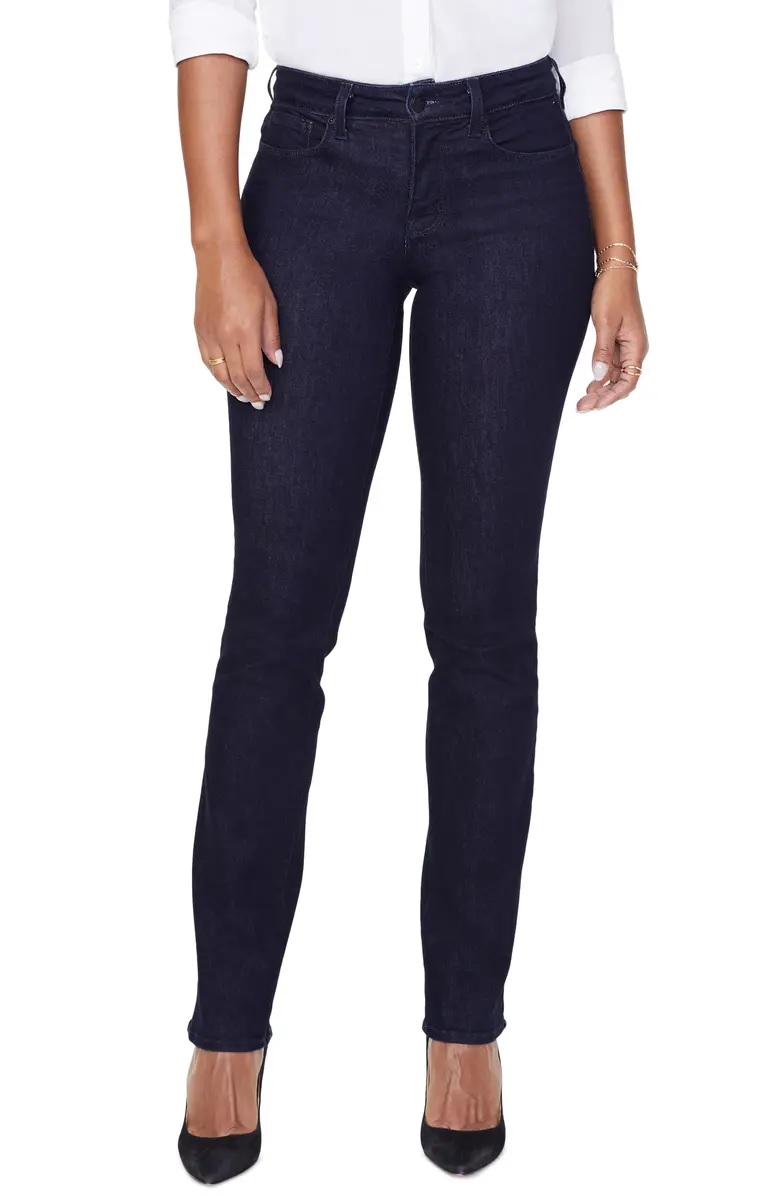 Shop: Nordstrom
NYDJ Marilyn Straight Leg Women's Travel Jeans 
If you want some comfortable jeans for big belly, this Marilyn straight leg option have lift-tuck technology that helps to flatten the tummy and lift the rear, so you'll be rocking these jeans feeling confident and super comfy! They also have aa classy, elevated look, while being soft and stretchy enough to wear sightseeing or even on a flight.
Wearers say they hold their shape really well and feel sturdy. They come in two gorgeous dark blue washes, and are available in sizes 00-18, and petite sizes 00-18, right here!
A wearer reports, "One of the better fitting pairs of jeans I've purchased. They look good and are comfortable. Fits well and are not too tight!"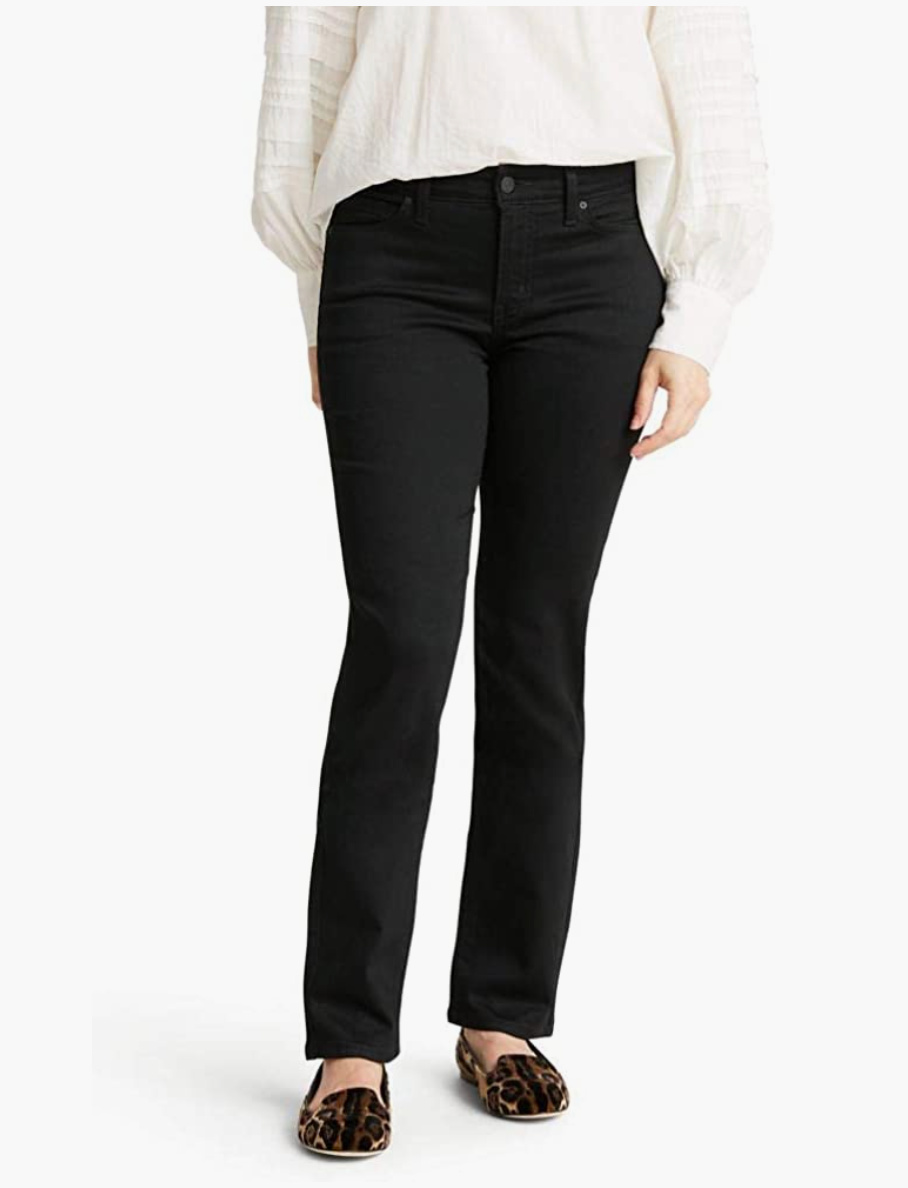 Shop: Amazon
Signature by Levi's Straight Leg Lightweight Travel Jeans for Women (Standard and Plus)
Levi's makes some of the most comfortable jeans for ladies, and the curvy totally straight leg shaping jeans are an absolute classic! They're timeless, versatile, and so easy to travel with. 
These have an ultra-high waist, and the 100% cotton denim will feel cozy and form to your body with wear. Everything goes with a pair of levi's, so no matter where you're headed or what your travel wardrobe consists of, these soft jeans will fit in perfectly! 
A wearer shares more, "They're classic looking and would stand up to a more dressed up style. Perfect with a high-quality black or white tee. So comfortable and versatile, the whole design is flattering." Available in sizes 2-28 in regular and plus size.
Our readers voted for the best black travel pants and these were their favorite styles!
Shop: Amazon | Eddie Bauer
Eddie Bauer High-Rise Jeans (Regular, Petite, Tall, and Plus Sizes)
Nothing says R&R better than big sunglasses, a crispy white tee, and some classic jeans. A high rise fit is less likely to cut into your hips increasing comfort, too.
Pair them with slip ons or a comfy pair of sandals. With hundreds of positive reviews, the overall consensus is that they're ultra cute and comfortable – perfect for travel!
These come in three different washes and sizes regular (0-16), petite (0-14), tall (6-18), and plus (18W-24W).
Shop: Zara
Zara High Rise Slim Jeans
These Zara's high rise, skinny, ankle-length jeans are not only eco-friendly but a classic piece to add to your travel packing list. And they have some stretch too!
If you're ready to flaunt your moves whether in San Francisco or San Sebastian, these skinnies will do the trick and look fab with ankle booties, sandals, or flats!
Best White Jeans for Women
Shop Sizes 2-14: Nordstrom
Karen Kane Classic Straight Leg Off White Jeans
These Karen Kane white straight jeans are stylish and comfortable, with a modern fit and a bit of stretch giving you plenty of mobility and lots of comfort!
They can add a chic element to a laid-back outfit or complete a dressy look! Available in sizes 4-14. These mid rise white jeans would pair perfectly with anything from a strappy sandal to a stylish ankle boot!
One wearer shares, "Flattering wide leg jeans. These run true to size. Can't wait to wear them this summer!"
Shop Sizes 27-33: Madewell | Zappos
Madewell Perfect Vintage White Wide Leg Jeans
Madewell's white baggy jeans are amazingly comfortable and so easy to style! They feature a high waist, slouchy wide legs, and have a vintage-y feel, which is very in! They're also durable and hold their shape throughout lots of wear, which travelers love.
These wide leg white jeans are perfect for warmer destinations, with the white colored fabric keeping you cool and the ankle crop making ankles extra breathable! Available in sizes 29-33.
One user gives a rave review, "I have a few pairs of Madewell jeans which I all love, but I'm obsessed with this pair. I have a slightly curvier figure and a lot of jeans can be unflattering to my waistline, but oh my God, these jeans are it. They hit and hug you in all the right places and have perfect stretch while still maintaining a flattering waistline."
Shop Sizes 00-18 Petite and Regular: Nordstrom
Wit & Wisdom White Skinny Jeans (Petite Sizes Available)
If you're a slim jeans kind of gal, these white women's jeans from Wit & Wisdom are an uber-flattering option, and they're so comfy, too! They have a nice amount of stretch and a high waist that features their "Ab"solution technology which shapes, smooths, and lifts your figure in all the right places!
So well designed, these white stretch jeans hit right above the ankle and can be thrown on with a simple tee and sneakers for a cute and easy travel look. Available in sizes 00-18, and petite sizes 00-18.
A wearer says, "Wit & Wisdom are hands down my favorite! These are great white jeans for summer! The fit is perfect and they're not thick, heavy jeans. These are SO light and comfortable."
Learn how to choose the best jeans for travel!
Shop Sizes 26-42 Petite, Regular and Plus: Amazon | Zappos Sizes 26-34 and Sizes 16W-26W
Levi's Classic White Straight Leg Jeans (Regular and Plus Sizes Available)
Levi's is a quintessential denim brand, making durable and classic pairs that are much loved among TFG readers! Their classic straight leg white jeans are mid rise, sitting right at the natural waist, and have a relaxed, straight leg fit. They also have a slight amount of stretch to keep you comfortable throughout long days of explorations!
They fit great, look super stylish, and overall make an amazing summer travel staple. Available in sizes 26-40, with a choice of regular, long, short inseams, as well as plus sizes! Also available on Zappos, in both standard and plus sizes.
A traveler shares, "Bought these pants for my trip to the Mediterranean. They are the best fitting jeans I've ever purchased!"
Our readers pick the best skinny jeans!
Shop Sizes 6-18: Amazon
Riders By Lee Indigo White Boyfriend Jeans
These white slim fit jeans from Riders by Lee Indigo are a laid-back pair with a classic, slouchy, "boyfriend"-style fit, but are a tad more fitted and feminine. The cut is designed to flatter and elongate, with a higher mid rise and a cute crop at the bottom to show off your favorite shoes.
The stretch accentuates curves and makes them fit just right! Wearers rave about how well they fit and about how cozy they are! They come in sizes 6-18.
A traveler gives a rave review: "I brought them on a month-long trip and wore them a lot. I did a lot of walking and sitting in them, and always felt comfortable in them. They worked really well with a variety of tops and shoes. Definitely recommend them!"
Read how to wear white clothes on vacation!
When Not to Pack Jeans
The main time when you should avoid jeans is when you plan to strictly hand wash your clothing items, are planning to spend the majority of your travel time doing trekking activities, and when you will be in high humidity destinations.
The only time I don't pack jeans is when I go to South East Asia. On my RTW trip in 2010, I ditched my jeans after I left Australia and bought some denim shorts instead, and when I lived in Thailand for 6 months I much preferred my new travel pants. However, some travelers find the heat tolerable in this part of the world and happily wear denim.
Should I Pack Jeans When Traveling? Find out here!
---
What are your thoughts on wearing jeans for travel? Share your picks!
---
For more women's travel jeans, please read:
---
We hope you liked this post on
on traveling with jeans

. Please share with your friends on Facebook, Twitter, and Pinterest. Thanks for reading!
---