Support TFG by using the links in our articles to shop. We receive a small commission (at no extra cost to you) so we can continue to create helpful free content. As an Amazon Associate, we earn from qualifying purchases made on Amazon in addition to other retailers featured on the blog. Thank you, we appreciate your support!
Generally speaking, three is the winning number when it comes to travel shoes. By carefully selecting shoes you can maximize your options just as you would when choosing travel clothing. Follow these tips when selecting your travel shoes for a Round-the-World (RTW) trip, long term journey, or for travel with a complex itinerary.
Before you get started, please read How to Choose The Best Shoes for Travel!
---
How To Choose Shoes For A RTW Trip
---
For an RTW  trip, you need shoes that are multi-functional and durable. If you're rotating between three pairs of shoes constantly, they have to last so investing some cash in quality shoes offers great benefits to the traveler.
Read our full round-the-world packing list to learn exactly what to pack!
RTW trips usually consist of highly varied settings such as temples, cities, mountains, beaches, and more. You'll also be participating in various activities such as trekking, rock climbing, scuba diving, bicycling and possibly bungee jumping.
While not all *backpackers are created equal, people specifically participating in one activity as they travel around the world should pack primarily for that. All others, keep on reading.
Since this website is about stylish travels I'll provide both typical backpacker options and more fashionable travel shoes.
You only need three pairs of shoes for any trip. Find out how with Pack Light Stylishly! 
4 RTW Trip Travel Shoe Options
First, we have the stereotypical travel shoes chosen for 100% functionality and for an action packed itinerary. The most traditional travel shoes include Chaco (walking shoe); Merrell (activity shoe); and flip flops (for the reasons explained in Budget Travel Essentials).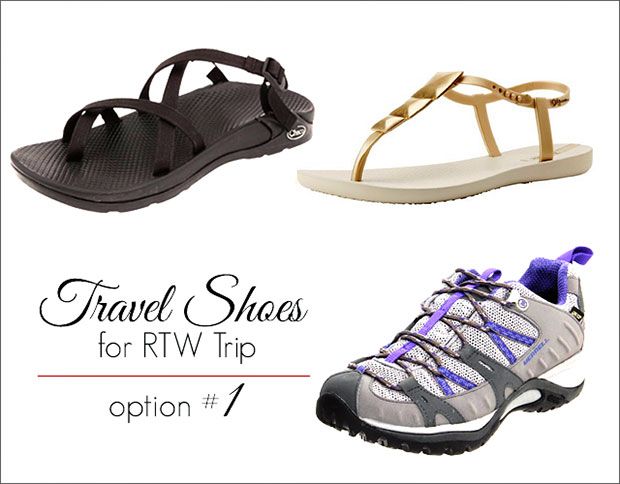 Chaco Sandals | Ipanema Sandals | Merrell Hiking Shoes
Second, we have an alternate version for travelers that want the functionality of the above items with a bit of added style.
Travel shoe ideas for this type of traveler include: Birkenstocks (walking shoe), Nike free (activity shoe), and one additional such as ankle boots, Crocs flats, or hybrid flip-flops depending on where you plan to spend the majority of your time and the weather (majority rules).
Packing cubes make the perfect shoe bags to protect your luggage from dirty shoes.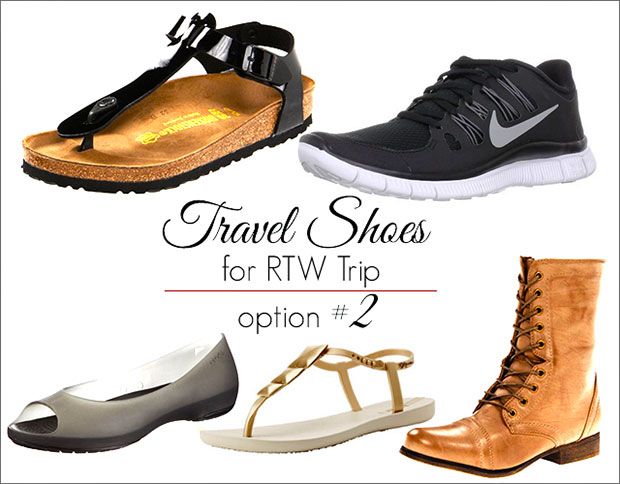 Birkenstocks | Nike free | Crocs flats | Ipanema Sandals | Ankle Boots
The third example is for the traveler that has a stronger focus on style and only plans the occasional trek or active sport. A general guideline for the fashionista includes slip-on like Toms, cute and comfy flats, and an additional pair such as cute sandals or ankle boots.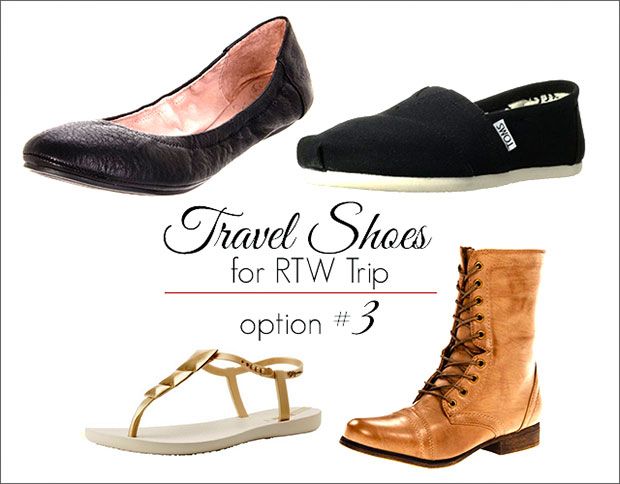 Ballet Flats | Toms | Ipanema Sandals | Ankle Boots
What would I choose for a RTW trip?
As a long term traveler constantly chasing the sun, beach, and underwater adventure, my current choice of travel shoes are slip-on, Ipanema hybrid flip-flops, and Birkenstocks.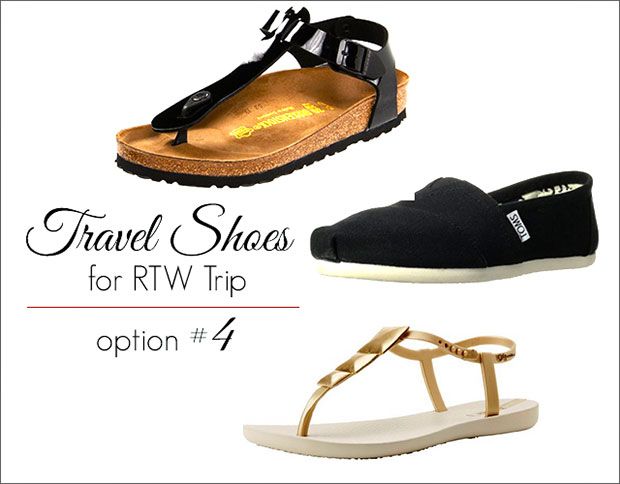 Birkenstocks | Toms | Ipanema Sandals
Keep in mind that if you plan to spend more time in big cities such as Sydney or London then a pair of ankle boots (for winter) or cute flats (for summer) should be your third shoe choice.
PLEASE NOTE: the term backpacker as used in this article is meant to describe a mode of travel typically used by budget travelers or people on long term trips. These tips are not advisable if you are mountain "backpacking" where hiking boots and proper footwear is suggested.
---
For more travel shoe ideas, please read the following:
---
If you liked these tips on how to choose travel shoes for an RTW trip, please share with your friends on Facebook, Twitter, and Pinterest. Thanks for reading!
---