Support TFG by using the links in our articles to shop. We receive a small commission (at no extra cost to you) so we can continue to create helpful free content. We earn from qualifying purchases made to the featured retailers. Thank you, we appreciate your support!
For some travelers, packing light equates to a vacation of repeated outfits. Luckily, this doesn't have to be true. By focusing on versatility, you can mix and match items to create countless outfits from just a few items. Keep reading to discover versatile packing at its finest and the importance of a travel capsule wardrobe.
---
The Travel Capsule Wardrobe
Written By: Maggie Fogg
---
As avid travelers, we firmly believe in packing light (as light as possible, in fact). Flying with just a carry-on and packing cubes can save tons of time and energy – and help you side-step some major headaches, including lost baggage and heavy suitcases you have to drag up a flight of stairs.
But when you only have a small suitcase, and as a result – only a few pieces to work with – figuring out what to pack and how to plan outfits can be tricky.
How do you keep your wardrobe incredibly limited without surrendering your style? How do you pack only a few key items, while maintaining versatility in your outfits?
Working from a capsule wardrobe is your best bet. Sticking with basic separates in neutral colors goes a long way for creating a variety of outfits with limited items.
If you are packing for a combination of business and pleasure in the same trip, it becomes all the more important to choose well-made styles that can be dressed up or dressed down with a few accessories.
How do you build a tight wardrobe without adding too many pieces? How do you keep your suitcase lean without choosing only safe, boring and basic options – and steering clear of going too far the other way, packing stylish pieces that you'll only ever end up wearing once?
Let's look at a few essential tips…
And don't worry. A capsule wardrobe doesn't need to be made of dull all-black outfits. You can use the guidelines below to create a versatile travel wardrobe featuring a variety of clothing styles (this is how to mix and match prints).
Read this to learn how to pack light stylishly for any destination!
The Travel Capsule Wardrobe: The Rule of 3
The answer is to follow one simple rule – the rule of 3. This is more than wearing every piece you pack at least 3 times. Pack all items with the intention of wearing each item in a variety of outfits that work in at least three different occasion types.
This could be dressy, professional, and casual. Or it could be sexy, relaxed, and polished. It all depends on your lifestyle and the nature of your trip. When you consider using each piece with this kind of versatility, you'll be able to build a stylish capsule wardrobe for any trip, and have tens of great outfits on-hand for any occasion.
Choose from one of eight travel capsule wardrobes to help you plan for your trip!
OUTFIT 1: Necklace | Tank Top | Jeans | Bag | Sandals OUTFIT 2: Hat | Necklace | Shorts | Sandals OUTFIT 3: Blazer | Necklace | Pouch | Skirt | Flats
The Travel Capsule Wardrobe: One Piece, 3 Ways
Take, for example, a pretty tank top like the wine-colored one shown above. It can be paired with a relaxed skirt and a blazer for a casual business event.
However, just as easily, it can be dressed up for an evening out on the town with a slim pair of jeans and a cool rocker-inspired choker and cross-body bag.
And third, the tank looks just as stylish with a beach babe pair of cut-off denim shorts, boho-inspired travel sandals and a straw hat – on point for a summer musical festival.
Take a look at this post to see how you can make 3 weeks worth of outfits with just eight pieces of clothing!
OUTFIT 1: Earrings | Bag | Blouse | Sunglasses | Joggers | Flats OUTFIT 2: Tank | Earrings | Lipstick | Bag | Boots
OUTFIT 3:  Shirt | Tank | Necklace | Backpack | Shoes
The Travel Capsule Wardrobe: Guidelines for 3 Uses
Now that you know how to use one piece in three different ways, follow these guidelines to make the most of your outfits.
Be Meticulous With Fit
Stick to flattering, figure-skimming silhouettes. Avoid anything with too tight of a fit, as it won't appear relaxed or chic. Likewise, avoid anything with a loose fit since it can read as sloppy and unpolished. Don't be afraid to tailor your clothing, especially when it's something you absolutely love!
Stick to Classic Styles With a Hint of Trend
Choose fairly neutral colors and simple cuts and patterns for versatility and longevity, but look for unique twists that add visual interest. This could be lace detail, embroidery, funky zippers – anything that expresses your personality.
File Into 3 Occasion Buckets
When you're shopping for new items or pulling items from your closet to pack, mentally file each item into its occasion bucket. Is it sexy, relaxed, and girly? Or is it business-casual, classic, and refined? Hint: this rule also works really well outside of travel packing for your everyday wardrobe, too.
Don't Forget to Map Your Outfits
Particularly with separates, make sure you can pair each item with several other items you've packed. It doesn't help you if you can wear a cute embroidered blouse to the museum, a nice dinner, and on the plane but haven't any bottoms you can pair with the top.
Have Fun With Accessories
Follow the same rule of 3 with accessories, including bags, shoes, jackets, and jewelry. Shop for high-quality, versatile pieces that are fairly classic in design but have a fun flair. For shoes, all you need are three pairs: one for sightseeing, one for a special activity, and a bonus pair.
These are the most cute and comfortable shoes for travel!
OUTFIT 1: Blazer | Dress | Necklace | Crossbody| Flats OUTFIT 2: Hat | Sunglasses | Handbag | Shoes OUTFIT 3: Jacket | Earrings | Lipstick | Pouch | Sandals
For example, this black and white striped dress is modern and airy with a slightly French nod. It can be dressed up for a summer night with bold earrings and a trendy belt. It also pairs well with polished accessories – like a cream blazer and ballet flats – for a cultural outing. Or, pair the dress with white sneakers, a summer hat, and a super-cute canvas tote for a breezy look to wear when visiting a local farmers market.
Ultimately, the accessories help give this dress a different feel for each occasion, but the guidelines above are used for each outfit. Each of the accessories are basic in their feel, but they have a trendy or stylish twist and can be paired with other outfits for other occasions.
Check out our top choices for convertible travel dresses!
With this simple rule, you can streamline your travel packing, change the way you look at your everyday wardrobe, and transform how you shop in the future.
---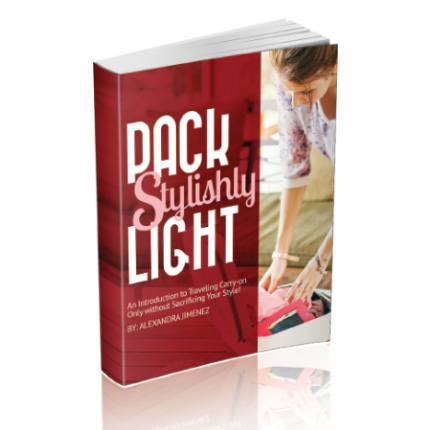 Need help creating a capsule wardrobe?
Savvy travelers know that a capsule wardrobe is the secret to traveling carry-on only. Pack Light Stylishly is our eBook that shows you exactly how to make a functional yet stylish capsule wardrobe for travel.
Learn more about Pack Light Stylishly here!
---
What are your tips on versatile packing for travel? Do you follow a travel capsule wardrobe? Share in the comments below!
---
For more packing strategies, please read these posts:
---
LIKED THIS POST? PIN THIS PIC TO SAVE IT!
---
I hope you liked this post on versatile packing at its finest and the power of a travel capsule wardobe. Please share with your friends on Facebook, Twitter, and Pinterest. Thanks for reading!
---
Author Bio: Maggie Fogg is a full-time traveler and writer. She left Toronto with a one-way ticket to Spain and has been making her way around the globe ever since. Currently, you can find her dancing and hiking her way around South America. Follow Maggie on Instagram.
---