Support TFG by using the links in our articles to shop. We receive a small commission (at no extra cost to you) so we can continue to create helpful free content. We earn from qualifying purchases made to the featured retailers. Thank you, we appreciate your support!
Fall and winter travel fashion is a balancing act of layering up and not looking bulky. One tried and true piece of clothing is a merino wool sweater and J. Crew offers the perfect one that is versatile and comfortable. Read our J Crew Tippi sweater review and find out why this item is a must-have!
---
J Crew Tippi Sweater Review
---
Table Of Contents
If you've been reading TFG for a while, you know how obsessed I am and our readers are with the J Crew Tippi sweater. This sweater is always on my winter packing list, and I take it nearly everywhere else! I love it so much, I have three of them in different colors. I use this travel staple to help me pack light!
Since I talk so much about it, I thought I would do a full review of the J Crew Tippi, and why it's the best merino wool sweater!
Merino wool is super popular and highly recommended for travel because it's lightweight, ultra-warm, and wicks away moisture – another merino wool bestseller from J.Crew is the Halle Sweater.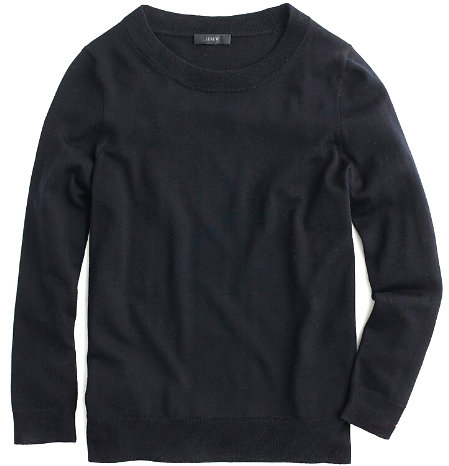 J Crew Tippi Sweater Basics
Brand and Style: J Crew Tippi
Price: $79.50
Fabric: 100% merino wool
Features: Crafted in refined and soft merino wool. Rib trim at the neck, cuffs, and hem. Fitted with slightly cropped sleeves
Sizes: XXXS-3XL Plus and Petite XXS-L
Colors and styles: Variety of colors, from neutrals to bright hues, and different styles such as collared or snakeskin print
Weather: Wear in the winter, as well as in transitional seasons, like spring and fall
Travel Type: Casual lounging, city sightseeing—anything!
Our Favorite J Crew Tippi Sweater Features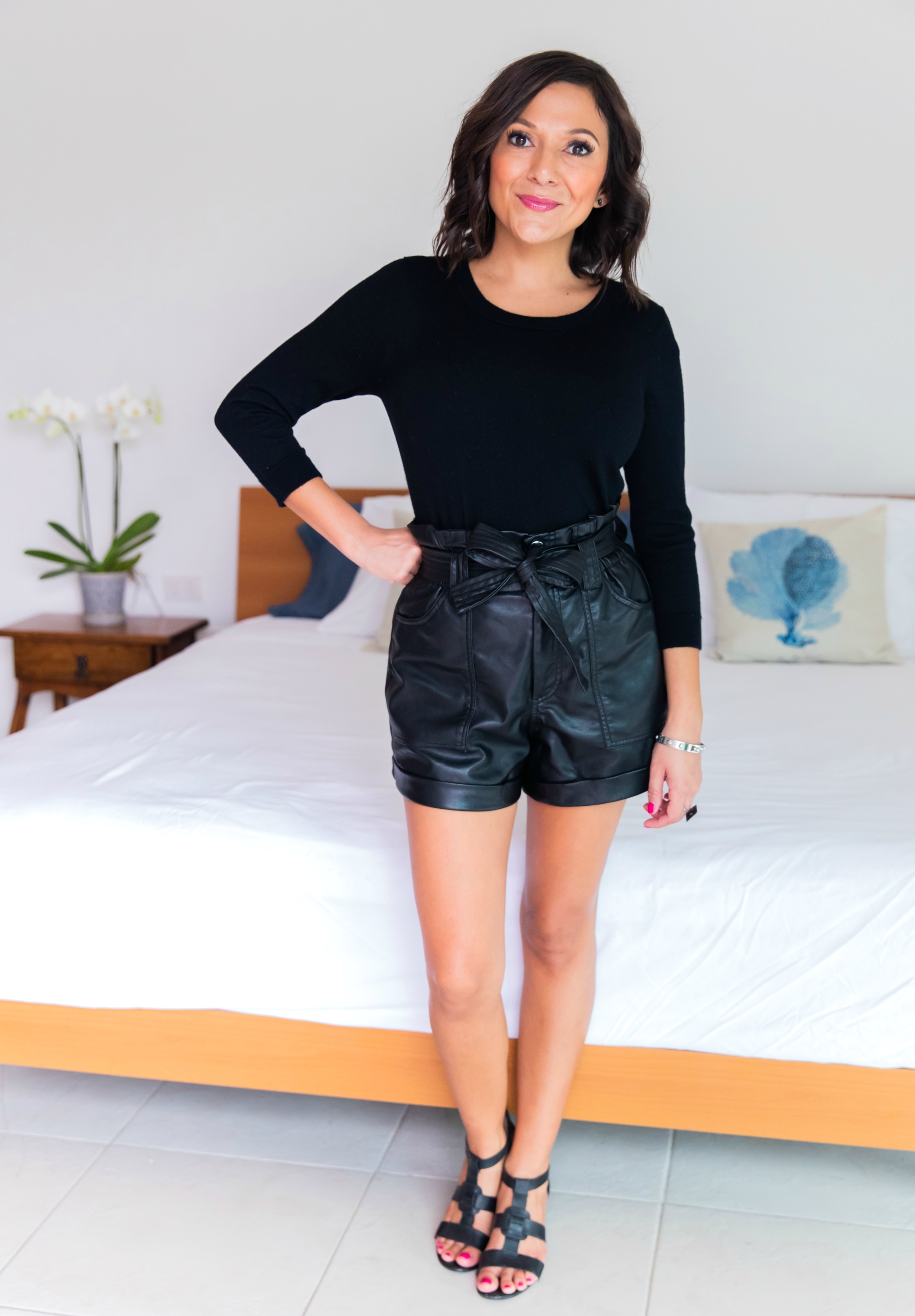 J Crew Tippi Sweater in black
It Packs Light But Keeps You Warm
When it comes to choosing clothing for winter travel, the J Crew Tippi is my go-to! The conventional wisdom is you need a thick sweater to keep you warm, but that can damper any plans to pack carry-on only. I'm happy to dispel that myth! 
A key highlight that the Tippi sweater J Crew offers is its thinness and compatibility. Made from 100% merino wool, this is a "super" fabric that's very elastic yet retains its shape after repeated wearing and washing. Merino's fine fibers give this sweater it's smooth, yet lightweight texture so it's easily rollable into a packing cube or fits in a carry-on, but able to keep you toasty. This fabric basically regulates body temperature, so it retains warmth and also prevents overheating.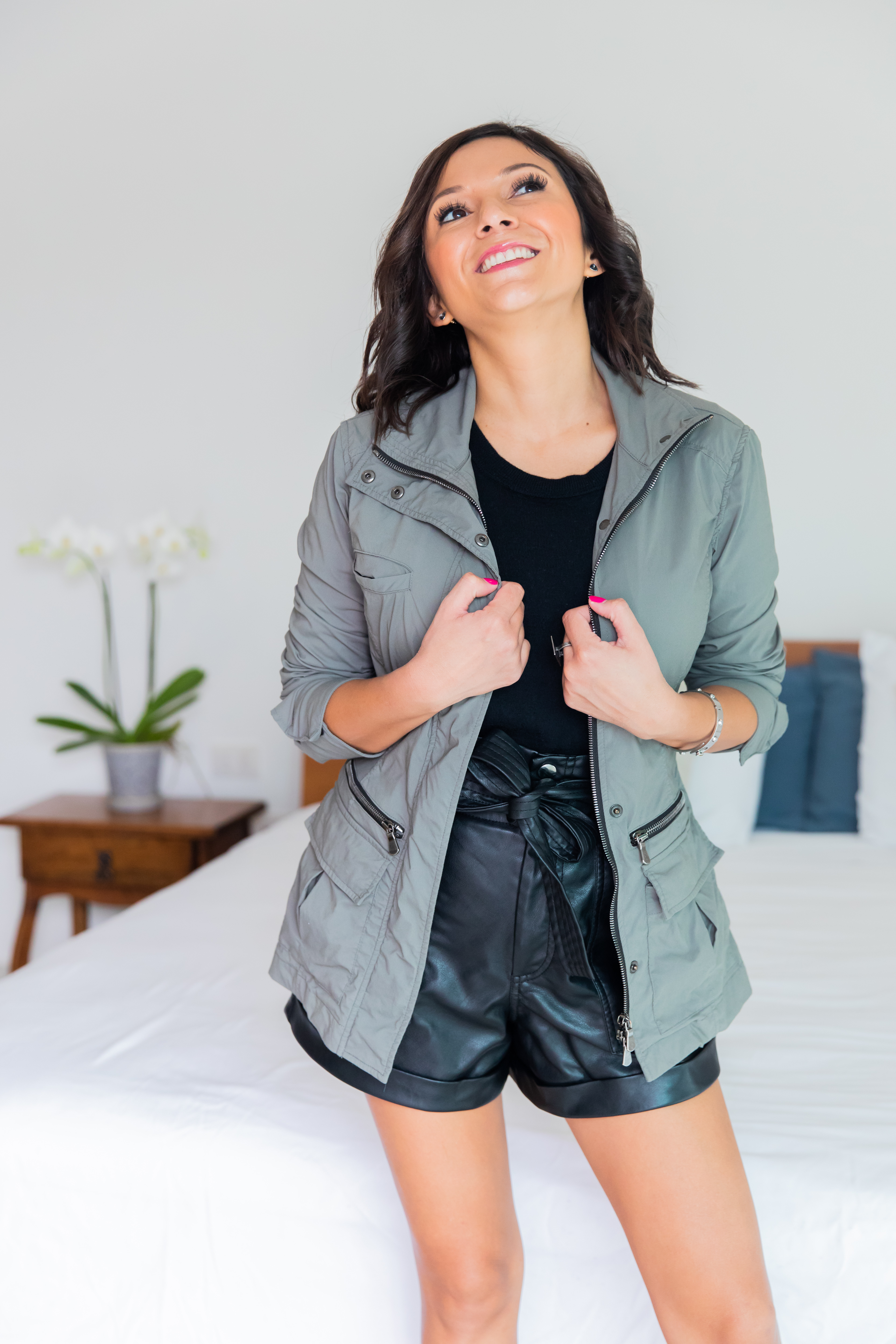 TFG Editor wearing J Crew Tippi Sweater
For mild winter days, I'm comfortable in the sweater on its own with a warm jacket. For colder evenings or snowy days, I might layer two of them (since they're thin enough to do this without being heavy) or wear it over a thermal long-sleeve top. Because of the material and range of sizing, this sweater can be a winter staple for anyone!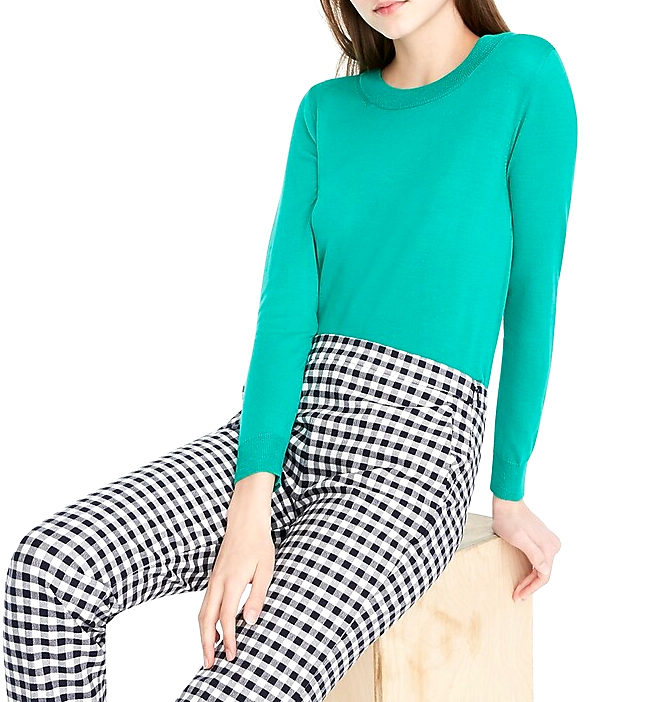 J Crew Tippi Sweater in bright kelly color
It's Easy to Care for While Traveling
Normally, the smart secret to traveling light is to do laundry once a week, but in the case of merino wool, the reason why it's awesome is that it repels scents, even after multiple wears. This is important, and the reason why I'm emphasizing this is that merino wool takes forever to dry. Since the J Crew Tippi sweater is form-fitting and sits next to your skin, it also repels moisture, so you don't have to wash it to keep it fresh while on the go.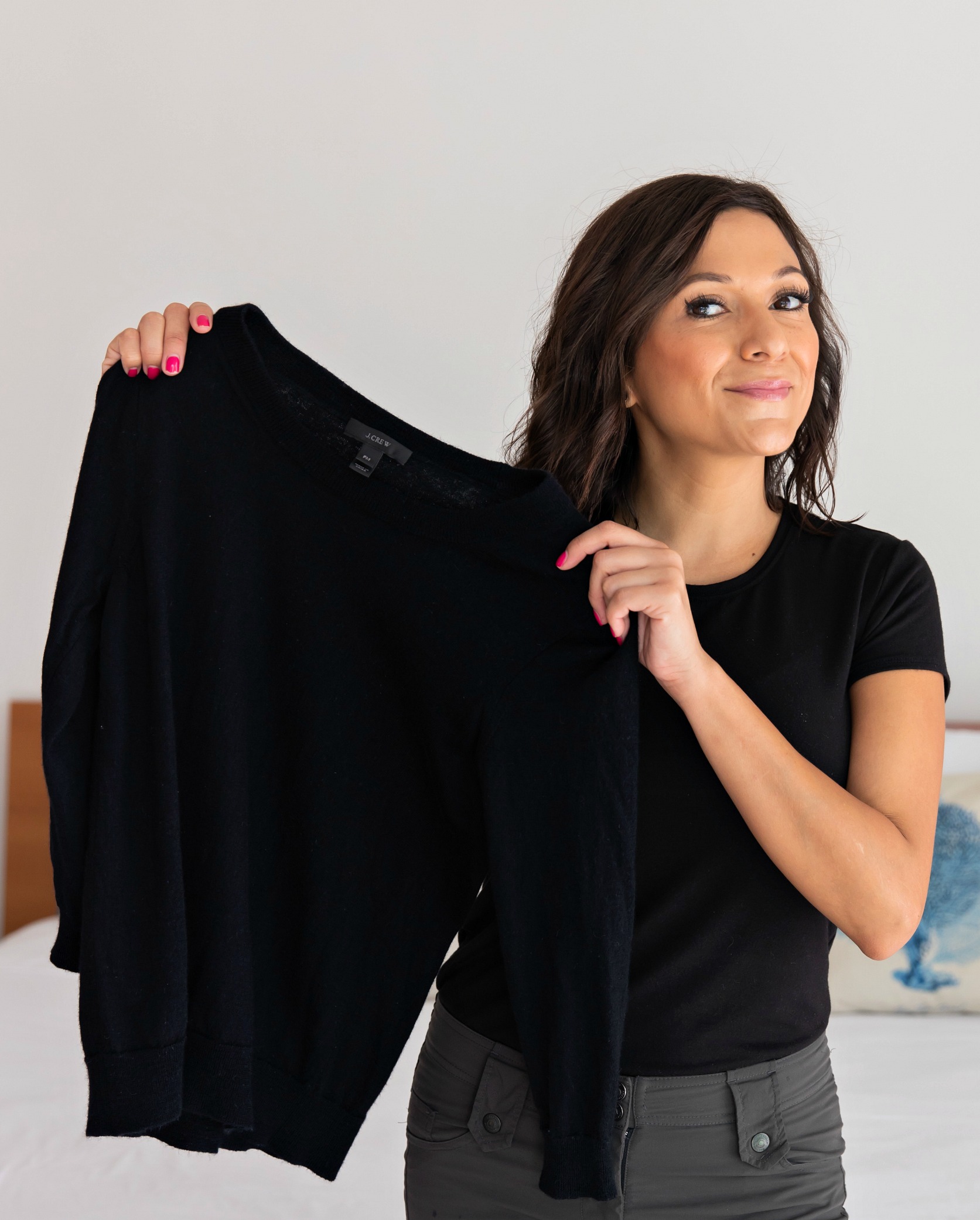 Wearing J.Crew Tee with Tippi Sweater
This is perfect when it's cold outside because, as I walk, I get warm and sweaty, so it's nice to know that this sweater wicks moisture away from my body while keeping me comfortable. Each day, after I'm done wearing it, I hang it up to air it out. The next day, I can wear it again.
While merino wool typically requires dry cleaning, I don't ever dry clean this sweater after a trip. Even though the tag recommends it, I wash it on delicate with a slow spin and then air dry it. You can also hand wash it and lay flat to dry. Even the care options for the J. Crew Tippi are adaptable!  
You'll want to look your best when you travel. Read my travel tips to Pack Light Stylishly!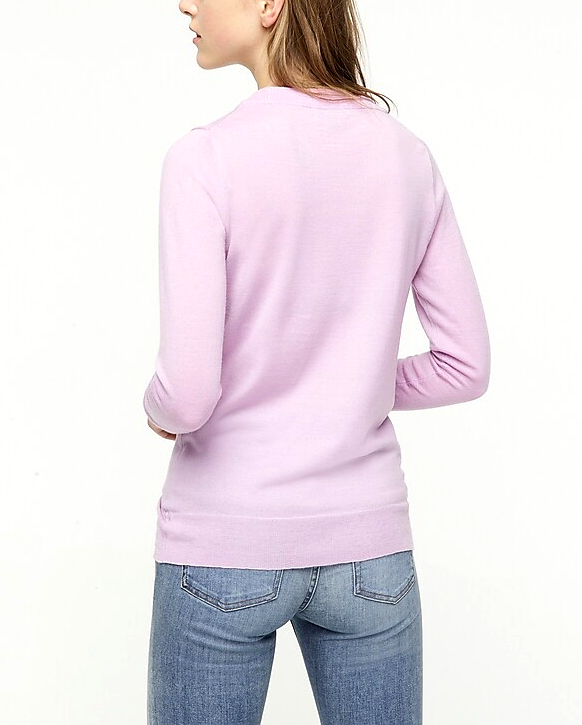 J Crew Tippi Sweater in vivid lilac color
It's Soft, Comfortable, and Versatile
This sweater is incredibly soft because of the merino wool fabric. Unlike some fabrics, the J Crew Tippi isn't itchy at all. And since it wicks moisture, you won't have to worry about sweating in it or overheating after you've been moving around and walking for a while.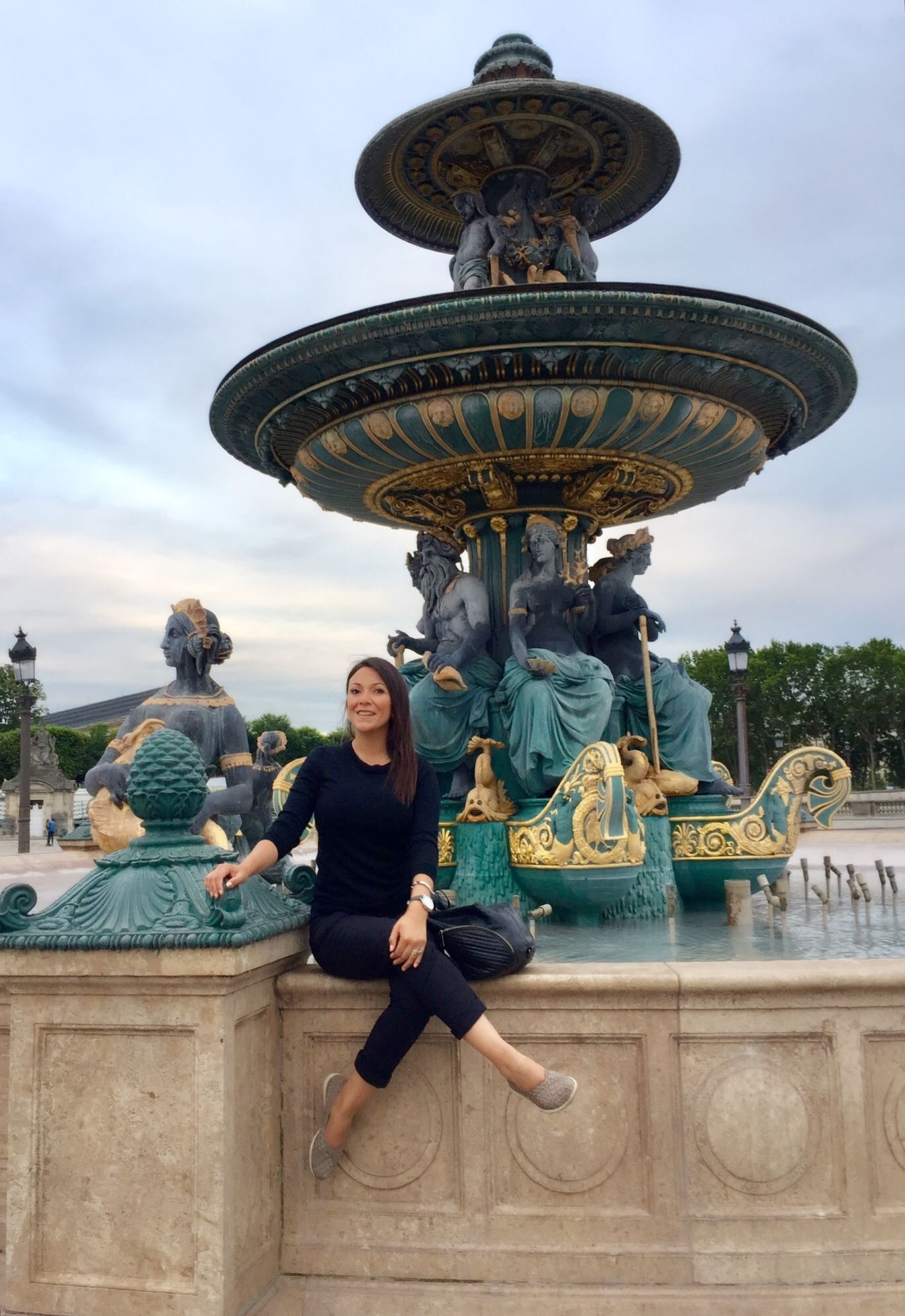 TFG editor looking glam in her black Tippi in Paris
While a soft and lightweight merino wool sweater doesn't sound durable, the "merino wool" actually makes it just that! A lot of people don't realize that merino wool is the best fabric for travel, due to its great feel and wearability for a variety of occasions or in multiple climates!
These fall and winter jackets will pair well with your sweaters!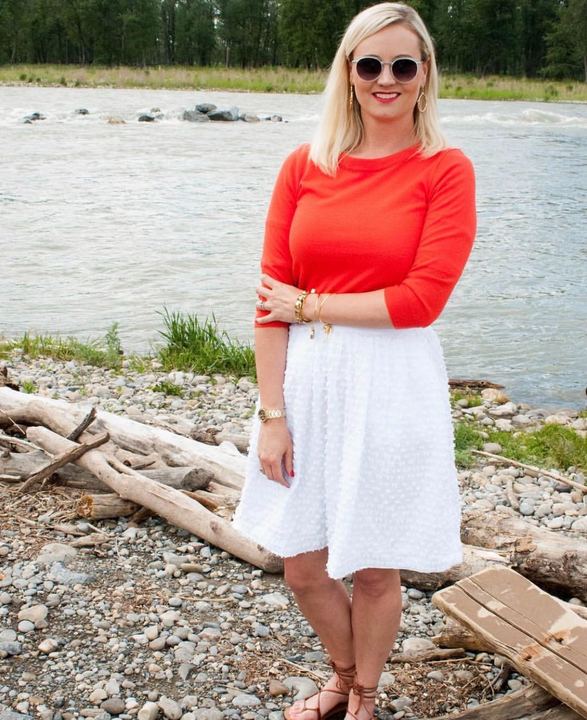 Denise of Everydae Style wearing her Tippi sweater with a summer outfit
It's Awesome for a Variety of Women!
One of the best things about this sweater and what makes it so popular is its inclusive sizing. It's available in both regular and petite sizes ranging from XXXS to 3XL Plus. And because they're so lightweight, you can fit four 3XL Plus Tippi sweaters into one Compass Rose packing cube. In fact, I put together a post on how to pack a carry-on for any clothing size in the winter.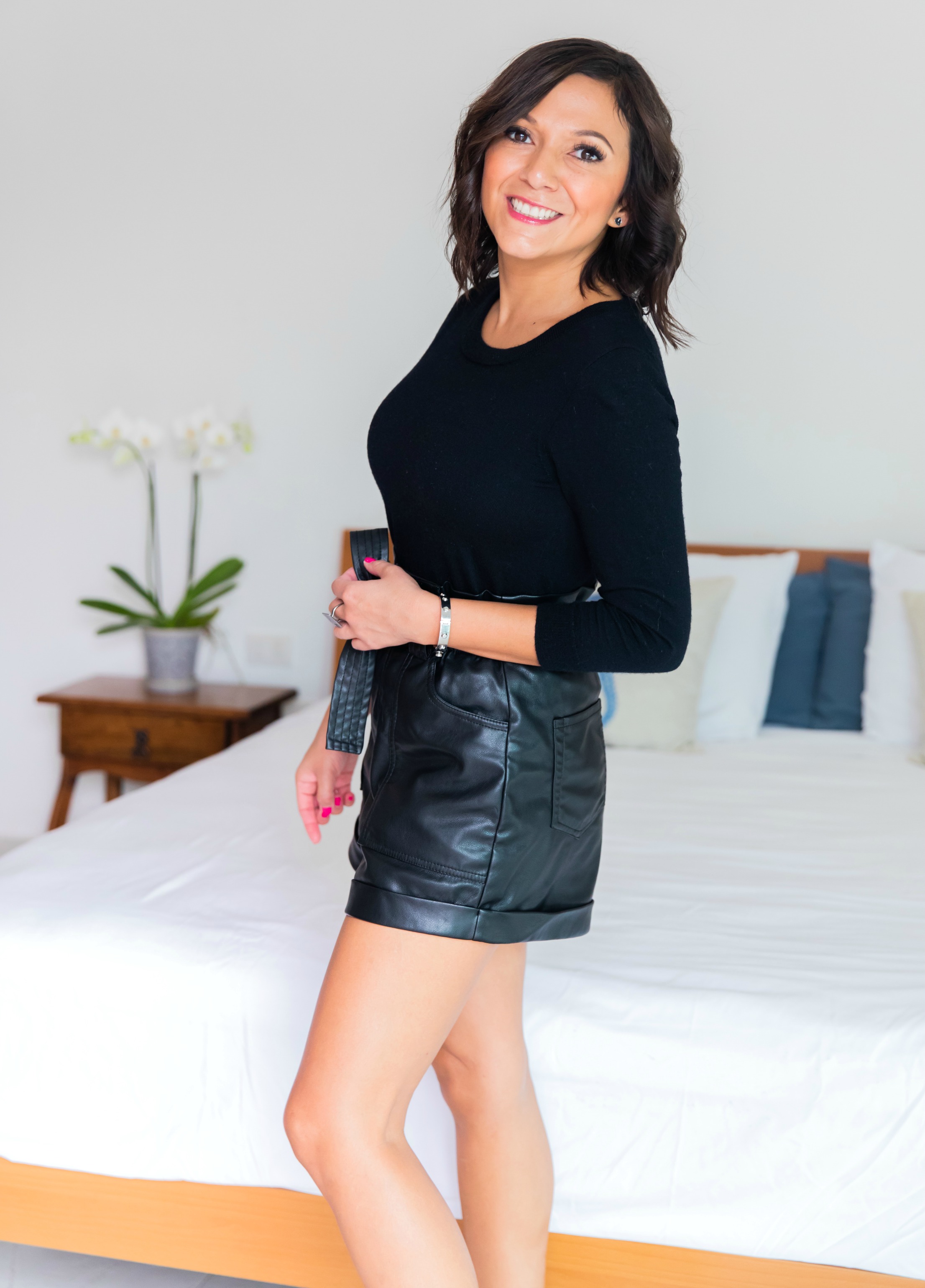 This sweater is one of the most travel-friendly fashion items ever because you can wear it solo in mild temperatures or layer it with another sweater or top for extra warmth without it looking or feeling bulky. And due to its versatile yet classic silhouette, it goes with anything and everything!
Watch this video about packing for both warm and cold weather!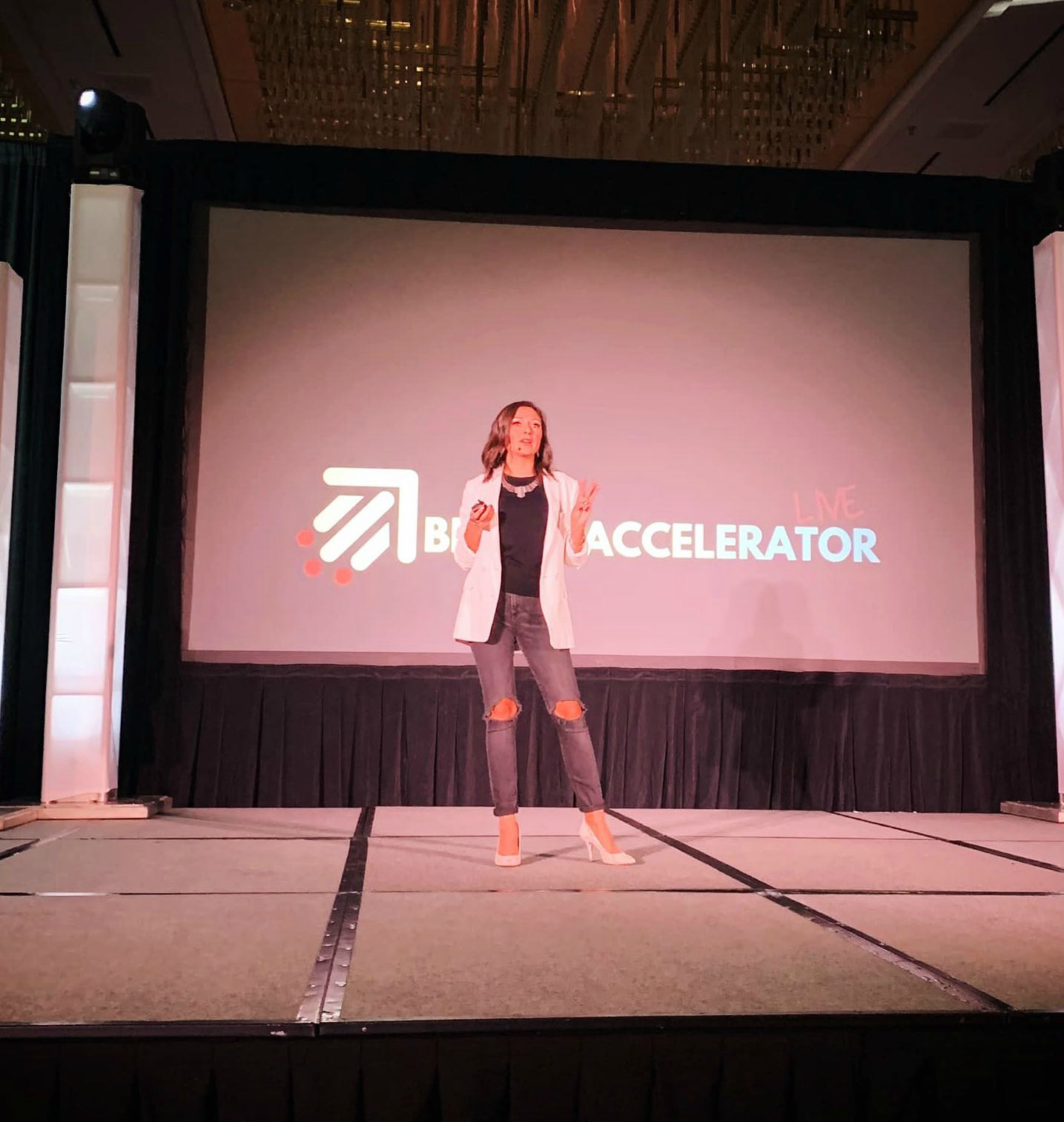 TFG editor wearing the black Tippi on stage at a conference
It Goes With Everything
There's a reason why this sweater has been a J. Crew best-seller since 2011. Not only is it a practical travel piece, but it's also incredibly stylish and versatile. Thanks to its classic silhouette and monochrome color, you can dress it up or down.

Dress it up for a nice excursion by pairing the sweater with a skirt and tights, layered over a dress, or with dress pants. Finish the look with heeled ankle boots! Or, you can dress it down with jeans and sneakers for a casual look. Add a pop of pattern or color with a scarf.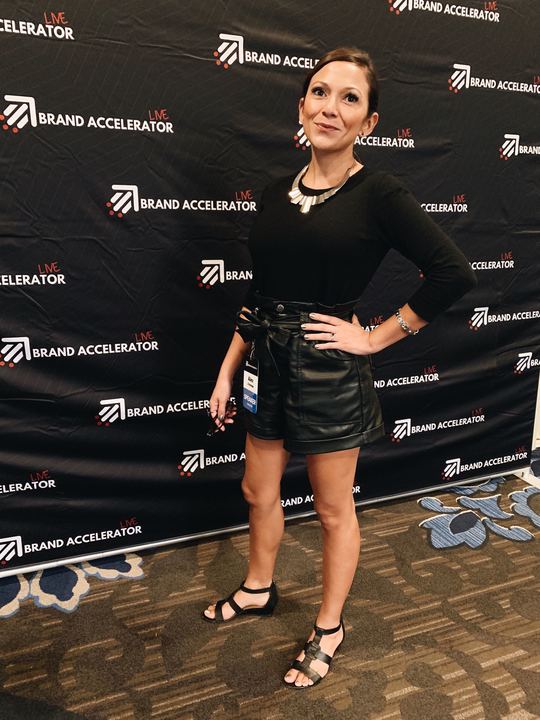 TFG editor rocking the black Tippi at a conference
Since this J Crew sweater is so versatile, you can wear it with anything! I have it in multiple colors, but you can't go wrong with classic black or grey. I bring it on all of my travels and keep it with me at all times in my Rebecca Minkoff Julian Backpack.
I recently wore it at a conference and used it for so many outfits, it looked fresh and different for each event—I felt SO confident and put together!
Need a winter travel packing list? Here's your essential guide!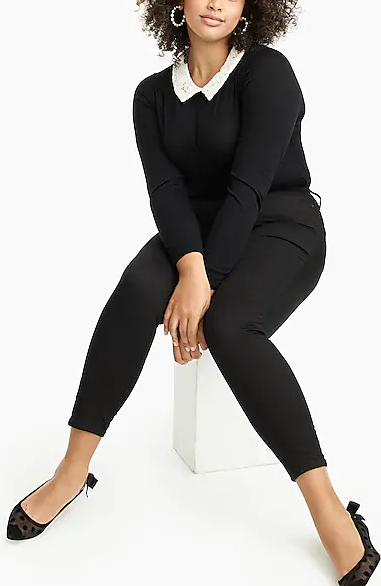 J Crew Tippi Sweater – Collared Style
It's Offered in an Array of Styles
Besides the luxurious feel and versatility, J. Crew has also added some cool styles and prints if you want the same amazing fabric with a few pretty details—the snakeskin or lacy collared version fits nicely with skinny jeans or skirts. Other styles include leopard french cuffs or a chambray collar.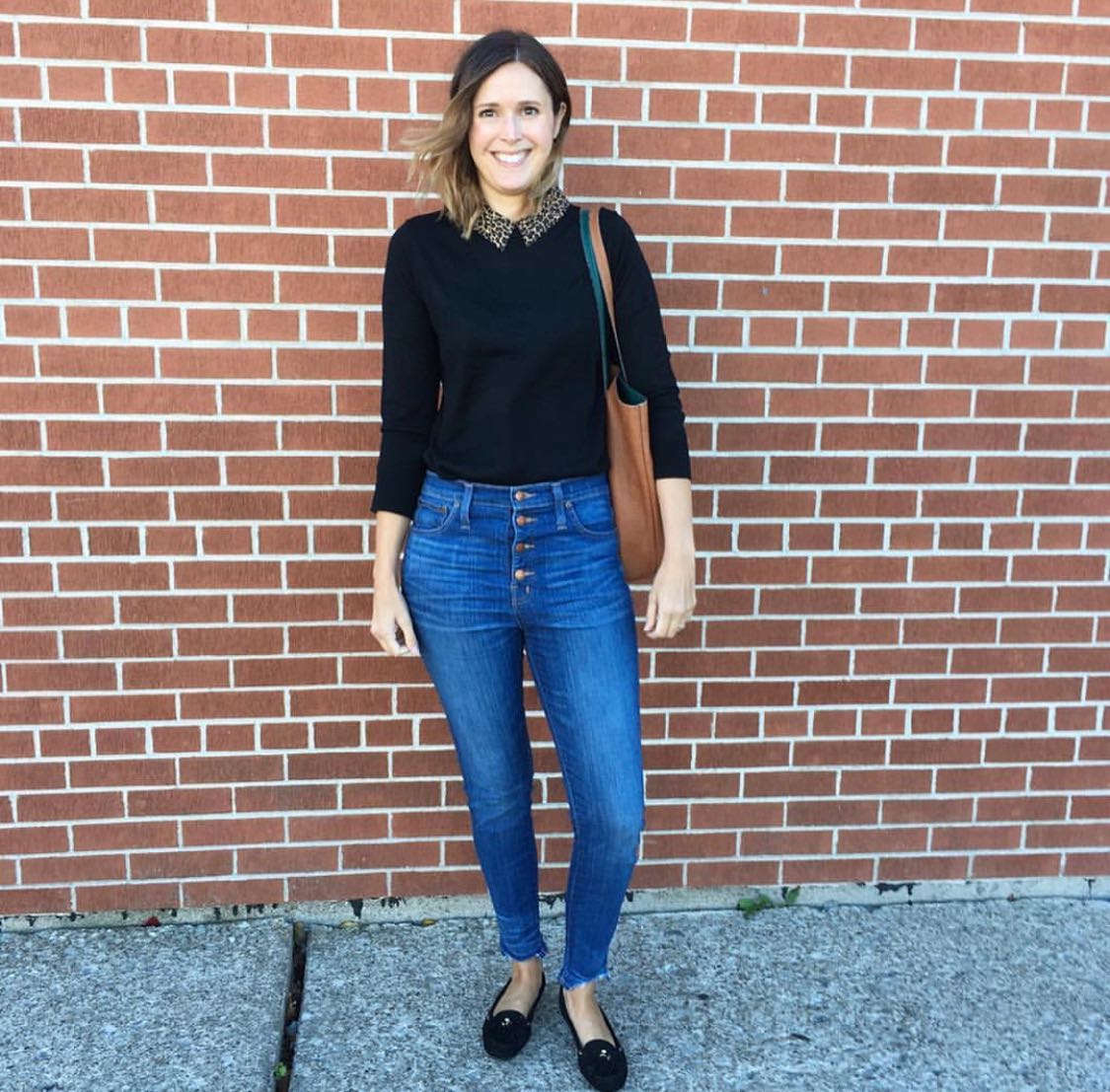 The Closet Moth rocking her Tippi sweater with jeans, flats, and a leopard collar
Each iteration of a Tippi sweater still maintains a classic look that can be dressed up or down, depending on what event or outing you have planned. I'm personally excited to see what other styles they launch next!
Layering is the secret to staying warm in autumn, winter, and spring!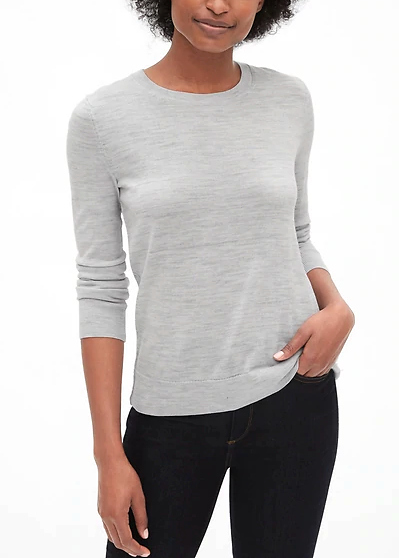 Gap Crewneck Merino Wool Sweater
Alternatives to J. Crew
For travelers on a budget, this isn't a cheap purchase. The sweater retails for $79.50, which many will find is a steep price for a sweater. Several readers have recommended Banana Republic and Gap for cheaper alternatives.
Keep in mind that J. Crew holds frequent sales, anywhere from 20% to as high as 50% off (during Black Friday). Several readers have snagged these sweaters at great prices. One reader says, "I just ordered my first merino wool sweater ever from J. Crew at a phenomenal 1/2 price. And shipping was only $5!"
One thing to note is this sweater does run short, so if you're tall or have a long torso, this top might look cropped. One reader says, "The Tippi sweaters are too short on me, unfortunately. The Banana Republic sweaters work better on my figure!"
I recommend sizing up if you are tall or don't like shorter tops.
Tip: If you join J. Crew's free rewards program, you get free shipping!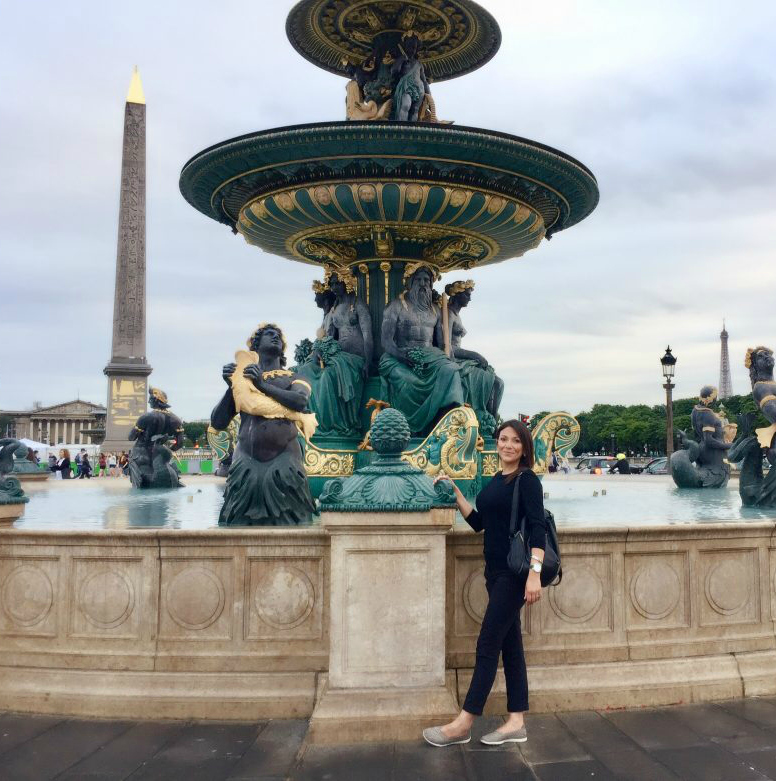 TFG editor at a pretty fountain in Paris in the black Tippi
Editor's Thoughts: I Love This Sweater!
The Tippi sweater J Crew is my no. 1 winter item, and I've used it to travel in winter for years. Beyond winter, I seriously have this sweater in my bag all year. Even in the summer, this ended up being handy when the temperature was cooler than expected in Paris!
It's 100% merino wool, which is the best fabric for travel. It's lightweight, packs incredibly compact, and keeps me warm. I love that it's available in a variety of sizes too, from XXXS to 3X.
I'm not alone in this, readers also adore this sweater! As one says, "I LOVE TIPPI. I wear one into the ground pretty much every year. This season, I bought three!"
Watch this video review on the benefits of the J Crew Tippi sweater
Video: J Crew Tippi Sweater Review
I love this sweater so much, I did a video review for it. I cover why merino wool is an incredibly useful fabric for travel and why my J Crew Tippi comes with me everywhere!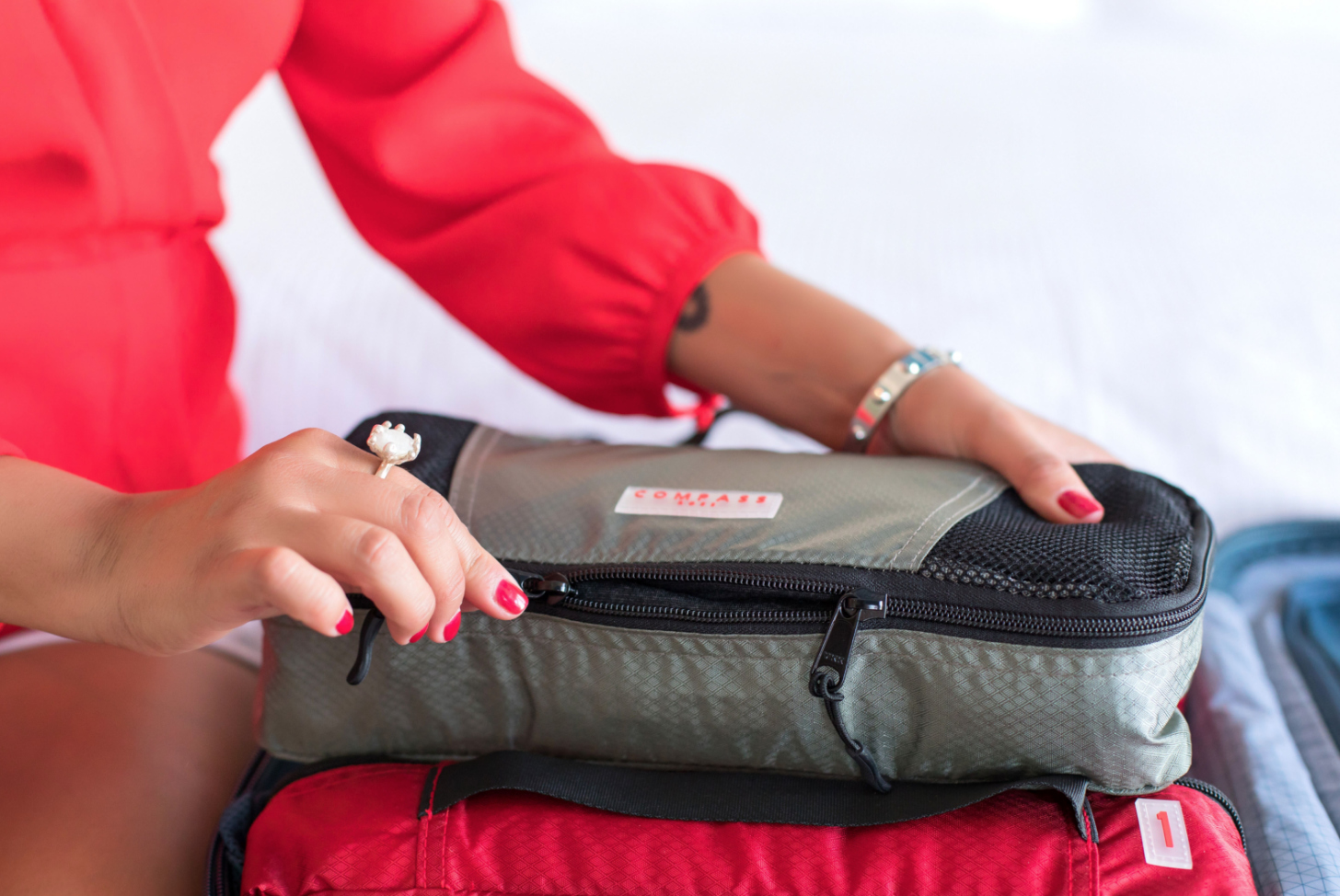 Tips for Packing Your J Crew Tippi Sweater
The beauty of this sweater is its ability to pack light. which is super easy to do with slim packing cubes. This allows you to travel carry-on only for all the clothes you intend to bring, and it saves so much space!
We put together a five-part YouTube series showing the different methods to use packing cubes for travel. If you use this specific packing strategy, packing cubes can also compress your belongings. This is the secret to traveling carry-on only!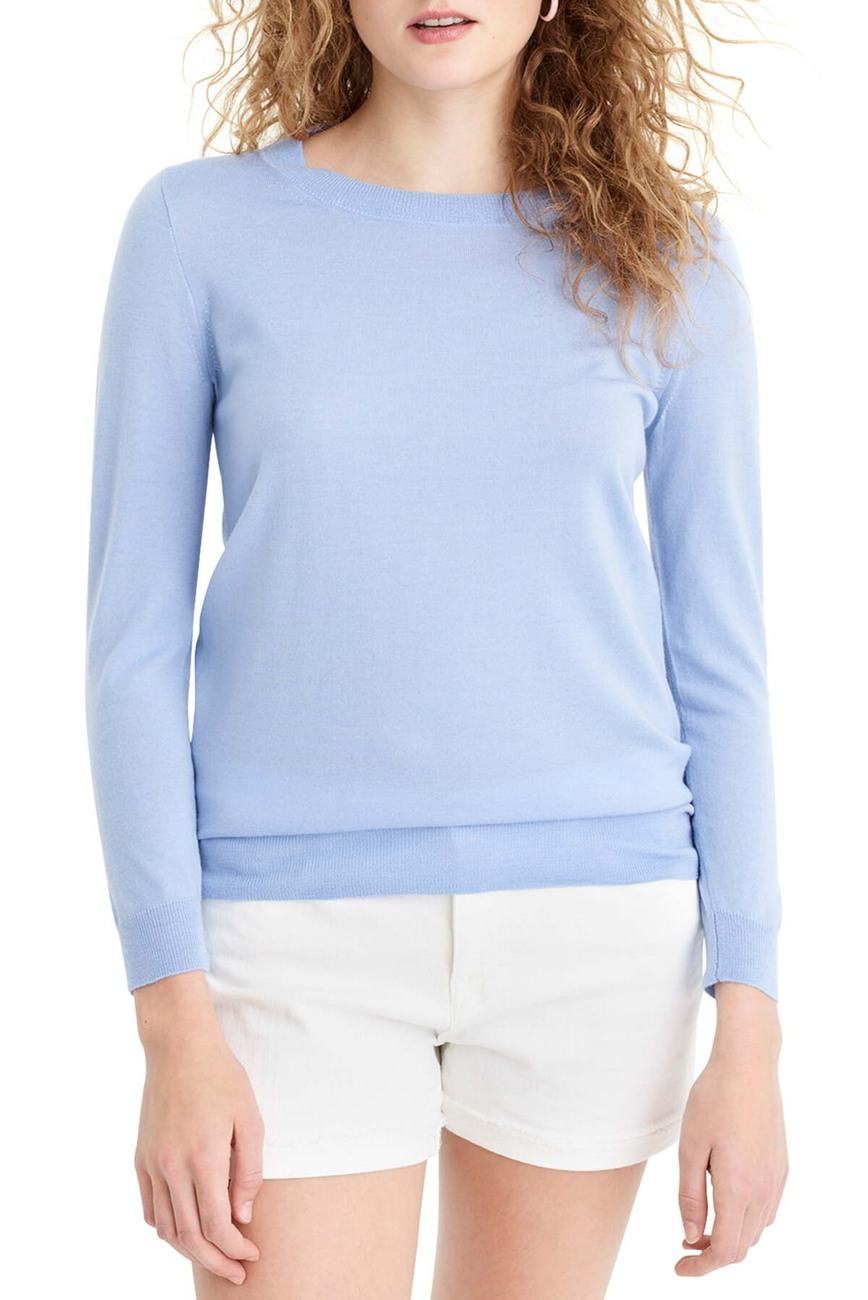 Where to Buy the J Crew Tippi Sweater
You can purchase the Tippi sweater at  J.Crew.
---
What do you think about our J Crew Tippi sweater review? Share and comment below!
---
For more cold-weather clothing and packing tips, please read: 
---
LIKE THIS POST? PIN THIS PIC TO SAVE IT!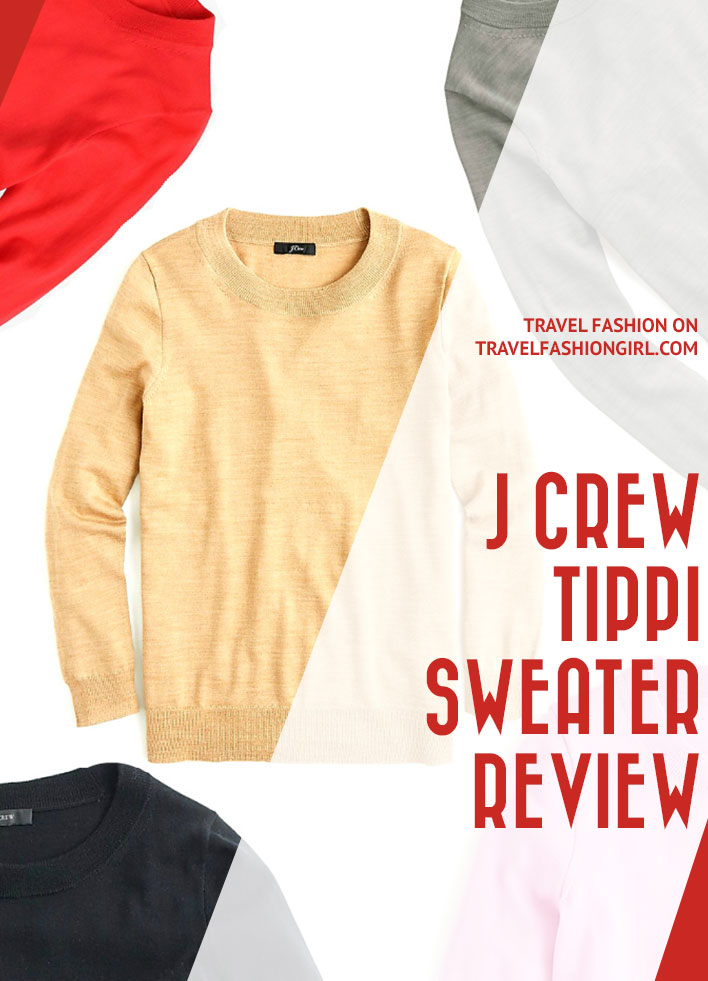 ---
We hope you found this J Crew Tippi sweater review helpful. Please share with your friends on Facebook, Twitter, and Pinterest. Thank you for reading!
---