Support TFG by using the links in our articles to shop. We receive a small commission (at no extra cost to you) so we can continue to create helpful free content. As an Amazon Associate, we earn from qualifying purchases made on Amazon in addition to other retailers featured on the blog. Thank you, we appreciate your support!
On the hunt for a lightweight women's jacket for travel? Look no further than my latest obsession: the Anatomie Kenya Jacket. After seeing it on Instagram I had to try it out for myself and I haven't taken it off since I got it. I loooove it! Find out why this is the best travel jacket ever.
Special offer for TFG readers: save 15% OFF when you use my exclusive link https://anatomie.com/tfg-kenya-jacket (The discount is applied to your ENTIRE order and is automatically calculated at checkout. Applicable only to full priced clothing items.)
---
Anatomie Jacket Review
---
Table Of Contents
When I first started Travel Fashion Girl in August 2012, Anatomie was one of the first clothing companies that I ever communicated with. While I sampled six of their clothing items, their pants resonated the most with me – so much so that I even named them the best travel pants for women.
Don't believe me? Learn more about why I love their travel pants!
Grey Kenya Jacket with the Black Skyler pants for a 12-day June 2018 Europe Trip
Fast forward to 2018 and they shared with me one of their most popular jackets – the Kenya. What they didn't know is that I've been wanting to try out this Anatomie jacket for quite some time. I'd seen it all over Instagram and on other blogs and I wanted to know what all the fuss was about. 
Needless to say, the other bloggers had every reason to rave about this jacket. It is awesome! I'm sharing ten reasons why the Anatomie Kenya Jacket is the best travel jacket ever!
Style
The Anatomie Kenya jacket has a timeless, classic design that will far surpass the livelihood of most trends. It resembles a military style anorak with hidden metal popper buttons in addition to a gunmetal zipper.
It looks chic and even a little edgy. I've worn it with jeans or over my favorite travel dress, the perfect addition to my capsule wardrobe. It's gone with me to the city everywhere from London to Paris, Basel to Los Angeles, San Diego to Quebec City. I also wore it with shorts and trainers to explore Arizona's national parks. It's now a staple in all my airplane outfits, too.
Please Note: Anatomie has recently changed the gunmetal zippers on the Kenya Jacket, which is disappointing as this was one of my favorite features. The zippers are now silver, NOT gunmetal as shown in the images. Please visit the website for the most accurate images.
Grand Canyon, Arizona, USA
Pockets
Not only does it look good but it's practical, too. It has a stylish collar that stands up along with four pockets, which are one of my favorite features. There are two pockets on each side, one that zips and one that buttons. This is extremely convenient!
In fact, I'd name it as the best travel jacket with pockets because the two main zippered pockets lie flat in front of your hips without adding bulk. They're spacious enough to fit a passport for easy access as you're walking through the airport. They're also ideal for a few convenient items you need easy access to.
Featherweight
The Kenya jacket features the same European fabric as Anatomie's amazing travel pants. The fabric is the brand's best kept secret and it's what makes their clothing so incredibly functional for travel.
While the jacket features stylish zippered pockets, it's still very lightweight, helping you make the most of limited baggage weight restrictions. The Kenya is definitely the best lightweight travel jacket.
You'll want to look your best when you travel! Read my travel tips to Pack Light Stylishly!
Versailles in Paris, France
Ultra-Packable
This light women's summer jacket is not only as featherweight as the pants but it also folds or rolls up into a small bundle to fit into a packing cube without any issues, too. It's incredibly compact. 
This jacket is the most practical "just in case" item I've ever owned. I throw it in my Rebecca Minkoff bag before I leave for a day out and I always have the perfect layer in case the weather changes.
Not only is the jacket easy to pack in my purse for a light layer, but it's also easy to pack in my suitcase, making it an ideal outerwear piece that doesn't take up much space.
I can wear it alone to keep me warm on a breezy but sunny day in England. When I visited Quebec City, I layered it under my All Saints leather jacket to create a much needed barrier from the cold weather.
Read this post to find out why the Rebecca Minkoff Julian backpack is an amazing purse for travel!
Wrinkle-Resistant
Considering I just shove it in and out of my purse as needed throughout the day, the minimal wrinkles quickly fall out without much effort. I just give it a shake and throw it on and I'm ready to go.
Grand Canyon, Arizona, USA
Easy to Clean
We know the smart traveler's secret to packing light is to rewear clothing, but it's important to note that your clothing fabric dictates the item's ability to be re-worn. in this case, the Anatomie fabric excels. You can easily wear it repeatedly without washing!
The jacket didn't even show dust or dirt throughout the ten days I spent in the Arizona National Parks. I didn't wash it but it still looked (and smelled) clean. I just dusted it off every day.
Water-Resistant
Throw it on for a light rainy day or wear it while traveling with the kids. Any small spills won't matter with this water-resistant fabric. 
Basel, Switzerland
Quick Dry
Yet another rave review for Anatomie's unique travel fabric, the jacket can wash easily and dry quickly, which is incredibly convenient when you're on the go.
This feature is handy when you wash the jacket and it's also helpful if it gets wet in a light rain or if I spill liquid on it. It also seems stain resistant from what I've noticed, too.
Several Color Options
The Kenya Jacket is available in a variety of neutrals so there's something to suit all color preferences. It comes in Taupe, Grey, Navy, Black, White, Dusty Rose, and other seasonal colors. Please note that when some of their colors are sold out they're usually back in stock within a month or so.
I have it in the Grey color, which is one of my favorite colors from Anatomie's jacket and pant collections. 
I love the grey color because it's an ideal alternative neutral to black. Not only can this color work year round but for some reason the grey color in Anatomie's pants and jackets tend to have a little more stretch than the black color.
In addition, the grey color easily conceals dirt, stains, and dust so it's easy to re-wear.
NOTE: I own the Kenya jacket in the GREY color.
San Diego, California, USA
Fit
The jacket is available in XS-XL. I always buy XS or Petite Small jackets because I have a short frame. The issue with this is that they tend to fit my back but I can never zip them up due to my bust size.
The Kenya jacket is the first jacket I've ever been able to zip comfortably thanks to it's slight stretch! While this benefit might not apply to you, it's a small relief to buy something that actually fits.
Despite the stretch in the fabric, the jacket is well structured and has a flattering slim fit. The waist is low and falls in a good place in the hips and the length is ideal to elongate your torso.
Because I'm 5'2", sleeves on jackets are always too long for me. Fortunately, the way the arms are designed I can easily fold the cuff along the seams and voila! I have the perfect arm length!
For a stylish touch, I scrunch my sleeves up to be used as three-quarter sleeves and expose my favorite bracelet. This technique also helps lengthen my arms because I'm petite!
One of the keys to creating a wardrobe you love is to tailor your clothing and only buy items that fit you perfectly. I feel so confident in the jacket's fit that I am certain it will be a staple in my everyday and travel wardrobe for years to come.
It's been six years since I fell in love with Anatomie's pants and now the Kenya Jacket is the newest item I'll be obsessing about forever! Overall, I can see why it's a top rated lightweight travel jacket for women.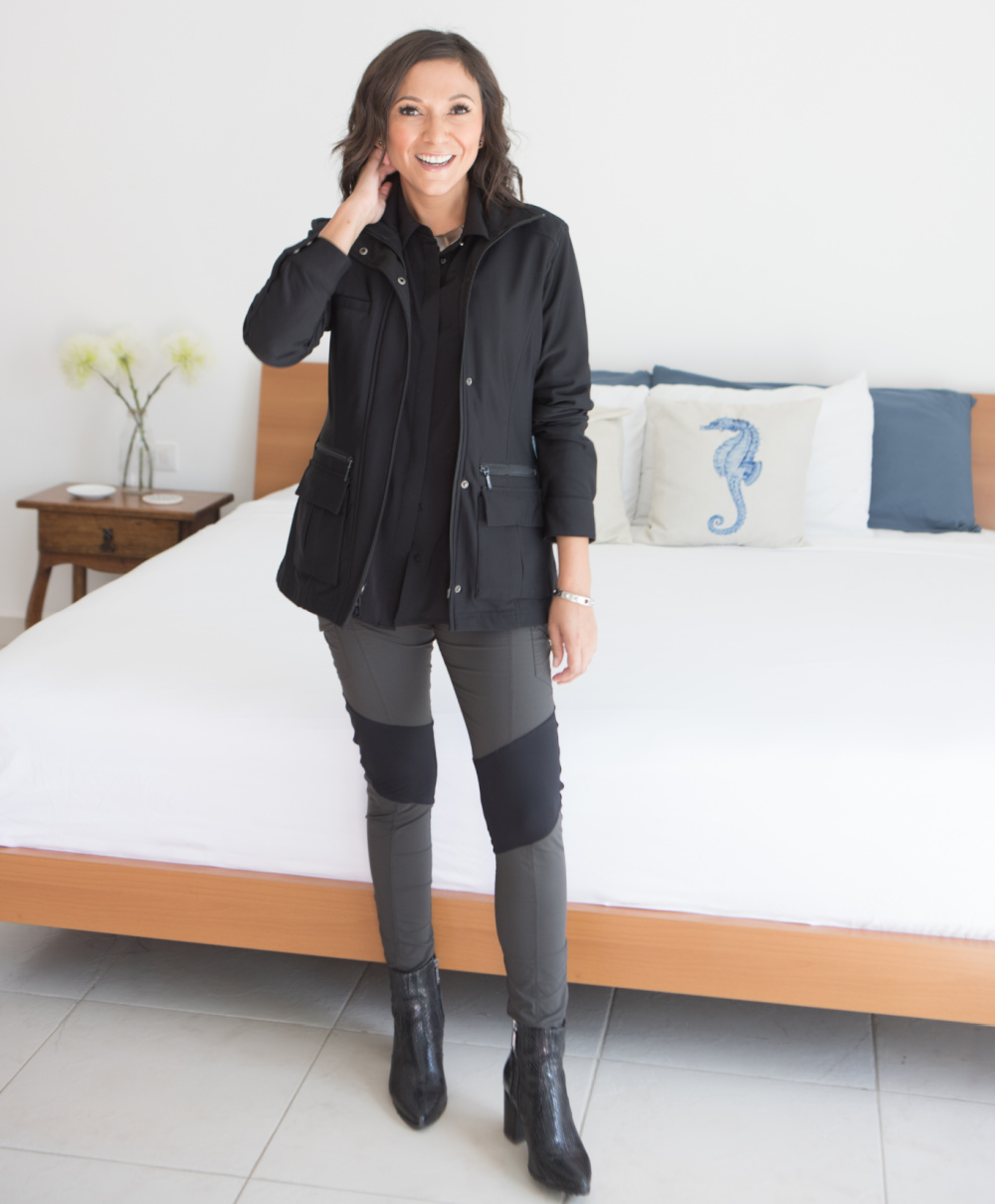 Feeling cozy in my Anatomie Kenya Fleece Jacket and Anatomie Andrea Contrast Panel Leggings
I've been using the Kenya fleece jacket non-stop because it's warm and has been very useful when I've been caught off guard with weather that was colder than I expected when visiting with family. It's sleek, looks sophisticated, I love the high collar style, and the four pockets are super convenient!
Here's a round-up of my 10 favorite travel products for 2020 including the Anatomie Kenya Fleece Jacket!
Kenya Jacket paired with the Black Skyler pants for my 12-day June 2018 Europe Trip
TRAVEL FASHION GIRL READERS SAVE 15% OFF ANATOMIE
As an exclusive offer only for TFG readers, you can save 15% off your ENTIRE order when you shop using my exclusive link https://anatomie.com/tfg-kenya-jacket. The discount is applicable to your entire order and is reflected at checkout.
Buy this Kenya Travel Jacket here!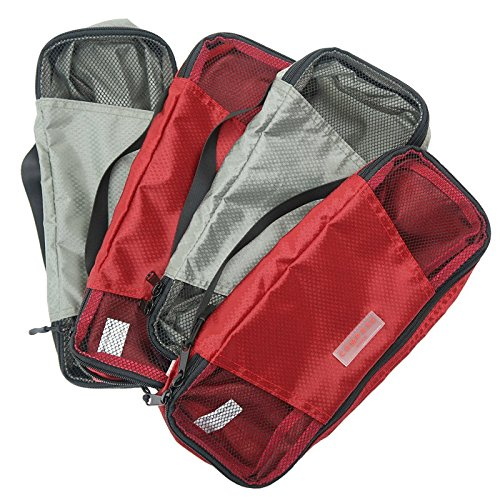 How to Pack Your Anatomie
Packing cubes will change the way you travel. You can use them for your personal items and keep your belongings organized for your journey. We've designed our own brand of slim cubes with a unique color and numbering system, so it's easy to remember where you've packed everything, including your jacket!
You can learn my hacks with packing cubes in this video!
We put together a five-part YouTube series showing the different methods to use packing cubes for travel. If you use this specific packing strategy, packing cubes can also compress your belongings. This is the secret to traveling carry-on only!
Where to Buy the Kenya Safari Jacket
You can find the Kenya Safari jacket right on Anatomie website!
---
What's your favorite item from Anatomie? Share and comment below!
---
For more tips and ideas on travel fashion, please read:
---
LIKED THIS POST? PIN THIS PIC TO SAVE IT!
---
We hope you liked this post on the best travel jacket by Anatomie. Please share it with your friends on Facebook, Twitter, and Pinterest. Thanks for reading!
---