Support TFG by using the links in our articles to shop. We receive a small commission (at no extra cost to you) so we can continue to create helpful free content. Thank you, we appreciate it!
Are you looking for the best travel blazer? Our readers share their favorite brands for business and leisure travel. Find out their top eight picks!
This is a similar blazer to the one shown in the above pic!
---
Best Travel Blazer
Written By: Annie Jarvis
---
Travel Fashion Help! Reader Asks:
I'm looking for the best travel blazer that will be suitable for business across Europe. Preferably it will be smart, stylish, lightweight, comfy, won't wrinkle, and will wash easily. Any recommendations?
Finding a blazer that is suitable for business or leisure can be difficult, as it needs to fulfill many requirements. While there are plenty of options available, many of them aren't appropriate for being packed into a suitcase and taken abroad.
We asked our readers some of their favorite blazers and this is what they suggested. The best thing is that even if you're not traveling for business, blazers are a smart addition to any city travel wardrobe.
Here are their top recommendations on the best travel blazer:
Uniqlo
The Uniqlo blazer is a simple and stylish tailored jacket that's fantastic for travel. Made from stretch polyester fabric, this blazer defies wrinkles and is unbelievably lightweight, which makes it perfect for packing away in your suitcase and pulling it out for a meeting abroad.
It's a traditional and formal jacket so it's ideal for business but it's also extremely comfortable, so you won't feel too stuffy while wearing it. Unfortunately, as it's dry-clean only, it may not be as easy to wash if you're traveling. Choose a dark color that hides dirt and marks.
Find out how to re-wear clothing while traveling (even if you can't do laundry)!
BP
This blazer from BP is a good choice if your trip involves a colder climate. With a lightweight sweatshirt feel, this blazer is a favorite for its comfort and warmth as well as its affordable price.
Cinched cuffs and the texture of linen add spring-ready charm to this longline blazer perfect for layering.
These are some tips on doing laundry while traveling!
Tart Collections
Another favorite is the Tart Terry Blazer, which looks polished and conservative, yet is comfortable and soft to wear. Made from modal and cotton, this blazer is more likely to wrinkle; however, this can be reduced by hanging it up as soon as you unpack.
If you're looking for something that will keep you warm and cozy as well as looking good, then this is jacket is ideal.
Tip: garment bags help keep your clothing wrinkle-free in your suitcase!
Forever 21
Forever 21 blazers are an inexpensive and stylish choice that can be used in both your business and evening wardrobes. Polyester fabric makes them wrinkle resistant, and the thin and light material makes it travel-friendly and packable.
You have to be careful as many of these jackets are dry-clean only. However, their versatility makes them a real winner since you can take from day to night, from a business meeting to drinks and dinner in the evening.
As a bonus, Forever 21 also has an affordable Plus Size selection, too!
Modcloth
If you're not a fan of the traditional black blazer, then this Academia Ahoy jacket could be just the thing for you. Again, this blazer could be worn for work or a night out and has a really cute sailor style. It's a popular piece from the super cute online boutique Modcloth; like many of their clothing items, it's also available in extended sizing from XS to 4X! 
Since the shell is made from cotton, it's likely to wrinkle more than others, which means it will need hanging pretty quickly. However, it can be machine washed, and can be worn as a light layer in various seasons.
Nordstrom
Another cotton choice is the Caslon blazer from Nordstrom. This jacket is popular for female travelers because it's soft, breathable, and can be hand-washed if you don't have access to a machine.
The downside is that it may wrinkle, so it's important to hang it up as soon as you arrive. The plus side is that it's as comfortable as a sweater but with a blazer-like fit – an easy layer for your airplane outfit.
Tip: Hang clothes in the bathroom while you shower to steam the wrinkles out. Make sure you let it fully dry before wearing it again.
H&M
Sleek elongated lapels accentuate the fluid silhouette of a menswear-inspired blazer that expertly layers over dressed-up and laid-back looks.
Read these tips on how to keep your valuables safe while traveling!
Eddie Bauer
Eddie Bauer is a top choice for because their clothing line is designed for travel. The Travel Black Blazer, while more expensive than other options, is considered an excellent choice by our readers.
The stretch polyester material stops it from wrinkling and makes it more comfortable. It's also unbelievably lightweight, taking up little space in your suitcase. It can also be machine washed. This style ticks all of the boxes and is totally worth the price!
---
What do you think is the best travel blazer? Comment and share below!
---
For more tips and ideas on travel fashion, please read:
---
LIKED THIS POST? PIN THIS PIC TO SAVE IT!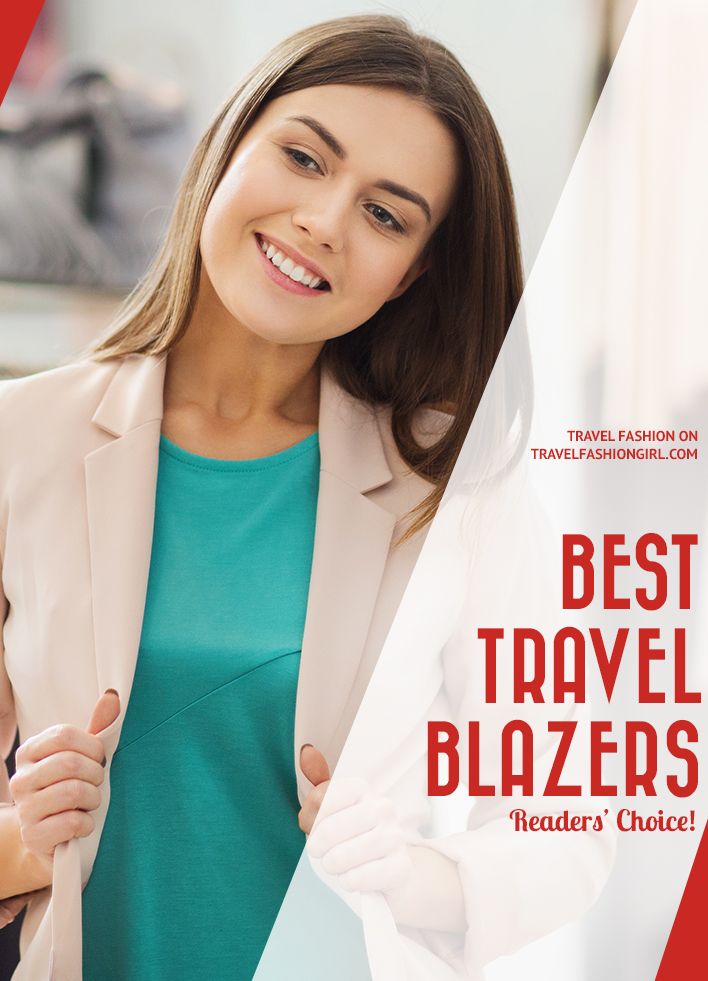 ---
I hope you liked this post on the best travel blazer. Please share with your friends on Facebook, Twitter, and Pinterest. Thanks for reading!
---
Author Bio: Annie Jarvis is relatively new to the traveling world and has just completed a five month journey around Southeast Asia, India, and the US. She loves diving, skiing, cooking, hiking, and writing about her adventures on her Refreshing the Page blog.
---