Support TFG by using the links in our articles to shop. We receive a small commission (at no extra cost to you) so we can continue to create helpful free content. We earn from qualifying purchases made to the featured retailers. Thank you, we appreciate your support!
You're going to love this beautiful round up of the best underwire bikini tops and bra sized swimwear. I'm not just featuring regular cup sizes but I'm also featuring DDD+ and gorgeous styles fitting women with 28D to 40GG and plus sizes, too.
Women with natural, full size busts might find themselves dreading swimsuit season but not any more! All the styles are available by cup size from A to GG and more. Shop our swoonworthy selections just in time for vacation!
---
Bra Sized Swimwear for Full Busts
---
Table Of Contents
Watch the video to learn more about some of my favorite bra sized swimwear!
Summer is just around the corner, and it's time to start thinking about shopping for 'bikini season.' I don't know about you, but when I shop for a vacation, I always prefer to find bra sized swimwear. Everyone has a unique and beautiful body shape, so it makes sense that a "one size fits all" approach doesn't work with swimsuits and bikinis.
There's nothing more frustrating than going swimwear shopping and having three options to choose from; small, medium and large. Very few of us are the same size on the top and the bottom, which is why a bra size swimsuit is a perfect solution.
I've spent so much time on the beach over my years as a full-time sun seeker. I've seen so many bikinis, good and bad, that I've thought many times about starting my own swimwear line!
Getting an accurate bra fitting can be life changing, it was for me, and it's made it so much easier to find stylish, flattering swimsuits.
Read this post about the importance of getting a good bra fitting!
The main gripe I've had with bathing suits is the number of ill-fitting bikini tops I've seen. Just as with clothing, having a bathing suit that's too small or too large can ruin your look.
The solution for busty gals? Get a bra fitting. Then, choose from one of these gorgeous cup size swimsuits!!!
Many travelers designate one packing cube just for their swimwear, bras, and underwear.
Charlie Textured Bralette Bikini Top | Dylan Textured Hipster Bottom
Best Brands for Cup Bathing Suits
First, things first. There are a few brands that specialize in extended cup sizing for bras. Naturally, they're also my go-to for bathing suits, too. Here are the best brands for cup-size bathing suits:
Body Glove Underwire Bikini Top (available in many colors)
This Body Glove adjustable bikini top is one of my all-time favorite pieces and it's available in so many colors and prints! I particularly like wearing it for scuba diving and took it on my liveaboard honeymoon (pics here).
As a bonus, it has an adjustable tie back that does not only looks sexy but it allows you to find the perfect fit for your size. I own it in black and teal with black and I'd love more colors and prints.
Bikini hack: because it has underwire support I use this instead of a bra with low back vacation tops and halters!
Where to Buy Cup Size Swimwear
Bravissimo is the place in London I had my epic bra fitting there and they have an online store, too. I'm obsessed with their selection and I'm always browsing their sale section for good deals on amazing bras.
I've also bought Miraclesuit which has an equally amazing selection and a wider variety of options for swimwear on Amazon, Nordstrom, or their own site.
HerRoom is a US-based website that offers a wide range of sizing. I've personally never ordered from them, but the site has been recommended to me.
Nordstrom also carries many of the same brands, although they're more limited in sizing. However, their website has a broader size range than they have in-store for both swimwear and bras.
Miraclesuit New Sensations Swimsuit
I always like to check Amazon to see if they have any of the bathing suits I want to buy. Sometimes they're a bit cheaper, which is always a bonus!
Target is one of my favorite budget-friendly places to find cup-size swimwear because they usually have cups but no bands, which means you can adjust the width yourself, making it easier to find the right fit.
Target also has an incredible selection of plus-size options and an online feature that allows you to mix and match prints and colors!
You can also mix and match two bikini sets: one solid and one print in interchangeable colors so that you can create four looks out of two sets!
A reader tip on bra sized swimwear is Lands' End. They offer everything from bikini tops to tankinis that can fit a variety of women.
Budget tip: Don't buy bikini sets. Instead, choose printed bikini tops and stick to two neutral bottom colors you can mix and match. That way you can pack more tops than bottoms and still have unique looks when you travel!
Panache Paradise Swimsuit: Tankini | Bottom
Finding the perfect swimsuit for your figure can be challenging but our guide featuring cup-size swimwear has cute, sporty, and sexy suits to make your life so much easier.
We've got bikinis and one-piece bathing suits in all shapes and sizes so you're sure to find the perfect piece!
You'll want to look your best when you travel! Read my travel tips to Pack Light Stylishly! 
We're not just featuring DDD+ but we've found gorgeous styles fitting women with 28D to 40GG and have also included plus sizes, too. Take a look!
Bleu by Rod Beattie Kore Swimsuit | Miraclesuit Natalie Swimsuit
One-Piece Bathing Suits
For many of us ladies who are uncomfortable showing our tummies to the world, a one-piece bathing suit is a life saver. One-piece bathing suits have become super popular recently. Just because you're wearing a one-piece bathing suit, doesn't mean you can't steal the spotlight on the beach.
The best thing about some styles available is that they can double up as tops. To achieve this look, opt for a printed suit that could look like a regular top. You can also wear your one-piece as a stylish top with a maxi skirt or a pair of trousers. Doing this saves space in your luggage and helps you to travel lighter.
Some bathing suit fabrics can give a dressier appearance, so pair them with a flowy skirt that matches the same color scheme for a lovely, versatile look.
For something more casual, pair the suit with linen pants or even shorts. The great thing about some one-piece bathing suits is that they offer tummy control, creating a smoother waistline.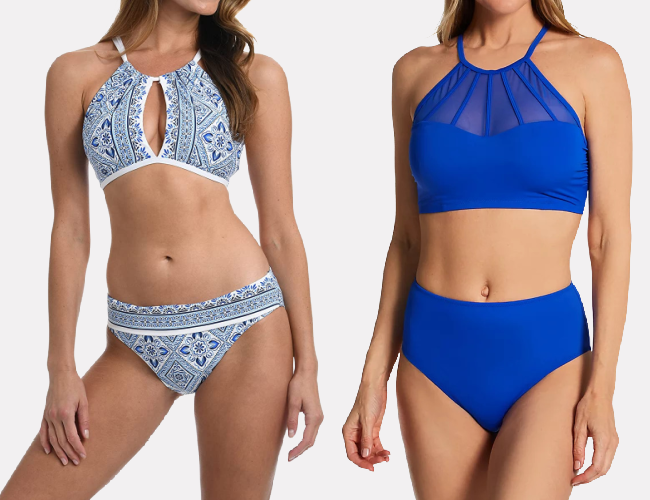 La Blanca Midkini Swimsuit Top | Her Room Pour Moi Swim Top
Sporty Halter Bikini Tops
As a scuba diver, getting out of my wetsuit is always one of the most uncomfortable moments as I never know if my bikini top fabrics will be in place when I take it off. Awkward!
Halter-style tops like these have become popular in recent years and swimwear companies have followed suit. The best thing about them? You can also wear them as a bra under all your tops with low arm holes!
An underwire halter bikini top is now my go-to style for scuba diving, water activities, and to wear under regular clothes, too.
Travel like a Pro with TFG's Packing List Directory!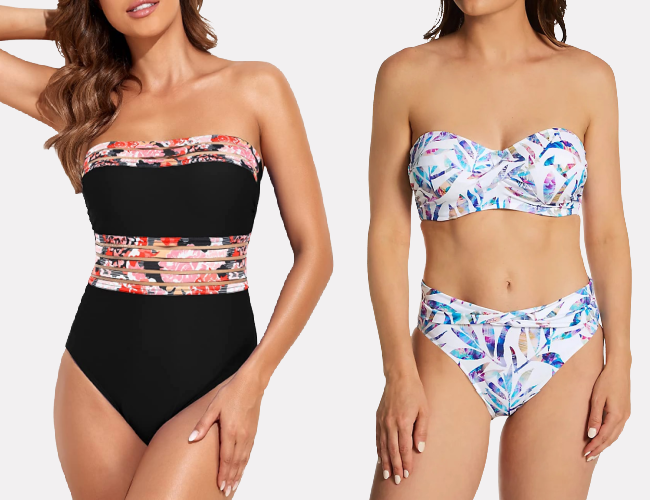 Hilor Strapless One Piece Swimsuit | Her Room Fantasie Calypso Swimsuit Top & Bottom
Strapless
Trying to find a bathing suit that's both flattering and supportive can be difficult, and most of us tend to avoid strapless bikinis for fear of revealing more of yourself to the world than you intended.
However, a bandeau bikini top with a fun tropical print can be a great option. Choose one that comes with removable straps, so you can wear it strapless or tie it around your neck for additional support.
The critical thing to remember when shopping for a strapless bikini (or any swimwear) is to choose one that is your correct bra and band size. As long as it fits you properly and feels comfortable, you'll have nothing to worry about.
If it makes you feel more comfortable in your strapless suit, you can use the removable straps when walking to/from the beach or pool.
Trust me. I've shared with you my frustrations with my own situation but having a bra fitting was life changing! I can now securely wear strapless bras and bikini tops despite once thinking it was impossible.
The key is to have the right band size. If you're counting on your tightening your straps to keep you lifted, then your bra size is way off.
The band around your ribcage is what provides almost all the support, NOT the straps! The band should feel quite tight. The straps should just be tight enough to keep them on your shoulders. Most women are wearing cups that are too small and bands that are too big.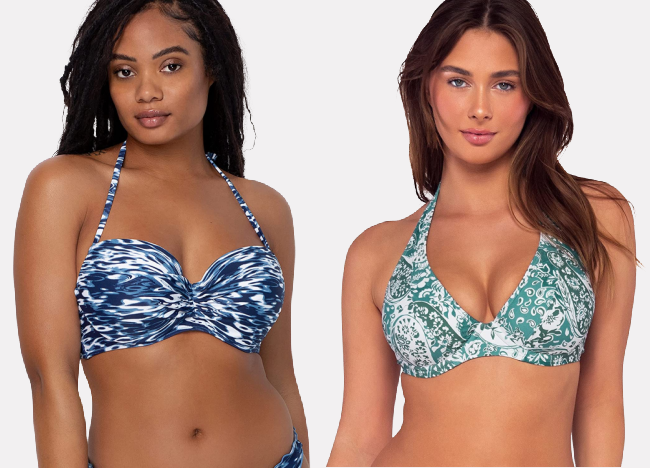 Smart & Sexy Swim Halter Bikini Top | Sunsets Halter Bikini Top
Halters
My favorite type of bikini is a halter neck. They're very flattering and they also provide excellent support BUT let's be honest, they're not always the most comfortable style to wear. The straps at the back of your neck can often dig into your skin, which can be quite painful, and this is something you want to avoid on vacation.
If you get one in your correct cup size (get a bra fitting!) then you won't have to worry about too much lift or spillage. So feminine and sexy, too!
Here are the best sandals for women that love to explore at home or abroad!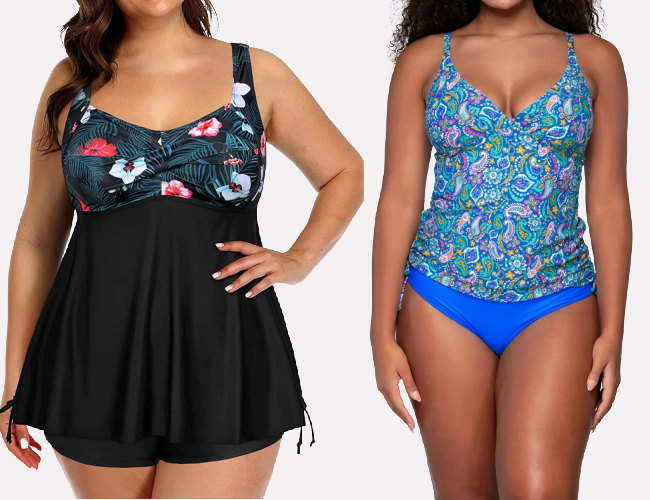 Aqua Eve Tankini Swimdress Plus | Target Tiered Tankini
Tankinis
One of the biggest benefits of finding a cute tankini top is that some of them are versatile enough to be worn as regular tops!
Take for instance, the two suits above. They would both look fab with capris or a pair of shorts!
Freya Urban Bralette Bikini Top | Coco Reef Elevate Bikini Top
Extra Coverage
If you love feeling the wind in your hair on the back of a speedboat or you're planning an afternoon of scuba diving, you'll need something that's going to give you the coverage and support to feel secure and comfortable when you're active on holiday.
I, personally, prefer full coverage to a demi cup. These bikinis may be less revealing but they're so much fun!
I particularly love the top on the left hand side because it's complete coverage (great for scuba diving) but the crochet create a sexy look and peekaboo look.
The bikini top right on the hand side is still pretty, with a fun pattern and has a matching bottom you can find here.
Eloise Bandeau Bikini Top | Her Room Becca Costa Swimsuit
Tie Straps
Bathing suits with ties is a chic detail that goes with everything. It's easy to match with accessories, and if you find one with an underwire, even better!
With adjustable straps, you can decide how tight you want to tie the strings, and create a custom fit!
For anyone with a need for an underwire, it's best to look for a suit that has functioning ties, as some don't and it's more for design than use, so be aware.
TFG readers share their picks for the best reef safe sunscreen brands.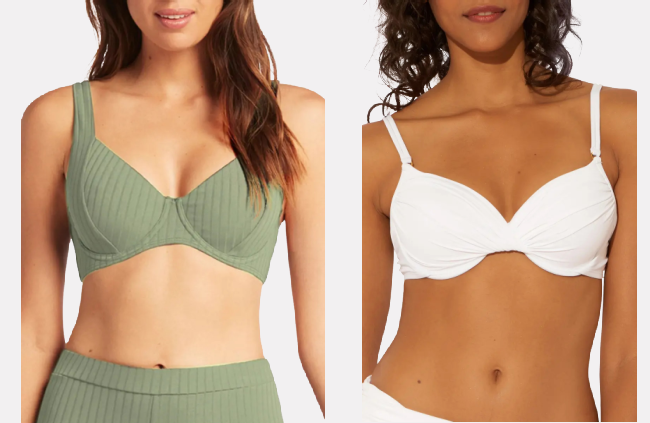 Sea Level Vesper Underwire Bikini Top | Bleu by Rod Beattie Kore Underwire Bikini Top
Bra Style Bikini Tops
If you have a fuller bust and need something that's going to give you the support where you need it most, go for a traditional bra strap bikini top. If you find one with removable straps, you can change up your look by removing them entirely or crisscrossing the straps at the back, so you get a different look without sacrificing support.
Her Room Elomi Savaneta Adjustable Bikini Brief | Her Room Pour Moi Samoa Ring Detail Brief
Fun Bikini Bottoms
If you're choosing a slightly more boring piece on top with full coverage, then go for some fun cuts or designs for the bottoms  to balance out your look. After all, a beach vacay should be joyful and spontaneous.
Getting a Bra Fitting
Once you get a bra fitting and you know what size to shop for, you'll have so many options available to you, and you won't have to worry about straps digging into your shoulders or cups gaping at your chest, etc.
Finding the right bra and cup size for your bathing suit is going to transform your entire summer wardrobe and give you the confidence you need to strut your stuff on the beach and look good doing it!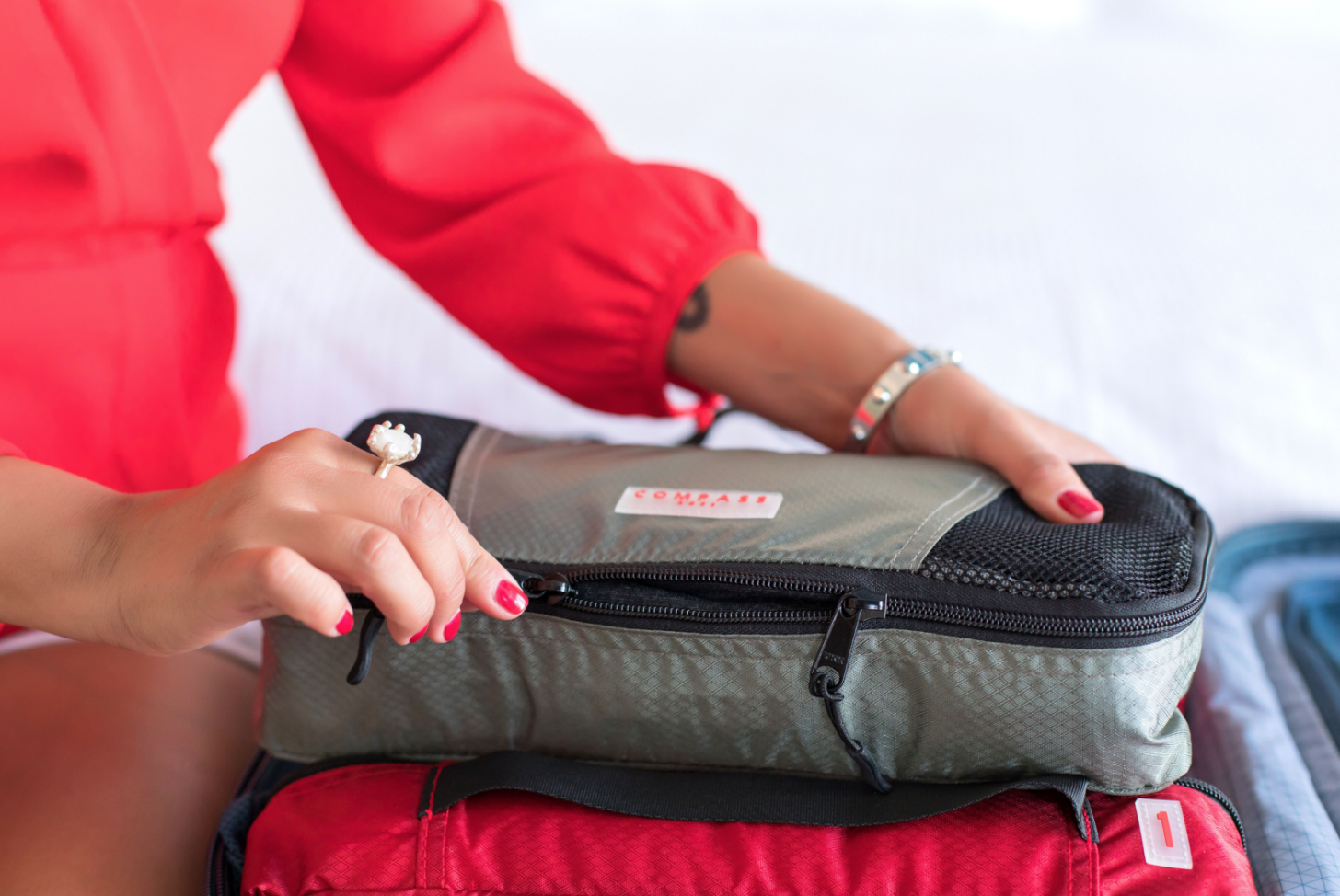 How to Pack Underwire Bikini Tops
Packing cubes are the easiest way to pack light! Many travelers designate one packing cube just for their bras, camis, and underwear even swimsuits. We designed our own brand of slim packing cubes, with a unique color and numbering system, so it's easy to remember where you've packed everything as demonstrated in the video below.
Learn our packing hacks with packing cubes in the video above!
We also put together a five-part YouTube series showing the different methods to use packing cubes for travel. If you use this specific packing strategy, packing cubes can also compress your belongings. This is the secret to traveling carry-on only!
---
What are your recommendations for cup size swimwear? Share in the comment section below!
---
For more swimwear for summer travel, please read:
---
LIKED THIS POST? PIN THIS PIC TO SAVE IT!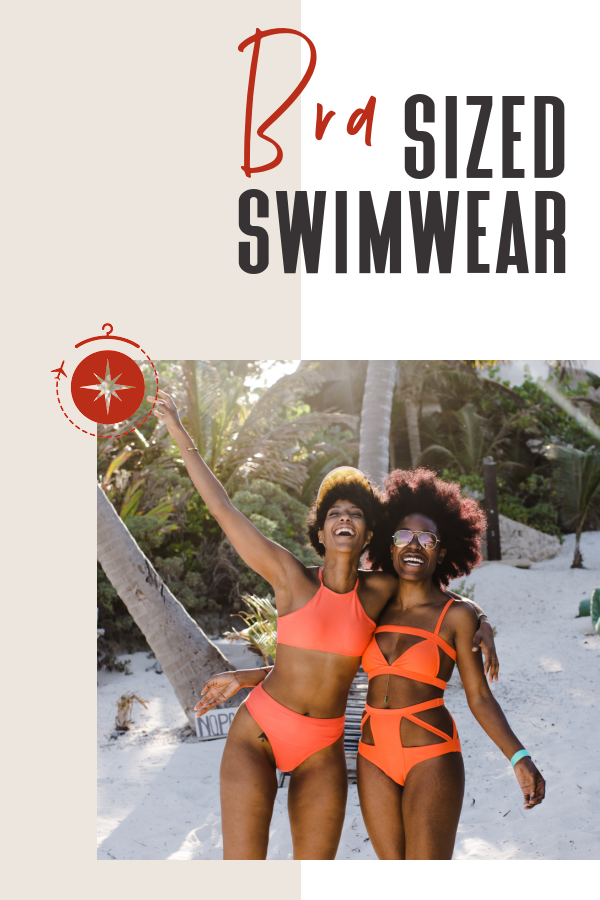 ---
I hope you enjoyed this post on cup size swimwear! Don't forget to share it with your friends on Facebook, Twitter, or Pinterest. Thanks for reading!
---