Support TFG by using the links in our articles to shop. We receive a small commission (at no extra cost to you) so we can continue to create helpful free content. We earn from qualifying purchases made to the featured retailers. Thank you, we appreciate your support!
A stashable, reusable shopping bag is fantastic when you are shopping at the markets or for carrying your daily essentials in at your favorite travel destination. Save space and pack one of these reusable environmentally friendly packable totes so you always have it to hand when needed during your travel adventures!
---
Best Packable Shopping Tote
---
Travel Fashion Girl help! A reader asks:
Does anyone have a fold-up or stashable shopping/travel bag they like (folds into its own pocket or similar)? When we were in Paris I noticed we always needed a shopping bag, and I have one but hubby does not. I ordered a few on ebay and they were very cheap and i got what i paid for! I'm afraid they will break if we use them at the market or anything. We are bringing our daughters back to Paris so I need a few of them. Thanks!
Often, we leave for our travels and forget about the basics we carry around with us at home, such as a reusable foldable bag. Rather than be without a bag while shopping, keep one in your personal item so you always have it handy for your shopping, daily essentials, and souvenir carrying!
Why should you pack a reusable shopping bag?
Reusable bags are amazing as they do not take up any room and are perfect for slipping into your personal item, especially if are traveling with only a small purse. One reader said that she always packs a reusable nylon tote with her on trips, as they are "great for grocery stores that charge for shopping bags, storing dirty laundry until next wash and carrying souvenirs that don't fit in my day bag."
They have become a popular new fashion trend available in different materials, colors and designs, so they can even liven up your travel outfit. And when the bag gets dirty, just put it in the washer and then carry on using it.
Cloth foldable bags are actually stronger than grocery bags so you won't run the risk of the bag splitting and your souvenirs falling out.
Plus, a reusable shopping bag will allow you to save money, as one bag can be used for years and you won't need to pay for carrier bags. And, of course, they're eco-friendly!
The Best Reusable Bags
Here, are readers share their recommendations for the best reusable bags that they keep handy in their purses while traveling!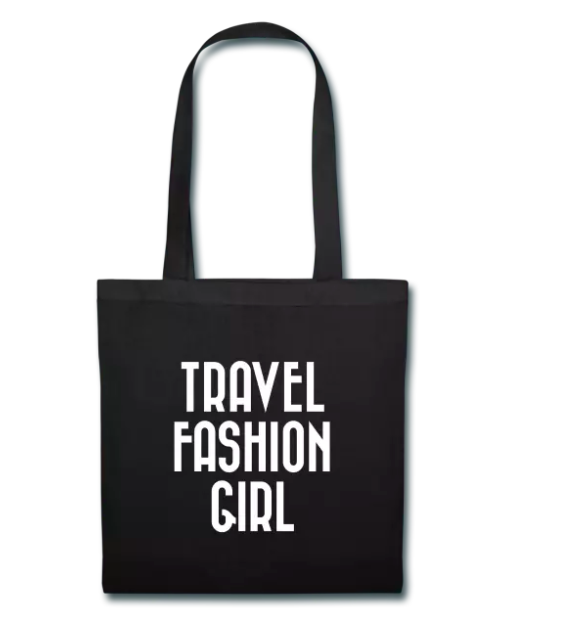 Travel Fashion Girl Canvas Tote Bag
This is the bag I use on my travels – it's a Travel Fashion Girl tote! I use it for everything at home and abroad. At home, I use it to replace plastic bags when I go shopping for groceries or even clothes. On my travels, it holds my laundry, groceries, acts as a personal item on the plane, beach bag, or an easy to carry purse for the day. This convenient tote is always in my purse or carryon suitcase. Get it here!
Envirosax Tropics Pouch Bag Multicolor
Envirosax bags
Enviorsax bags are so popular because of their different and beautiful designs. They come in multiple colors and styles, so there is a bag for everyone! One reader says "I take one everywhere I go. I've used them for groceries and shopping, as a beach bag, and as an extra bag just in case. I can't say enough about them".
According to another reader "Envirosax make some cute ones that have lasted me for years, and they roll up". A perfect all round bag!
BAGGU Standard Reusable Shopping Bag
Baggu Reusable Bags
Our readers love their Baggu reusable bags. One reader said "I have found them to be very sturdy and they fold up. I have the bright Barney-colored one so I don't lose it."
The bags take up no room and are multi-functional. One reader even used her Baggu tote to "carry snorkeling equipment on the Great Barrier Reef." The awesome patterns of the bag will add style and color to any vacation wardrobe.
Flip & Tumble Premium Reusable Grocery Bag
Flip and Tumble Bags
The Flip and Tumble bags fold into an attached pocket, which is perfect to just slip into your personal item. The bags are super strong and the versatile shoulder design allows you to comfortably carry the bag over your shoulder.
It works for everything from day tripping on your vacation to carrying your lunch to work once you get home. One reader said that the Flip and Tumble bag is "my favorite. I always have it in my purse! They come in many colors, washable and compact."
RuMe Tote Bag
Several readers recommend bringing a foldable RuMe bag as it makes for a great shopping bag, is perfect for carrying souvenirs and can hold a ton of weight. It is also makes a fantastic beach bag or picnic bag. So one bag for many occasions.
Another reader said that "RuMe has some nice ones that fold into their own pocket and hold up to 50lbs. I always have it with me and use it for groceries." The RuMe bags are also popular because they come in so many fun and cute prints making it the perfect accessory to bring some color to your travel outfits.
ChicoBag VITA Reusable Shopping Bag
ChicoBag
ChicoBags make the perfect durable bag to have in your purse at all times. They designed their bags to be of the highest quality and a long lasting reusable bag to try and minimize the amount of waste we produce.
One of our readers recommended the ChicoBag because "they are really durable and nicely made." Not only is it a lovely looking practical bag but you are also doing your part to reduce waste and help the environment!
Ikea KNALLA Bag
The Ikea KNALLA bag is perfect for traveling light and is only a few dollars. Just fold it up and stash it away at the bottom of your purse until you have need of the sturdy bag.
One reader says, "I have one from Ikea that's perfect and I use it all the time. The one from Ikea is sturdy and has handles with a decent length that don't cut into your shoulder." It's so simple to carry around and easier on the hands and shoulders.
Local Store
Or you could buy one from your destination, and use it when you get home so you always have a memento to remember you trip. One reader said that "I brought one from a grocery store in Paris and got one for myself and a few extras as souvenirs."
An awesome gift for your friends and family, and it takes up no room in your luggage to transport it home!
---
What do you think is the best packable tote? Share in the comments below!
---
For more tips on travel bags, please read:
---
LIKED THIS POST? PIN THIS PIC TO SAVE IT!
---
We hope you liked this post on the 
best packable shopping tote

. Please share with your friends on Facebook, Twitter, and Pinterest. Thanks for reading!
---