Support TFG by using the links in our articles to shop. We receive a small commission (at no extra cost to you) so we can continue to create helpful free content. We earn from qualifying purchases made to the featured retailers. Thank you, we appreciate your support!
Travelon crossbody bags are some of the most popular purses for travel. Not only are these bags anti-theft but they are also practical, well-organized, and moderately priced, too. Read our review of the Travelon Classic Crossbody Bag and find out why this is the number one selling purse on Travel Fashion Girl!
Please note: Discount is offered on 'select colors'.
---
Travelon Crossbody Bag: Classic
Written By: Mary Chong
---
Travelon Anti-Theft Crossbody Bag: Classic
Basics
Style: 42373 Classic Anti-Theft Crossbody Bag
Dimensions: Size: 11.25 x 14 x 1 inches. Strap Length: 26 – 49 inches. Strap Drop Length: 14 – 28 inches
Material: 900 Denier Polyester
Weight: 12 ounces
Color: The bag comes in black, deep purple, chocolate, stone, midnight, and cranberry. The zippers and locks are silver metallic.
Opening Type: The Classic Anti-Theft Crossbody Purse opens at the top with a wraparound zipper. There is a gusset on the side so that your belongings don't fall out when the zipper is fully open.
Features: On the front exterior of the bag, there are two flap pockets both with magnetic closures and a locking zipper pocket that stretches the width of the purse. On the back exterior, there is a pocket that extends the width of the bag with a regular zipper.
Inside the bag, there are four RFID blocking card slots, one passport size pocket, one small pocket approximately 2.75 inches wide, one cell phone pocket, two pen slots, attachment for your keys with a removable LED light, and a deep interior pocket with zipper.
Security: Security features include toggle locks on the zippers of the main compartment and one exterior pocket, RFID blocking technology, slash proof mesh body, cut-proof adjustable shoulder straps with one removable end so that you can wrap the bag to a post or chair and reattach the strap.
Travel Type: Perfect for city break, carry-on, vacation, and casual business travelers.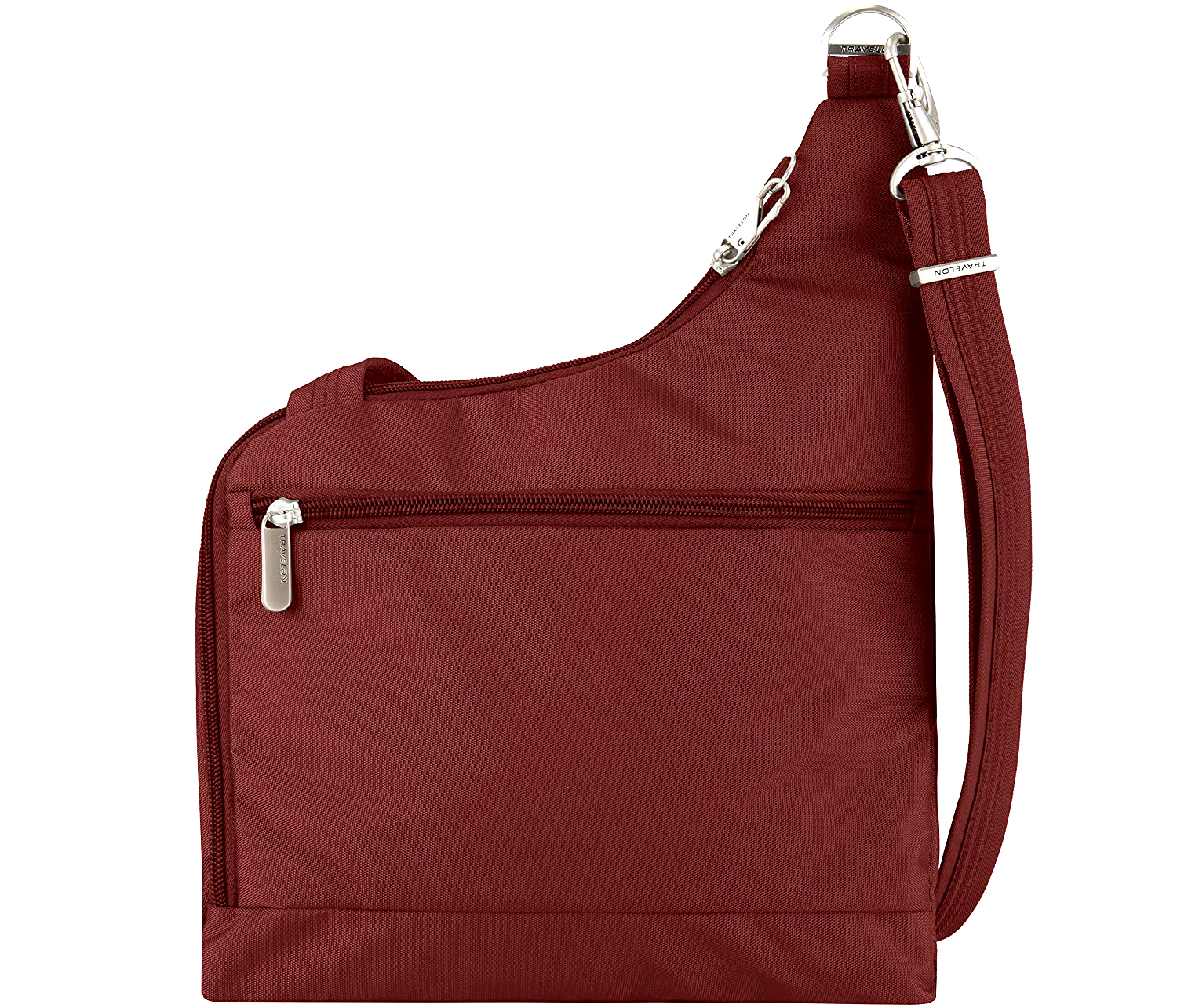 Travelon Anti-Theft Cross-Body Bag: Wine
Durability
The Travelon Anti-Theft Classic Crossbody Bag offers classic styling and clean lines while it keeps your belongings organized and secure. I had an opportunity to try it out at home.
The fabric is quite thick and is easy to wipe clean if it gets dirty. The thick fabric makes it seem very durable, so I can see this bag lasting through years of travel.
Additionally, Travelon offers a 5-year warranty from date of purchase on all their bags, so even if something happens to it, you can get it fixed or replaced.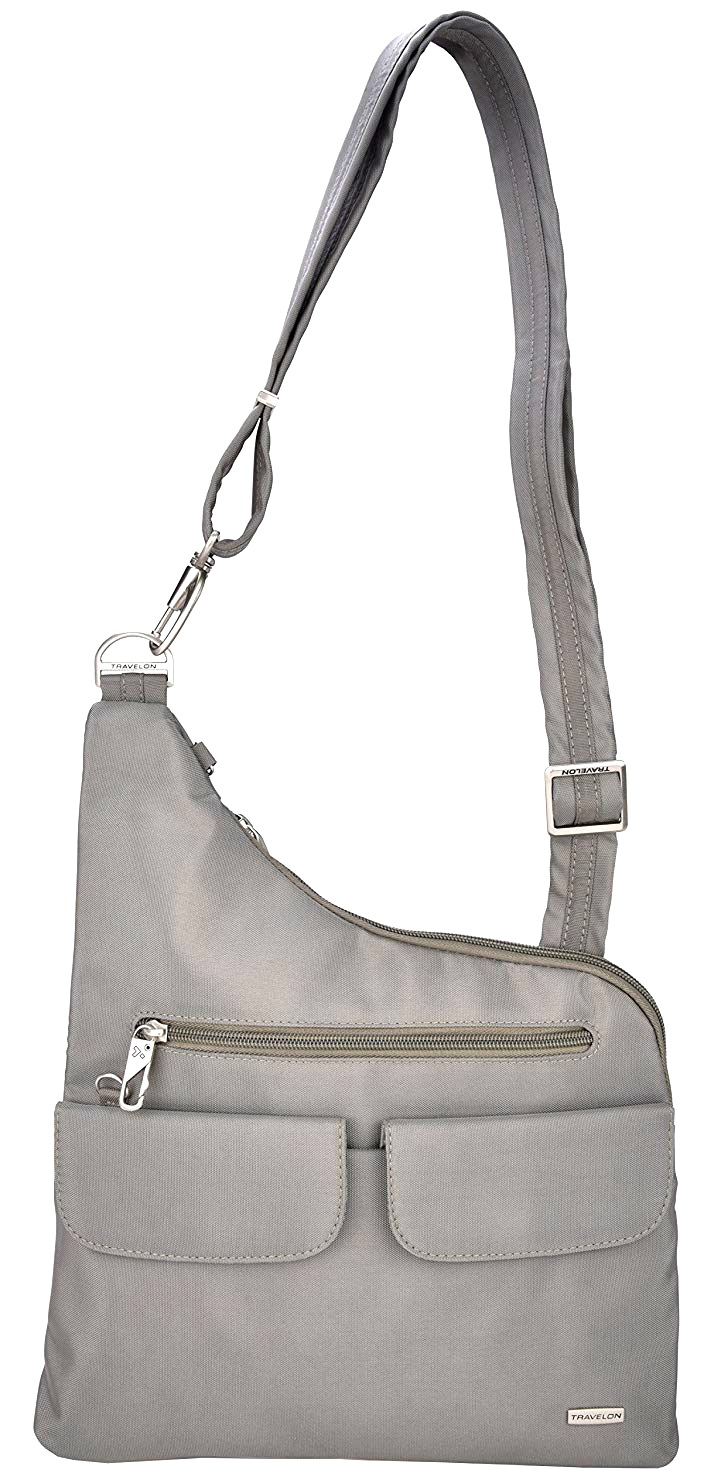 Travelon Anti-Theft Cross-Body Bag: Rock
Comfort and Mobility
When I first tried on this Travelon crossbody bag, I instantly felt comfortable wearing it. The sloping curve of the bag fits well when wearing the strap across your body. The strap is about 1-inch wide, so the straps don't dig into your shoulder.
I found that the bag is more comfortable if you carry the bag on your left so that the two flap pockets and locking zipper pocket face away from you.
If you prefer to wear your bag on the right, you may find it awkward to access your belongings, and the magnetic pockets may accidentally open as the bag brushes against your body.
One reader says, "I love my Travelon purse. You can wear it over shoulder or cross body. It has an adjustable shoulder strap, it's theft proof with the wire mesh inside the fabric, had a lock, so you can lol it onto a chair. It also has an RFID pocket.
Travelon Anti-Theft Cross-Body Bag: Nutmeg
Spaciousness
Regarding how much it can hold, it comfortably fit my credit cards, ID, money, keys, passport, cell phone, pen and highlighter, tissue, gum, lip gloss, medication, granola bar, and hand sanitizer.
Another reader says, "I love my Travelon crossbody. It's big enough for my iPad and whatever else I need. It has great pockets and organizing features, and each zipper has a secure latch to ward against pickpockets. It looks like any other bag – the security features are really discreet. Living in New York City, the risk of theft is there everyday, so I use it quite frequently. It comes in a ton of colors and is very reasonably priced."
Travelon Anti-Theft Cross-Body Bag: Black and White Stripe
Style
Even though I love the look of the purple and the cranberry, I chose the neutral grey color so that it would be wearable in any season and would match with any color of clothing.
For a more stylish business traveler, a neutral or black shade may be more appropriate, but I wouldn't want to wear this bag with a business suit as I find the cross-body purse style, in general, to be more appropriate for casual settings.
Otherwise, I think the style is classic, just as it's named, and that it's suitable for a casual, utilitarian multi-purpose bag.
One reader says, "I am a Travelon FIEND! I have 3 of their crossbody bags and have loved each of them for different reasons. The Anti-Theft Crossbody has loads of safety features, it's lightweight, and Travelon bags have definitely gotten more stylish as time has gone on!"
Pros
The great thing about this anti-theft crossbody and all other Travelon purses are the security features. Locking zippers, slash body panels and straps, and RFID blocking technology all helps to protect your belongings from theft.
One TFG reader says, "Travelon bags are awesome. Loaded with security features and lots of styles and colors. I have the anti-theft cross body in black, which I've used for 2 years now and it looks great. Got the satchel for Christmas last year, which I am using for work when I don't have to carry my laptop in. I live in NYC, so bag security is very important to me for subway riding. Totally recommend them."

Another adds "I always use a 'security' bag, even at home. I have friends that have had credit cards compromised by reading them through their bags, so everything I buy now has RFID protection. My go-to bag is a Travelon."
Another fabulous feature is that you can remove one end of the strap, wrap the strap around a pole or chair and reattach it, so you don't have to worry about someone grabbing your bag when it isn't on your body.
These security features coupled with the organizational pockets on the interior and exterior make this an excellent purse for minimalist travelers.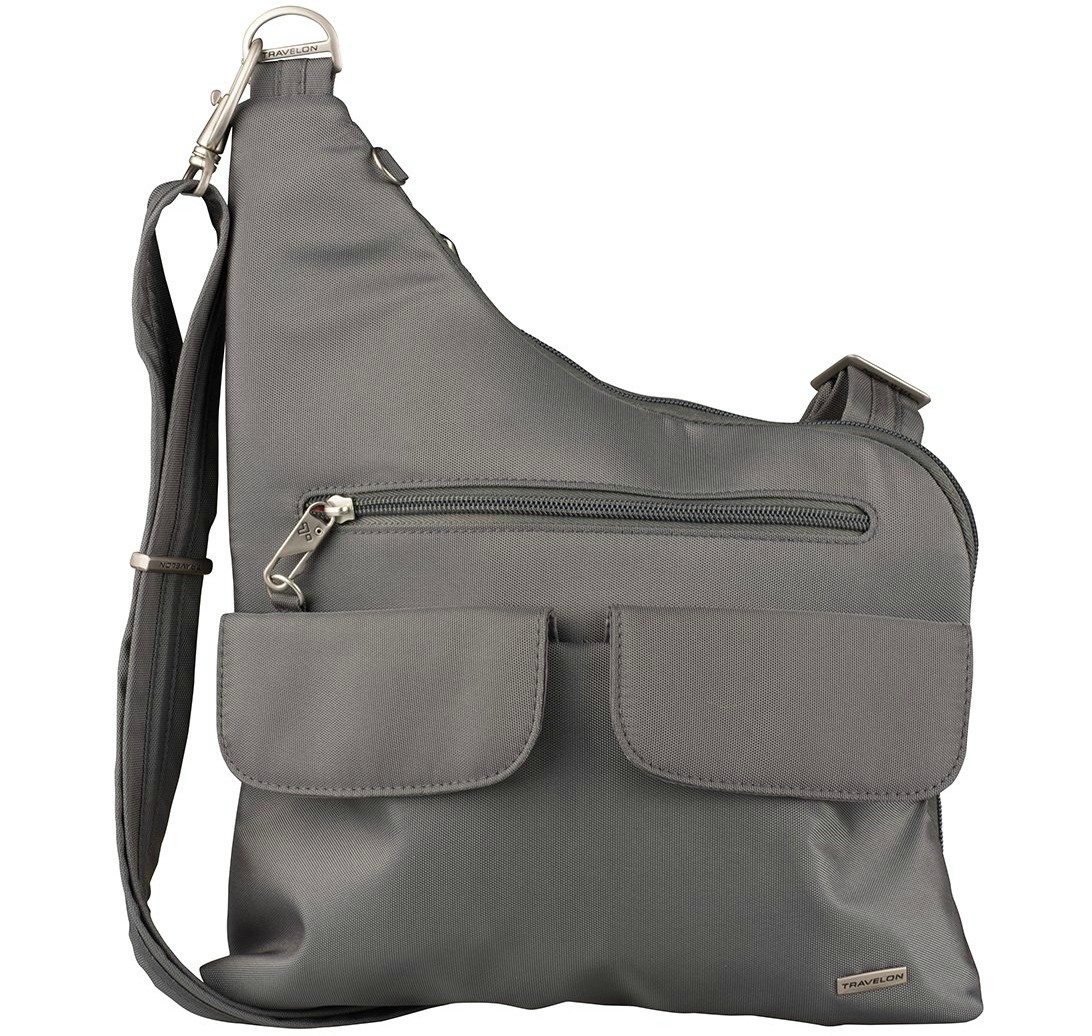 Travelon Anti-Theft Cross-Body Bag: Pewter
Cons
As mentioned earlier, this crossbody bag looks best when it is flat, so if appearance is important to you, you may not want to carry anything bulky inside such as a camera or water bottle. Accessibility of the pockets may be a problem depending on which side of your body you prefer to carry your bag.
Another issue is that the bag is stiff looking. However, I think that with more wear the fabric will soften and relax more.
Verdict
Overall, I like the Travelon Anti-Theft Classic Crossbody Bag for day travel and city excursions. It's sleek in style, comfortable to wear, there are lots of organizational pockets, and lots of great security features. Although I love how practical it was, it didn't entirely fit into my lifestyle as I prefer a larger, more spacious bag. (Need more space? Try the Travelon Classic Messenger Bag instead!)
Beyond my experiences, take it from other TFG readers who love this Travelon bag. One says "I took this bag with me to Paris. Loved the size of it. Just perfect for the daily touring essentials." And another adds, "I LOVE this cross-body from Travelon. I've taken it to Spain, Italy, and numerous cruises. Lots of locking zippers, not too big but can still hold my kindle, wallet, phone, etc."
Other Travelon Bags on sale:
Travelon Women's Anti-Theft Classic Messenger Bag
Travelon Anti-Theft Classic Mini Shoulder Bag
Travelon Anti-theft Heritage Crossbody Bag
Travelon Anti-Theft Cross-Body Bucket Bag
Travelon Heritage – Anti-Theft Backpack
---
What are your thoughts on the Travelon anti-theft classic crossbody bag? Share in the comments!
---
For more Travelon Reviews, please read:
---
LIKED THIS POST? PIN THIS PIC TO SAVE IT!
---
I hope you enjoyed this review of the Travelon Anti-Theft Classic Crossbody Bag. Please share it with your friends on Facebook, Twitter, and Pinterest. Thanks for reading!
---
Author Bio: Mary Chong is a Canadian travel writer, food reviewer, and carry-on only traveler. Mary shares travel advice, helpful tips, honest reviews, and travel inspiration for destinations throughout the world on her website Calculated Traveller Magazine.
---