Support TFG by using the links in our articles to shop. We receive a small commission (at no extra cost to you) so we can continue to create helpful free content. As an Amazon Associate, we earn from qualifying purchases made on Amazon in addition to other retailers featured on the blog. Thank you, we appreciate your support!
Compass Rose are the best packing cubes for carry on luggage. But you don't have to take our word for it! TFG readers happily share their experiences on how these suitcase organizers were game changers for their travels!
---
Compass Rose Slim Packing Cubes Review
---
Table Of Contents
Our Compass Rose small packing cubes are described as being a "game-changer" by TFG readers. They've converted regular packers into cube wizards and overpackers into carry-on only gals. We regularly get comments about how users don't know how they'll ever travel without them again (thank goodness they don't have to!).  And that it's a purchase "you will not regret."
So for those of you that haven't adopted the Compass Rose way, we have put together this handy little review so you know what all the hype is about. The best thing is that you don't have to rely on our (completely unbiased ?) opinion, we asked TFG readers to share their experiences and tell us why they love them too.
So, without further ado, here's what they had to say!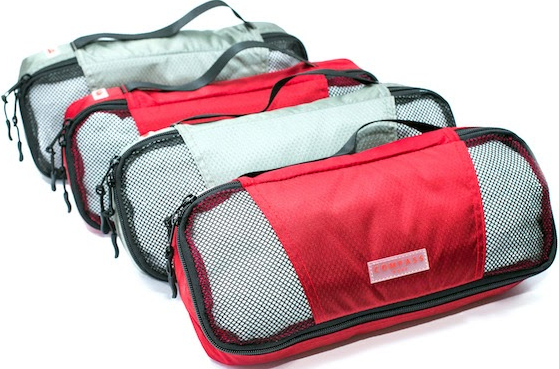 Compass Rose Carryon Size Packing Cubes
Compass Rose Small Packing Cubes for Carry On
Brand and Style: Compass Rose Packing Cubes
Price: $35.99
Fabric: Structured Fabric
Features: Four color-coded and numbered cubes that fit into an international carry-on
Sizes: 13 x 5 x 2.8 inches
Colors and styles: One pack contains two grey cubes and two red cubes
Weather: All
Travel Type: All (but they pack into a carry-on which is a big bonus)
Readers' Favorite Compass Rose Packing Cube Features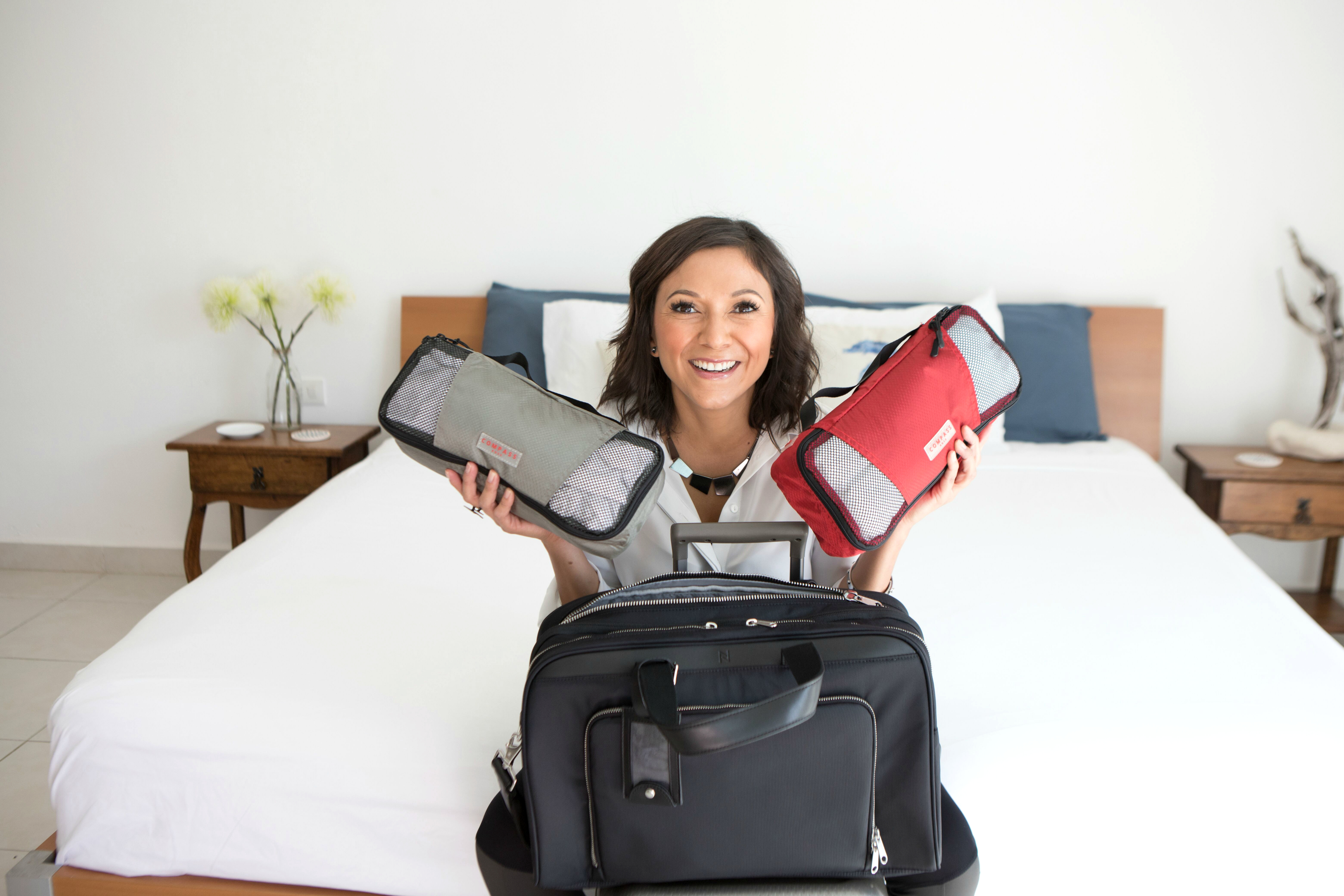 Quality
We're not tooting our own horn over here on the exceptional quality of the Compass Rose packing cubes – we'll let TFG readers speak for themselves. They tell us that they LOVE (and, on several occasions, "love, love, love") them because the material is sturdy, the mesh allows for extra room, the zippers glide like a charm, and they compress like a dream!
The quality of your cubes is important because you don't want to head out on a two-week trip and come back with a set of cubes that already look worn and ratty. One TFG reader shares that they "used them monthly for over a year on short and multi-week trips and they still look brand new."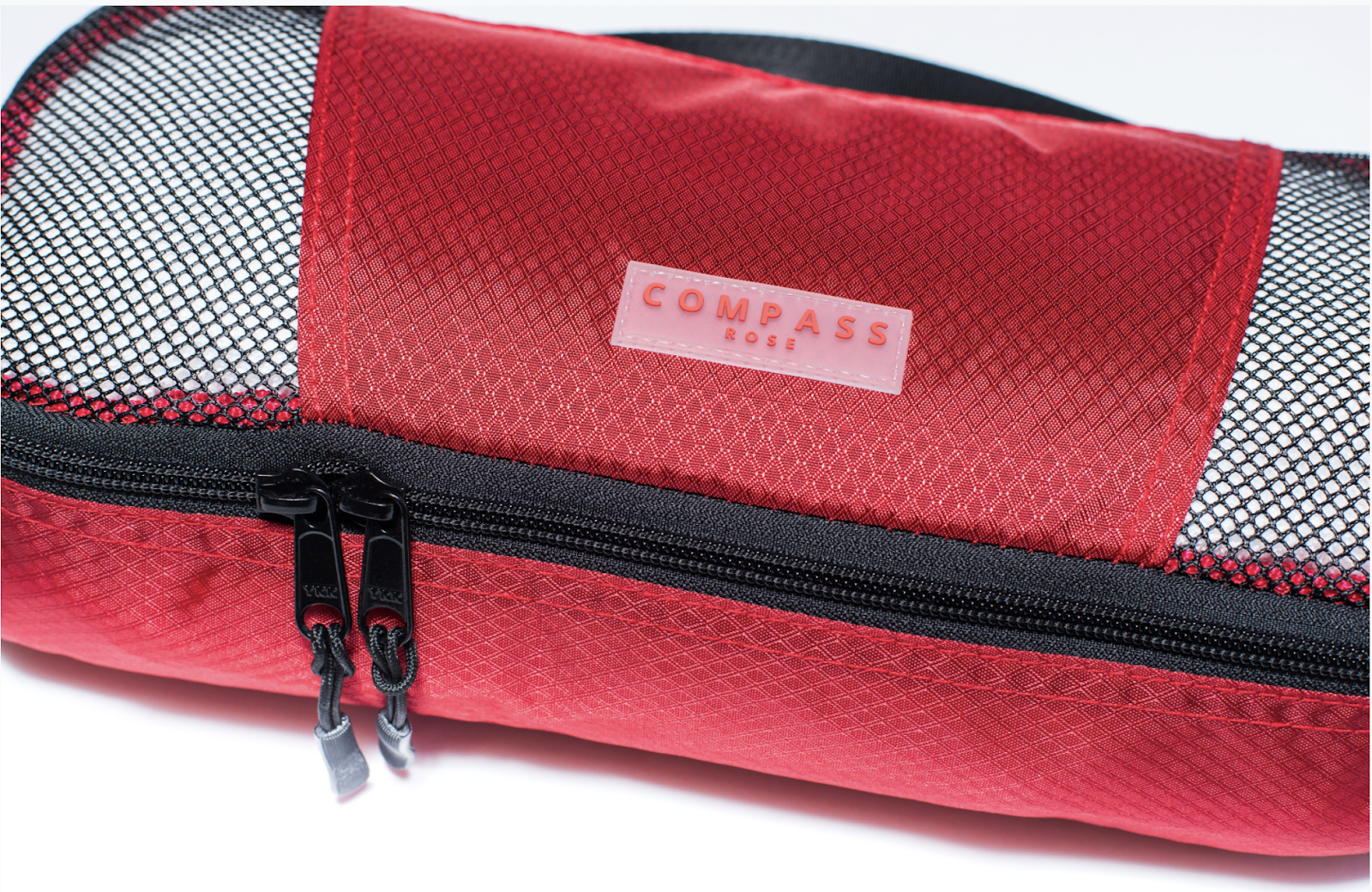 Not surprisingly (as a blog that loves fashion), you can fit all of your favorites in each cube. So now, you won't have to leave those super cute jeans or those sleek flats at home, because the quality is undeniable. One reader shares, "I haven't broken any of mine squeezing in a ton of clothes in them. Squeeze and pull, squeeze and pull."
Also, to strive for packing queendom, we recommend checking out our packing list guides.
If you're looking for a sturdy set of packing cubes that will keep your things organized, compact, and easy-to-access, then the quality of these cubes should have no problem meeting your needs… and that's not just us saying it.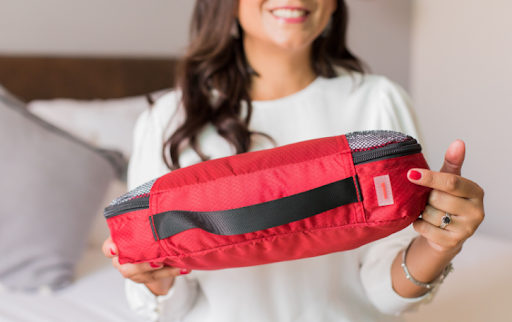 Size
These cubes are the ideal size because you can pack carry-on only with them, but as one reader shares they "didn't have to leave behind any clothes I was planning to take." It's the best of both space and money-saving worlds.
Whether they are veteran packing cube users or it's their first time, readers find these packing cubes to be the right size. One shares, "I had these cubes stuffed tight and had no problems with the zip. I was actually amazed how jam-packed they were, especially at the end of the holiday when I was tucking little souvenirs in anywhere to get them home. I would have them half full then zip them up half-way and push the clothing tight to add more."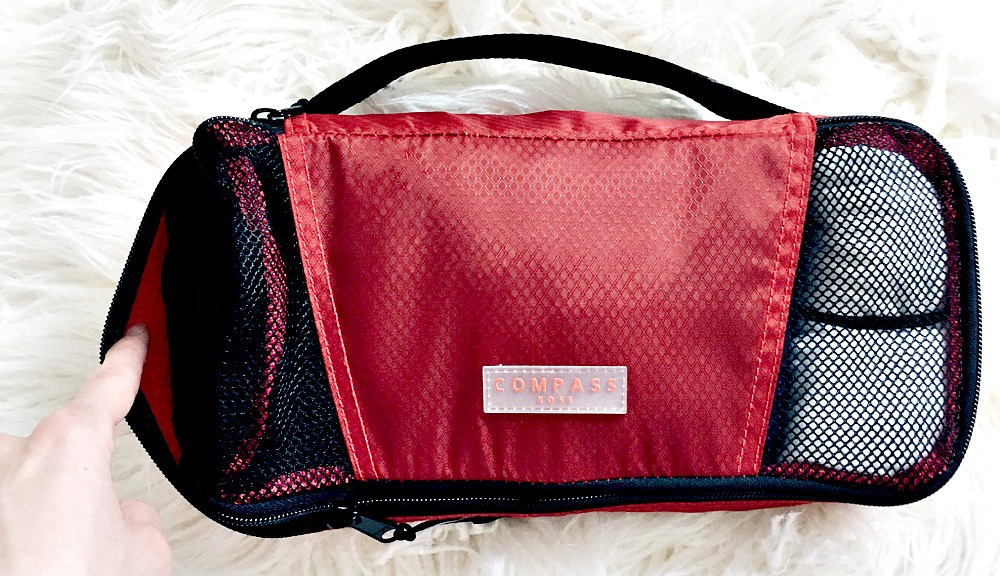 Compass Rose Carryon Size Packing Cubes
Their small size is most definitely deceiving (in the best of ways). While they fit perfectly into your carry-on, you can pack them full of everything you need. Another reader explains, "They fit so much and sit beautifully in my carry on bag.  I am over 70, so there were no mini dresses or shorts for me, but the cubes could hold all my clothing needs." 
However, when it comes to rolling or folding clothes what is best inside the cubes? 
To roll or fold with packing cubes? Watch this video to find out!
 The above video can help shed some light on maximizing the size and making the most of your packing.
What's best, packing cubes or packing folders? Find out here!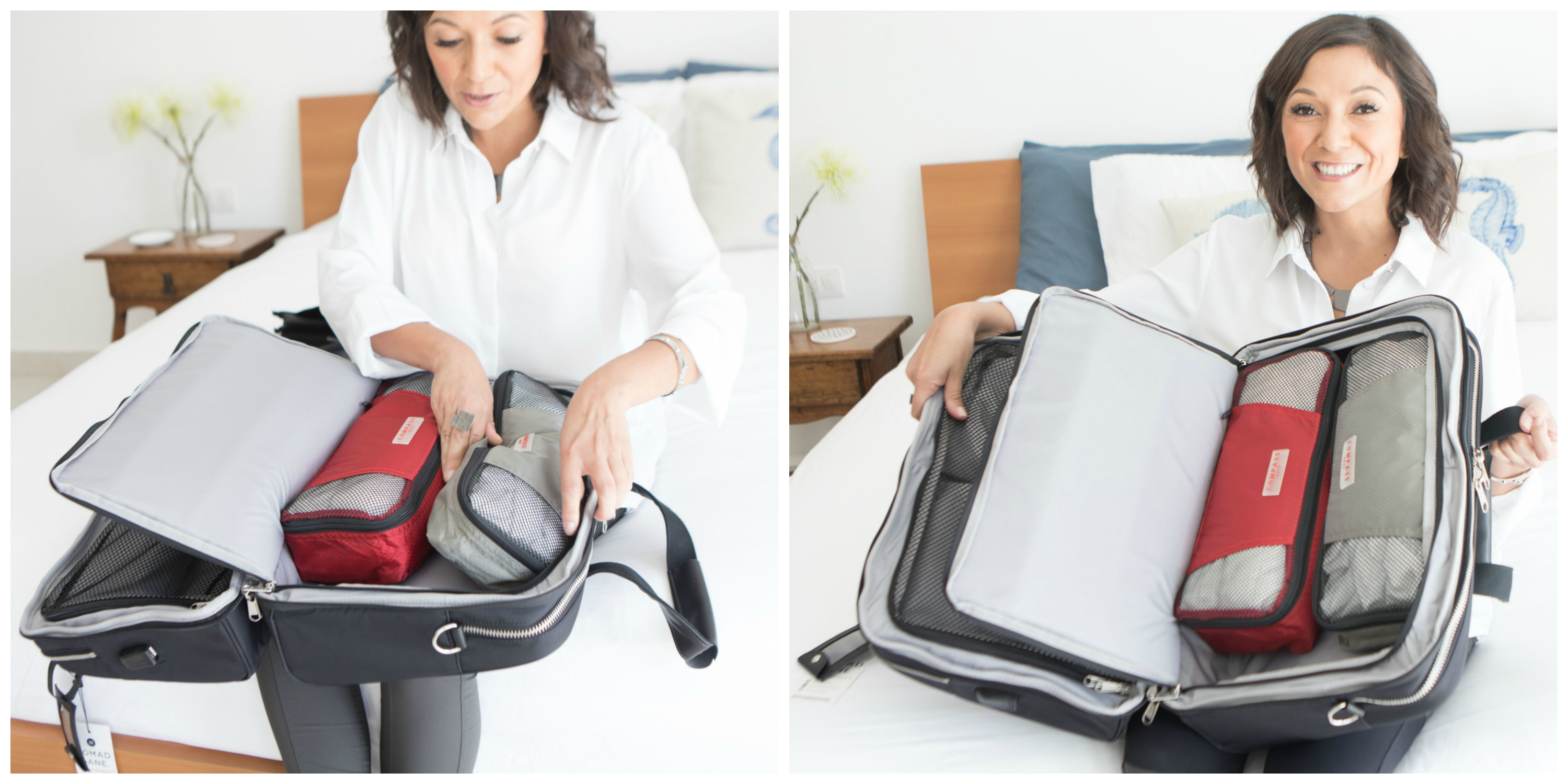 Compass Rose Packing Cubes inside Nomad Lane Bento Bag
Organization
When it comes to organization, Alex created an entire system with the goal of helping you pack better and get everything you need in your bag, yet still be able to fit it all into a carry-on and skip those baggage claim lines. 
TFG readers LOVE the two-color organization system because it can not only make their packing uniform and easy to navigate, but it's totally customizable. One reader even went so far as to tell us that they "revolutionized their packing." They took them on a trip to Norway and reported that "traveling was so much easier and organized."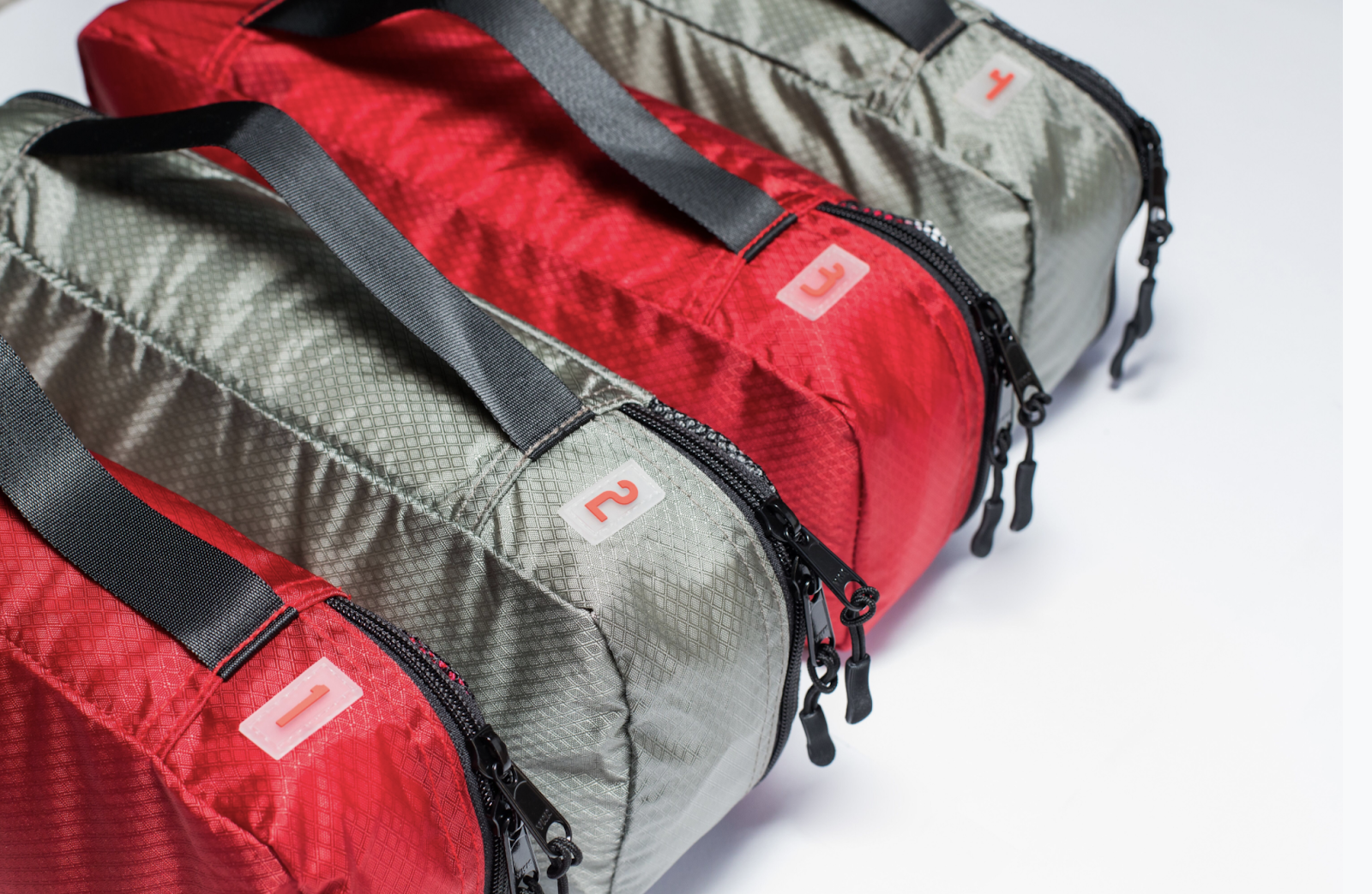 Readers also get creative with their packing cubes. One shares that they use them as a his-and-hers set, splitting them up and using the gray as his and red as hers. They even went a step further and split the "numbered 1-2 cubes for land and 3-4 for sea." Talk about extreme organization!
Not only that, but they're handy for packing on the way home too! Another reader hot tip, "I was able to use one for my dirty washing that didn't get done and had to travel back in my case with my clean things."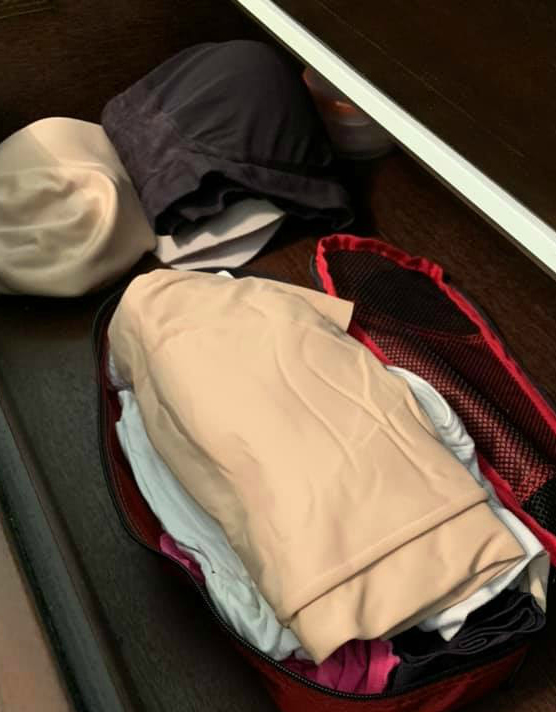 Reader uses Compass Rose Packing Cubes between trips
How about using them in your closet when not traveling? Packing cubes are useful for when you switch up your wardrobe between seasons. Simply pack away the unneeded clothes until the following season—a total space saver!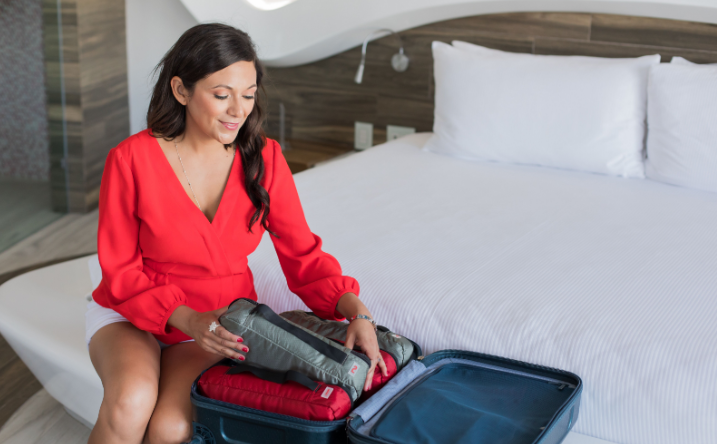 Compass Rose Packing Cubes inside Delsey Turenne Carry On
How TFG Readers Pack With Compass Rose Cubes
Compass Rose cubes are turning TFG readers into packing cube enthusiasts left, right, and center. Not only that, but they're helping people downsize their packing and become true carry-on only travelers.
Most TFG readers who are embracing the carry-on movement use Alex's video to help them figure out how to pack for extended day trips because it's not just on shorter trips that you'll benefit from bringing less. Here are a few of their stories: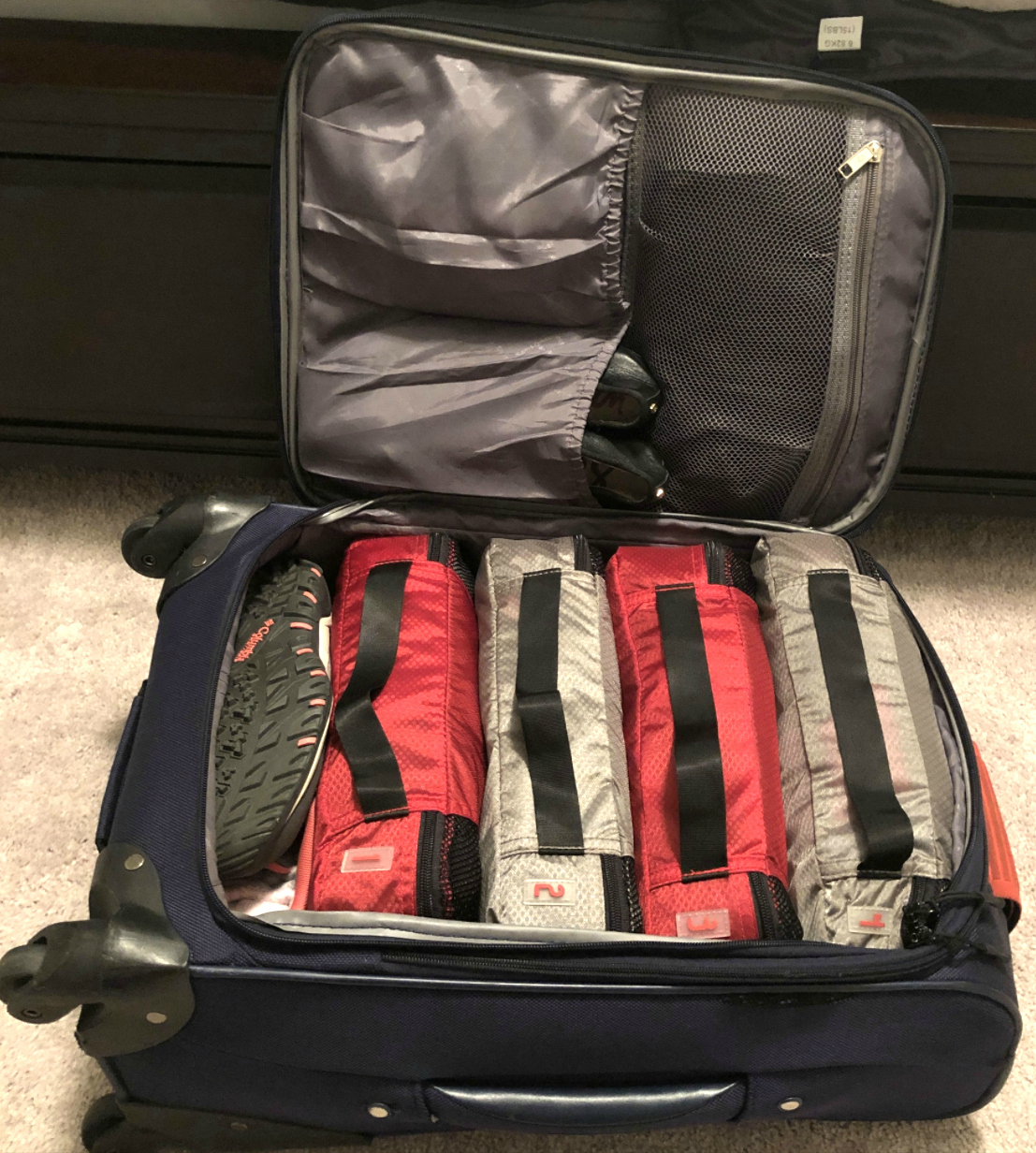 Reader inspired packing organization
Packing for 10-Day Trip to Seattle
One TFG reader heading on a 10-day trip used the powerful combination of the TFG Outfit Planner, the TFG Packing List spreadsheet, and the Compass Rose cubes to organize and fit everything they needed into their carry-on and personal bag. 
They organized as follows:
Cube 1: 10 pairs of underwear, two bras, and base layer top and bottom

Cube 2: Two t-shirts, two dresses, and a pair of slippers

Cube 3: Three pairs of hiking/activity pants, another base layer bottom, gloves and hat

Cube 4: Button down Columbia shirt, three merino wool sweaters, a nude base layer. North Face hoodie
Saving space one cube at a time!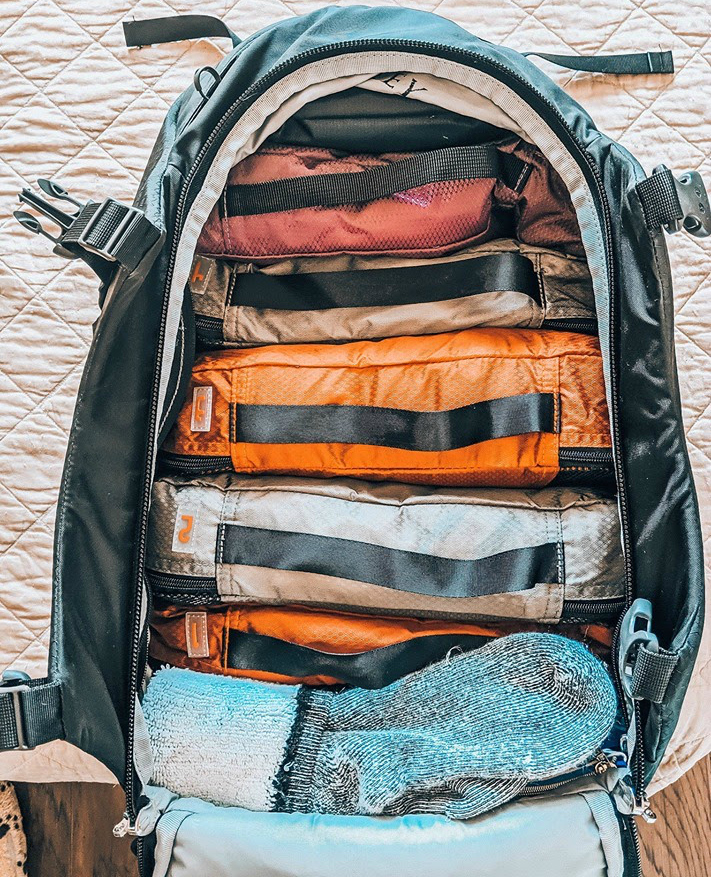 Reader inspired packing organization
Packing for Turkey (in a Backpack)
Another TFG reader headed on a trip to Turkey and fit all her items into a carry on backpack. 
"Here are my Compass Rose packing cubes inside my Osprey Porter 46 backpack. This is my first time using them… they are truly a perfect fit for my backpack!"
Way to keep organized!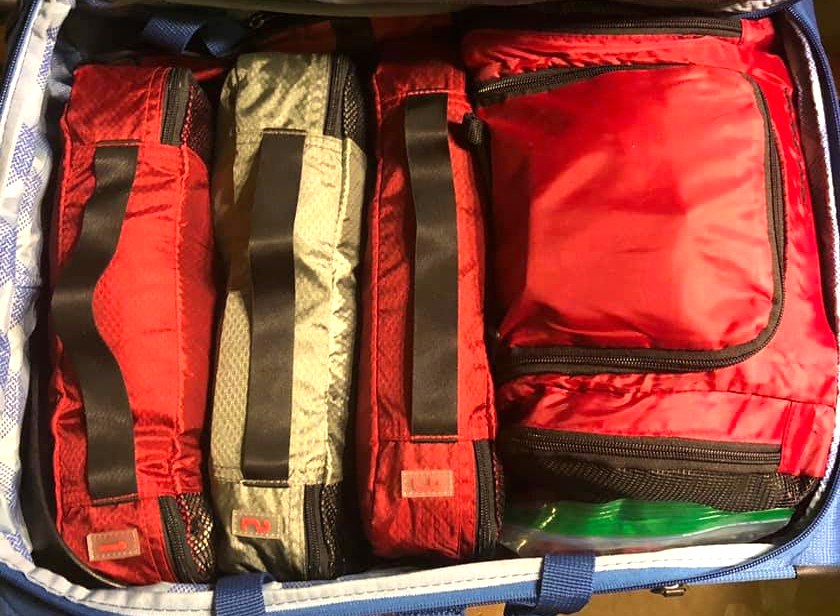 Reader inspired packing organization
Packing for a Beach Week in Florida
For one reader's beach week in Florida, they managed to pack a ton of items into just a few packing cubes. Those included:
Five underwear and a bra

Nightgown

Rashguard

Swimsuit cover-up shirt and two swimsuits

Two pairs of shorts

Capri pants

Four tops
They were excited about how much they managed to squeeze in, reporting, "I am not a petite woman, and items are really rolled tightly and scrunched!"
We're proud of this wise packing sage!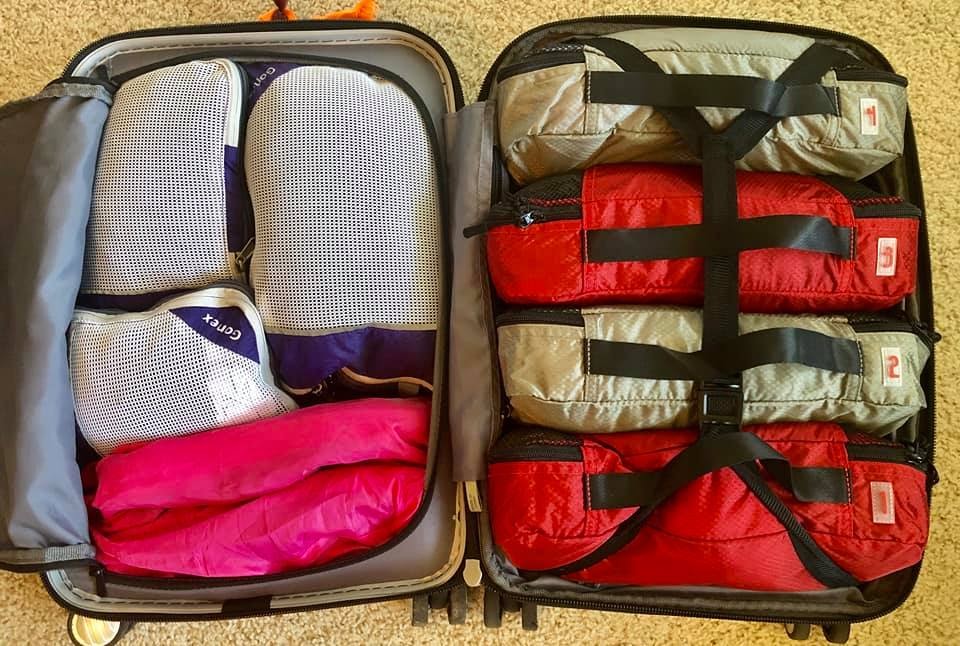 Reader inspired packing organization
Packing for Six Weeks in Europe
Another reader received their packing cubes and had NO idea how they'd be able to pack everything. But with help from Alex's how-to video, they could squeeze all of their gear for a trip to Europe spanning over a month-long.  
"LOVE, love, love my Compass Rose packing cubes! My suitcase has never been so organized, compact, and with so many items in it! I sent photos to my family and they were very surprised." 
The reader admittedly doesn't enjoy shopping or packing for multiple climates, but was happy "all the stuff I am managing to bring!"  She used a Delsey Paris suitcase, with only one extra personal item. "I will be traveling for six weeks to multiple climates, including the Arctic Circle, so you can imagine all the gear for cold weather."
That's pretty expert packing that we've ever seen!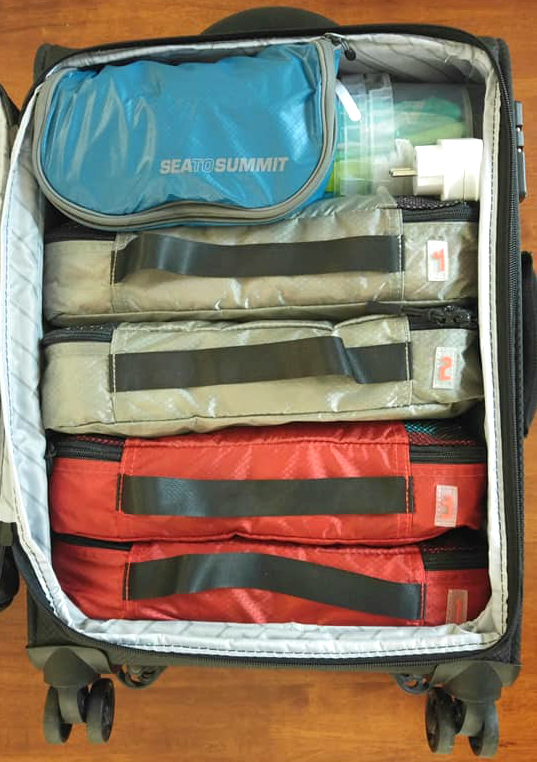 Reader inspired packing organization
Packing for 9-Day Family Trip to Bali
After receiving their Compass Rose cubes, one reader had to pack for an upcoming 9-day trip to Bali for the whole family. Trying to organize for two adults and two kids proved challenging but came out with amazing results!
In the cubes, they were able to pack for both parents and children, including:
Four days worth of clothes for each person

Swimsuits for both kids and adults

Nappies and wipes

A few snacks

Small, packable toys
The reader then went on to share that "I have used a packing cube for each child, one cube for myself, and one cube for nappies."  
Some inspiring packing skills for family travel here!
Many readers talk about being inspired and guided by a five-part YouTube series hosted by Alex that demonstrates how to pack carry-on only.
Learn how to pack carry-on with packing cubes in this video!
 Check out the first video above on how to start organizing like a boss with Compass Rose packing cubes!
Get more organized with packing cubes by using this 8-step strategy to packing carry-on only!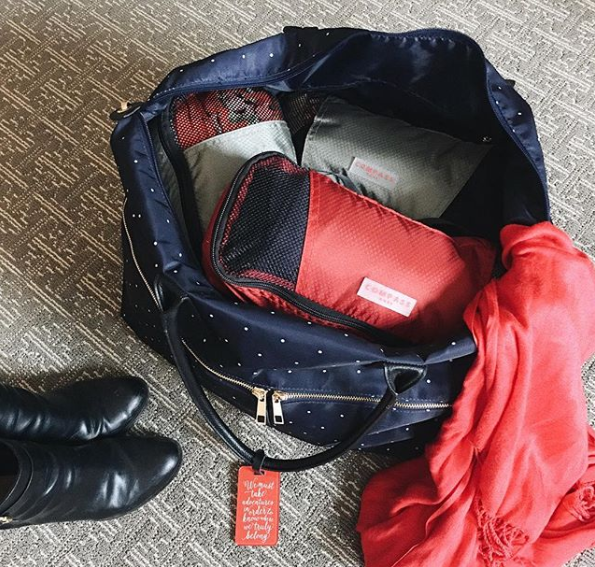 Compass Rose Carryon Size Packing Cubes
Alternative Uses for Compass Rose Cubes
Chances are, you're not always on the road, so instead of taking up space in a drawer or closet somewhere in your house, you can get some use out of these handy travel accessories around home. TFG readers explain how they use their packing cubes between vacations to store camping equipment, business sample kits, as drawer inserts, and even as a makeshift briefcase. 
In the business world, Compass Rose cubes are the "new designer handbags" according to one reader. They say, "the last thing I wanted was to carry a heavy briefcase or purse. So, I popped in my work iPad, medication, and wallet into one and didn't miss not having a purse with me. Everything was secure, the handle is sturdy and it looks so chic. No one I spoke to expected that I was carrying what would usually be in my suitcase."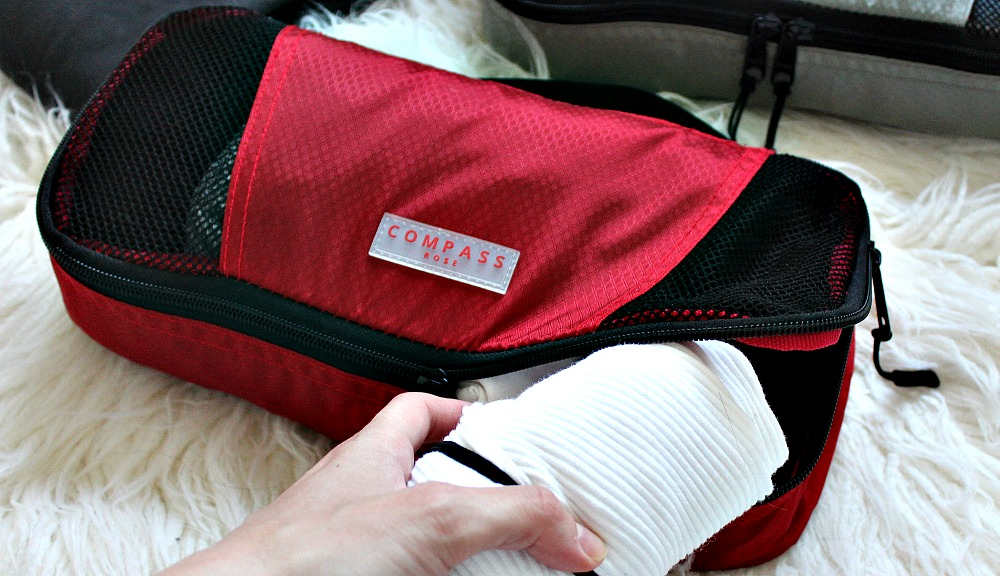 Another reader uses their packing cubes while staying with relatives. They share, "I have been using them as a set of drawers. I'm staying at my son's apartment in Brooklyn and space is a luxury. I just opened my suitcase in a corner, unzipped the cubes, and have been pulling out what I need everyday. I packed them by item so everything is easy to find and organized."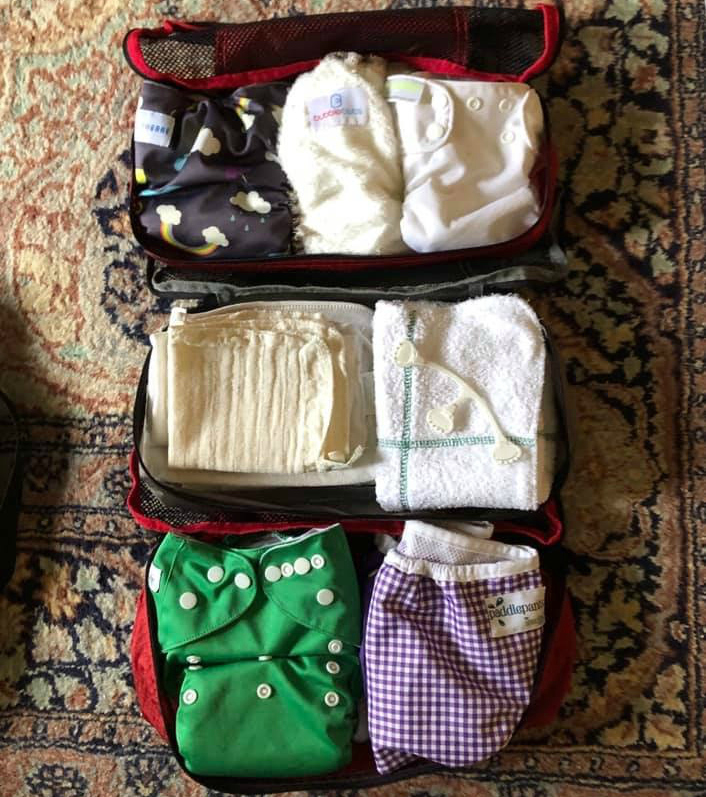 Reader organizes nappies in Compass Rose Packing Cubes
New moms have found delight in using packing cubes to organize their diaper bag. They share how one cube is for diapers and wipes; another can fit in spare outfits and clothes, in case the baby has an accident which out and about; and a third contains all of the lotions, potions, powders, and bits that she wants in the bag, but doesn't want to roll around the bottom! We think this is an awesome idea.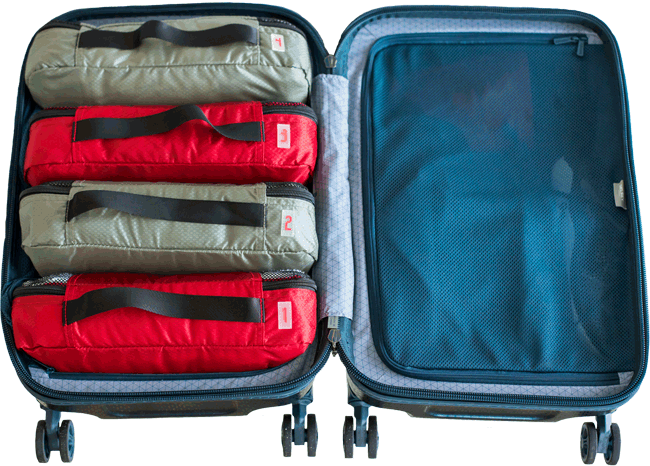 Compass Rose Packing Cubes inside Delsey Turenne Carry On
Who Should Use Compass Rose Cubes?
These handy packing items are perfect for any traveler in your life. Many readers share that everyone in their family packs with them. 
Here's an instructive and fun video on how anyone can pack a suitcase like a pro with TFG cubes!
This video shows you how to become a pro with packing cubes!
Whether you're looking to split a pack with your significant other for a shorter trip or want to organize the kiddo's bags, you can definitely use these packing cubes to your advantage!
Wby not use your packing cubes with one of our fave suticases? Check out our Delsey Turenne review!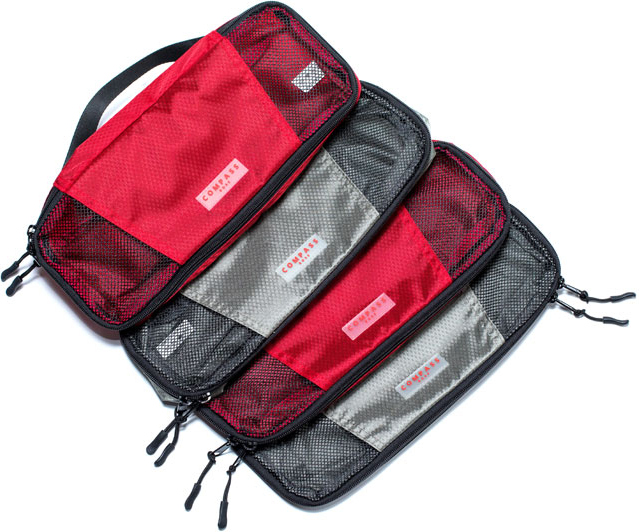 Compass Rose Carryon Size Packing Cubes
How to Wash Compass Rose Cubes?
These must-have travel (and home) accessories are a piece of cake to clean too. You simply need to hand wash them or throw them in the washing machine on the delicate cycle. Once they're done, leave them to air dry.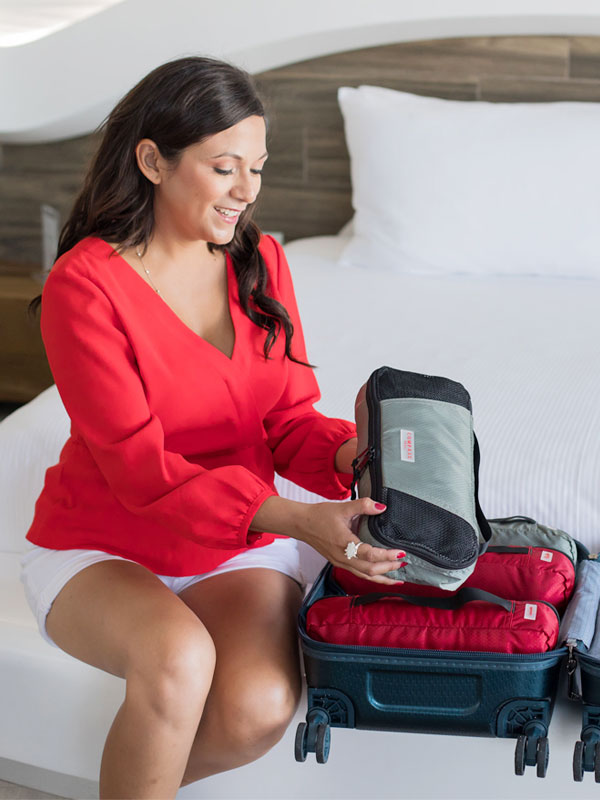 Where to Buy
Compass Rose Packing Cubes
You can get your very own set of Compass Rose cubes directly from Amazon. You might also want to check out the rest of the Compass Rose travel products as well!
Editor-in-Chief Alex and Compass Rose Packing Cubes
---
What is your Compass Rose packing cubes review? Tell us how these helped or changed the way you travel below!
---
For more packing cube tips, please read:
---
LIKE THIS POST? PIN THIS PIC TO SAVE IT!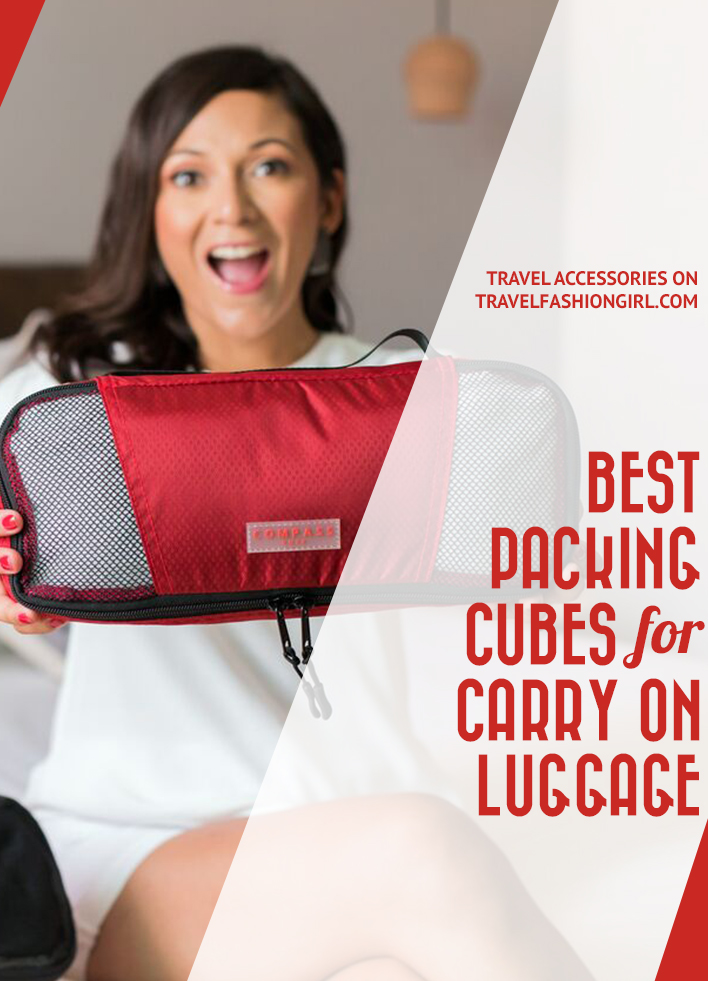 ---
We hope you found this Compass Rose packing cubes review helpful. Please share with your friends on Facebook, Twitter, and Pinterest. Thanks for reading!
---