Support TFG by using the links in our articles to shop. We receive a small commission (at no extra cost to you) so we can continue to create helpful free content. As an Amazon Associate, we earn from qualifying purchases made on Amazon in addition to other retailers featured on the blog. Thank you, we appreciate your support!
Planning an Ireland road trip in summer? Find out the things you need to bring to make the most of your time in this gorgeous country!
---
Ireland Road Trip Packing Tips
Written By: Katie Melloh
---
Ireland has long been a hot spot for tourism due to its famous hospitality, beautiful and dramatic scenery, charming towns, colorful history, and that famous black beer! Last summer my family and I took off on a two-week self-guided road trip to see as much of the Emerald Isle as possible.
Packing efficiently for an Ireland Road Trip, like the Wild Atlantic Way, is important when six people have to pile into a car with all their bags (and the souvenirs start to add up)!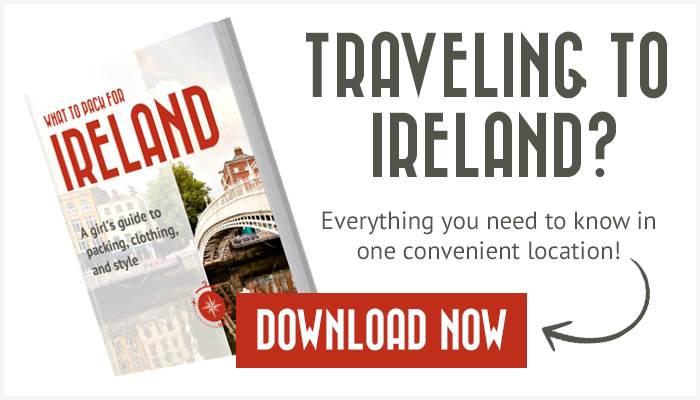 Use these packing list ideas as a starting point for your trip:
Ireland Fashion
Ireland is known for its casual style, which makes it a perfect place for low-maintenance girls like me who still like to be fashionable. Locals tend to favor dark colors, heavy and cozy fabrics, and comfort.
Start by reading these general tips on packing for summer travel:
As far as night life, pub culture is much more popular in Ireland than clubbing, meaning that casual day looks can easily transition to nightlife. People in Dublin are slightly more dressed up, but still favor comfortable walking shoes and nice basics. Think sturdy leather boots, chunky sweaters, and waterproof jackets.
Read these tips on what to wear on a rainy day when traveling!
Weather in Ireland
Ireland has a fairly temperate climate, meaning that it stays mild throughout the year. Winter is not especially cold and summer never gets too hot. During the month of June, for instance, the temperature rarely goes above 70°F and could dip to 50°F.
Ireland is notoriously rainy; the temperature can vary greatly during the day depending on cloud cover, so layering is key!
What to Bring for an Ireland Road Trip in Summer:
Top | Tee | Longsleeve | Pullover | Blouse | Chambray | Shirt | Sweater
Tops
Pack neutral pieces that have a similar color scheme to maximize outfit choices. Be sure to bring a variety of short and long sleeved tops, as even summer weather can vary day to day. A nice blouse or chambray shirt is a bit dressier for those occasions when you're planning a nice dinner or photo op!
I recommend bringing a sweater or two that can work as standalone pieces or as an added layer of warmth. And don't forget my personal favorite—a nice flannel! Flannels are great for Ireland because they are warm enough to wear alone with a pair of jeans but are thin enough to layer under a jacket once the evening chill sets in.
We're all tempted to buy clothing based on style, but a closer look into the fabric of your travel wardrobe can make traveling more comfortable. Read this to find out the best fabric for travel!
Bottoms
When space is at a premium, packing fewer bottoms is the way to go. It's rarely hot enough to wear shorts, so pass on those for a pair of comfortable jeans that you can roll up. I recommend bringing a pair of stretchy leggings (perfect for a long road trip), a nicer pair of black or very dark jeans, and your basic, most comfortable jeans for everyday wear.
The best part is that all of these bottoms will work with any of your tops. Bringing pieces that are easy to mix and match is critical for packing light and looking great!
These are the best leggings for women that travel as voted for by our readers!
Outerwear
A cargo jacket works well in any type of weather and is handy for storing odds and ends while you're out exploring. A packable rain coat is also necessary for the notorious rainy days.
Having a nice blazer is always a good idea because it works as a light jacket or adds a dressy touch for a night out.
Need a waterproof jacket? We love these travel raincoats for women!
Shoes
For a look that can work anywhere, anytime, start with waterproof boots. My personal favorite is LL Bean's Bean Boot. They come in a few different styles with the option of adding an insulation layer. I own the basic pair, so I can choose to wear thin or thick wool socks depending on the weather.
These are the best waterproof leather boots recommended by our readers!
For daytime exploring, I recommend a comfortable white sneaker that will work with any outfit. I like Converse, as they are comfy enough to wear all day and the rubber soles are easy to clean. It's always a good idea to have a pair of sneakers to wear for long car rides during your road trip.
What are the most comfy shoes? These experts are giving you the inside scoop on their 21 top picks. Take a look!
For nicer occasions, I like a nice black flat that can be dressed up or down. My favorite brand is Sam Edelman. They're always comfortable and well-made.
These are the most cute and comfortable ballet flats for travel!
Depending on your preferences, you may or may not need a pair of sneakers (trainers). I like to exercise while traveling, so I always bring a lightweight pair of running shoes. They also work for outdoor activities like hiking and biking, which I definitely recommend in Ireland!
Find out the best travel shoes and why you may want to wear them, too!
Scarf | Backpack | Hat | Umbrella
Accessories
Accessories have the ability to really pull an outfit together. I bring a nice scarf with me no matter where I go, as it works for multiple purposes and can keep me warm. I like to have one basic color like black and another with a more interesting pattern, like plaid.
One of my favorite travel accessories is this awesome backpack from Everlane. It's stylish and functional and the perfect size for a road trip.
A felt hat is another great piece for your Ireland trip. It looks classy and can mask any bad hair days caused by the wild Irish wind.
And don't forget an umbrella! A small collapsible umbrella is the best option, as it can fold up to fit in your purse.
We have 9 unexpected Europe essentials you may have forgotten. Read this to make sure they're on your list!
Long Sleeve | Jacket | Jeans | Boots | Scarf
Ireland Outfit Inspiration
For a day out exploring in Dublin or Galway, grab your boots! They look great paired with dark wash jeans, a striped top, and a basic dark green cargo jacket. Add a soft black scarf for warmth just in case. This look can work for both daytime sightseeing and for the inevitable pit stop at the local pub for a Guinness!
Comfort is key on your Ireland road trip. Pack clothes that can transition from a long car ride to a day exploring the friendly towns and cities of Ireland.
Remember to wear quality walking shoes for tackling cobblestoned streets, always be prepared for rain, and know when to take a Guinness break!
Find out how and why to choose the best walking shoes for Europe!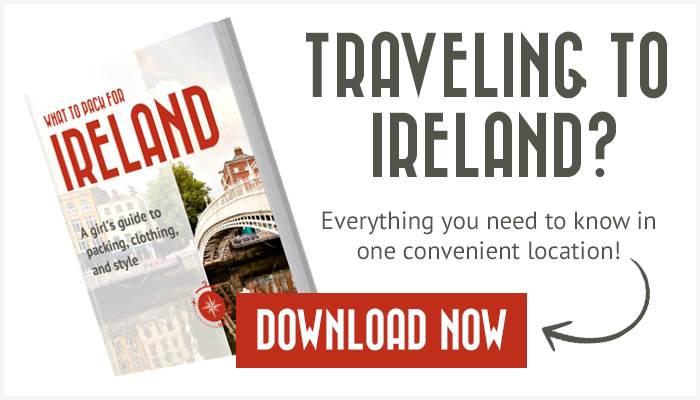 ---
What are your tips for an Ireland road trip in summer? Share them below!
---
For more packing tips, please visit these Europe Packing Lists:
Suggested travel resources:
---
LIKED THIS POST? PIN THIS PIC TO SAVE IT!
---
I hope you liked this post on what to wear on an Ireland road trip. Please share with your friends on Facebook, Twitter, and Pinterest. Thanks for reading!
---
Author Bio: Katie Melloh is a travel addict (30+ countries and counting!) currently pursuing her master's degree in international development. Other interests include fair trade coffee, exercising her taste buds as a cheese-obsessed vegetarian, and reading historical fiction. She writes for her blog Her World Over and for Unearth the World, a social enterprise for ethical volunteer trips.
---