Support TFG by using the links in our articles to shop. We receive a small commission (at no extra cost to you) so we can continue to create helpful free content. As an Amazon Associate, we earn from qualifying purchases made on Amazon in addition to other retailers featured on the blog. Thank you, we appreciate your support!
We've found the single best travel pants for women and our readers agree! If you're a style-conscious female traveler that's always on the go, these are THE travel pants for you.
Spoiler alert! SAVE 15% OFF your order by using our exclusive link: https://anatomie.com/tfg-discount
---
Best Travel Pants for Women
---
Table Of Contents
When I first got them, they looked like a pair of standard trousers; they didn't look like anything special. It wasn't until my fellow travelers started pointing out their benefits that I saw their true potential as fashionable, lightweight travel pants. I'm so glad I gave them a second chance. They ended up being the best pants ever!
Ladies, meet your ultimate travel pant: the Anatomie Skyler: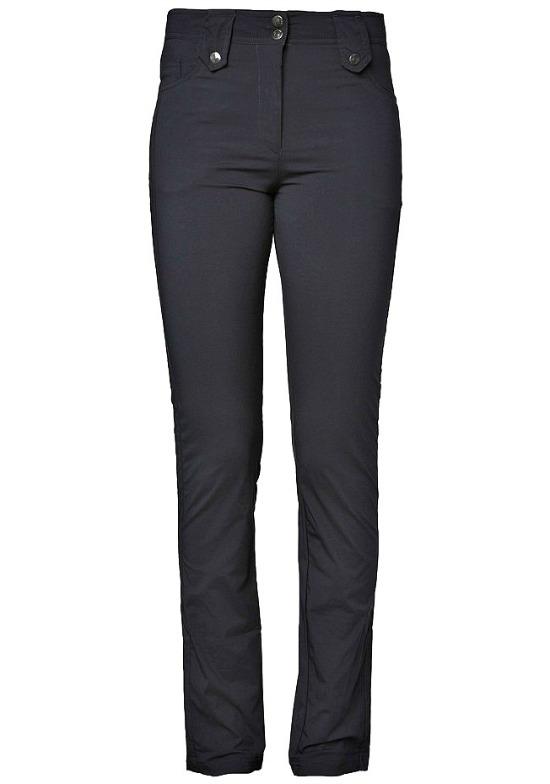 Anatomie Skyler Women's Travel Pants
Why are these womens travel pants so awesome?
Unlike traditional utilitarian travel pants, these look good worn to sightsee in Italy, they'll dry quickly when you hand wash them while on safari in Africa, and they'll even be comfortable enough to wear on a long plane ride from Los Angeles to Bangkok. 
Tip: These pants make an awesome addition to your travel capsule wardrobe, the key to simplified packing!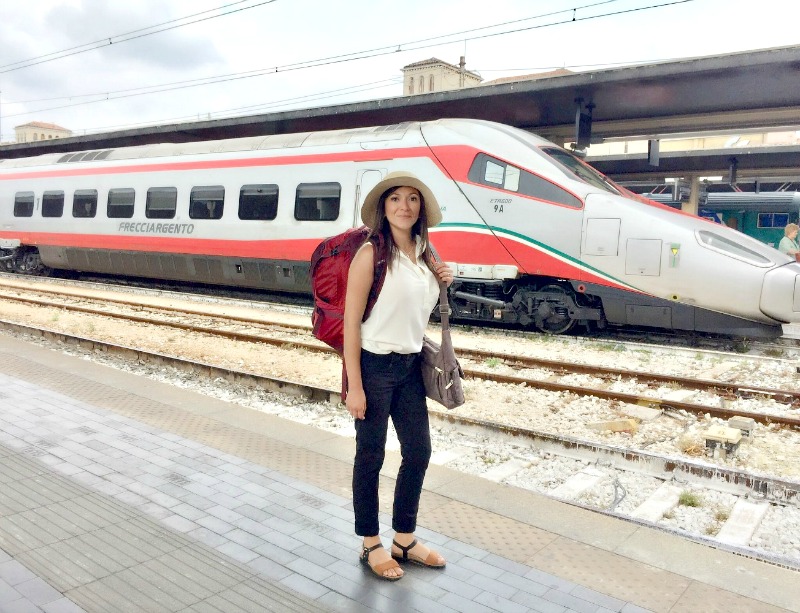 Venice, Italy
Wear them to your business meeting, go for a hike after work, then head out into town and explore the city – all while wearing the same pair of pants! They're versatile, lightweight, highly functional, and stylish, too!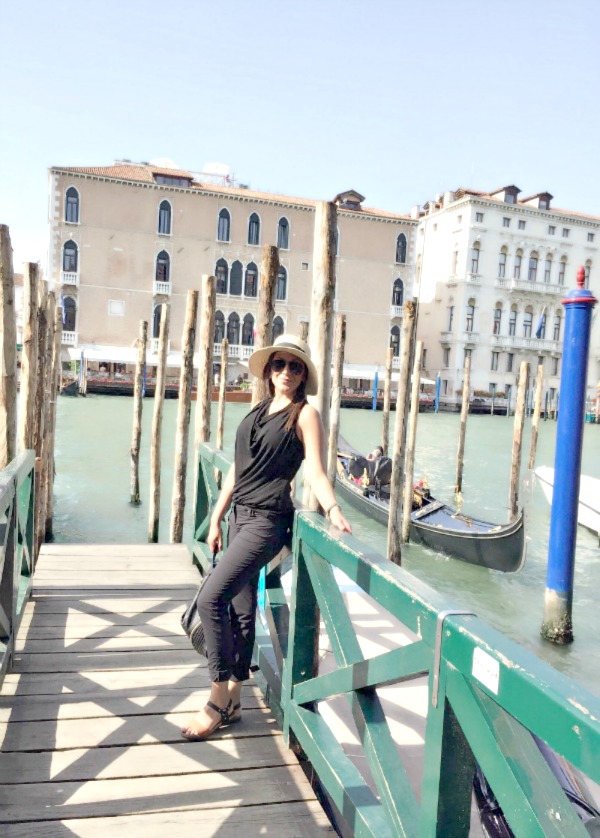 Venice, Italy
These practical, technical travel pants actually look good and our readers agree! The Anatomie Skyler are truly the best travel pants for women. Below are the reasons we vote the Anatomie Skyler as the #1 travel pants. Women all over the world are obsessed with them – find out why!
Use this link to shop and save 15% off your order: https://anatomie.com/tfg-discount happy shopping!
10 Reasons These Are THE Best Travel Pants for Women
Madrid, Spain
They're
stylish
travel pants women will actually want to wear
The Anatomie Skyler Slim Fit Womens Travel Pants have a classic cut making them a basic that you can wear anywhere. Although they are labeled as "skinny" fit, they have more of a slim fit and aren't as tapered at the calves or ankles as your average skinny jean.
They have a high-quality, chic design so you can wear them for business and look professional, wear them in a European city without looking like a tourist, and even wear them in a village without having a sloppy appearance. As an added bonus, you still look polished even while trekking.
Arches, Utah, USA
They're
lightweight
travel pants womens brands can't quite duplicate
While there are a variety of brands creating travel pants, the fabrics on the market are not quite as featherlight as this. Rest assured, the fabric is thin but incredibly durable.
Unlike my old convertible trousers, the Skylers are lightweight pants for travel with an ultra-thin fabric that takes up a quarter of the space.
They're the best travel pants for women who want to pack light. They fit easily into a slim packing cube and hardly weigh anything at all.
Cambridgeshire, United Kingdom
They're
quick dry
travel pants, a major plus when you're on the go
Smart travelers know that washing clothes on trips longer than a week is the secret to packing light. Using quick dry pants for travel is very useful, especially when you're moving locations every other day and don't have time to sit around waiting for your clothes to dry.
I either hand wash or place them in a gentle cycle in a washing machine but no matter what, I always air dry them.
In winter in the UK, they took about 3 hours to dry hanging in the shower, and in the heat of Thailand, they were dry in less than 20 minutes.
As a bonus, the fabric always bounces right back to the original shape after being washed without getting stretched out like other fabrics.
Related Post: Best Convertible Travel Pants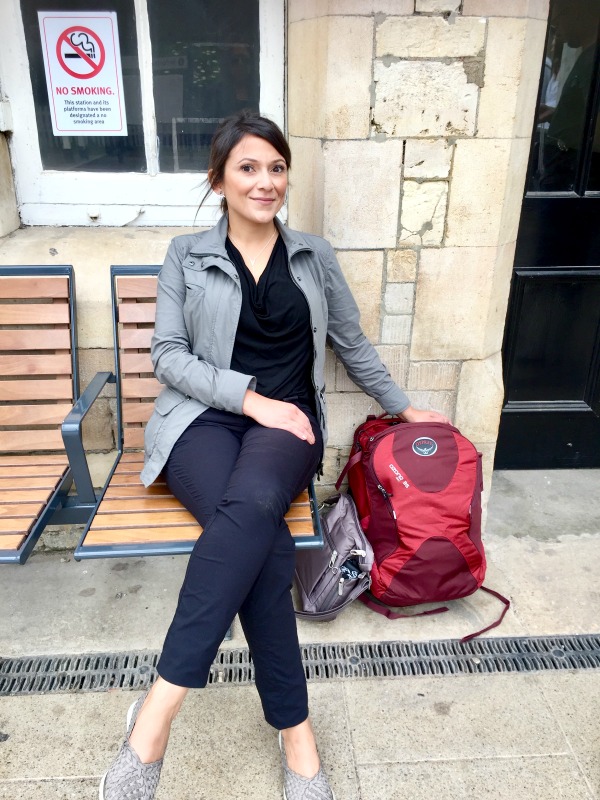 Lincolnshire, United Kingdom
They're
comfortable
travel pants for long flights
The Anatomie Skyler travel pants totally rocked the comfort factor when I wore them on a plane and on long train rides in Europe. The fabric has an awesome amount of stretch which allows breathability and gives you plenty of room to move around with ease.
It felt good to walk onto a plane with comfy pants and not look like I was going to the gym (although I've actually worn them to work out, too). The Skylers are comfortable pants for travel that look nice no matter what class you're sitting in.
Related Post: Best Travel Leggings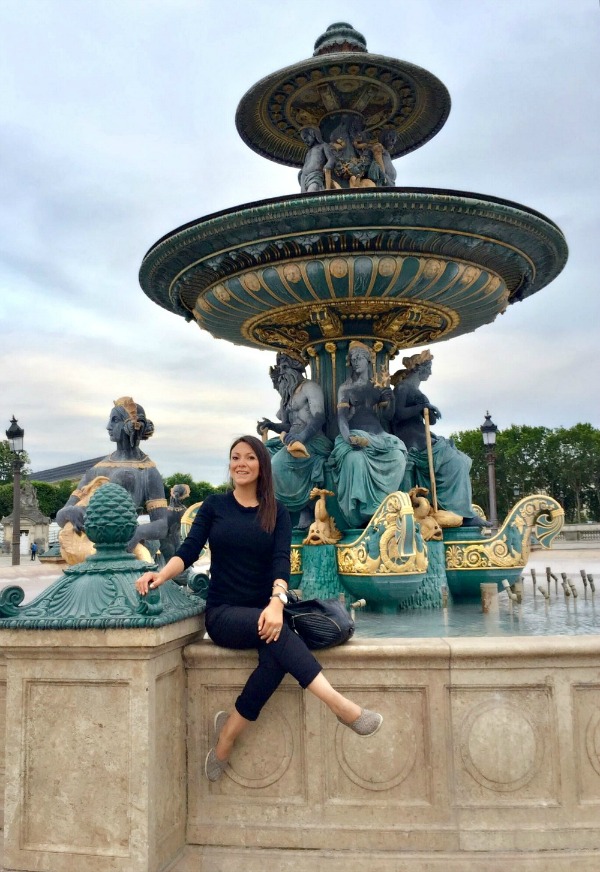 Paris, France
They're good travel pants for summer when mixed weather is in the forecast
Bring a pair of light but warm womens travel pants on a summer trip if you think there's a chance the weather might fluctuate.
The Skylers actually turned out to be the best travel pants for Europe despite an unusual heat wave. While traveling in Paris and Italy in summer, I only brought one pair of pants and the rest of my clothing was dresses because the weather forecast showed mostly hot temperatures over 80F.
The Anatomie Skylers, worked as my perfect "just in case it got cold" set of pants. I was able to wear them on the trains, on the flights, on mild evenings, and paired with my go-to merino wool sweater in Paris when the temperature suddenly dropped for the day.
Related Post: Best Travel Pants for Cold Weather 
Koh Samui, Thailand
They're
versatile
travel pants women can wear everywhere
When it comes down to it, every item in your travel wardrobe must be multi-use. It shouldn't be all fashion and no function, especially when you have a long journey ahead.
I feel good wearing the Skyler travel pants in just about any setting, even with heels and a nice top in a business setting or an evening out. Aside from being a classic, chic addition to any travel wardrobe they also make cute hiking pants, too.
For these and so many other reasons, they continue to be the best travel pants for women, years after I initially wrote this blog post!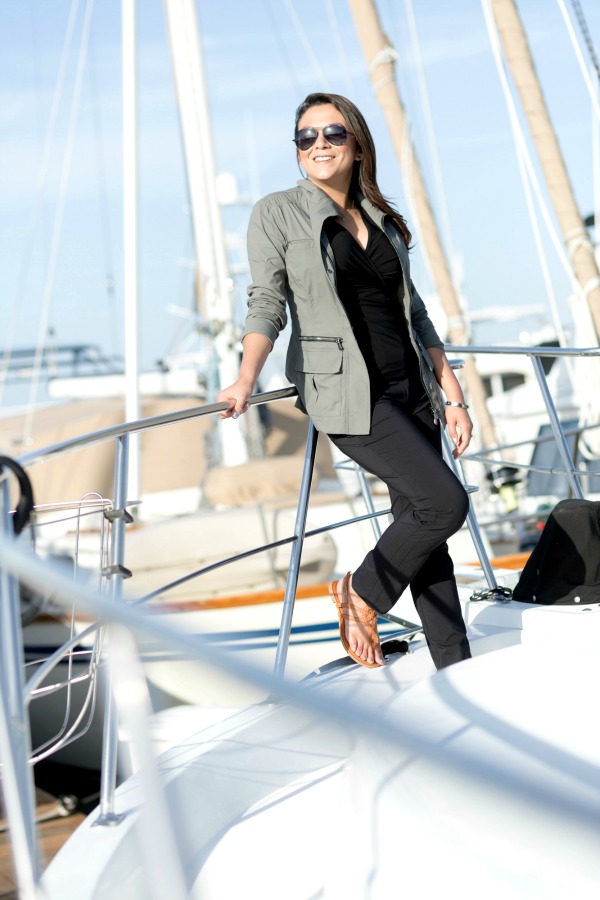 San Diego, CA, USA
They're womens pants for travel that offer chic color
options
Neutral but classic colors like black, gray, khaki, and navy can work well with any color scheme. Having the ability to re-wear your clothing is key to packing light, and it's one of the top reasons I consider these to be the very best travel pants.
I particularly like the gray color because the fabric won't look dirty even if you've worn the pants for seven days straight as I did when I went to remote Raja Ampat in Indonesia.
They also offer seasonal colors if you prefer a brighter wardrobe. I enjoy having these pants in a neutral color to mix and match with everything.
Tip: the Skyler womens travel pants in the black color seem to have a little less give than the grey color.
Chicago, Illinois, USA
They're the best traveling pants for women that do business on the fly
There comes a time in every traveler's journey where we need clothing that's a bit more polished, whether we're meeting important people, flying first class, or doing business. These are the moments when smart travel slacks make more sense than dressed up denim.
But more than how they look, their versatility of these travel dress pants is particularly useful for a business traveler who can wear them comfortably on a flight then head directly to a meeting.
The Skylers are the best travel pants for women who need to look professional at a moment's notice.
 Cambridgeshire, England
They're the best pants for traveling if you plan a little fun in the
snow
The ultimate test is how travel clothing holds up in diverse weather conditions. As the UK froze (and I did, too) I was eager to get out and play in the snow! I made a snowman, went sledding, and even made snow angels all while wearing the Skyler trousers.
I thought I was going to be miserably cold and the snow would seep through the seams, but to my surprise, the fabric was hardly even damp! Even my under layer of thermal leggings stayed dry underneath these lightweight travel pants!
Effective water resistant fabric is a MAJOR plus in my book.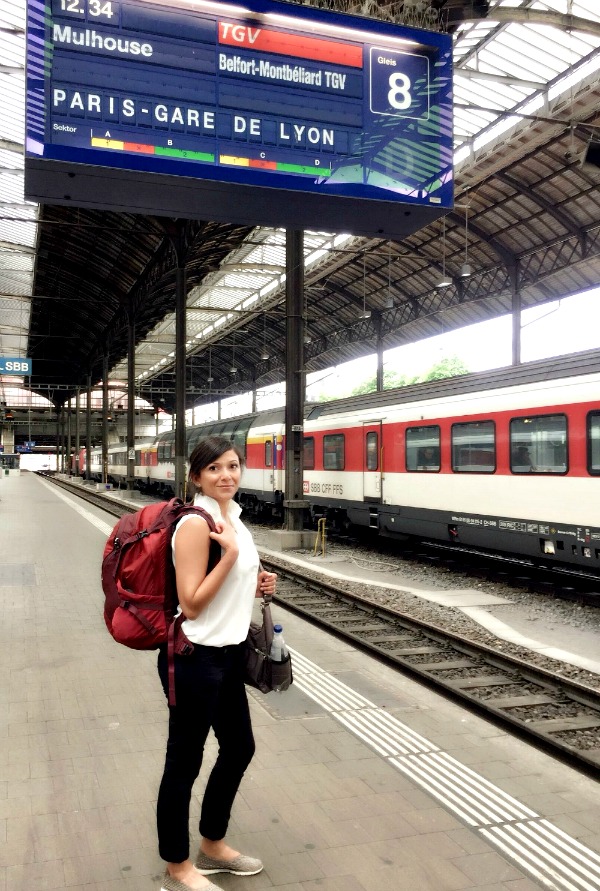 Basel, Switzerland
They're travel pants women of various heights can wear
I'm 5'2" and petite. Although these pants are long and ideal for a tall woman, the fabric is easy to fold in without getting them hemmed. That was my go-to trick before I finally dragged myself to the dry cleaners, to get them hemmed once and for all. An easy fix for a petite traveler like me!
These stylish travel pants are meant to have a tailored fit, so make sure to do just that and head to the tailor for the perfect fit. The sleek and chic style is very flattering, which is why the Skyler gets our top vote as the best travel pants for women. 
If this particular style doesn't suit you, Anatomie has a wide selection of women's travel pants:
Luisa Travel Pants: Stylish travel pants similar to the Skyler, but with a skinnier fit. Ideal for tall women.
Susan Travel Pants: Similar to the Skyler, these pants have a slim fit but have edgy zipper detailing at the ankles and back pockets.
Andrea Contrast-Panel Legging: These "leggings" are AMAZING. They're my second favorite Anatomie pants! They are more structured and pant-like than regular leggings but are super comfortable and even have a pull-on elastic waist. Ideal if you're in between sizes! These are ankle-length and fit perfectly if you're short but fall in the correct spot on your ankle if you're taller.
To find out what our readers think about the Anatomie Skyler travel pants, please read this post!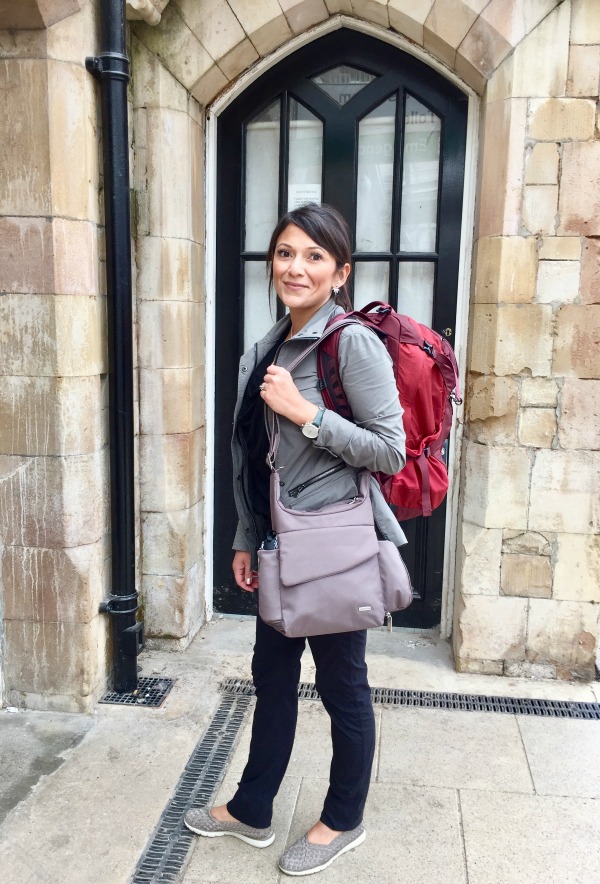 How does the sizing work for the Skylers?
The Anatomie Skyler travel pants are available in sizes XS-XL.
At 5'2″, weighing 110lb, I wore a size small or 4-6 in other clothing brands and fabrics with stretch. Their size small (in the grey color) fits me very comfortably and is not too tight or too loose. Because of my height, I folded them in two inches (prior to getting them hemmed), which is why the length fits well in the pictures.
I own the black and grey colors and found the grey to stretch more and fit less snugly than the black color.
Anatomie has a body type guide and a fit and style guide here: Anatomie Travel Clothes For Women!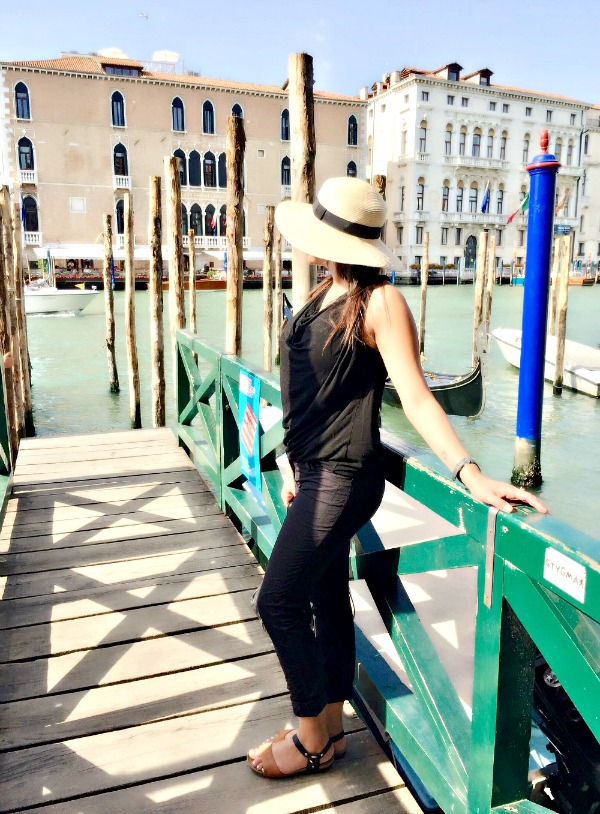 What shoes look best with the Skyler pants?
I've worn them comfortably on long flights and transportation journeys with trainers and with my beloved combat boots for stylish cities like London and Madrid. I used them in Thailand on the beach with my flip flops and with wellies to play in the snow with them in the UK. I've worn them with hiking boots and even paired them with heels for drinks with the girls in LA and they loved them. 
It's rare to find a pair of stylish skinny travel pants that are this functional, but the Skylers definitely fit the bill!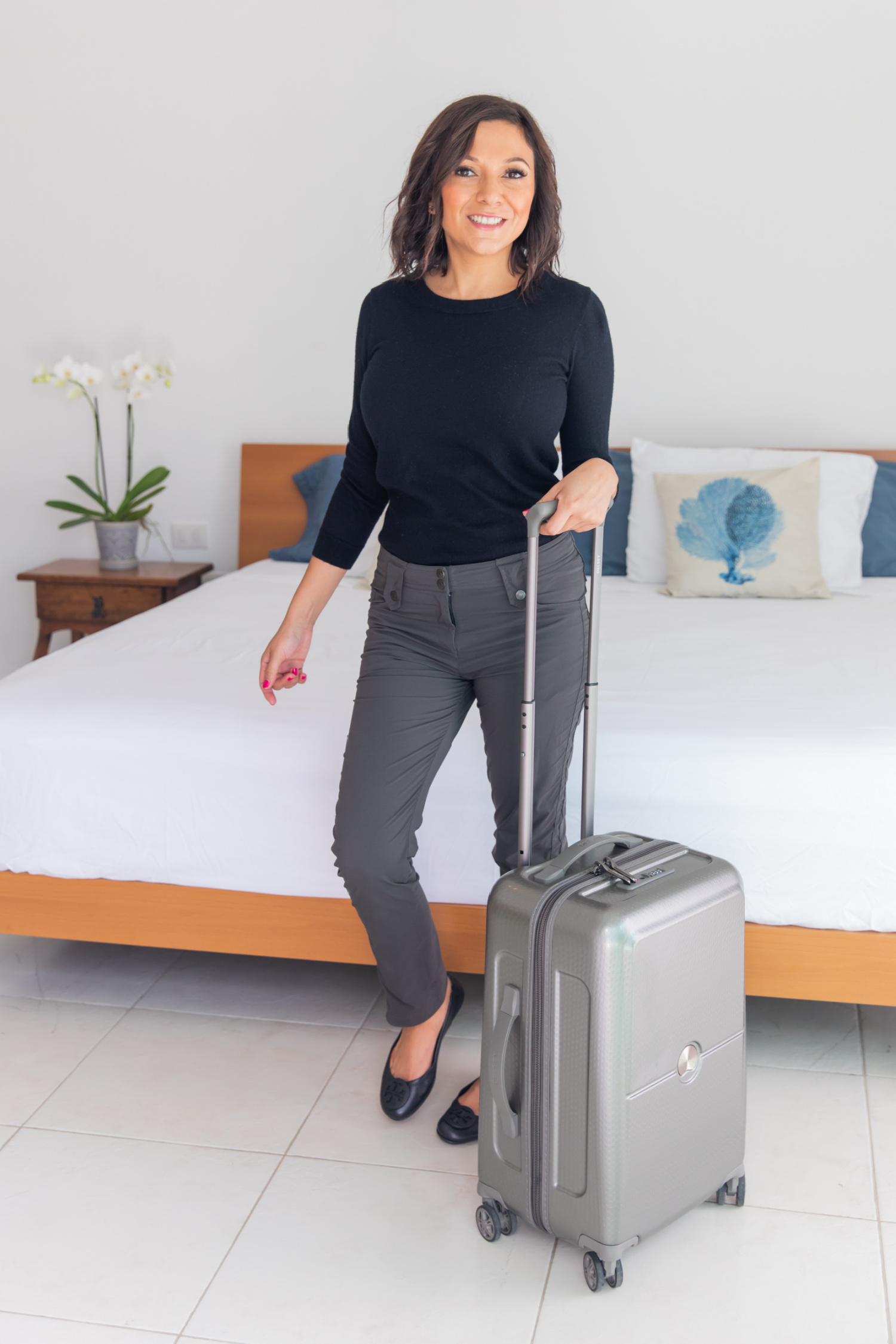 Why are the Skyler pants so expensive?
The Skyler Travel Pants are manufactured in Europe and all materials are sourced there, too. Anatomie products are top quality and Forbes named them the Luxury Travel Brand of the Year!
The good news? These travel pants are pretty much perfect! The not so good news. They're an investment item so we have a special offer exclusive for our readers: save 15% OFF your ENTIRE order when you use our VIP link: https://anatomie.com/tfg-discount.
As a bonus, the discount is applied to your ENTIRE order and is automatically calculated at checkout. (Valid only on full priced items.)
For travel pants in other price points and styles, please visit this page for a full list!
Product Review Video
To learn more about the Skyler Anatomie pants, please watch the video below:
---
Have you tried the best travel pants for women on your adventures around the world? Comment and share below!
---
For more of the best women's travel pants, please read:
---
LIKED THIS POST? PIN THIS PIC TO SAVE IT!
Disclosure: When I first started TFG, I reviewed Anatomie's clothing and fell in love with the Skylers. I genuinely think they have the best travel pants for women and hope you enjoy them as much as I do. I get a small commission for any purchases (at no extra cost to you). Thank you!
---
I hope you enjoyed this post on the best travel pants womens! Please share this with your friends on Facebook, Twitter, and Pinterest!
---