Support TFG by using the links in our articles to shop. We receive a small commission (at no extra cost to you) so we can continue to create helpful free content. As an Amazon Associate, we earn from qualifying purchases made on Amazon in addition to other retailers featured on the blog. Thank you, we appreciate your support!
Please oh-please promise me one thing: you'll never pack a full size blow dryer to go anywhere. If there's one surefire way to add weight and waste valuable packing space it's with this styling tool.
With so many travel-size options available I'm always surprised when I see a traveler with a full-size blow dryer. But, do you even need a travel blow dryer? Here's what we think.
---
Travel Blow Dryer: Do or Don't?
---
Table Of Contents
Before we discuss the pros and cons about packing a travel blow dryer, let's figure out if you can use the one you already own abroad.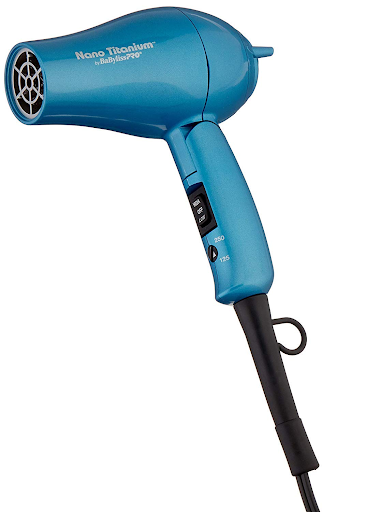 BaBylisspro Nano Titanium Travel Dryer
Is it okay to use you hair dryer when traveling abroad?
Having the right voltage is crucial when you use electronics abroad including your hair tools. Because blow dryers and flat irons (straighteners) require a large amount of power, you need to look for products with dual voltage options.
Read this post for the best dual voltage flat iron (straightener)!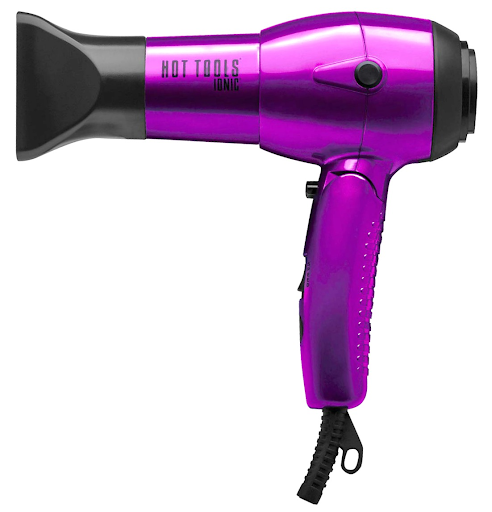 Hot Tools Professional Travel Dryer
What is a dual voltage travel blow dryer?
A dual voltage blow dryer has two voltage options: 110-120V and 220-240V.  They are ideal for travel because they are safe to use at home and abroad, too.
Some electronics, such as newer Macbooks and iPhones have dual voltage that automatically adjust in their destination. However, other electronics such as hair tools you need to adjust the voltage manually by moving a switch.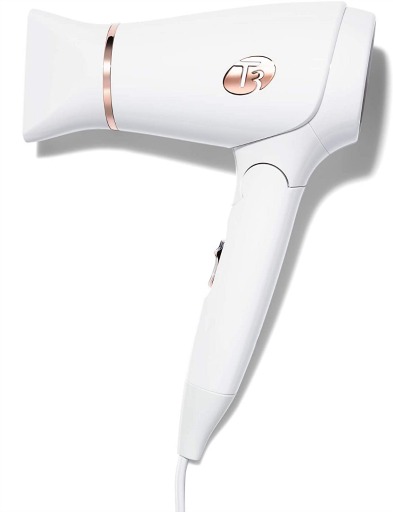 T3 – Featherweight Compact Folding Hair Dryer
Why do you need a dual travel blow dryer for international travel?
Voltage refers to electricity; different countries have different types of electricity. This means that your electronics are the same voltage as the country in which you bought them so if you take them to another country, they may not work.
For example, in the US we use 110-120V whereas in Europe they use 220-240V. If we plug our electronics into each other's outlets they can blow a fuse and stop working. In some cases, they can even fry your hair.
Visit this website for a full list of voltage by country.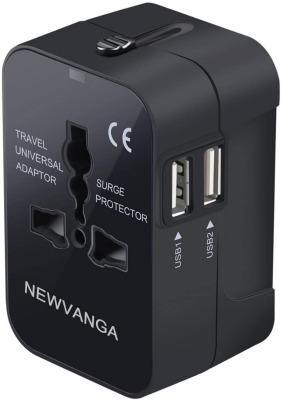 International Adapter for Multiple Countries
Your travel blow dryer needs to have two things in order to work in other countries:
Hair tools such as blow dryers, wands, curling irons, and straighteners use up a large amount of electricity so it's particularly important that they are used with the correct voltage.
Some hair tools are designed so they can be used in different countries. This means they'll be labeled as "dual-voltage".
Choosing an adapter for travel blow dryers and other electronics:
A travel adapter enables you to plug your electronics into international outlets. Not all countries use the same type of plug so I recommend you buy an international adapter like this.
Visit this power outlet guide for travelers to see a full list of plugs and outlets by country.
Keep in mind that this not guarantee your hair styling tool will work as well abroad as it does at home, even with the dual voltage setting. Flat irons generally work well but hair dryers tend to experience more issues.
Now that you know the essentials of how to choose the best travel blow dyer, these are things to keep in mind when deciding whether or not to travel with one: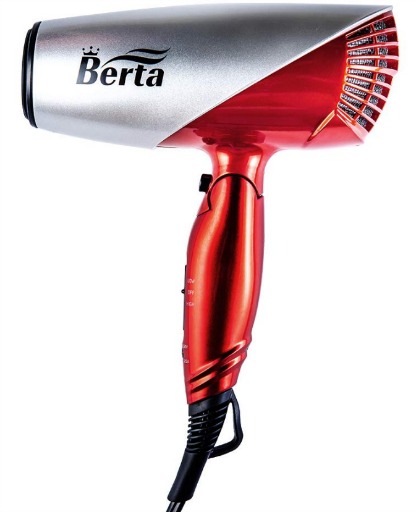 Berta 1875W Folding Hair Dryer
Does your accommodation have a blow dryer?
Unless you're staying in dorms or in budget guesthouses, most vacation accommodations such as hotels offer blow dryers in your rooms. How do you know? Find out. Email or call your hotel and ask them if they provide this amenity for their guests.
You may be surprised to find but some flashpacker hostels do provide them and sometimes flat irons (straighteners) too. All you have to do is ask to be sure. When I stayed in nicer hostels in Australia I found that they had hair tools available and you could pay per use.
If you're using Airbnb accommodation (smart lady!) contact your host to find out if they provide this along with other items such as clothing irons. Just a little bit of research can help you avoid packing a travel blow dryer that you didn't need to bring.
Find out some of our budget travel essentials!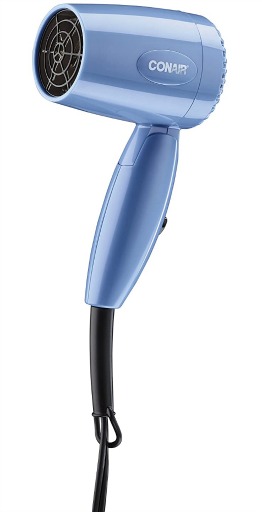 Conair Compact Folding Hair Dryer
If your accommodation doesn't offer one, choose a foldable style
If you're unsure if your accommodation will have a hair dryer or if you want to bring along your own try to find a travel size version. The best ones are those that fold so they don't take up an awkward amount of space in your suitcase.
The blue BaBylissPro shown previously is extremely lightweight and compact. Not only is it a reader favorite it's our, too.
Curly haired traveler Vanessa Yates shared her curly hair travel tips and recommends this Hot Tools foldable travel blow dryer with an attachable diffuser and dual voltage setting.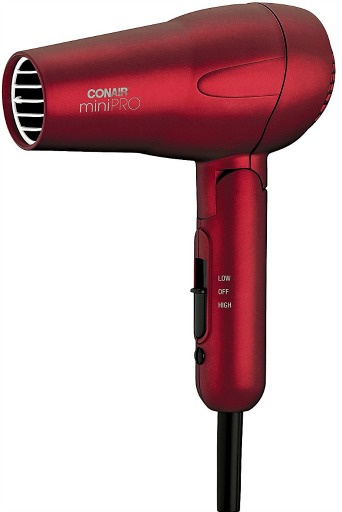 MiniPRO Tourmaline Ceramic Styler
To ensure you won't have voltage problems, buy one there.
The ideal situation would be to pack a foldable travel blow dryer with dual voltage options like the ones shown above. However, this feature doesn't always guarantee it won't blow a fuse when you arrive ruining your dryer and possibly frying your hair. Sometimes it's better to buy locally at the airport or drug store.
Dealing with changes in voltage can be concerning to some travelers especially if you're headed to Europe. To avoid voltage issues with travel blow dryers, it might be easiest to buy one upon arrival especially if you plan to spend an extended period of time in your destination.
If you're traveling with hair tools, read more tips on dealing with voltage abroad!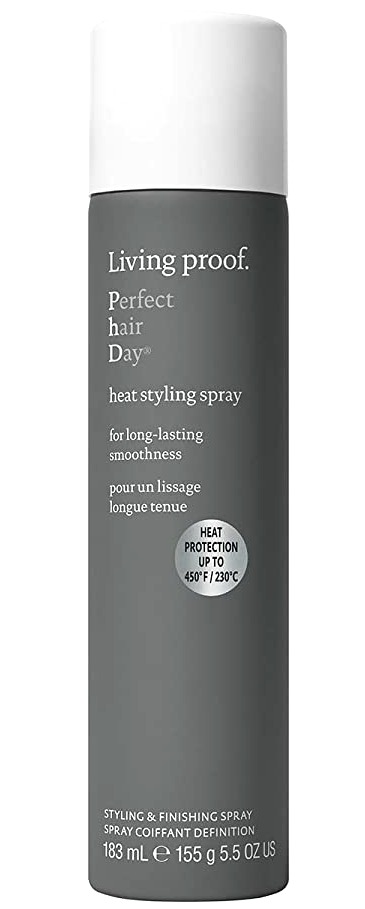 Living proof Perfect Hair Day Heat Styling Spray
If you're headed to the tropics or the seaside, go natural.
Many women decide to ditch their hair styling tools and just go natural especially for humid or sea side vacations. Remember, a good hair style adds the perfect finishing touch to any well-planned travel outfit so you may want to have a well-groomed do when traveling in major cities.
Here are a few articles to create easy, natural hairstyles on the go: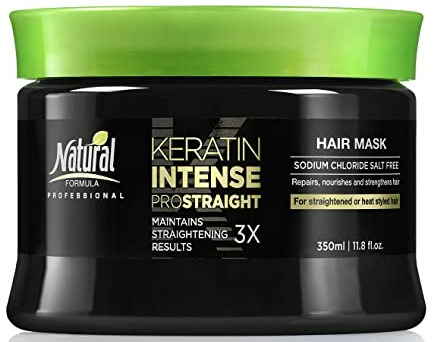 Keratin Infused Straightening Mask
Make a semi-permanent change
I like the beach, which usually equates to hot and humid weather. No way am I struggling against the weather. Unless I'm traveling in a metropolitan city, I never pack a travel blow dryer or flat iron.
What do I do? I cheat! I straighten my hair permanently. I used to use a Japanese straight perm but more recently I've been doing a Keratin treatment. This may not be for everyone but ladies with unruly waves or crazy curls (like me) may benefit from a temporary or long term smoothing solution. Make sure to research any treatments properly before trying anything new!
In my case, I've been doing this for 13 years so I'm 100% sure this works for me. I have naturally thin, frizzy, and tightly curled hair. These treatments are lifesavers! I have them done every four-six months.
---
Ladies, what do you think? Should you or should you not pack your travel blow dryer? Comment below!
---
For more travel beauty tips, please read:
---
Hope you liked this post on whether or not you should pack a travel blow dryer. Please share it with your friends on Facebook, Twitter and Pinterest. Thanks for reading!
---