Support TFG by using the links in our articles to shop. We receive a small commission (at no extra cost to you) so we can continue to create helpful free content. Thank you, we appreciate it!
Over the last couple of years, fashion trends are leaning more toward comfortable, simple, and easy to wear clothing. Focusing on low-key pieces, and dressing them up or down for the occasion. This is great news for female jetsetters. Now you can wear trendy clothing that makes sense for travel, too.
Don't miss out on this current travel fashion trend: joggers for women. Find out why.
---
Trend Alert: Joggers For Women 
---
Wouldn't you love to leave the house in your sweats and not worry about weird looks from strangers? Utilizing the jogger pant in your travel wardrobe is a great way to pull off comfortable lounge pants any time of day.
Technically joggers are spruced up sweatpants, but are usually more fitted and taper towards the ankle. They can be found in the traditional heavy knit, but now stores are carrying them in tons of different materials from linen to leather. Using your destination as your guide, you should easily be able to find joggers for women to suit your travel needs.
Going to a tropical climate?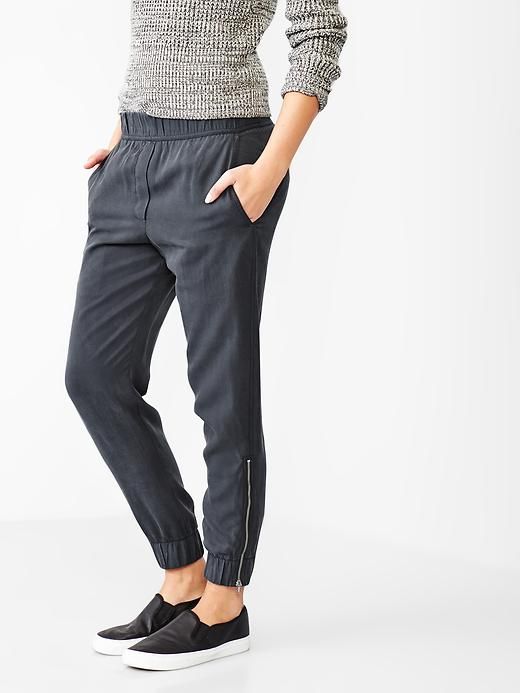 A light airy pair is comfortable enough for the plane, but can keep you cool while exploring a new area. Little details, like a zipper ankle or moto style, keep it from looking lazy or sloppy.
Pack your joggers into a slim packing cube to save space in your suitcase.
Need more warmth?
Try french terry or fleece lined joggers for women to keep you warm and toasty in the winter. Both of these styles would look great with slip on sneakers or heels for a night out.
Pairing with heels?
It may be intimidating at first, but with a little creativity and confidence you can easily pull it off. Create an interesting contrast with a sparkly top or blazer, and add a clutch to make the transition to night effortless.
You'll want to look your best when you travel! Read my travel tips to Pack Light Stylishly!
What to look for?
Now that you are sold on the benefits of bringing jogger pants on your next trip, these are a few tips on what to look for in the fit of your pants. The top of the pants normally hit right above your hips and can be elastic or drawstring. They are usually loose up top and may have a slight drop in the crotch, similar to harem pants, but not as drastic. The legs taper as you move down with a banded ankle.
Try bunching the ankles up for another interesting look.
Can be a great alternative?
Since the length and ankle are similar to a skinny jean, they can be a great alternative that doesn't sacrifice comfort.
Unlike skinny jeans your thighs are free from constricting fabric, and the material can be more breathable. Joggers for women look best paired with fairly loose or fitted tops with a shorter length. To make a longer top work, you can try loosely tucking in front or knotting it at the side.
Sleeveless | Shirt | Blouse | Shoes | Pants
---
There are not many items that can be added to your travel wardrobe with the versatility of joggers for women. The best part is that when you get back from your trip you can still rock them at home or on the weekends. You'll find that they are easy to wear, go with anything, and are so comfortable you will be reaching for them more often than not.
What are your favorite joggers for women? Share in the comments?
---
For more ideas on travel pants, please read:
---
Hope you liked this post on joggers for women. Please share it with your friends on Facebook, Twitter, and Pinterest. Thanks for reading!
---