Support TFG by using the links in our articles to shop. We receive a small commission (at no extra cost to you) so we can continue to create helpful free content. As an Amazon Associate, we earn from qualifying purchases made on Amazon in addition to other retailers featured on the blog. Thank you, we appreciate your support!
Recently, fashion trends are leaning towards comfort and simplicity. The focus is now on low-key pieces and dressing them up or down for whatever the occasion. Now, there are trendy joggers for women everywhere, including travel. Check out our reader recommendations!
---
Trend Alert: Joggers for Women
---
Table Of Contents
Wouldn't you love to leave the house in your sweats and not worry about weird looks from strangers? Wearing womens joggers outfits while traveling is a great way to pull off a comfortable look any time of day.
Technically, the joggers' fashion trend is nothing more than spruced-up sweatpants, but they are usually more fitted and taper toward the ankle. They can be found in traditional heavy knit, but they also come in a variety of other materials, from linen to leather. Using your destination as a guide, find the right joggers for your trip among the great recommendations from our readers.
The Best Joggers for Women Recommended by Readers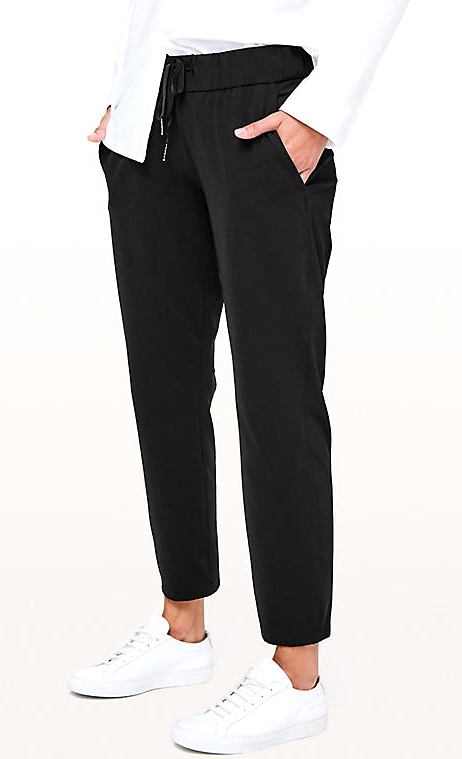 Lululemon On the Fly Pants
A fashion joggers womens choice are these stylish Lululemon pants that are casually elegant but functional and offer tons of comfort and durability. 
TFG may be somewhat responsible for our readers' obsession. One says, "This is the group that got me so addicted to On the Fly pants." (Guilty as charged!)
 You'll want to look your best when you travel! Read my travel tips to Pack Light Stylishly!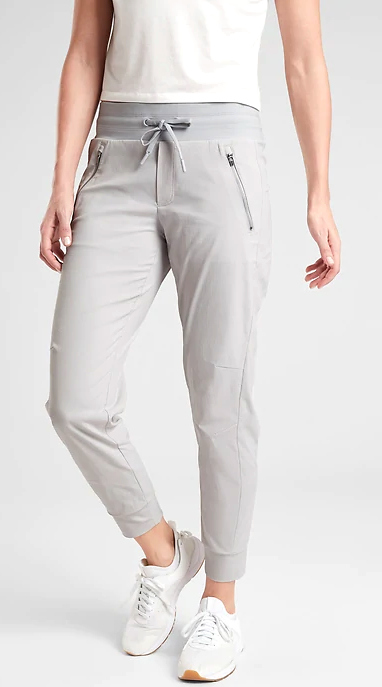 Athleta Trekkie Jogger
Many adorable girls jogger outfits have been created with these Athleta pants—just ask our readers. They are really that awesome! These pants come in several colors and the fabric is SO soft, one reader wore a pair on the plane and then lived in them for the next three days!
They are also easy to wash, quick to dry, and can be dressed up or down, depending upon your mood. These pack small too, so bring more than one!
Find out why Anatomie Skyler is the ultimate travel pant!

J. Crew Dreamy Pajama Jogger Pant
J. Crew Dream Pajama Pants
J. Crew and Gap both have cotton blend joggers, which are favorites of many TFG readers. These are more of a loose joggers womens style, meaning they don't go much above a smart, casual look because their shape is similar to actual sweatpants, but that's no matter. One reader says, "I like that they're not skinny." 
Take a look at our convertible travel pants for women!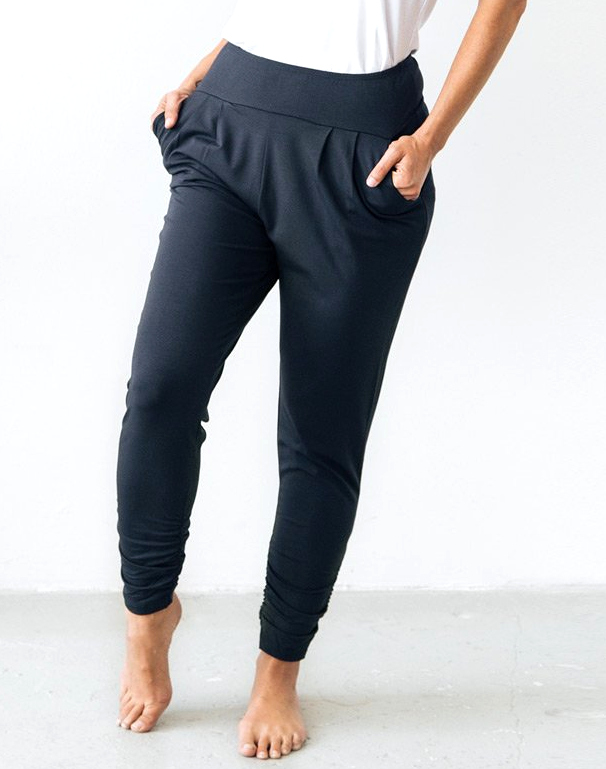 Encircled Dressy Sweatpant
Readers insist "sweatpant" is a misleading description for these joggers by Encircled—they can be worn in a more proper setting, too. One says, "These are not sweatpants at all! They're super comfortable. I wore them to an executive dinner with a white silk blouse and ballet flats. I was the only comfortable woman in the room!" Talk about redefining the womens jogger pants trend!
Check out the best travel leggings!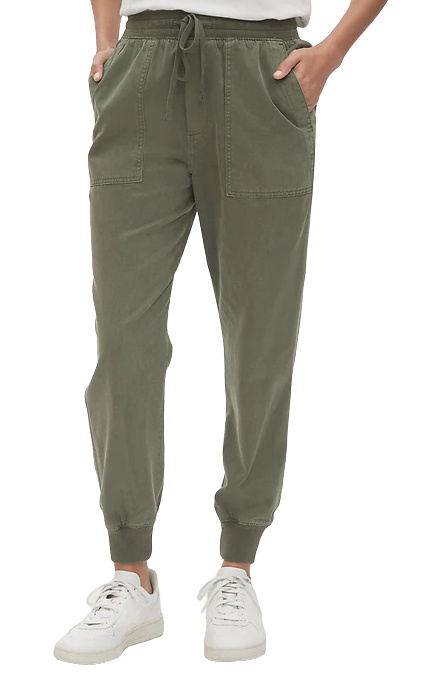 Gap Utility Joggers
Readers love these Gap pants, saying they are perfect for travel, especially during the summer months. One calls them "cooler, comfortable and dressier than sweatpants," and another says they are her new favorite find. "They feel like pajamas but look a little more pulled together." These definitely fit into the joggers trend and absolutely rock as pants to wear on a long flight.
Our readers recommend the best cold weather patns!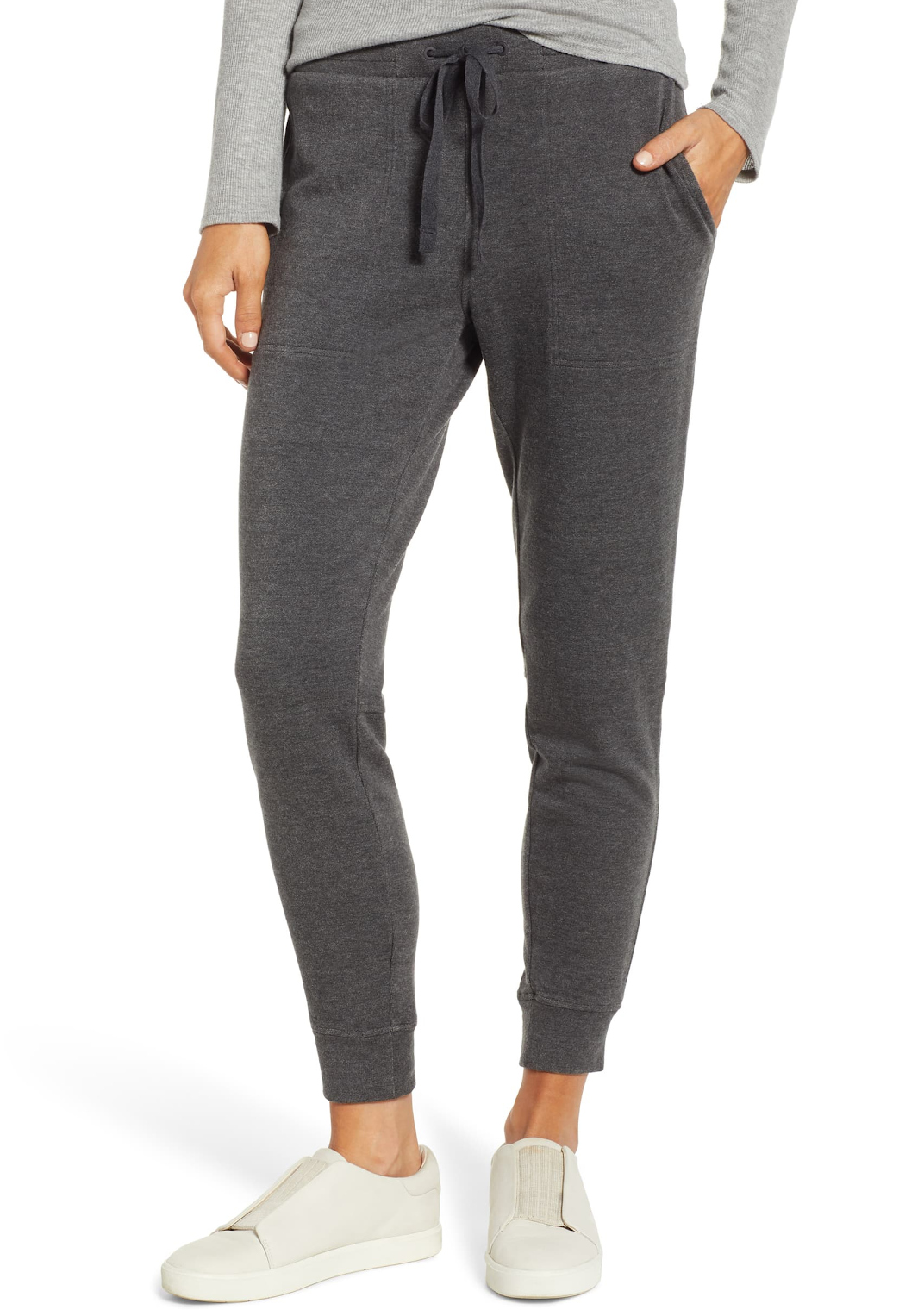 Lou & Grey Zen Bounce Upstate Sweatpants 
Lou & Grey Sweatpants
We've all been squeezed into an economy seat on long haul flight and have worn the wrong thing and instantly regretted it. If you choose these Lou & Grey sweatpants you'll be happy with that decision for the duration of your trip. One reader calls them '"the MOST comfortable I've ever worn," while another tells us, "I travel in them exclusively. They are well made and last for years." Any jogger outfit for women should include these soft pants, on or off the plane!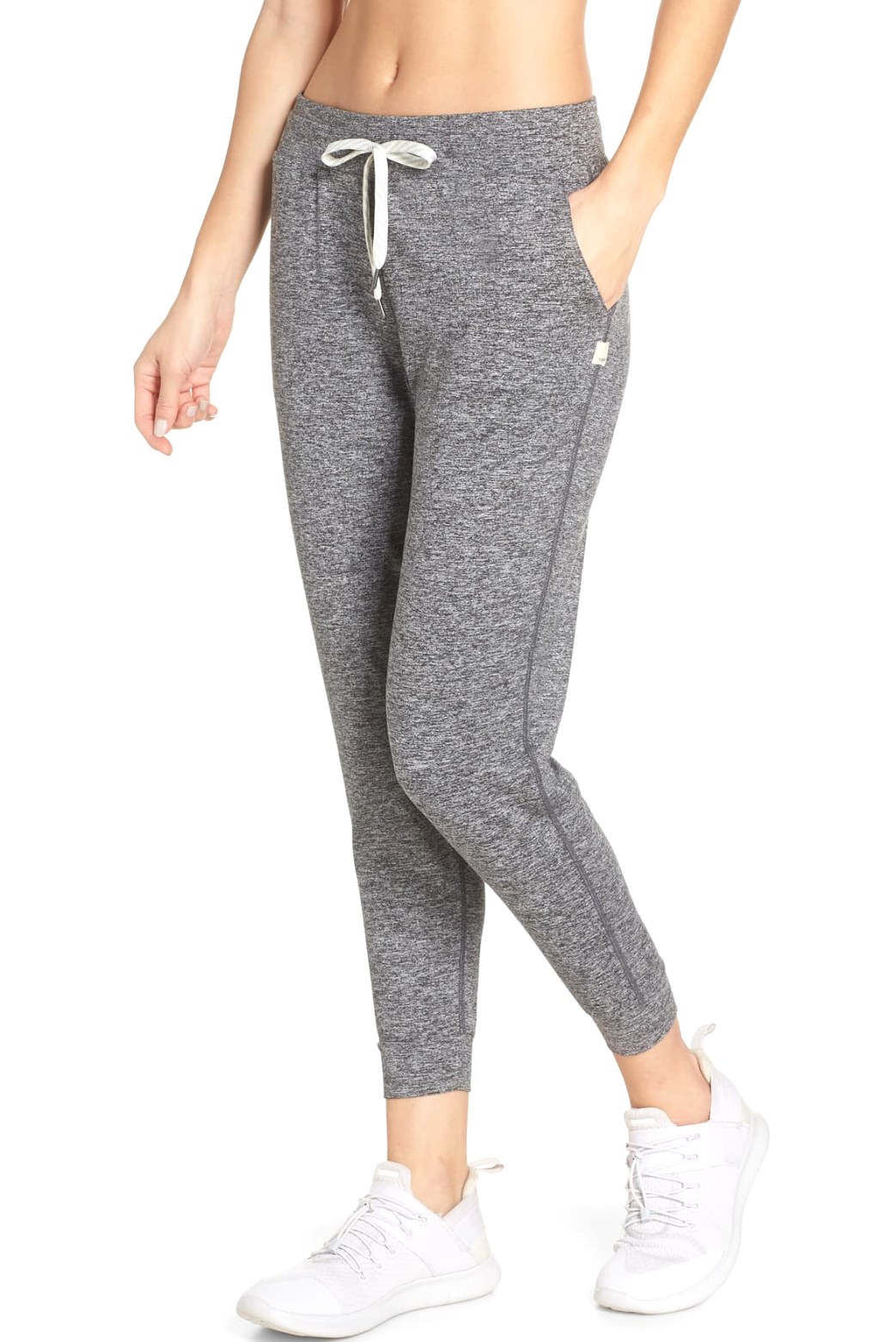 Vuori Performance Jogger Pants 
Vuori Jogger Pants
Want a sporty look with long-lasting quality and comfort? Plenty swear by Vuori Performance as their go-to travel pant, as one says, "I have a pair of cotton knit Vuoris that I wear as my plane outfit." Because of their soft, breathable material that seems like a wise choice!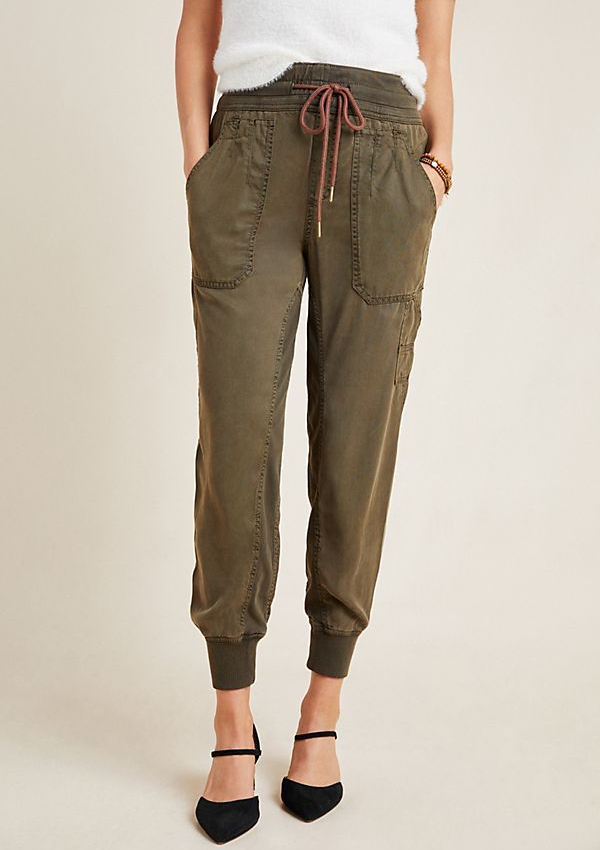 Anthropologie Mixed-Knit Jogger
Anthropologie Mixed-Knit Joggers
These Anthropologie pants are a soft, relaxed tencel that will get you through any journey in comfort. And because they are a bit of an exaggerated Capri cut, these are great joggers for short women, too! 
Readers also love their cargo-style pockets, which are perfect for carrying your small valuables when touring any city. One reader who's leaving for London, says she's "planning on wearing these a lot."
Joggers for Women Comparison Chart
| BRAND | MODEL | FEATURES | REVIEWS | RATING | PRICE |
| --- | --- | --- |
| Lululemon On The Fly ⅞ Pants  | "This is the group that got me so addicted to On the Fly pants." | Check Price |
| Athleta Trekkie North Jogger | "They are really that awesome!" | Check Price |
| J. Crew Dreamy Pajama Jogger Pant | "I like that they're not skinny." | Check Price |
| Encircled Dressy Sweatpant  | "These are not sweatpants at all! They're super comfortable" | Check Price |
| Gap Utility Jogger | "They feel like pajamas but look a little more pulled together." | Check Price |
| Lou & Grey Zen Bounce Upstate Sweatpants  | "I travel in them exclusively. They are well made and last for years." | Check Price |
| Vuori Performance Jogger Pants  | "I have a pair of cotton knit Vuoris that I wear as my plane outfit." | Check Price |
| Anthropologie Mixed-Knit Jogger | "Planning on wearing these a lot." | Check Price |
Will Joggers Work in a Tropical Climate?
These pants are certainly cozy enough for the plane, but are joggers comfortable enough for a hot destination as well? The key to choosing a pair for a warm climate is the fabric. Seek out breathable, airy textiles like cotton, linen, or specific fabric that's designed to wick away sweat.  
A popular joggers outfit women love for summer destinations is sandals or flip-flops with a white tee, sun hat, and polarized sunglasses. You'll be ready for a day at the beach that includes a stop at a sunnyside cafe for lunch!
Do They Provide Leg Warmth?
Try french terry or fleece-lined joggers for women to keep you toasty in the winter. Both styles are comfortable and versatile. 
When it comes to styling jogger pants for women outfits in the colder months, pair a cozy hoodie with slip-on sneakers for casual outings or merino wool sweater in a rich, earth-tone with gold earrings and low-heel ankle boots for a night out.
Can They Pair Well With Heels?
It can be hard to imagine embellished joggers outfits for women who love to dress up, given that these are often called "semi-fancy sweatpants," but with a little creativity and confidence, you can easily pull this look off really well! Little details, like a zipper ankle or moto style, keep them from looking lazy or sloppy. 
Create an interesting contrast with a sparkly top or blazer, chunky jewelry, and a clutch. To finish off an elegant nighttime look, pair with traditional heels, closed-toe wedges, or sandal wedges (dependent on the season!).
Are They a Great Alternative to Denim?
Since the length and ankle are similar to that of skinny jeans, the women fashion joggers trend is an awesome choice that doesn't sacrifice comfort. Your thighs are free from constricting fabric and their material is more breathable. 
Joggers for women look best paired with loose or fitted tops which are shorter in length. To make a longer top work, you can try loosely tucking in the front or knotting it at the side.
How to Determine the Best Fit
Now that you're convinced that joggers on women look great and are sold on the benefits of bringing these cute pants on your next trip, these are a few tips on what to look for in fit. 
The waist should hit right above your hips and can be elastic or drawstring. They are usually loose at the top of the leg and may also have a slight drop in the crotch. (Think of them as similar to harem pants, but not as drastic.) The legs taper as you move down and end with a banded ankle. Try bunching the ankles up for another interesting look.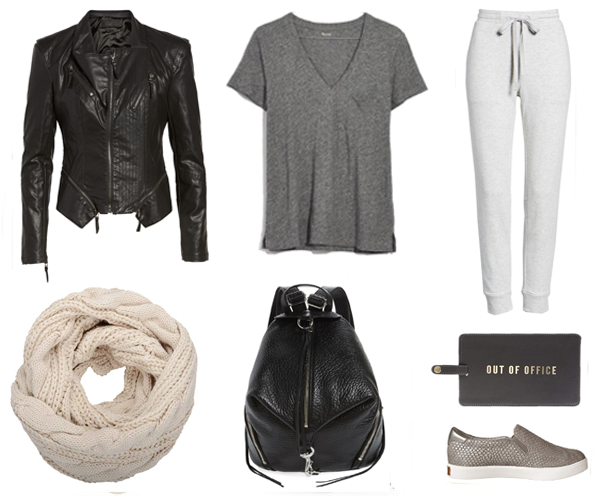 Jacket | T-shirt | Joggers | Scarf | Backpack | Luggage Tag | Slip-ons
You can learn our hacks with packing cubes in this video!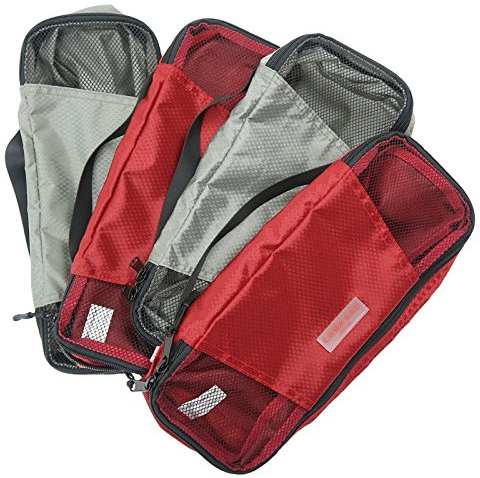 How to Pack Joggers
Packing cubes will change the way you travel. You can use them for your personal items and keep your belongings organized for your journey! We've designed our own brand of slim packing cubes with a unique color and numbering system, so it's easy to remember where you've packed everything, including your joggers!
We put together a five-part YouTube series showing the different methods to use packing cubes for travel. If you use this specific packing strategy, packing cubes can also compress your belongings. This is the secret to traveling carry-on only!
---
What are your favorite joggers for women? Share and comment below!
---
For more ideas on pants for travel, please read:
---
LIKE THIS POST? PIN THIS PIC TO SAVE IT!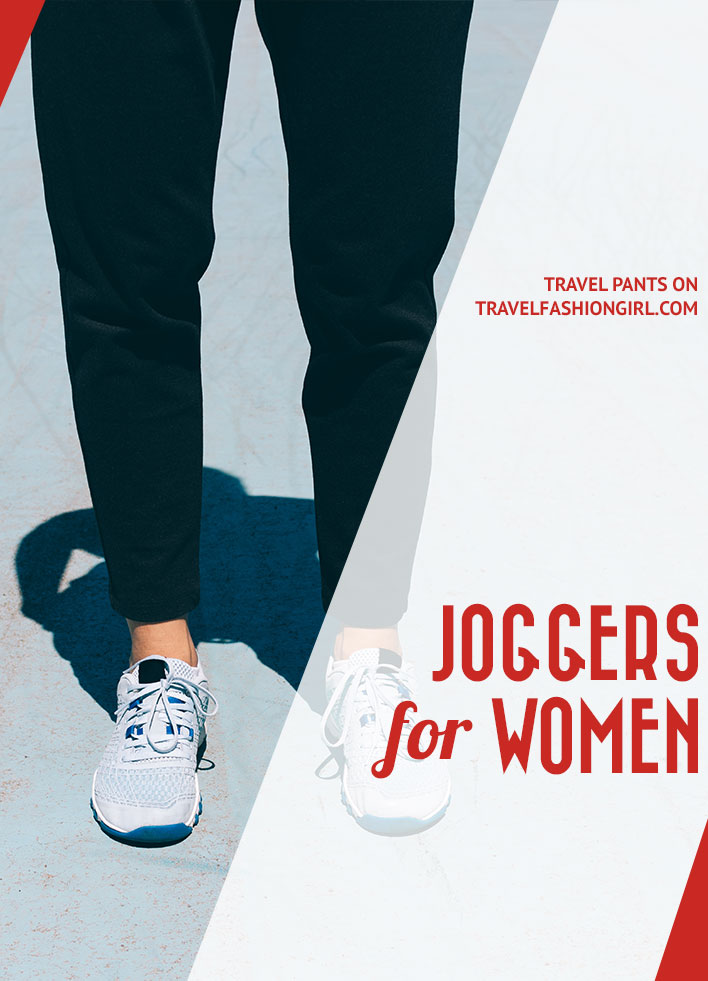 ---
Hoped you liked this post on joggers for women. Please share it with your friends on Facebook, Twitter, and Pinterest. Thanks for reading!
---