Support TFG by using the links in our articles to shop. We receive a small commission (at no extra cost to you) so we can continue to create helpful free content. As an Amazon Associate, we earn from qualifying purchases made on Amazon in addition to other retailers featured on the blog. Thank you, we appreciate your support!
Do you like to hike? Stay safe and warm while out on the trail courtesy of adventure junkie Tammy Lowe. Here, she shares her quintessential hiking gear list of must-have products. Know what to take with you before making YOUR trek and share this "what to wear while hiking for women" list with your friends!
---
Best Hiking Gear for Women
Written by: Tammy Lowe
---
Table Of Contents
Whether you're hiking in the Himalayas, the British Lake District, or the Andes, your trek gear and clothing should help make your adventure a relative breeze. There are certain basics that everyone should have on their hiking gear list. 
This list includes trekking clothes and hiking gear for women who are on less technical hikes. If your trek is more extreme or at altitudes above 5500m in places like the Cotopaxi volcano in Ecuador or Huayna Potosi in Bolivia, you will need specialized equipment such as crampons, ropes or ice axes, which will help you traverse across snowy or icy terrain.
Layered Trekking Outfits for Females
As any experienced hiker knows, you're likely to trek through various altitudes and climates on a hike, and the best way to dress for any trek is to wear layers.
The weather in the mountains is notoriously tricky to predict—one minute, you're able to trek in just a t-shirt as it is beautifully warm, but the in the next, it may be clouding over with a snowstorm headed in your direction. Keep in mind that you should be prepared for changing temperatures at any time and it is best to pack at least four different layers in your day pack.
Merino Wool Thermal Top | Merino Wool Thermal Bottom
Wear a Comfortable Base Layer
Your base layer should consist of a high wicking material to absorb moisture away from your body and clothes as you hike. T-shirts or leggings made with merino wool will keep you dry even if you do sweat. 
All of my trekking tops are from Icebreaker such as the Everyday Long Sleeve Top — they keep me warm when it's cold and cool when it's warm. Their hiking clothes for women also look pretty, which is quite unusual and a bonus for technical clothing.
Columbia Women's Benton Springs Classic Fit Full Zip Soft Fleece Jacket
Girl Hikers Stay Cozy in Mid-Layers
When the temperature drops or you're resting from a long day's trek, it is good to have a fleece or merino wool hoody handy. Never pack a cotton sweatshirt! Not only is it bulky but cotton absorbs moisture and would be impossible to dry if you get caught in a downpour. Stick to technical fabrics for your mid-layer to ensure you stay dry and safe, too.
These are our most recommended travel fleece jackets!
Shop Sizes 2-16: Amazon | REI | Columbia | Zappos
I would also recommend adding trekking trousers to your list as they have plenty of pockets for snacks and other necessary items. More importantly, they are windproof and dry very quickly. I have seen hikers wearing jeans who soon regretted their decision after they developed a nasty rash on their thighs when their pants got wet.
Columbia Womens Arcadia II Rain Jacket | Sizes XS-3X Plus
A Good Outer Layer is a Great Weather Defense
I always pack both a wind and waterproof jacket and trousers to protect me from the elements. There is nothing more miserable than trekking in wet clothes—once you're wet, you'll get cold, and that's when you risk developing hypothermia. For extremely high altitudes, wearing a down jacket is essential. I can't stress this enough.
When I did the Everest Base Camp trek, I had to wear my down jacket at night. Even when we were at an altitude of just 2500m, the temperature went well below freezing. If you get cold quickly, then take some fleece or down items with you. It's better to be more prepared than less!
Best Footwear for Your Fashionable Hiking Clothes
So now that you know the best hiking clothes for women, you need to address your footwear. Your hiking boots are probably the single most important item to take with you—they can make or break your trek. If they are too big, too small or just not comfortable, you'll be in hiking through hell your entire journey. You can end up with very painful blisters or worse—you can lose your toenails!
Merrell Women's Moab Ventilator Mid Hiking Boot
Take a Pair of Comfortable Hiking Boots
When adding any footwear to your hiking gear list, always try on different boots before you buy them. Once you've found a pair that fits you well and you feel comfortable in them, make sure you break them in correctly. Wear them a few weeks in advance of your trek to get your feet acclimated to the boots by walking around in them a few hours a day.
My preference is for higher boots as they protect my ankles better. TFG readers recommend the Merrell Moab Ventilator Boot. To this day, I have never had any blisters due to my Mountain Warehouse boots, and I have done a lot of trekking in my life. Here are a few more ideas on the best vegan hiking boots for eco-friendly travelers who like stylish hiking clothes.
These are the most recommended hiking boots!
Shop: Amazon | Zappos | Walmart
Outdoor Sandals For Your Summer Hike
You'll need to get out of your trekking boots at some point in the day. When you're ready to finally take your boots off and relax a little, I recommend bringing a pair of comfortable flip flops with you to wear in the evenings.
Also, to prevent your feet from wrinkling because of moisture, just coat them with talcum powder to completely dry them. Trust me—there's no greater feeling after a long hike than when your feet are fully talced up for the evening.
When packing your best hiking clothes for summer, bring something lighter for your feet. The Chaco ZX2 sandals are made to hit the trails.
Shop: Amazon | REI | Backcountry | Zappos 
Hiking Socks Are a Must for Trekking
When packing clothes for hiking, don't forget to bring socks! Invest in a few pairs of quality hiking socks if you can. Socks such as the Darn Tough socks have cushioned areas for the toe and heel, both of which will help prevent you from getting blisters. It is also advisable to get socks that are made with a high wicking material (such as merino wool) to keep your feet dry.
You can get hiking socks with different thicknesses, depending on whether you are hiking in warmer or colder climates. Just don't forget to give your feet a little breathing room—they will tend to swell up the warmer they get.
More Hiking Apparel for Women to Add to Their Hiking Gear List:
Cover Your Head with Ample Headgear
Take a wide-brimmed hat that covers your neck and face to prevent you from getting a sunburn. It doesn't matter what the climate is; a hat is always a necessity—I also take a woolly hat for when it gets colder.
BUFF CoolNet UV+ Adult Multifunctional Headwear and Face Mask
Add a Versatile Scarf to Hiking Outfits for Women
Take a cotton or merino wool scarf to protect your neck from the sun and keep you warm when temperatures drop.
Terramar Thermasilk Glove Liner
Keep Your Hands Protected
I always take a pair of lining gloves and a pair of windproof gloves on my hikes. Lining gloves can be worn by themselves when it gets chilly, but not when it gets too cold. For that, windproof gloves are your best bet. You don't want to end up with frostbite.
Essential Gear for Hiking Girls
You know what the best hiking clothes for women are, but what about the gear you can't wear? I always add the following items to my hiking gear list. They make every trek easier and much safer.
Keep Illuminated with a Headlamp
A headlamp will keep your hands free for holding trekking poles or a camera and taking night time toilet visits. From my experience, most mountain lodges in developing countries don't have electricity at night. A headlamp like this one is always essential on every trek—it will pay for itself many times over.
Don't Forget Trekking Poles
Some people don't like them, but I find them essential for hiking. When you're tired on an uphill hike, you'll have something to lean on. For downhill hiking, they will prevent your knees from getting battered. If you don't want to buy them outright, you are usually able to rent trekking poles from local outdoor shops.
Osprey Sirrus 36 Hiking Backpack
Bring a Big Backpack
After your boots, your backpack may be the second most important item on your list. Consider what kind of size you need by asking yourself the following questions: How long is the trek? Will you hire a porter? Will all your backpacking clothes fit?  Make sure to try on different backpacks to for comfort—your back and shoulders will thank you for it.
Also, try and get a backpack that has a rain cover included as it will prevent the gear and clothes inside from getting wet when it rains. I love my Berghaus Capacitor 35 backpack  (similar item) which has its own integrated rain cover.
For more tips, please read our step by step guide to choosing the best travel backpack!
Kelty Cosmic 20 Degree Down Sleeping Bag
Sleep Well in a Proper Sleeping Bag
If you need to camp under the night sky or you're staying in a hut at a very high altitude, you will obviously need to take a sleeping bag. As with female hiking outfits, different destinations and seasons will require different sleeping bags.
As an example, when you are trekking during the European summer, you probably only need a one to two-season sleeping bag. However, when you at very high altitude (i.e., Mount Kilimanjaro or the Inca Trail), I would recommend a four-season sleeping bag filled with down feathers. They tend to be pricier and heavier, but they will keep you nice and warm even in the coldest conditions.
Again, most outdoor shops or tour agencies offer sleeping bag rentals if you don't want to buy your own, which helps eliminate this large item from your hiking gear list. If you decide to rent a sleeping bag, you may want to take a silk sleeping bag liner with you. Having your own liner is more hygienic and also offers another layer to keep you warm. Liners also come in handy for dirty hostel beds, so it is well worth it to invest in one.
Bring Your Own Travel Towel
You won't be staying in hotels, and mountain huts will almost certainly not provide you with them. If you can brave a cold shower, you'll need a fast-drying microfiber travel towel with you on your journey.
Find out what's the best travel towel for you to take on your next trip!
Osprey Hydraulics LT Reservoir
Stay Hydrated with a Water Bottle or Rehydration Bladder
I prefer rehydration bladders—they sit in your backpack, and you drink through a hose.. When I carry trekking poles or have my camera in my hands, I find it difficult to grab a water bottle from my backpack. Camelback has some top of the line hydration bladders.
SteriPen Classic 3 UV Water Purifier
Water purification
No one wants to get sick on a trek. To avoid doing so from contaminated water, take some water purification tablets with you. Sure, they can make the water taste a bit funny, but you can easily counteract that by putting a neutralizing tablet in it for about thirty minutes. There is also a high tech water purifying tool called the Steripen, which debugs water with ultraviolet light, but it is more costly than the tablets.
Ray-Ban Polarized Aviator Sunglasses
Keep Your Eyes Protected from UV Rays
My blue eyes are especially sensitive to the harsh glare of the sun, and UV rays can cause permanent damage to anyone's eyes if they are not careful. The sun's reflection off the snow can cause blindness, so protect your eyes with adequate sunglasses.
Depending on the height of your trek, you can buy different glasses with their categories printed on the frame of the sunglasses. Categories 3-5 are suitable for bright sun at higher altitudes for example, whereas categories 1-2 can be used for sea level conditions.
These are our reader's recommendations for the best sport sunglasses!
Sun Bum Mineral SPF 50 Sunscreen Face Stick
Remember to Always Wear Sunscreen
Sunscreen and a lip balm with a high SPF are essential while hiking to protect your face (especially your nose) from a nasty sunburn. As the sun in the mountains is much stronger, I would recommend using a stronger SPF factor than you usually would on your face, neck and any other parts of your body exposed to the elements.
TFG readers share their picks for the best face sunscreens for travel!
Additional Items for Your Hiking Gear List
Don't Forget Toilet Paper
From my experience, there is rarely any toilet paper in mountain huts, and there are also usually not any proper toilets during a trek. Bring a roll of toilet paper with you. You can take the cardboard in the middle out to save space. Also, check out these space-saving, tissue on the go space saving rolls.
Take Your Medicines on the Trek
You may be miles away from the nearest doctor so consider packing some basics such as diarrhea treatment, rehydration salts, painkillers, and throat lozenges. Band-Aids are also useful in case you have blisters or cuts on your skin.
Commemorate Your Trek WIth Photos
If you are into photography and love to post your journey on social media,  there is probably no more stunning landscape than that of a mountain range. Take a decent camera with you, and don't forget spare memory cards and batteries. Your hike will be something you want to cherish and share forever.
Keep Your Hands Clean
Bring a small bottle of hand sanitation gel or wet wipes. It will be another step in preventing you from becoming ill if there is no water around with which to wash your hands.
Wipes for When You Don't Feel Like Showering
I hate taking cold bucket showers, especially when it is cold outside. I much prefer having a quick wash with wet wipes as they do the job just as well, at least for a few days.
Bring Snacks for Trekking Energy
Hiking can be exhausting for your body, especially at high altitudes and you'll obviously burn a lot of calories. Snacks such as nuts, chocolate bars or biscuits are an excellent way to keep your sugar levels up and give you much-needed energy and a mental boost.
How to Pack Your Hiking Essentials
Many of our readers use packing cubes to organize their things. Compass Rose packing cubes allow you to do so by number and color so you know where you packed everything, even when you use the cubes to separate parts of your outfit. Learn more in the video below.
Learn about our hacks with packing cubes in this video!
We also put together a five-part YouTube series showing the different methods to use packing cubes for travel. If you use this specific packing strategy, packing cubes can also compress your belongings. This is the secret to traveling carry-on only!

---
So there you have it gals. If you add these items to your hiking gear list you should be well equipped for your next trek.
Have I forgotten anything? And do my trekking essentials align with yours from your experience?
---
For more hiking gear ideas please read: 
---
LIKED THIS POST? PIN THIS PIC TO SAVE IT!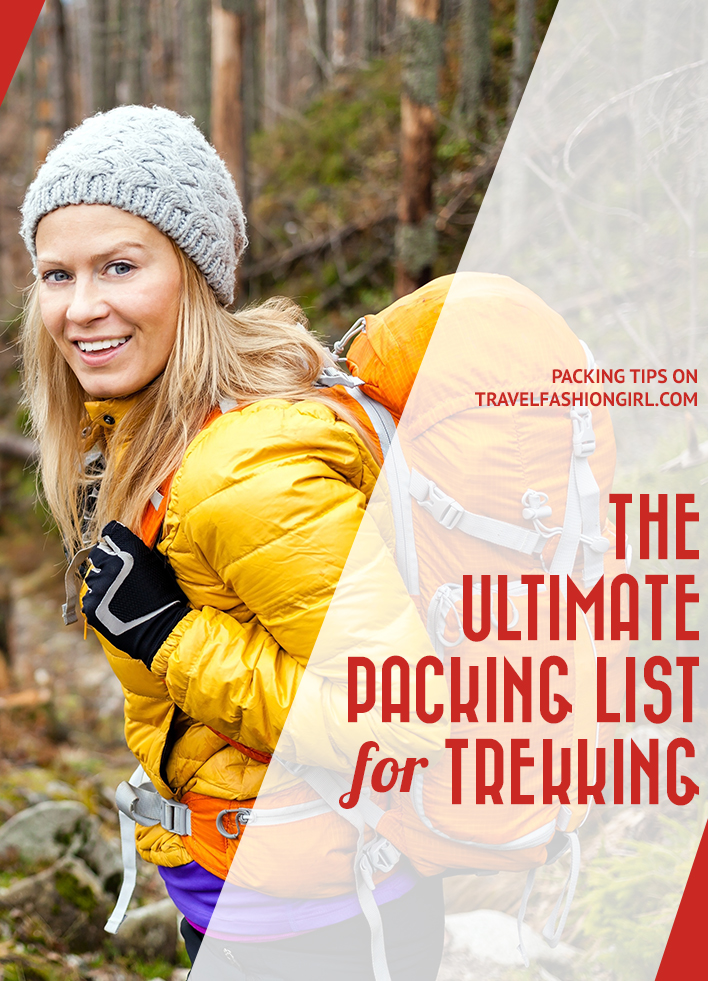 ---
Hope you found this
hiking gear list
helpful! Please share these
hiking outfits for females
on Facebook, Twitter and Pinterest. Thanks for reading!
---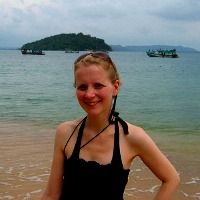 Author Bio: Tammy is a travel blogger and adventure junkie. She has endured the Everest Base Camp trek, abseiled down a skyscraper, cycled down the world's most dangerous road, and trekked through the mosquito infested Amazon jungle. You can follow her adventures on her blog Tammy & Chris on the move or on Facebook, Twitter, Instagram or Pinterest.
---