---
Join our community of 500,000 stylish female travelers! Sign up for Travel Fashion Girl's newsletter and never miss a thing!
---
Attempting to understand the difference between travel adaptors, converters, and voltage conversion is confusing. Read this easy guide for a simplified explanation.
---
Travel Adaptors, Converters, and Voltage
---
The first thing to understand is that an adaptor and converter are NOT the same thing. An adapter fits the outlets and a converter changes the electrical current.
What is a travel adapter?
A travel adapter enables you to plug your electronics into international outlets. Not all countries use the same type of plug so I recommend you buy an international adapter like this.
Visit this power outlet guide for travelers to see a full list of plugs and outlets by country.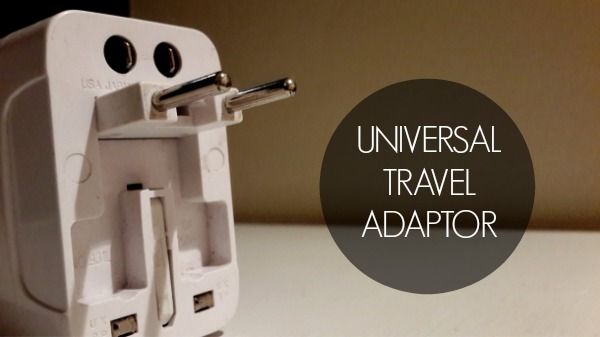 What is voltage?
Voltage refers to electricity; different countries have different types of electricity. This means that your electronics are the same voltage as the country in which you bought them so if you take them to another country, they may not work.
For example, in the US we use 110-120V whereas in Europe they use 220-240V. If we plug our electronics into each other's outlets they can blow a fuse and stop working. In some cases, they can even fry your hair.
Visit this website for a full list of voltage by country.
Your electronics needs to have two things in order to work in other countries:
The correct voltage
A travel adapter
Some electronics are designed so they can be used in different countries. This means they'll be labeled as "dual-voltage".
Hair tools such as blow dryers, wands, curling irons, and straighteners use up a large amount of electricity so it's particularly important that they are used with the correct voltage.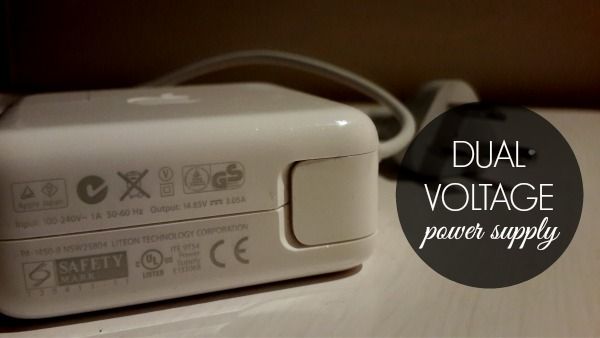 What is dual voltage
Dual voltage electronics have two voltage options: 110-120V and 220-240V. They are ideal for travel because they are safe to use at home and abroad, too.
Some electronics, such as newer Macbooks and iPhones have dual voltage that automatically adjust in their destination. However, other electronics such as hair tools you need to adjust the voltage manually by moving a switch.
What is a converter?
If your electronics are not dual voltage, a converter (or transformer) could be used. However, converters tends to be large, heavy devices so they are less practical for travel. If your device requires a converter, it's best to leave it at home, particularly if it's a hair tool.
While there are some travel-friendly converters like this one, they're usually only good for products up to 50 watts (hair tools are higher than this).
Generally speaking, travelers usually only need an adapter since the electronics they travel with are small such as phones and cameras. 
Always research the types of outlets used in your destination. If you're North or South American you will need to pack an adaptor when traveling to abroad to places such as Europe, Africa, South Pacific, and Asia and vice versa. This will allow your electronics to fit into the different sockets used abroad.
eForCity Universal Travel Adapter
For Trips to More than One Destination
If you're traveling to several countries during your trip or if you are a frequent flyer, you may want to use a universal travel adaptor like the one in the above image. I've been traveling with mine for years and find it convenient and easy to use.
They're only about $5 on Amazon so they're a good buy.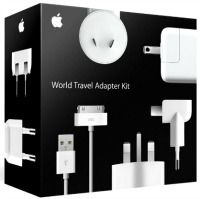 Apple World Travel Adapter Kit
For Trips to One Destination
If you're only going to one destination on your trip (or locations that use the same socket type), just pack an individual adaptor to avoid taking up valuable luggage space with a universal one.
You can buy these individually or in sets such as this one.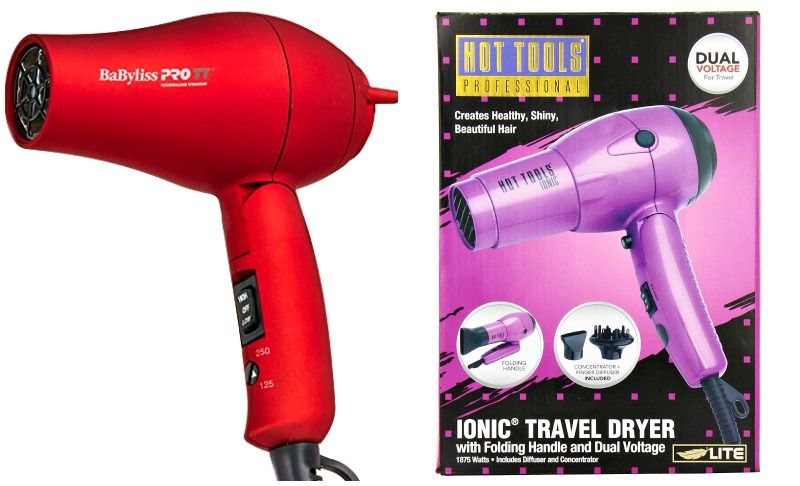 BaBylissPRO Travel Dryer | Hot Tools Travel Dryer
Is it okay to use you hair dryer or flat iron when traveling abroad?
The answer is: Maybe.
Because blow dryers and flat irons (straighteners) require a large amount of power, look for products with dual voltage options. Keep in mind that this not guarantee your hair styling tool will work as well abroad as it does at home, even with the dual voltage setting. Flat irons may be okay but hair dryers tend to experience more issues.
Many women prefer to just purchase one in their destination to avoid any problems. However, always check with your accommodation first to see if they have one.
Read these posts for travel hair tool recommendations:
The above two styles are the ones are readers most prefer. The BaBylissPRO is incredibly light so it's our top choice!
Is it okay to use my laptop or tablet abroad?
Check the voltage on your product. If it says 110V/120V then you'll need a converter to use it (and vice versa) but a conveter can be a large heavy object to pack. Sometimes, it may not even work that well. Ideally, if your item reads 100-240V as in the above image, you're good to go!
Most laptops will have this type of voltage (as you can see from my laptop power supply) so you are usually able to use them worldwide. To be sure, check the power supply or search online to read your specific device's spec details.
Remember, an adaptor like the one shown above doesn't convert voltage, it just allows you to plug in your electronics to the local outlet. Always check the voltage of your camera and phone chargers as well.
---
Do you have any tips for traveling with travel adaptors or converters?
---
For more tips on travel accessories, please read the following:
---
Hope you enjoyed this Travel Adaptors, Converters, and Voltage: The Easy Guide. Please share it with your friends on Facebook, Twitter, or Pinterest. Thanks for reading!
---