Support TFG by using the links in our articles to shop. We receive a small commission (at no extra cost to you) so we can continue to create helpful free content. We earn from qualifying purchases made to the featured retailers. Thank you, we appreciate your support!
Wondering what to bring to Switzerland in summer or winter? Read this post to learn the best clothing, shoes, and accessories for your European adventure!
---
What to Bring to Switzerland
Written By: Ali O'Neill
---
Table Of Contents
Renowned for its snow-capped mountains, sinfully good chocolate, and state-of-the-art watches, Switzerland is a destination that delights year-round.
Whether it's city sightseeing, world-class skiing, hiking, sailing, or fine dining you're after (or a little bit of each), there's something for everyone in this charming European country. Let's find out what to bring to Switzerland!
What to Bring to Switzerland: Summer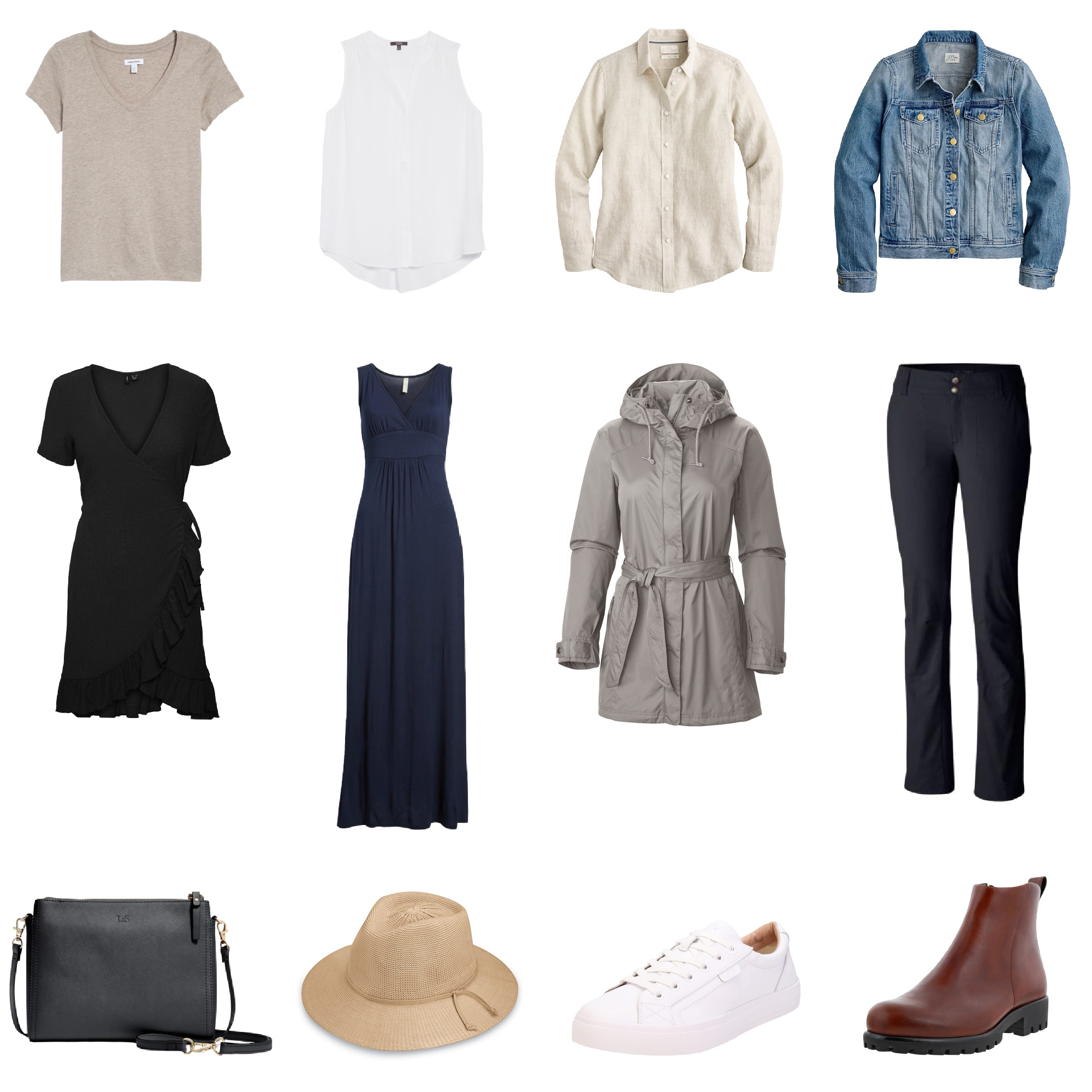 Tee | Sleeveless | Long Sleeve | Jacket | Wrap Dress | Maxi Dress | Coat | Pants | Crossbody | Hat | Sneakers | Ankle Boot
While skiing might not be on the cards in summer, there's plenty else to do, activity-wise—everything from sailing, biking, and hiking for sporty types, and wine tasting, cheesemaking, and alfresco dining for gourmands.
(Not to mention all the incredible museums and art galleries the country has to offer!)
Like most Europeans, the Swiss tend to dress in a conservative yet chic manner—think classic pieces in neutral colors. However, this varies from city to city and region to region; Geneva will be decidedly more "formal" than a small alpine village, for example.
I also noticed that there was definitely more of a sporty, athletic vibe to what locals wore on an everyday basis, in contrast to other European countries.
What are neutral colors? Find out here!
Here are my suggestions for what to bring to Switzerland in the summer, all while staying stylish and comfortable.
What Clothes to Pack for Switzerland in Summer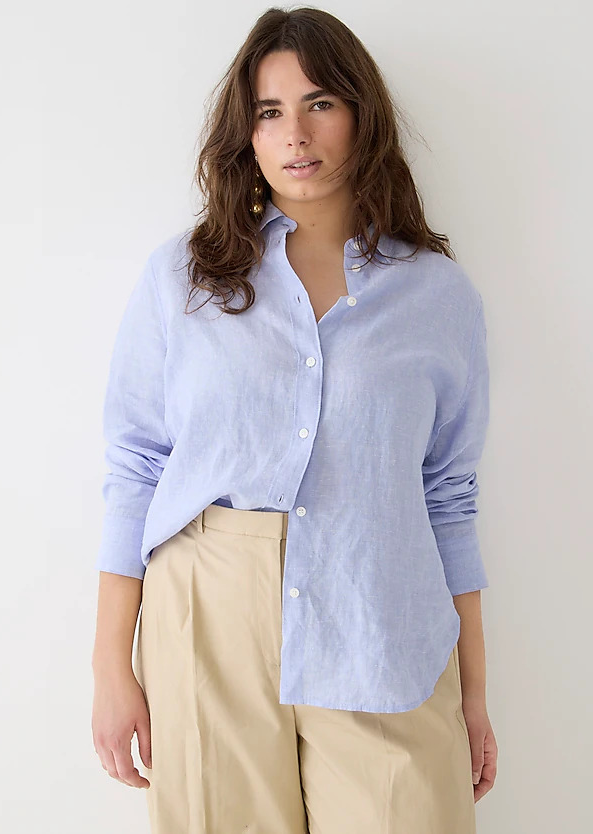 J.Crew Slim-fit Baird McNutt Irish Linen Shirt
Sizes: Regular 00-24 | Petite 00-12 | Tall 2-16
Shirts and Tank Tops
For tops, readers suggest options that are lightweight, cooling, and practical, but are also a bit more chic and elevated. 
Linen shirts checks off all these boxes and makes for a fantastic summer top to wear in Switzerland, as it's breathable, moisture-wicking, and durable. J. Crew's linen shirt has a slim-fitting silhouette, that'll look amazing french-tucked into jeans or worn loosely over a skirt. It feels soft but has a crisp look, and it comes in a range of bright summery colors.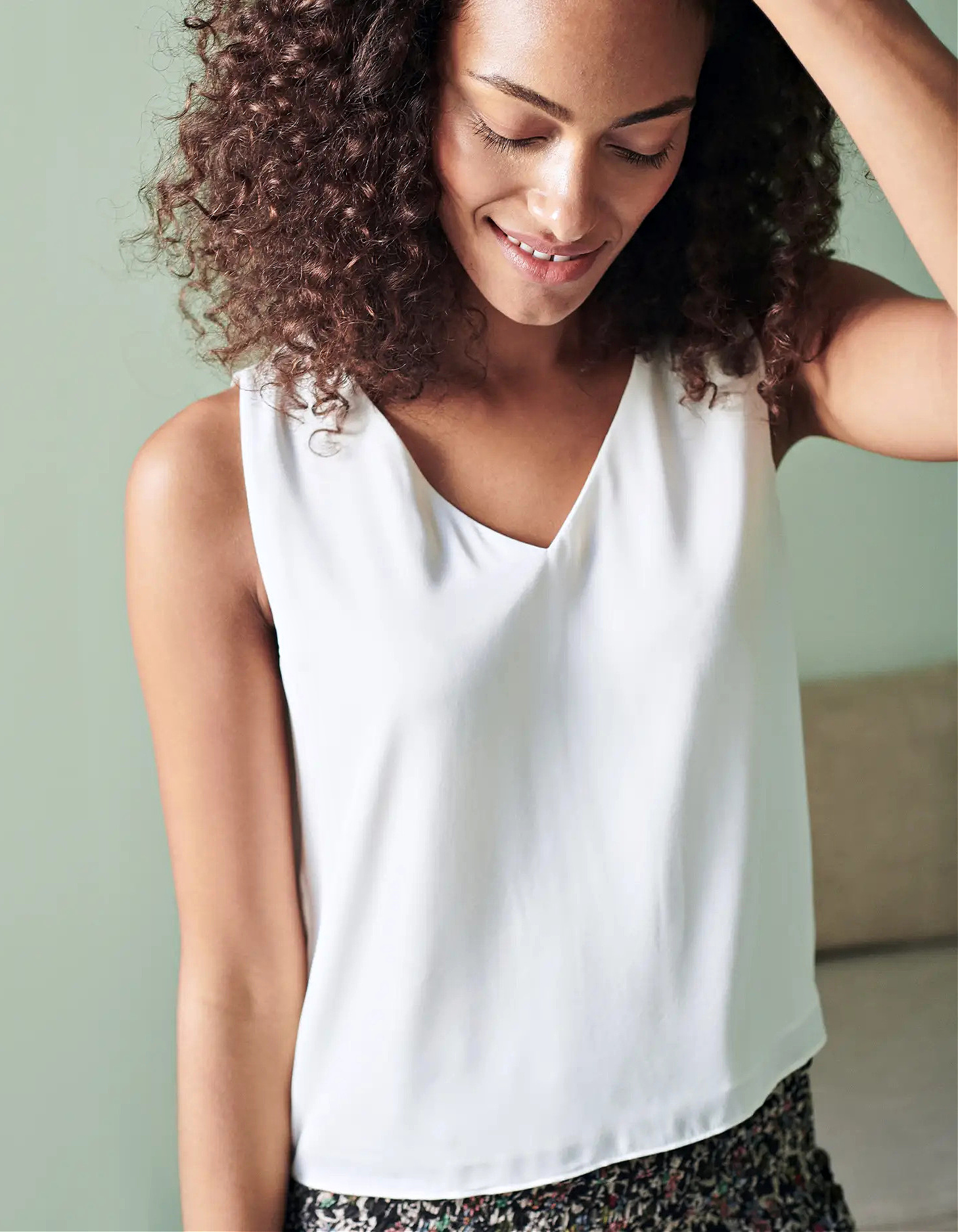 Quince Stretch Silk Tank | Sizes XS-XL
A staple of any summer vacation, simple yet polished t-shirts in neutral shades are a great option that you can mix and match with any bottoms to feel comfy yet put-together. 
In the height of summer when temps climb up to the 80s, a breezy tank top like Quince's Washable Stretch Silk Tank is perfect. The lightweight silk is soft, breathable, and temperature-regulating, and it'll make for an effortlessly stylish outfit, even when paired with jeans and sneakers!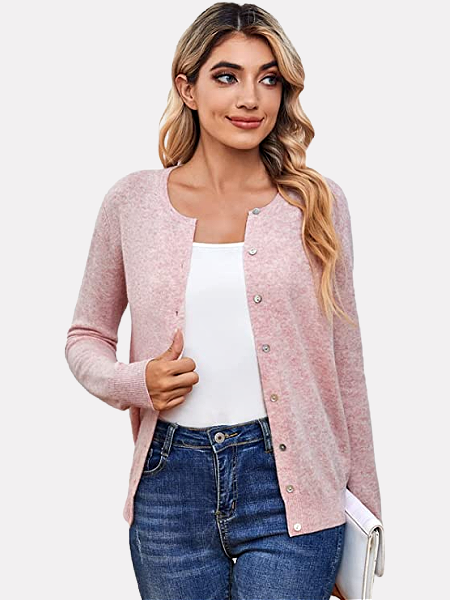 Lanpulux Wool Sweater Cardigan | Sizes 0-14
A light cardigan will come in handy for air-conditioned stores, restaurants, and for the evenings when temps can dip into the mid or low 60s. 
Bring something lightweight that you can easily carry in your day bag, but that'll offer a good amount of warmth to counter those chilly evening breezes. This 100% wool cardigan is simple and classic, easy to dress up or down, and feels soft and cozy.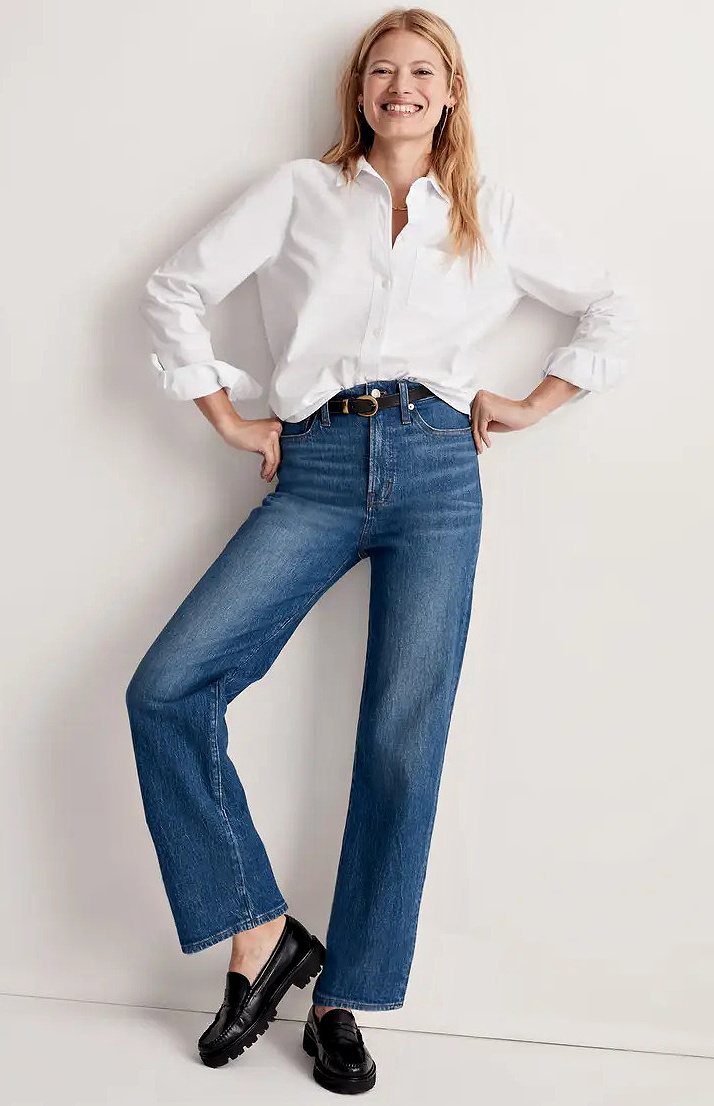 Shop Madewell Wide Leg Jeans: Nordstrom | Madewell
Sizes: Regular 23-33 | Petite 24-33 | Tall 23-33
Bottoms
Chic yet put together – jeans are great for days spent in the city. They're stylish and versatile, and because summer days in Switzerland typically won't get super hot like in other parts of Europe, they're a good bet for a long day of sightseeing. 
Europeans are just as fond of their jeans as their North American counterparts, but they tend to favor trendier styles paired with a chic pair of shoes. Madewell's Perfect Vintage jeans have a wide-leg style that readers have been absolutely loving. High-waisted with a slouchy fit, this pair is flattering, easy to style, and super comfy for a warm day out, too.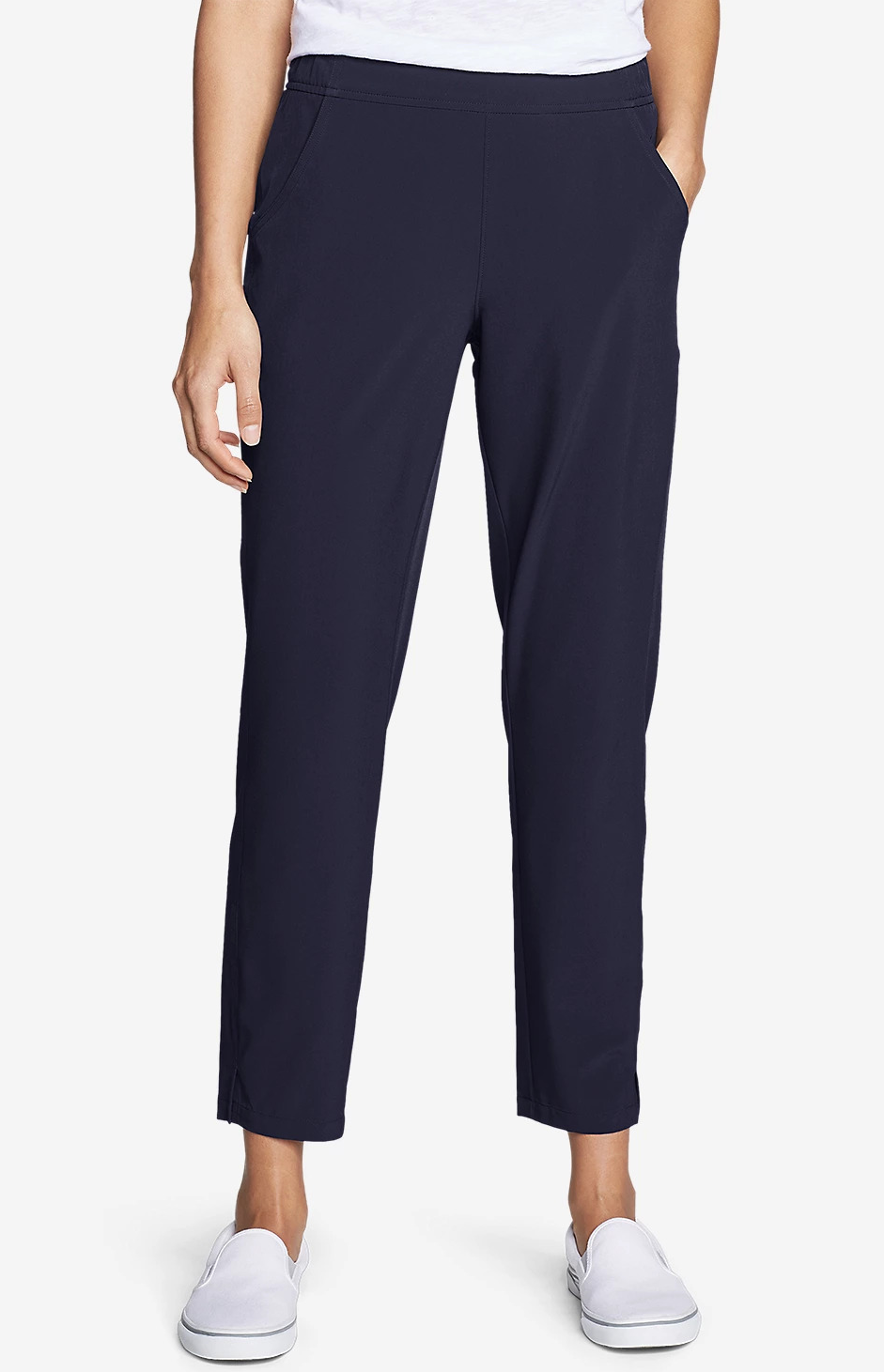 Eddie Bauer Departure Ankle Pants
Sizes: Regular XS-XXL | Petite S-L | Tall M-XXL | Plus 2X-3X
Your summer travels to Switzerland may include everything from nature walks to bike rides to gallery-hopping, so why not bring a pair of pants that's versatile for every occasion? 
Eddie Bauer's Departure pants have the look of trousers but are made from a high-performance fabric, making them suitable for everything on your itinerary! Covering all the bases, these pants are lightweight, stretchy, breathable, and moisture-wicking, with UPF 50+ sun protection. Plus, they can be dressed up or down with ease!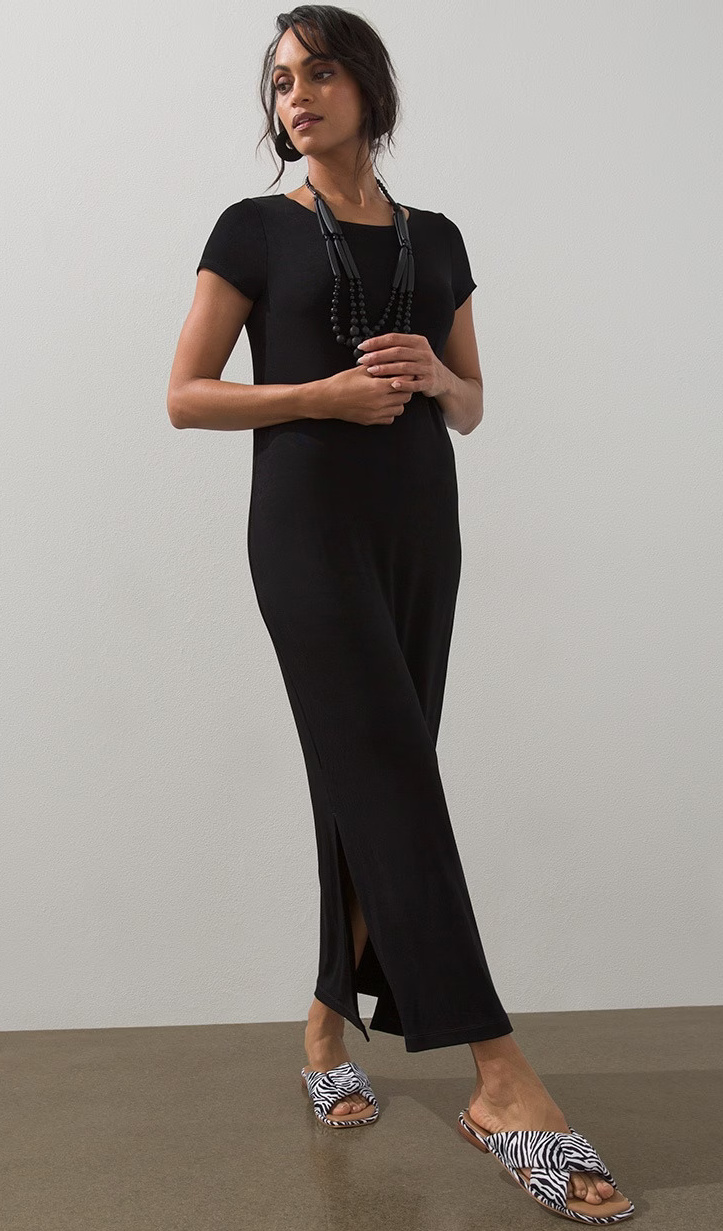 Chico's Classic Short Sleeve Maxi Dress
Sizes: Regular XS-XXL | Petite XS-XL
Dresses
A stylish midi or maxi dress is an absolute must for many readers during the summer months. Super comfortable, effortlessly chic, and light to pack—what more could you ask for from an item of clothing? 
The Chico's Travelers Classic midi dress is simple yet so chic, and is made of sleek, comfy, breathable, and wrinkle-resistant fabric! Whether worn with white sneakers for a sightseeing day or dressed up with ankle boots and jewelry for dinner, this piece will have you looking and feeling amazing.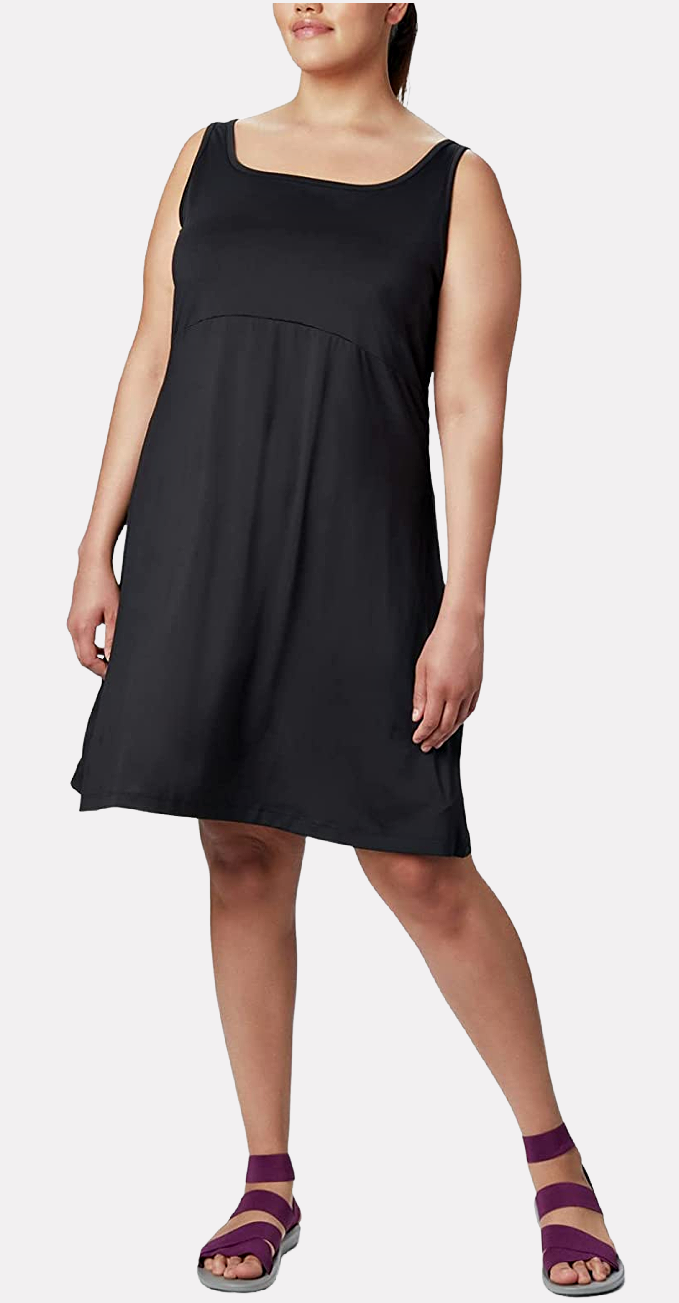 Shop Columbia Freezer III: Amazon | Zappos | Columbia | Macy's | Moosejaw
Sizes: Regular XS-XXL | Plus 1X-3X
Keep in mind that European cities tend to be a bit more "dressy" than those in North America, so bring along a dress that you can wear for an evening out or a meal at a special restaurant (especially if you're heading to Geneva, known for being a bit more formal than other cities in Switzerland). 
While Columbia's Freezer III dress is made of a technical fabric that's cooling, stretchy, moisture-wicking, and has UPF 30 sun protection, the design is still super feminine and stylish, so it'll easily double as a going-out dress! 
For added versatility, these are popular convertible travel dress styles!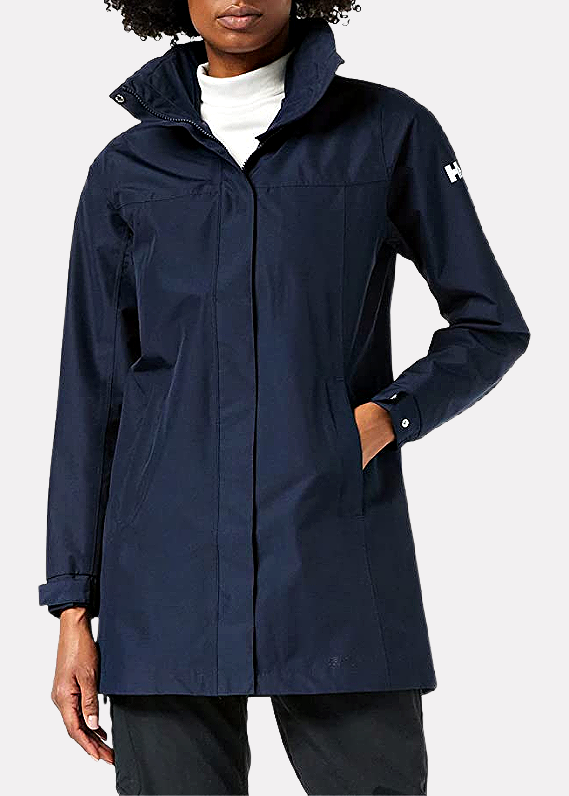 Shop Helly Hansen Rain Jacket: Amazon | Helly Hansen (Sizes XS-5X)
Jackets
This might seem like a surprising item to bring on a summer vacation, but I feel I should warn prospective visitors to Switzerland that the climate can be extremely unpredictable in summer, with out-of-the-blue thunderstorms being a frequent occurrence.
During our time in Lucerne, my sister and I decided to go for a light hike on what was a beautiful, sunny afternoon; midway through, however, we got caught in a torrential downpour that came out of nowhere!
Needless to say, a waterproof jacket is always needed in Switzerland. Bring something lightweight and packable, like Helly Hansen's Aden rain jacket, which offers wind and rain protection while staying breathable and comfy on a warm summer day.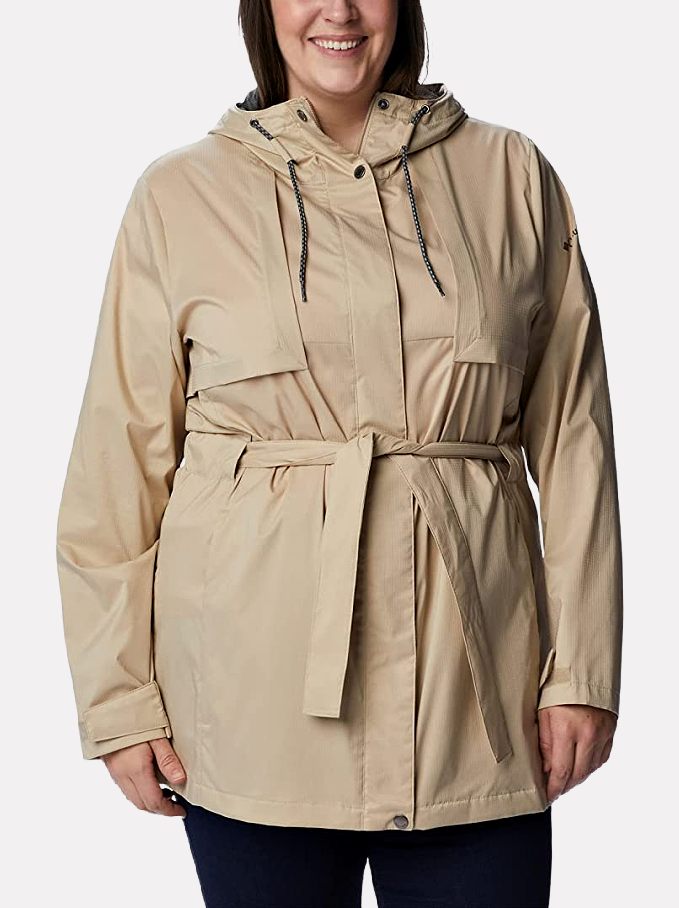 Shop Columbia Pardon My Trench II: Amazon | Columbia
Sizes: Regular XS-XXL | Plus 1X-3X
Another reader-favorite is the Columbia Pardon My Trench jacket that packs small and readers love that it's lightweight and doesn't feel too hot or stuffy, even on a summer day. 
If you really want a secondary lightweight jacket to wear when the weather doesn't seem too unpredictable and temps are warmer in Zurich for example, a denim jacket is a good choice, Just make sure the fabric is light enough to pack away when not in use, or layer it with a packable rain slicker should showers hit.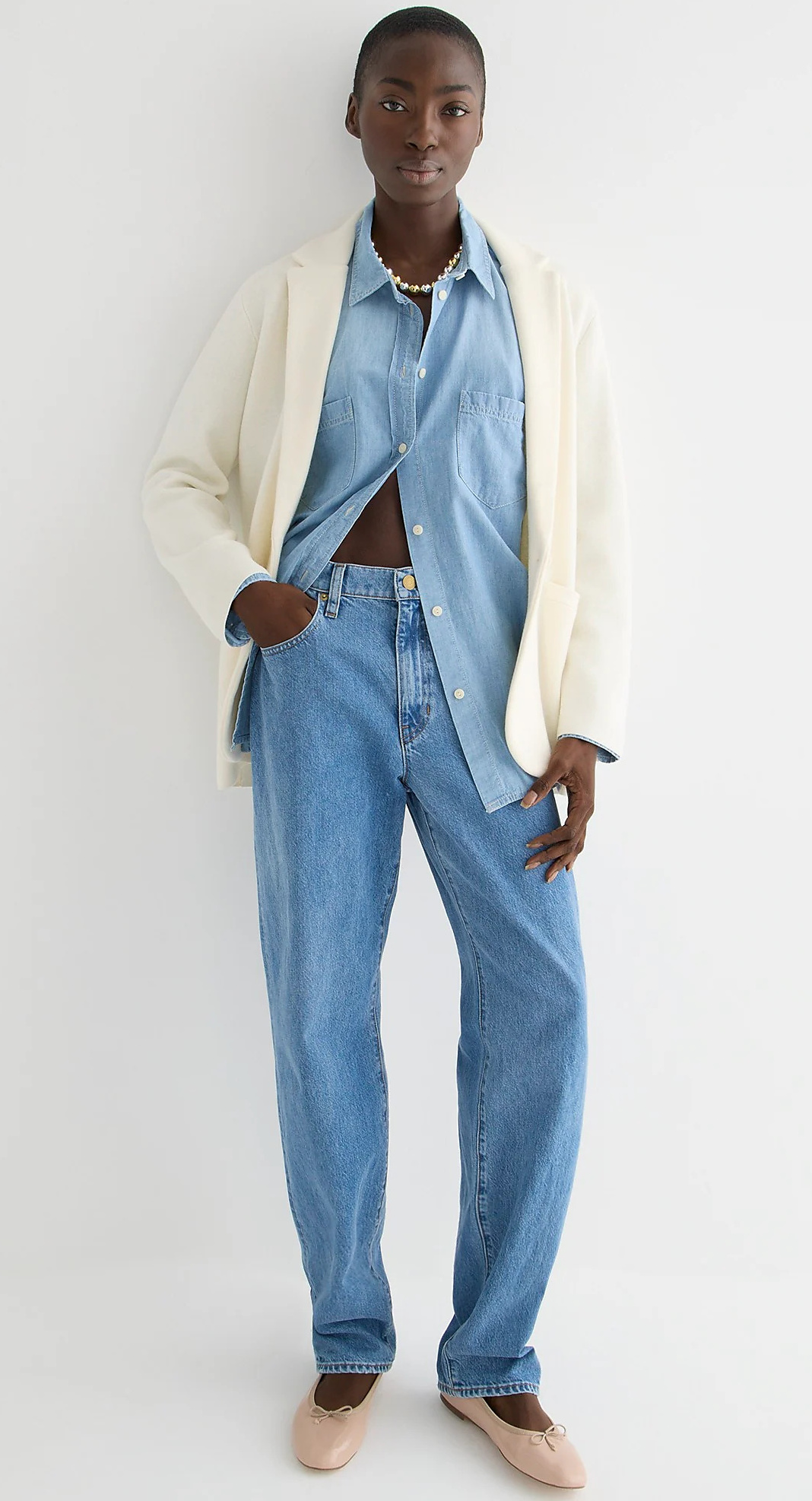 J.Crew Cecile Relaxed Sweater-Blazer | Sizes XXXS-3X
Be warned: summer evenings in Switzerland can be a little chilly, especially if you're by the water. A chic, lightweight jacket or travel blazer that you can toss on when the temperature dips is a necessity! 
Keep it polished yet comfy with J. Crew's Cecile sweater-blazer. This piece looks dressy so it's great for elevating a casual outfit, and it feels plush and warm – perfect for those chilly nights.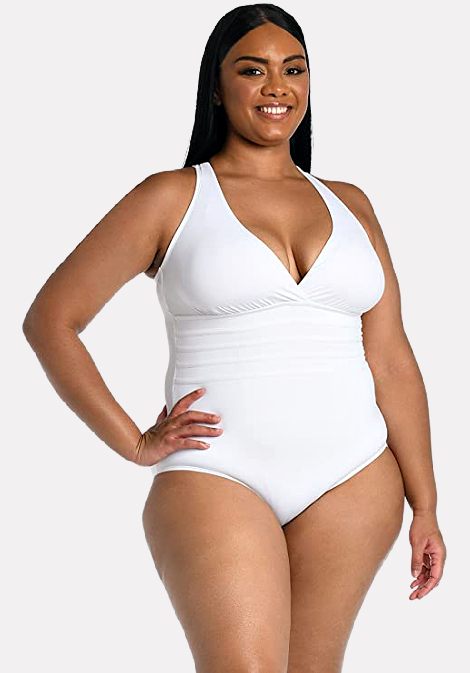 La Blanca Deep V One Piece Swimsuit | Sizes Regular 0-16 & Plus 16-22
A Swimsuit
Switzerland may be a landlocked country, but that doesn't mean it's short on beaches! In fact, the countless crystal-clear lakes are an essential part of summers in Switzerland, so you'll definitely want to have a swimsuit on hand. Some readers suggest that you might even want bring along some goggles so that you can clearly see all the fish as you swim!
The La Blanca one piece swimsuit is chic, modest, and super flattering. The flirty deep v-neck is coupled with built-in tummy control, and it offers a supportive and comfortable fit overall. The white color is timeless and summery, but it comes in a wide range of colors, too! 
TFG shows you expert tips and tricks to find the most flattering swimsuit styles for your body type!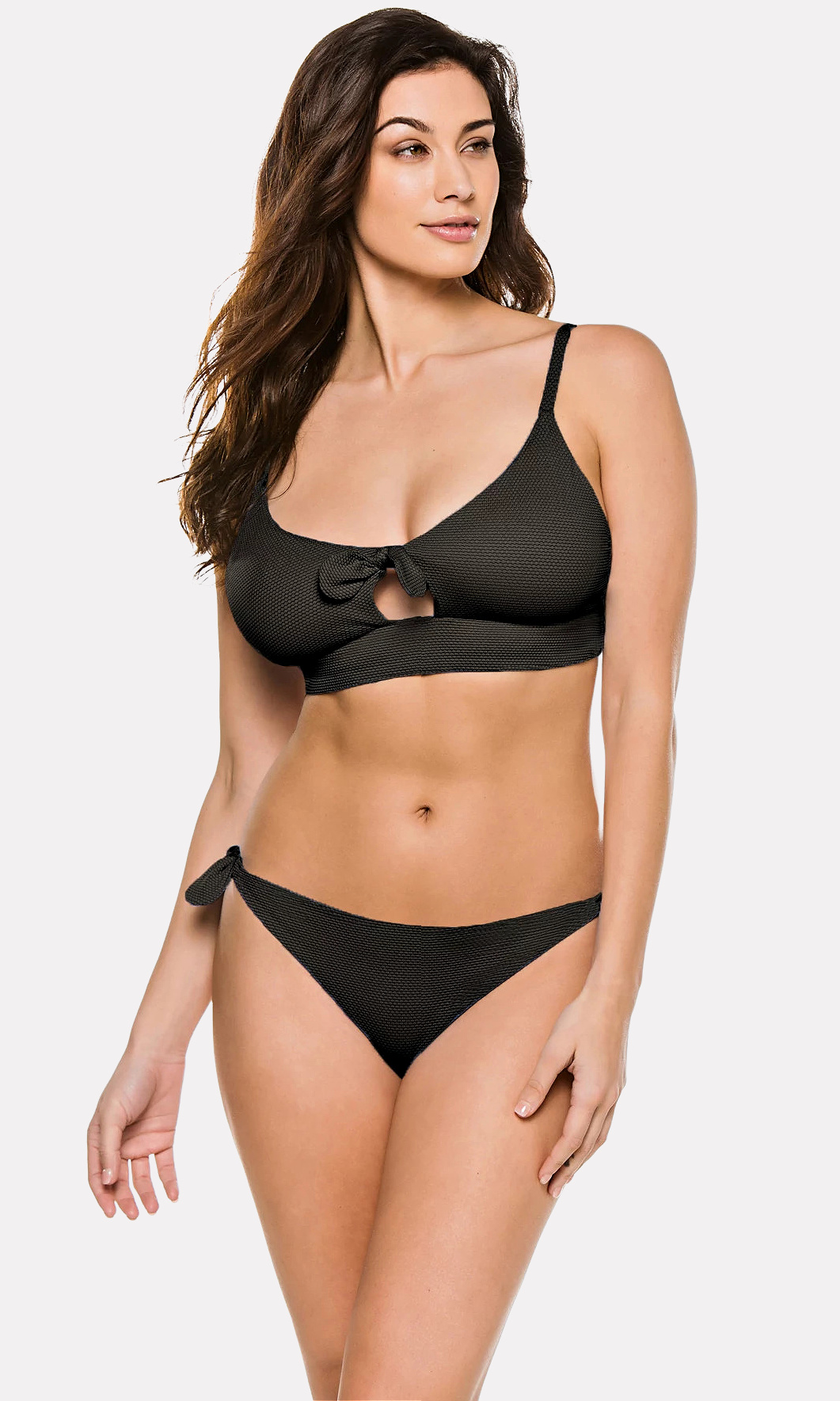 Charlie Textured Bralette Bikini Top | Dylan Textured Hipster Bottom
If you're looking to rock a two piece, the Everything But Water Charlie top and bottoms are reader favorites for their cute look and ultra-supportive fit. Both pieces are adjustable, and the top has a wide size range, excellent lift and support, and a double hook closure. You'll be looking and feeling confident, as you splash around in the water or sunbathe on the beach! 
What Shoes to Bring to Switzerland in Summer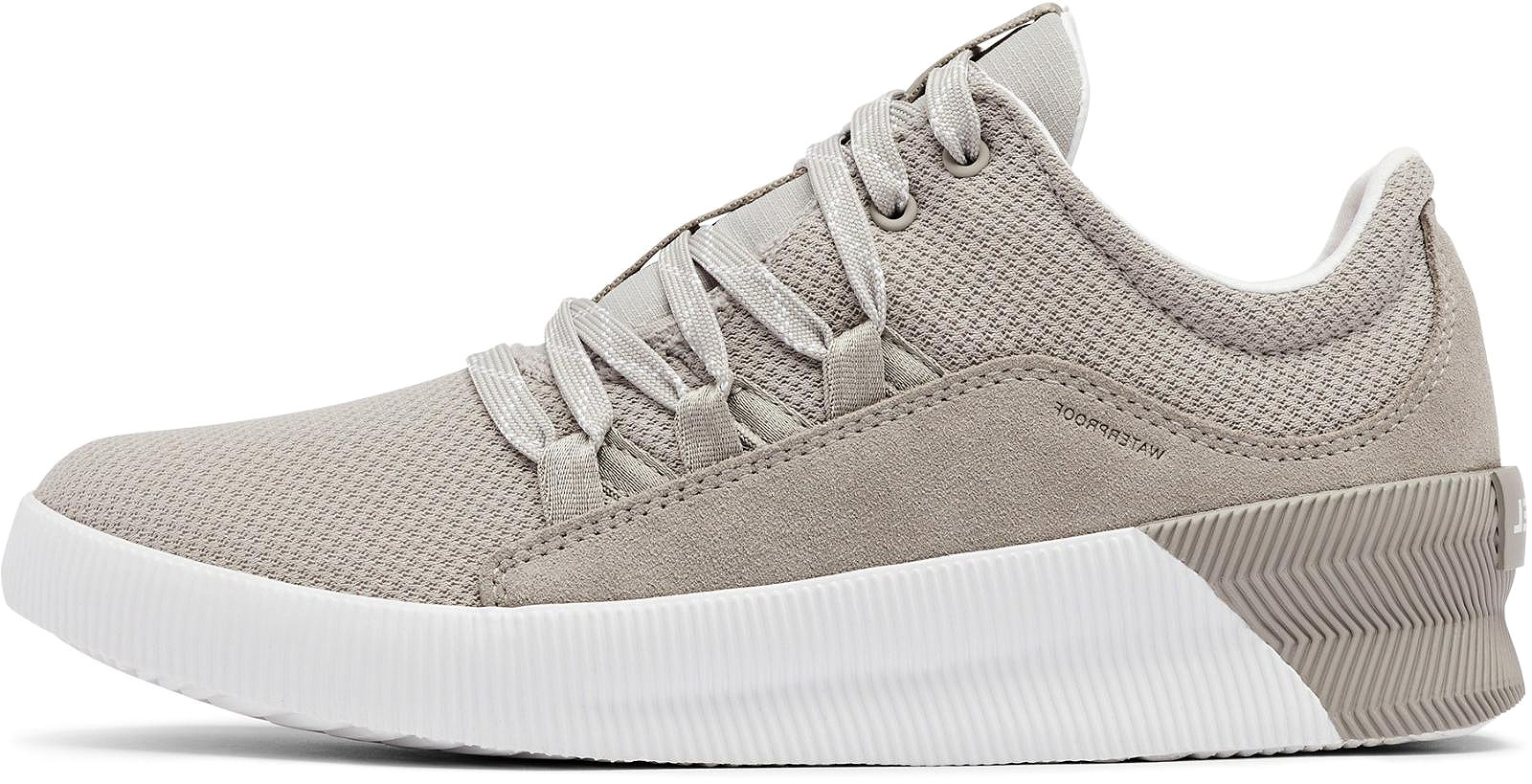 Shop Sorel Out 'N About III Sneaker: Amazon | Zappos | Sorel
Sneakers
Your travels will no doubt involve a ton of walking, whether spending your days sightseeing in town, hiking up the mountains, or a little of both. After all, a trip to Switzerland isn't complete without some time spent in nature! 
So, be sure that your shoes are cushioned, supportive, and robust. Bonus points if they're waterproof, as rain is always a possibility, especially if you're up in the mountains. And if you're spending a day at the lake, definitely pack a pair of flip flops! 
The Sorel Out 'N About III sneakers are a sporty yet stylish pair that's waterproof, lightweight, and super comfortable. Readers say they're amazing walking shoes, and the traction can easily handle slick surfaces and uneven terrain.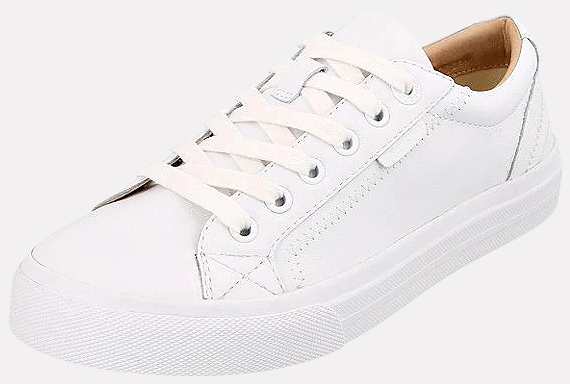 Shop Taos Plim Soul Sneakers: Amazon | Zappos | Dillard's | Taos
If hiking isn't in your plan and you're not expecting rain on your trip, then comfy leather sneakers are a perfect alternative for your vacation. They're sturdy, easy to clean, and casual yet sleek!
Readers love the Taos Plim Soul leather sneakers for their comfort and stylish look. With arch and metatarsal support and great cushioning, your feet will be kept happy even after miles and miles of walking. You can dress this pair up for nicer occasions, too!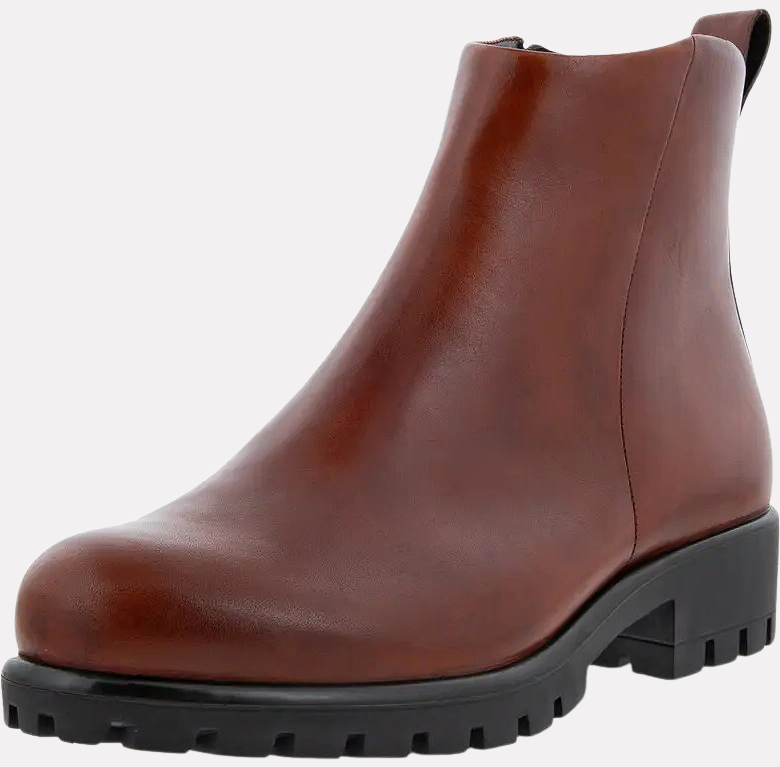 Ecco Modtray Water Resistant Ankle Boot
Ankle Boots
Ankle boots can be seen on the locals year-round, so you may consider packing a pair yourself! And because the weather in Switzerland can be quite unpredictable and doesn't tend to get too hot, they make a practical and comfy option for your summer trip. 
The Ecco Modtray ankle boots are comfy, supportive, and have a solid grip, not to mention their gorgeous look! This pair can be worn with jeans or dresses, works great for city strolls and nature walks, and can be dressed up for occasions. And to top it off, they're waterproof!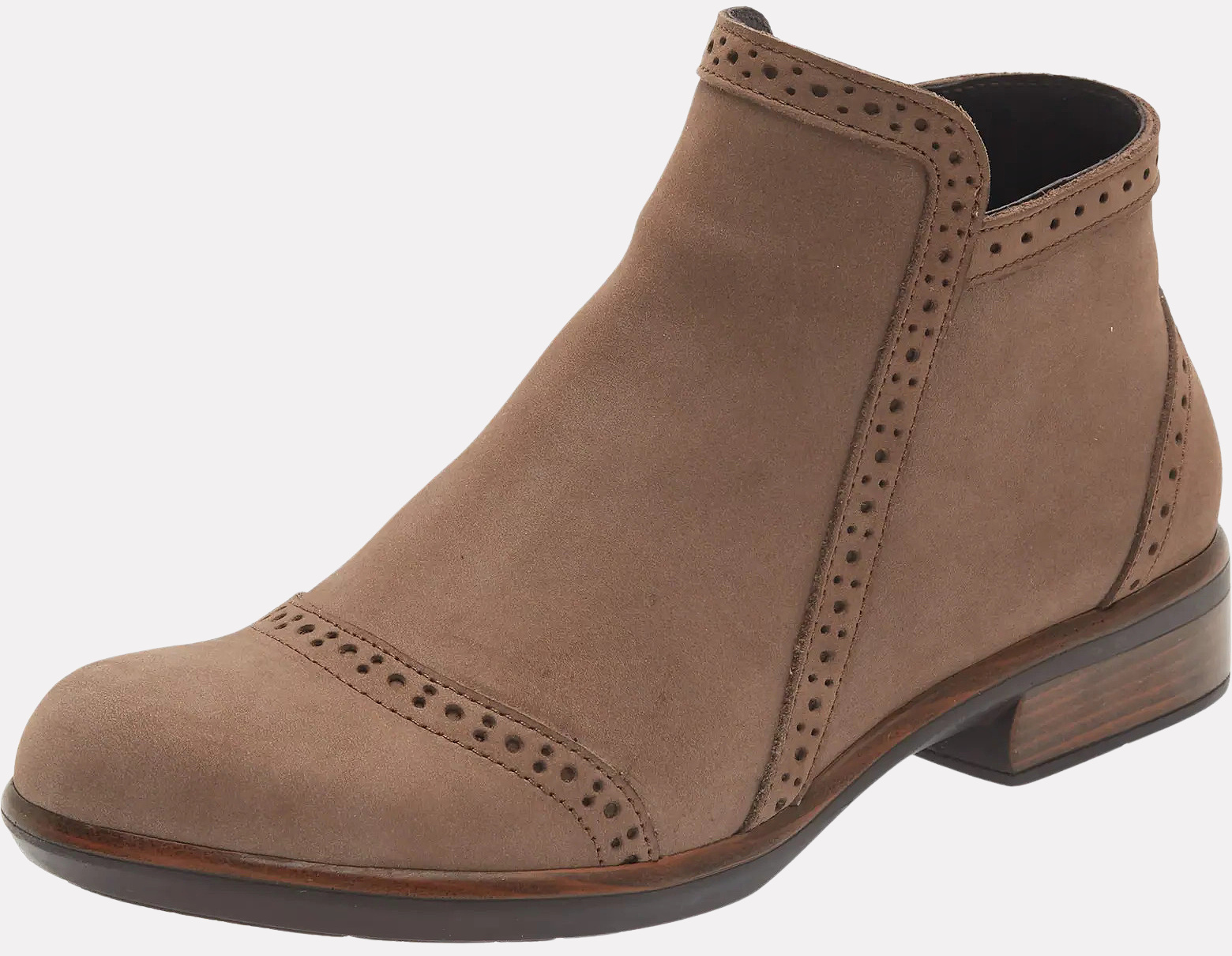 Shop Naot Nefasi Bootie: Amazon | Nordstrom | Zappos
Naot's Nefasi booties are another great summer option. They're made of quality leather that's soft, flexible, and sturdy, and their cushioned, shock-absorbing footbeds ensure lasting comfort for long days of exploring! 
What Accessories to Bring to Switzerland in Summer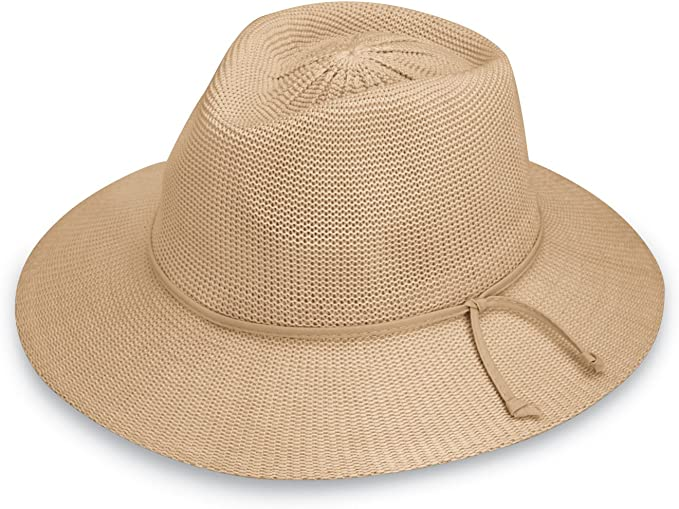 Sun Hat
Switzerland in the summer gets bright and sunny! Keep your face protected with a sun hat. The ideal finishing touch to any warm-weather outfit, a cute straw hat is both stylish and sun safe. 
Readers recommend the Victoria hat from Wallaroo, which looks really cute on, is lightweight, and has an adjustable fit and UPF 50+ sun protection! Plus, it can be rolled or folded up in your bag when not in use and will come out looking perfect.  
Make sure your sunglasses have adequate UVA/UVB protection, too!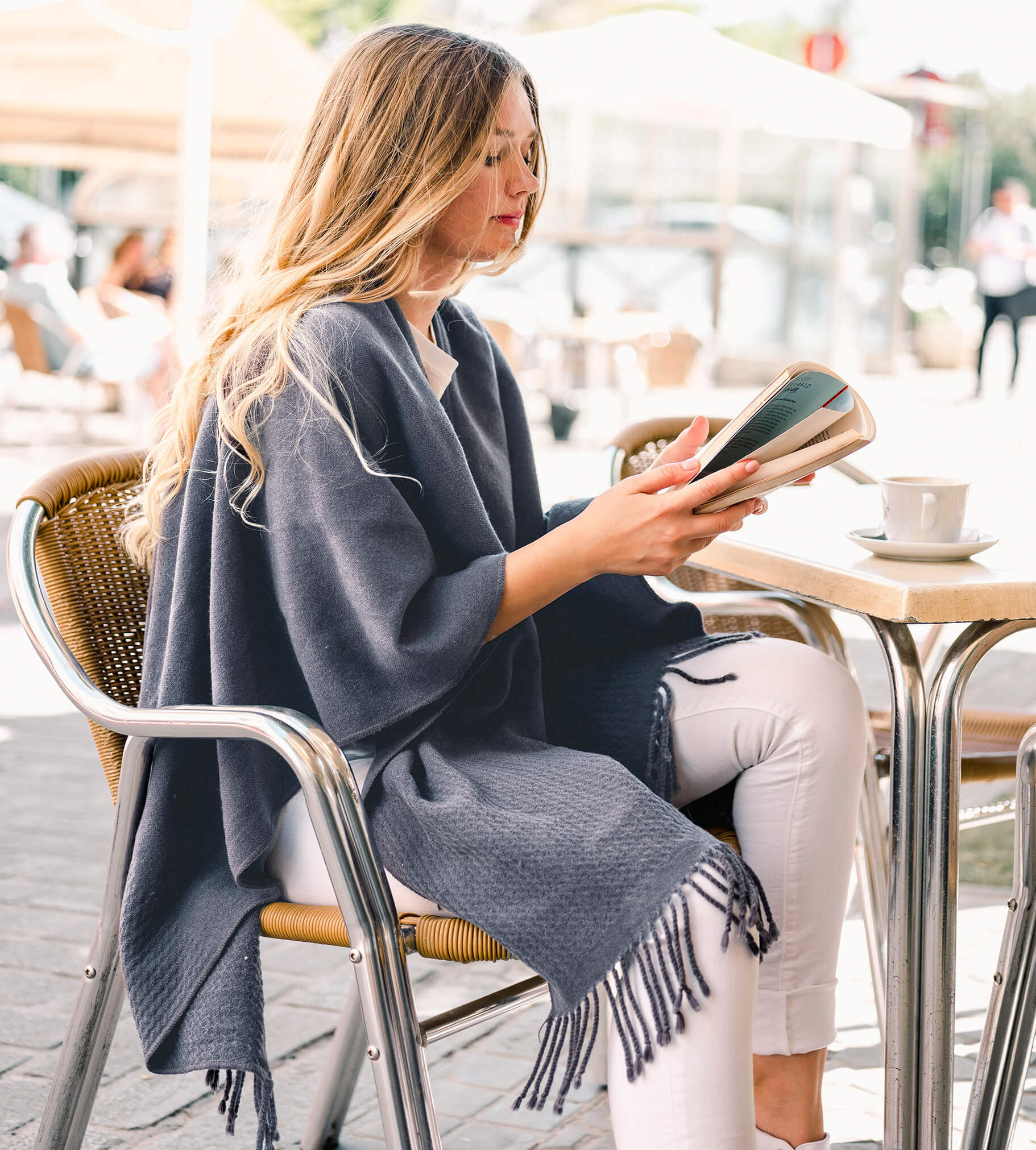 Cozy Wrap
One item I never travel without is a scarf or wrap! In the summer months, a lightweight travel wrap in a neutral color (consider blush pink or soft gray for a classic, chic look) is what I opt for. They're incredibly versatile—they add a pop of color and texture to even the most basic outfits, serve as a shawl when you're chilly, and can be doubled as a makeshift picnic blanket.
The Mersea Classic wrap was made for travel! It's stunning, versatile, and cozy. It will definitely come in handy throughout your travels, whether snuggling into it on the plane, getting some sun coverage at the beach, or wearing it over your dress for the evening.
What to Bring to Switzerland: Winter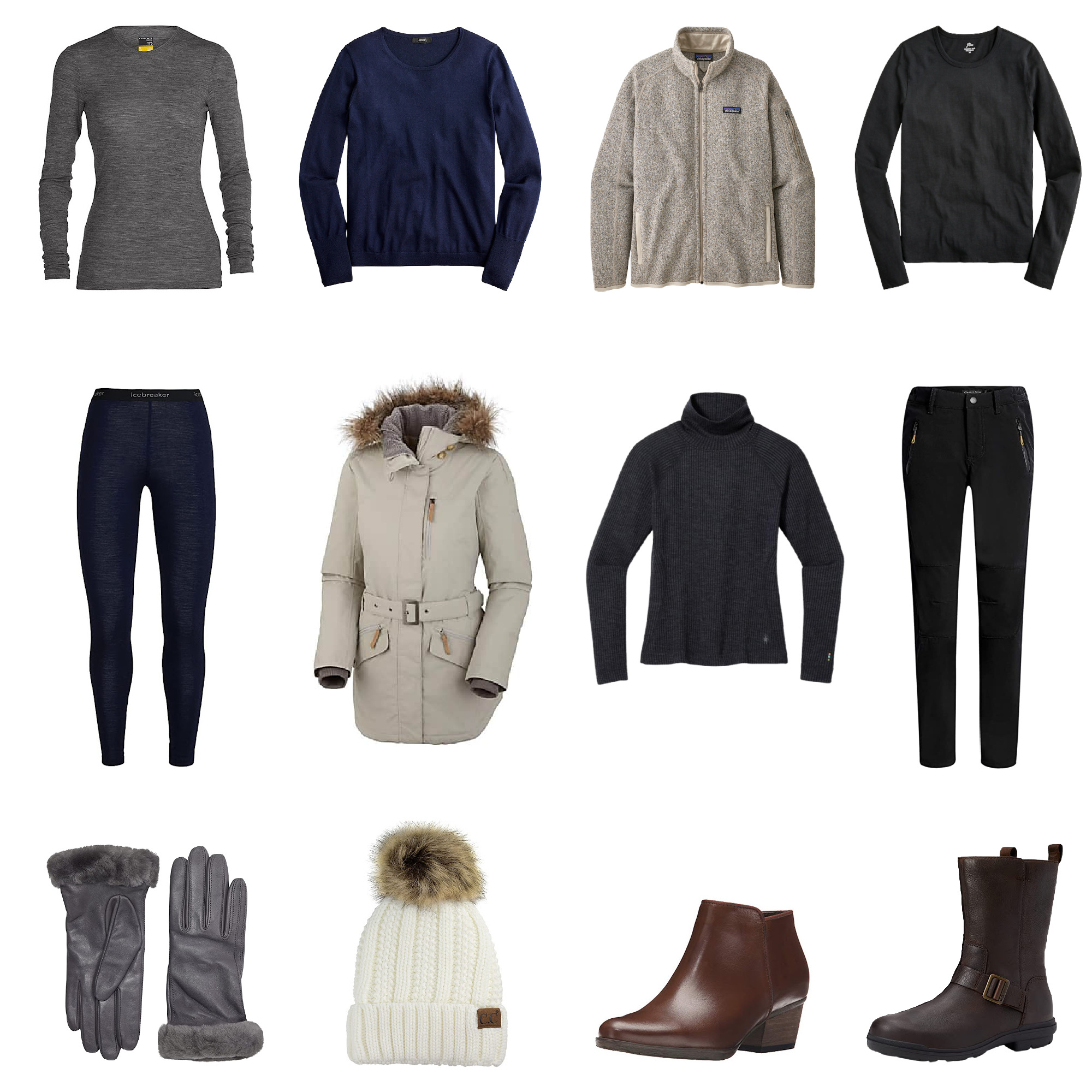 Thermal Top | Sweater | Jacket 1 | Longsleeve 1 | Thermal Pants | Jacket 2 | Longsleeve 2 | Pants | Gloves | Beanie | Boots 1 | Boots 2
WEATHER
Winters in Switzerland are typically cold and dry; from January to February the daytime temperature range is 28°-45°F / -2-7°C.  In other words, it's likely to be chilly during your visit but not so cold that you can't go out and take in the sights enjoyably.
Always check the weather forecast before your trip. Once you've researched the weather, you can focus on creating a travel capsule wardrobe, which should easily fit in a carryon suitcase with the help of packing cubes to compress your clothing.
This winter guide focuses on the packing necessities for a city getaway that may include a light hike. (Obviously, a ski trip will require a whole different set of must-bring items!)
Start by reading these general tips on packing for winter travel:
To enjoy your time in Switzerland to the fullest, ensure that you've packed to perfection; it's an expensive country for shopping, so you don't want to have to buy something simply because you didn't bring it with you.
As a rule, Swiss women tend to dress in a chic, conservative way, favoring high-quality, classic pieces in neutral colors. To fit in with the locals and stay cozy, here are some tips on what to bring to Switzerland.
What Clothes to Pack for Switzerland in Winter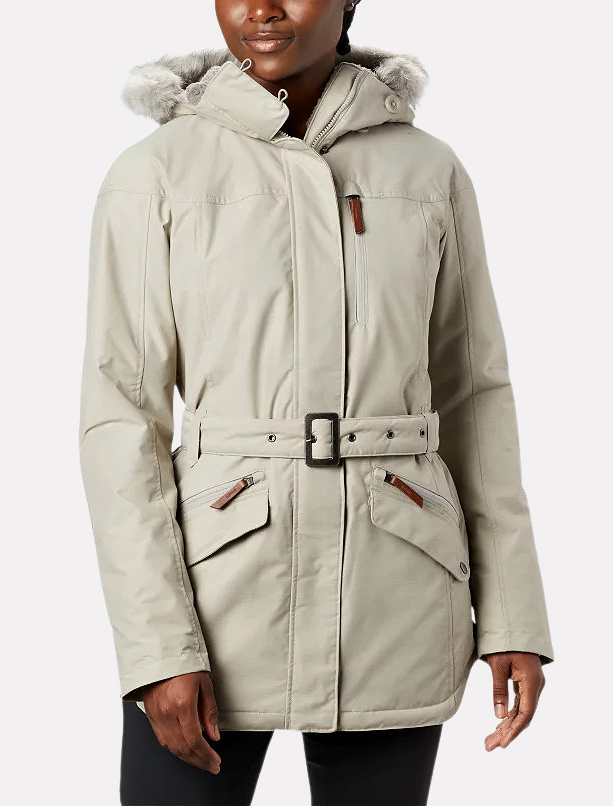 Shop Columbia Carson Jacket: Amazon | Columbia (Sizes XS-3X)
Waterproof Winter Coat
Switzerland, as you may have guessed, can be pretty icy during the winter months, so a warm, waterproof coat is an absolute must. Opt for one in black, navy, cream, or khaki to keep it versatile yet stylish. Fur-trimmed hoods and waist-cinching belts or drawcords are small touches that can elevate your coat from simple to chic. 
The Columbia's Carson Pass II jacket is a particular reader favorite, loved for its comfortable fit and cute look. This coat is fully waterproof yet it's still breathable, with thermal reflective lining to keep you warm while sightseeing in freezing temps.
See our readers' picks for the best packable down jacket for travel so you can stay warm on your next trip!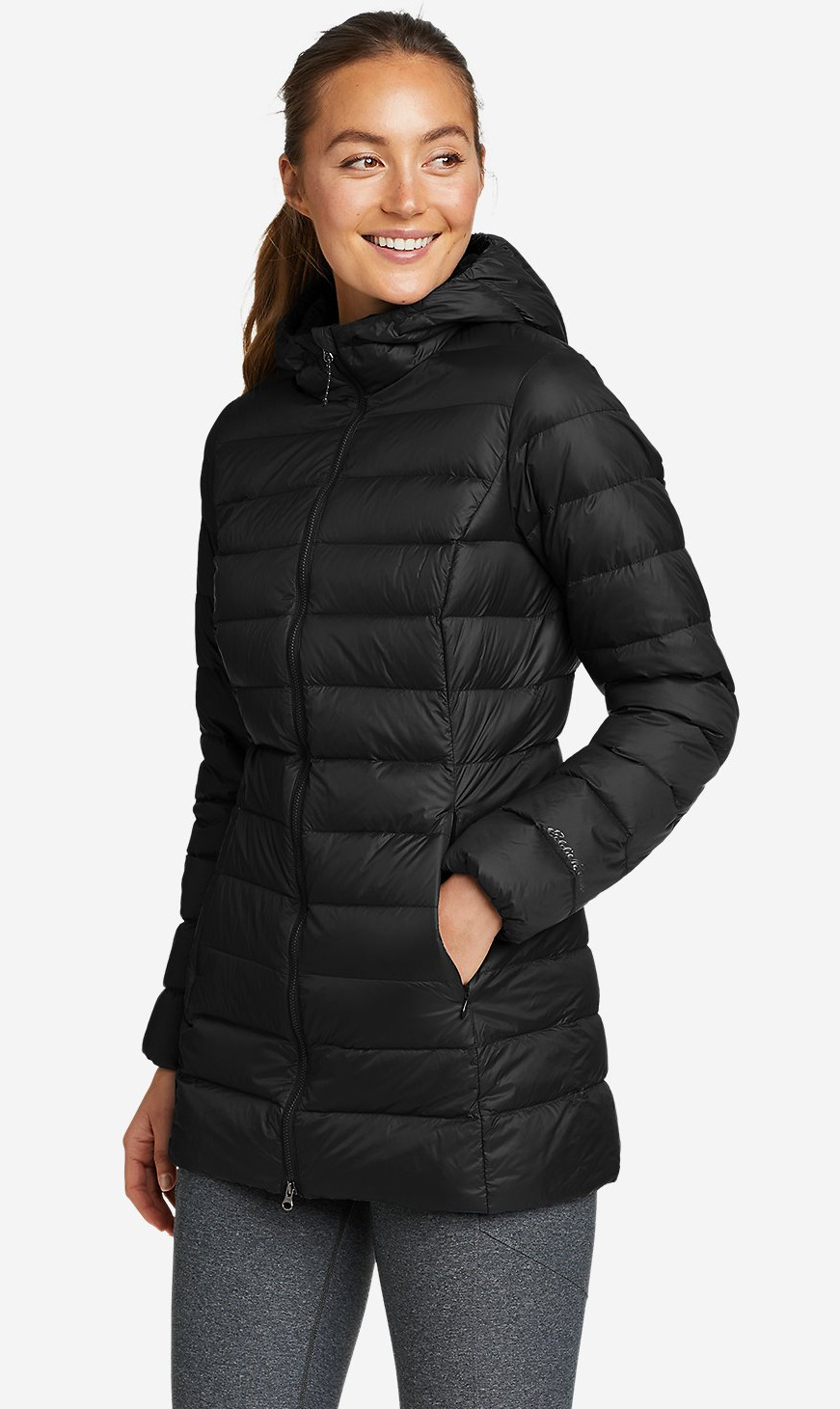 Eddie Bauer Cirruslite Parka
Sizes: Regular XS-XXL | Petite XS-XL | Tall M-XXL | Plus 1X-3X
Puffer jackets have the bonus of being toasty, yet very trendy. Clean and sleek in design, they're beyond cozy and super warm while still being lightweight. 
The Eddie Bauer CirrusLite down puffer has a slim and flattering fit while offering plenty of mobility and room for layering underneath. It's water-resistant with two zippered side pockets and an insulated hood to repel the freezing wind.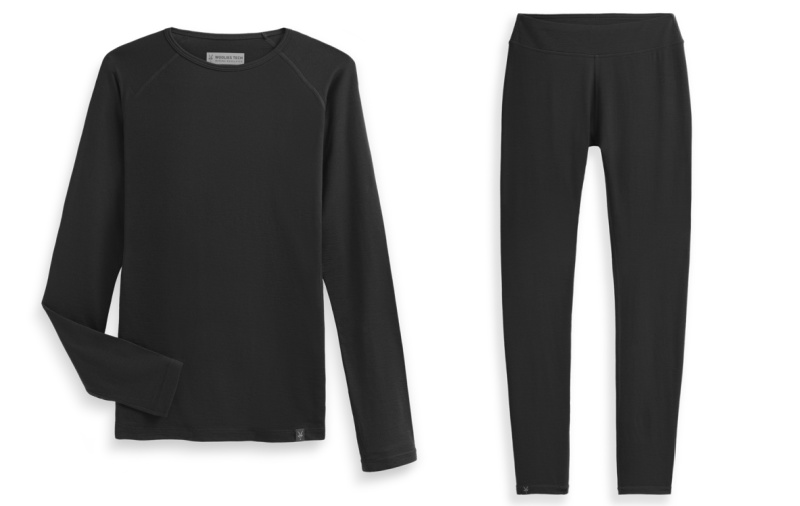 Woolies Tech Long Sleeve Shirt | Woolies Tech Layer Bottoms (Sizes XS-XL)
Thermals
If you'll be spending a lot of time outdoors, whether skiing, strolling through Christmas markets, or sightseeing, thermals are a necessity! While lightweight and easy to layer under your clothes, they'll add tons of extra warmth (that you'll need), so you'll be able to pack lighter for your trip! 
And aș a bonus, they'll wick away sweat and don't retain odor; so you can wear them over and over without washing, and they'll feel nice and fresh.
Our readers adore the ibex woolies thermal top and bottoms for their winter trips, as they're durable, breathable, and temperature-regulating. You'll stay comfortable as you go back and forth from warm restaurants and stores to the cold outdoors.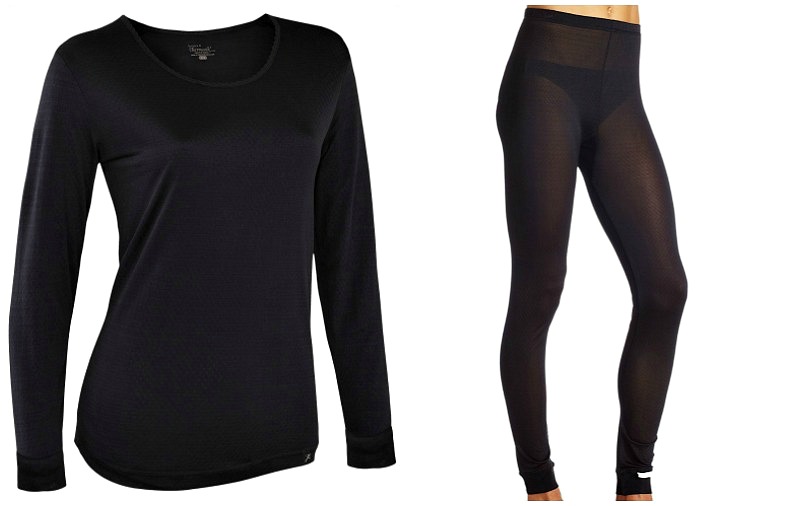 Terramar Thermasilk Pointelle Scoop: Top | Bottoms (Sizes XS-XL)
Silk thermals are another great option that's extra thin yet super warming, so they're great for layering under slim-fitting clothing. Terramar's Thermasilk top and bottoms are wonderfully smooth, moisture-wicking, and highly durable; so it's perfect for active outdoor adventures, casual strolls, or lounging by the fire.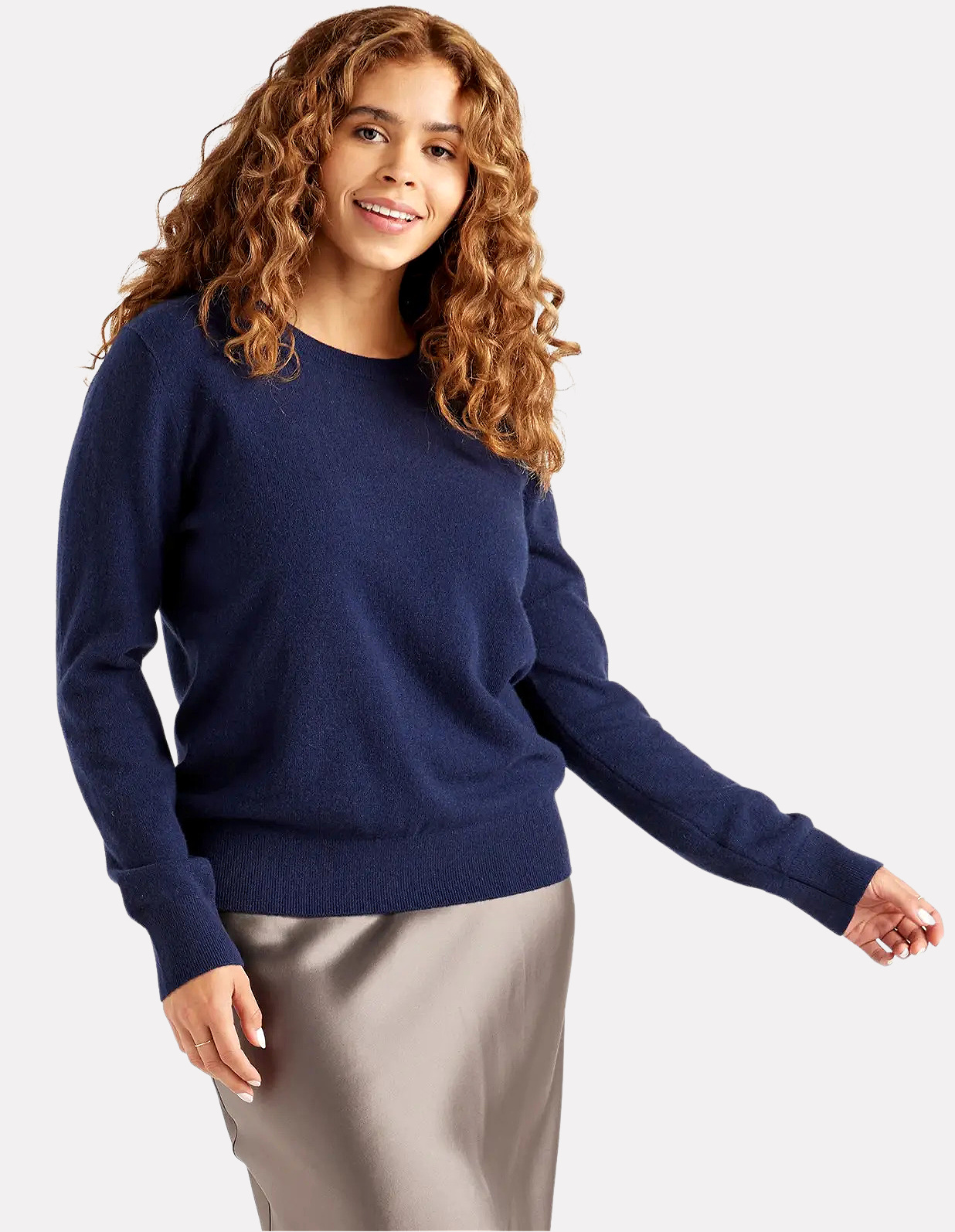 Quince Cashmere Sweater | Sizes XS-XL
Sweaters
Lightweight sweaters made from cashmere or merino wool are the perfect tops for winters in Switzerland, as they're not too bulky, great for layering, while ultra-warm and cozy. They're perfect for unpredictable weather, too, as they're adaptable and able to be worn alone, with a thermal, or with anything layered on top depending on the day's temp! 
Readers love Quince's cashmere sweater for its classic fit, soft feel, great quality, and affordability. It's lightweight yet offers a great amount of warmth for a freezing day, especially with a thermal underneath!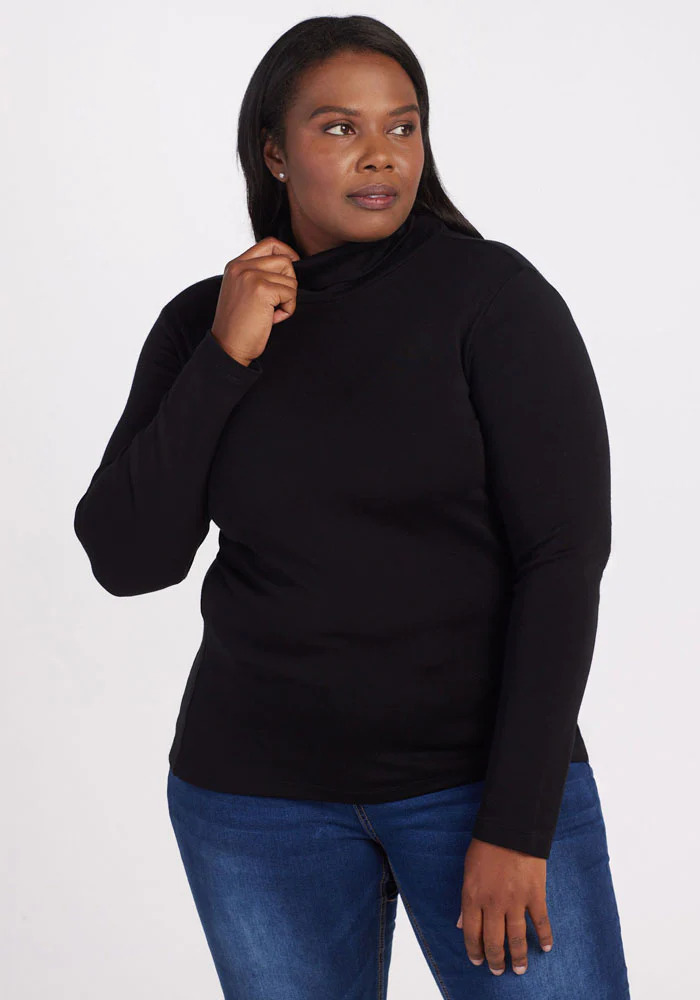 Woolx Peyton Turtleneck | Sizes XS-3X
A turtleneck is a timeless item that will keep you extra warm and add a dose of Euro-chic to your look. Black, camel, cream, and gray are great neutrals that will nicely complement anything in your wardrobe. 
The Peyton Turtleneck from Woolx couldn't be more travel-friendly! Its 100% merino wool fabric is lightweight yet ultra-warm, temperature-regulating, breathable, moisture-wicking, quick drying, and as soft as can be.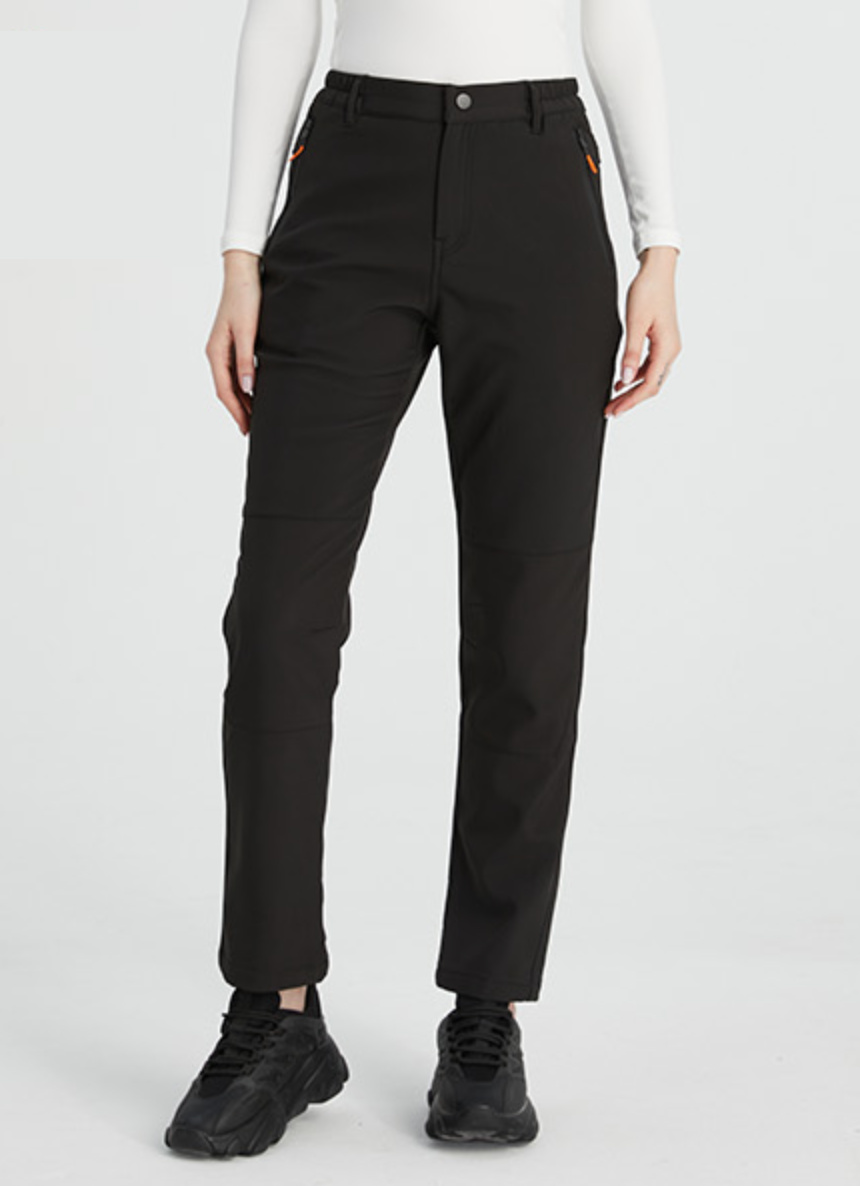 Camii Mia Windproof Ski Hiking Pants | Sizes 26-38
Pants
Whether hitting the trails or wandering through snowy villages, you'll need winter pants that are thick and warm, breathable, and can handle a bit of rain or snow. Opt for dark colors and styles that you can mix and match with different shoes and outwear. And if you know you'll be traveling in inclement weather, definitely consider bringing a pair that's waterproof, so that you won't spend the day feeling damp or cold. 
Camii Mia's waterproof hiking pants are always a top pick with readers for cold and wet trips, especially those that are more active. Hiking pants are waterproof, fleece-lined, breathable, and stretchy, and aside from their functional and sturdy construction, they have a simple yet pulled together look that can be dressed up with ankle booties and a sleek jacket for a day in the city! 
Our readers voted for the best black travel pants and these were their favorite styles!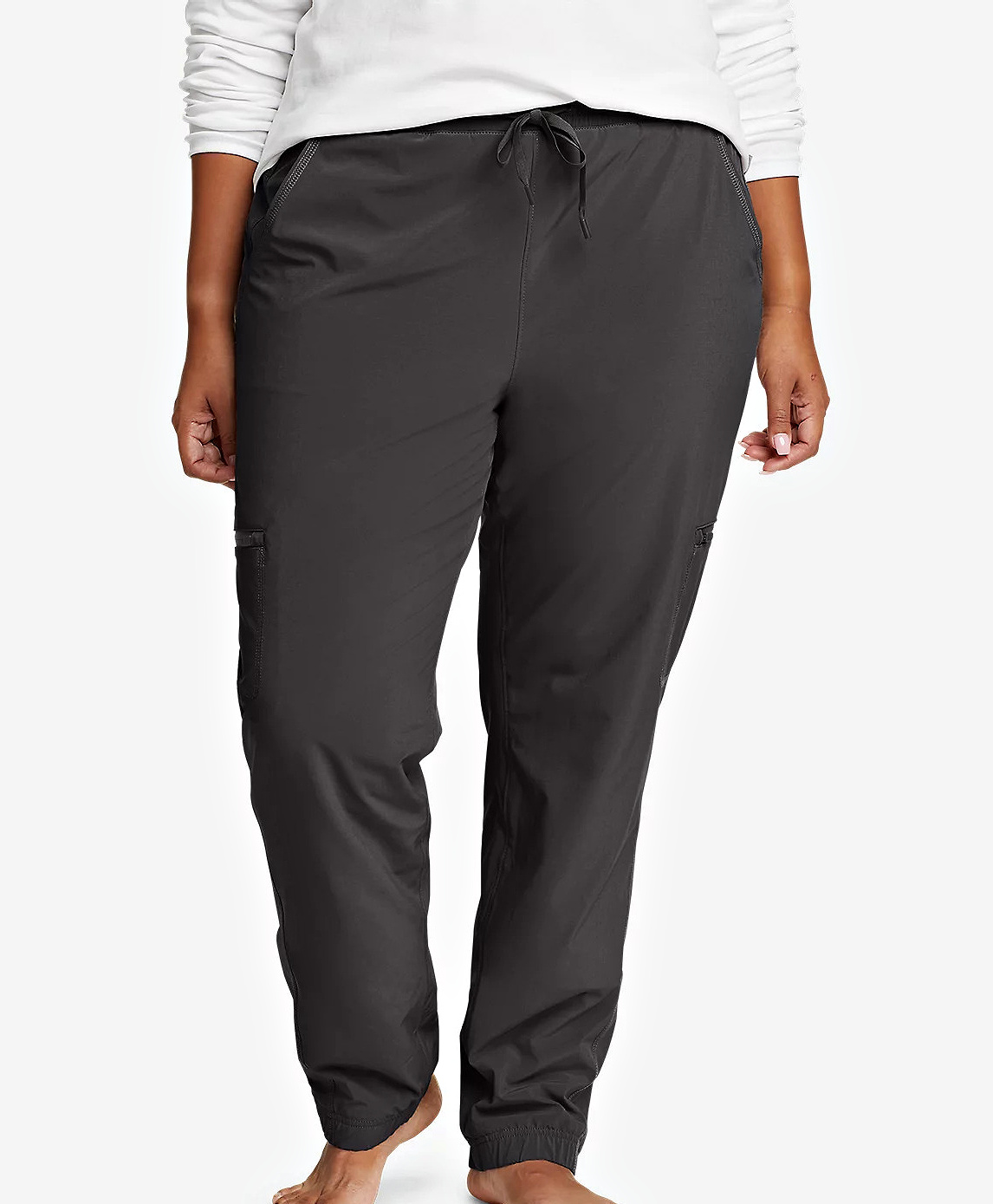 Eddie Bauer Polar Pull-On Pants
Sizes: Regular 4-12 | Tall 8-18 | Plus 22-24W
Eddie Bauer's Polar pants are another sporty pair that'll repel water and keep you ultra-cozy. They have an active stretch and a dreamy fleece lining, multiple pockets, and an easy, relaxed fit. Wear them alone on a warmer day or layered with thermals when the temps really take a dip.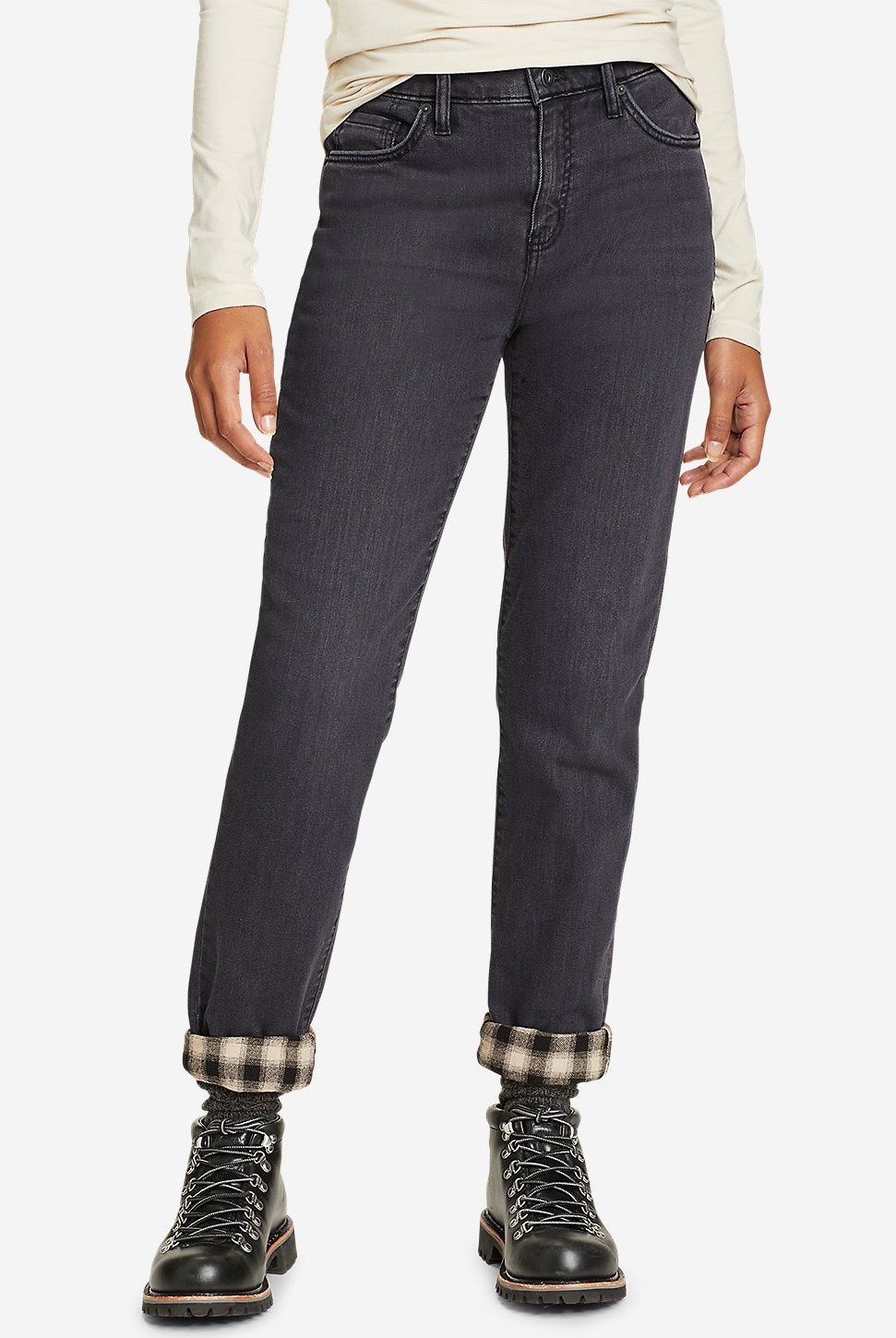 Eddie Bauer Boyfriend Jeans
Sizes: Regular 0-16 | Petite 0-14 | Tall 6-18 | Plus 18-24W
Versatile, durable, and comfy, jeans are a year-round travel staple! But because Switzerland winters are quite cold and you'll likely be out and about for long periods of time, a more technical pair is the way to go. 
Eddie Bauer's Boyfriend Flannel-Lined jeans are the ultimate pair for Switzerland winters, with a deliciously soft and warm flannel interior. The boyfriend fit is stylish and classic, and they're perfect for a long day of sightseeing or dressing up for a nice dinner! 
What Shoes to Bring to Switzerland in Winter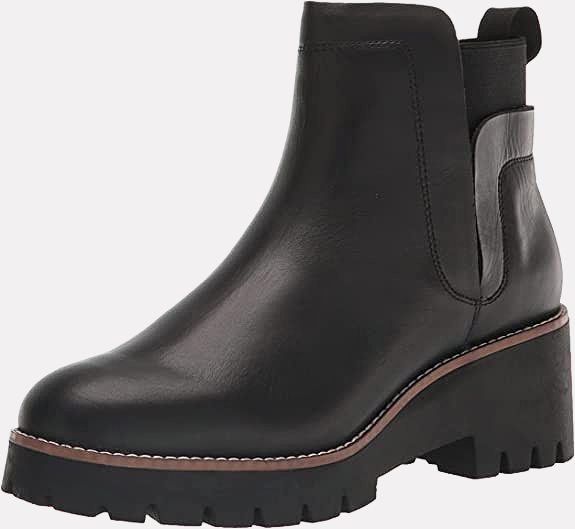 Shop Blondo Danika Boots: Amazon | Nordstrom | Zappos
Waterproof Boots
This goes without saying, but your footwear can truly make or break your travel experience. If you're walking around Switzerland during the winter, you'll need to bring a pair of waterproof boots with a solid grip and great foot support. 
And if you're planning on combining a city break with a bit of light hiking, opt for a pair of waterproof boots that'll work well in both environments. Be sure to break your shoes in well before your trip, too! 
Modern and stylish, the Blondo Danika boots offer everything you'll need in the way of function. They're waterproof, rugged, and amazingly comfortable, with cushioned insoles to support your feet for hours on end. Readers say they're perfect for a walking-heavy day and can tackle rain, snow, and an uneven terrain with ease.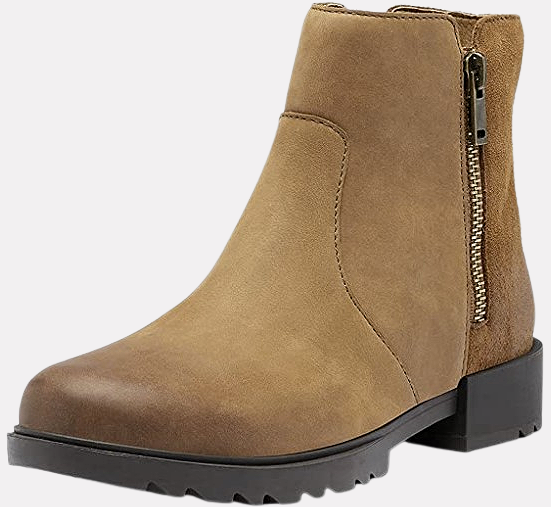 Shop Sorel Emelie II: Amazon | Zappos | Moosejaw | Sorel
Chelsea boots are another cute and practical option for cold European winters, especially if they're as supportive and comfortable as Sorel's Emelie II boots. 
This pair is made of high-quality leather with seam-sealed waterproof construction, so you'll be totally ready to trek down a snowy trail or explore the city in the rain. They're amply cushioned, have amazing traction, and are just as suited for casual outings as for a nice dinner!  
What Accessories to Bring to Switzerland in Winter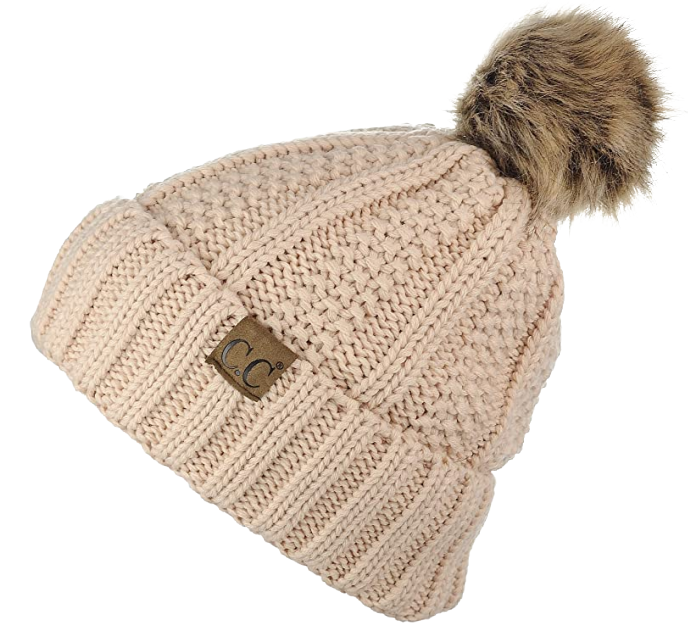 C.C Thick Cable Knit Cuff Beanie
Winter Hat
Whether you're planning on hitting up the streets for some shopping or the slopes for some skiing during your time in Switzerland during the winter, chances are your ears are going to get seriously cold – unless you've got them covered well in a winter hat. 
Keep your head and ears protected from the chill with a cute knit beanie like this one. Readers love it as it's fleece-lined, super soft, and comes in a ton of colors.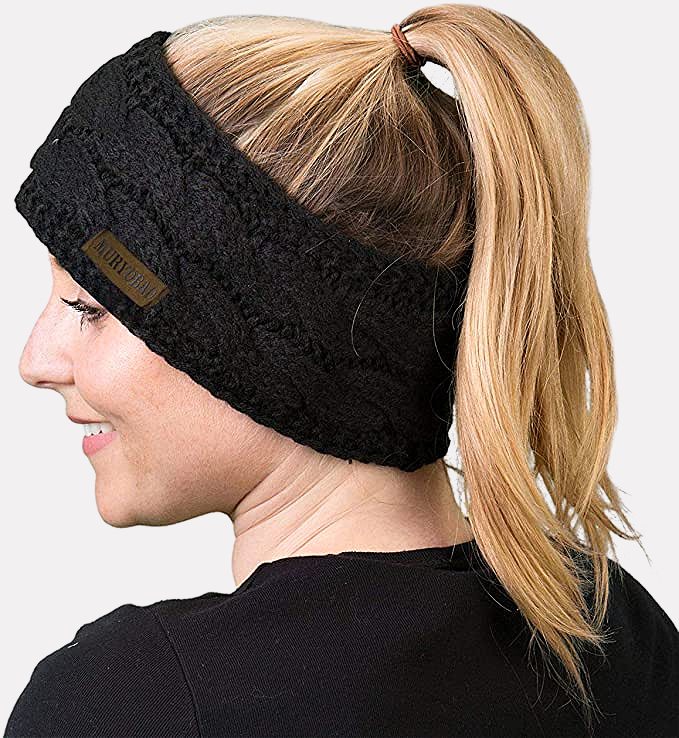 Muryobao Thick Cable Knit Head Wrap
You could also opt for a stylish ear warmer headband that'll keep your ears and head warm while allowing you to rock a ponytail or a bun. This pick is super versatile, perfect for an active hiking day or a more relaxed sightseeing day, and it doubles as a neck warmer.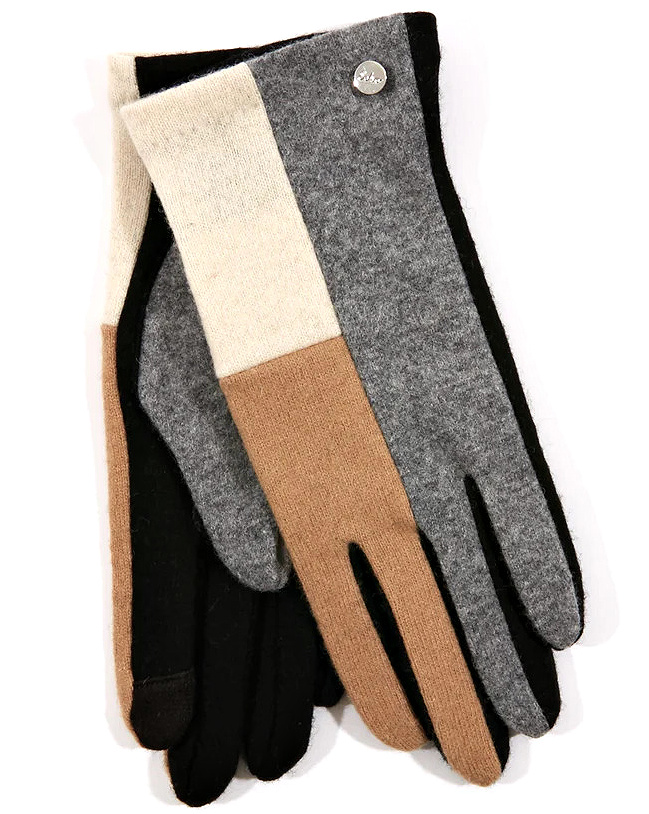 Echo Winter Gloves | Sizes S-XL
Warm Gloves
Gloves are another must-have! But when you're sightseeing, you'll likely want to have easy access to your phone for snapping pics and checking directions. Look for a pair of gloves with touch-screen fingertips or mittens with a flap.
The Echo gloves are an elegant pick, made of a wool and cashmere blend with leather patches on the palms. Plus, their touchscreen fingertips mean that you don't have to take this cozy pair off, to use your phone throughout the day.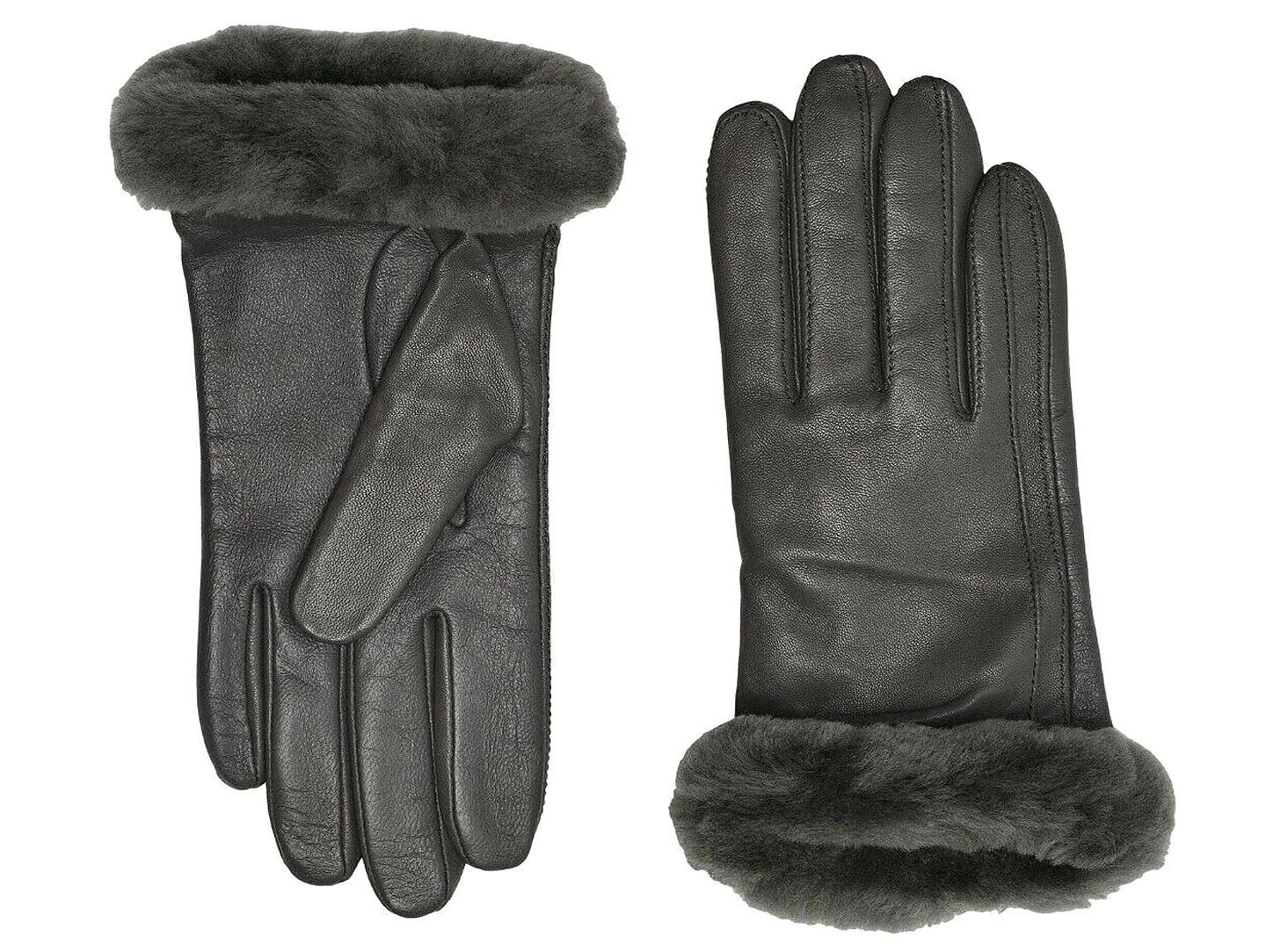 UGG Shorty Tech Wool Blend Gloves
Leather gloves are classic and super fashionable. UGG's Shorty Tech gloves have a refined look with a cute shearling cuff and a cozy cashmere blend lining. They're finished off with touchscreen compatibility, too!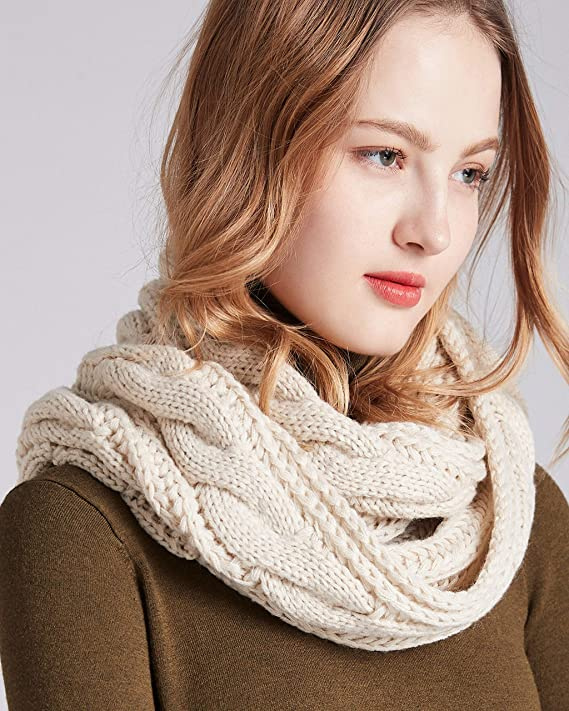 Neosan Infinity Circle Loop Scarf
Cozy Scarf
The last winter accessory you can't go without is a cozy scarf to keep your neck nice and warm. This thick, knitted snood (also known as a circle scarf) is a solid option, as it'll offer a cute look and offers a nice texture to your outfit while serving the practical purpose of warming your neck.
And unlike a traditional scarf, there's no fussing around with tying it just right—simply pop it on and you're good to go!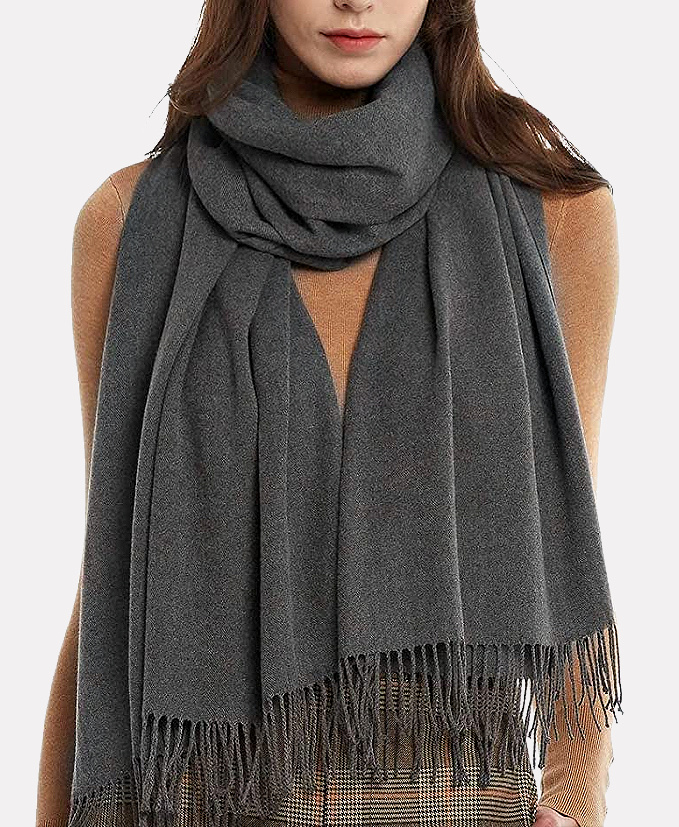 Furtalk Cashmere Feel Pashmina Shawl Wraps
Readers love the versatility of a pashmina scarf for traveling, too, as it makes a super chic scarf and can be worn in so many different ways to change up the look and the function. Wear it as a shawl over a dressy dinner outfit or snuggle up with it on the plane! 
This Furtalk pashmina is soft and lightweight yet ultra-warm, great quality, and overall really pretty! 
What Luggage to Bring to Switzerland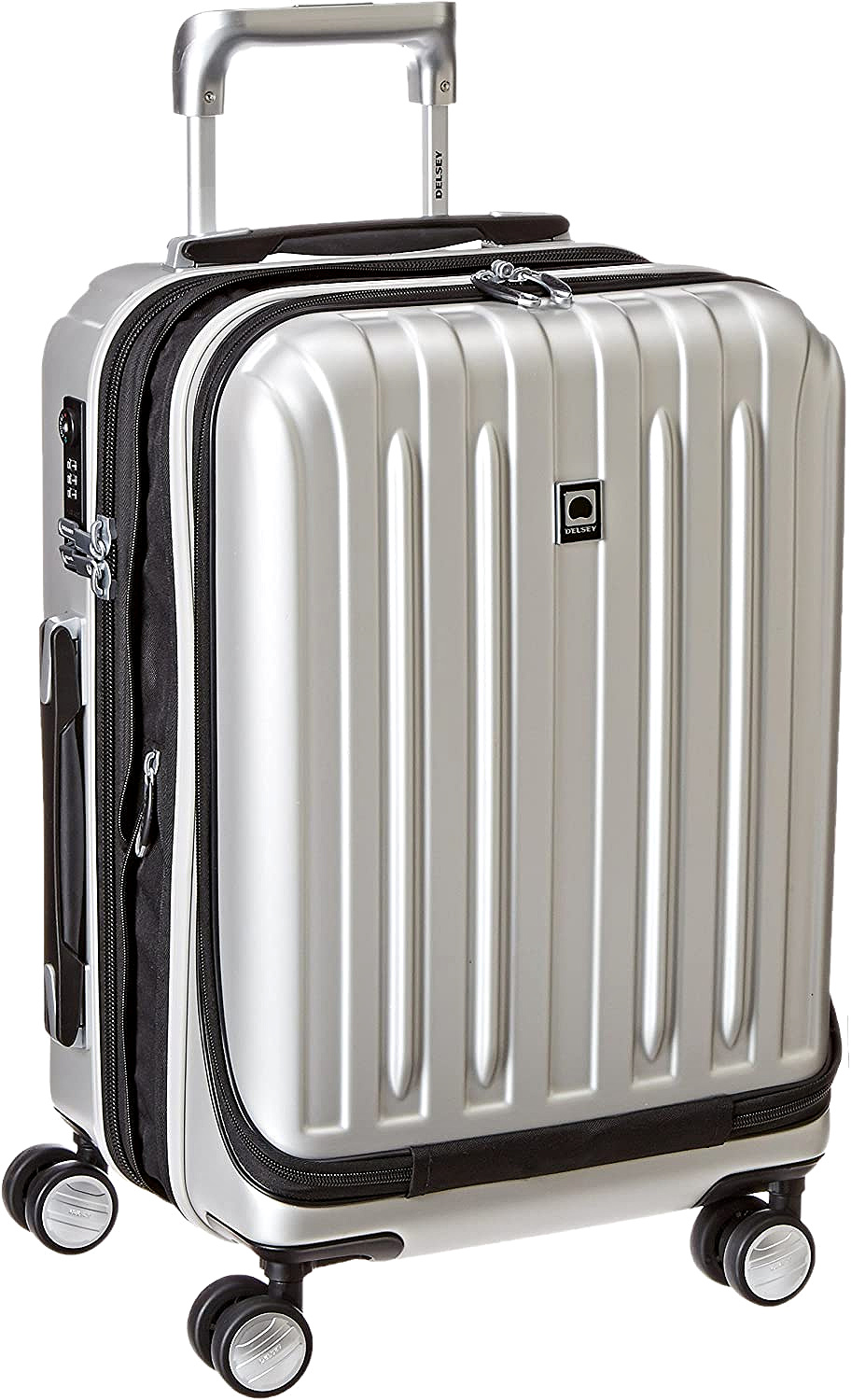 Delsey Paris Titanium 19" Suitcase
Suitcase
If you love hardside suitcases, the Delsey Titanium suitcase is a dream. At 19", it's the perfect size for traveling carry-on to Europe, but readers say the interior is spacious and allows you to fit all you need while keeping things light. It's easy to maneuver, durable, and will keep your things safe in rainy weather.
Oh, and if you're bringing home some souvenirs, it's expandable to give you more room!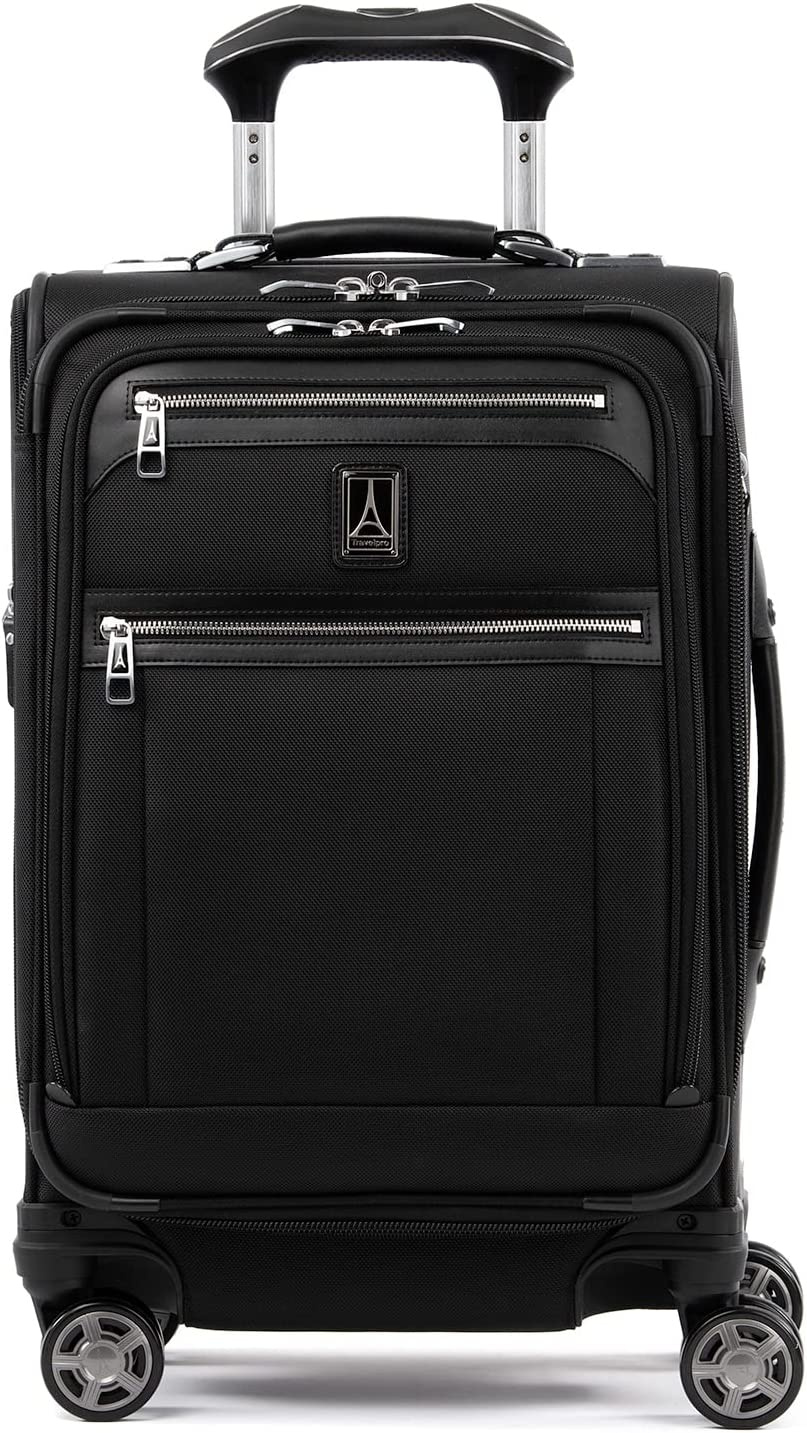 Shop Travelpro Platinum Elite 20": Amazon | Travelpro
As far as softsides go, you can't go wrong with Travelpro's Platinum Elite suitcase. It's ultra-lightweight, amazingly sturdy, and has great organization. This 20" option is carry-on compliant for European airlines, too, and it's expandable to fit in some goodies on the way home!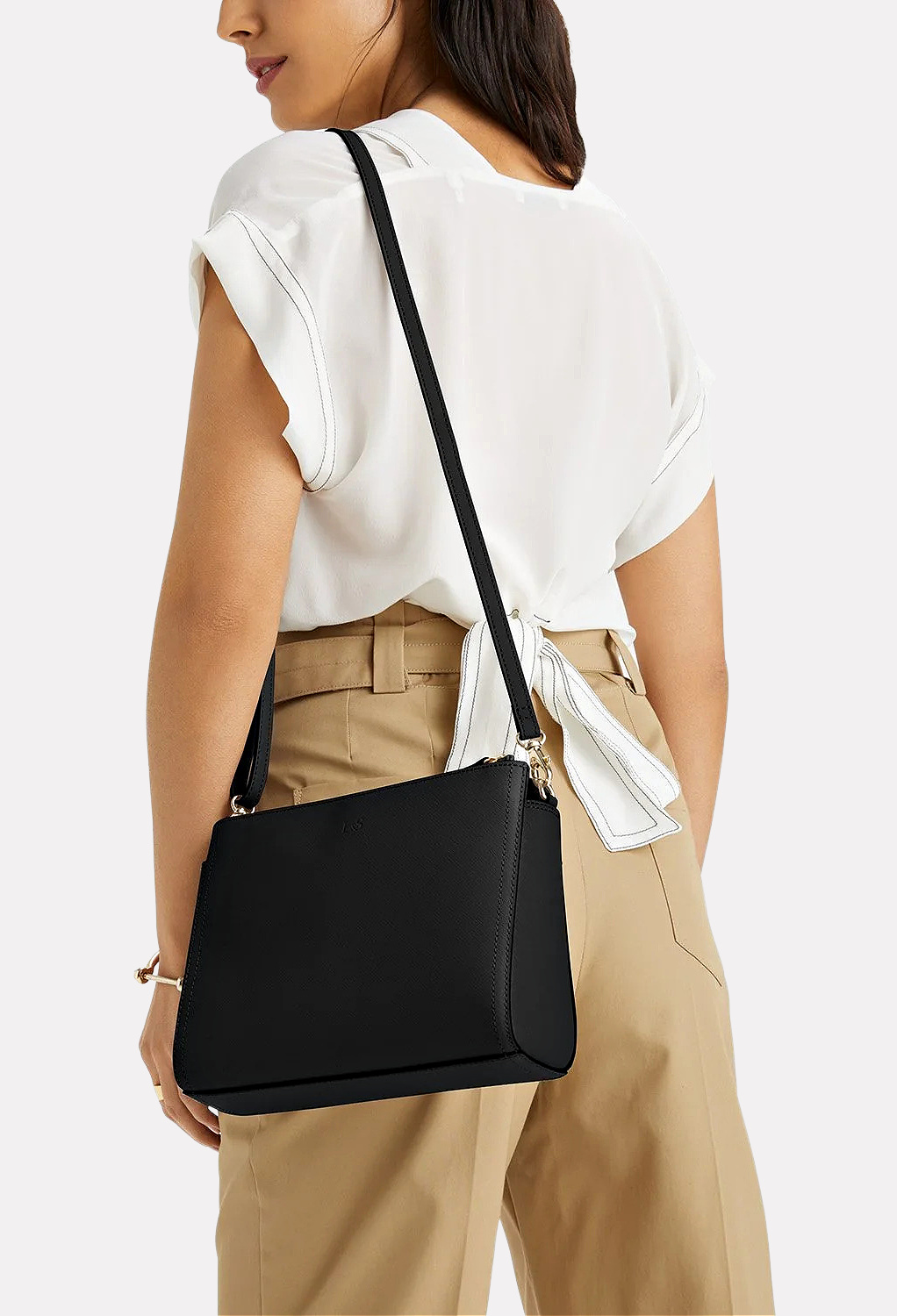 Personal Item or Day Bag
Bring along a day bag that'll hold all your essentials for the day without weighing you down. A leather crossbody is a perfect option, especially if there's interior organization to keep your belongings organized. 
The gorgeous Lo & Sons Pearl crossbody is a TFG reader fave for Europe, as it has a clean, chic exterior, a highly functional interior, and feels comfortable to carry for hours on end. The Saffiano leather version is scratch and weather-resistant; so it's perfect for trips where you'll be experiencing some rain or even snow; the Nappa leather and vegan Cactus leather are equally as pretty and very high quality!
We've rounded up the best anti theft travel bags for women, and our readers have voted for their favorite styles!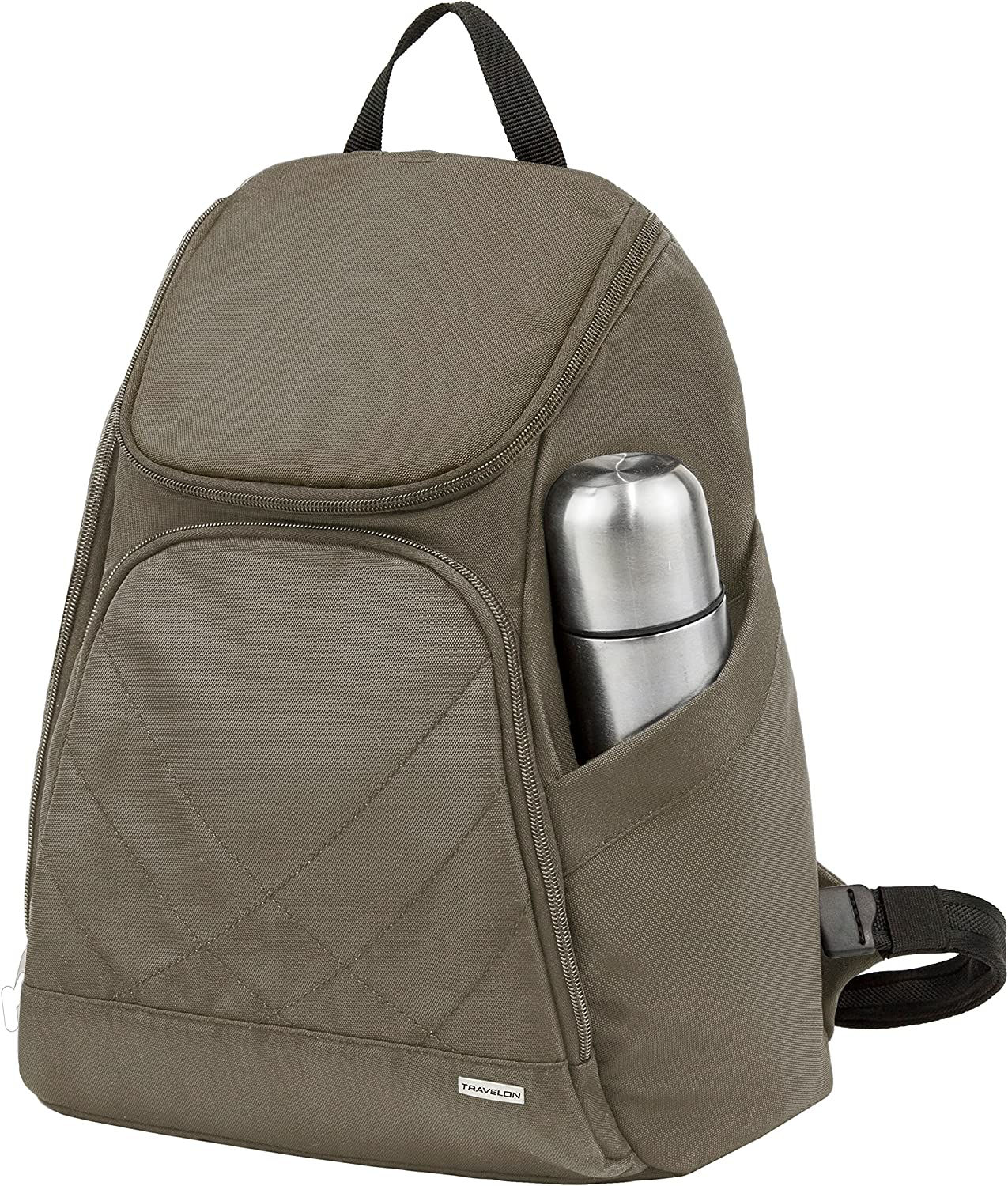 Travelon Anti Theft Classic Backpack
Even if you're not planning on having a hardcore, outdoorsy experience during your time in Switzerland, you'll probably still want to do a bit of gentle exploring, and with hiking trails to suit all levels of fitness, there's definitely something for everyone. 
For these excursions, a small, lightweight backpack is ideal for carrying all your necessities, such as extra layers, sunscreen, your camera, and a picnic lunch. A small backpack is also great if you want to pack a bit more on your sightseeing day or just to keep the weight evenly distributed on your shoulders. 
The Travelon Anti-Theft Classic backpack will give you peace of mind as you explore, especially in more touristy or crowded areas, as its many security features will prevent any pickpockets from getting in. It has a nice, versatile look, and tons of pockets, too! 
Swiss Tips
Remember that this country is quite pricy when it comes to shopping, so when deciding what to bring to Switzerland, pack carefully to ensure you don't have to make any emergency buys during your time there!
The higher the altitude, the colder the temperature—this is something you need to take into account if you're planning a day trip to an alpine village from your city base in winter. On average, you can expect temperatures to drop 1°C/2°F for every 150m/500 ft increase in altitude.
If you're visiting Switzerland on a trip that will take in other European countries such as France, Germany, or Austria, bear in mind that the currency is the Swiss franc (CHF), not the euro. Make it easy on yourself by keeping your francs and euros in separate compartments of your wallet to avoid confusion.
Wondering where to buy the best Swiss chocolate? Look no further than the grocery store. There's no need to splash out on expensive chocolate in Switzerland; just find a supermarket and stock up on familiar Swiss brands such as Toblerone and Lindt as well as many others you may not have heard of. You'll be totally spoilt for choice, as even the brands you've heard of will have flavors you don't see at home.
Most stores are closed on Sundays. This may seem strange to someone from North America or the British Isles, but it's fairly common in many parts of Europe. Plan accordingly!
---
What are your tips on what to bring to Switzerland in winter and summer? Share in the comments below!
---
For more tips and ideas for Europe packing lists, please read:
Suggested travel resources:
---
LIKED THIS POST? PIN THIS PIC TO SAVE IT!
---
I hope you liked this post on what to bring to Switzerland. Please share it with your friends on Facebook, Twitter, and Pinterest. Thanks for reading!
---
Author Bio: Ali O'Neill is an Irish-born, Canadian-bred writer who recently moved from Vancouver to Dublin. Passionate about travel, books, fashion, and beauty, she writes about her interests at Alison Genevieve. You can follow her adventures on Instagram.
---