Support TFG by using the links in our articles to shop. We receive a small commission (at no extra cost to you) so we can continue to create helpful free content. As an Amazon Associate, we earn from qualifying purchases made on Amazon in addition to other retailers featured on the blog. Thank you, we appreciate your support!
Whether you're spending a summer abroad or finally taking that vacation you've been dreaming about for years, Travel Fashion Girl has the ultimate backpacking packing list for Europe adventures!
This is a five part series. You can find each seasonal backpacking packing list for Europe by clicking the thumbnails below. Note: even if you're NOT backpacking, these tips are still relevant to any trip.
---
Backpacking Packing List for Europe
---
Table Of Contents
Follow the tips below and visit each seasonal backpacking packing list for Europe for more details:
SPRING I SUMMER I AUTUMN I WINTER
Packing for Europe
Europe is a dream destination for many Americans; it seems as if everyone around the world wishes they could travel this beautiful continent. From the royal history in England, the romance of the Eiffel Tower, the exquisite Spanish art, to the architectural intrigue of Rome, every country has its own special treasures to offer the eager traveler.
As you prepare your backpacking packing list for Europe, we've created a sample itinerary for your journey including:
Click any of the above destinations for an individual guide for each one!
Of course, because these backpacking packing lists for Europe are created with European destinations in mind, you can still use them even if you're going to countries that aren't mentioned. Just customize it to fit your own trip!
How to Pack When You're Backpacking Europe
When backpacking Europe, you want to look stylish and chic but don't want to lug around an overweight bag or suitcase–TRUST ME. This is what my friend and I looked like on our first trip backpacking Europe and ouch, never again!
If you're backpacking Europe, my number one tip is to take a backpack instead of a suitcase. A backpack is more convenient, especially when going up and down endless stairs in the subway or at hostels.
These are the pros and cons of traveling with a backpack or wheeled luggage. Take a look at some pros and cons of different types of luggage in this post, and see which option might best suit your exciting European trip!
Osprey Farpoint 40 Travel Backpack
Try to choose a backpack that can fit as a carry-on, especially if you're planning to use Europe's budget airlines with strict luggage dimensions. Be sure to adhere to their measurement requirements because those airlines aren't messing around with the size allowances!
Note that the carry-on allowance for Europe's airlines is smaller than in the U.S. This is how I packed carry-on only for Europe in the winter.
Read this step-by-step guide on how to choose the best travel backpack.
Editor-in-chief Alex with her Nomad Lane Bento bag and Compass Rose Packing Cubes Set
Use packing cubes to maximize the space in your bag. Check out my packing video tutorial. If you insist on traveling with a suitcase, check out our top suitcase recommendations for Europe.
Europe's carry-on bag allowance: 55cm x 40cm x 20cm. Always check your airline's individual baggage rules and regulations in advance.
Eddie Bauer Girl on the Go® Trench Coat
Packing for the Weather in Europe
To ensure that your backpacking packing list for Europe is finely tuned, make a list of your planned activities and check the extended weather forecast or average temperatures. Once you've researched the weather, you can focus on creating a travel capsule wardrobe.
Ensure that the majority of your travel wardrobe contains low-maintenance clothing–that the items are easy to wash and dry. Look for fabrics that are quick drying, wrinkle resistant, and in dark colors, to hide stains.
Read more about choosing the best fabrics for travel.
Quince Mongolian Cashmere Crewneck Sweater
Remember that you can re-wear clothing more than once, such as a good pair of jeans, a warm jacket, or a sweater. These items can also be dressed up or down to suit most situations. So keep your backpacking packing list for Europe to a minimum.
Lastly, make sure your tops and bottoms mix and match with each other to create a number of different looks. The most successful travel wardrobes include clothes that are versatile and in solid colors.
Read these top 10 tips on creating a capsule travel wardrobe.
Please refer to the seasonal guides below for a full weather summary for major European cities as well as a backpacking packing list for Europe in each season.
Zella "Live In" Black Leggings
Do's and Don'ts of European Clothing
Before visiting a destination, do some research to ensure you're familiar with the country's practices and customs, and any time you're going to a religious or respected site, cover up as much as possible. Showing respect for a culture is of the utmost importance; the reception you receive will be far warmer.
Take Barcelona, for example. Fashion is more conservative here because religion is important in the lives of the locals and has an influence on the culture. You may be refused entry into sacred buildings, like cathedrals, if you do not dress accordingly.
Leggings are perfect to wear under a shorter dress or skirt. If your destination doesn't require you to cover your legs the entire time, you can slip leggings on to enter religious sites and then remove them if the weather is extremely hot.
These tips on what to wear to the Vatican can work for just about any religious site!
 J.Jill Wearever Slim-Leg Pants
Europe Clothing Style
In general day-to-day European style is more dressy than American style. This DOES NOT mean business clothing. Think dressy top (or the type of top you'd wear to work) plus nice jeans (dark colors are always a good choice).
Slim or Skinny fit jeans are the preferred denim option. If that's not your thing, having tailored denim always makes for a smart appearance no matter what the pant style. For example, hemming the leg length so there's not an excess fabric at the bottom.
Tip: ankle jeans are an easier way to get this look without a trip to the tailor.
But in other cities, like Zurich and Amsterdam, there's a more relaxed view on fashion. You can feel free to use artistic license when it comes to your wardrobe. In ultra-chic cities like Paris and London, two of the major fashion capitals of the world, style is a way of life.
As with most destinations, practical sense applies. Leave the beachwear on the beach because it doesn't translate well to streetwear in the city.
The same goes for gym wear; unless you're actually headed to the gym, don't dress in your gym attire as the locals will instantly recognize you as a tourist for the lack of effort that has been put into your wardrobe.
Sorel Emelie II Zip Waterproof Bootie
Travel Shoes for Europe
One unexpected issue that many travelers discover once they get to Europe are the cobblestone streets.
While great to look at, stone streets aren't always the easiest to walk on and can make for sore feet even if you don't normally have discomfort. Depending on the city, these streets can also be hilly, slippery when wet, and uneven.
Clarks Annadel Eirwyn Wedge Sandal
In addition, we all love to dress up, but avoid heels because they'll leave you feeling uncomfortable. Opt for wedges if you must bring a heel. Do include one pair of shoes and one outfit that can be worn for dining out or experiencing the local nightlife. Keep this in mind when building your backpacking packing list for Europe.
Popular shoe options include (click each item below for suggested styles):
Read this post about the how to choose the best walking shoes for Europe.
Dual Voltage Plavogue Styling Brush
Toiletries 
Worried that all your toiletries, makeup, skincare, and hair styling tools won't fit into your suitcase? Read these tips on how to travel size toiletries to learn how to make the most of limited space without sacrificing your routine!
You can replenish your toiletries virtually anywhere during your travels. There are plenty of pharmacies in Europe that stock all of your essentials, so don't overstuff toiletries in your bag.
We recommend you take the most important products in travel containers like these and try to either buy basics like shampoo and shower gel in Europe or use the items provided by hotels.
Also, consider your makeup–in many European cities, women opt for natural makeup focusing on a well groomed but not over-the-top appearance. While a daily salon blow out isn't necessary, be mindful of your hair and makeup. Find out if it's necessary to bring a travel blow dryer or hair dryer brush.
When choosing your styling tools, choose items that have dual voltage and bring along a travel adapter for all your electronics. Just make sure to add all these items to your backpacking packing list for Europe so you don't forget them.
The voltage is different in Europe and the USA! Read this guide before you travel.
Shopping in Europe
The shopping in Europe is amazing and you can find anything you're searching for. There are a number of local stores where you can replenish your travel wardrobe. This means keep your backpacking packing list for Europe to a minimum so you can shop.
Sample Backpacking Packing Lists for Europe
Follow the tips below and visit each seasonal packing list for more details:
SPRING I SUMMER I AUTUMN I WINTER
V Neck | Blouse
 | Shirt
| Denim | Dress | Jeans | Skinny Jeans
 | Shorts | Raincoat | Jacket
 | T Shirt
 | Cardigan | Loafer | Boots | Scarf | Backpack
Backpacking Packing List for Europe in Spring
Click here to read the full guide on how to pack for Europe in spring!
T shirt | V Neck | Shirt | Blouse
 | Dress | Striped Dress | Jeans | Shorts | Raincoat | Cardigan | Dress
  | T Shirt
 | Sandals | Flats | Hat | Backpack
Backpacking Packing List for Europe in Summer
Click here to read the full guide on how to pack for Europe in Summer!
V Neck | Denim | T Shirt
 | Shirt
 | Shirt Dress | Chinos | Jeans | Skinny Jeans | Raincoat | Jacket | Hoodie
 | Cardigan | Loafer | Boots | Scarf | Backpack
Backpacking Packing List for Europe in Autumn
Click here to read the full guide on how to pack for Europe in Autumn!
Sweater
 | T Shirt | Denim | Shirt
 | Shirt Dress | Sweater Dress | Jeans | Skinny Jeans | Coat | Jacket | Skirt
 | Knit
 | Tall Boots | Boots | Scarf | Backpack
Backpacking Packing List for Europe in Winter
Click here to read the full guide on how to pack for Europe in Winter!
Travel Tips for Europe
Along with providing you a backpacking packing list for Europe, one of our biggest travel tips for any destination is to buy either a print or digital guidebook. They help you plan your itinerary, give you insight on where to stay, and even give you facts about the historical sites, too. Learn more about why I still use travel guides!
These are a few popular Europe guidebooks:
"Not all who wander are lost", but it never hurts to have a good travel guide book to lead the way! Personally, I'm partial to the Lonely Planet guide books, especially the budget series.
If you're working with a smaller budget, check out this awesome guide for Europe: Lonely Planet: Europe On a Shoestring.
Compass Rose Secret Bra Wallet (Similar)
Money and Safety
ATMs tend to offer you the best exchange rate, so pull out cash as you go. Just be cautious about where you stash your cash! Spain is especially known for muggings and pickpockets.
Add items like the Compass Rose Secret Bra Wallet and Underwear with Pockets to your packing list. For extra security, check out the "theft-proof" bags featured in this post about Cross-Body Purses.
These are articles with other suggested anti-theft products:
Remember, the safest place for your passport is locked in your accommodation. Carry a photocopy or other ID when you're sightseeing or are out at night.
Read these tips on how to keep your passport safe when you travel!
Transportation
Fortunately, country hopping in Europe is relatively easy with an abundance of transportation options to help you tick items off your bucket list. Research in advance to see which mode of transportation best suits your budget.
Trains can be the most expensive way to travel when you compare them to cheap flights on airlines like Ryanair and EasyJet. For even more budget prices, check out long distance bus companies, too.
If you are planning an inter-railing trip around Europe, check out this post for some train travel essentials to make your journey more comfortable.
Accommodation
For accommodation, we love Airbnb for accommodation in Italy and other parts of Europe. Sign up here for a free $40 credit!
I prefer to to book "the entire home" instead of opting for shared accommodation on Airbnb. Aside from safety, I also like to feel like I'm living in the destination. It's a small taste of local life plus you get more amenities than you would at a hotel such as a kitchen and washing machine.
Read these Airbnb tips for more info!
If you prefer the convenience and comfort of a hotel room, I like using both Agoda.com and Hotels.com. Tip: Hotels.com gives you a free night for every ten nights you book!
For flights, I like booking through Travelocity or Cheapoair (whichever one's cheapest). Although I prefer Travelocity because they have a 24 hour money back guarantee.
To maximize your vacation time, fly into the city where you're starting your trip and out of the city where your trip ends. Many times it's the same price and saves you from having to spend extra time and money to go back to where you started your trip.
For hostels, we recommend Hostelworld and Hostelbookers. Always read the reviews before booking to get the best idea if the hostel is right for you. Some are quiet and family friendly while others are known for their party atmosphere.
As a personal tip, if you're backpacking, instead of booking all your nights in advance, maybe just book one or two so you can first get a feel for the place without overcommitting. Of course, should you be traveling during a special event or holiday, book in advance.
Not sure about staying at a hostel? Read this.
Dining
In the US it's common to eat everyday meals with a fork. In Europe, however, it's generally customary to use a knife and fork even if you're eating in a casual restaurant. This small tip might help you blend in a little more than your clothing.
Travel Insurance
If you plan on getting travel insurance, I highly recommend Travel Guard. I got a gross staph infection while on my RTW and it was nice to have $800 in expenses reimbursed into my depleted bank account at the end of my trip. You can read about my gross experience at Sick on the Road.
Europe Tours
Tours are a great way to travel if you're not ready to travel alone. A few top choices include G Adventures or Intrepid Travel. While I haven't traveled through Europe with G Adventures, I did go to South America and Africa with them as a new traveler in 2008 and enjoyed my experiences!
One of my favorite type of tours to do when I travel are food tours. In Europe, I've received complimentary tours by Eating Italy, Eating London, and Madrid Food Tours. I can't recommend them enough!
In Rome, I did a City Tour and a VIP Vatican Tour with Roman Guy tours. Not only were there were only 3 people on my Vatican tour versus the groups of 25-50 around us but my guide Nina was a local fashionista. I also got to skip the massive lines and enter the Vatican one hour before the public!
For more city tours, New Europe has excellent tours and the best part? They're free! All you have to do is tip your guide.
Disclaimer: we only work with companies that we think our readers would like and only feature them on the blog if we like them. If we don't, we apologize and tell them we can't feature them. Our readers' best interest is always top priority!
---
Visit each seasonal backpacking packing list for Europe for more details:
---
Want the ultimate guides for packing light? Read our Pack Light Stylishly book to get started and take our master class if you're ready to Stop Overpacking!
---
From the history to the royalty to the fashion and the shopping, whatever your motivation to make a trip abroad, one thing's for sure: it will be the trip of a lifetime! 
What's your favorite Europe travel destination? What's on your backpacking packing list for Europe?
---
For more tips, please read these backpacking packing lists for Europe:
Suggested travel resources:
Please read our Ultimate Backpacking Packing List for Europe featuring stylish outfits and travel tips for 9 countries.
---
LIKED THIS POST? PIN THIS PIC TO SAVE IT!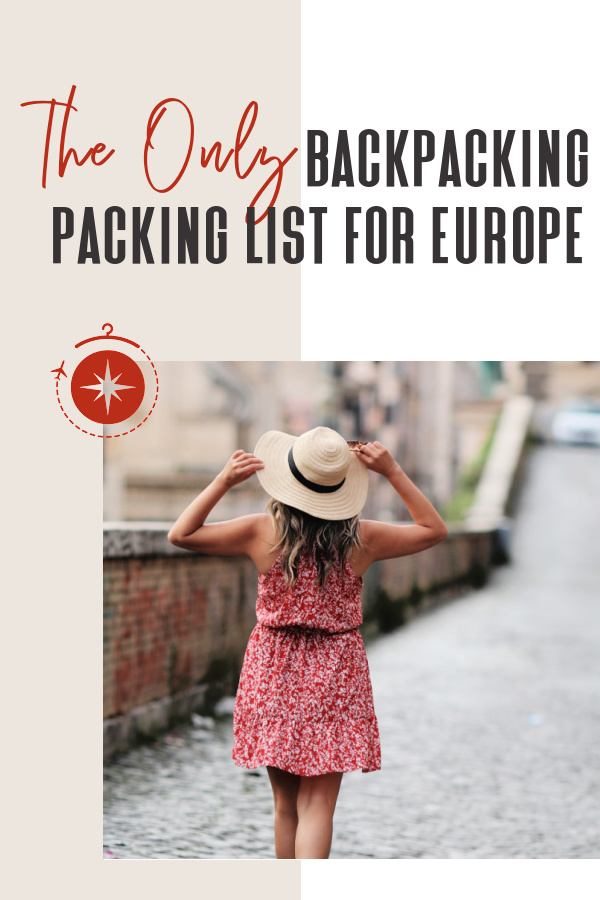 ---
We hope you've enjoyed our ultimate backpacking packing list for Europe. Don't forget to share this post with your friends on Facebook, Twitter, and Pinterest. Thanks for reading!
---