Support TFG by using the links in our articles to shop. We receive a small commission (at no extra cost to you) so we can continue to create helpful free content. As an Amazon Associate, we earn from qualifying purchases made on Amazon in addition to other retailers featured on the blog. Thank you, we appreciate your support!
With the popularity of Christmas markets in Europe, you will be spoiled with all your choices as you plan your trip. However, nothing will ruin your vacation faster then being cold or wet. Our readers offer packing tips to ensure you will be warm and toasty while you enjoy browsing Europe's Christmas markets!
---
Packing for Europe's Festive Season
---
Travel Fashion Girl help! A reader asks:
Would Blondo boots be good for Christmas markets in Germany, Switzerland, and Austria, or do I need something warmer? Any coat or other recommendations?
Traveling to Europe during the Christmas season can be magical. The streets are lit up, and nothing will get you into the festive mood faster than the sight of Christmas trees and decorations. The markets are full, with awesome stalls offering delights galore of homemade gifts and traditional food.
But deciding what to pack for your winter trip to Europe can be overwhelming. Winters can be bitterly cold and harsh, and remember, there is one major difference between traveling and being home in the winter: the amount of time you'll spend outdoors. You will be outside for long periods of time while your sightsee at Christmas markets. Read on for our readers' packing recommendations, so nothing will put a damper on your trip!
Note: Remember to check the weather forecast for each destination you will visit as the weather will vary across Europe!
Start by reading these general tips on packing for winter travel:
Columbia Pardon My Trench Rain Jacket
Coat
Avoid bringing a thick, heavy coat if possible and instead opt for a warm, packable, down, waterproof jacket, which you can layer to keep out the chill. (Sizes available from XS to 3X).
One reader says, "Pack a coat that is warm and at least water-resistant, if not waterproof. I wore a Uniqlo lightweight down under a wool jacket." Another reader adds, "A long coat is crucial, the wind goes right up a short one."
Here are more picks for stylish, waterproof jackets that will help keep out the chill!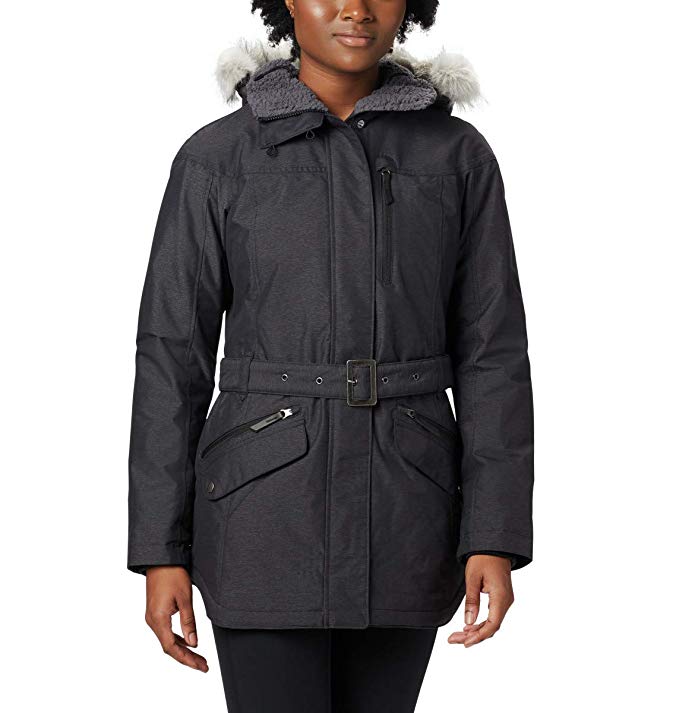 Columbia Women's Carson Pass II Jacket
If you're headed to sub zero climates, be prepared for the frost with a jacket that's guaranteed to keep you warm such as the Columbia Carson Pass II (It's available in sizes XS-2X).
You need to be prepared for rain or snow, depending on the cities you visit. Make sure you have a compact umbrella in your bag so you are ready for spontaneous showers.
Read my full review of the Carson Pass II to learn why it's absolutely everything!
Terramar Thermasilk Scoop-Neck Top
Thermals
For your trip this holiday season, invest in a pair of merino wool thermals. Merino wool is one of our readers' favorite fabrics for winter clothing, as it will keep you ultra warm while you browse the markets this Christmas time.  
Several readers use their thermal tops as their base layer to keep them warm while outside for an extended time. One reader says, "Don't forget to pack your thermals. They're warm, light, and take up minimal room."
Read these tips on how to choose the best thermal underwear for women!
Tops and Bottoms
The key to warmth and packing light is to layer your clothing rather than pack lots of bulky items. Pack clothing that can be worn together when the temperature drops. This is easily done by packing jeans, a long-sleeve merino top, a sweater, and a jacket.
Tops
Over your thermals, you'll want to layer more warm items. Several readers recommend packing a couple of merino wool sweaters as it's the most functional fabric yet it's so lightweight and packable! One reader says, "Merino wool sweaters are lightweight, warm, and can be layered easily."
Remember that bulky fabrics won't necessarily make you feel warmer! You need to pick clothes made from the best cold-weather fabrics and then layer your clothes strategically.
To get a full list of choices, check out the best merino wool sweaters for women!
We've developed a few key equations for how to layer:
When it's cold: 
One set of merino wool or silk thermals + top + sweater + jacket
When it's really cold: 
Two sets of merino wool or silk thermals + top + sweater + jacket
I've found the double merino wool combo to be absolute perfection. It even kept me warm on Christmas Eve in England when I spent the morning outside, and everyone — even the locals — were complaining about the cold, while I was toasty warm!
One reader says, "For my trip to Vienna last year, I stocked up on base layers and sweaters, and then topped with a great coat."
Readers have spoken and so did we in this video review below:
Watch this video on why the J. Crew Tippi sweater is warm yet comfy for winter!
Learn more about why merino wool is the best fabric for travel!
Bottoms
For exploring winter markets, add a dark pair of jeans to your packing list. Jeans are an essential for traveling in cold weather and fantastic for walking around the stalls on those frosty days. Add thermal bottoms or tights under your jeans for extra warmth.
One reader recommends packing at least two pairs of pants. "It was wet and cold on my trip to Germany last year. My pants got wet, so it's nice to have an extra pair." Another reader says, "I wore my Winter Silks long underwear under my jeans."
Winter Woolies
Last, but certainly not least, don't forget to pack you winter woolies to ensure you are lovely and warm. One reader who visited Europe's Christmas markets says she found "jeans, warm boots, winter coat, and hats/gloves were enough" to keep her nice and toasty.
Hat
A beanie hat will help keep your ears warm and stop heat from escaping through your head. Also nothing helps enhance an outfit quite like a hat, while also covering up those bad hair days. Throw one into your bag!
Ribbed Knit Winter Infinity Scarf
Scarf
An essential item for any cold-weather destination, a scarf is a fashionable and functional accessory. Winter scarves are a perfect way to inject some color into your travel outfits. With so many different styles, you will be stuck for choice!  
One reader says, "Get a pretty, warm scarf, and wrap it around your neck. It will help you stay warm."
Take a look at these stylish winter scarves for your winter Christmas trip!
Classic Thinsulate® Lined Leather Gloves
Gloves
Your hands will be exposed to the cold, so wear gloves to retain heat throughout the rest of your body and make you more comfortable in the chilly temperatures.
One reader says she wore "leather gloves with Thinsulate lining, and they kept my hands warm. They looked more feminine, didn't let the wind through, and fitted easily into my coat pocket when I didn't need them."  
Look at our recommendations for the best gloves for winter weather!
Icebreaker Merino Hiking Crew Socks
Socks
Cozy socks are really easy to overlook, but for your Christmas winter trip, they are a packing essential. Cold feet make for a miserable travel experience, so remember to pack your warmest socks.
One reader says, "Smartwool socks are a must for keeping your toes warm while out in the cold." Another reader shares how for her last winter trip, "the only things that were freezing were my hands and feet. This year, I've got Icebreaker socks and a waterproof lined boot."
Remember, if you forget to pack your winter woolies, you can purchase them from the Christmas market and have a memento of your trip!
Have a look at our round up of the warmest socks for winter travel!
Worried about all the extra space your winter clothes will take up? You still can pack carry-on even when you travel in cold weather by using packing cubes to compress your clothing. Watch this video to see how!
Learn our packing hacks with packing cubes in this video!
We put together a five-part YouTube series showing the different methods to use packing cubes for travel.
If you use this specific packing strategy, packing cubes can also compress your belongings. This is the secret to traveling carry-on only!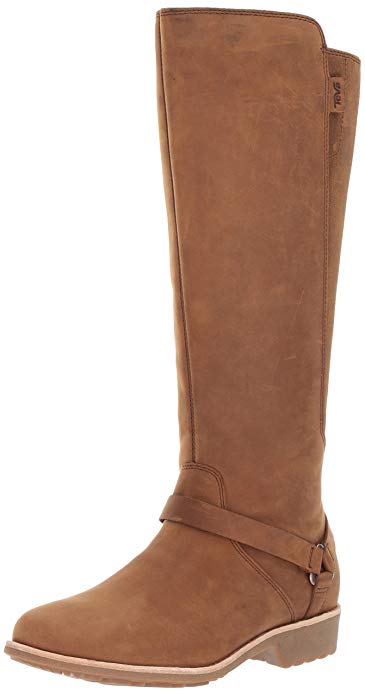 Boots
It is no fun to have cold wet toes when sightseeing, so before you leave for your wintery Christmas market trip, make sure you choose a good pair of waterproof boots that will withstand the cold winter weather. Remember, you're also going to be walking a lot, so make sure your boots are comfortable with plenty of support.
Several readers recommend choosing a pair of "waterproof, leather boots, good for walking in, as there is nothing worse than cold wet feet." Another reader adds, "For cobblestones and maybe slush or snow (or mud), I'd wear a boot with a low heel and good traction from the sole."
We round up the best waterproof boots for winter travel!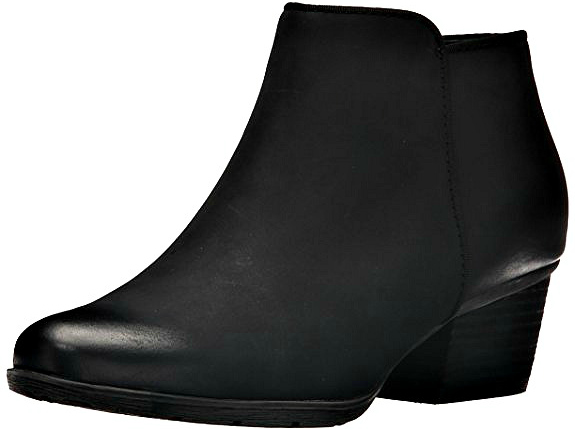 Blondo Villa Waterproof Ankle Bootie
Blondo Boots
One of our readers' favorite boots for a city break are the Blondo boots, because they are comfortable, durable, and waterproof. One reader says for her visit to the Christmas markets of Edinburgh this year, she is packing her Blondo Women's Evie knee-high boots.
Another reader says that last year she traveled to Germany, Austria, Prague, Edinburgh, and London over the Christmas period. "It was cold, and there was more snow than we thought. I packed my Blondo waterproof boots, and they were fantastic. So comfortable and lined with flannel, which kept my feet dry and warm."
Note: Always break in your shoes before your trip!
We review the Blondo Villa waterproof boots!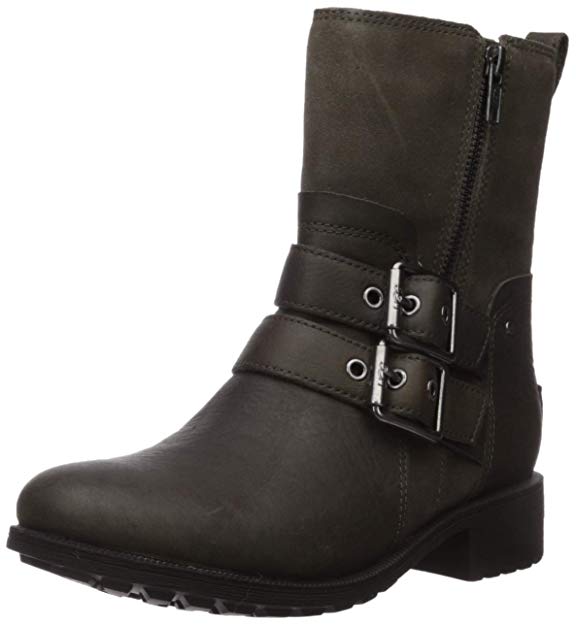 UGG Wilde Fashion Leather Boot
Should you pack snow boots?  
Several of our readers say that unless a lot of snow is forecast this winter in your vacation destination, you probably could skip snow boots and opt for a regular pair of waterproof boots.
One reader says, "I was in Germany and Austria last year for the Christmas markets. It was cold and damp, but no snow. Thick socks and regular boots were fine." Another reader adds, "I don't think you will need snow boots as long as your other choice is a good study pair, and you can keep your toes warm."
One female traveler sums it up: "Water-resistant boots (spray them) are fine. You don't need full-on snow boots if you are exploring the city Christmas markets. I wear Ugg Wilde Fashion Leather boots with an insert under the insole that deflects the cold and thick Smartwool socks. Many Christmas market trips, and my feet have stayed warm and dry."
Other Essentials
Slip a reusable tote into your bag so you have something to carry your purchases from the market, and nothing will be broken or forgotten. One reader says, "Take a secure crossbody bag and a fold-up tote for purchases."
Hand Warmers
You also could slip hand warmers into your bag in case you need them to help combat the cold. One reader says, "I was so glad I had them when I traveled to Germany."
Don't forget, you will need cash to spend at all the incredible festive stalls! One reader says, "Don't forget to bring cash. You will need it for shopping at the markets, so make sure you get it beforehand."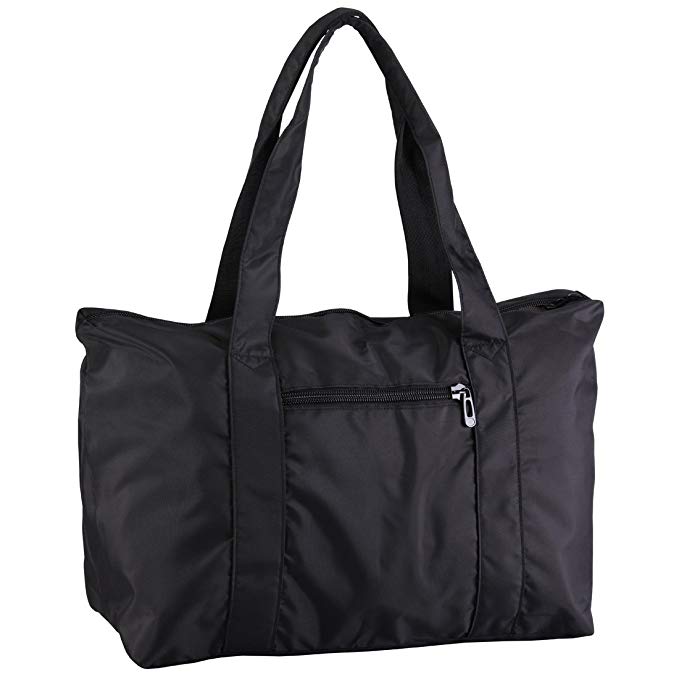 Duffle Bag
Shopping in Christmas markets means bringing tons of great goodies home and the Leberna Travel Duffle Bags can help you store all the gifts and souvenirs you've purchased. This one unfolds to a much larger size and has a reinforced bottom so all your goodies don't fall out.
Readers swear by using this type of bag to transport gifts back home. One says, "I packed an empty duffle (Leberna to be exact) that I filled with anything I buy from the markets."
---
What are your tips for packing for exploring Europe's Christmas Markets? Share and comment below!
---
For more Europe packing tips, please read:
Suggested travel resources:
---
LIKED THIS POST? PIN THIS PIC TO SAVE IT!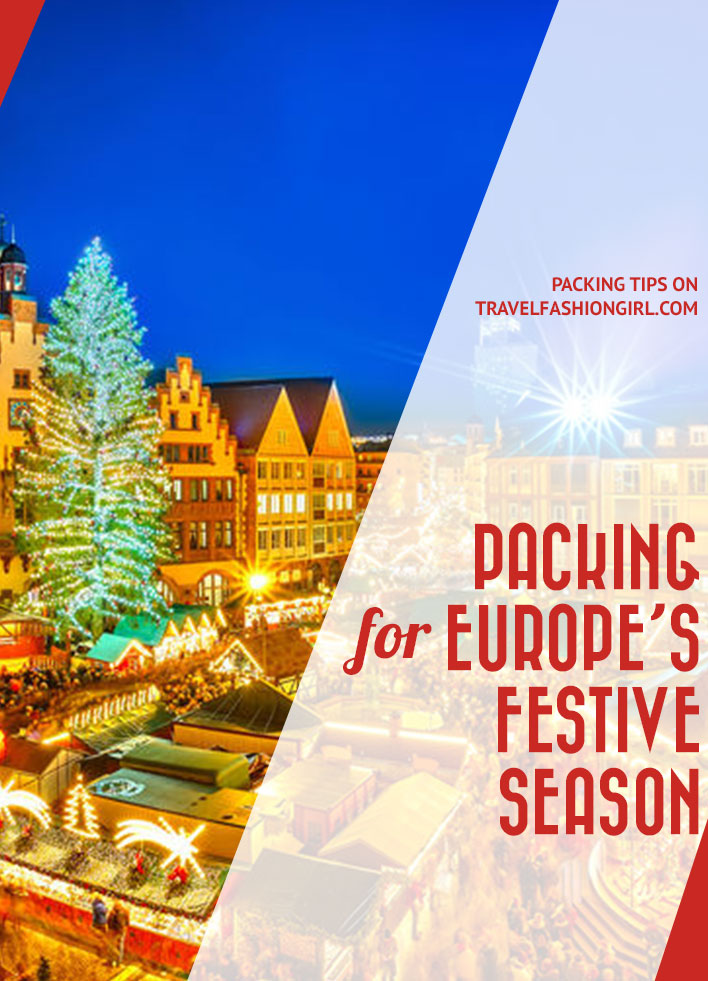 ---
Hoped you liked this post on what to pack for your trip to Europe's Christmas markets! Please share it with your friends on Facebook, Twitter, and Pinterest. Thanks for reading!
---