Support TFG by using the links in our articles to shop. We receive a small commission (at no extra cost to you) so we can continue to create helpful free content. We earn from qualifying purchases made to the featured retailers. Thank you, we appreciate your support!
For this edition of Locals Approved Packing Lists, Jana from Cologne has helped me to put together a seasonal packing list that will ensure you look right at home on your trips to Germany.
Jana is a 24-year old graphic designer, who lives in West-Germany, close to Cologne where she has lived her entire life.  Jana is an avid traveler and most certainly knows how to give superb travel fashion tips. Thank you Jana.
---
What to Pack for Trips to Germany and Cologne
---
Cologne Clothing Style
Cologne is vibrant and beautiful cultural city and has many museums and hundreds of inspirational galleries. When considering what to pack for your holiday in Cologne, it is important to remember that the city is casual, but also has a formal element to it.
As with most destinations weather plays a factor when considering what to pack. During spring and autumn it is not uncommon that the sky will become a grey backdrop and the heavens will open, showering you with rain.
During these months an umbrella, or a waterproof coat will be your best friend to ensure you stay protected from the elements at all times. Whilst summer sees more pleasant temperatures and clear skies, you can are able to bring your favorite pair of sunglasses and dress accordingly.
Always check the weather forecast before your trip. Once you've researched the weather, you can focus on creating a travel capsule wardrobe, which should easily fit in a carryon suitcase with the help of packing cubes to compress your clothing.
For added versatility, these are popular convertible travel dress styles!
Just because you're on holiday doesn't meant that you should forgo style, and wearing sportswear is not advisable (unless of course you are actually doing sport) So avoid tracksuits and running shoes as this will just make you stand out as a tourist, or that you forgot your stylish clothes at home.
These are the most cute and comfortable ballet flats for travel!
Cologne Travel Essentials
The seasons impact what you will need, an umbrella for the wetter seasons and sunglasses for the summer so you can enjoy the glorious sunshine.
Cologne Shopping
If you need some additional items, then you can head to shops such as H&M and Gina Tricot to pick up all your basics, they are great places to shop and they come with a reasonable price tag. If it is cosmetics or medicines that you are after then head over to one of many "dm" (drogerie markt) stores which are scattered throughout the city.
For any other needs, or if you are backpacking then a trip to Globetrotters will be beneficial as you will be able to replenish any finished items, get a nice warm sleeping bag, or purchase a wonderful assortment of maps and guidebooks that will undoubtedly benefit you during your travels.
If you are worried about theft, add items like a money belt or Secret Bra Pocket to your packing list.
Shirt  | Longsleeve | V Neck | Blouse | Dress |  Dress | Jeans | Jeans | Raincoat | Jacket | Sweater | Skirt | Boots | Flat | Scarf | Crossbody
What to pack for Germany: Cologne in Spring
Weather:  
Jana says: the weather is unpredictable during spring, you can experience freezing cold weather and even snow or you can enjoy warm and pleasant sunny days. So it is best to be prepared for all elements on trips to Germany during this time of year.
Start by reading these general tips on packing for spring travel:
Cologne Packing List: Spring
Since the weather during spring in Cologne can be unpredictable, you will need to be prepared to face all the elements. Start off with the basics, you can never go wrong with a pair of jeans, opt for the darker shades, they are both figure flattering and will protect you from any dirt. A skirt is the ideal option for spring, in denim, as it is a fabric that allows for mobility and comfort.
These are the best leggings for women that travel as voted for by our readers!
Black and other neutral colors are a great base for any outfits, as they easily allow you to mix and match, ensuring you can create many different looks with various tops. Speaking of tops, layering is needed when you encounter unpredictable weather.
And since you will be going from a cold outdoor climate into a warm heated indoors, you want to ensure that you can remove a jacket. You can pick vests of your choice, they can reflect your style and ensure that you are comfortable, great to pair with jeans for the warmer days, or simply wear underneath a jacket on the colder days.
Add a  jumper for the cooler days, try again to stick to the neutral colours, and a waterproof jackets or coat, leather is the best as it's warm, waterproof and fashionable, but there is a  vast selection of stylish and practical jackets available that the choice is easy to make.
Read these tips on what to wear on a rainy day!
A satchel is a great accessory as it allows you to carry your necessities with you on your daily excursions whilst also providing you with greater security as you are able to keep your eyes on it at all times.
Another wonderful accessory is a scarf, not only is it practical as it will keep your neck and chest warm, but you can use scarves to add a pop of colour to your outfit, you can choose your favourite colour or patterned scarf and use it to brighten up an otherwise neutral outfit, this will look elegant and chic, creating a smart casual look, which is what Cologne embodies.
One of the most essential parts of your packing list is footwear, especially as footwear dictates your level of comfort as you are exploring the city, opt for leather boots, not only do they look great but they are also comfortable, waterproof and practical and will protect you from all elements, so you will be prepared for that shower of rain.
Since it is spring however you can include a pair of pumps, in a pastel colour to reflect spring, just be certain you have worn them before and you can vouch for their comfort.
These are the best waterproof leather boots recommended by our readers!
And lastly, do not forget that umbrella! 
Blouse | Tee | Sleeveless | Tank | Dress | Dress | Jeans | Shorts | Raincoat | Sweater | V Neck | Skirt | Sandals | Flat | Hat | Crossbody
What to pack for Germany: Cologne in Summer
Weather:
Jana says: Summers are mostly hot, with the odd rain shower. The evenings are mind, and there are often thunderstorms, so it is advisable to bring a light cardigan or a jacket with you.
Start by reading these general tips on packing for summer travel:
Cologne Packing List: Summer
Your first travel companion is a good pair sunglasses to protect you from the sun and ensure you can enjoy the sunshine without having to squint.
Since you will be lucky enough to enjoy warm temperatures during summer trips to Germany you will be able to pack a maxi dress, long and light material it is great for a summers day whilst still giving your legs added protection if the temperature cools slightly.
Pack vests, tank tops and tube tops, these can be a mixture of neutral colours and bolder, brighter colours that reflect the summery season, you can mix and match these tops with denim shorts or a pair of colourful shorts,  for during the day and a pair of black jeans for the cooler evenings.
For added versatility, these are popular convertible travel dress styles!
Enjoy the summer vibe and make the most of the heat and the cheerful season with colours, but don't opt for anything lumo or neon, stick to simple, soft pastels or rich deep colours.
As mentioned previously bring a light jacket or cardigan with you so that you can protect yourself from the chill, a scarf once again a fantastic accessory to brighten up your outfit and could come in useful in the evenings or if you experience a cooler day
The heat will allow you to wear sandals, pick a comfortable pair of leather soled sandals or a pretty pair of pumps that allow breath ability and look cute for your days on the warm, energetic streets.
Shirt | Blouse | Sweater | V Neck | Dress | Dress |  Jeans | Jeans | Raincoat | Coat | Skirt | Sweater | Boots | Boots | Scarf | Crossbody
What to pack for Germany: Cologne in Autumn
Weather:
Jana says: During Autumn you will experience mostly rainy weather, with occasionally frosty days, and other days will be warm with plenty of sun.
Start by reading these general tips on packing for autumn travel:
Cologne Packing List: Autumn
Boots! You cannot go wrong with boots especially if you know that there is going to be a lot of rain, you can ensure your feet are kept dry and warm at all times, long sleeve and ¾ sleeve tops are wonderful for autumn as they allow you to layer, pack colours such as tan, grey, black and white, these perfectly reflect the somber autumn mood and will ensure you are able to mix and match your outfits perfectly.
Read these tips on what to wear on a rainy day!
The cooler weather dictates the need for warmer clothes; pick a scarf, but a nice warm woolen one that will keep your chest and neck protected. Jeans again serve as the base for any outfit, the darker shades are always best and the thickness of the jeans will keep your legs warm in the cold chill.
Leggings can also look very stylish for the warmer days as they are not as thick as jeans, and come in a variety of different styles and colours, for autumn a maroon or oxblood colour would work nicely and compliment any outfit.
These are the best leggings for women that travel as voted for by our readers!
Jumpers are amazing for layering, or if you experience a cool but not frosty day, you can get some lovely wool ones that will keep you warm.
Don't forget a warm coat, or jacket and ensure that at least one is waterproof to protect you from the elements, especially the rain, include an umbrella for extra measure, the fold up ones are always the best because you can take them everywhere with you inside your handbag and you are prepared for anything.
Shirt | V Neck | Sweater | Top | Dress | Dress | Jeans | Jeans | Jackets | Coat | Leggings | Sweater | Boots | Boots | Beanie | Crossbody
What to pack for Germany: Cologne in Winter
Weather: 
Jana says: the weather is cold during winter with snow, artic winds and icy rain.
Start by reading these general tips on packing for winter travel:
Cologne Packing List: Winter
Warmth is a big factor for winter in Cologne and you will need to ensure that you layer. Accessories like gloves, beanies or other warm snow hats, and scarves will all give you added warmth from the elements, covering your ears, chest, and fingers is important as you lose heat quickly from your extremities.
Your feet should also be kept warm at all times, opt for thick socks and leather boots, that have a faux fur lining inside them for added warmth.
These are the best waterproof leather boots recommended by our readers!
Since the wind is cold you will need a jacket that is thick and can keep the wind-chill out, you will also need one that is waterproof and with a hood so that you have greater protection from the rain.
Jumpers are great for layering, they are warmer than just a vest and will keep you comfortable although it may be beneficial to include some simple shirts for layering purposes and in case you are feeling very warm within the central heated buildings it is good to know that you will be able to remove some layers and cool down.
Find out why thermals are a must for traveling light (and staying warm) in winter!
And lastly there will be no need for anything but jeans during winter, although it could be beneficial for you to buy one pair of thermals for those bitterly cold days.
---
Germans are generally very open-minded and even tempered people, and you will have a wonderful time.  If you are looking for interesting places to spend a fun night out then you should venture to the area known as "Zülpicher Straße"/"Zülpicher Platz" as well as the "Belgian neighborhood" the "Belgische Viertel". Where you will find charming traditional Cologne bars, amongst new bars and small restaurants where Cologne campus students hang out.
What are your tips on what to pack for trips to Germany and Cologne?
---
Please note: Most of Europe's Budget Airlines have this Carryon Bag Allowance: 55cm x 40cm x 20cm. Always check your airlines individual baggage rules and regulations in advance.
---
For more tips, please read these Europe packing lists:
Suggested travel resources:
Please read our Ultimate Packing List for Europe featuring stylish outfits and travel tips for 9 countries.
---
LIKED THIS POST? PIN THIS PIC TO SAVE IT!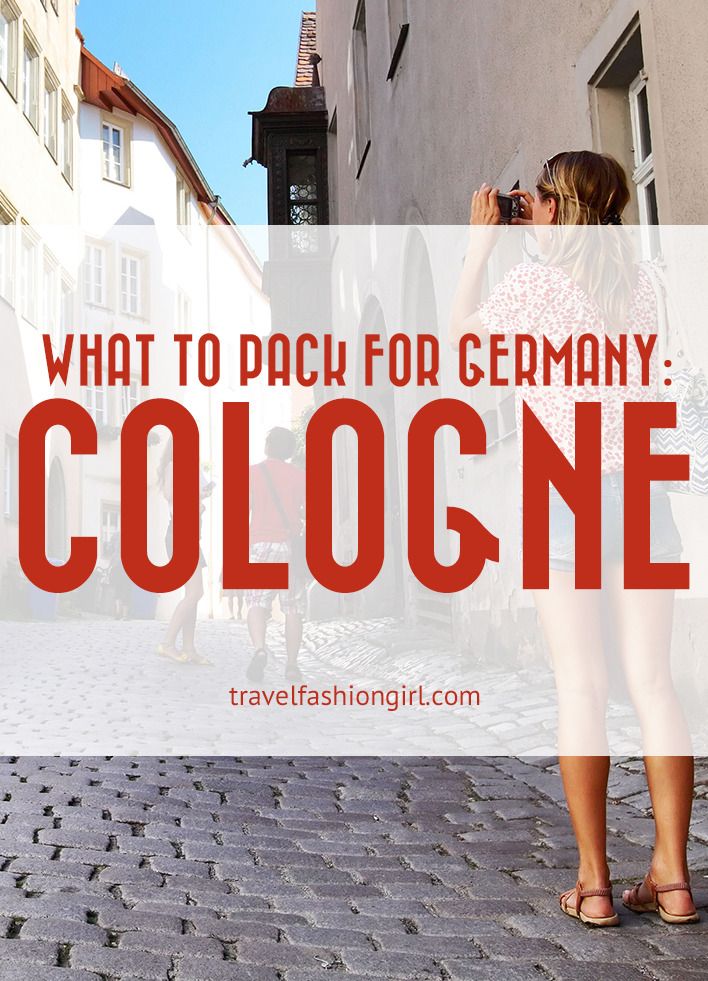 ---
Hope this packing list helps you plan what to pack for trips to Germany and Cologne so you can dress like a local. Don't forget to share the love on Facebook, Twitter and Pinterest. Thanks for reading!
---