Support TFG by using the links in our articles to shop. We receive a small commission (at no extra cost to you) so we can continue to create helpful free content. As an Amazon Associate, we earn from qualifying purchases made on Amazon in addition to other retailers featured on the blog. Thank you, we appreciate your support!
With so many travelers eagerly planning trips to Europe, here are some top tips to avoid making the same packing mistakes that I, and many other TFG readers, have made. Take a look!
---
Packing Tips for Europe Travel
---
Table Of Contents
The first time I packed for Europe, I made some MAJOR packing mistakes. Maybe "mistake" is an understatement. It was more like an epic PACKING DISASTER.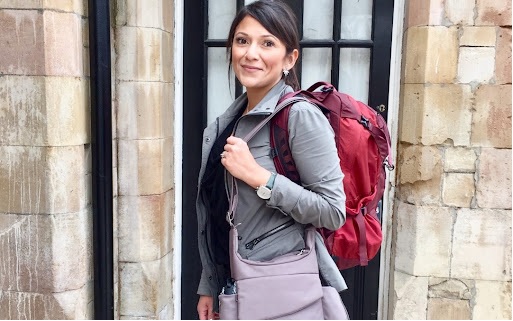 Heading off with my Osprey Backpack and my Travelon Anti-Theft Purse.
Whether you're traveling around Europe by coach, train, or metro, the one thing you may not expect as a first-time visitor is the stairs. LOTS and lots of stairs. Imagine running up and down what seems like never-ending stairs in metros and train stations wearing uncomfortable shoes. And finally, imagine doing these things while carrying (dragging) a MASSIVE suitcase filled to the brim and with a handle that breaks two days in your trip. This is exactly what happened to me.
NEVER AGAIN. 
And I'd love to say that these things have only happened to me. But unfortunately, over the years, several TFG readers have shared similar packing disasters from their European trips in the Travel Fashion Girl Facebook Group.
So to help you plan for the weather, activities, AND COBBLESTONES, we've created several ebooks on everything you need to know about packing for Europe. All the mishaps and lessons learned have been put into an accessible format, so you don't have to endure any missteps and feel confident about what to bring! Check out all of our Europe Packing Ebooks! 
But, thought I'd still cover some obvious things that can be missed when planning for this well-traveled continent! 
Here are 5 common packing mistakes and tips on how to avoid them for your upcoming European trip so that you can enjoy a stress-free vacation!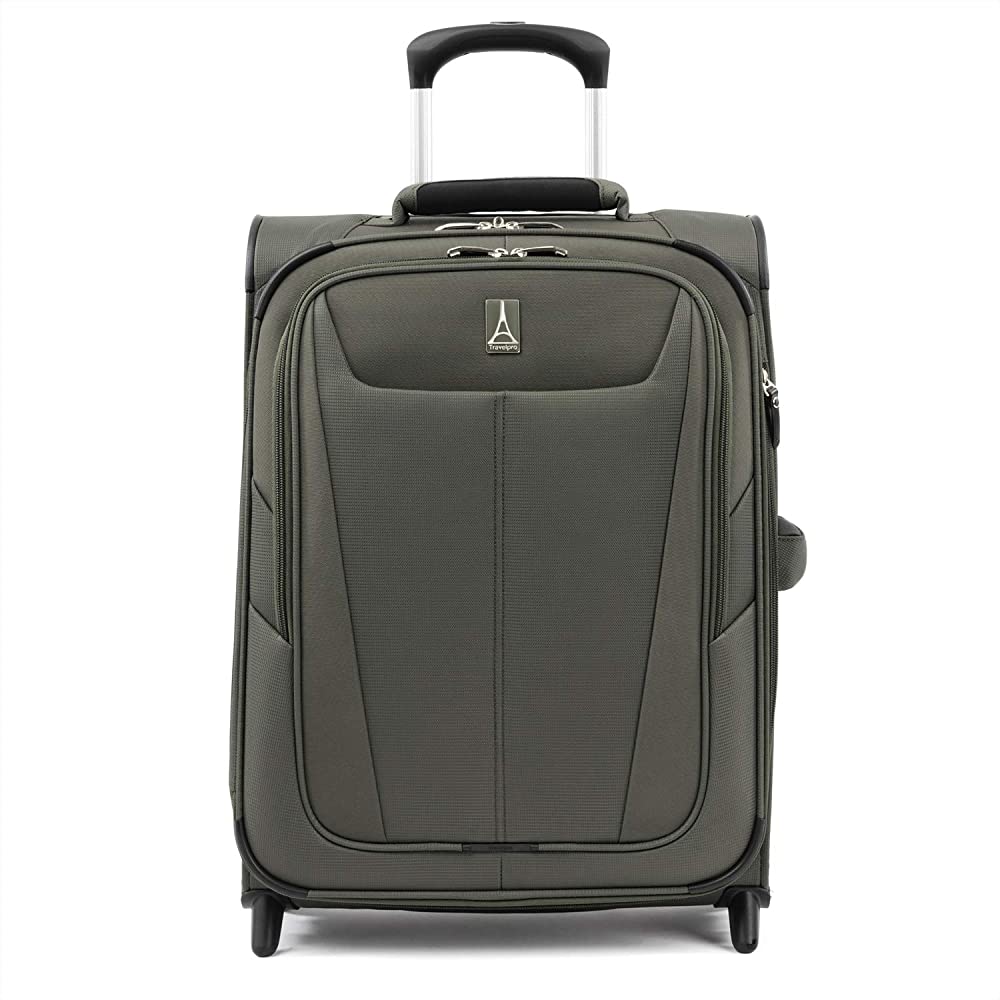 Travelpro Maxlite 5 20″ Softside Suitcase
Mistake #1: Traveling With the Wrong Luggage 
Remember the stairs I mentioned above in the train stations… Some TFG readers have also shared how they were surprised how the hotel they were staying in had no elevator, meaning they had to carry their luggage up even more stairs. Elevators are not common in European hotels, B&Bs, and vacation rentals. 
Hence, go for lightweight luggage, such as the TFG reader favorite Travelpro Maxlite 5 20″ Suitcase, which you'll be able to comfortably lift and maneuver as you handle all the steps, hills, various transport methods with small luggage racks and tight storage space (trains, buses, etc.), and don't forget about the cobblestone streets which make dragging a heavy suitcase around even more difficult.

And note, while a 20″ size is workable for Europe, the Travelpro Maxlite 5 also has a 19″ available but instead of it being upright, it has 4-spinner wheels. A 19″ is an ideal size overall to fit most European airline carryon baggage requirements.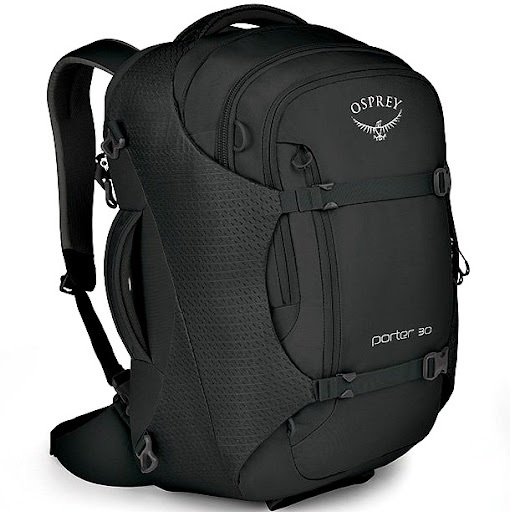 Osprey Packs Porter 30 Travel Backpack
Or if you'd prefer to go hands free, a backpack is always a safe option for a European carry on size bag. 
Have a look at the most popular European travel bag styles, according to our readers, along with their tried and tested reviews!
TFG readers also find luggage organizers, such as packing cubes, incredibly helpful to maximize space in their bags and efficiently organize their belongings. 
I never travel without my Compass Rose packing cubes. They make packing such a breeze as I can organize by color or number. The wonderful thing about these cubes is that they also compress, so you can fit so much more in them than if you just packed items in your suitcase without using them. 
Traveling to Europe this summer and not sure what to pack? Check out my Three-Part Parking Series to learn exactly what clothes, shoes, luggage, and other essentials I took for my 12-day summer trip to Europe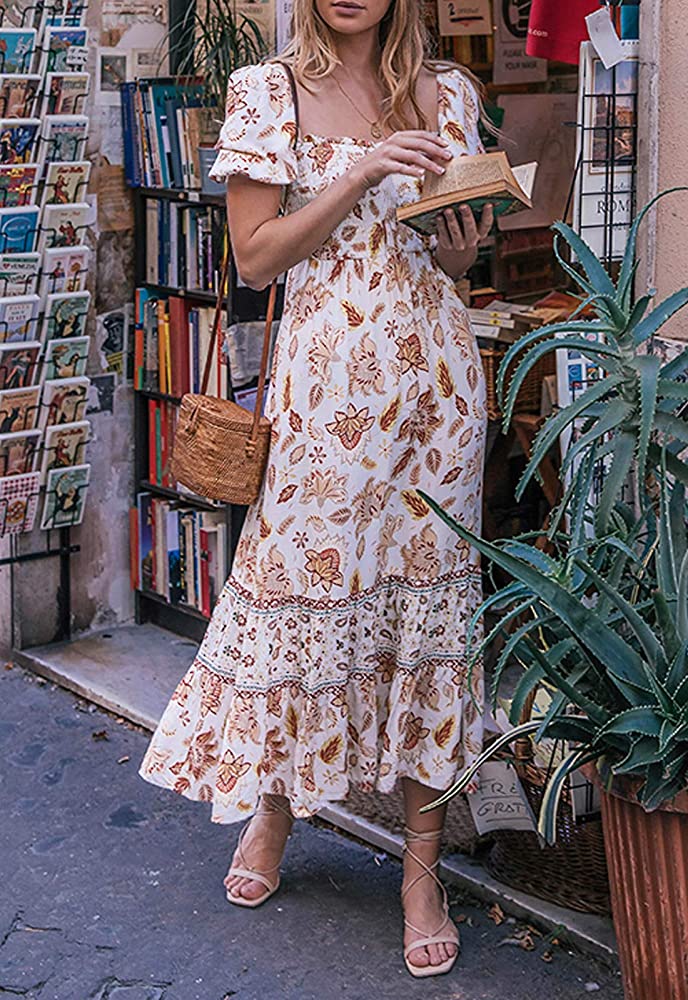 Shop Sizes S-XL: ZESICA Rayon Mid Lengrh Dress
Mistake #2: Packing the Wrong Clothing for the Heat
Even though I've been to various parts of Europe in the summer, the heat in certain cities seems to always catch me off guard! 
As I've trudged through the hilly streets of Lisbon or sweated my way around the ancient sites in Rome, I always cursed myself at the fact that my dresses never seemed to be the right fabric. They were either pretty but not breathable because they were made from polyester or thin but clung to my body because they were made from a jersey blend.
Many women love dresses for travel because they offer an all-in-one outfit without the need to mix and match tops and bottoms. They can be particularly practical in summer to keep you cool in the heat, but not all dresses are made equal. Make sure you pack dresses that will help keep you comfortable in the heat.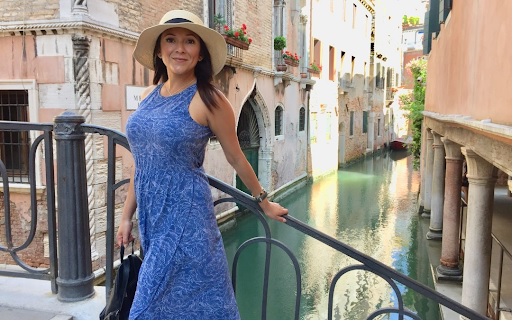 Touring the sites in my Toad&Co Maxi Dress, Naot Sabrina Sandals, Sun Hat and my Rebecca Minkoff Backpack.
In this updated post, you'll find a list of the dresses I wish I'd brought on my past European summer travels. 
I've chosen classic, timeless, and versatile styles in the most featherlight fabrics and tried to include varying styles with sleeves and knee lengths. These would be perfect for Paris or just about any other hot summer destination!
And remember, the real secret to style and how to dress for Europe or anywhere else in the world is CONFIDENCE. Wear what makes you feel your best. You don't have to wear what l or anyone else wears. Plan for the weather, activities, and your personal style! 💕
Don't forget to read our post on the best thigh chafing products – the recommendations all come from the Travel Fashion Girl community!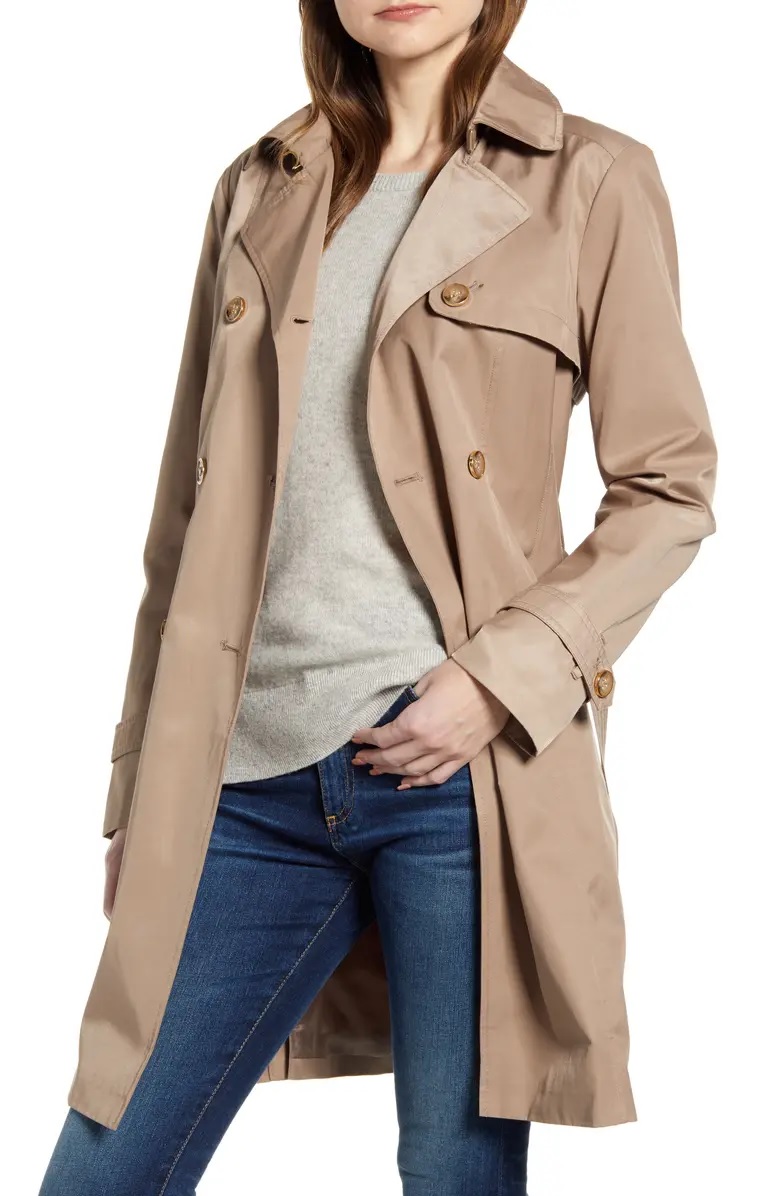 Shop Sizes XS-XL: Cole Haan Water-Resistant Trench Coat
Mistake #3: Not Being Prepared for Unpredictable Cold and Wet Weather 
Europe is a large continent and experiences a variety of weather. Depending on if you're traveling in the north or the south, you might encounter cold weather even in the summer. 
While on a winter trip to Paris, there was a two-hour wait to enter the Catacombs, even with tickets! I observed countless travelers shivering in misery as we stood in line in the pouring rain with 40℉ weather. One girl said, "This sucks," as she stood in line behind me wearing a light military jacket, capri leggings, and white knit sneakers. She was one of many visitors that were unprepared for the Paris weather in November.
On this occasion, I was prepared!! I was wearing my Columbia Carson Jacket layered over my merino wool thermals, and I stayed warm and dry while waiting in the rain and cold.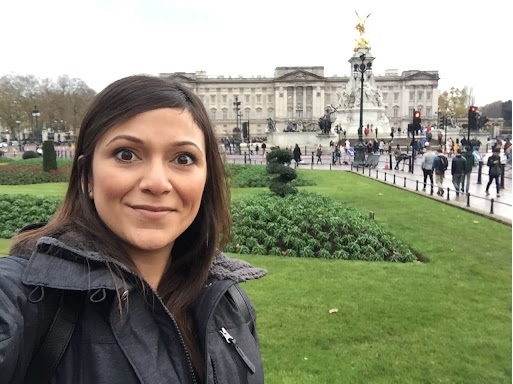 Nice and warm in my Columbia Carson Jacket!​ 
Getting caught in the rain without appropriate outerwear is a surefire way to ruin your trip. But not all waterproof jackets are suitable; getting a well-made piece but lightweight piece matters. When it's constantly raining while on a two-hour walking tour of London, for instance, you'll be grateful you invested in a quality raincoat! 
A great water-resistant choice is the Cole Haan classic trench or for a waterproof option the Eddie Bauer Girl On the Go is more casual but solidly reliable. This list of more lightweight waterproof rain jackets can offer even more ideas! 
When it comes to winter trips, you have to plan better when traveling because you'll spend more time sightseeing outdoors and don't want the weather to keep you from exploring all the things you want to do. Quality is again, highly important to staying dry and warm.
These waterproof winter jackets are tried and tested by TFG readers. 
TIP: Always check the weather for your destination to get the most accurate idea about what to pack.
Learn how to stay warm in the cold without the bulky snowman look right here!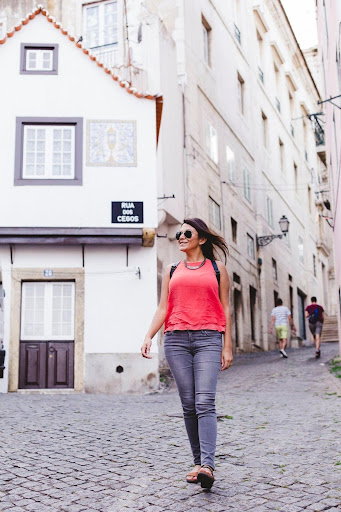 Walking around Lisbon in my Naot Sabrina Sandals
Mistake #4: Wearing the Wrong Shoes 
One unexpected issue that many travelers discover once they get to Europe is the cobblestone streets. While great to look at, uneven stone streets aren't always the easiest to walk on and can make for sore feet even if you don't usually have discomfort. 
I had to learn this lesson the hard way on one too many occasions. Wearing cute but completely impractical designer ballet flats to walk around Paris not just ruined my trip because it was way too painful to sightsee, but they also caused permanent damage. 
And for this reason, Shoes are the #1 most important thing in your travel wardrobe, and when it comes to choosing what shoes to pack, COMFORT IS ALWAYS PRIORITY OVER STYLE. Hence, the most sage wisdom I learned about Europe is to always pack a pair of the most comfortable walking shoes that offer support and cushion for lengthy bouts of movement and that can feel good even when you're standing around in endless lines to visit tourist sites!
Find out how to choose the best shoes for Europe here!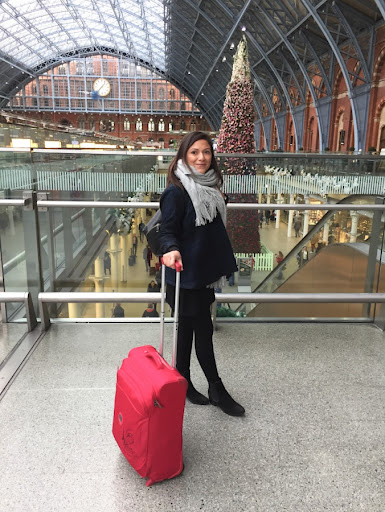 Traversing Europe in Blondo Villa Boots
For visiting Europe in fall or winter or if unpredictable weather is forecasted, a pair of comfortable, solid leather waterproof boots are a must for traveling in Europe. It's essentials to have footwear that can handle all the elements and keep your feet comfortable, warm, and dry all at the same time.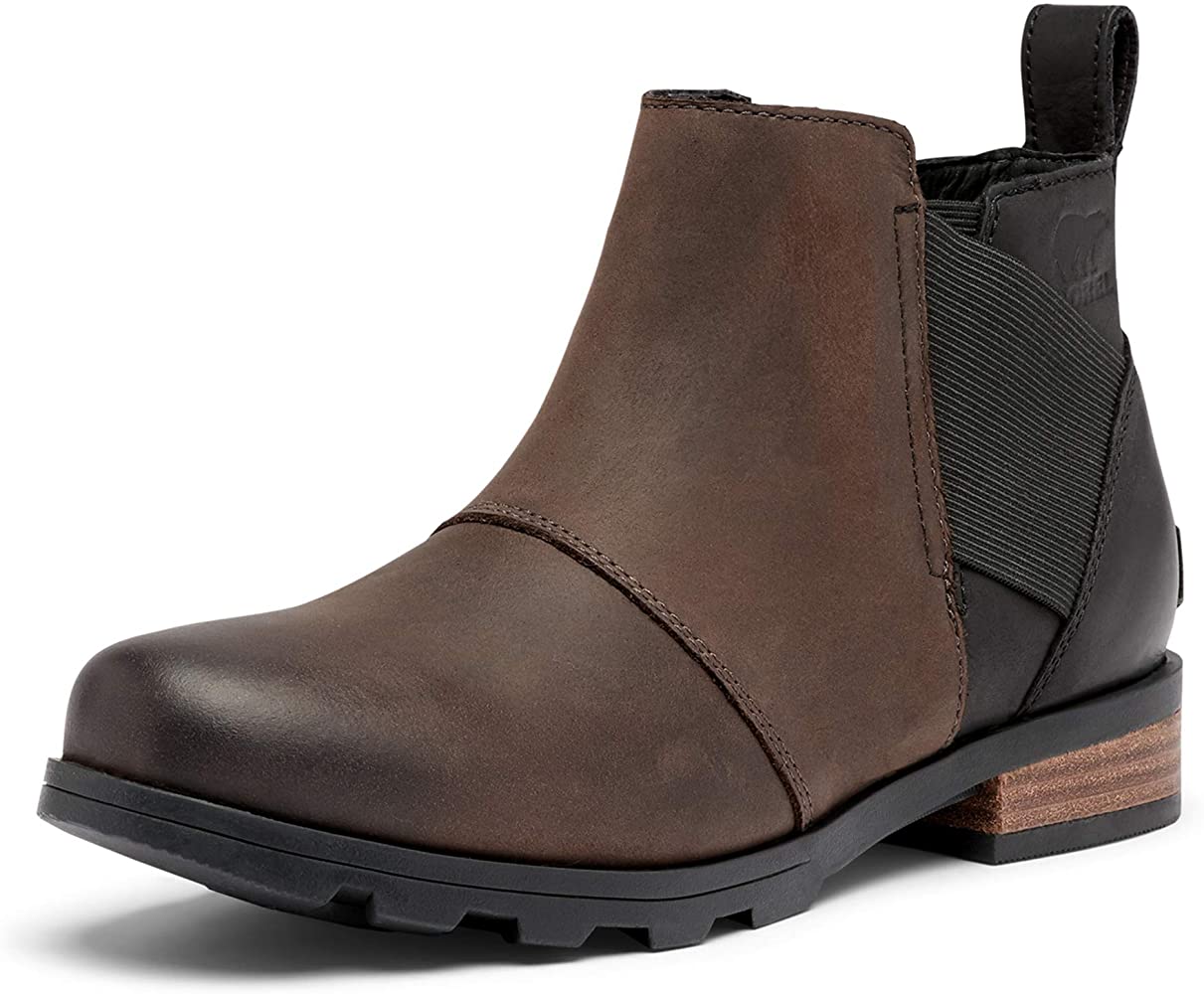 To bear the brunt of cobblestones, look for options with a thick sole and cushioned interior such as the Sorel Emelie, which can be used in both rain and some snow. It has a sturdy rubber sole, which is incredibly helpful offering traction on uneven streets and also when walking downhill on slippery floors.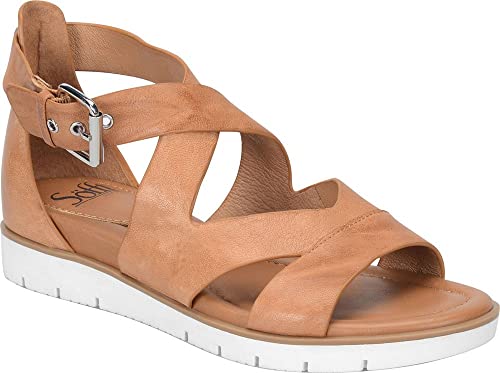 Sofft Mirabelle Cushioned Sandal
In the summertime, nothing beats a pair of comfortable sandals, particularly in destinations with hot weather such as Rome, where the heat is absolutely overwhelming. If your feet swell in the heat, wearing enclosed shoes might feel torturous. 
But it's important to find something fashionable and supportive that can handle the cobblestones. Please avoid slip on or slide sandals and definitely no flip-flops. Aside from comfort, it's very easy to twist your ankle on the uneven streets so a secure shoe is a must.
Find out the best walking sandals for Europe that'll hug your feet on all those cobblestones!
Remember, if there's one thing to learn from all my packing blunders, taking the wrong shoes is ONE mistake you really don't want to make.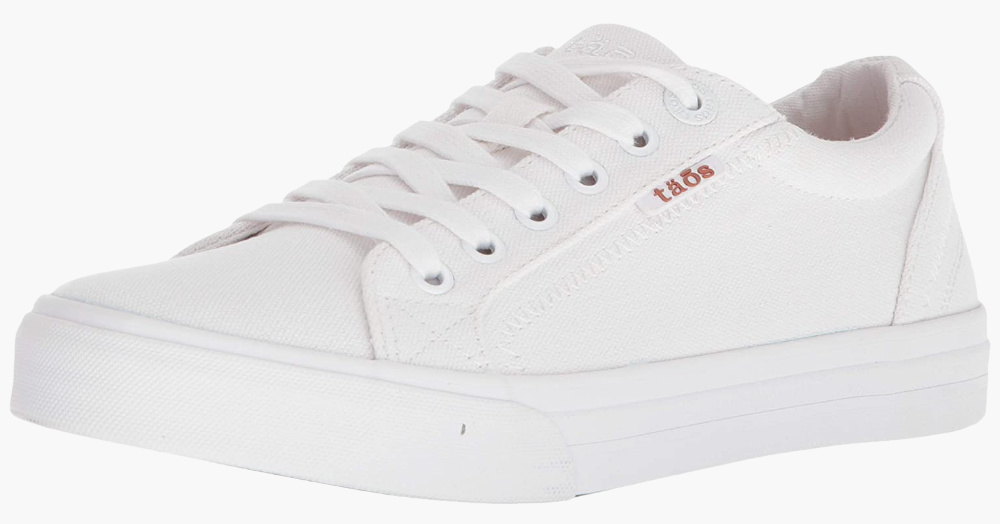 ​Taos is the #1 selling sneaker on the blog!
Another hot topic that TFG readers always ask is, "Should I wear white sneakers to Europe?" The perception is that wearing them is a faux-pas and not suitable for the fashionable streets of Milan or Barcelona. This is happily untrue!
White sneakers have been trending in both Europe and the USA for several years now, and they've become a wardrobe staple. If you're looking for the best all-white sneakers for your next trip to Europe, this selection, as chosen by TFG readers, lists versatile, comfy, and fashionable options. If you prefer non-white yet comfortable sneakers, take a look at this post on cute slip ons instead!
Not sure what shoes to pack for your summer trip to Europe? Watch this video to learn the three pairs of shoes I took with me and why!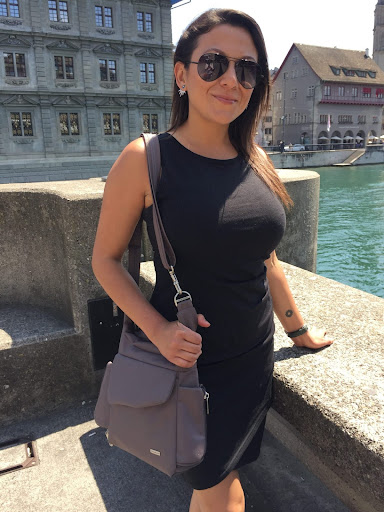 In Venice with my Travelon Anti-Theft Messenger Bag.
Mistake #5: Having a Passport Stolen
Though I've never had to contend with a stolen passport yet, a common problem for tourists is purse theft and having vital items taken like a passport or cash.
You wouldn't believe how many tourists have their passport stolen, and on most occasions, it could've easily been avoided… by NOT carrying your passport in your purse or another place like pants pockets while sightseeing. The best place to store a passport is in your hotel room safe or locked up in your luggage when renting an Airbnb.
Read more tips on how to keep your passport safe while traveling!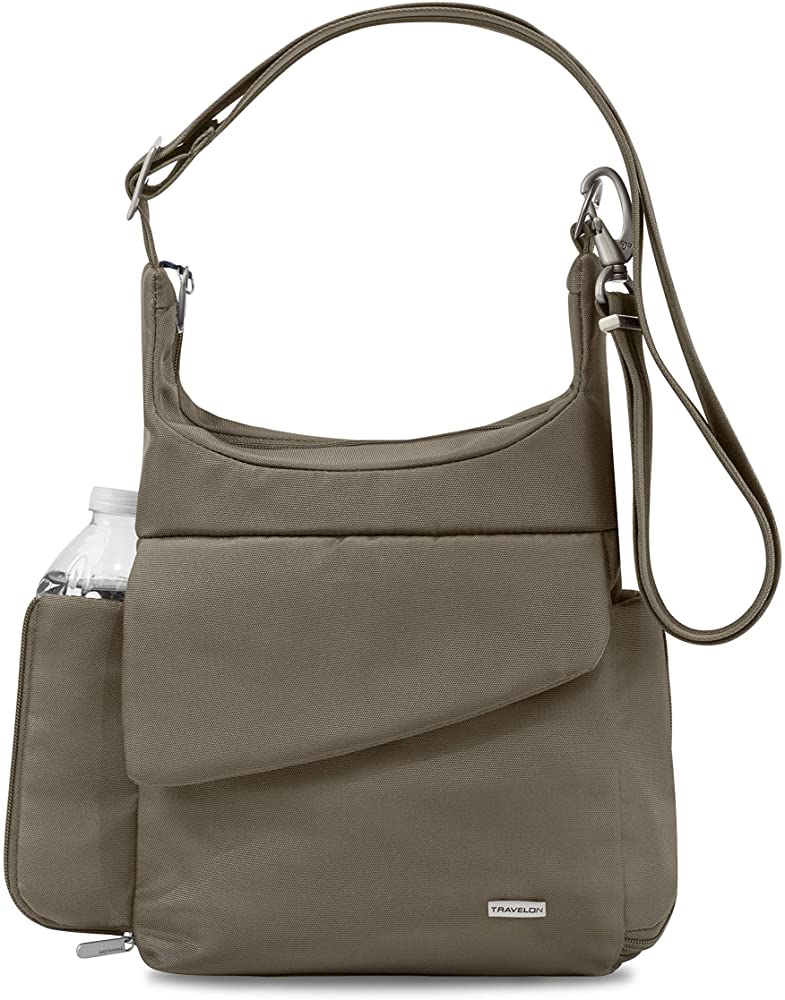 Travelon Anti Theft Classic Messenger Bag
Another thing to be aware of is your surroundings. If you're in crowded tourist spots like train stations or visiting a famous site, you can take certain packing precautions. We asked TFG readers for their top tips on how they keep their valuables safe from pickpockets in Europe, and this is what they came up with.
The TFG community absolutely loves the Travelon Classic Messenger Bag, and I also used it for my summer trip to Europe. It's very spacious, offers RFID protection, plus it has two compartments for water bottles and a travel-size umbrella. This is really useful because water is an absolute must in the heat! 
Looking for the perfect anti theft bag for you? Take a look at our round-up of the best anti-theft travel bags for women!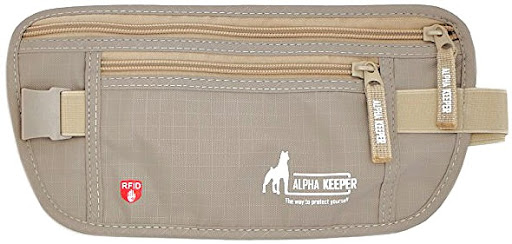 The best travel money belt is the Alpha Keeper
While carrying an anti-theft bag is always recommended, it's also a smart move to store extra cards and cash elsewhere. Many women rely on hidden carrying pouches like the Alpha Keeper money belt. 
While it feels safe to have a crossbody, it also helps to have a special hiding place that's close to your body, knowing it's always there!
 Keep your valuables secure with these anti-theft products!
However, don't let the fear of pickpockets in Europe damper your trip. With some preparation and vigilance, you'll be sure to have a memorable and safe time!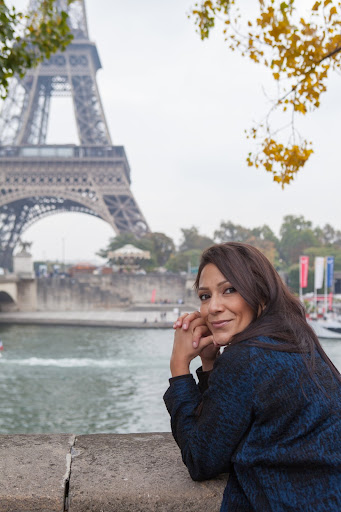 Finally, remember that making packing mistakes that are easily avoidable can seriously ruin your vacation—and that's not the experience you want—especially for a dream trip you may have planned and been wanting to take for a long time. 
We hope these tips are helpful to make your European adventure epic and worry-free!
We also have a comprehensive blog category dedicated to articles on what to pack for individual European countries. Choose your destination from our Europe Packing Lists!
---
What packing mistakes have you made traveling Europe? Share your tips  below!
---
For more packing tips on European travel, please read:
---
LIKE THIS POST? PIN THIS PIC TO SAVE IT!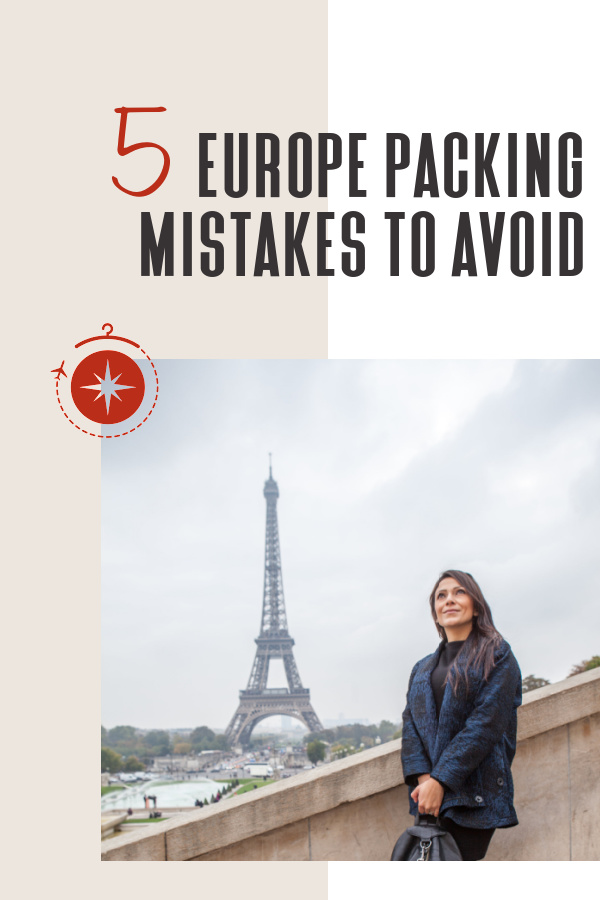 ---
We hope you liked this post on the packing mistakes to avoid when visiting Europe . Please share with your friends on Facebook, Twitter, and Pinterest. Thanks for reading!
---