Support TFG by using the links in our articles to shop. We receive a small commission (at no extra cost to you) so we can continue to create helpful free content. As an Amazon Associate, we earn from qualifying purchases made on Amazon in addition to other retailers featured on the blog. Thank you, we appreciate your support!
Whether to pack jeans when you travel, particularly on a Round-the-World trip, continues to be a hot topic. Travelers increasingly are packing denim and throwing the old packing rules out the door! In fact, it seems that most travelers agree: jeans are traveling must-haves for women.
---
Traveling with Jeans
---
Table Of Contents
Travel Fashion Girl help! A reader asks:
Should I pack my jeans for my trip?
Packing jeans has been an age-long debate among travelers. However, it's not really a black and white question. It's not yes, or no — it's maybe.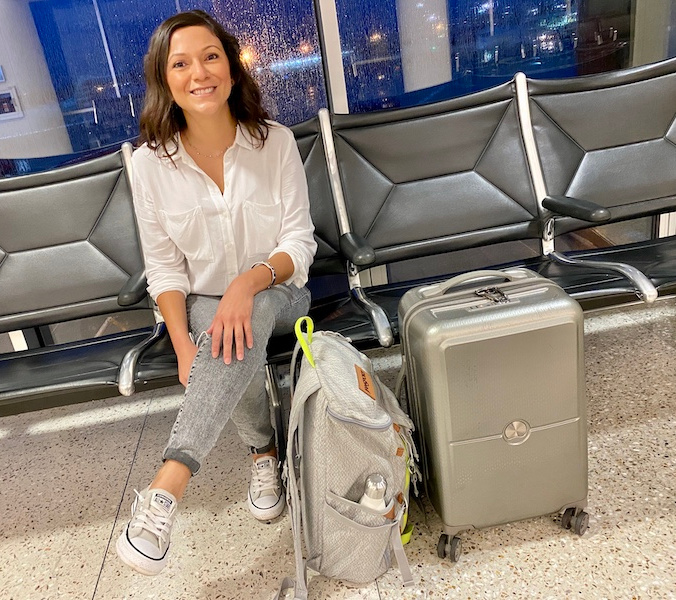 H&M Jeans Worn with an H&M Top and Converse All Star Shoreline Slip Ons
Originally, jeans were a big travel no-no because of their weight, difficulty hand washing, and lengthy drying time. 
However, one of the reasons jeans make excellent travel pants is because you hardly ever have to wash them! Jeans are now staple part of many women's wardrobes around the globe as they're practical, easy to wear and can be dressed up or down for maximum versatility. (To learn more about how to Pack Light Stylishly, read this guide!)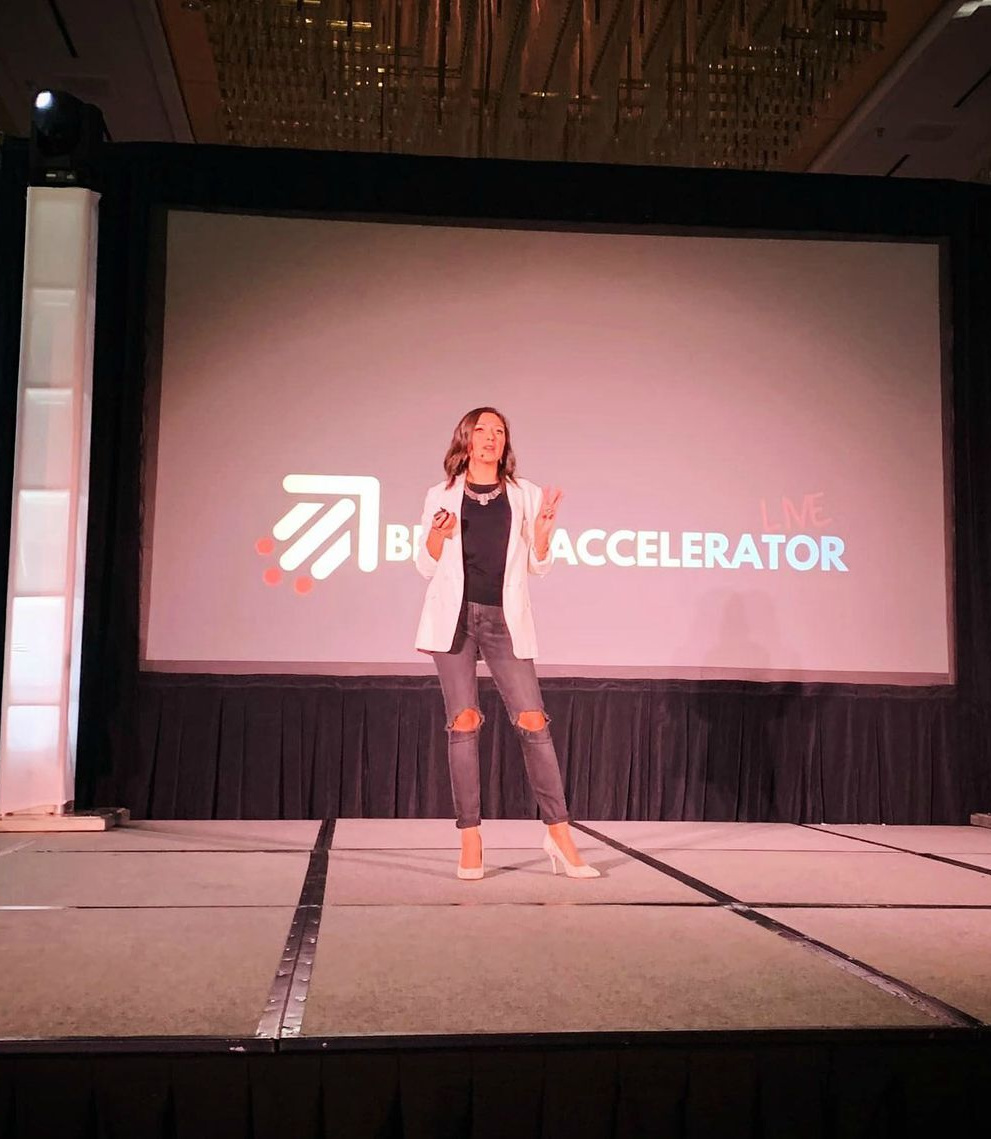 Wearing my "uniform" jeans, tee, and loose blazer
I've come to learn that I love denim and it's what makes me feel the most like myself. I've even learned to wear it when I'm a speaker at conferences because I want to feel my best, and I want my wardrobe to empower me, not distract me from the task at hand.
In fact, many of our readers now say that when they travel they don't leave home without at least one pair of jeans packed in their luggage.
Here's a full list of our readers' recommendations for the best jeans for travel!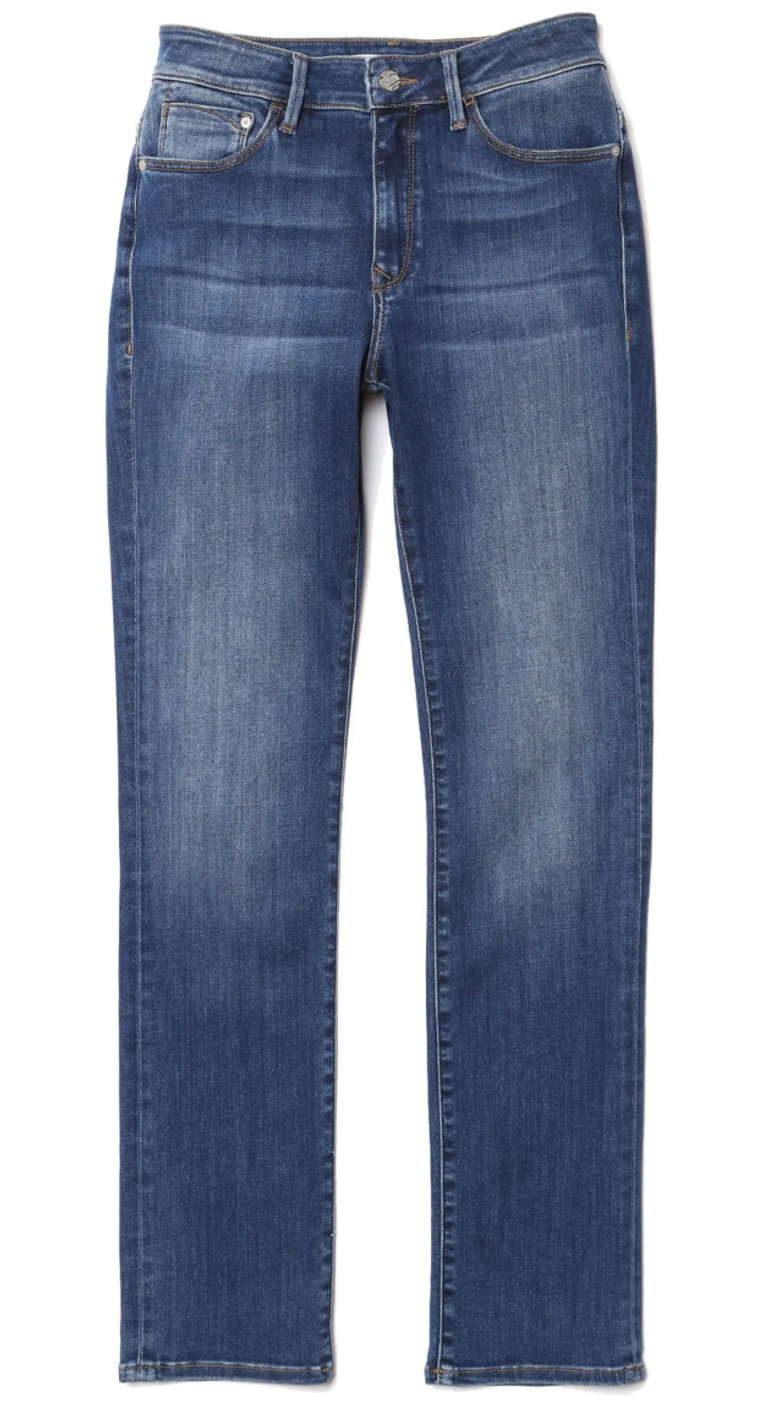 Mavi Jeans Kendra Straight Leg Jeans

Worried About Washing Your Jeans?  
One benefit our readers love about packing their jeans for travel is that they DO NOT have to wash them.The reality is that many travelers don't hand wash all their clothes when on the road unless they travel as Minimalistas.
As Chip Bergh, the CEO of Levi's, explains in this article, you should NEVER EVER wash your jeans, because it can ruin the fabric; instead, just spot wash when needed. Our readers love to travel in their stylish Levi jeans because of their comfort and excellent fit.  
But if you do want to wash your jeans, laundry services are available in the majority of destinations. Many hostels or chain hotels even offer a laundry room with access to a washer and dryer.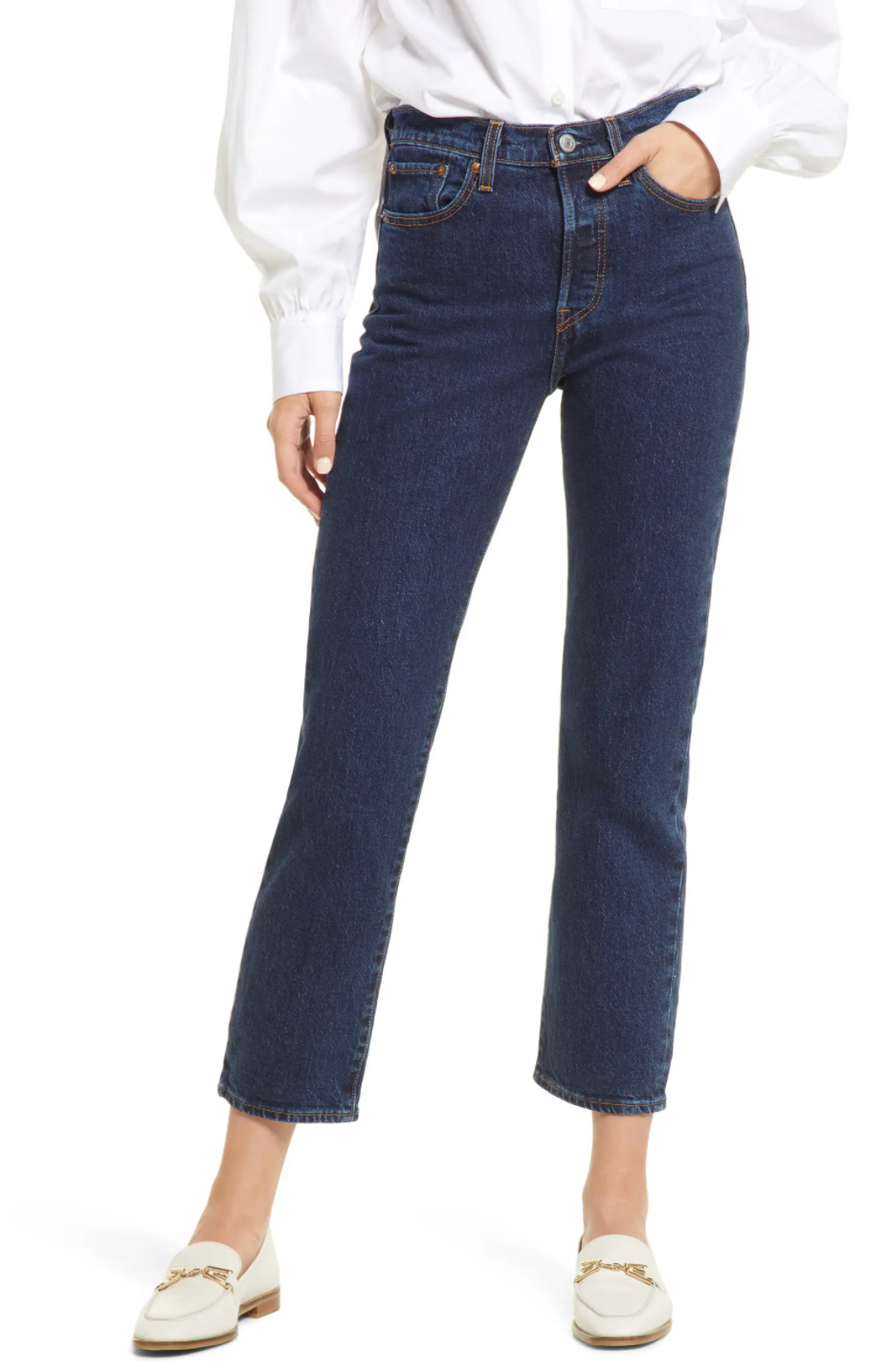 Levi's Wedgie High Waist Straight Leg Jeans
Even though I traveled full time for almost a decade, I think I only hand washed my jeans one time. The wonderful thing about denim is that it doesn't have to be washed frequently, so I only wash denim while traveling if I have access to a washing machine or inexpensive laundry service. 
In fact, unless I was in a rural or remote destination, I rarely hand washed throughout my travels because washing machines and inexpensive laundry services seemed to be widely available. 
My choice of accommodation may have been one of the reasons I didn't need to hand wash. I stayed at hostels, Airbnbs, vacation rentals, and chain hotels. At least one of those options usually would have washing machines available during my trip. 
The rest of the time, I stayed in budget guest houses or small hotels in busy tourist areas. In this case, it was possible to find locally offered laundry services. It usually cost around $1-$2 per kilo of clothing. However, even when I've stayed at larger hotels, so long as they're in a central location, I've been able to find nearby laundry options, so I wouldn't need to hand wash. This makes it easier to travel with a range of fabrics, including denim, if needed. 
Here are some tips on how to do laundry when traveling!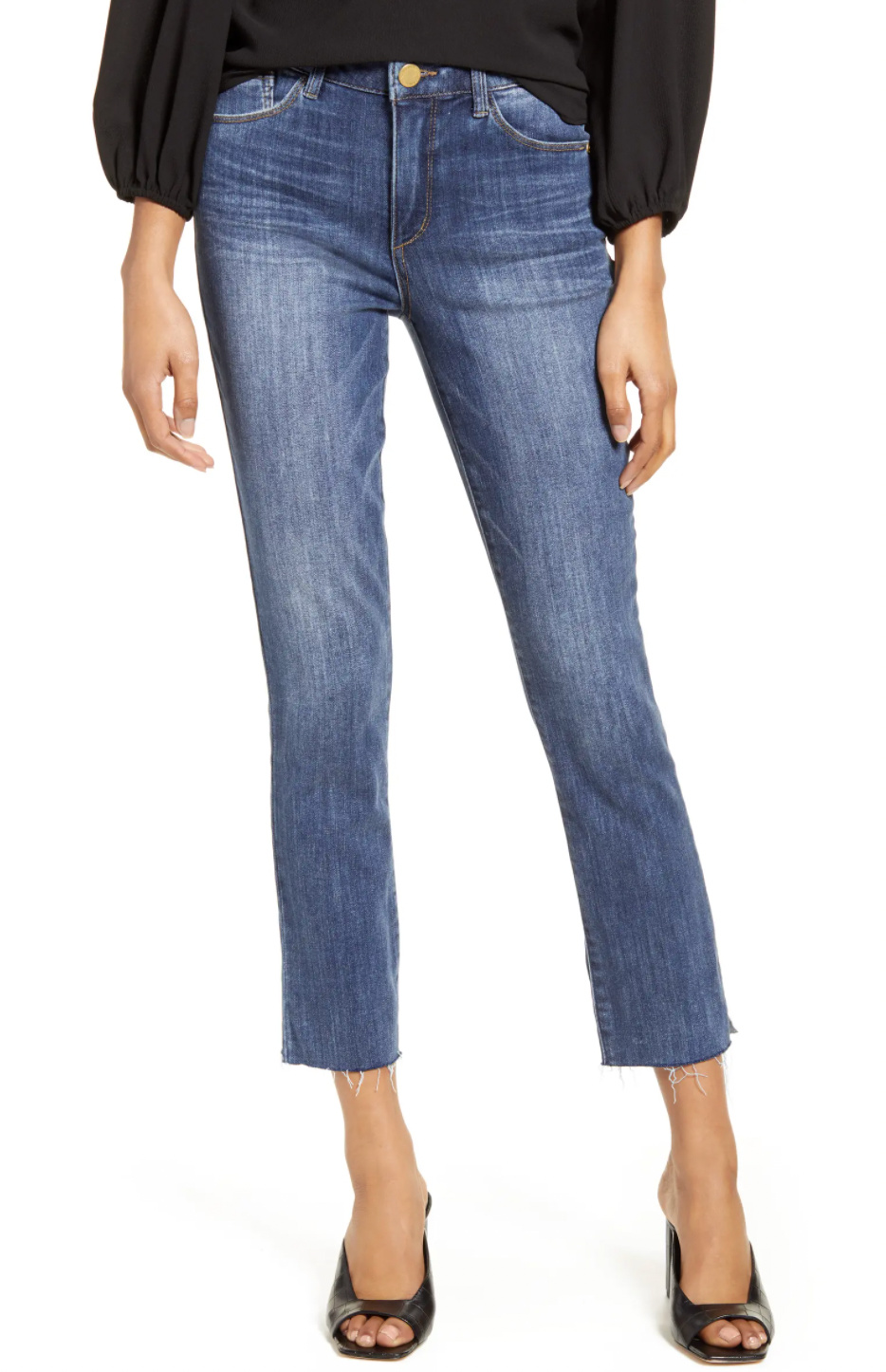 Wit & Wisdom Ab-Solution High Waist Raw Hem Skinny Crop Jeans
Styling Your Jeans
Socializing also impacts the need for more formal attire. Jeans are a fantastic clothing item that can be easily dressed up or down. During the day, you could pair them with a jumper, sneakers, and a waterproof jacket. Then at night, dress them up with a blouse and ankle boots. 
If you are looking to pack just one pair of jeans, then consider choosing a pair in a medium wash – a timeless classic color that never goes out of style. Personally, a washed black is my preffered color no matter what's in style, so this would always be my choice.
Ultimately, choose well-fitted denim that suits your personal style, which you can easily mix and match with the rest of your capsule wardrobe. 
Here are a few key points to help you choose the best jeans for your trip!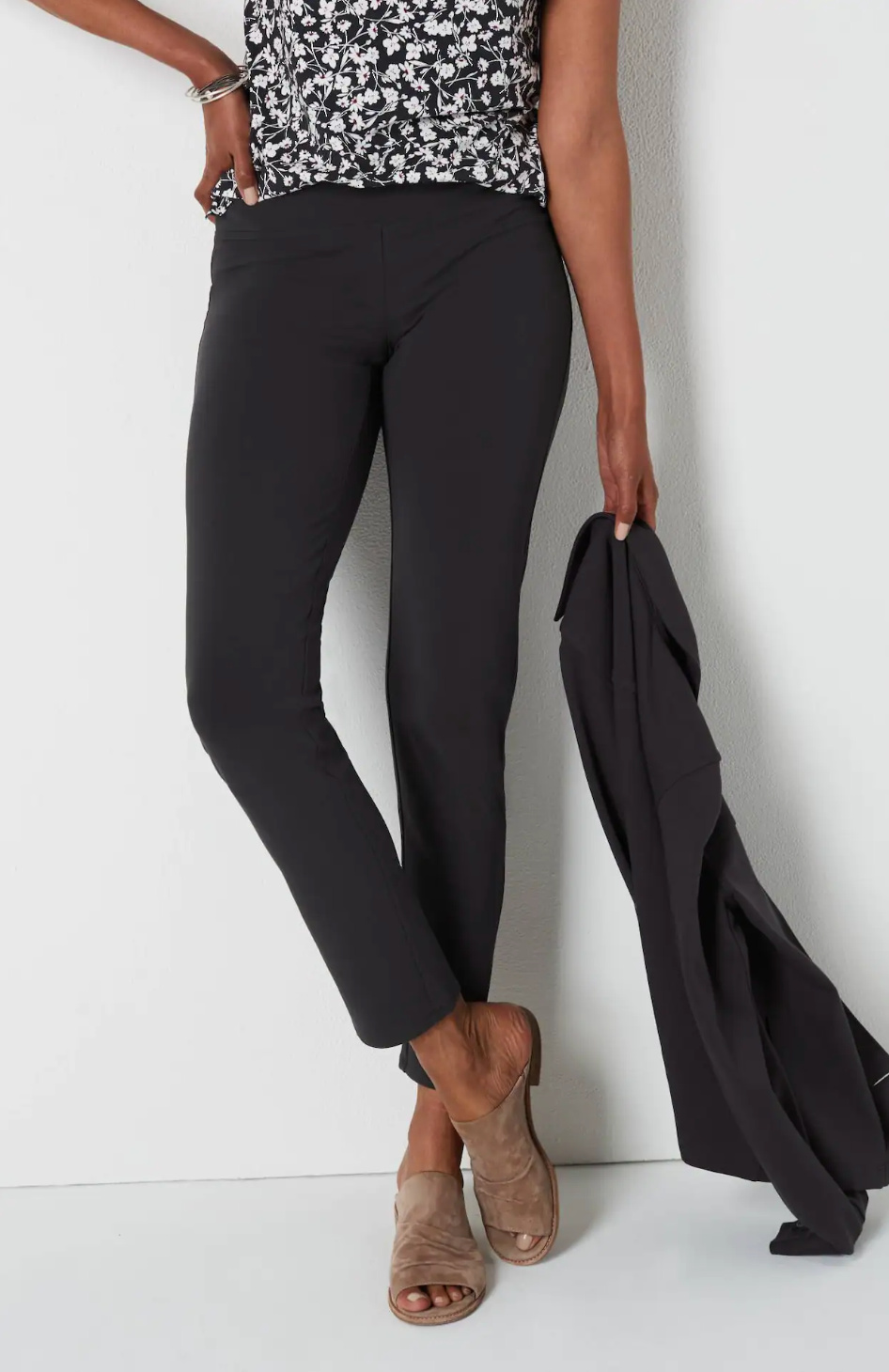 Shop Sizes XS-4X: J.Jill
Alternative to Travel Jeans
If you are looking for an alternative to jeans, the J.Jill Wearever pants are perfect! They're versatile, lightweight, highly functional, and look stylish.
We love the sash and pleats in the front, which add a feminine touch. These slim black pants are so versatile, you can wear them with flat sandals and a tee or high heels and a silk shirt. They wash very easily, dry quickly, and don't wrinkle in my gym bag." Sounds like the best black travel pants!
Here are the best travel pants for women!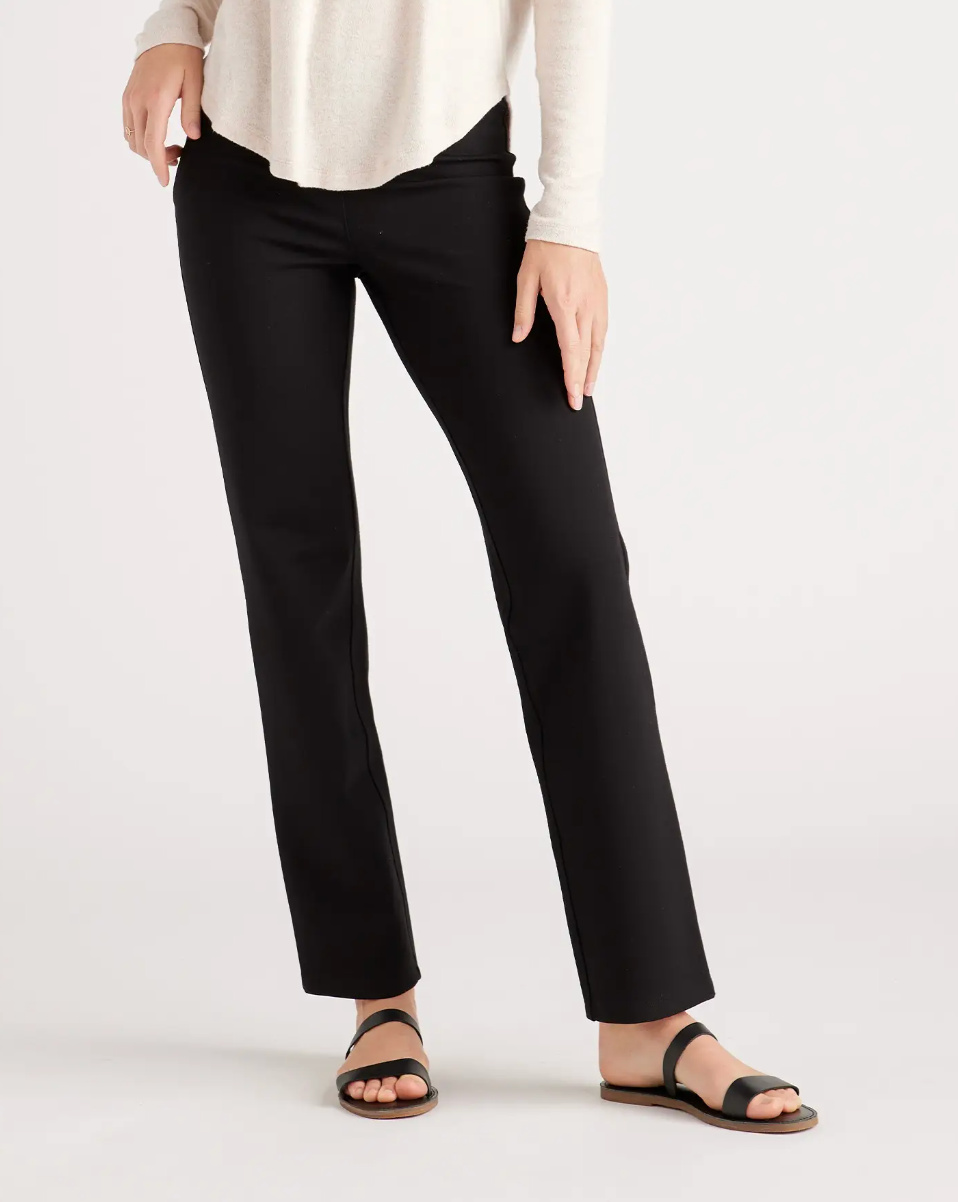 Shop sizes XS-XL: Quince Ultra-Stretch Ponte Straight Leg Pant
Quince is also incredibly popular with our readers and travelers for their versatility, stretch comfort, and durability to perform in a number of scenarios. They work for long-haul flights, in cold destinations when you layer underneath, and are wonderful for milder environs. Truly an adaptable pant that is available in XS-XL and three different inseams, 28", 30", and 32".
And bonus, these are reasonably priced, and readers who own these slighly skinny black pants say the quality is high given the price point!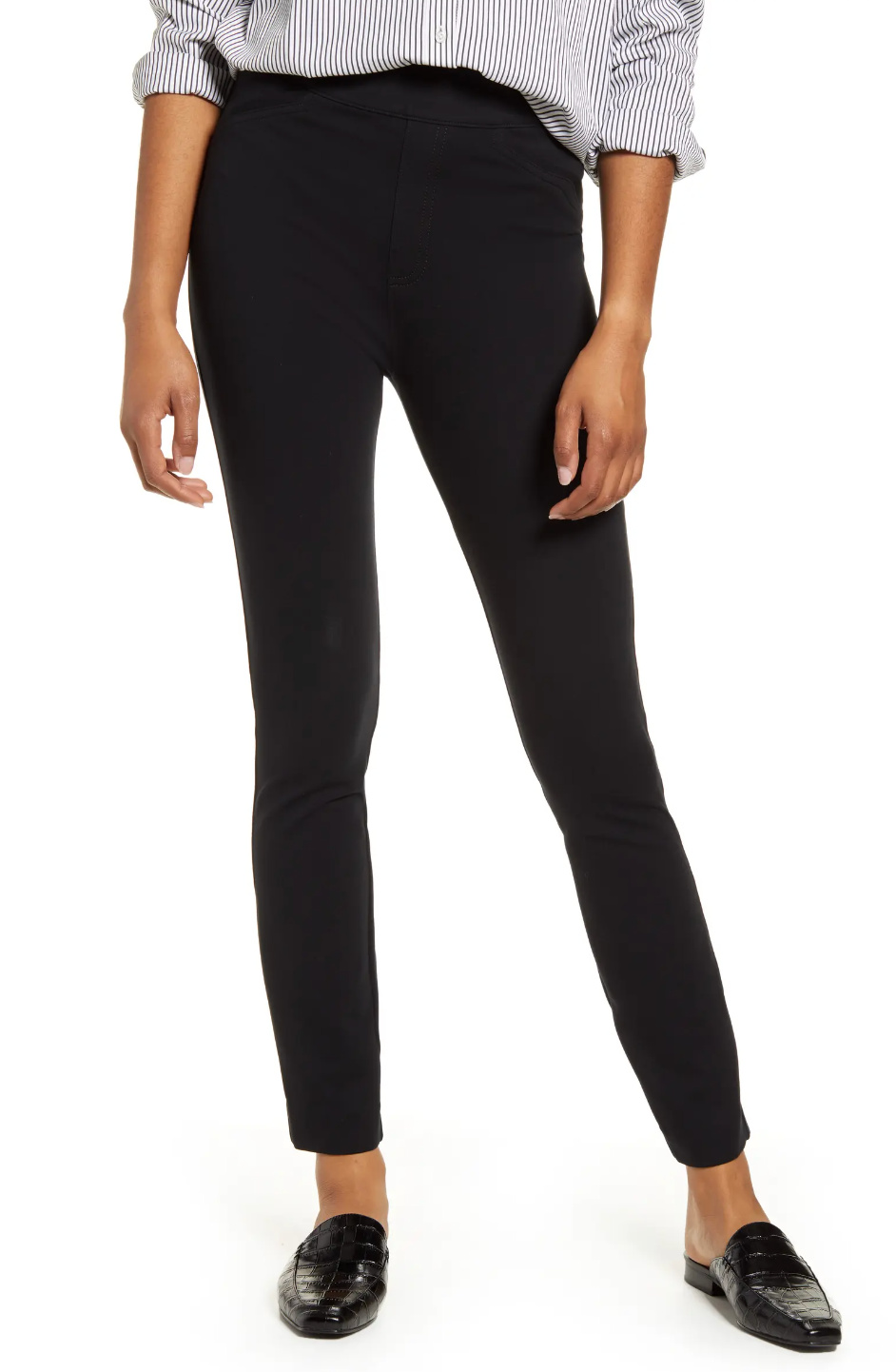 Shop sizes XS-3X: Spanx Perfect Skinny Ankle Pants
These Spanx black pants are called "perfect" for good reason! They're super versatile, great for casual sightseeing, business conferences, or dressing up for a night out. Wearers say the fit is great and the stretch makes them comfy for all day wear.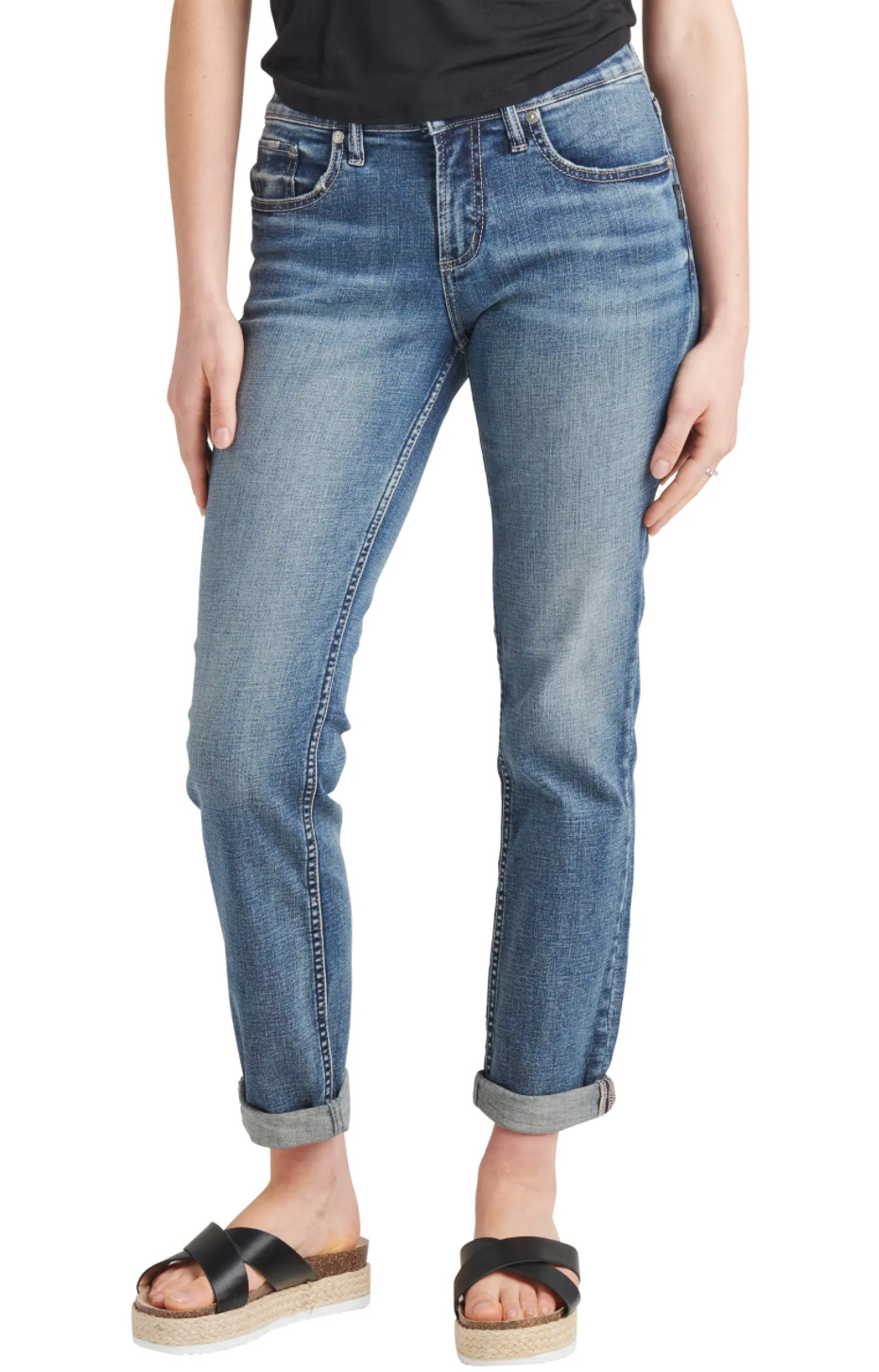 Silver Jeans Co. Mid Rise Boyfriend Jeans
Are Jeans Comfy Enough to Travel In?
Not sure whether your jeans are comfy enough to fly in for hours? Well, test them out. Wear them all day at work to see if you find them comfortable. You may just be surprised at the comfort and mobility your jeans offer. 
Generally speaking, unless you're on a hiking trip, jeans can actually be much more practical for travel than once thought. They are now designed to offer maximum stretch and movement, allowing you to wear them for hours on end in perfect comfort!  
A few female explorers even wore their jeans when traveling to Morocco, Panama, and when traveling on safari across Africa as their jeans were a comfy practical option. 
Tip: If you're concerned about comfort, choose jeans with stretch and avoid structured fabric.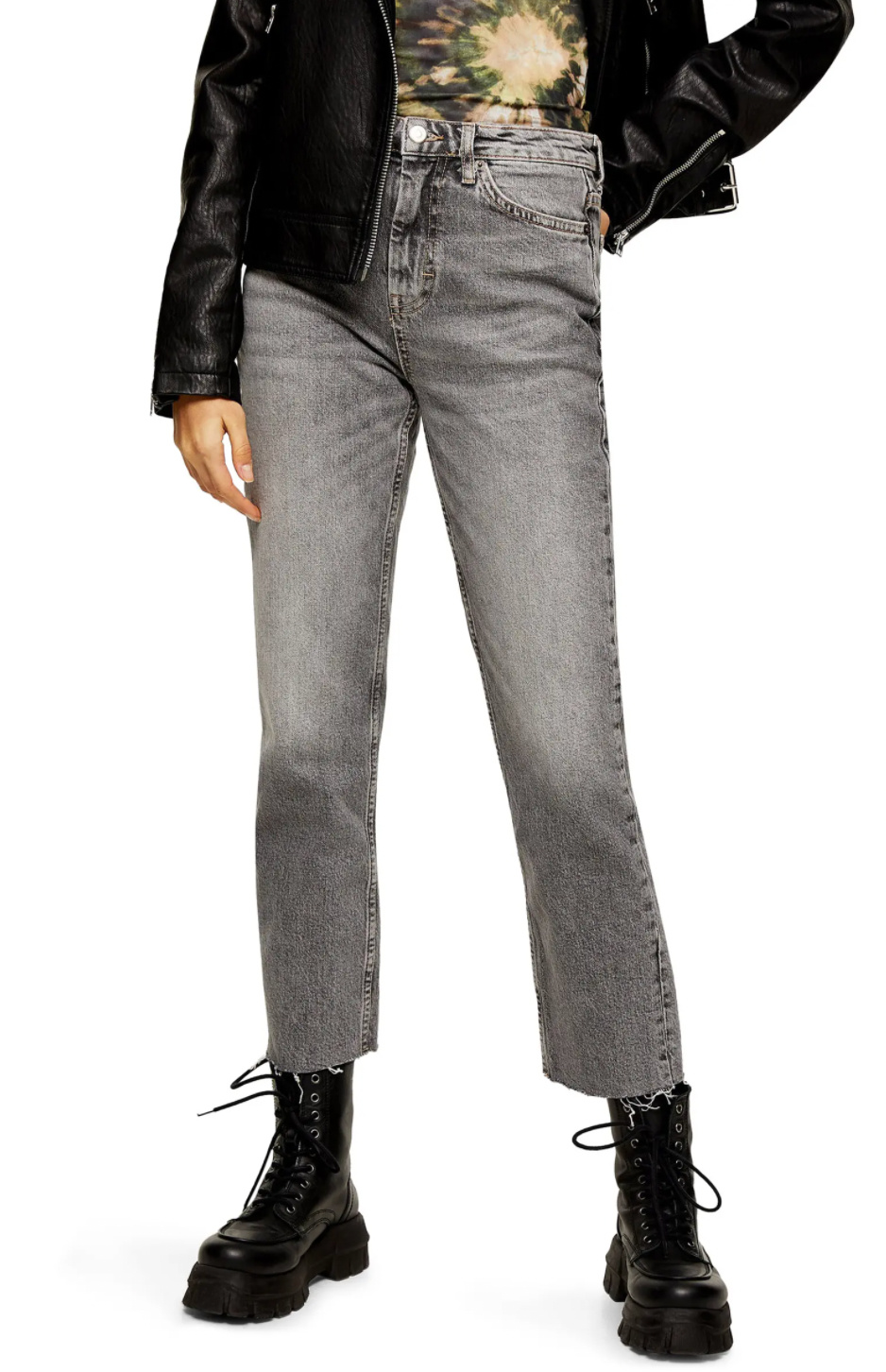 Topshop High Waist Raw Hem Straight Leg Jeans

Are Jeans Too Heavy to Pack?  
One reader says when she went backpacking around the world, she left her jeans at home because she was worried about them being too heavy and adding extra weight to her packing.
Since jeans are now really comfy to wear, one option would be to just wear your jeans to travel in, instead of packing them, so then there would be no need to worry about adding any extra weight to your luggage. 
But with new advancements in technology, in addition to clothing trends, denim fabrics have become lighter and more comfortable than ever before. So there is no need to worry about too much weight. Just lay your jeans flat underneath a set of packing cubes.  
For women, the options to travel with denim are more practical than ever before. Regular denim almost seems obsolete among the choices of light, stretchy denim. There are so many options out there, you can easily find jeans in light fabrics instead of the traditional heavier ones.
For short flights under 3.5 hours, I wear mine on the plane as they're one of the bulkiest items in my wardrobe.
Will I Be Warm Enough in My Jeans?
If you are worried about your jeans not being warm enough, especially when traveling during those chillier months, why don't you layer a pair of tights or even thermals underneath for added warmth?
When I travel, I usually only pack 1 pair for mixed weather and 2 pairs for cold weather. I don't usually wear or pack jeans when traveling to a hot destination.
Here is our roundup of the best thermals to layer under your jeans!
NYDJ Marilyn Straight Leg Jeans
To Jeans or Not to Jeans?
Jeans are a must-have for most women, but whether to pack jeans really depends on where and when you're going.
When traveling to cosmopolitan cities, such as London, Paris, or New York, then jeans are a packing necessity. Classic, comfortable jeans are now an essential item in most women's travel wardrobes and have become a staple fashion in Europe. 
Your planned activities for your trip play a big factor in the decision making process of whether to pack jeans. You also should consider if you are traveling to a tropical destination where jeans would not really be appropriate. 
Don't pack your jeans if you know you will only use them once in a while, if at all. If you are planning a trekking vacation, such as Trekking to Machu Picchu, you might be better packing a sturdy pair of trekking travel pants instead of jeans. 
If you prefer a traditional tech trouser, take a look at this style by Columbia!
Levi's Wedgie High Waist Crop Straight Leg Jeans
Whether or not you should pack them is all based on YOUR personal style preferences, not someone else's. Some women like wearing denim, others can't imagine wearing anything other than dresses.
Ultimately, if denim is a wardrobe staple for YOU, then you should continue to use it when you travel if it makes sense based on the activities and the weather at your destination.
Still can't make up your mind? Don't worry! You can always buy a cheap pair of leggings or jeans almost anywhere since it's just as big a fashion staple internationally as it is at home. And don't forget the No. 1 travel rule of packing: Wear what makes you happy!
However, if you are someone comfortable traveling with a pair of jeans and looking for more varieties, check out these top picks!
Shop: Nordstrom
Levi's Strauss High-Waist Straight Leg Jeans 
From a company that's been innovating blue jeans since they were invented in 1873, they truly know what they're doing! You can't go wrong with a staple pair of Levis. 
An ecstatic reviewer says, "I can't decide what makes me happier, the fact that I can wear them with flip flops or shoes and they work fine, that the color is exactly as pictured, the reasonable price, size fits as expected, or that they have stretch but the stretch isn't overly obvious about it!"
Shop: Nordstrom
Wit and Wisdom Bootcut Jeans
A quality pair of Wit and Wisdom jeans doesn't skimp on the comfort, wash, or style. These vintage bad boys are mid rise and boot cut so throw on your ankle boots or knee high boots to elongate your figure. 
As one reviewer says, "I like my jeans stretchy, but not tight. These are the perfect style for that. I have thicker thighs and rear, and these fit great." Sizes run from 25 to 33, with various lengths to choose from. 
Shop: Amazon | Eddie Bauer
Eddie Bauer High-Rise Jeans (Regular, Petite, Tall, and Plus Sizes)
Nothing says R&R better than big sunglasses, a crispy white tee, and some classic jeans. A high rise fit is less likely to cut into your hips increasing comfort, too. 
Pair them with slip ons or a comfy pair of sandals. With hundreds of positive reviews, the overall consensus is that they're ultra cute and comfortable – perfect for travel! 
These come in three different washes and sizes regular (0-16), petite (0-14), tall (6-18), and plus (18W-24W). 
Shop: Zara
Zara High Rise Slim Jeans

These Zara's high rise, skinny, ankle-length jeans are not only eco-friendly but a classic piece to add to your travel packing list. And they have some stretch too!
If you're ready to flaunt your moves whether in San Francisco or San Sebastian, these skinnies will do the trick and look fab with ankle booties, sandals, or flats! 
Shop: Nordstrom
Wit and Wisdom Plus Size Bootcut Jeans
These Wit and Wisdom plus size jeans will be in permanent rotation in your travel wardrobe for versatility, stretch, and practicality. They're fitted, without being too tight or restricting and the fabric is quality enough to withstand rigorous trips. These are available in sizes 18W-24W. 
Shop Sizes 16-30 Plus : Amazon
Lee Plus Size Relaxed Fit Straight Leg Jeans
Strut your stuff on date night or hit the streets casually dressed to tackle Prague with these mid-rise, straight fit Lee plus size jeans. They'll hug all your curves and leave you feeling confident on every occasion! And these also come in petite and long sizing.
Pair these with some booties or slide on a pair of stylish slip on sneakers if you'll be walking a lot. 
A happy user raves about the 'classic' look of these, "They're nice and roomy in the hips and stomach area, which makes them comfortable.  I would recommend these to anyone who wants comfort, doesn't want their bottom showing to the world and who likes to have big pockets. Lee's brand does an excellent job at supplying comfortable jeans!" 
Shop Sizes 00-18: Amazon
prAna Kara Jeans
Known for their soft, comfortable clothes and incorporating organic cotton, these prAna jeans offer an explosion of gorgeous colors and have a slim fitting tapered look with an optional folded cuff, but is far from uncomfortable as they're described as stretchy.
These are light enough for spring and summer by interchanging flip flops or sneakers. We actually love how the model is wearing espadrilles too! One happy user says, "Comfortable, good fit, long enough in the leg and lightweight and fits perfect. prAna makes a good, sturdy pant."
---
Do you travel with jeans, jeggings, or leggings? Why or why not? Please comment below!
---
For more tips, please read:
---
LIKED THIS POST? PIN THIS PIC TO SAVE IT!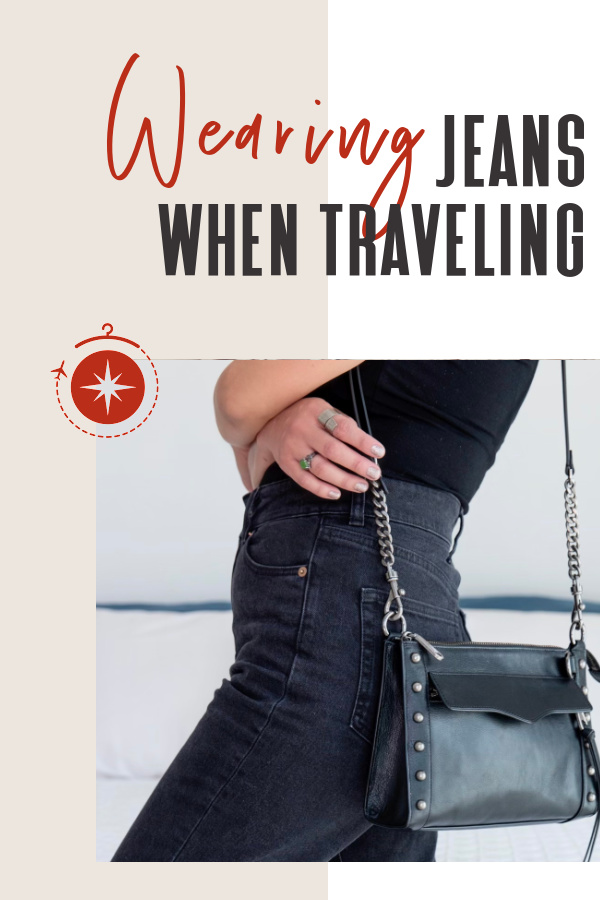 ---
I hope you enjoyed this post on wearing jeans when traveling! Don't forget to share this post on Facebook, Twitter, or Pinterest. Thanks for reading!
---