While you may not want to wear flip flops in European cities, if you're traveling in hot weather and you're headed to the beach – they're an absolute must. Find out why and shop out top picks!
---
Womens Flip Flops
---
I've previously written about Ipanema sandals, but I wanted to share why these womens flip flops are perfect for long term travelers.
When it comes to long term travel, your gear has to be comfortable, durable, and versatile. The Ipanema Maya Thong is all this but has a major added value: it's cute! The Maya thong has the appearance of a regular sandal with the rubber from womens flip flops.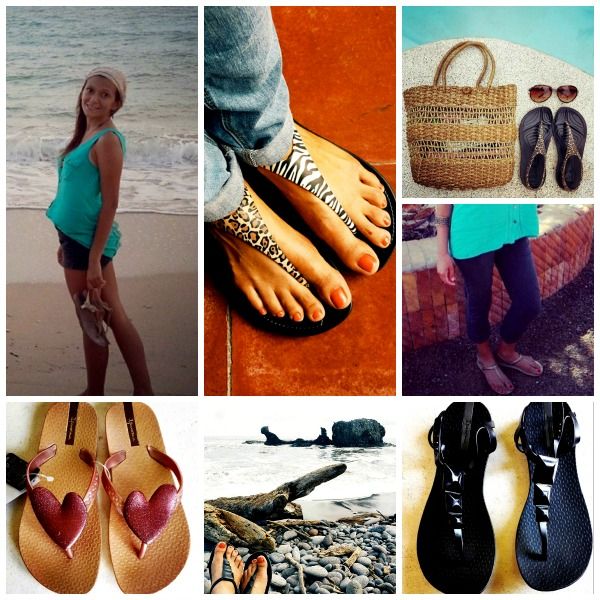 1. Womens flip flops are essential for backpackers and long term travelers. This is because these types of adventurers also tend to be budget travelers that stay in economic accommodation such as hostels and guesthouses. A pair of shoes to wear in the shower might protect you from picking up foot fungus or other infections.
Learn about these other budget travel essentials.
2. Flip flops are prevalent in some local cultures and causal island regions. In some parts of the world such as Southeast Asia many locals wear flip flops. You probably will want to as well.
Please read our Southeast Asia backpacking checklist for more details.
3. Many long term travelers (not all) tend to be sun chasers. This means that beaches and islands are on the itinerary. Womens flip flops are a beach essential!
Check out our beach vacation packing list.

4. When it comes to travel shoes, it's essential that the pairs you pack are ultra versatile. The Maya thongs work double duty, acting as womens flip flops and cute sandals. I only pack these instead of cute sandals that are all looks but no function.
Check out these cute thong sandals for women.
5. Ipanema flip flops are super comfortable.  No, they don't have arch support, but not all people need this feature in a pair of shoes. For everyone else they're perfect.
If you need arch support, consider these cute walking sandals.
6. They're not only functional, but also stylish. You can wear these womens flip flops with regular outfits and they'll look just as appropriate as they would with a bathing suit.
Check out the popular Birkenstock sandals for more comfortable shoe ideas.
7. They come in cute colors that you can mix and match with your capsule travel wardrobe. I recommend the gold for a cute color that matches with pretty much anything and instantly dresses up an outfit. I also have the solid black that looks great as well.
Learn more about creating capsule wardrobe.

---
What are your favorite womens flip flops?
---
For more ideas on shoes for travel, please read the following:
---
Hope you liked this post on why womens flip flops are travel must have. Please share it with your friends on Facebook, Twitter, or Pinterest. Thanks for reading!
---
Liked this article? Check out similar posts: