Support TFG by using the links in our articles to shop. We receive a small commission (at no extra cost to you) so we can continue to create helpful free content. As an Amazon Associate, we earn from qualifying purchases made on Amazon in addition to other retailers featured on the blog. Thank you, we appreciate your support!
After spending one week in Rome, I made my way to Croatia for a one-week sailing trip through the Dalmatian Islands off the coast of Split to celebrate my birthday. Read on for my full trip diary! 
---
Croatia Trip Recap
---
Table Of Contents
Can I just start by saying how absolutely magical Croatia is? In particular, the UNESCO World Heritage site, the Palace of Diocletian in Split's Old Town is one of the most BEAUTIFUL places I've ever seen!!!! 
If you want to read about my whole journey, here are all the trip reports:
After spending one week in Rome, I made my way to Croatia for a one-week sailing trip through the Dalmatian Islands off the coast of Split. The limestone islands remind me of Thailand's west coast while the historical architecture in the towns was more and more awe-inspiring at every stop. 
This has been a trip that I've wanted to do for my birthday since 2014, and I thought it would be the perfect way to spend my 40th birthday, and indeed it was!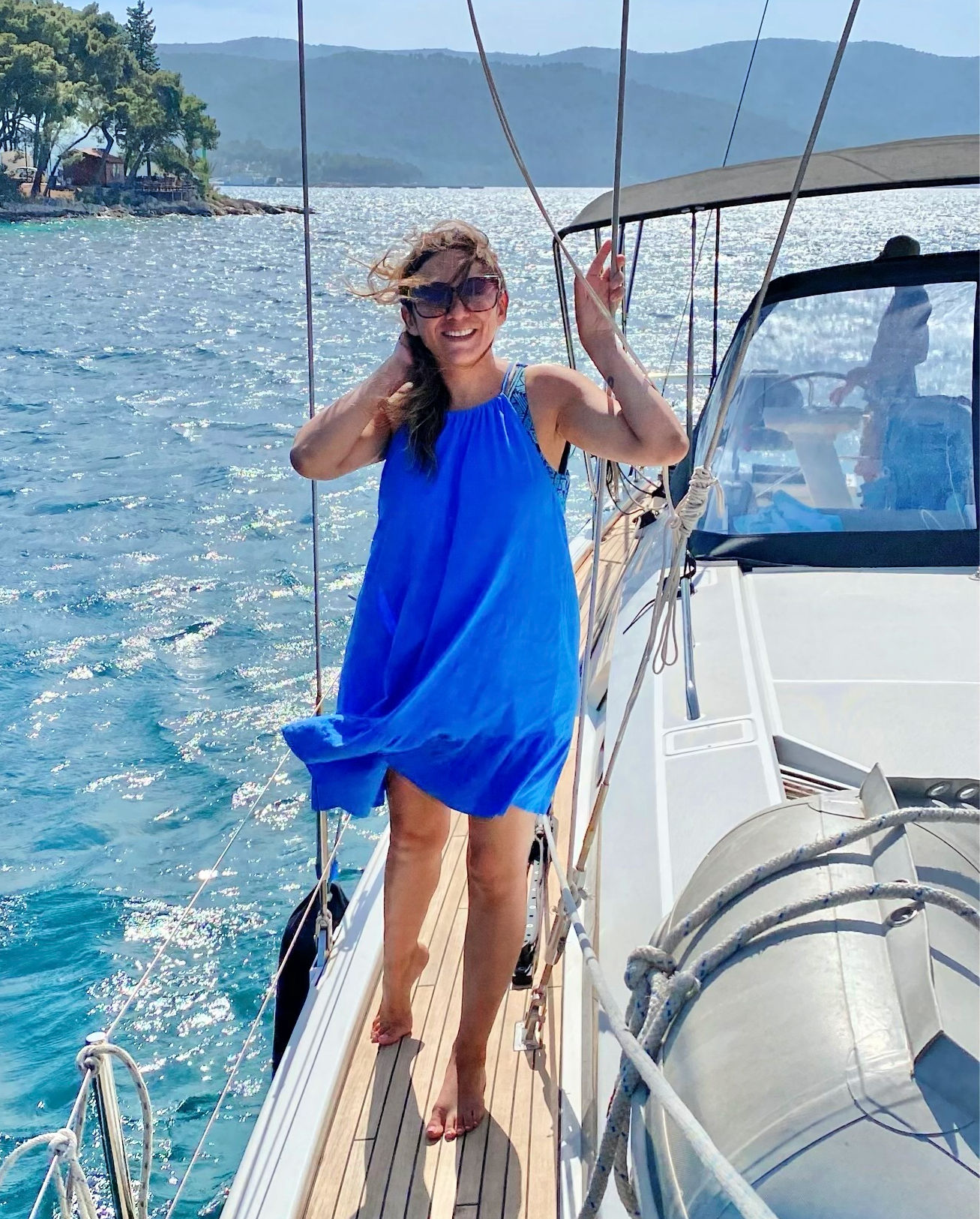 We chartered a skippered sailboat, the Libertine, with the company Sail Croatia and the team was absolutely amazing. They went above and beyond to ensure all of our needs were met, especially when it came to sailing with the baby. Some of the guys that worked there also had small children, so they even let us borrow their own items, including a pack n play, float, and car seat. It turned out that at 10 months old, Jade was the youngest passenger they'd ever had!
In addition, the boat was immaculately clean in comparison to other boats, so it's good to know Sail Croatia takes pride in offering their customers a top-of-the-line product. The kitchen was well equipped with all the basics, but they don't provide cooking essentials such as salt, pepper, or oil. 
They did, however, provide dishwashing soap, dish scrub, hand soap in each bathroom, and body wash. All linens, bath towels, hand towels, and swim towels were provided. 
They recommend buying groceries at the nearby market the day of departure; then you can buy additional items as you. If you choose to dock at a marina, each one has a nearby grocery store.
I was completely unfamiliar with Split before arrival and had no idea what to expect in terms of grocery stores, but it's a modern city despite its historic past. There was even a convenient mall just a 20 minute walk from Old Town, where I bought a pack n play for the baby for the next part of our trip. I bought it at the Magic Baby store and scored a good sale price, too, around $70.
Note that the pack n plays in Europe are more narrow and, consequently, more travel friendly and compact than all the "travel" pack n plays on the market in the USA. I'm super happy that I bought one in Croatia!
The one thing I wished I'd brought for home and didn't have time to search for was an infant life vest. I highly recommend you bring this on any boat trip if traveling with a small child. They gave her one that was for a one-year-old, but even though everyone says Jade is big for her age, the life jacket was way too big for her.
The sailing trips are all a week long and depart on Saturdays. Since we chartered a boat we got to decide the itinerary and where we wanted to dock each evening – weather permitting. While I wanted to do the one way sailing trip from Split to Dubrovnik, it wasn't offered with the price we paid, so we visited the Dalmation Islands instead, and it was a dream!
These were our stops:
​Departure from Split

Pučišća

Bol

Milna

Jelsa

Palmizana (2 nights)

Return to Split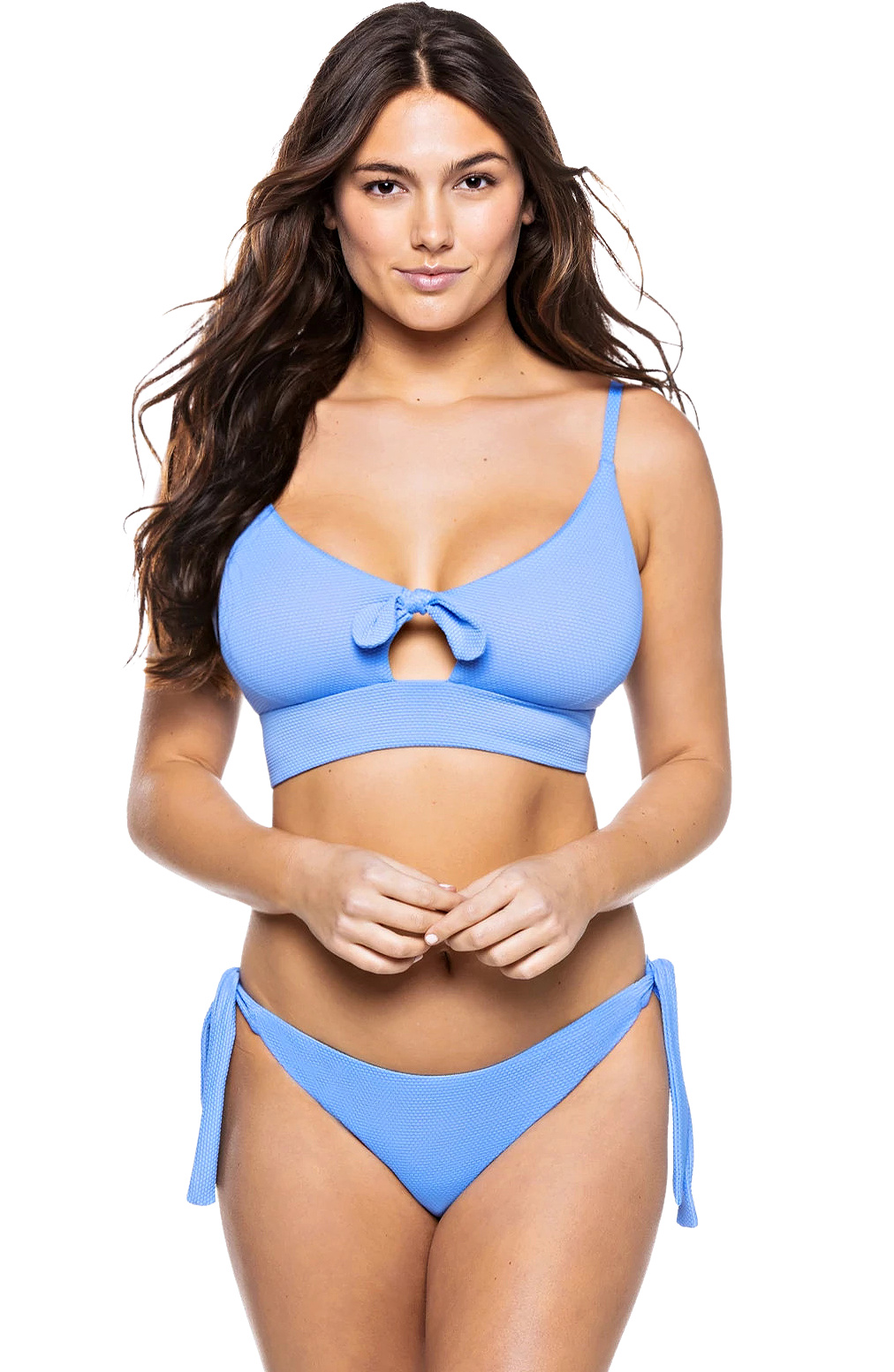 Wearing the Charlie Top with Dylan Bottom from MaxSwim DD+ Bikini Line by Everything But Water
I will note that when I undertook this adventure, it was during the summer of revenge travel, but my entire trip was booked on the go. 
In fact, I booked the sailing trip 2 days before the trip was set to start! In doing so, I scored an awesome discount and could've probably even saved more had I showed up at the marina to see if there had been any cancellations. If I wasn't traveling with the baby, I probably would've done this, but I need just a little more sense of security with my child in tow. Travel tends to be more cost-effective if you're flexible with time, so if this suits you, I highly recommend it. I spent almost a decade traveling this way on a budget!
Sail Croatia also offers group boat tours, too. However, many of the tours seem to be a bit more of a party backpacker vibe, so I'm not sure if that would suit all travel preferences, but it's worth contacting them to see if they have non-party itineraries.
Tip: If you're interested in chartering, avoid the high season of July and August and search the off-season for prices that are a fraction of the cost. Sail Croatia also has a "deals" section on the website, which is how we found our discounted boat.
 TFG shows you expert tips and tricks to find the most flattering swimsuit styles for your body type!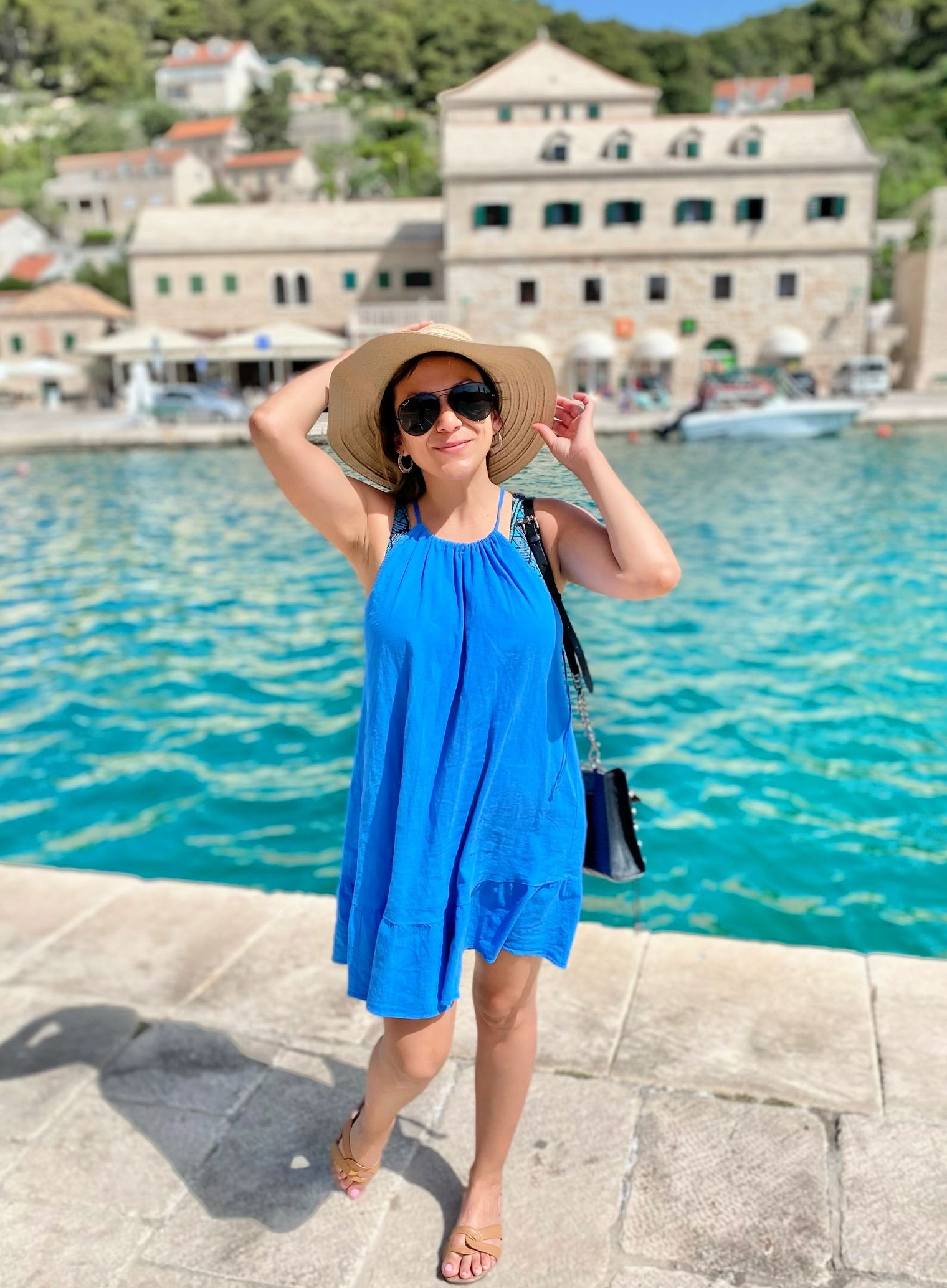 My Zara Blue Linen Beach Dress, Madewell Hat, and Rebecca Minkoff Crossbody Purse
Because Croatia wasn't a destination I'd originally planned on visiting on my trip to Europe, I felt very unsure about what to bring. Had I planned and packed for a Croatia Sailing Trip at home, I would've packed my snorkel mask and snorkel, rash guard, packable down jacket, flip flops, and my white Eddie Bauer long sleeve top to protect me from the sun. 
In the end, I didn't need any of it, and all I wore for 90% of the trip was the new blue linen beach dress I bought from Zara in Rome the week before! The sailboat also had more shade than expected so despite looking beyond tan and toasty, I didn't spend as much time in the direct sun as I thought. (Note: the reflection of the water and a boat means you still need SPF and coverage while on a boat!) I bought this sunscreen while in Greece and use this mineral-based one for the baby: 
Before arriving in Croatia, I'd panicked and considered buying a down jacket while in Rome the day before I left, but it was only cold one night on the boat when a storm rolled in on the last day of the trip, but I made it work. I threw on my All Saints cashmere sweater over my pajama pants and pajama long-sleeve top, and I was warm enough to deal with the change in weather for one evening. The rest of the time, the weather was sunny and warm, perfect day and night! 
Apparently, it's way hotter during the high season months of July and August, so I wouldn't expect any warm layers would be needed during that time at all – just a couple of bathing suits and a couple of cover ups at most.
When I wasn't on the boat, I wore the same exact mini capsule for Rome, which goes to show that you really don't need much clothing when you travel. You just need the RIGHT clothing. 
But what I did desperately need after a week on that boat was laundry! I wrote an entirely other post on that subject, though.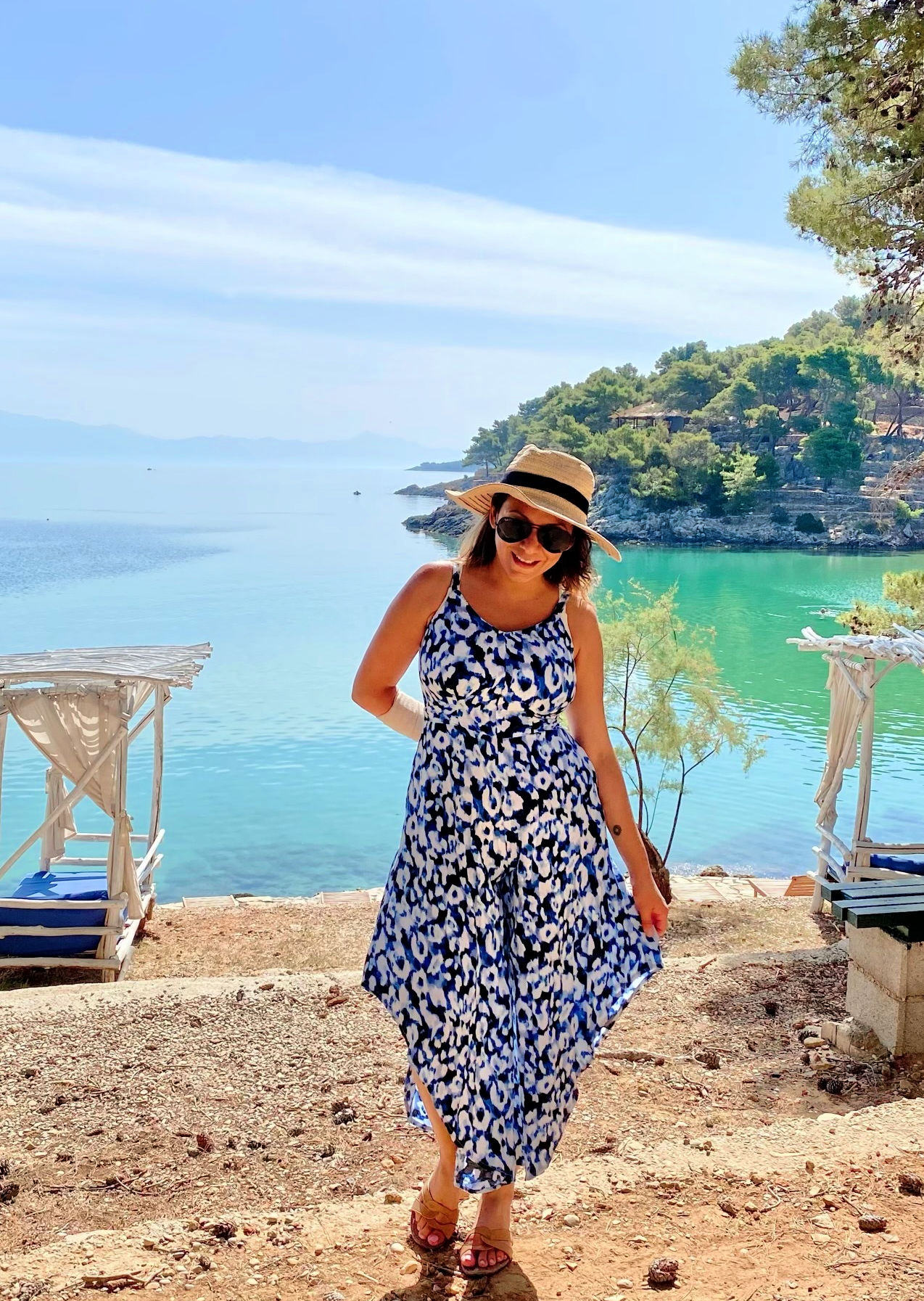 One of my new favorite pieces, the Vince Camuto Animal Print Jumpsuit 
This is What I Wore in Croatia:
Tip: Zara linen is THE best!! Cost effective and lasts forever! I stock up every summer. Take a look at their latest linen clothing!​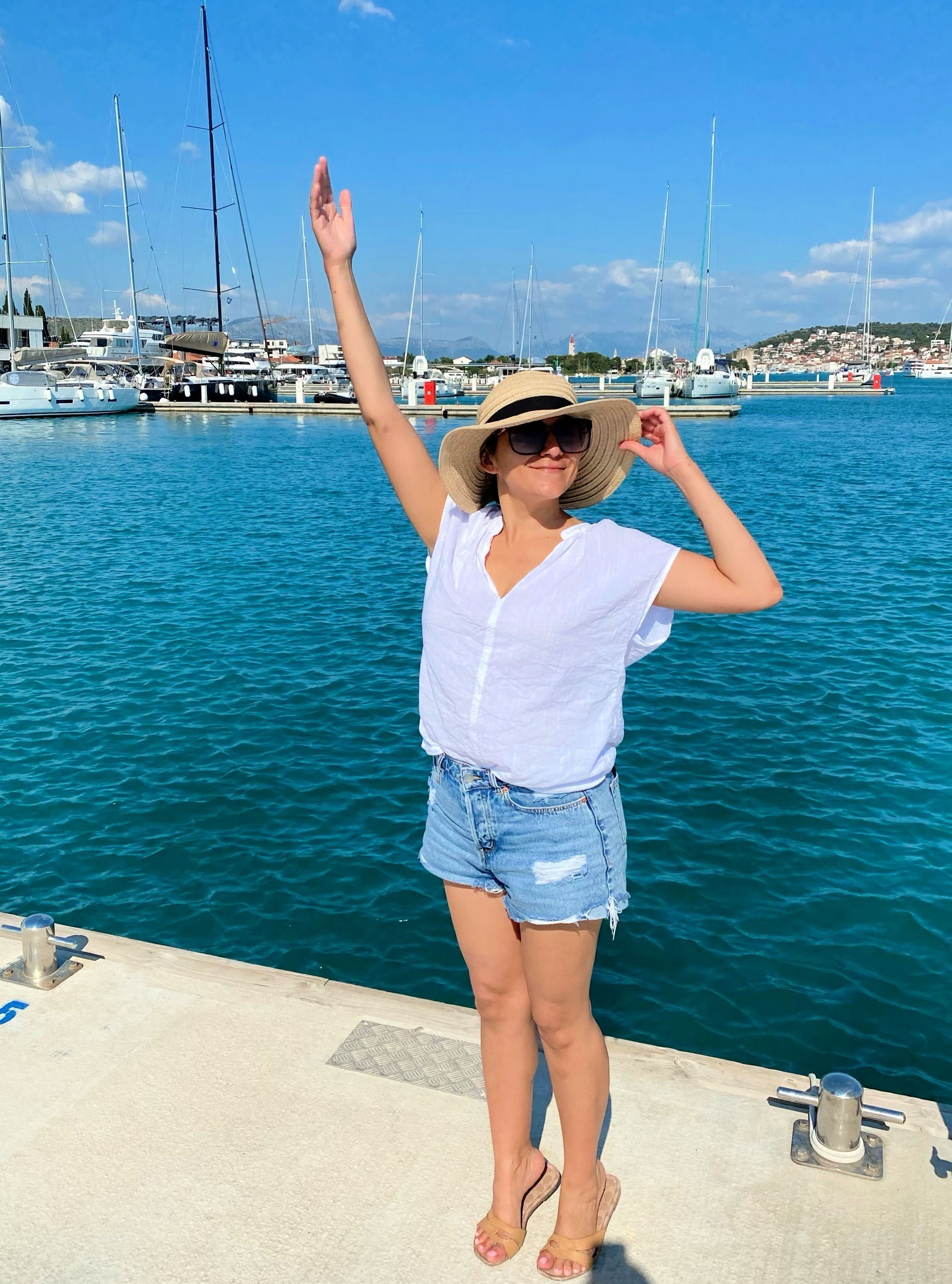 Normally, I would've wanted to dress "comfortably" and casually on a boat with my denim shorts and a loose tee, but since none of my tops were "comfortable" and I didn't pack any tees, I just wore the Zara linen dress the entire time, which serves as a reminder even to me that denim and a tee isn't the only way to be comfortable. Dresses are awesome and even comfy because they're easy to throw on and feel fresh and free! 
Despite the fact that a couple of weeks ago I wrote that I'm not really a dress person, the blue and red dresses I've worn repeatedly on this trip might be changing that belief. Perhaps I just hadn't found the right style for me – the ones that made me feel comfortable mentally and emotionally vs feeling physically awkward.
Other times when I went grocery shopping (almost daily with limited fridge and storage space on the boat), I wore my printed jumpsuit (sold out now), which has become the equivalent of loungewear or sweats – it's that easy to wear. 
As far as shoes go, I was barefoot on the boat (as many boats require unless it's cold and you want boat type shoes with white soles). The rest of the time, I wore my Coach sandals–sold out but here are Sam Edelman slides which is a similar style. They've been the perfect alternative to flip flops and look pretty with my dresses, too. For sightseeing, my Taos sandals have been perfect.
Take a look at the best white button down shirt womens styles to take on a trip!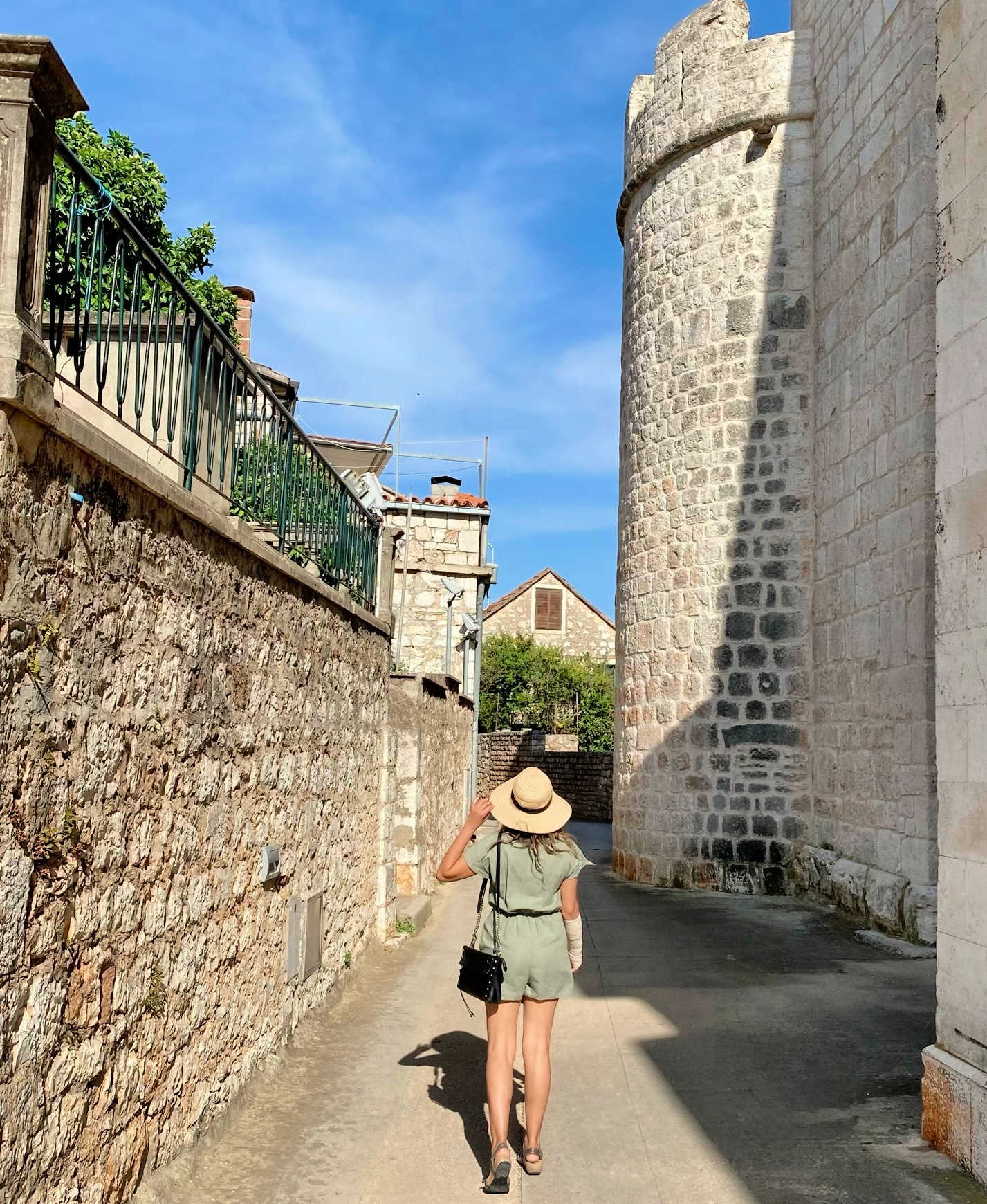 My Minimalist Croatia Packing List for Sailing Trip in Summer
​
Additional Items for Packing List for Croatia with Varied Activities
Long Sleeve

Cover Up

or

Button Down

– to protect skin from sun

Rash Guard

– the swim stops on a sailing trip are one of the best parts!

Water Shoes

– the beaches are all pebbles and rocks, not sand

Slip On Sneakers (with soles) / Boat Shoes – if doing a sailing trip in cold weather 

Flip flops

– if doing a sailing trip in hot weather and don't want to be barefoot on boat

Comfortable Sneakers

– if traveling in Spring, Fall, or Winter

Hiking Shoes

– if you plan on doing any hikes in the mountains 

Hiking Outfit

–  if you plan on doing any hikes in the mountains 

Waterproof Rain Jacket

– if doing a sailing trip in Fall, Winter, or Spring

Fleece

or

Thermal

Layer – if doing a sailing trip in Fall, Winter, or Spring to layer under rain jacket

Going Out Clothes and Heels – if planning to party in Split or Hvar Town's famous nightlife

Mosquito repellent

– there was a surprising amount of mosquitos (and bees)

Mosquito repellent candle or coils – for dining or hanging out in the exterior of the boat after dusk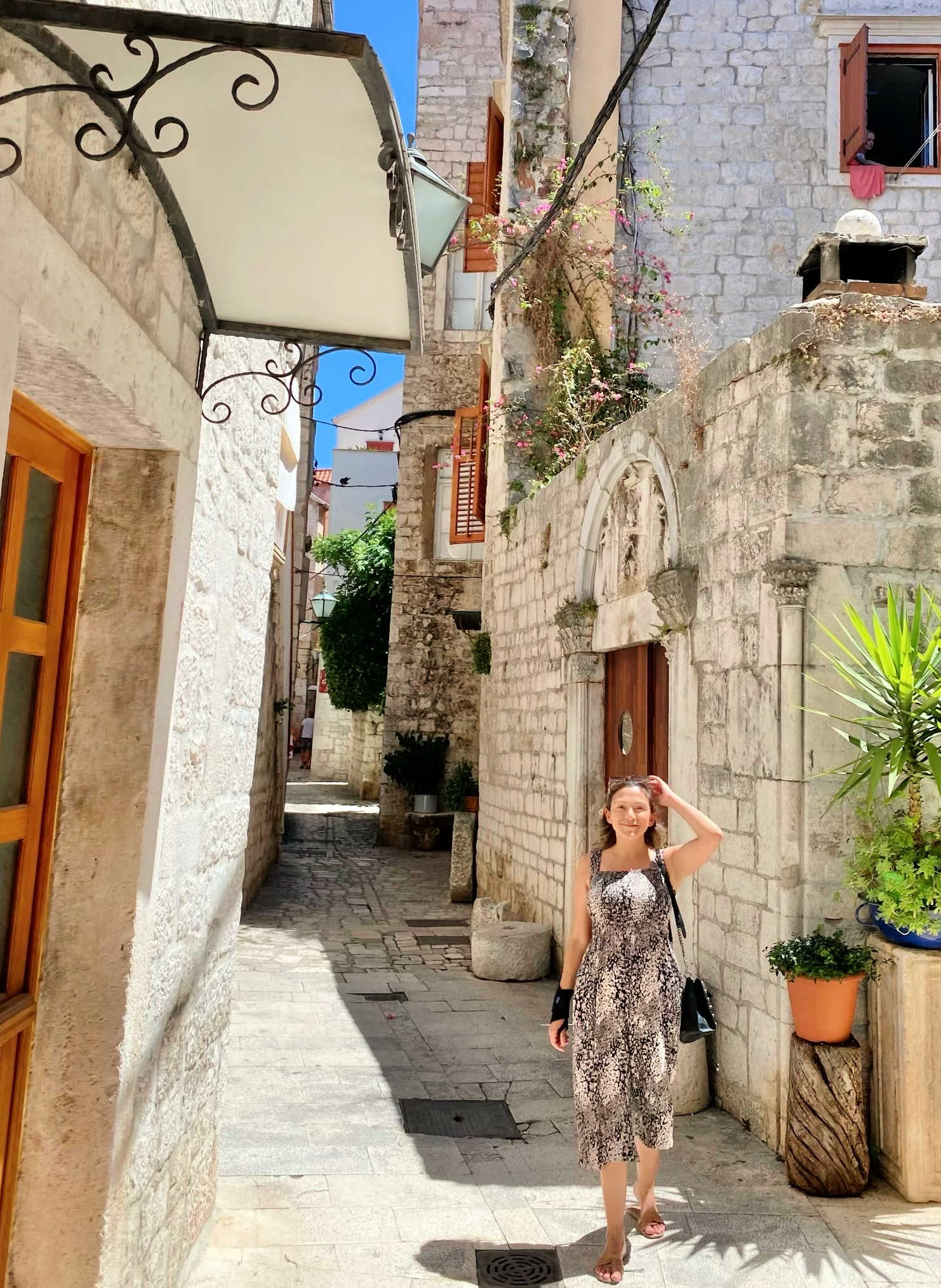 I want to mention that I fractured my wrist within an hour of being on the boat on the first day. While boat drawers and doors typically have secure hinges, locks, or magnets, the freezer on this boat slams shut unless you carefully hold it firmly before closing. Since I'd just gotten on the boat, I didn't know about the faulty mechanism, and my wrist got caught in the door. 
It was a frustrating situation, especially on a dream sailing trip the week of my big birthday, but I did my best to ignore the pain and get on with it. The skipper gave me a bandage from the boat's First Aid Kit and Jade's dad used an empty coffee cardboard box as a splint. I found a beer in the freezer, which I used as an ice pack throughout the trip, and I was good to go.
I decided to visit a doctor in Croatia before I left since it is more cost-effective than in the USA. I believe it's a hairline fracture (like I've had once before), so it was tolerable, just challenging to manage with the baby. 
When I got off the boat in Split, I went to the pharmacy and bought a more secure wrist brace so I wouldn't have to keep wrapping my wrist with the bandage.
While I was initially worried about how the baby would do on the boat, it turns out that due to the nature of a boat having secure drawers and no decor (so things won't fall), a sailboat is innately baby proofed – perfect for the baby since she's only crawling and not walking yet. (The freezer door is on top of the kitchen counter.)
She loved having the freedom to explore the interior at her leisure while we savored the peace of mind that she couldn't get into any drawers and that there wasn't anything to pull down or fall on her.
She started standing while on the boat, so I wouldn't be able to have the tranquil experience if I'd waited any longer; otherwise, I'd have to be chasing after her the whole time. I did have to keep her from climbing up the stairs, though, and wish I had a baby gate.
I was nervous about her trying to crawl on the top of the boat, but we held her or put her in her stroller when we were sitting in the shaded outdoor seating area, so it wasn't as bad as I thought it would be on a sailboat. A catamaran would've been more challenging.
The trip couldn't have been timed better with a baby! Everyone said that it was best to travel before she started walking – that's why I was in such a rush to get to Europe and country hop before that milestone. I'm happy it worked out well.
Tip: I used her stroller as a high chair on the boat and throughout the trip. Many restaurants did offer a high chair but most of the time it was just easier to feed her in her stroller, including on the boat. Note that the stroller seat looked gross and I scrubbed it down and air dried it before we left the boat.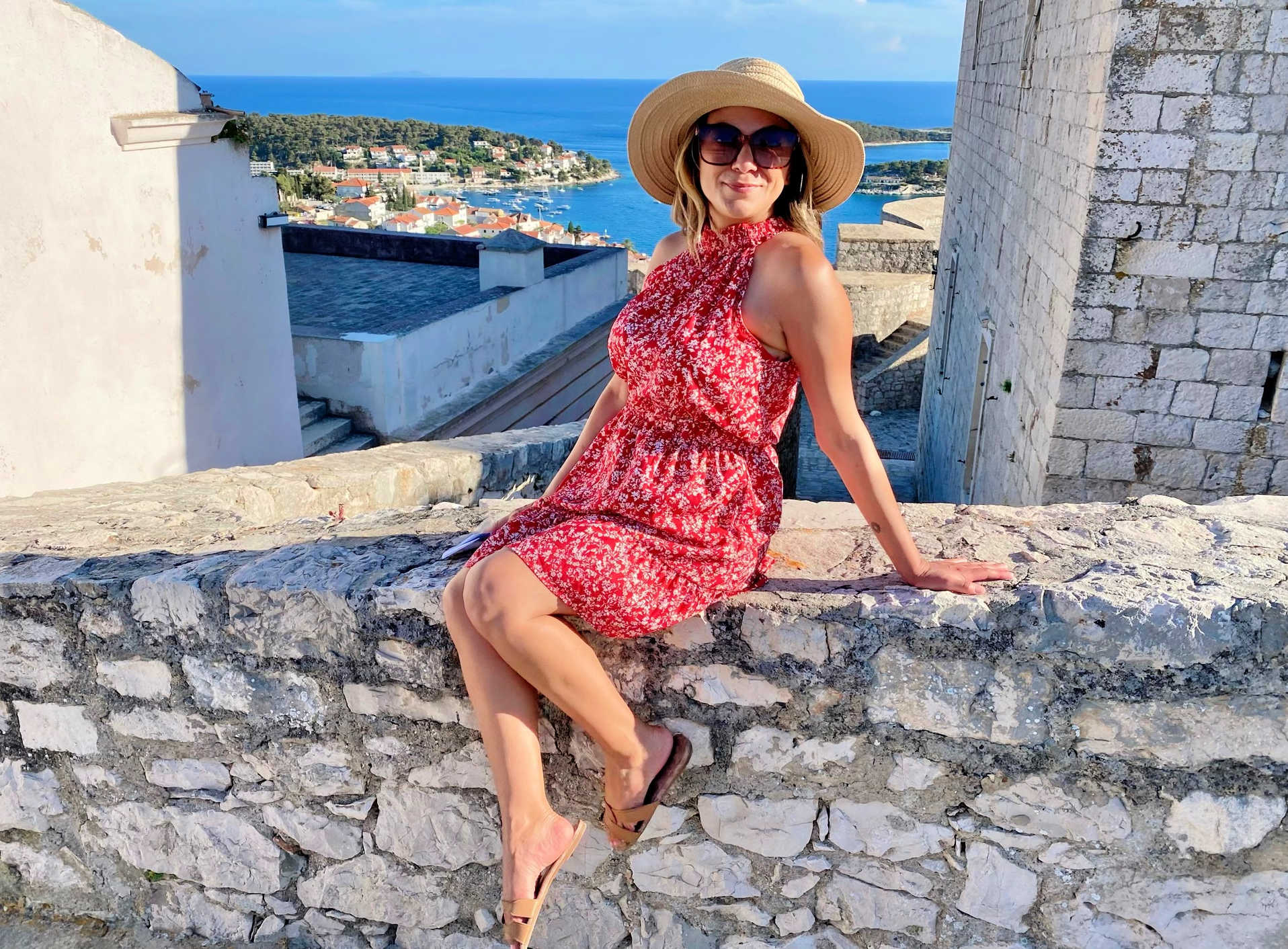 This Gevomir printed halter summer dress has been one of my most unexpected travel wardrobe wins!  (With Madewell Hat)
Overall, Croatia was an unexpected surprise. Each town was more beautiful than the next. The architecture was so picturesque and unlike anything I'd previously seen, as this was my first time visiting Central / Eastern Europe.
If Croatia isn't already on your radar, make sure to add it. Not only is it beautiful and rich in history, but it's also more cost-effective than Western Europe, too, so your budget will go much further!
---
Have you ever checked out Croatia? Share your packing and travel experience in the comments!
---
For more Eastern Europe packing tips, please read:
---
LIKE THIS POST? PIN THIS PIC TO SAVE IT!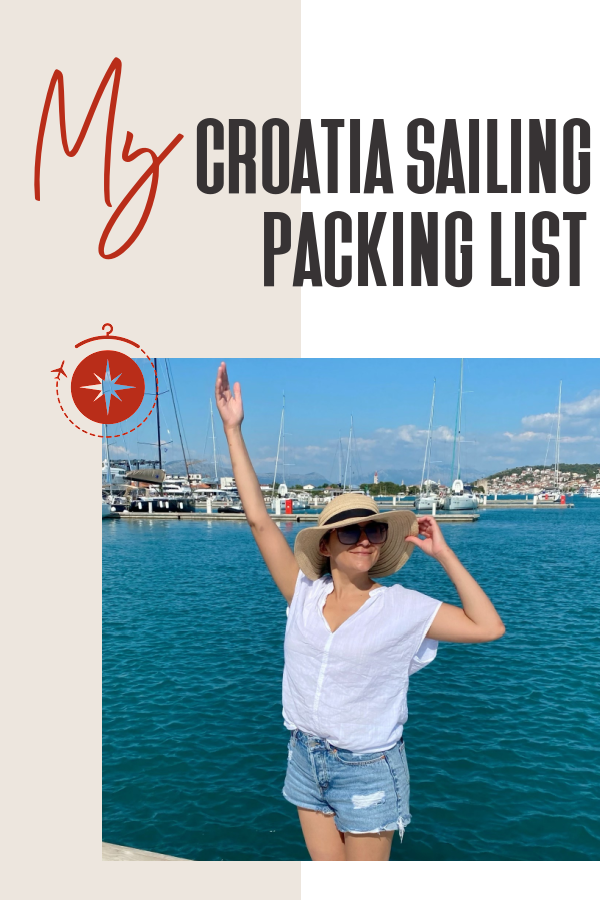 ---
We hope you liked this post on what I packed for a Croatia sailing adventure. Please share with your friends on Facebook, Twitter, and Pinterest. Thanks for reading!
---