Support TFG by using the links in our articles to shop. We receive a small commission (at no extra cost to you) so we can continue to create helpful free content. As an Amazon Associate, we earn from qualifying purchases made on Amazon in addition to other retailers featured on the blog. Thank you, we appreciate your support!
The Nordstrom Anniversary Sale is over. However, take a look at the top bestsellers and editor's picks from 2022 to get prepared for next year. See you in 2023!
Bookmark this page to ensure you don't miss the 2023 sale.
---
Nordstrom Anniversary Sale
---
When is the Nordstrom Anniversary Sale?
The Nordstrom Anniversary Sale is the retailer's biggest sale and offers brand-new products at super discounted prices. You can shop amazing deals on items like clothes, shoes, jackets, luggage, or handbags.
Do I need a Nordstrom credit card to shop the sale?
You don't need a Nordstrom credit card to shop the sale but if you do have one, you'd normally get access to the sale before it's open to the public during the Early Access week. 
TIP: If you want to shop for this year's early access sale, you can apply for a Nordstrom Credit Card here. I signed up for a card online and my new card number was automatically added to my account. I got INSTANT access to the sale prices!
What products would I want to shop at the Anniversary Sale?
Our readers love shopping Nordstrom for their wide range of quality products and top-notch customer service policies, including an excellent return policy. This sale is a great opportunity to buy those higher-priced items you've been longing for all year, such as luggage, purses, jackets, shoes, and more!
How to shop the Anniversary Sale?
As we do every year, we will make the selection process easier for you by scoping out the entire site and sharing the best products for travel! 
However, a big tip for 2023 is to utilize the "WISHLIST" feature to easily keep track of your favorites.
If you're planning on shopping for others during the Anniversary Sale, Wishlist allows you to search for people who have also put together a list and check out (or even send over!) what they have personally favorited. You can add up to 150 items and then organize and edit your top selections. You can even share them with family and friends so that they can get in on your list as well.
The Nordstrom Anniversary Sale has officially ended, but to get a jump start on next year, check out the 2022 top bestsellers and editor's picks!
Remember to bookmark this post to catch all the deals in 2023!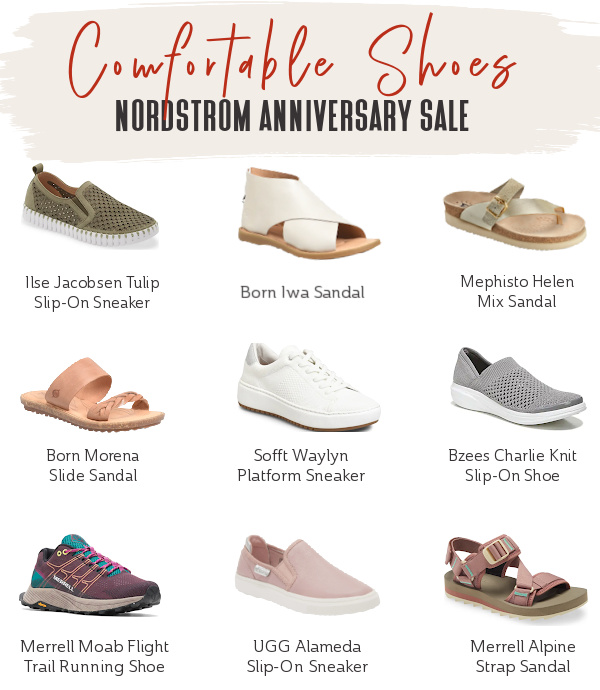 Ilse Jacobsen Sneaker | Born Sandals | Mephisto Sandals | Born Slide Sandal | Sofft Sneaker | Bzees Sneaker | Merrell Running Shoe | UGG Slip On | Merrell Sandal
Comfortable Walking Shoes
Shoes that are good for travel come in a variety of options for different needs and varying activities, but overall they must have one thing in common: comfort. From hiking shoes to easy-to-wear slip on sneakers, we've pulled together the best of the comfort shoes in the Nordstrom Anniversary Sale! 
Popular brands like Born, Sofft, Bzees, Mephisto, and Merrell constantly make reader must-have lists for stellar travel shoes because they're comfortable, durable, and offer support. But they're also stylish!
Besides the shoes pictured, sneakers are SO popular that we're sharing more new favorites that are comfy and wonderful for sightseeing or excellent for a flight outfit: 
Check out the Sandals Sales Section and Sneakers Sales Section for the Nordstrom Anniversary Sale if something here doesn't catch your eye!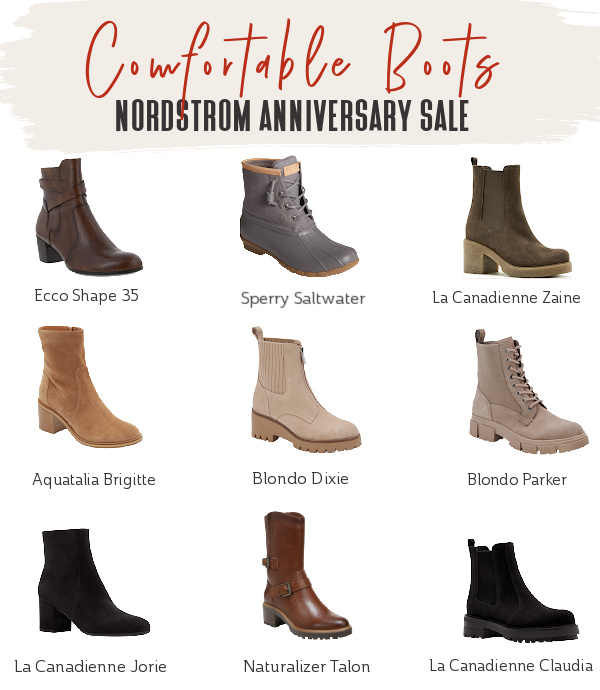 Ecco Shape 35 | Sperry Saltwater | La Canadienne Zaine | Aquatalia Brigitte | Blondo Dixie | Blondo Parker | La Canadienne Jorie | Naturalizer Talon | La Canadienne Claudia
Comfortable Fall and Winter Boots
When it comes to choosing boots for travel, comfort is the number one priority! The last thing you want is to wear shoes that hurt your feet or pinch (ouch!). Ankle boots are the most popular to pack and wear, both for their style and ease of use. Ones that slip on or have a side zip are ideal to get through security lines fast! 
If you're traveling in cold or rainy weather, bring boots that can protect you from the elements, which is why purchasing waterproof boots is recommended. So, we've rounded up the best fall and winter boots from the Nordstrom sale worth adding to your capsule wardrobe!
All the brands pictured are beloved by readers, including Blondo, Ecco, Sperry, and Naturalizer. Most are waterproof as well, with the exception of Naturalizer. In cases where you might want a pair that isn't weather treated, using waterproofing spray can do the trick! 
Besides the boots pictured, here are more favorites that are cute and have good traction on walking surfaces. They'd look stylish with cold-weather outfits, too: 
Check out the Nordstrom Anniversary Sale Sections for Ankle Booties, Boots (including long ones), or Rain and Winter Boots if something here doesn't catch your eye!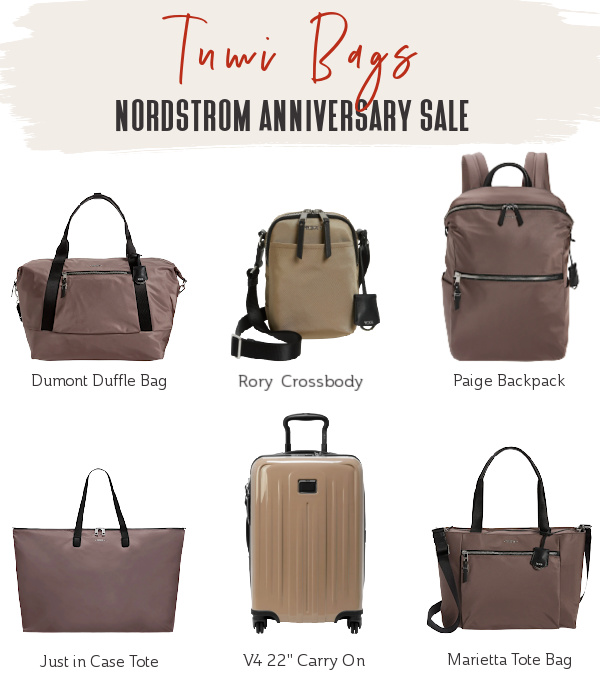 Dumont Duffle Bag | Rory Crossbody | Paige Backpack | Just In Case Tote | V4 22″ Carry On | Marietta Tote Bag
Tumi
TFG readers love Tumi because their bags feature trolley sleeves and classic designs in their signature nylon fabric making them the ideal personal item that's easy to clean and looks classy. They're highly durable and stylish bags all-around!  
When I recently went to Europe, I consistently wished I had brought my Just in Case Packable Tote, so I would've had a little bit more flexibility with my packing strategy for the baby. So glad it's on sale right now! The Tula Crossbody that was on last year, is discounted again! And if you're interested in a duffle style, the Voyageur Dumont Duffle Bag is at a considerable markdown! For a luggage option, check this 22″ expandable spinner!
Their other popular totes and backpacks, such as the Voyageur Everyday Nylon Tote and Hilden Nylon Backpack are not on sale at the moment but watch them, because who knows, they might! 
Peruse Tumi's Nordstrom Page if you want to eye any other bag styles!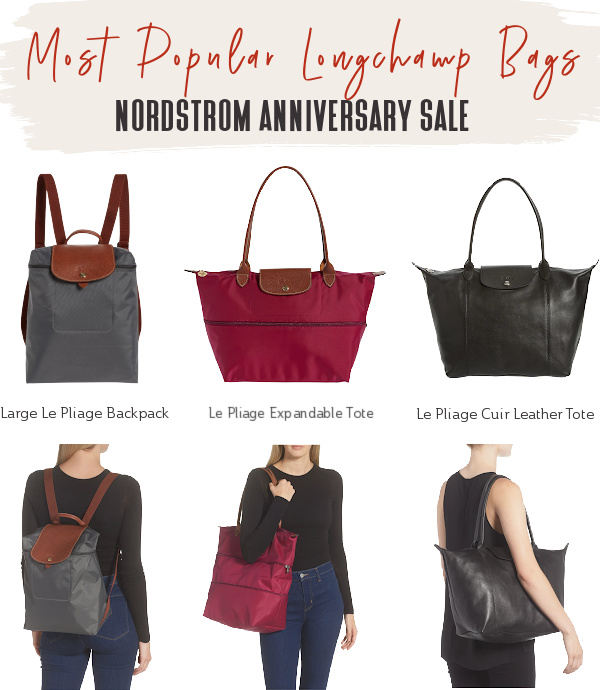 Large Le Pliage Backpack | Le Pliage Expandable Tote | Le Pliage Cuir Leather Tote
Longchamp
If you've been a TFG reader for a while, it'll be no surprise that Longchamp is one of the most loved brands by our community. And like last year, the highly coveted Le Pliage Backpack is on sale!! You can read our review on the backpack to learn why it's so popular with readers. 
Another popular must-have is the Le Pliage Expandable Tote, which are lightweight and stylish and on sale for over 25% off! If you want another option, the Le Pliage Cuir Leather Tote is at a great discount too! 
Check out the Longchamp Nordstrom Page to find out other bag styles!
 And if you want even more ideas on the best Longchamp bags, go to this post here!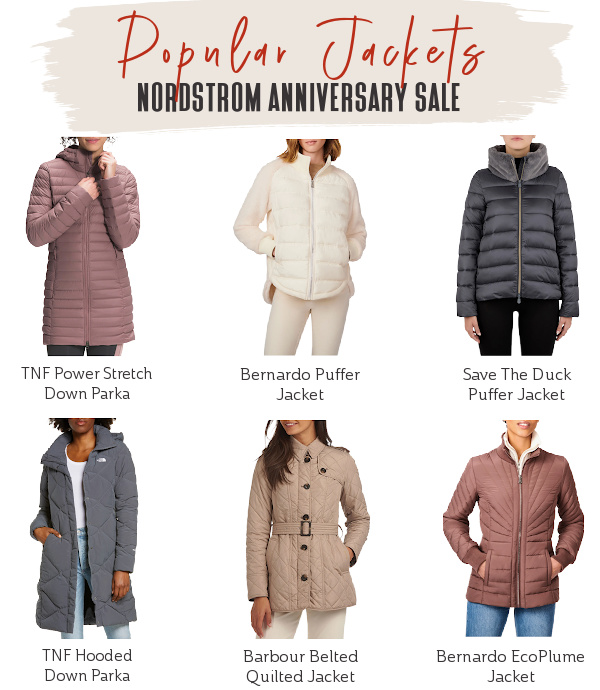 TNF Power Stretch Down Parka | Bernardo Puffer Jacket | Save the Duck Puffer Jacket | TNF Hooded Down Parka | Barbour Quilted Jacket | Bernardo Ecoplume Jacket
Cozy Winter Jackets
Tip on buying jackets: ALWAYS shop them during a sale, especially if you've had one on your wishlist for a while! Winter jackets are typically higher-priced items, so when they're discounted, it's the right time to make your wishlist item come true! To remove the guesswork, we've rounded up some old and new faves for the Nordstrom Anniversary Sale! 
Reliable jackets like North Face and Bernardo are reader staples that provide warmth and durability inside and out.  But if you prefer 100% sustainable clothing, Save the Duck is a renowned Italian brand that uses recycled materials and is animal-free. Though they've been around for a long time, a sale is a great way to be introduced to them!
As for Barbour, I discovered them while living in the UK and was happily surprised to discover how warm their coats are! They have been making classic waxed jackets for well over a century.
Besides the jackets pictured, here are more favorites that are stylish, warm, and will last for years!

If you want to see all the jackets discounted, review the Coats and Jackets Sale Section for the Nordstrom Anniversary Sale!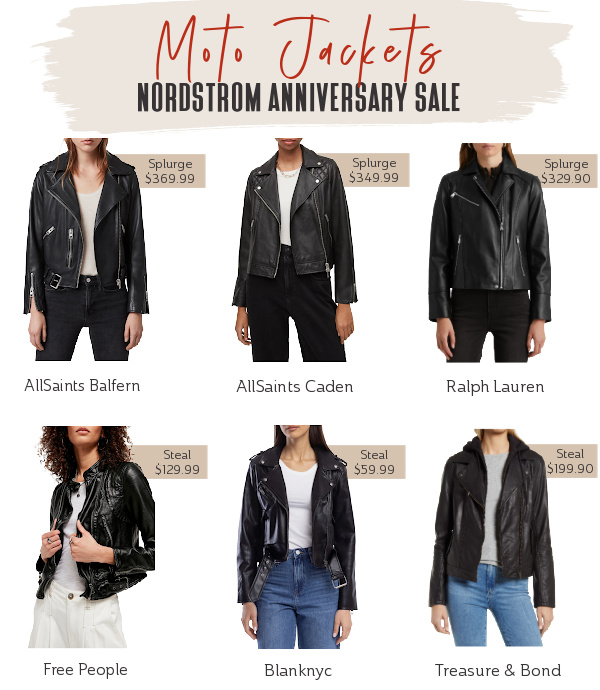 Splurge: All Saints Balfern | All Saints Caden (similar) | Ralph Lauren Lambskin
Steal: Free People Heartbreaker | Blanknyc Faux Leather | Caslon Leather Moto Jacket
Moto Jackets – Splurge vs. Steal
For many, including myself, a moto jacket is a timeless piece that's an absolute must in a wardrobe. In fact, I love it so much that I'd say it's a part of my signature look. With the mild weather in Los Angeles where I'm from, it also seemed to be a go-to year round layer for other Angelenos, too. With regards to travel, I've also seen this style popular in other large cities such as London and Paris as well.
In this year's Anniversary Sale, there's a wide range of options on sale, both faux or vegan leather and genuine leather, too.

If you love a moto jacket as much as me and are looking to finally make that much wanted investment, I absolutely adore All Saints. It's a British brand with edgy, stylish designs and beautiful supple leather. It's generally priced over $500 so I waited for a big sale to take the plunge on mine. I own the Dalby Leather Biker Jacket, which is available at the All Saints site, but the best selling Balfern is currently on sale at Nordstrom! I'm SO tempted by the Grays from Reiss, but it's currently out of stock–here's a similar style from Ralph Lauren. The style is everything!
Oddly enough, I find that a faux leather jacket actually sits nicer on the body because the materials tend to be lighter and less bulky. The key is to look for one with materials that don't look too cheap. 
The Caslon Leather Moto Jacket seems to offer a good balance of leather with a nice weight to it and solid-looking hardware. Alternatively, the Heartbreaker Jacket by Free People looks lightweight and stylish, too! For a tried and tested best seller on sale, our readers love this Blanknyc Vegan Leather Jacket— It's also available in plus sizes 1X-3X!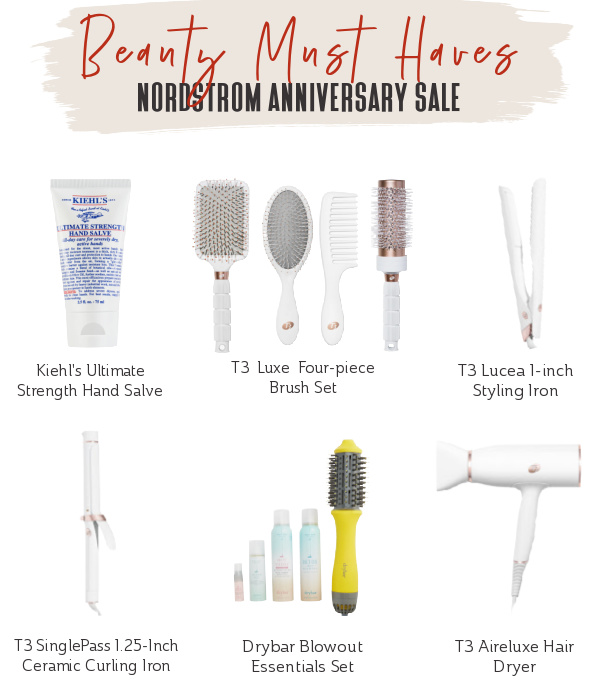 Kiehl's Ultimate Strength Hand Salve | T3 Luxe Brush Set | T3 Lucea 1″ Styling Iron | T3 Singlepass 1.25″ Ceramic Curling Iron | Drybar Blowout Set | T3 Aireluxe Hair Dryer (similar)
Beauty
While beauty products can run the gamut from inexpensive to higher-priced, if you love a little bit of luxury in your travel regimen, T3 Hair Tools are on sale again, as they were last year!
Readers talk about their products constantly, which encouraged me to buy the 1-inch T3 Lucea Straightener myself. Love how it keeps my hair under control and looking smooth, and because I'm so happy with this product, I've considered buying the Aireluxe Hair Dryer (similar) use every day vs. for traveling.
If you want a different hair look while on the road, the Drybar Blowout Essentials Set seems really fun, and is at a fantastic discounted price. Also a set of full-size hair care products plus a jumbo size of the best-selling No 3 Hair Perfector to help reduce breakage and visibly strengthen hair.
A set featuring a mini Facial Toning Device, expertly designed to help tone, lift and contour skin at home. I already own this, but I know it's super popular and with a higher price tag, I didn't want any Nu Face fans to miss out if they were interested in adding it to their beauty arsenal too.
And, hands! My hands get so dry while traveling, whether on the plane or when landing in a new climate. Kiehl's Since Hand Salve is small enough to keep in a personal carryon item!
To review more beauty products for the Nordstrom Anniversary Sale, see the Beauty Sales Section!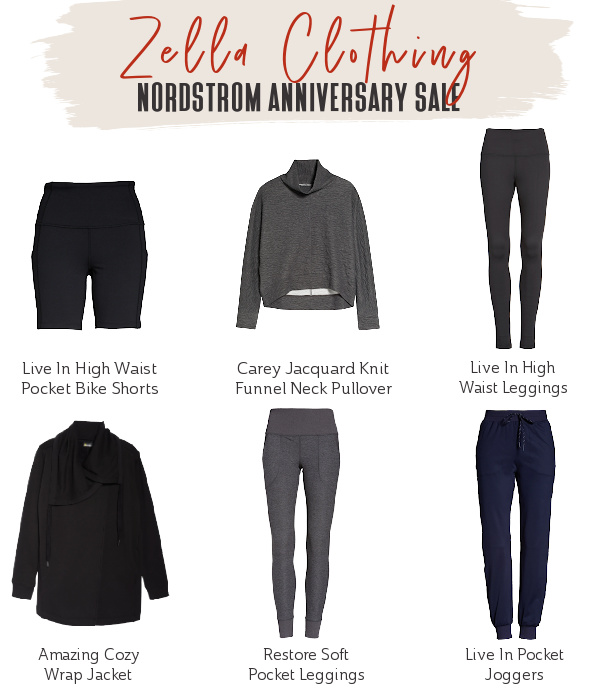 Live In Bike Shorts | Carey Jacquard Knit Pullover | Live In High Waist Leggings | Amazing Cozy Wrap Jacket | Restore Soft Pocket Leggings | Live In Pocket Joggers
Zella Clothing
Zella is a long-time popular brand with readers for their comfortable, soft clothing that works super well for flight outfits or exploring a new destination. Their Live In High Waist Leggings are the #1 leggings as voted by readers!! They're cozy, stretchy, and never ride down at the waistband. They come in regular sizes and plus sizes. 
The Live In Pocket Joggers are another big seller and could be in the running to replace leggings altogether! They are also available in regular sizes and plus sizes. To top off your flight outfit, the Carey Jacquard Knit Funnel Neck Pullover or Live in Jogger Jumpsuit (similar) is perfectly cozy!
To not miss anything from this brand, check out more at the Zella Nordstrom Page!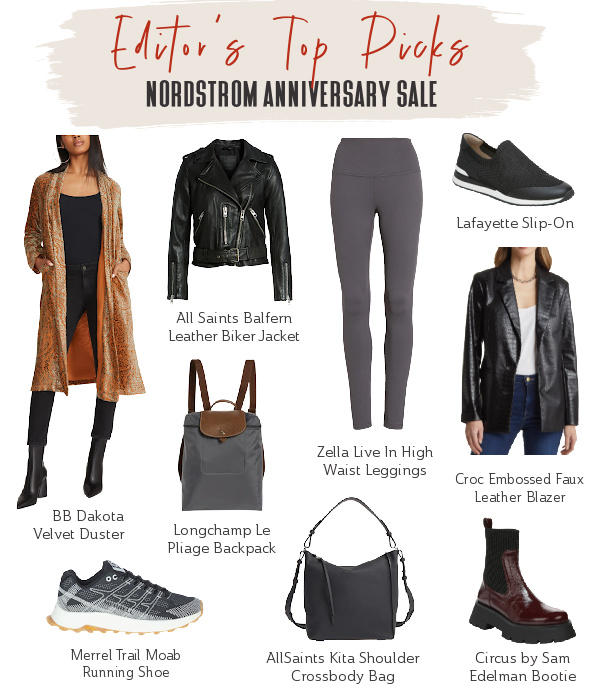 BB Dakota Velvet Duster | All Saints Balfern Jacket | Zella Leggings | Naturalizer Lafayette Slip Ons | Longchamp Backpack | Halogen Croc Leather Blazer | Merrell Running Shoe | All Saints Shoulder Crossbody Bag | Circus by Sam Edelman Bootie
My Top Nordstrom Picks
Some of these styles are total fashion eye candy for me and others are things I want for practical daily living. I'm not sure if they'll all make it to my final shopping cart, but these are the pieces that make my heart skip a beat!
If you haven't noticed, I have a thing for jackets and ankle boots. I absolutely love them! The only problem is that I don't like cold weather so they're not very practical for my lifestyle. I have to restrain myself from buying them but when I do, I keep them forever! A good jacket and boots can last a lifetime.
From my wishlist, I'm for sure buying a gray pair of Zella Live In Leggings because these are absolutely a must-have everyday essential when it's cold outside. 
I've also been on the hunt for some lightweight hiking shoes and I love that the Merrell Trail Moab Running Shoe has an understated look so it can easily work on the trail and for the gym, too. As for another everyday essential, I wanted some comfy slip on sneakers like the Naturalizer Lafayette Knit Slip Ons that I could just throw on quickly to go on my daily walks. And TFG readers have also made me a fan of Bombas Ankle Socks, so these are the perfect match for these and my other sneakers as they've become my go-to socks for all my sneakers.
On my recent trip to Europe, I was longing for a cute but packable day bag that could also double up as a diaper bag so I think the Longchamp Backpack and or the Tumi Amber Tote could fit the bill. I'm going to order it and also the and see how the size would work with all my and the baby's essentials for a day out.
For the same reason, I'm also considering a larger crossbody such as the All Saints Kita Shoulder Bag. I prefer a smaller size crossbody, but it would be nice to have a little extra room for a few baby items, too.
Lastly, I wear a lot of black and love the look of the orange velvet BB Dakota Duster and the Halogen Croc Embossed Faux Leather Blazer for an unexpected statement layer over an easy-to-wear all-black outfit. I'm also eying for the Reiss Moto Jacket but currently it's out of stock. For the same reason, I'm so in love with the Sam Edelman bootie in the burgundy color, and Quay Sunglasses (similar) another statement piece for a neutral look. 
And underneath it all, my favorite and most comfortable travel underwear is a microfiber thong so I've got my eye on the Commando Classic Microfiber Thong and Hanky Panky Print Regular Rise Thong. When I used to work in the fashion industry, I was a sales rep for a high-end Italian lingerie brand so let's just say I gained an appreciation for the longevity of good quality underwear.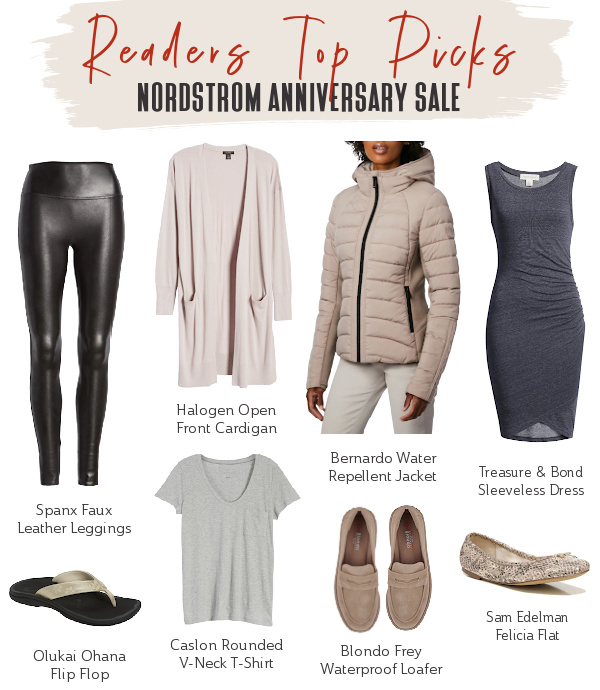 Spanx Faux Leather Leggings | Halogen Cardigan | Treasure & Bond Dress | Bernardo Jacket | Olukai Flip Flop | Caslon V-Neck Shirt | Blondo Frey Loafer | Sam Edelman Flats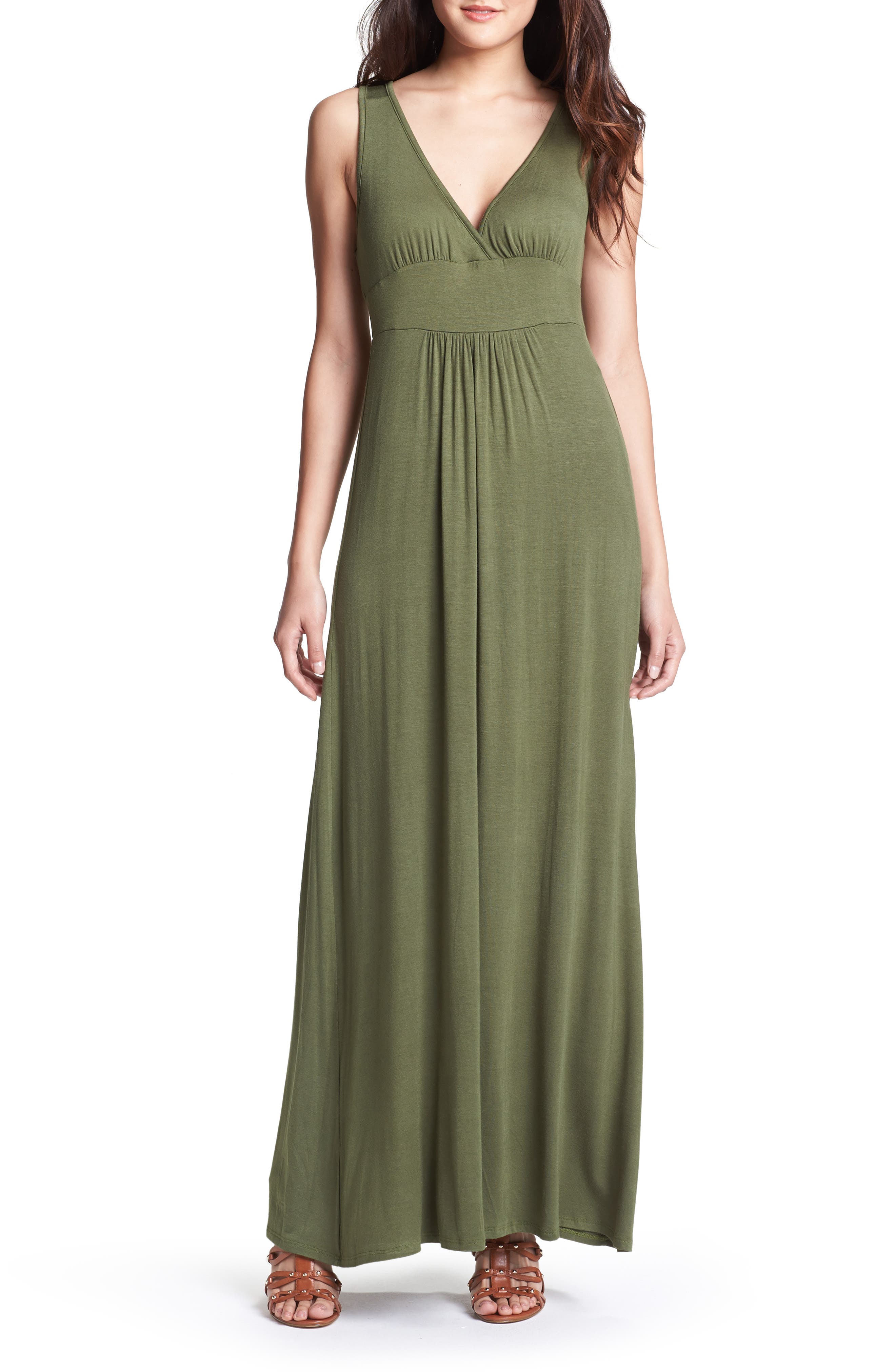 Loveapella Maxi Dress
Another item that everyone in the TFG group seemed to be talking about this year is this Loveapella Maxi Dress. While I prefer knee-length dresses and don't love jersey dresses for travel, with so many rave reviews from the readers, I had to get this myself. And I was pleasantly surprised! Unlike many jersey fabrics, this one was very lightweight, which is a major plus for travel, especially for a maxi dress that has a lot of fabric. 
I ordered the petite small and was also shocked that it actually fit my 5'2" height without dragging on the floor. In fact, it was almost too short for my liking, but I bought the purple color, which is beautiful for the seaside – so it's a keeper for me and a top reader pick, too! 
If it fits too low in the cleavage for your liking, take the dress to the dry cleaners and have them take it in at the shoulders for a higher fit, or use one of these cleavage covers.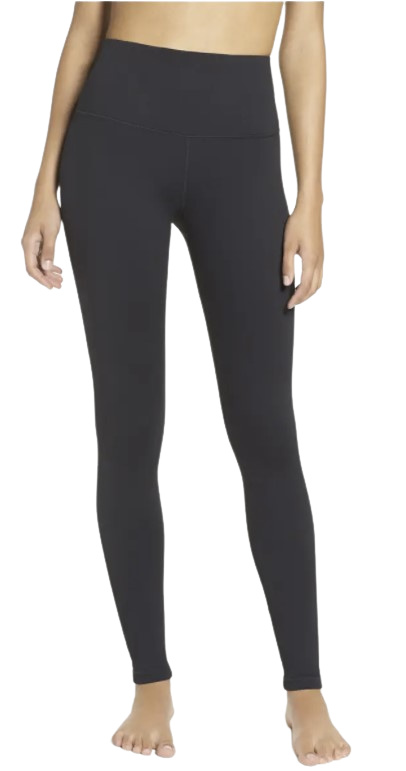 Zella Live In Leggings
Shop Sizes: Regular XXS-XXL | Plus 1X-3X
Zella Live In Leggings
The Live In Leggings is the #1 choice on the blog for the best leggings for travel and a top seller during the Nordstrom Anniversary Sale year after year! They're long-lasting, durable as well as soft, and the higher waist creates a smooth appearance. 
Super-versatile, too, they can easily be styled as part of an athleisure look, an airplane outfit, or an extra layer under a dress or tunic. 
We love that it's available in regular XXS-XXL and 1X-3X plus sizes to accommodate a variety of women!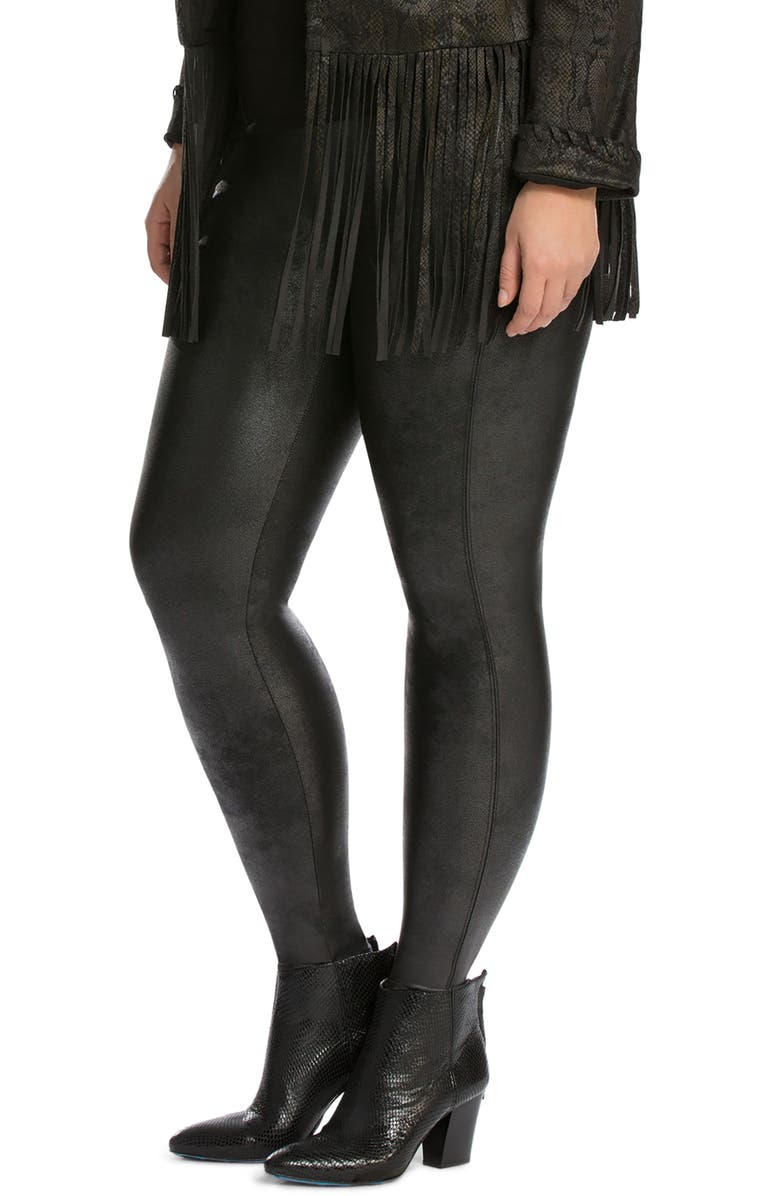 Shop Nordstrom: Petite and Regular Sizes XS-XL | Plus Sizes 1X-3X
Also available on Spanx website  
Spanx Faux Leather Leggings
I CANNOT get enough of my Spanx leggings, and these were a huge draw in last year's sale (pssst, so nab them ASAP)! They're so stylish and ultra-versatile for travel. They can be dressed up for a night on the town or down for a low-key look during the day. However I decide to wear them, I always feel and look put together.
They look leather but don't act like it, which means they're not stiff, thick, and hot. They're breathable and extremely comfy, especially on long-haul flights. I've worn them everywhere, including sightseeing and more!
I first bought the regular faux leather leggings until I graduated to the moto leggings (unfortunately, it's not currently on sale), which I fell instantly in love with. I also love how they're available in petite and regular sizes (XS-XL) and plus sizes (1X-3X), as pictured above!
Their Spanx Look at Me Now Seamless Leggings are also popular during this sale!
The Spanx Faux Leather Leggings are also discounted directly on the Spanx website in petite, regular and tall sizes (XS-3X). Take a look!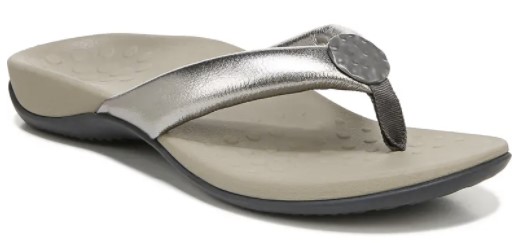 Vionic Lida Flip Flops
When we asked our readers to recommend the best shoes for plantar fasciitis, Vionic was definitely the top choice. They overwhelmingly mentioned Vionic as their favorite brand, saying they could walk for hours and hours with their feet feeling great.
They singled out Vionic flip-flops as top summer shoes, and these Lida Flip Flops are cushioned and going for an amazing price!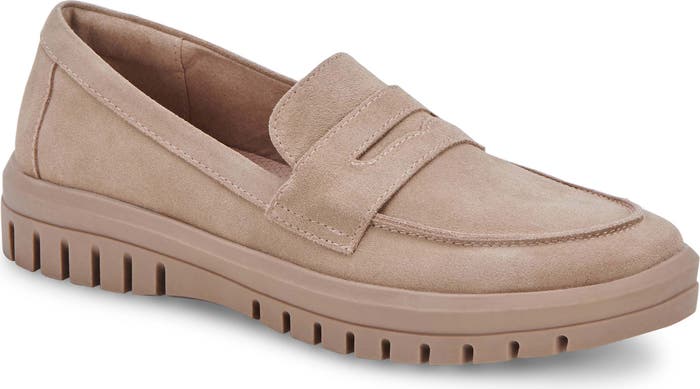 Blondo Frey Waterproof Loafer
A super popular brand for readers, these waterproof Blondo Loafers feature soft leather and a durable rubber sole to tackle puddles (or slush). These will not only keep your feet dry, but they perfectly mesh casual or dressy moments—the best of both worlds!
Loafers have really exploded as a strong alternative to ballet flats; see these top recommended loafers for more of them!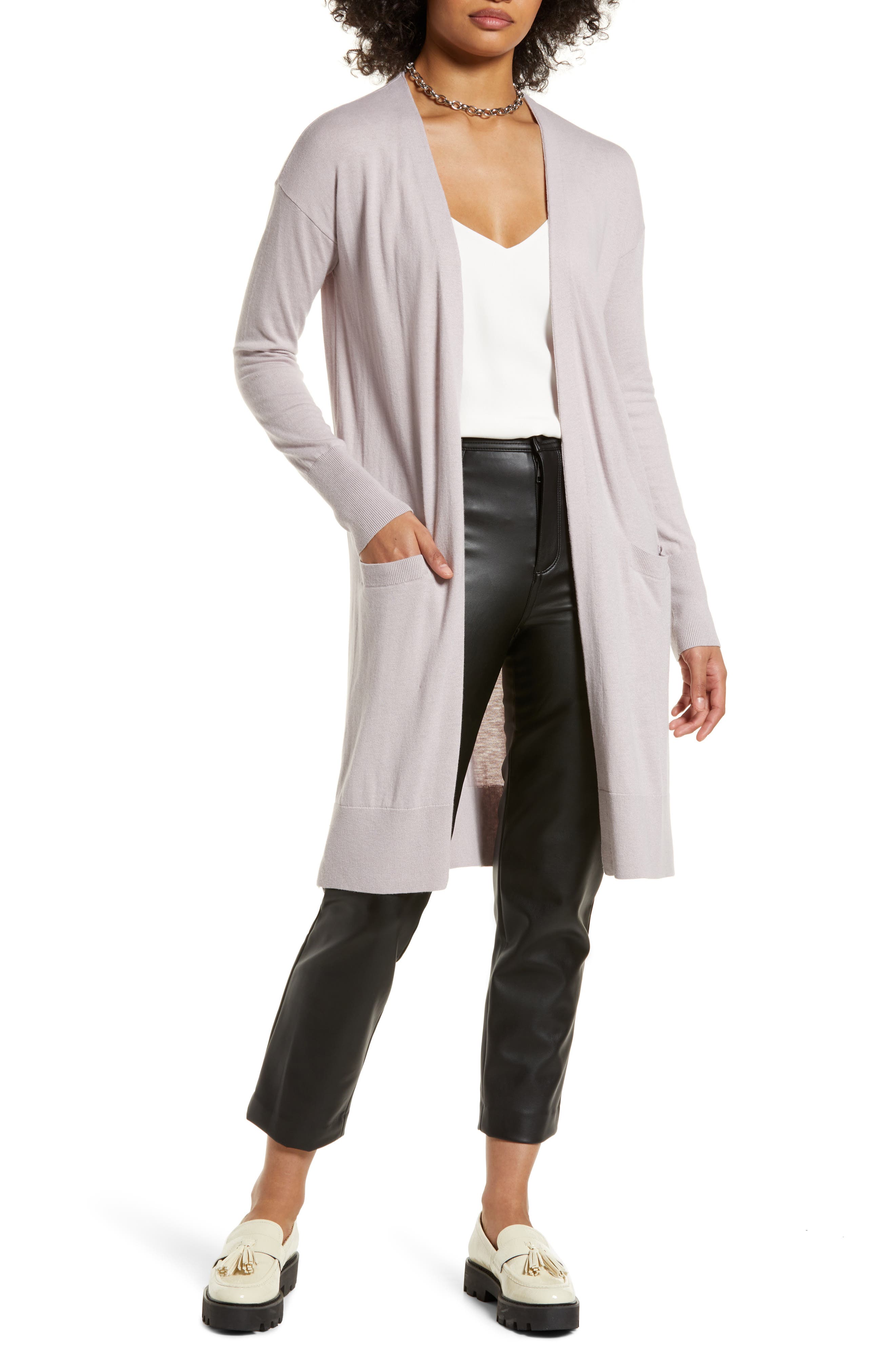 Halogen Long Cardigan
Shop Sizes: XXS-XXL Regular | 1X-4X Plus
Halogen Open Front Cardigan
Halogen has been all the buzz on the TFG Facebook group in the past couple of years, and for a good reason! They make soft and cute sweaters that are light. Add this adorable cardigan that mix, as it was a big seller last year so it's a prime opportunity to grab it! With a cozy cashmere feel and a relaxed fit, this makes a wonderful capsule wardrobe add-on. Also available in regular, and plus sizes!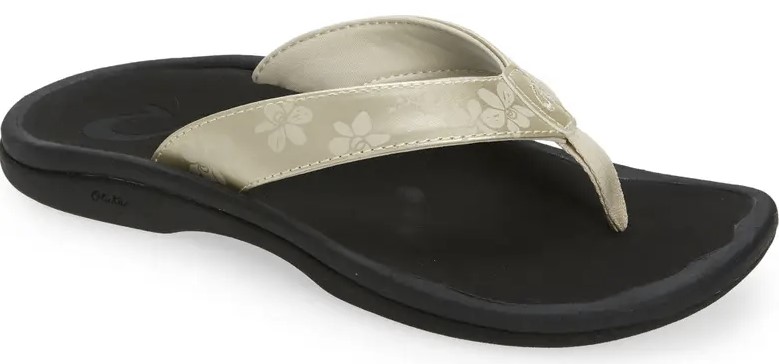 Olukai Ohana Flip Flops
The Olukai Ohana is beloved by travelers everywhere because they go with everything and are comfortable enough to walk around in for long periods of time.
Choose a fun beachy print or a classic color, they're casual and versatile enough to wear throughout the day on any vacation. If you want more Flip Flop inspiration, check out this best flip flops for women article!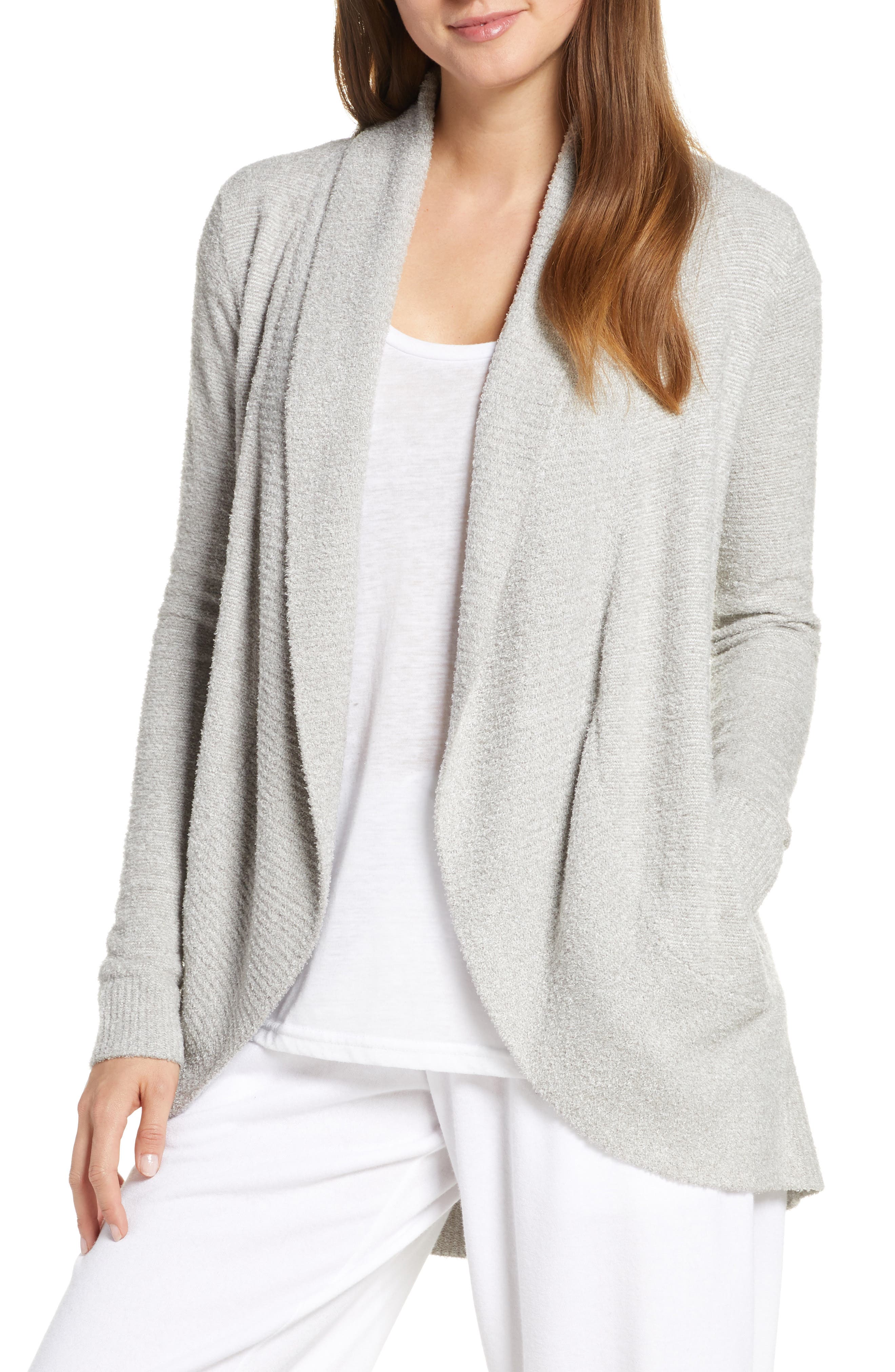 Barefoot Dreams CozyChic Lite® Circle Cardigan
Shop Sizes: XS-XL | 1X-3X Plus
Barefoot Dreams® CozyChic Lite® Circle Cardigan  
The best cardigan to have is one that is flattering, comfy, and stands out style-wise, and this Barefoot Dreams cutie is the epitome of all three. It's a comfortable and chic-looking, lightweight knit with an open front with two pockets. Also available in Plus Sizes!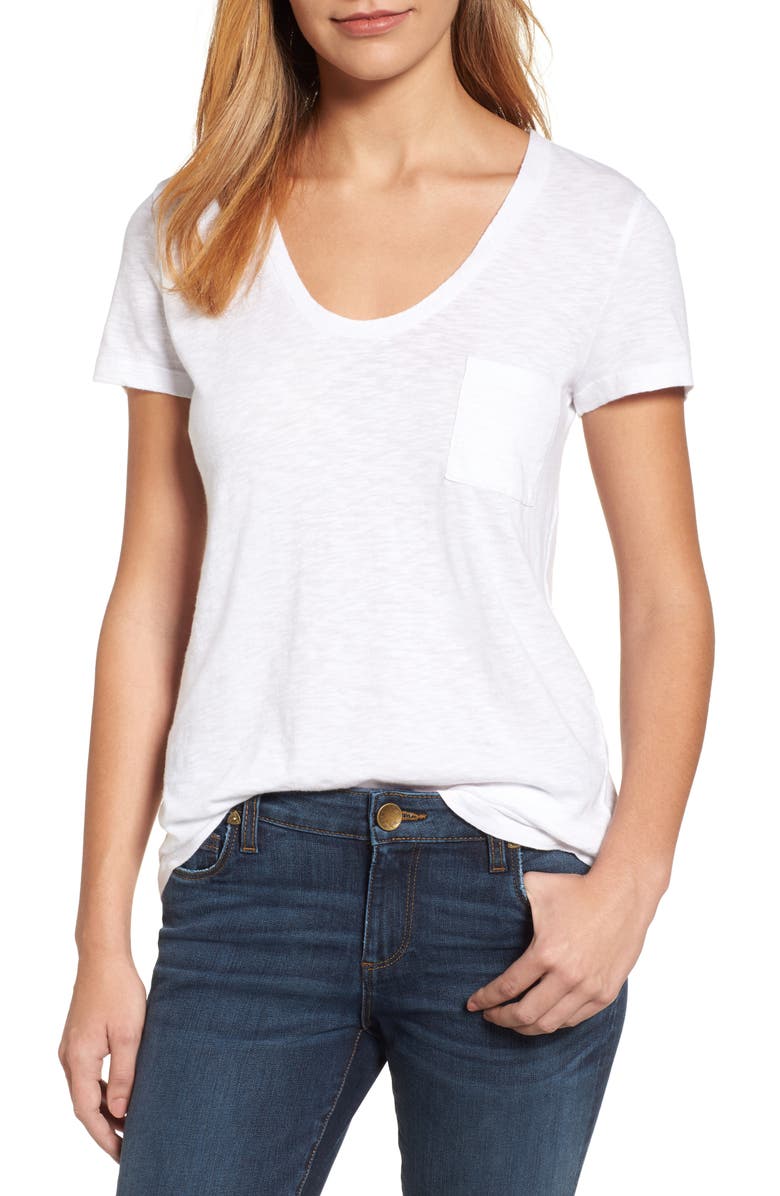 Caslon Rounded V-Neck T-Shirt
Our readers love this Caslon V-Neck T-Shirt! Choose from various colors and and you can get this in plus sizes too. A tee is an easy-to-wear layer on your next flight!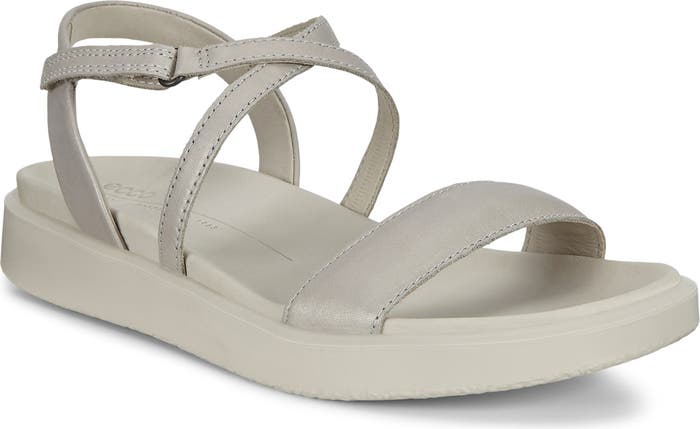 Ecco Flowt Sandals
 The Ecco brand has sold repeatedly during previous anniversary sales, and overall, it's a massive favorite of readers for comfy walking shoes. This Ecco Flowt LX Strappy Sandal has slim crisscrossing straps and a refined look that transitions from beach to brunch with ease.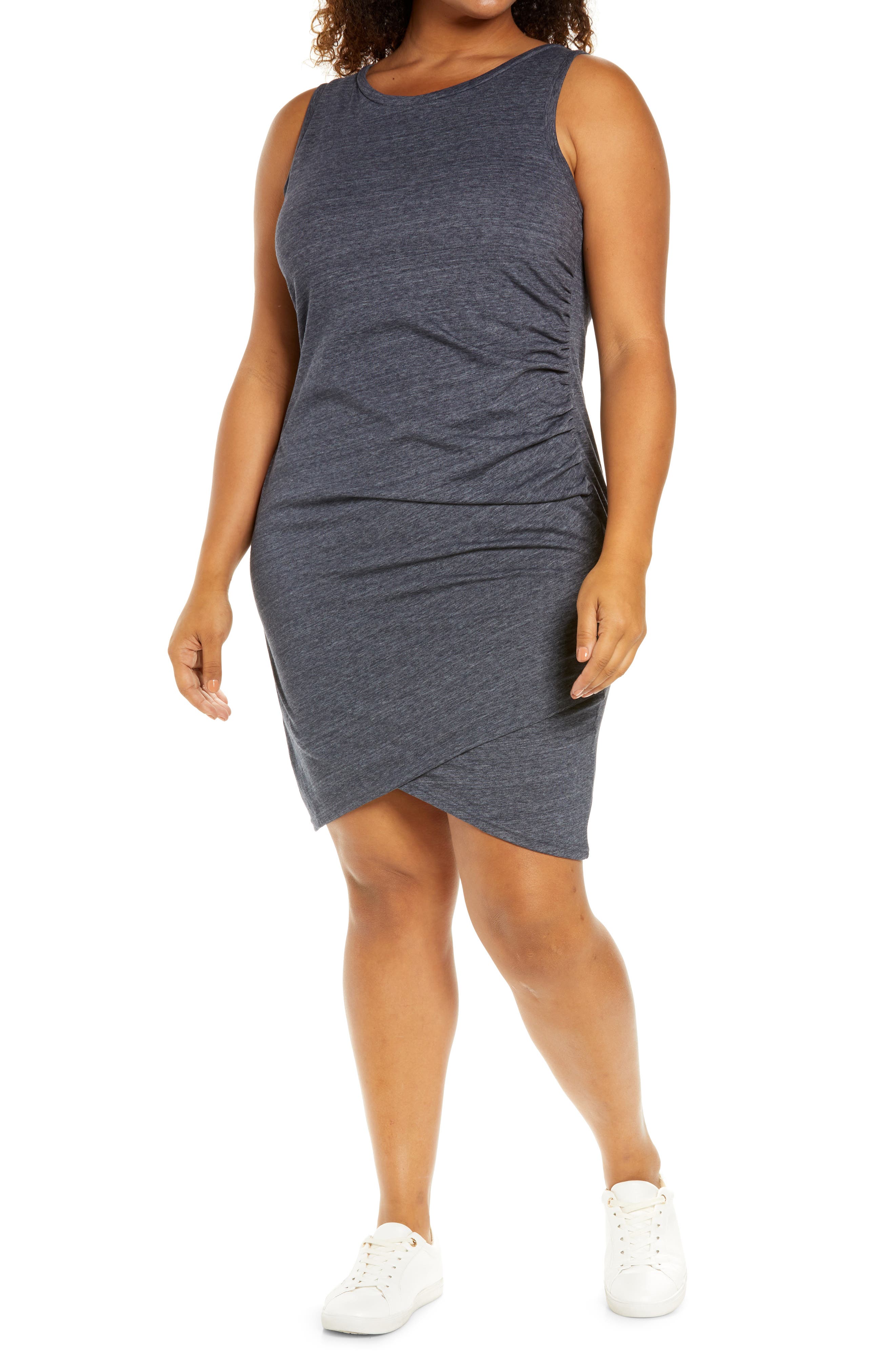 Treasure & Bond Ruched Side Sleeveless Dress
Regular Sizes XXS-XXL and Plus Sizes 1X-3X
Treasure & Bond Ruched Side Sleeveless Dress 
A perennial reader favorite is the Treasure & Bond Ruched Sleeveless Dress! It's offered in numerous gorgeous colors to suit anyone's personality, and it makes a chic summer dress, or it can also be worn in the fall with tights and ankle or long boots!
This comes in sizes XXS-XXL and plus sizes 1X-3X, and both are on sale!!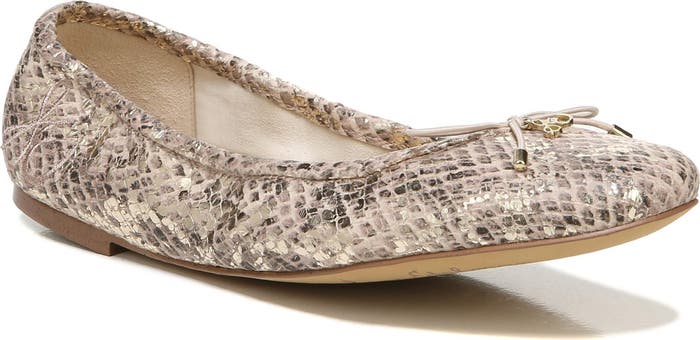 Sam Edelman Ballet Flat
Transform your sightseeing outfit from day to night by switching out your walking shoes with Sam Edelman Flats. Perfect for business travel, these are one of the most cute and comfortable ballet flats for travel according to our readers – find out their other picks in this post!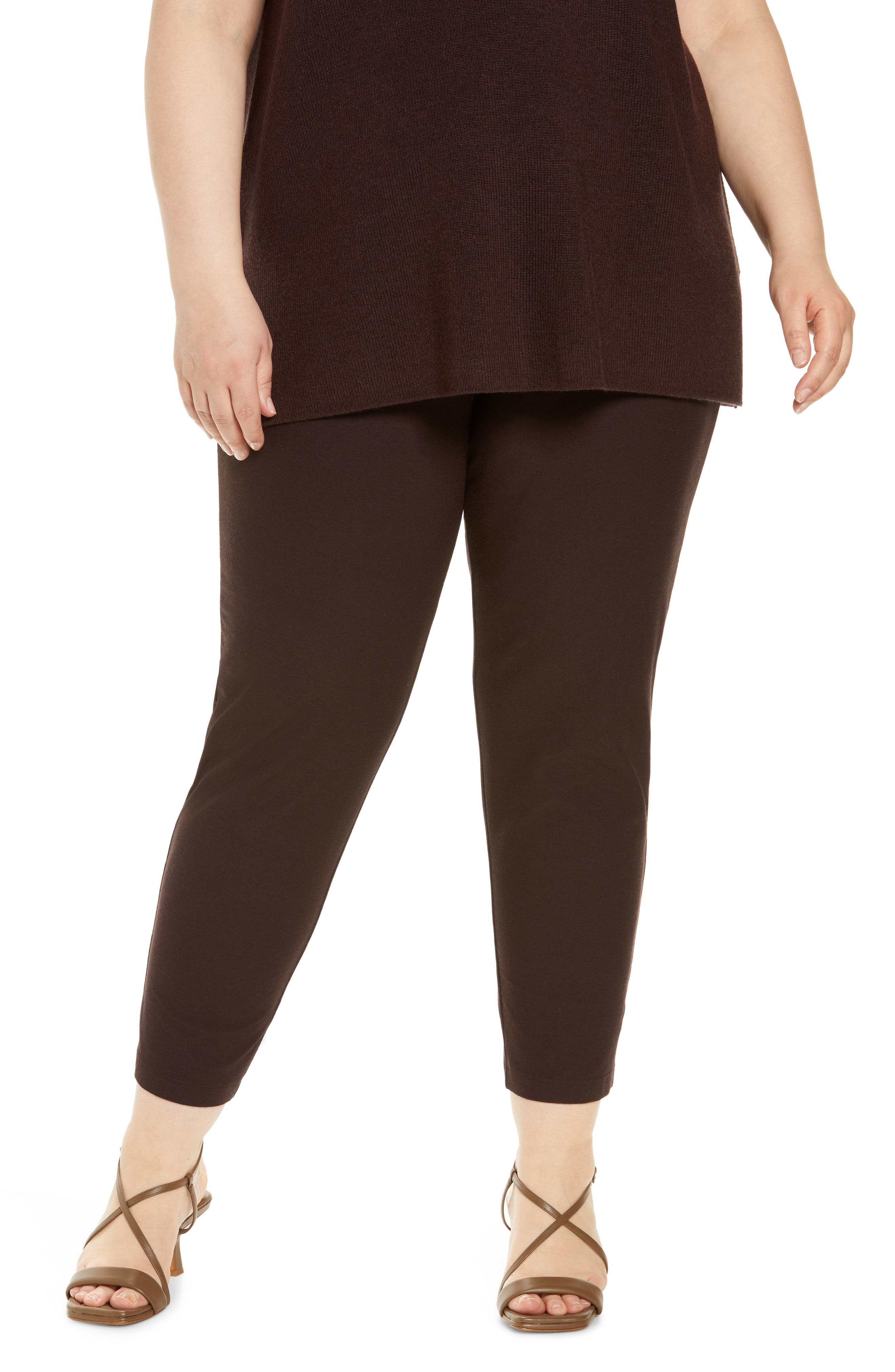 Eileen Fisher Slim Knit Ankle Pants
Regular Sizes XXS-XXL and Plus Sizes 1X-3X
Eileen Fisher Knit Ankle Pants
Eileen Fisher always gets top marks from our readers and this Slim Knit Ankle Pants is no exception. Crafted from textural crepe knit and constructed with an easy elastic waist, the lightweight fabric is comfortable yet the style is polished enough to be dressed up or worn casually.
The clothing is high quality and perfect for travel. Keep an eye out for sales, although, the investment is well worth it for frequent flyers. Also available in plus sizes!
Bonus Editor's Pick: Pacey Sandals
I'm sneaking in an editor's pick here because I'm excited to share these! I'm SOOOO in love with this brand, but the shoes are so expensive I've been waiting for these to go on sale. I was beyond myself when I saw these A.S.98 Pacey Sandals on sale, as they've been sitting on my wishlist for almost a year!! This is the same brand for my latest black leather boots, and the material is so subtle and beautiful that I can't wait to check out a summer option, too. 
I've also ordered the A.S.98 Rhodes Sandal as these could be a nice boot alternative for dresses in hot weather.
Note: this is NOT a comfort brand and not recommended for travel, just for fun and fashion!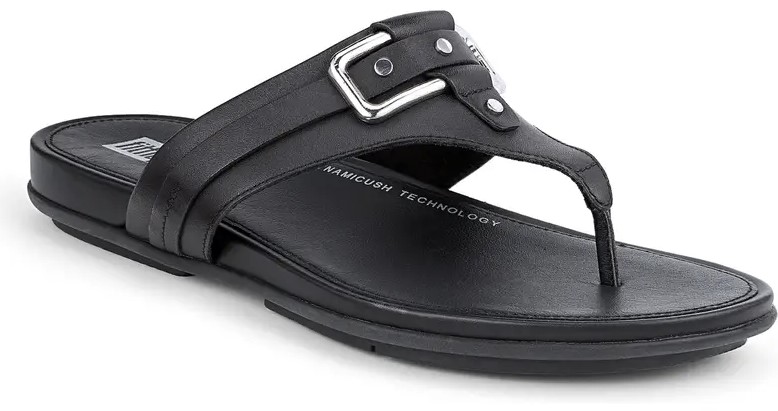 Bonus Editor's Pick: FitFlop Sandals
Another editor's must-have, I was super excited to see the FitFlop brand come out with slimmer, more versatile black leather sandals. I'm ordering the Gracie Stud Flip Flop style in black, but they also have the best selling Gracie Slingback and Gracie Slide on sale, too. Let me know if you test them out and how they compare to the original ones! 
In addition, their trademark platform thong sandals in the Walkstar style are up to 25% off. 
To not miss anything from this brand, check out more at the Fitflop Nordstrom Page!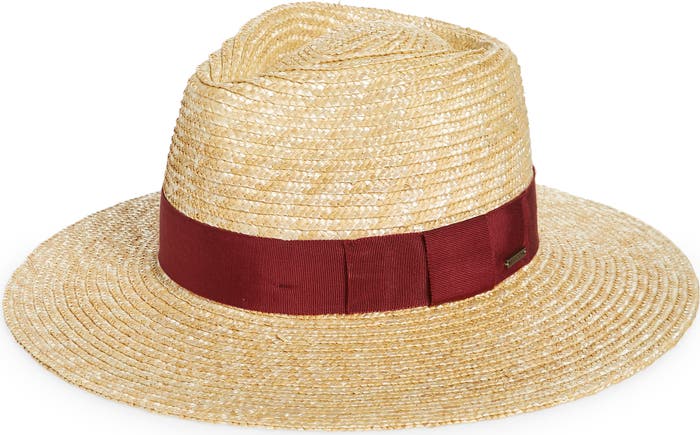 Brixton Joanna Short Brim Hat
The TFG community adores protective sun hats and since it's summer right now, they've been sharing that the Brixton Joanna Short Brim Hat is a budget-friendly, cute choice. While its regular price is a steal ($36.90), the Nordstrom Sale markdown at over 30% off is even more attractive!
Hope you enjoyed our 2022 roundup of the top sellers. Bookmark this page to ensure you don't miss next year's sale!
Note: As a small business, we appreciate it when you shop through the links in our posts because you help support the TFG Team. Thank you, and happy shopping!
---
Want more? Bookmark this page for product updates throughout the Nordstrom Anniversary Sale! Don't snooze on these discounts and shop now! Share your finds in the comments below!
---
LIKED THIS POST? PIN THIS PIC TO SAVE IT!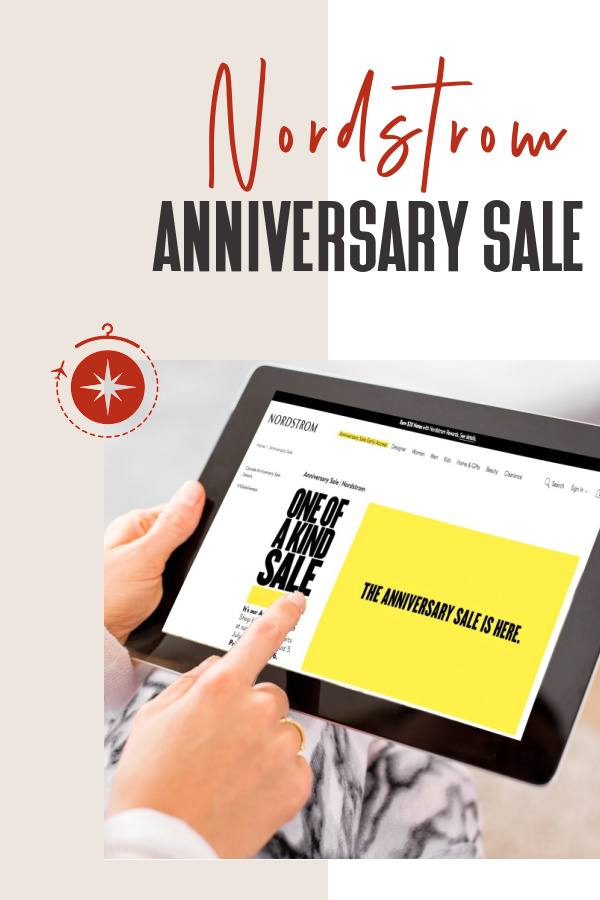 ---
Hope you liked this post on the Nordstrom Anniversary Sale. Please share with your friends on Facebook, Twitter, and Pinterest. Thanks for reading!
---