Support TFG by using the links in our articles to shop. We receive a small commission (at no extra cost to you) so we can continue to create helpful free content. As an Amazon Associate, we earn from qualifying purchases made on Amazon in addition to other retailers featured on the blog. Thank you, we appreciate your support!
The Loveappella v-neck jersey maxi dress has been all the rage in the TFG community for warm-weather travels. Get all the details of this dress and see why it's a must-pack for so many readers! 
---
Loveappella Dress Review
---
Table Of Contents
The Loveappella maxi dresses have been a HUGE reader favorite for years now!! While I typically prefer knee-length dresses and don't love jersey dresses for travel, with so many rave reviews from the readers, I had to get this for myself. And I was pleasantly surprised!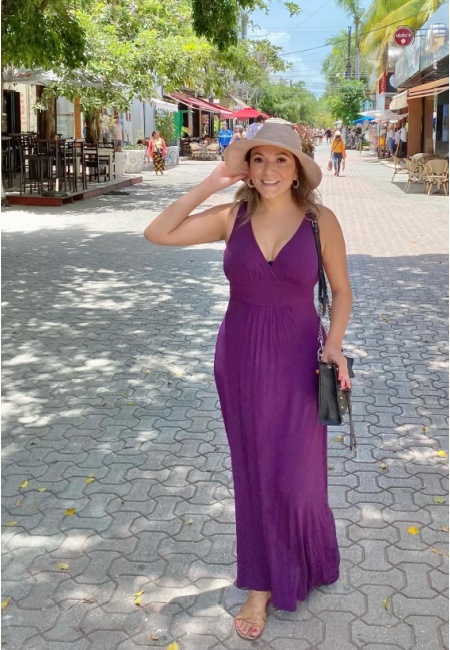 Wearing the Loveappella maxi dress in purple, with my Wallaroo Sun Hat and Rebecca Minkoff Crossbody
I ordered the Loveappella maxi dress petite small size and was shocked that it actually fit my 5'2" height without dragging on the floor. I bought the rich purple color, which is beautiful for the seaside. 
I also wore this dress while I was pregnant and it worked well as maternity wear, due to the stretchy fabric and cut, another pleasant surprise! it's clear why this dress is so popular with readers. 
Find out more about why readers adore Loveappella's maxi dress in this full review! 
Best Features of Loveappella Jersey V Neck Maxi Dress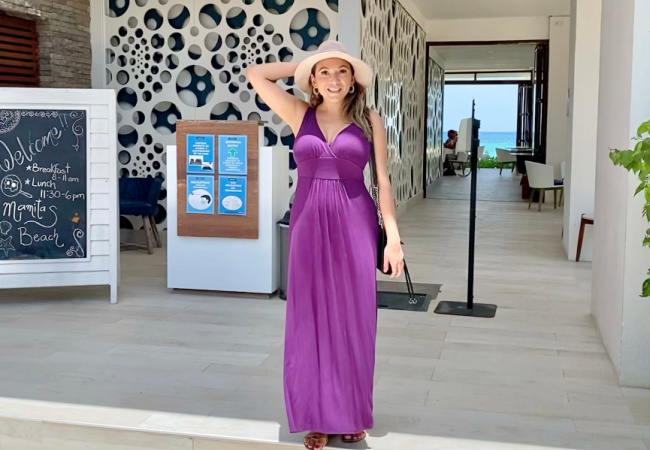 If you want to match your Loveappella dress with a sun hat, find the best here!
It's Stylish, Flattering, and Comfortable
Loveappella is a major favorite with readers because their dresses are gorgeous and so flattering for all kinds of body types! Their v-neck jersey maxi dress is made of incredibly soft, lightweight, and flowy jersey fabric. Its higher waistband makes it elongating, while the flowy fabric drapes beautifully and creates a very feminine and flattering shape. 
One reader agrees, saying, "I bought a Loveappella v-neck jersey maxi dress during the Nordstrom sale. Love it!! I'm 5'9". Very soft and flattering," and another says, "Love the fit!"  
Readers also appreciate the wide straps that can hide bra straps and feel super comfy and secure. The v-neck is sexy yet subtle, so you won't feel too exposed. It's just as suitable for daytime wear as it is for a night out. 
Another plus is that it's also offered in petite sizes. One reader shares, "I have the purple dark. It's so pretty! Love that they have in petite!" Another says, "I'm 5'3" and have never been able to own a maxi dress before getting this Loveappella petite maxi dress. It was recommended by Travel Fashion Girl. I LOVE it!! It's so hard to find maxi dresses in petite." 
Here's our Ultimate Packing List to help you plan more efficiently, on your next trip!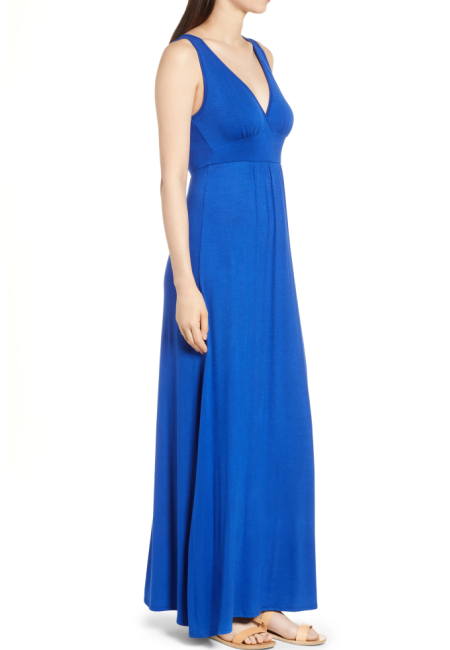 A popular way to wear the Loveappella maxi dress is with comfortable, chic sandals!
This dress is stunning, and will make a fabulous addition to your travel wardrobe for whenever you want to kick it up a notch! One reader describes it as, "casual yet elegant for going out to dinner." 
And to top it all off, the comfortable jersey fabric is soft to the touch and has a hint of stretch so you won't feel restricted at all. The skirt is flowy and has enough fabric so that you'll have plenty of mobility and can walk freely, too! 
Whether sitting for long periods of time or doing some long bouts of walking, readers share that this dress is a dream to wear and feels cozy all day long while staying polished! A reader gives a summary of her Loveappella piece, "It has a tad of stretch, is lightweight, fits on the hips well, and once you put it on, it stays in place."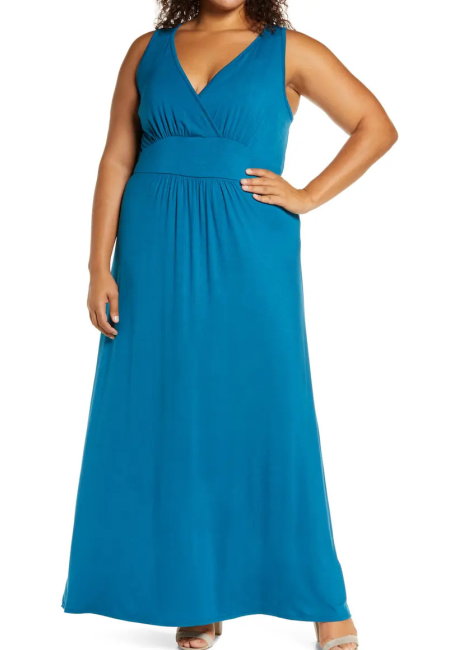 The Loveappella maxi dress is also size inclusive, available in 1X-3X.
It's Versatile
The Loveappella maxi dress is truly for every occasion and every sunny destination! It's polished enough to be dressed up—for a night out, a wedding, or other festive celebration—or just worn casually for a day of sightseeing. One reader shares, "This dress is AMAZING!! I just wore it Monday in Cabo!"
And because it's simple, you can accessorize or style it up in so many different ways. And readers report that this the case for so many other Loveapella dresses and skirts! One reader who owns the Loveappella maxi skirt says, "This Loveappella skirt looks super cute with a tank top, a blouse tied at the waist, sweaters, boots, flip flops, etc. So many ways to wear it!!!"
Our readers suggest these pretty dresses with pockets to accessorize and wear pretty much anywhere!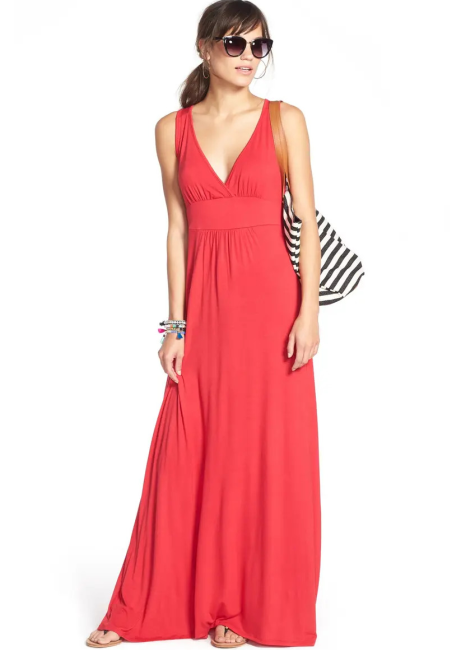 Readers pair their Loveappella dress with a lightweight denim jacket too!
Go casual with a pair of sneakers for sightseeing, or keep it chic with a pair of sandals or add wedges and a wrap for a stylish evening look! 
Another reason it's so versatile is that it's a perfect maternity dress, too! So many wearers report loving this dress before, during, and after their pregnancy and share that they felt great in it in all stages (Including me)!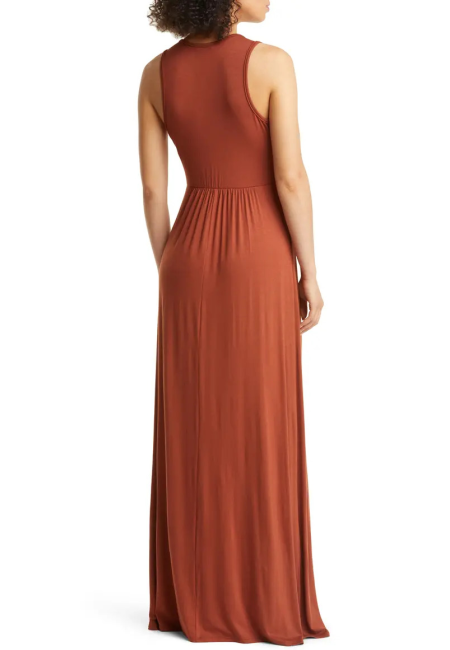 A Loveappella dress is light enough to fit into an international carry on suitcase!
It's Great Quality and Awesome to Travel With
Readers agree that this dress is excellent quality and long-lasting! A lot of wearers share that they've had their Loveappella dresses for years and they hold up really well over time! This dress is also amazing for travel. 
The fabric is a comfortable and practical blend of rayon and spandex. Unlike many jersey fabrics, this one is really lightweight, which is a major plus for travel—especially for a maxi dress that has a lot of fabric. After many wears and washes and being packed into suitcases, it won't look worn down or pill, either!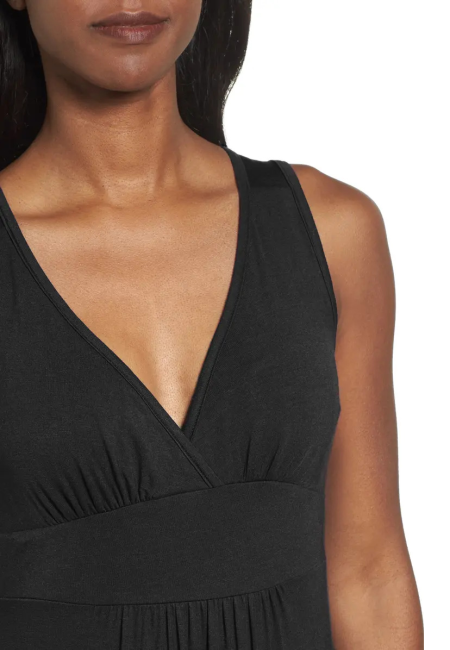 The jersey fabric of the Loveappella dress works for travel—see the other travel-friendly fabrics here!
A TFG agrees, sharing, "What a dream! It's a nice weight, not too heavy and not too thin. Debating if I need another color or two!"
And as a major bonus, it packs amazingly well. It came out of my suitcase all wrinkled so I hung it up in the bathroom and the wrinkles disappeared!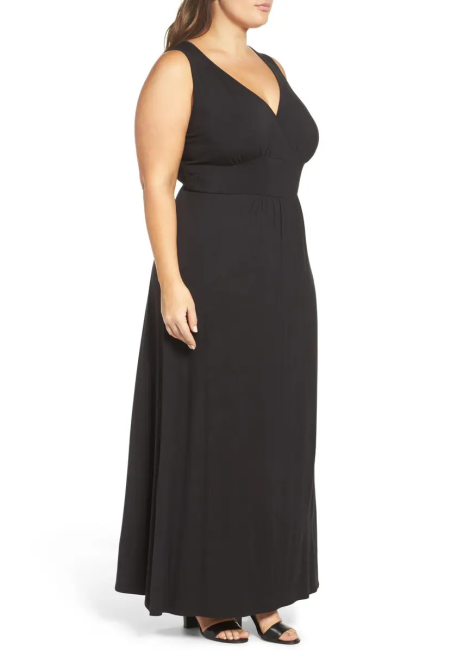 Review other well-priced maxi dresses, as well as the Loveappella dress!

It's Well Priced
For the quality, Loveappella's prices are fantastic. One reader says of her Loveappella piece, "Super cute, and the best part is I'm pretty certain I paid no more than $50 for it – and I'll own it forever!" 
The v-neck jersey maxi dress is super affordable, with most colors being under $50, and all of the options being under $70! Given the durability, comfort, and beautiful look, readers agree that this dress is a steal given the many summery trips they'll take it on! 
A wearer shares more, "Looks stylish, very comfortable, and the fabric is drapey and doesn't show every bump. I would have paid double, so I felt the price was very reasonable!"
You'll want to look your best when you travel! Read my travel tips to Pack Light Stylishly!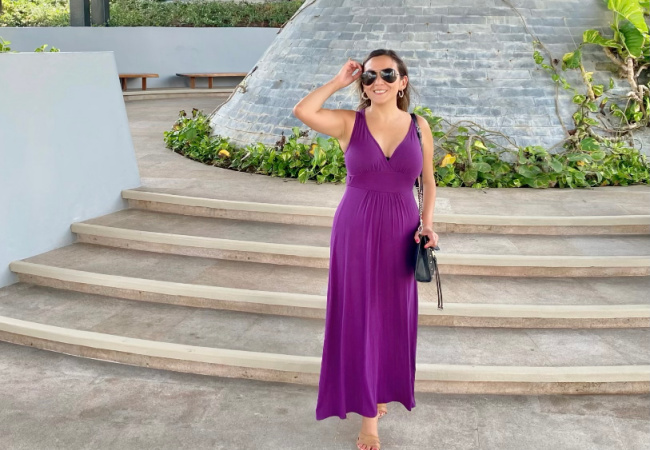 One pro of the Loveappella dress is it looks fab with crossbody purses!
Pros 
Loveappella's maxi dress offers effortless elegance and style. It's easy to dress up and down, and looks great with everything from flip flops to sneakers to dressy wedges. The cooling and lightweight fabric means you can wear it to walk around and explore new cities in the heat or stay cool and polished on a hot summer night out on the town. 
It's comfy, doesn't wrinkle, and looks super flattering on. And it comes in regular, petite, and plus sizes—yay!
A happy wearer sums it up, "Classic, elegant dress that gas a breezy flow and shape to it. The neckline is not plunging at all and I certainly don't see my bra. It's a very lightweight material which I love. I got it in deep navy which is a nice change from black. And it's forgiving of my post-baby shape. All in all, I'm super pleased!"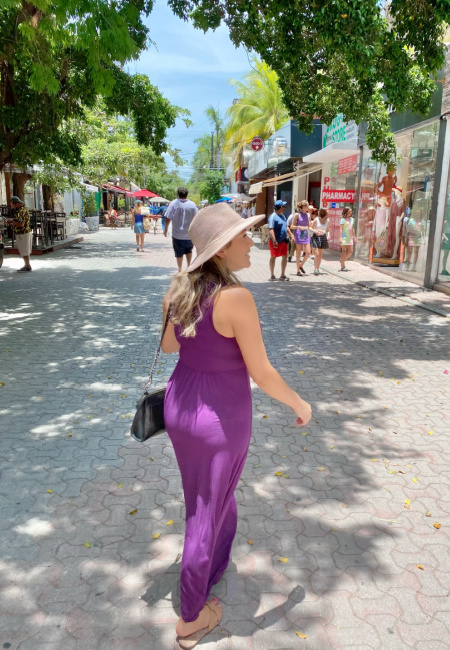 Unsure what bra to wear in the Loveappella dress? These top travel picks might help!
Cons
While it has a really nice drape, some readers have noted that the fabric of the Loveappella maxi dress is a tad too thin for their liking, and can sometimes show underwear lines depending on how it lays. Others say that even though it's not tight, it can tend to drape in a way that shows off curves, which is another thing to keep in mind. And you could always pair it with a cardigan or shawl!
One reader says, "It's thin, and yes, you can sometimes see underwear lines, but it's such a loose cut that it's mostly okay." And while the neckline isn't plunging, some readers like to have a bit more coverage and have shared using bandeau bras or cropped camis underneath. 
Overall, with its easy-to-wear design, comfortable and low-maintenance fabric, and stunning silhouette, it's easy to see why this pretty number is on so many readers' summer packing lists!
More Recommended
Loveappella Clothing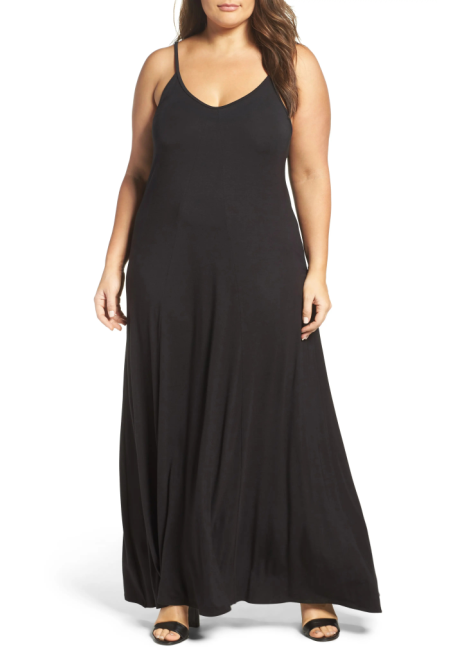 Shop Nordstrom: Sizes Regular & Petite XS-XL | Plus 1X-3X
A Line Maxi Dress
This classy Maxi Dress has a super simple design but creates a nice shape and looks so beautiful on! The spaghetti straps and slight v-neck show a bit of skin, which is balanced out by the long length of the dress. It's made of the same lightweight and travel-friendly rayon blend as the jersey v-neck, so it's a dream for hot weather. 
One wearer shares, "Soft, comfortable, and figure-flattering. It's great for travel and packs easily!" 
Find out how to turn any one of your dresses into versatile dresses!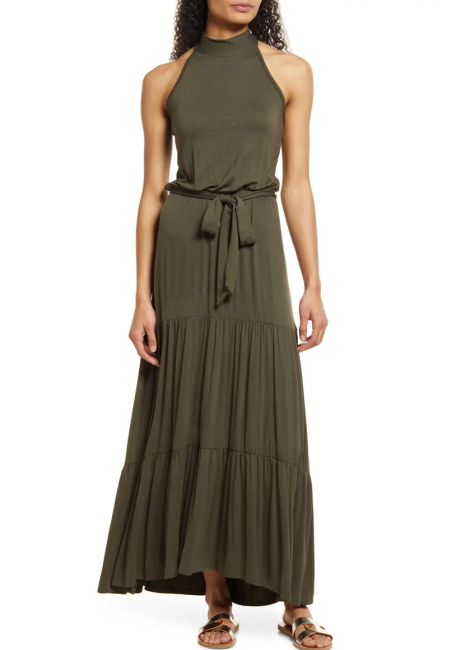 Shop Sizes XS-XL: Nordstrom
Tiered Halter Maxi Dress
This Tiered Halter dress is so feminine and chic, with a halter neck, a tiered skirt, and a tie at the waist. The fabric is breathable with a good amount of stretch, so while it looks cute and dressy, it's really comfortable for all-day wear. The elastic waistband features a tie belt to give it either a more cinched and feminine shape or a loose and relaxed fit. 
It's a classic yet eye-catching option for your summer adventures," says a happy owner, "it's just an awesome summer dress! The drape and silky texture of the fabric is dreamy for hot days!" Pair with simple flat sandals for a breezy summer look, or dress up with flashy sandals and fun jewelry for a night out.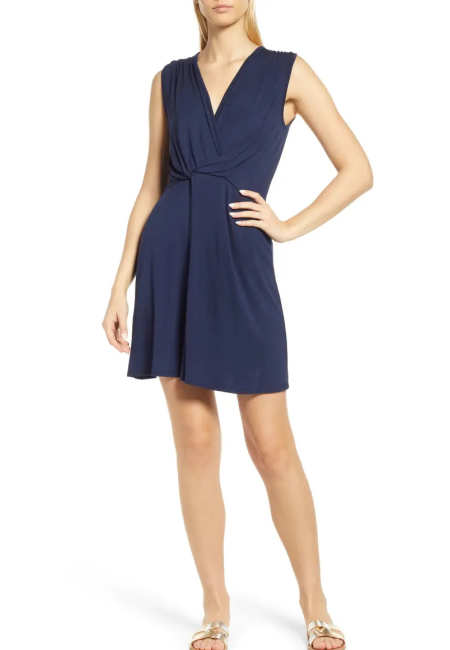 Shop Sizes XS-XL: Nordstrom
Drape Twist Dress
If you're looking for something a little shorter, the Drape Twist Dress is a simple yet elegant option for your summer packing list! The fabric is light and super soft with a ton of stretch, so it's beyond comfy, while the faux wrap style elevates the look. This piece is SO versatile—throw it over your bathing suit as you head to the pool or add flats and a blazer for a night out on the town!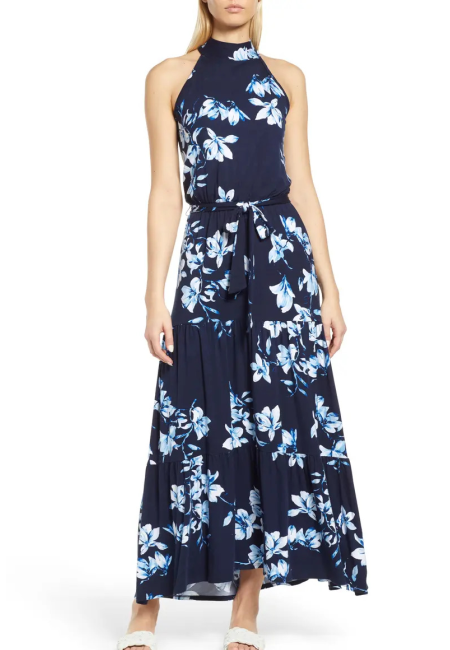 Shop Sizes XS-XL: Nordstrom
Floral Halter Knit Maxi Dress
Vibrant and fun, this floral maxi dress is begging for a beachy getaway! It's light and breathable, made of Loveappella's signature rayon blend fabric that TFGs adore. The tiered skirt gives this dress lots of flowy movement with every step, and with such a beautiful pattern, you're sure to turn heads! 
One reader says, "I bought a Loveappella maxi dress and love it. Very soft and cool on the skin." 
Pair it with these comfortable and stylish dress sandals!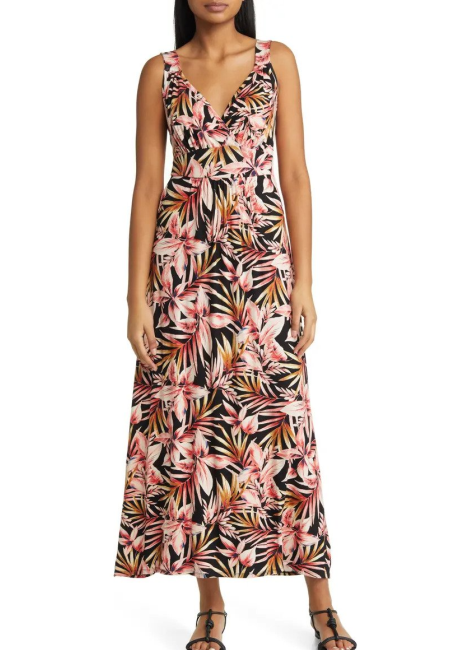 Shop Sizes XS-XL: Nordstrom
Palm Surplice V-Neck Knit Maxi Dress
Another dazzling floral number, the Palm Surplice V-Neck maxi dress is elongating and flattering with a higher waistband and a slightly a-line shape—lovely for a resort or beach getaway. The fabric breathes and will keep you cool on a hot day, plus it has a bit of stretch and support at the bust, not to mention the wide straps that'll easily hide bra straps. The print definitely gives tropical vibes and would look so cute paired with black sandals and a floppy sun hat!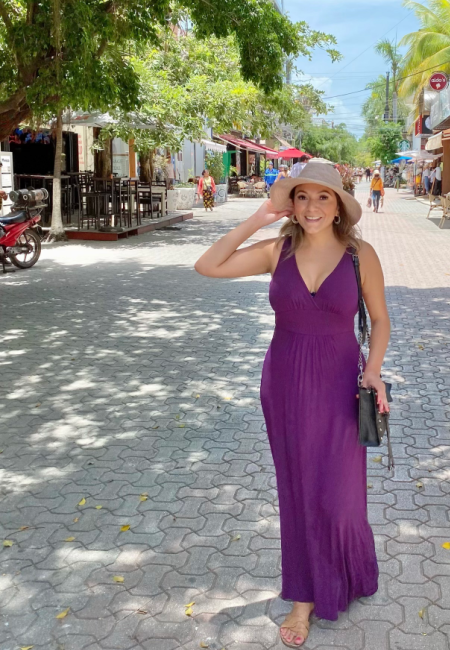 Where to Buy
Loveappella Dresses
Loveappella is available at Nordstrom, and readers say their great customer service makes it even easier to purchase one of their cute, summery dresses!
---
What's your review? Share your thoughts on the Loveappella maxi dress in the comments below!
---
For more summer travel dresses, please read:
---
LIKED THIS POST? PIN THIS PIC TO SAVE IT!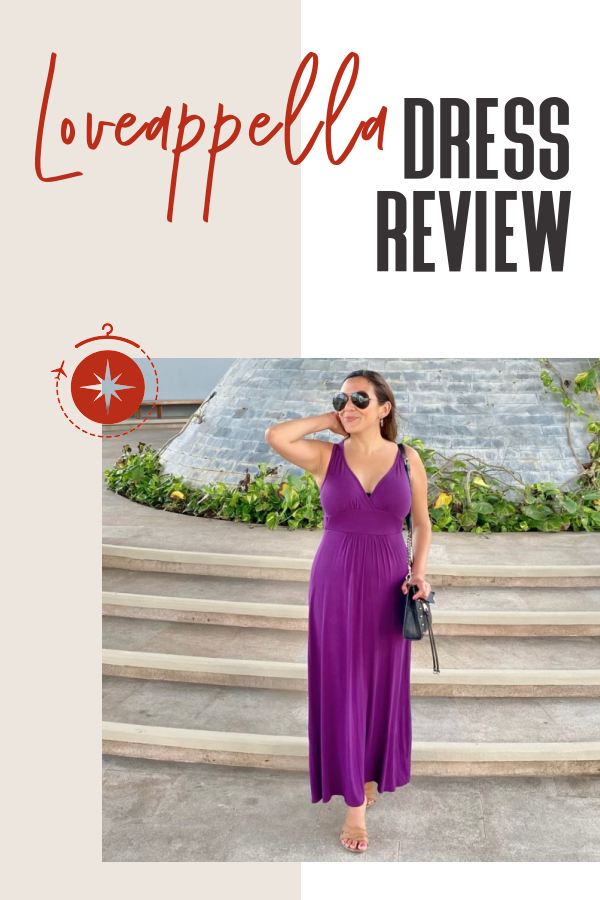 ---
We hope you liked this Loveappella maxi dress review. Share this post with your friends on Facebook, Twitter, and Pinterest. Thanks for reading!
---