This post contains affiliate links. Visit our Disclosure page for details.
---
Need tips on what to wear somewhere else? For a full listing of all our destinations, please visit our packing list page!
---
Looking for a London packing list? Local travelista, Lottie with The Ambling Explorer, offers her recommendations to help you plan your wardrobe when traveling in her home country. Find out exactly what to pack so you're prepared for the weather year round!
Planning on living in London? Read this!
---
What to Wear in London
---
What to pack for London has everything to do with the weather. British fashion is partly defined by the country's infamous grey skies. It's unpredictable and changeable, but here's a rule of thumb: when the weather forecast tells you that it will be sunny all week, be prepared for rain anyway.
No matter the time of year, always keep a travel-size umbrella in your purse.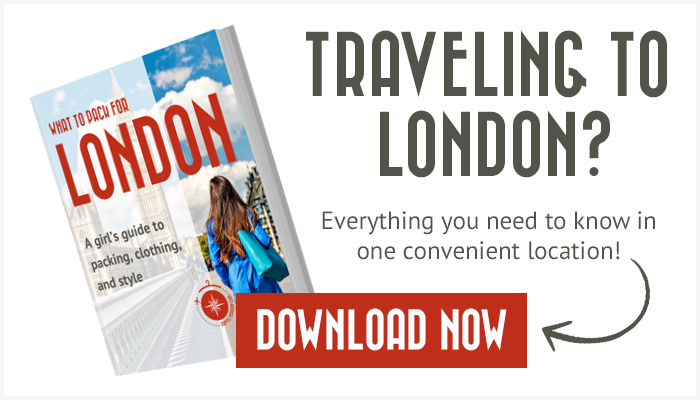 Columbia Pardon My Trench Rain Jacket | Cole Haan Packable Rain Jacket ( Plus )
PACKING TIPS
Dress for the weather, activity, and environment; make sure you're comfortable and always carry an umbrella with you.
Scarves are extremely versatile. In the winter, a chunky knit will keep you snug, while in the summer, a lighter scarf can help protect you from the sun. If you're not used to colder climates, still plan for "winter" weather year-round and follow these tips on how to pack for cold weather. Layers are key!
If in doubt, bring an empty suitcase and head to the nearest Primark or H&M to stock up on cheap clothing that is both weather appropriate and local-approved. For a popular and stylish shop that's found almost anywhere, visit TopShop.
Anatomie Skyler Pants | Faux Leather Jacket
CLOTHING STYLE
In Britain, it's easy for the traveler to stick out like a sore thumb in walking boots, convertible zip leg trousers, an SLR camera, guidebook, and a backpack. Wearing all this in the middle of London screams, "tourist"! That level of travel gear is more appropriate for countryside treks in the Lake District, for example, not a city.
British fashion isn't quite as chic as the French, and it isn't always as slouchy as American fashion or as zany as Australian fashion. It can be edgy or conservative. But one thing's for sure: just like the rest of Europe, a good fit is key. And when in doubt, choose dressy over casual.
In general day-to-day European style is more dressy than American style. This DOES NOT mean business clothing. Think dressy top (or the type of top you'd wear to work) plus nice jeans (dark colors are always a good choice).
Slim or Skinny fit jeans are the preferred denim option. If that's not your thing, having tailored denim always makes for a smart appearance no matter what the pant style. For example, hemming the leg length so there's not an excess fabric at the bottom.
Tip: ankle jeans are an easier way to get this look without a trip to the tailor.
Like anywhere, pack for the environment. Are you spending your time café crawling in the cities or getting lost in the wilderness?
Also remember that if you forget anything, you'll be able to pick it up when you get there, so don't be afraid to pack light. Try to stick to a small selection of colors to make it easier to mix and match your items.
Need help downsizing your travel clothing? Read TFG's Pack Light Stylishly eBook!
Blondo Waterproof Ankle Bootie | UGG Simmens Leather Boot
TRAVEL SHOES
Generally speaking, you'll probably need some type of boot year-round. Choose a calf-height for the winter and ankle boots the rest of the time.
If there's heavy rain in the forecast, a rubber bootie would work well for extensive city exploration on foot. However, regular leather boots (or faux leather boots) will work much better than rain boots on most occasions.
Most people DO NOT walk around in wellies in the city – they're usually reserved for time in a muddy countryside or for the Glastonbury Music Festival.
Read these tips on what to wear on a rainy day!
When in doubt, a tan chelsea ankle boots is the go-to style of choice. These tips on how to wear ankle boots should work in every season except winter, when a tall boot is needed like these waterproof boots are recommended.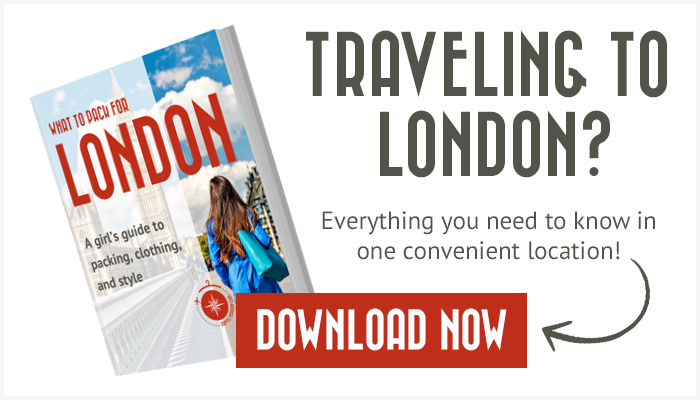 Plan what to pack for London and the rest of England with this packing list:
Shirt | Sweater | Blouse | Sweater 2 | Long Sleeve | Leggings | Pants | Jeans | Dress 1 | Dress 2 | Cardigan | Jacket | Boot 1 | Boot 2 | Scarf | Backpack
What to Wear in London in Winter
December, January & February
For city exploring, bring your jeans. They aren't appropriate for hiking, but I can't think of anything more ideal to wear while walking around London on a frosty winter morning.
Wear leggings or tights under your jeans for extra warmth. These leggings are a popular choice with the TFG readers and are lined with fleece.
These are the best leggings for women that travel as voted for by our readers!
Start by reading these general tips on packing for winter travel:
London Packing List: Winter
Winter is cold. The key is to wear lots of layers (especially if you don't fancy bringing along a heavy winter coat), drink plenty of tea, and be prepared for the possibility of snow.
When planning what to pack for London, choose tights, leggings, knee-high socks, and thermals like these for extra warmth. Don't forget the essential winter woollies, either: hat, scarf, and gloves.
Find out why thermals are a must for traveling light (and staying warm) in winter!
I find a comfy pair of waterproof ankle boots to be perfect. Soggy feet aren't fun; neither are blisters. Be prepared for the wet as well as the cold.
Take a look at the best waterproof boots for travel!
Shirt | Tunic | Blouse |  Sweater | Shirt | Skirt | Pants | Jeans | Shirtdress | Dress | Coat | Jacket | Sneaker | Boot | Umbrella |Backpack
What to Wear in London and the UK in Spring
March, April, and May
In spring, it rains a lot. I usually carry a compact umbrella at all times in the UK, so I'm always prepared for spontaneous showers.
Spring is that transition period between winter and summer, so layers are still important when planning what to wear in London, but in the later months think about swapping that chunky coat for a regular jacket.
Find out what to wear on a rainy day when you're traveling!
Start by reading these general tips on packing for spring travel:
London Packing List: Spring
Transform a temperate outfit on a chilly day with a scarf, hat, and tights. Skirts are fun but remember that it can get quite breezy, so you'll have to wear double layers underneath.
If you're in the countryside, be prepared for muddiness.
While the waterproof boots shown above will work for most trips, here are a few more ideas.
Shirt | Tunic | Long Sleeve | Shirt | Sleeveless | Jeans 1 | Skirt | Pants | Shirtdress | Dress | Raincoat | Jacket | Sandal | Sneaker | Scarf | Crossbody
What to Pack for a Trip to London and the UK in Summer
June, July, and August
Summer can be warm but also very wet. As you plan what to pack for London, be prepared for both. Check BBC Weather before your trip to get the most accurate forecast. Don't be surprised if it's grey and gloomy in the summer!
If the forecast calls for sun, be bright and bold! Bust out the summer dresses, sunglasses, and hats. Once again, be aware of the breeze and consider layering. Sometimes jersey skirts and dresses hold their shape better than wispy skater styles.
You can't go wrong with a leather jacket for cool summer days and nights.
Start by reading these general tips on packing for summer travel:
London Packing List: Summer
A cardigan and a scarf are essential layers for any summer outfit in case the sun is hiding behind the clouds. Use this easy packing tip to help you transform a summer dress into an autumn one if the weather is cooler than expected.
For added versatility, these are popular convertible travel dress styles!
A comfy pair of sandals are great for walking around town if there's sun in the forecast, but ankle boots, sneakers, and ballet flats are ideal the rest of the time.
Take a look at these London-appropriate women's casual sneakers for travel!
A note on bags: Personally, I am a big fan of satchels for cities and backpacks for countryside. I feel that a satchel with a zip can be safer than many daypacks, which might be unnecessary for city exploring.
Find out why cross-body purses are the best travel shoulder bags for women.
Shirt | Tunic | Long Sleeve | Sweater | Blouse | Skirt | Jeans | Pants | Dress | Shirtdress | Raincoat | Jacket | Sneaker | Boot | Scarf | Crossbody
What to Wear in London and the UK in Autumn
September, October, and November
Autumn is my favorite season to dress for. I love the crunchy leaves, the mild weather, and the earthy colors.
As the transitional period between summer and winter, things start to get colder and milder in the autumn. When planning what to pack for London this time of year, think about a woolly hat and stylish travel raincoat like these.
Read these tips on what to wear on a rainy day!
Start by reading these general tips on packing for autumn travel:
London Packing List: Autumn
If you prefer skirts and dresses rather than trousers, choose leggings and opaque tights to make outfits a little warmer.
These are the best leggings for women that travel as voted for by our readers!
When planning what to pack for London, remember that scarves are extremely useful. A warm, knit option will help keep you warm during this transitional season. When it's not quite cold enough for a coat, then a jumper or cardigan combined with a hat and a scarf will do. Remember, layering is key!
London Travel Tips
One of our biggest travel tips for any destination is to buy either a print or digital guidebook. They help you plan your itinerary, give you insight on where to stay, and even give you facts about the historical sites, too.
These are a few popular London guidebooks:
Learn more about why I still use travel guides!
ACCOMMODATION IN LONDON
For accommodation, we love Airbnb for accommodation in London and other parts of Europe. Sign up here for a free $40 credit!
I prefer to to book "the entire home" instead of opting for shared accommodation on Airbnb. Aside from safety, I also like to feel like I'm living in the destination. It's a small taste of local life plus you get more amenities than you would at a hotel such as a kitchen and washing machine.
Read these Airbnb tips for more info!
If you prefer the convenience and comfort of a hotel room, I like using both Agoda.com and Hotels.com. Tip: Hotels.com gives you a free night for every ten nights you book!
For flights, I like booking through Travelocity or Cheapoair (whichever one's cheapest). Although I prefer Travelocity because they have a 24 hour money back guarantee.
To maximize your vacation time, fly into the city where you're starting your trip and out of the city where your trip ends. Many times it's the same price and saves you from having to spend extra time and money to go back to where you started your trip.
For hostels, we recommend Hostelworld and Hostelbookers. Always read the reviews before booking to get the best idea if the hostel is right for you. Some are quiet and family friendly while others are known for their party atmosphere.
Not sure about staying at a hostel? Read this.
TRANSPORTATION
The Tube is a popular option to visit the site's in London. Make sure to purchase an Oyster Card for £5 and top up with just the amount you need for the duration of your trip. Your Tube rides will be less expensive and you can return the Oyster Card at the end of your trip to get your £5 reimbursed.
Tip: the city is very walkable! All the major sites are within walking distance so don't rely on the Tube too much! Take a free walking tour when you arrive to London so you can get oriented with the city.
Dining: In the US it's common to eat everyday meals with a fork. In Europe, however, it's generally customary to use a knife and fork even if you're eating in a casual restaurant. This small tip might help you blend in a little more than your clothing.
MONEY AND SAFETY
ATMs tend to offer you the best exchange rate, so pull out cash as you go. Just be cautious about where you stash your cash! Spain is especially known for muggings and pickpockets.
Add items like the Secret Stash Bra Pocket
 and Underwear with Pockets to your packing list. For extra security, check out the "theft-proof" bags featured in this post about Cross-Body Purses.
These are articles with other suggested anti-theft products:
Remember, the safest place for your passport is locked in your accommodation. Carry a photocopy or other ID when you're sightseeing or are out at night.
Read these tips on how to keep your passport safe when you travel!
LONDON TOURS
One of my favorite type of tours to do when I travel are food tours. In London, I received a complimentary tour by Eating London and it was awesome. Even my English husband was happy with the food on that tour!
They also hosted me in Rome where I received a  complimentary Twilight Trastevere Tour and a Cooking Class with Nina. TFG readers and I both loved their tours! Read my reviews here and here.
For more city tours, New Europe has excellent tours and the best part? They're free! All you have to do is tip your guide.
Disclaimer: we only work with companies that we think our readers would like and only feature them on the blog if we like them. If we don't, we apologize and tell them we can't feature them. Our readers' best interest is always top priority!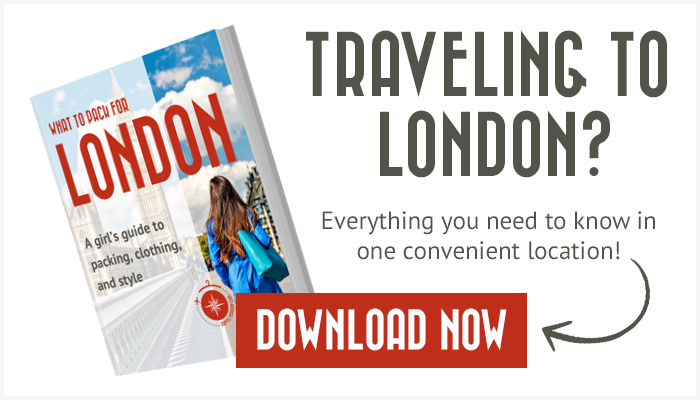 ---
When you're planning what to wear in London, follow these travel tips to keep you in line with the fussy weather. Thanks for this helpful post, Lottie! Don't forget to check out The Ambling Explorer.
What are your tips on what to pack for London and the rest of England?
---
Please note: Most of Europe's budget airlines have this carryon bag allowance: 55cm x 40cm x 20cm. Always check your airline's individual baggage rules and regulations in advance.
---
For more tips, please read these Europe packing lists:
Suggested travel resources:
Please read our Ultimate Packing List for Europe featuring stylish outfits and travel tips for 9 countries.
---
LIKED THIS POST? PIN THIS PIC TO SAVE IT!
---
We hope you enjoyed this post on what to pack for London. Please share it with your friends on Facebook, Twitter, and Pinterest. Thanks for reading!
---
Author Bio: Lottie is a student and traveler from the UK. She likes hiking, knitting, and cooking roast dinners. Lottie can be found writing about her experiences and travel musings on The Ambling Explorer. She's also on Twitter as @AmblingExplorer.
---