Support TFG by using the links in our articles to shop. We receive a small commission (at no extra cost to you) so we can continue to create helpful free content. As an Amazon Associate, we earn from qualifying purchases made on Amazon in addition to other retailers featured on the blog. Thank you, we appreciate your support!
Socks are an underrated travel essential, as they keep your feet comfortable and protected in sneakers and slip-on shoes. If you're looking for the best no-show socks, add one of these recommendations to your shopping list!
---
Best No-Show Socks
---
Travel Fashion Girl help! A reader asks:
Does anyone have suggestions for no-show socks to wear with low cut sneakers? I want to find something that's comfortable to wear all day walking around, isn't hot, and doesn't slip off the heel.
Socks are a necessity for pairing with sneakers and slip on shoes to avoid sweaty feet and smelly shoes, but no one likes the look of socks showing when paired with fashionable shoes.
The perfect no-show socks are, like one reader described, a "unicorn." It can be hard to find a no-show sock that's comfortable, isn't too thick for warm weather, and won't slip off your foot. However, our readers have found the best no-show socks and are sharing their recommendations.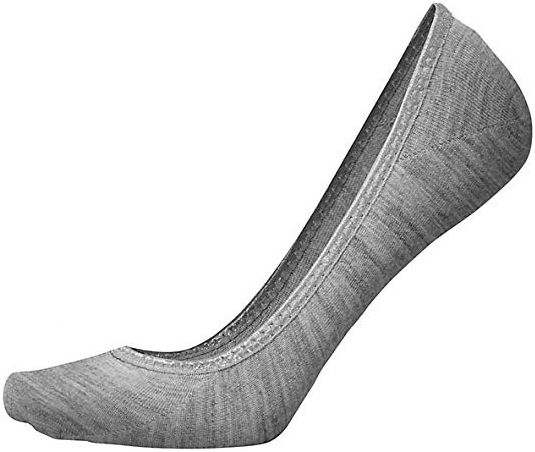 Smartwool Secret Sleuth Socks
SmartWool makes some of the most popular socks, and this low rider gives you all the benefits of SmartWool with barely a peep showing out of your shoe. It's ultra-light and non-cushioned for maximum performance in close-fitting shoes.
One reader says, "my favorites are the SmartWool Secret Sleuth Socks," while another adds, "these are my favorite, too! They're odor-proof and if I make sure to align them properly on my feet they stay on all day."
Bombas Solid No Shows Socks
Readers raved about Bombas Socks forever, so I decided to try them out for myself earlier this year. I never knew socks could be THIS good. I discovered that I prefer the regular Lightweight No Show Sock vs. their Lightweight Merino Wool Sock.
I wear the gray Lightweight No Shoe Socks with my gray converse and the Low-Cut No Show Socks in tan with my Jib sneakers and Tory Burch Minnie Flats. After so much success with these styles I also tested out the Cushioned No Show Socks to wear with my sneakers when I work out. They were so comfy I am now also obsessed with these, too!
One reader says, "Bombas are the only ones that have stayed on my feet," while another adds, "I also love Bombas. They are the only sock I have worn that has stayed put!"
With regards to sizing, I'm a size 6.5-7 and originally ordered the medium, but I found them too long, so now I've ordered size small. My ultimate sock capsule collection is complete, and I will never need another pair of socks again!
Learn more about Bombas amazing socks in our review!
Mabua Anti-slip Breathable Half Toe No Show Socks
Mabua Half Toe No Show Socks
You won't have to worry about your socks showing or slipping if they're half socks! These socks prevent friction and odor while the breathable fabric protects your feet from sweating or slipping out of the sock.
A reader shares, "Mabua are great. They're bamboo, super comfy, never slip, and they're inexpensive on Amazon. I've been wearing them for years and they've lasted longer than my SmartWool socks."
Balega Hidden Comfort No-Show Running Socks
Balega Hidden Comfort No-Show Running Socks
If you're looking for more durable, thicker no-show socks you can use for long periods of walking or hiking, try the Balega socks. Designed for runners, these offer a reinforced heel and toe, mesh construction for ventilation, and a plush under sole cushioning for extra protection.
A reader says, "My go-to for athletic no-show socks is Balega. They're so comfy!"
Hue Air Cushion Liner
These cushion liner socks feature a low profile silhouette with ample breathability and ventilation. They're constructed with moisture control for perfect comfort, and the seamed toe adds durability.
One reader shares, "I really like these for sneakers. They stay on my feet really well. They have a small gel-like pad on the back that keeps them from slipping off your heel. I've tried a lot of no-show socks and these are by far my favorite."
Gekks Sneakers & Lace-Ups Socks
Gekks Sneakers & Lace-Ups Socks
Gekks are a newer brand on the market that are quickly gaining popularity due to their unique sock styles for different types of shoes. These socks are made from an ultra-thin material with antimicrobial yarns that eliminate the sockless stench.
One reader says of these, "they actually fasten into your shoe so you don't have to change them everyday. The material helps prevent odor, which is perfect for travel. They have three sock types depending on the type of shoe you're wearing."
Nike Everyday Lightweight Footie Training Socks
Nike Everyday Lightweight Footie Training Socks
Nike makes amazing athletic wear and shoes, so it's not surprising they make great no-show socks. These footie training socks are made with mesh panels and a stretch cotton blend for breathability and a snug, soft feel.
A reader says, "I really like the Nike no-show socks. They have a grip in the heel to avoid slippage, and they're really comfortable to wear."
Ordenado Casual Thin No Show Socks
Ordenado No Show Socks
These no show socks are simple, but sometimes that's all you need in a good sock. The double silicone rubber enhances the anti-skid effect, while the antibacterial fabric helps prevent bacterial growth.
One reader says, "these are thin but I like them. I wouldn't wear them with running shoes but they're great with casual sneakers and slip ons."
Vans Classic No Show Socks
These socks from Vans feature a soft black cotton blend while the elasticated cuffs provide a secure and discreet fit. The cotton is so soft and sturdy but they're durable enough to last.
One reader shares, "These are my favorite no-show socks. They don't ride down on my heel and I love them!"
Sheec SoleHugger Secret
Sheec's newest sock style is sure to impress with its low cut design and added benefits. The lightweight cotton blend is antibacterial and moisture-wicking so you don't need to worry about sweat or odors. Plus, the non-slip silicone heel grip prevents slip off.
One reader raves about these, saying, "These are truly low cut no-show socks that will not slide down! I just got mine and they work great with ballet flats! The silicone goes all the way around the thin sock."
---
What do you think are the best no-show socks for travel? Share in the comments below!
---
For more ideas on travel fashion accessories, please read:
---
LIKED THIS POST? PIN THIS PIC TO SAVE IT!
---
I hope you liked this post on the best no-show socks. Please share with your friends on Facebook, Twitter, and Pinterest. Thanks for reading!
---