Support TFG by using the links in our articles to shop. We receive a small commission (at no extra cost to you) so we can continue to create helpful free content. As an Amazon Associate, we earn from qualifying purchases made on Amazon in addition to other retailers featured on the blog. Thank you, we appreciate your support!
December 2017 update: Unfortunately, the Ibex dress I had is gone as they have now gone out of business so we've added links to a similar dress by another merino wool brand.
Wondering what to wear in spring or autumn when the weather's still cold but occasionally sunny? Dresses are a great option for this time of year. Take a look at the merino wool dress that almost made me overpack for Paris – I love it! I also share some other ideas for dresses that could make it into your cold-weather wardrobe! 
Dresses can easily be layered with tights, scarves, and jackets for cold days and worn alone when warm. Find out more here.
---
Merino Wool Dress
---
When I went to Paris and London in 2015, I ever-so-carefully selected my 7 Piece Capsule Wardrobe. I felt so absolutely accomplished!
Can you believe it? Just 7 pieces for one week! I finally moved on from my Essentials Packing List and downsized to the Minimalista Packing List, despite a forecast of rain and a chilly 55°F average.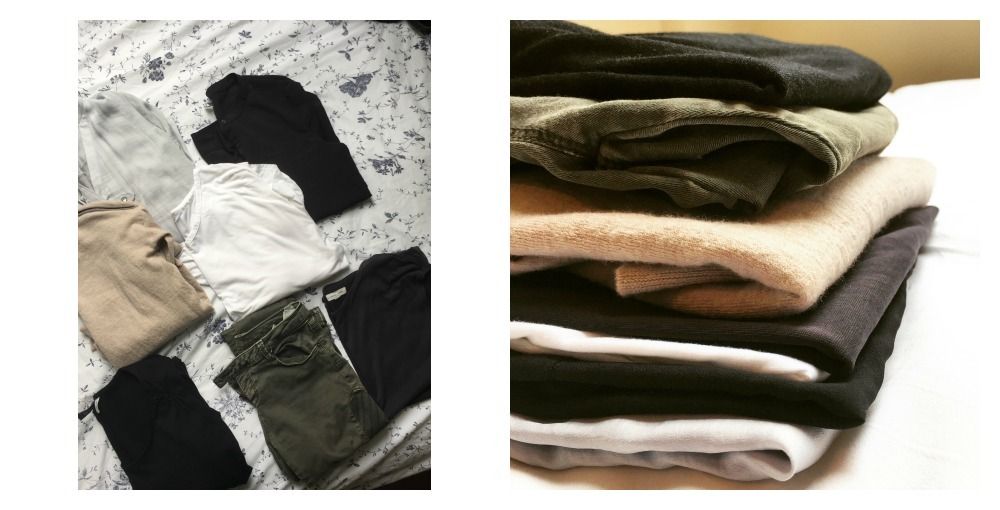 What I Packed:
Additional, non-capsule pieces included: 2 outerwear, 1 pair of Ibex thermals, and 1 sleepwear set.
This doesn't seem like much, does it? I even packed in all into my 30L daypack for a total of 4kg (9 lbs).
So how did I manage to overpack?
Keep reading to find out what wonderful item pleasantly turned my minimalist packing list into an overpacking experience!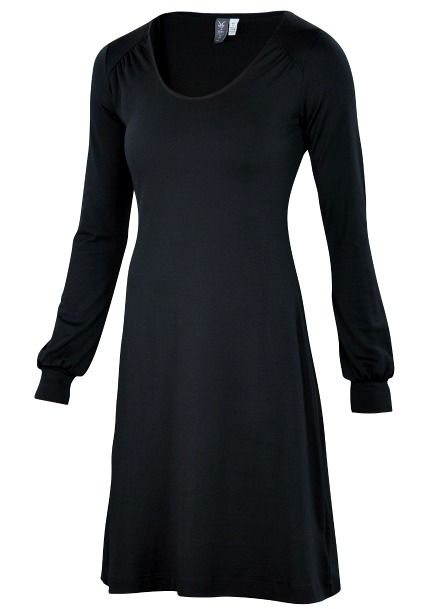 The answer: THE MANSFIELD MERINO WOOL DRESS BY IBEX (Here is a similar dress from Pendleton.)
When I first saw this dress, I liked the idea of it. It had long sleeves, a classic shape, it was available in black, and it had a round neckline that covered me where I wanted to be covered without choking me.
In addition to being a basic travel wardrobe piece, my biggest selling point was that it is 100% Merino wool. This makes it ideal for travel in cold weather, plus it has the ability to be worn repeatedly without washing.
But I never expected to fall in love with it so much that I would wear it four times in one week! And in London AND Paris!
Originally I HAD planned to wear it twice: on my travel day to London and on my travel day back from Paris. This would have allowed me to pack only three tops and one more dress for the other five days.
When I first tried it on, it seemed to drown me in my 5'2″ stature, so I had it hemmed to 3 inches above my knee. This made a much more flattering and wearable fit.
Find out the best fabric alternatives to merino wool and why they are so great!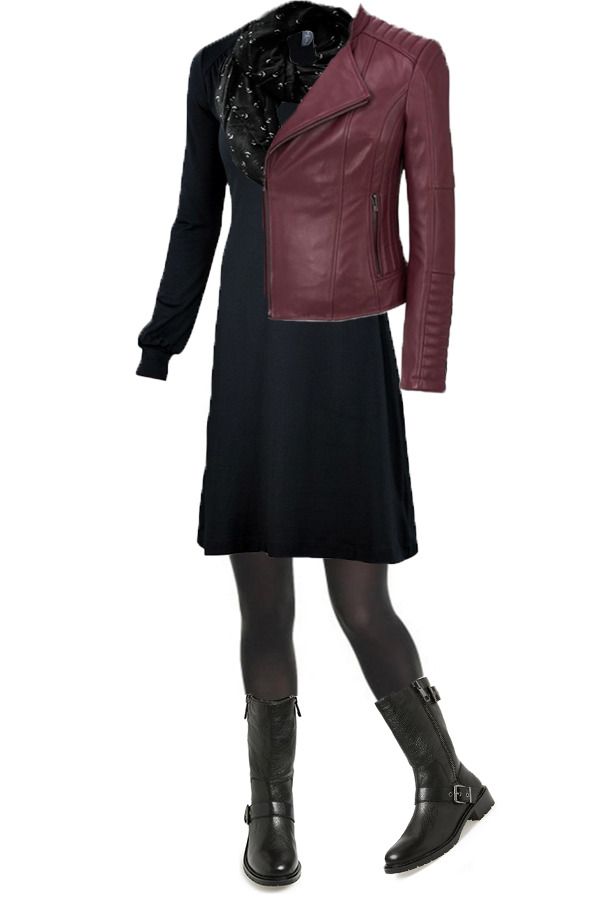 Tights | Motorcycle Boots | Scarf | Leather Jacket
I paired it with black tights, black motorcycle boots, a black scarf, and a maroon leather jacket. As I walked from the train to the Tube and through London I couldn't help but notice a certain bounce in my step. Was it the fact that I was wearing my favorite ten-year-old boots? A snug, rocking leather jacket? That I packed super light for my one week trip?
And then I realized it: No. It was the dress. It just made me feel good. It was comfortable, classic, and with the new hem–even sexy; modest, paired with tights, of course.
I can't explain it, but I found myself seated in Heathrow waiting for my friend to arrive and falling more in love with the dress. At that moment I envisioned myself wearing it for our free New Europe city tour in Paris and maybe even to the Eiffel Tower two days later.
Whether you're looking for something in autumn, spring, or a mix-weather trip – a merino wool dress like this one is a great choice!
If you want more help with European destinations, check out our packing guides for London and Paris!
A merino dress not only became my favorite during that trip but many readers have been also asking for more "dress me weather" ideas since this type of item allows you to still wear a dress without feeling super cold. 
On that note, check out more popular picks for the best merino wool travel dress below!
Best Merino
Wool Dresses for Winter
and Fall

Shop: Amazon
Lucky Brand Long Sleeve Wool Dresses
Though this is a blend (viscose/alpaca included), this Lucky Brand wool long sleeve dress is soft, shapes the body well, and has lovely detail with the pintucking at the sleeves.
One review says it all, "I love this dress. Great quality, soft, and flattering. I love the detail at the neckline."

Shop: Amazon
Pendleton Merino Long Wool Dress
This Pendelton black wool dress is 100% merino wool and is super versatile pairing well with loafers, ankle boots, or knee-high boots. The knit is superior so it's not see-through and the V-neck and straight cut makes it classic and wearable for multiple years. 
Try other accessories with it like a belt, moto jacket, and a stylish (but warm) hat!
Find out what's the best merino wool clothing for travel!

Shop: Amazon
Pendleton Short-Sleeve Merino Sweater Dress
While wool dresses with long sleeves are wonderful for colder weather, for a little variety, check out this Pendelton short-sleeve dress. You can layer with cardigans, turtlenecks, jackets, and of course, you can add tights underneath.
One user raves about this, saying, " Love this black dress! The heavier knit makes it a great cold-weather option. With a turtleneck and leggings, it's as comfortable as a flannel shirt and jeans, just way more polished."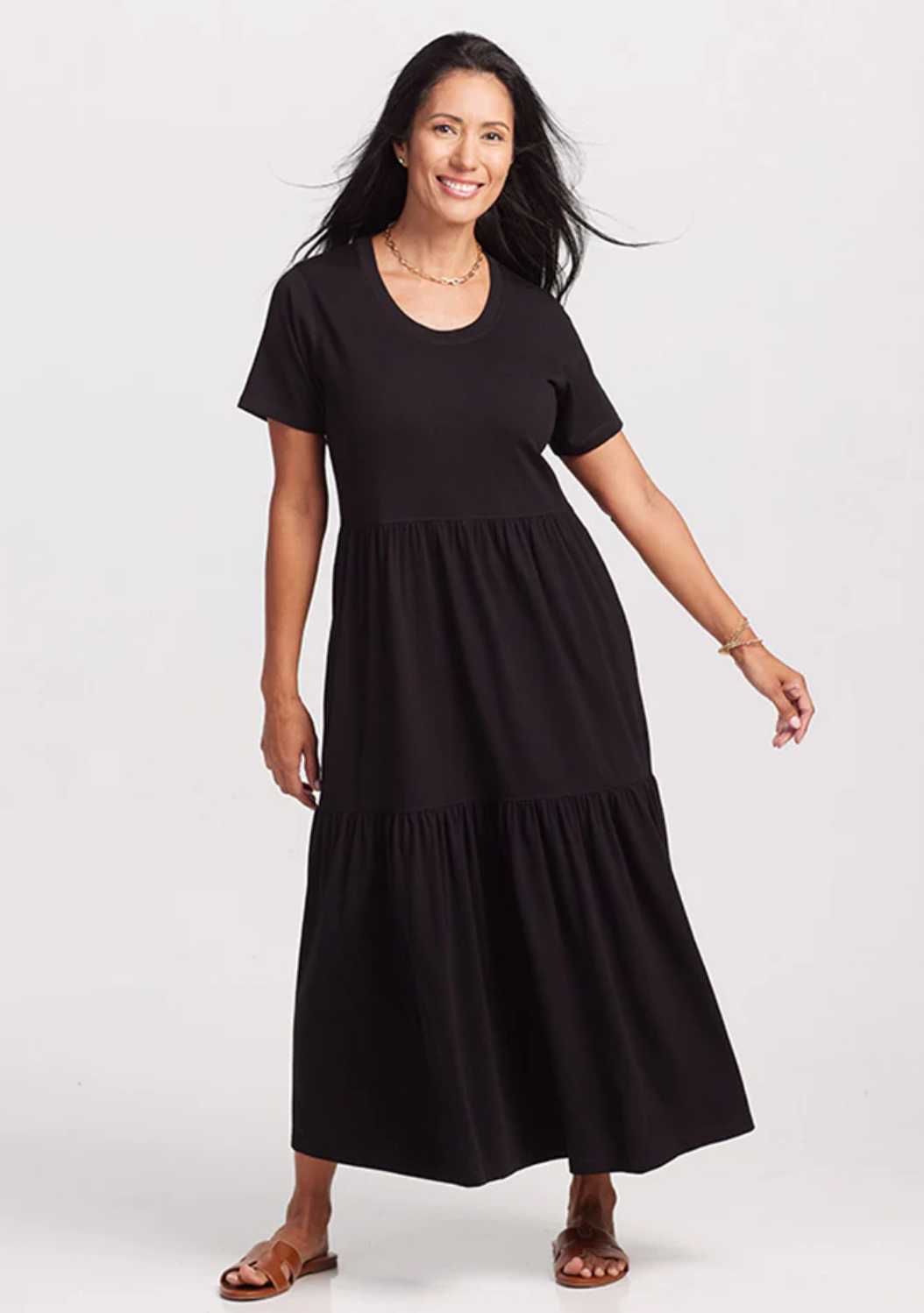 Shop: Amazon
Icebreaker Yanni Sleeveless Merino Wool Dress
For a bit of versatility, this Icebreaker Yanni dress can create many a merino wool outfit! Add a blouse or tee underneath, layer a jacket or blazer, or add accessories like a belt or dangly necklace. At mid-knee length, it's a classic, yet simple piece that'll last season after season!
A wearer shares the features of this dress, saying, "The fabric is very good quality. It's very warm, but not too scratchy and has some stretch to it. All the seams look good. The dress hangs beautifully and looks great with tights or hose. I wear this with a sweater over it and it looks great with a belt also." 
Made with breathable, odor-resistant and quick-drying Cool-Lite jersey fabric combines soft merino wool with natural TENCEL and nylon, with a touch of LYCRA for active stretch, you can also wear this in the summer.
These are the best merino wool sweaters, according to our readers!

Aventura Plus Size Bethany Dress Wool (Merino)
Take a spin with easygoing flair in this Aventura dress that's a blend of merino wool and nylon jersey. The scoop neck and knee-length give it classic details while the patterned hem adds flair. A versatile basic that you can dress up or down!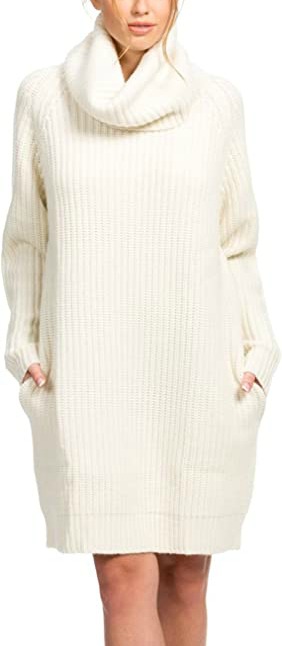 Shop: Amazon
Citizen Cashmere Wool Tunics Dresses
Described as "the softest cashmere," the Citizen cowl neck sweater dress is actually 90% merino wool with a dash of cashmere, and the combination is inviting beset with cozy pockets. Would look fab with long boots, leggings, and ankle boots, or on its own (but don't sacrifice warmth when you don't have to!).
One reviewer explains her total adoration of this dress, saying, "I love their woolen dresses! The knit has a nice weight to it which makes the dress feel and look rather luxurious. Worn it a few times with both flats and heels and loved it either way. The side pockets are a really nice touch, and look great with autumn-colored accessories".
These are some of the warmest socks for cold-weather travel!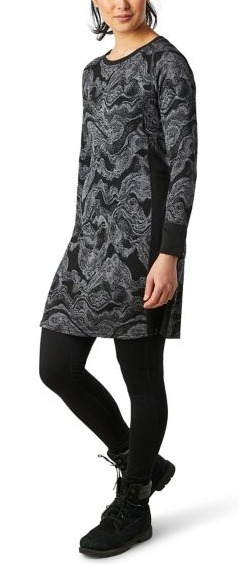 Shop: Amazon | Backcountry | Smartwool
Smartwool Merino Sport 250 Dress
Talk about taking it from day to night, this Smartwool sport dress can be worn for activities that may work up a sweat like ice skating and take you well into a pub serving mulled wine. 
The merino and polyester blend dries quickly, doesn't chafe the skin, and holds well under pressure while the pretty design transitions to the next planned event with ease. One buyer who got it for someone else has this to say, "This was a gift for my fiancée. She loved it—fits great and looks great!"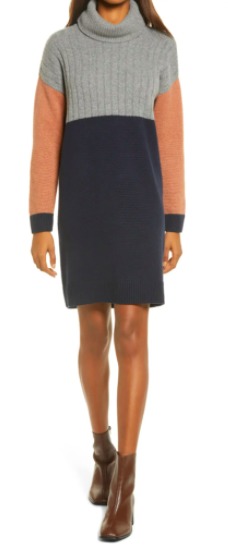 Shop: Madewell |Zappos | Nordstrom
Madewell Turtleneck Wool Winter Dress
Readers love this brand and so do I! This Madewell dress is cozy due to the foldover turtleneck and the sturdy yet nice-looking cut. The color blocking and ribbed details make it look fun yet the neutral color combination means you can match it with neutral colored boots or shoes as well. A gorgeous winter must-have! 
Learn more about how to pack for cold weather!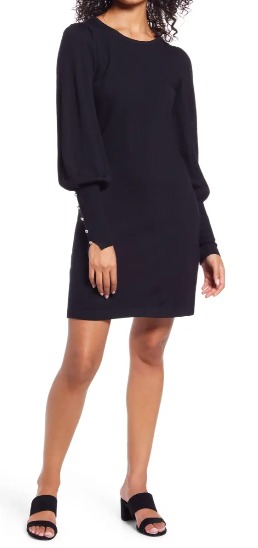 Shop: Nordstrom | Saks Fifth Avenue | Zappos
Lilly Pulitzer®  Bambrey Long Sleeve Wool Dress
If you've got to attend a convention or a fancy event during the colder months, this Lily Pulitzer black wool dress long sleeve style is elegant! The rhinestone buttons on the sleeves and jewel neck are classy while the 36" length has a modern, fun feel. 
Would look amazing with ankle boots, flats, or wedges to turn up the oomph factor! And don't forget you can layer it with a tailored blazer, a shawl, or trench coat. 
Tip: you may not want a full dress, so maybe consider merino woolen maxi skirts, their length covers up the legs when chilly and a skirt allows you to revolve tops and create a "new" wool skirt outfit every time! 
---
Have you ever traveled with a merino wool dress? Please comment below!
---
For more travel dresses, please read:
---
LIKE THIS POST? PIN THIS PIC TO SAVE IT!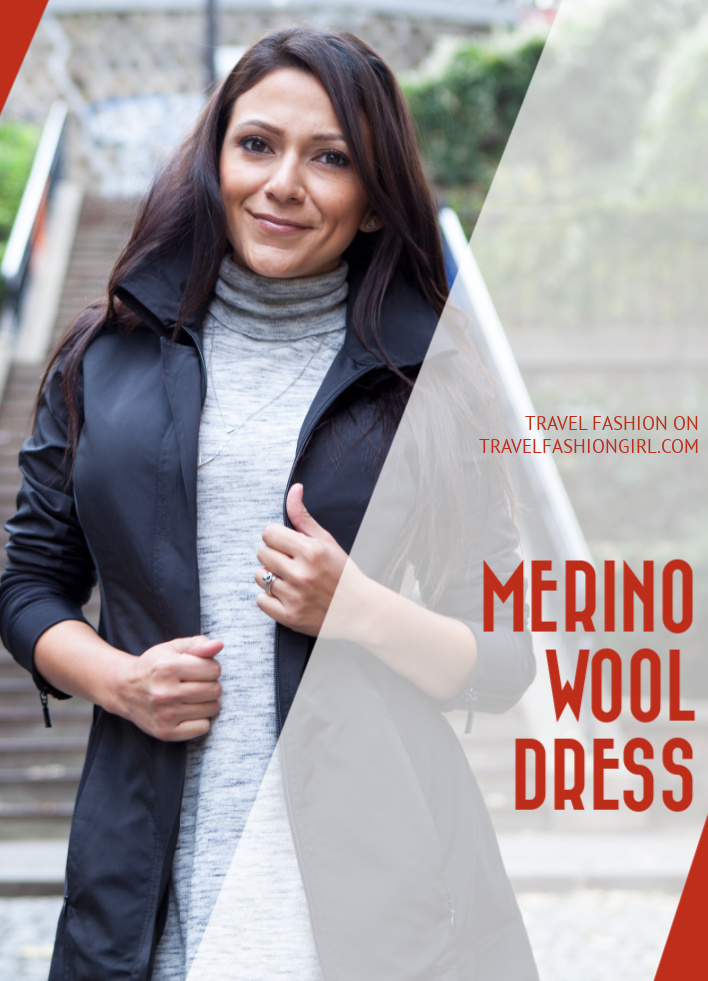 ---
I hope you enjoyed this post on my favorite merino wool dress. Please share with your friends on Facebook, Twitter, or Pinterest. Thanks for reading!
---
*Ibex sent me a complimentary dress and I genuinely loved it!