December 2017 update: Unfortunately, Ibex has now gone out of business so we've added links to a similar dress by another merino wool brand.
Wondering what to wear in spring or autumn when the weather's still cold but occasionally sunny? Dresses are a great option for this time of year. Take a look at the merino wool dress that almost made me overpack for Paris – I love it!
Dresses can easily be layered with tights, scarves, and jackets for cold days and worn alone when warm. Find out more here.
---
Merino Wool Dress
---
I went to Paris and London this fall and ever-so-carefully selected my 7 Piece Capsule Wardrobe. I felt so absolutely accomplished!
Can you believe it? Just 7 pieces for one week! I finally moved on from my Essentials Packing List and downsized to the Minimalista Packing List, despite a forecast of rain and a chilly 55°F average.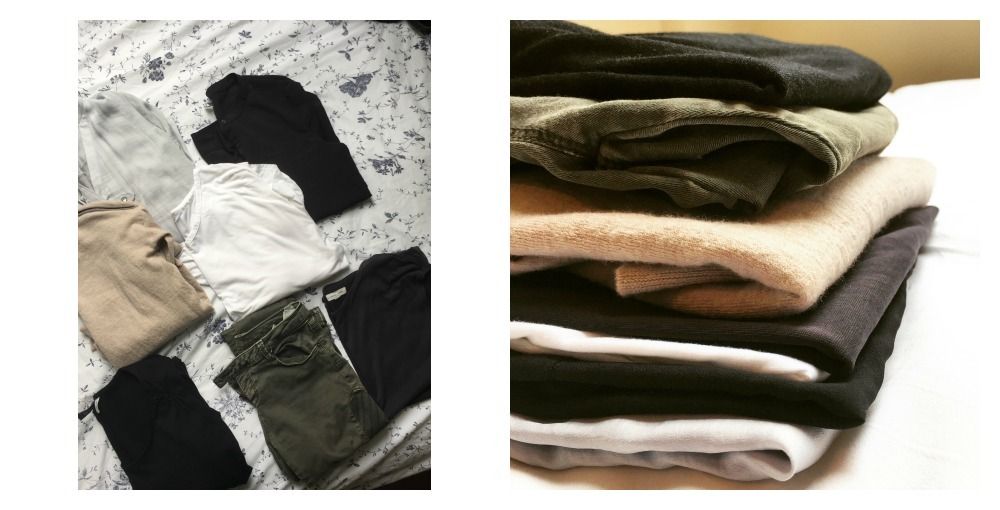 What I Packed:
Additional, non-capsule pieces included: 2 outerwear, 1 pair of Ibex thermals, and 1 sleepwear set.
This doesn't seem like much, does it? I even packed in all into my 30L daypack for a total of 4kg (9 lbs).
So how did I manage to overpack?
Keep reading to find out what wonderful item pleasantly turned my minimalist packing list into an overpacking experience!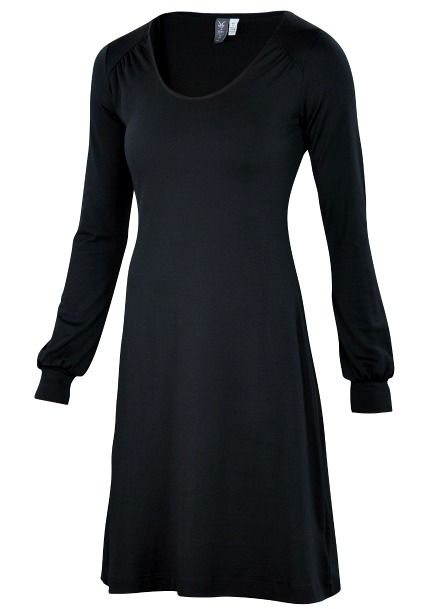 The answer: THE MANSFIELD MERINO WOOL DRESS BY IBEX (Here is a similar dress from Icebreaker.)
When I first saw this dress, I liked the idea of it. It had long sleeves, a classic shape, it was available in black, and it had a round neckline that covered me where I wanted to be covered without choking me.
In addition to being a basic travel wardrobe piece, my biggest selling point was that it is 100% Merino wool. This makes it ideal for travel in cold weather, plus it has the ability to be worn repeatedly without washing.
But I never expected to fall in love with it so much that I would wear it four times in one week! And in London AND Paris!
Originally I HAD planned to wear it twice: on my travel day to London and on my travel day back from Paris. This would have allowed me to pack only three tops and one more dress for the other five days.
When I first tried it on, it seemed to drown me in my 5'2″ stature, so I had it hemmed to 3 inches above my knee. This made a much more flattering and wearable fit.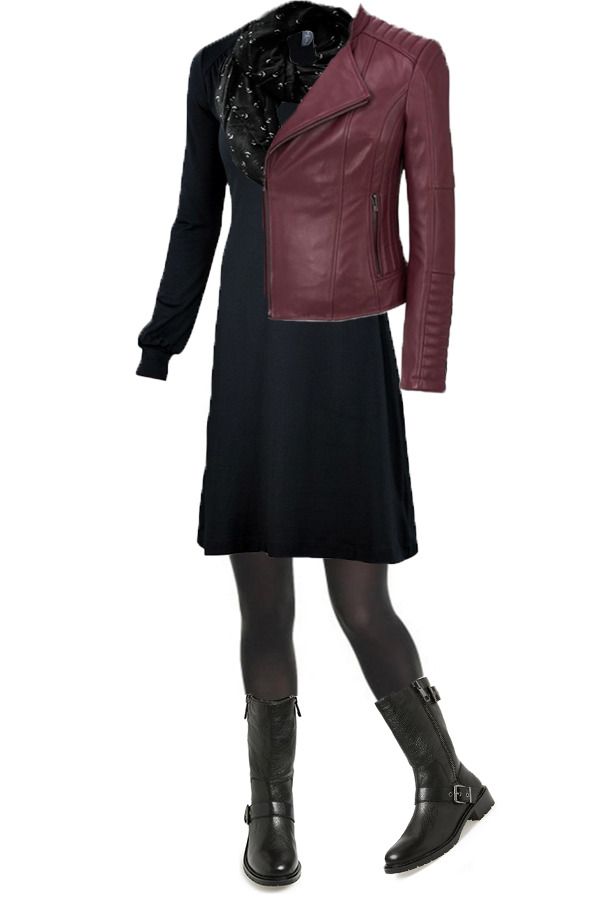 Tights / Motorcycle Boots / Scarf / Leather Jacket
I paired it with black tights, black motorcycle boots, a black scarf, and a maroon leather jacket. As I walked from the train to the tube and through London I couldn't help but notice a certain bounce in my step. Was it the fact that I was wearing my favorite ten-year-old boots? A snug, rocking leather jacket? That I packed super light for my one week trip?
And then I realized it: No. It was the dress. It just made me feel good. It was comfortable, classic, and with the new hem–even sexy; modest, paired with tights, of course.
I can't explain it, but I found myself seated in Heathrow waiting for my friend to arrive and falling more in love with the dress. At that moment I envisioned myself wearing it for our free New Europe city tour in Paris and maybe even to the Eiffel Tower two days later.
Whether you're looking for something in autumn, spring, or a mix-weather trip – a merino wool dress like this one is a great choice!
Learn more about the Mansfield dress at Ibex. Hope you love it as much as I did! (Here is a similar dress from Icebreaker.)
Below are some pics from the trip. I booked beautiful (private) flats through Airbnb for both London and Paris. I prefer using Airbnb when traveling in Europe because you get so much more value for money for accommodation that's centrally located. I also like love to feel like I'm a local living in one of these incredible cities.
Here are other merino wool dresses you might like!
---
Have you ever traveled with a merino wool dress? Please comment below!
---
For more Europe packing lists, please read:
---
LIKE THIS POST? PIN THIS PIC TO SAVE IT!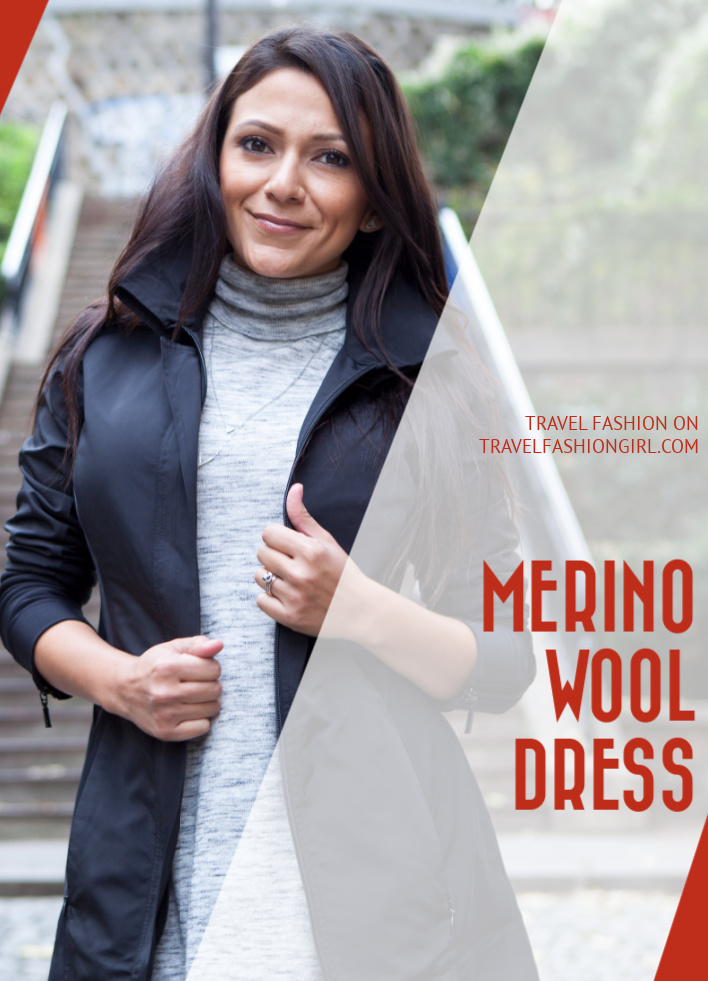 ---
I hope you enjoyed this post on my favorite merino wool dress. Please share with your friends on Facebook, Twitter or Pinterest. Thanks for reading!
---
*Ibex sent me a complimentary dress and I genuinely loved it!