Support TFG by using the links in our articles to shop. We receive a small commission (at no extra cost to you) so we can continue to create helpful free content. As an Amazon Associate, we earn from qualifying purchases made on Amazon in addition to other retailers featured on the blog. Thank you, we appreciate your support!
It's no secret that female travelers love their scarves. Aside from adding a pop of style to a basic outfit, they're also very practical. Here are eight different ways to wear a scarf when you travel!
---
Unique Ways to Wear a Scarf
Written By: Sydney Woolery
---
Table Of Contents
Fall is right around the corner and that officially means one thing – scarf season! Whether it's knit, infinity or silk, these garments are a universal favorite for the upcoming chilly months.
They're also extremely multi-functional and perfect for the style conscious traveler. Find out why female travelers love scarves!
Here are a few articles to help you get started into your fall travels:
Now we're not just talking about the different ways to wear a scarf around your neck. We've got creative ways for you to use them to enhance you travel capsule wardrobe. We went ahead and rounded up not only our favorite selections, but the different ways that you can rock them on your adventures this season.
These options can be worn as both the styles they're categorized under and as a regular scarf as well. And while we've placed them in the specific categories that we think they would work best in, many are easily interchangeable.
For example, the cozy outer layers could work as blankets, the bag decorations could also work as hair accessories and the stylish outer layers could also work as capes.
When a garment stays true to our "maximized style with minimized luggage" ideology, it's a clear winner in our book! Stay toasty on your travels with these cute (and versatile!) picks below, plus different ways to wear a scarf.
Tired of packing too many things? Read this helpful guide to stop overpacking!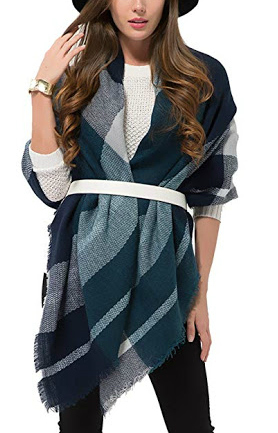 As a Stylish Outer Layer
Convertible styles and belts help elevate scarves from an accessory to a full-on layer of its own. We adore the cozy, oversized piece above and how easily it can switch between scarf and outer layer.
A classic plaid always works for the chillier months. Finish it off with skinny jeans and boots for a fall-perfect getup. It's one of the easiest ways to wear a scarf.
Take a look at our round-up of gorgeous chelsea boots styles!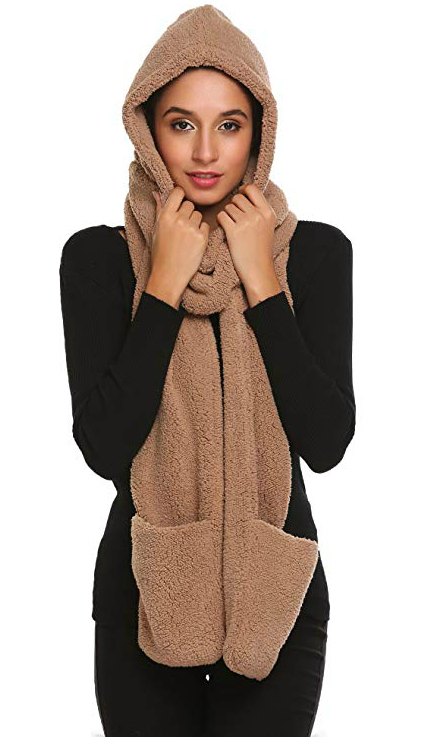 As a Hood
Protect yourself from chilly temps and harsh winds with a scarf that also works as a hood! You could get a scarf that has a hood already built into it, like the style above, or you could simply use an infinity scarf to achieve the same effect.
This is one of our favorite ways to wear a scarf in cold-weather temperatures where it's too windy for a hat.
Whichever you choose, pair with sturdy outerwear for a toasty and protective ensemble.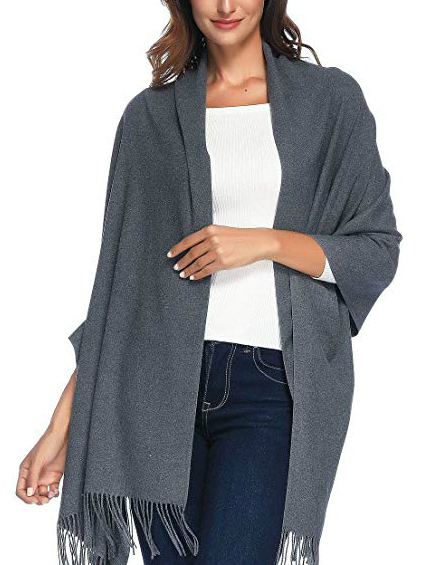 Coloris Edition Plaid Blanket Winter Scarf
As a Travel Blanket or Pillow
Don't be concerned by the large size – oversized scarves are very style forward and easier to bring on your travels than you may think!
To save space in your luggage, wear the scarf on the airplane and use it as either a blanket or pillow. Or throw your scarf into a packing cube instead your personal item. Circle scarves are great instant pillow makers as well! This is one of the lesser known ways to wear a scarf.
Find out why a circle scarf for travel is one of the most popular styles!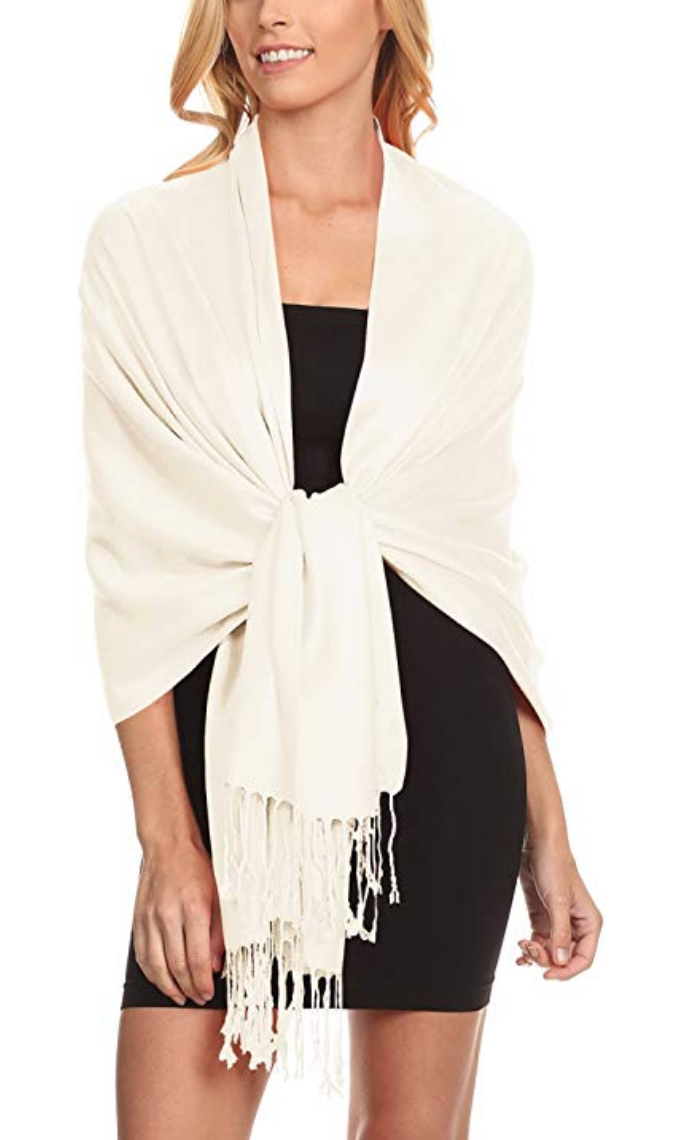 Silky Pashmina Shawl Wrap Scarves
As an Evening Wrap
These elegant wrap scarves will take you from casual to classy with ease. Wear them around your neck as you sightsee during the day and then wrap around your cocktail dress as a way to stay warm in the evening.
If your travels call for some comfy heels, here are practical styles to choose from!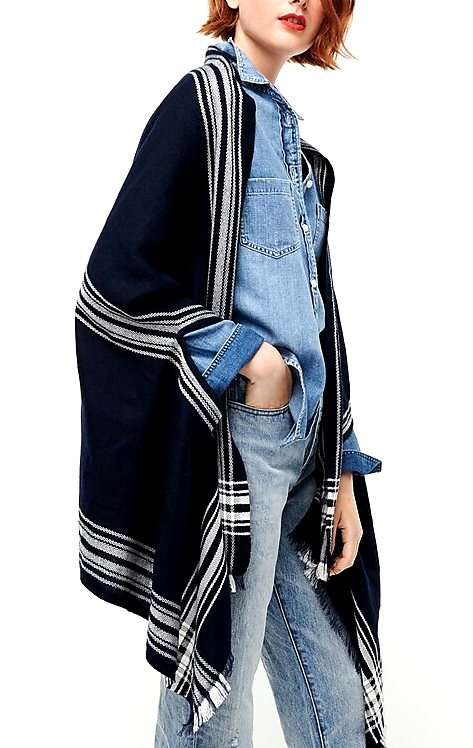 As a Sturdy Cape
For more coverage in the arms and a slightly toastier feel, a cape scarf is a fabulous choice. What's great about this piece is that it has arm holes built right in, meaning it will stay right in place as you get through the day.
When you've had enough of it as a cape, simply revert it right back to a classic scarf. You know we're all about those two-in-one's here at TFG!
Take inspiration from these fall fashion trends and update your look with one or two new pieces.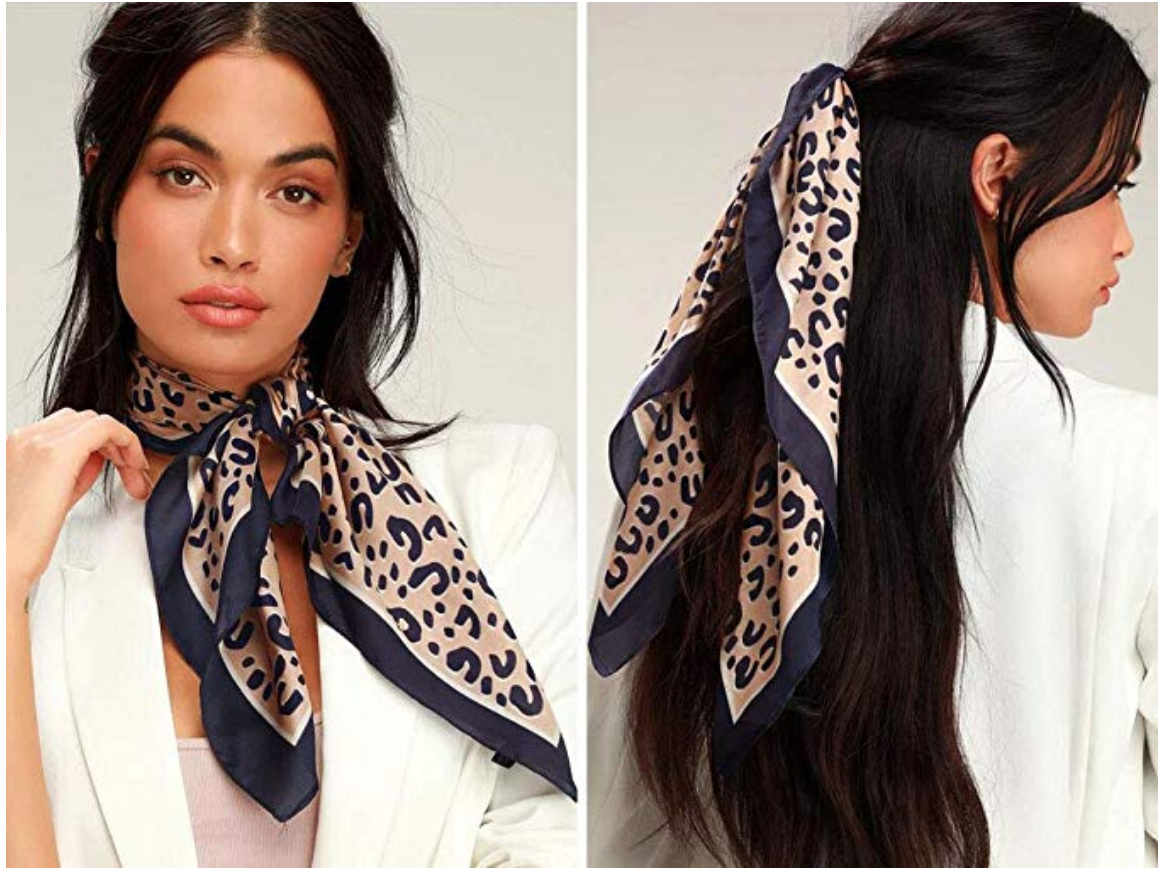 As a Hair Accessory
How cute are these? Hair accessories are one of the most understated yet ultra cute ways to wear a scarf and play up your look. You can tie these into your ponytail or wear as a retro headband instead for a look that's sure to stand out.
You could also easily use these as a decoration for your travel bag! Simply tie these around the handle for a detail that's uniquely yours.
Use these cute hair ideas to update your vacation do!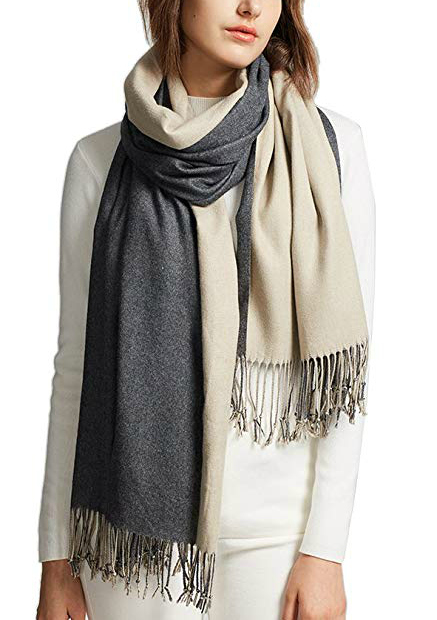 2 Tone Soft Cashmere Feel Pashmina Shawls Wraps
As a Two-in-One
"Reversible" is probably one of the best words a light packer can hear. With two different prints and colors to rock, you get two stylish scarves out of just one handy piece. More options and more packing space, what's not to love?
This reversible clothing is super cute for travel!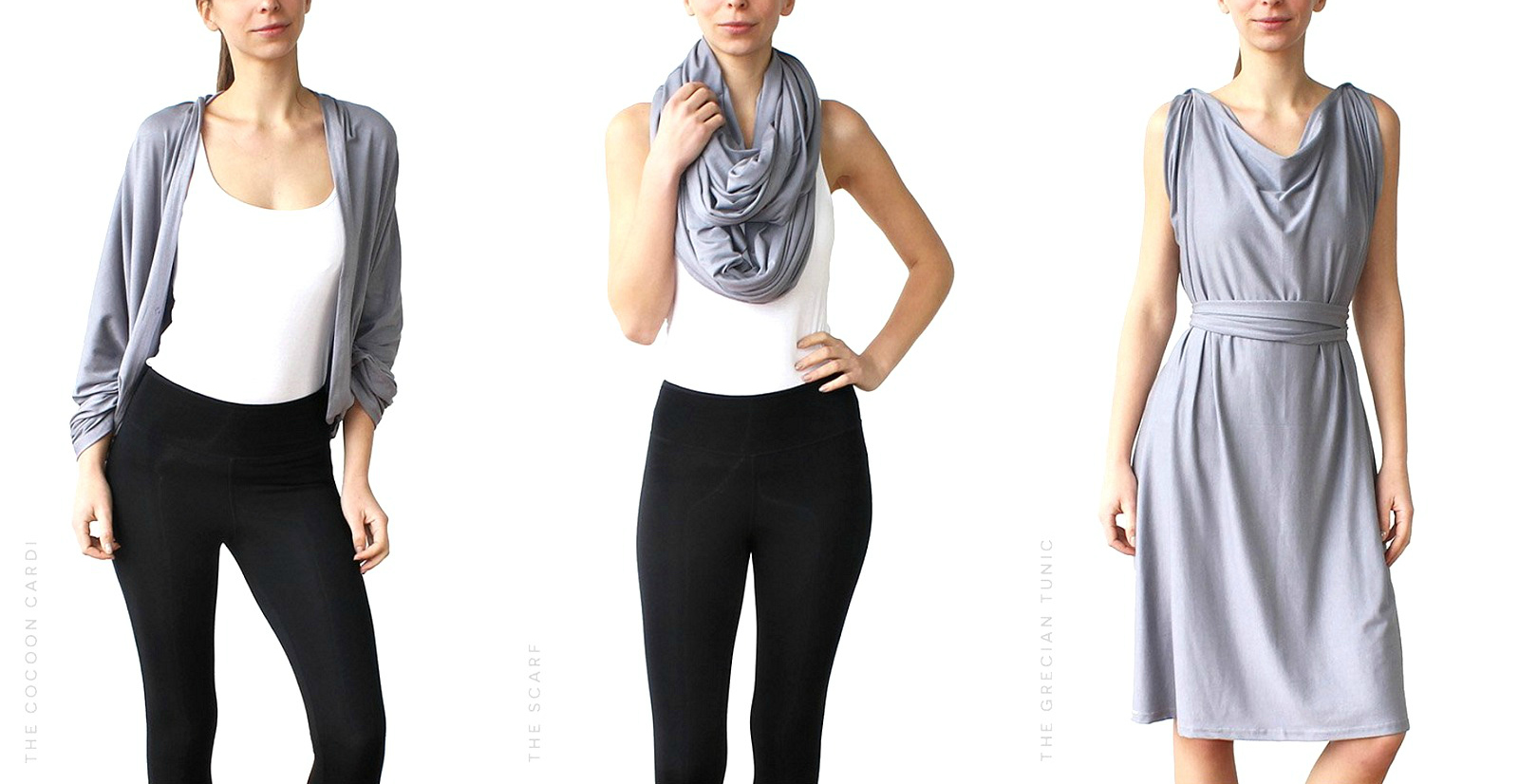 As Just About Everything
There's no way we could write an article about scarves and multifunctionality without featuring the famous Chrysalis Cardi from Encircled. This impressive cardigan is a bonafide favorite here at TFG.
This piece can be worn in an impressive 8+ different ways, one of which is a scarf (and even as a scarf, it can be worn at three different lengths!). Other variations include a cardigan, a dress, a tunic and a wrap top. We're obsessed! This piece isn't just one of the many ways to wear a scarf, but also as a wardrobe essential.
Learn more about the convertible wrap dress you can actually wear everywhere!
How to make a purse no sewing required
As a Purse
This clever tutorial shows you three ways you can tie a scarf into a purse! Talk about creatively maximizing your travel wardrobe accessories!
How to Tie a Scarf: 4 Scarves 16 Ways
How to
Tie
a Scarf
Now that we've shown you different ways to wear a scarf to spruce up your travel wardrobe, watch this helpful video to learn 16 ways you can tie a scarf.
And if you're looking for the one super easy way to do it, watch our video above – it shows you our editor's favorite way to tie a scarf!
The scarf in the video is the Carryon Cozy by Diane Kroe! Read our reviews to see how her other items transform into various styles!
How Editor-in-Chief Alex Rocks a Scarf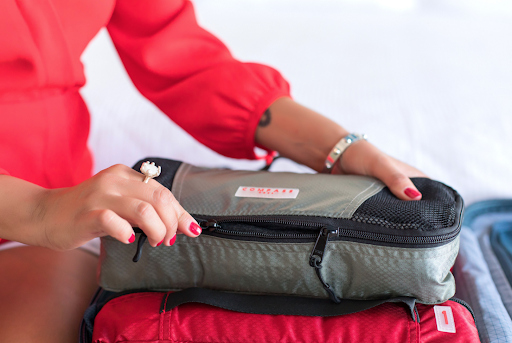 How to Pack Scarves
Packing cubes will change the way you pack. We designed our own brand of slim packing cubes, with a unique color and numbering system, so it's easy to remember where you've packed everything—ESPECIALLY your scarves!
We put together a five-part YouTube series showing the different methods to use packing cubes for travel. If you use this specific packing strategy, packing cubes can also compress your belongings. This is the secret to traveling carry-on only!
---
What are your favorite ways to wear a scarf? Share and comment below!
---
For more ideas on fall travel essentials, please read:
---
LIKED THIS POST? PIN THIS PIC TO SAVE IT!
---
I hope you liked this post on ways to wear a scarf on your fall travels. Please share with your friends on Facebook, Twitter, and Pinterest. Thanks for reading!
---
Author Bio: Sydney Woolery is a recent UCLA graduate who loves a good adventure just as much as she does a fabulous dress. Check out her fashion blog at www.tokyoglitter.com and follow her visual escapades on Instagram – @tokyoglitter.
---