Support TFG by using the links in our articles to shop. We receive a small commission (at no extra cost to you) so we can continue to create helpful free content. We earn from qualifying purchases made to the featured retailers. Thank you, we appreciate your support!
RVing is a great way to explore the country and get away from it all. It's like your own personal hotel on wheels! But what outfits should you pack for an RV trip? And, more importantly, what should you leave behind? Find out here! 
---
What to Pack for an RV Trip
---
Table Of Contents
So you've just booked your RV trip! The RV is rented, you've planned your route, and now you just need to pack the most important things—your clothes! 
When RVing, try not to assume you have space to take a full wardrobe of stuff, in fact, it's quite the opposite. An RV has limited storage space, and if you're sharing with people it can get cramped pretty easily. You're going to want to pack as streamlined as possible and this means planning your wardrobe extra carefully!
Start by reading these general tips on packing for minimalist travel:
What Do People Wear When RVing?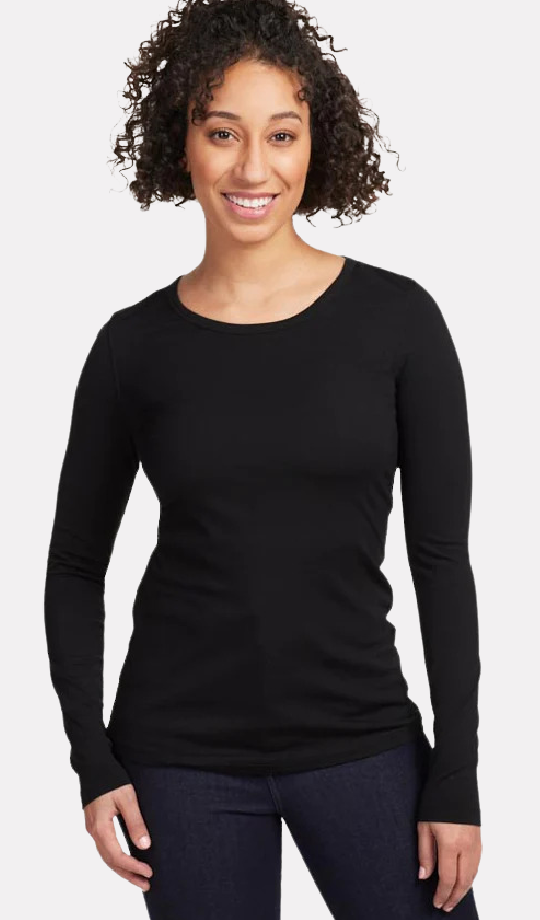 Shop Sizes XS-3X: Woolx Remi Merino Wool Shirt
So for your RV trip, you're going to want to plan your capsule travel wardrobe based on three important aspects: weather, location, and the activities you'll be doing when on your trip.
A capsule wardrobe needs to be made up of reusable pieces that can be worked into different situations, but as you are also RVing—you want comfort pieces too, as a lot of your time will be spent driving or sitting in the camper, so things that are cool and not restrictive work best.  
When planning your RV capsule wardrobe, stick to a color palette of items that can be easily mixed and matched. If you follow the rule of threes, you can plan to wear each item three times during the trip. 
Fabrics such as merino wool are great for this as they can last longer without washing. A multi-use shirt like the Woolx merino wool shirt can last you an entire RVing adventure!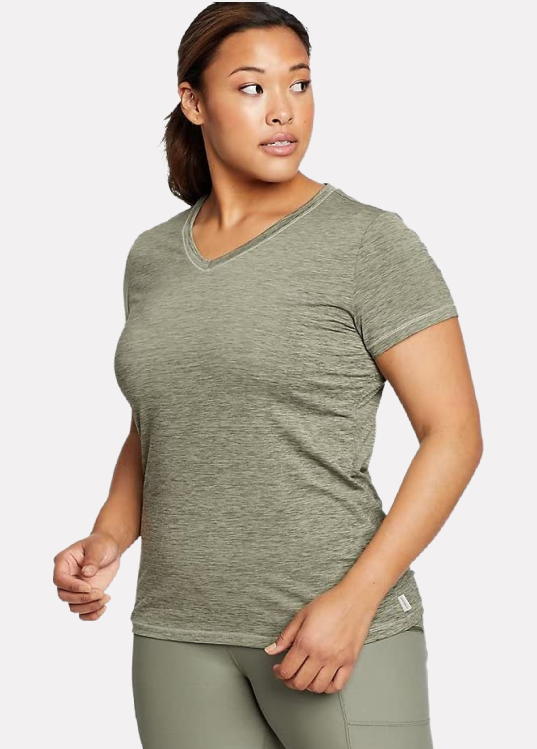 Shop Eddie Bauer Resolution T-Shirt: Amazon | Eddie Bauer
(Sizes XS-XXL | Plus 2X-3X)
You CAN always hand wash some pieces in the sink of the RV if you need to! Choose quick-drying tops and tees and pack a small drying rack for any laundry needs. (Here's how to do laundry while traveling!) This moisture-wicking, sun-protective shirt by Eddie Bauer is one example.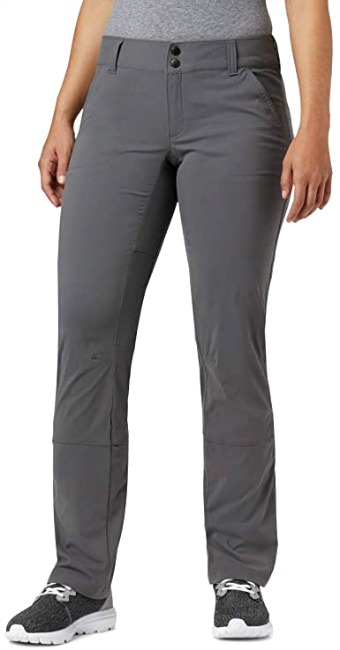 Shop Columbia Saturday Trail Pants: Amazon | Columbia | Zappos
(Sizes 2-16 | Plus 16W-24W)
Your outfit choices for your RV trip will heavily be based on the activities you'll be doing during the vacation. It's advisable to have (at least) a rough itinerary for your RV trip. So you can plan outfits and where you NEED things. This stops the 'I'll bring it just in case' element of your packing (something that always used to affect me—and leaves me with several pieces unworn!).
If you're planning on hitting up a bunch of national parks and hiking into the wilderness, then you're going to want to incorporate hiking pieces into your capsule wardrobe, ones that have UPF protection and are moisture-wicking, Like the Columbia Saturday Trail pants shown above!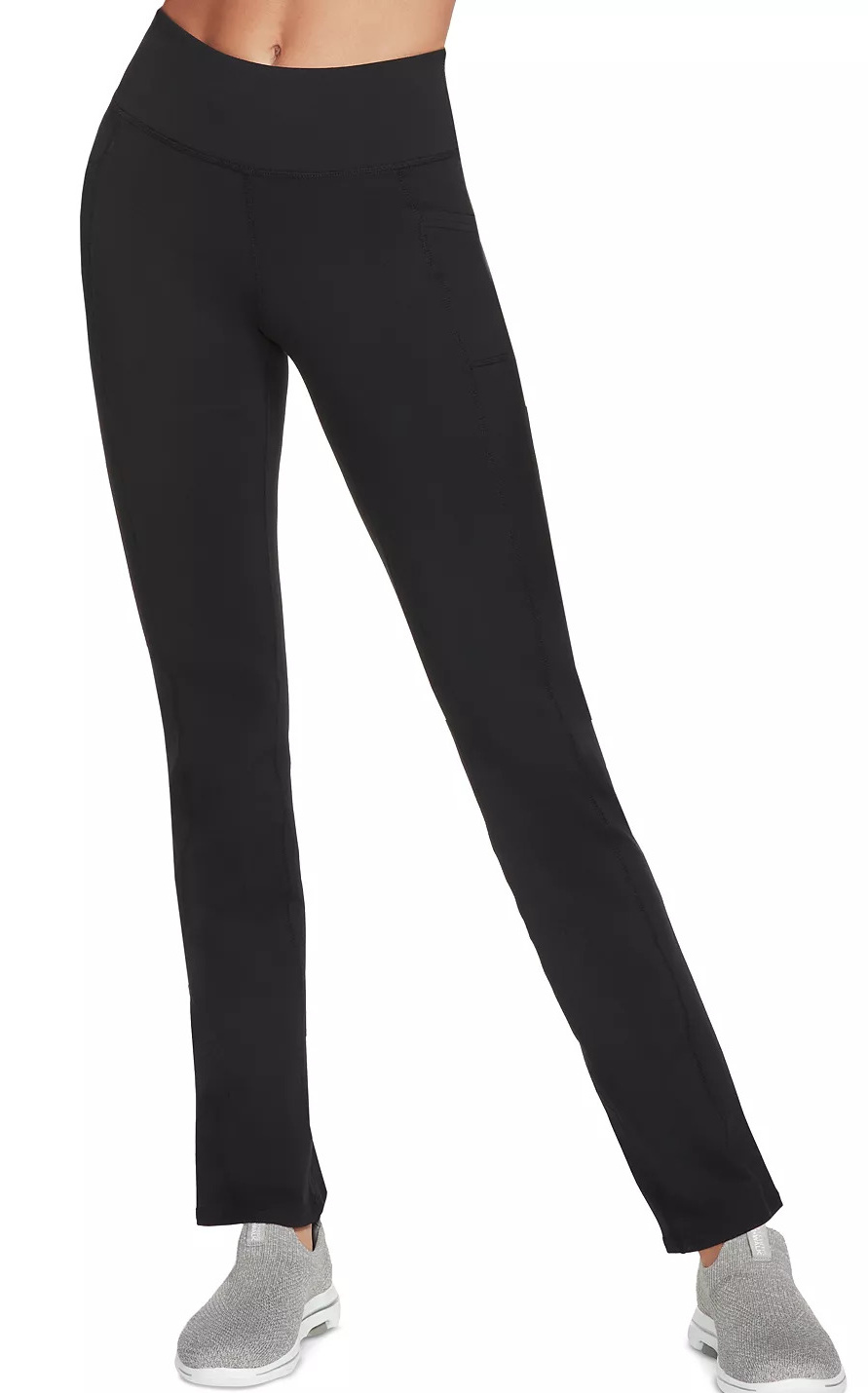 Shop Skechers Go Walk Pant: Amazon | Macy's | Kohl's | Zappos (Sizes XS-3X)
Besides hiking clothes, you could also add a couple of transitional pieces that can be dressed up if you decide to go to dinner in a nice restaurant one evening or visit a local town rather than hit the trails. These Skechers Go Walk pants are a TFG reader fave and transition from nature to evening wear well!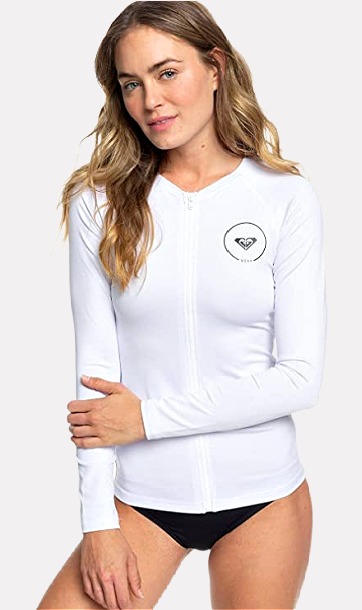 Shop Roxy Essentials Rashguard: Amazon | Zappos (Sizes XS-XXL)
If you're planning a coastal RV trip and cruising between beach towns, then skip the hiking boots and focus on the beachwear and cover-ups instead. You may be packing a rash guard and attaching a paddleboard to the roof rack.
Check out our great article series on the US National Parks for top outfit choices for those areas.
What to Wear on an RV Trip
One thing die-hard RVer's know (and newbies fear), is being either too hot or too cold with the clothing choices you've made can be a serious damper on your fun holiday. But when you pack the right things, you'll be able to compensate for hot or cooler moments during your trip. 
Here is a packing list for a 10-day RV trip:
Clothes:
Shoes:
Your RV outfits should be versatile, packable, uber comfortable, and of course—easy to wash on the go. 
Let's get into more detail on how to dress comfy, yet cute for your RV adventure!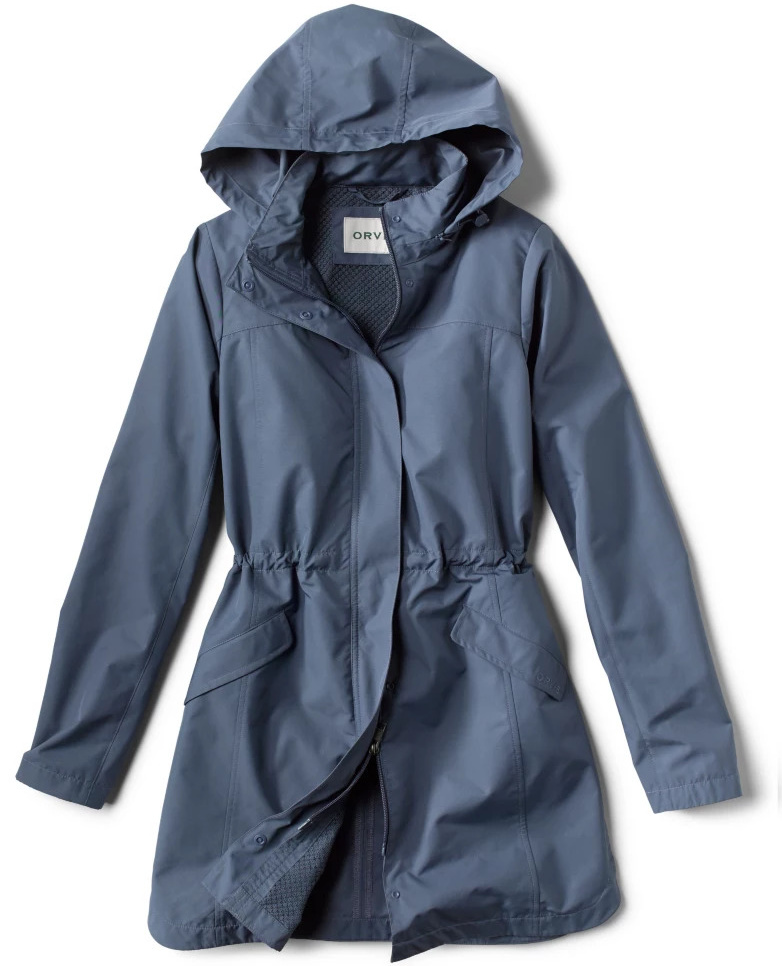 Shop Orvis Pack-and-Go Jacket: Amazon | Orvis (Sizes XS-XL)
Rain Jacket
The weather can be unpredictable, but for an RV trip, you do want to pack at least one jacket. If you choose a good rain jacket, you can layer underneath if it's also cold. The Orvis Pack-and-Go jacket folds down into a super small bundle that shouldn't take up a ton of precious space but will keep you warm and dry if showers hit.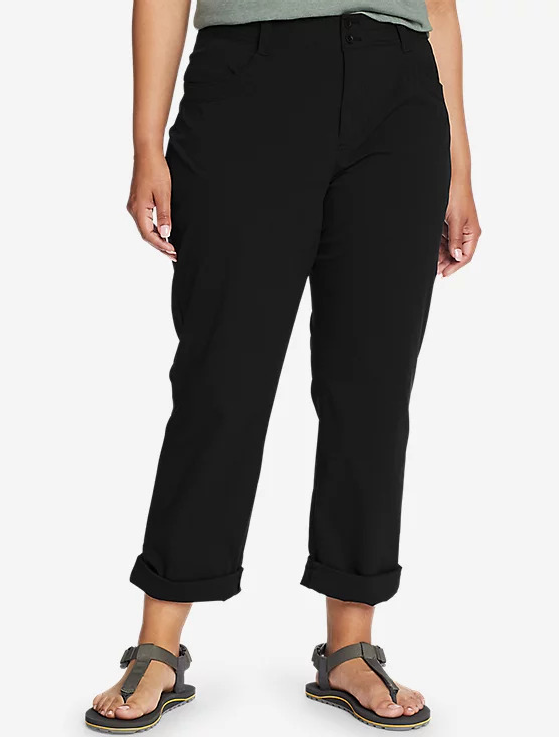 Shop Eddie Bauer Convertible Pants: Amazon | Eddie Bauer
(Sizes Regular 0-16 | Petite 0-14 | Tall 6-18 | Plus 18W-24W)
Pants
An RV trip is not the time to wear your tightest skinny jeans! However, comfy pants like these Eddie Bauer sightscape convertible pants are great for an RV trip. They're light and stretchy, with pockets in the front and back. These come in a neutral shade that you can coordinate your tops around, and you can dress up a little slip ons for any RV look.
Check out the best packable rain jackets for more ideas!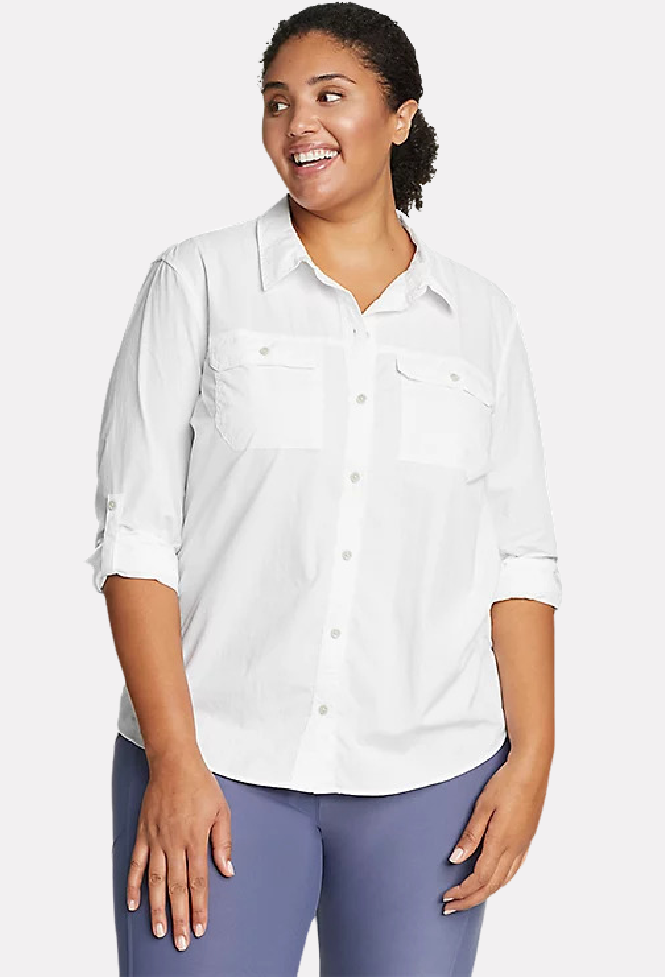 Shop Eddie Bauer Long-Sleeve: Amazon | Eddie Bauer
(Sizes Regular XS-XXL | Petite S-L | Tall M-XXL | Plus 2X-3X)
Tops
When choosing tops, go for something that's moisture-wicking. This technology used to mainly be found in sportswear, but you can now get a great range of more fashion-forward choices in moisture-wicking materials. 
A long sleeve will protect you from the sun on a hot clear day, (find one with UPF too!). The Eddie Bauer long sleeve shirt will be comfortable enough for all your RVing activities, plus you can layer it on a cooler day too.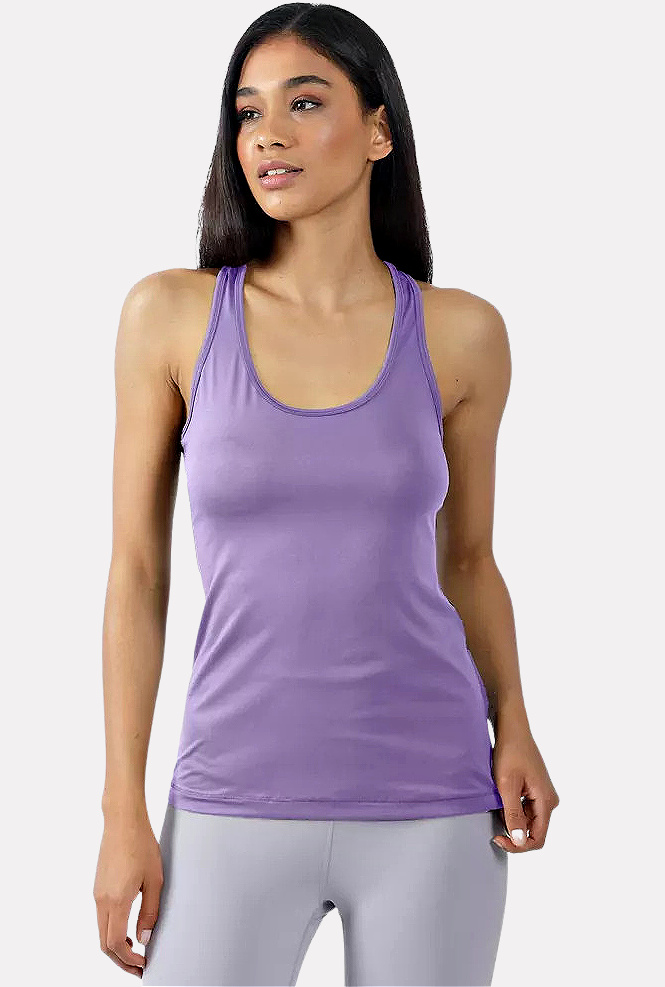 Shop Yogalicious Racerback Tank Top: Amazon | Target (Sizes XS-L)
A great tank option is this Yogalicious racerback tank. It feels super luxurious (and we love the range of colors available). It's a stretchy polyester/spandex blend that feels like a second skin so you'll feel so free to move, drive, walk, and more. You can team it with pull-on pants, or leggings easily, plus it comes in a range of colors for you to find a travel capsule style.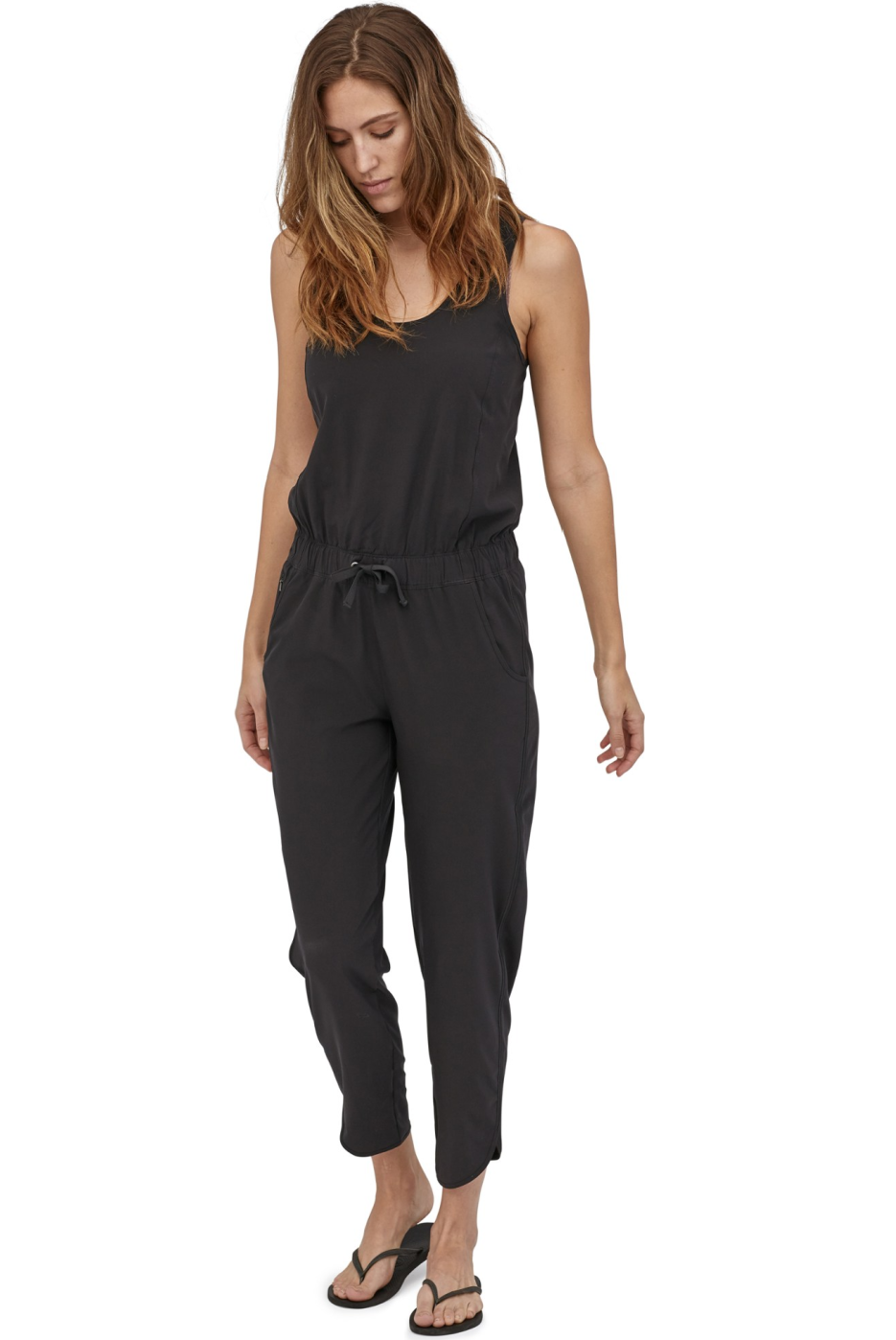 Shop Patagonia Jumpsuit: Dick's Sporting Goods | Backcountry | REI (Sizes XS-XL)
Jumpsuit
A jumpsuit might not sound the most practical of wardrobe items, but you get the whole outfit from one piece of clothing. This Patagonia jumpsuit is flexible to wear too, from hiking to seeing the city sights. Plus it has great UPF levels so you can wear it knowing you're protected from the rays too.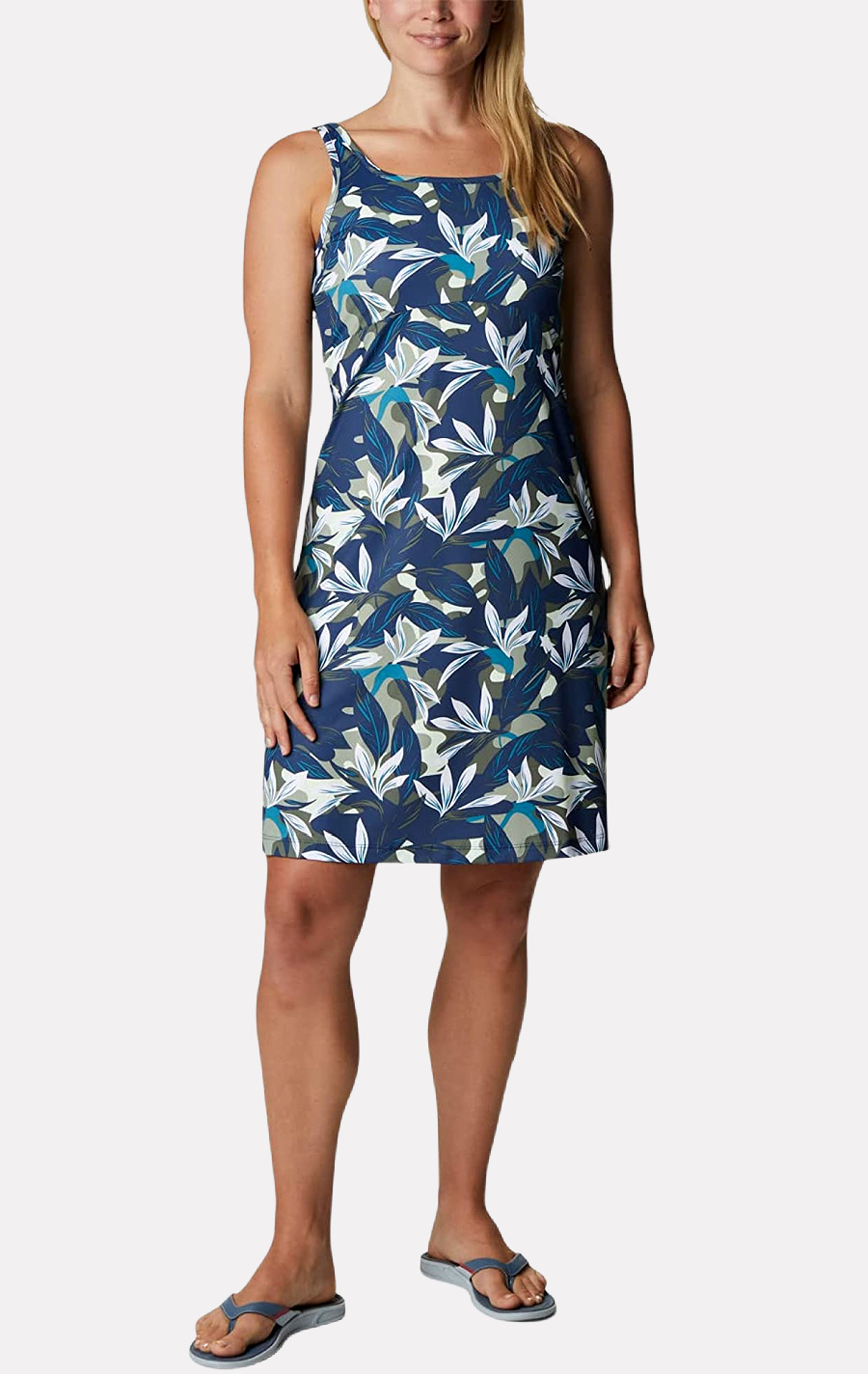 Shop Columbia Freezer III Dress: Amazon | Zappos | Dick's Sporting Goods | Columbia
(Sizes Regular XS-XXL | Plus 1X-3X)
Dress
You won't be casual all the time so why not don a cute dress that's also practical? This Columbia Freezer dress should be included on that list! It makes an awesome all-around dress due to the UPF 30 protection and fabric that pulls away moisture from the body.
Great for RVing as it packs light. It also has a zip security pocket to keep a phone or cards in place and comes in gorgeous colors and a range of sizes (XS-3X).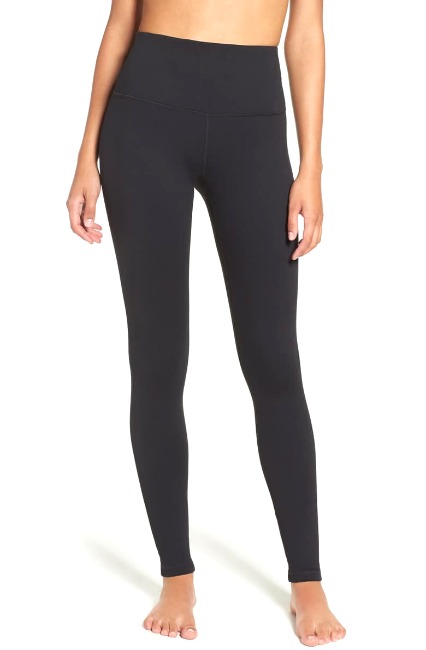 Shop Sizes XXS-XXL: Zella Live In High Waist Leggings
Leggings
The  Zella Live In Leggings are great! Our readers rave about them for travel, for wearing under a tunic or for an airplane look, but they also work great for an athleisure style when RVing. The comfortable waistband won't dig in as you're sat for long hours driving, plus they can be worn for hiking, sleeping, or just lounging around the RV. 
The best leggings for travel could expand your RV list!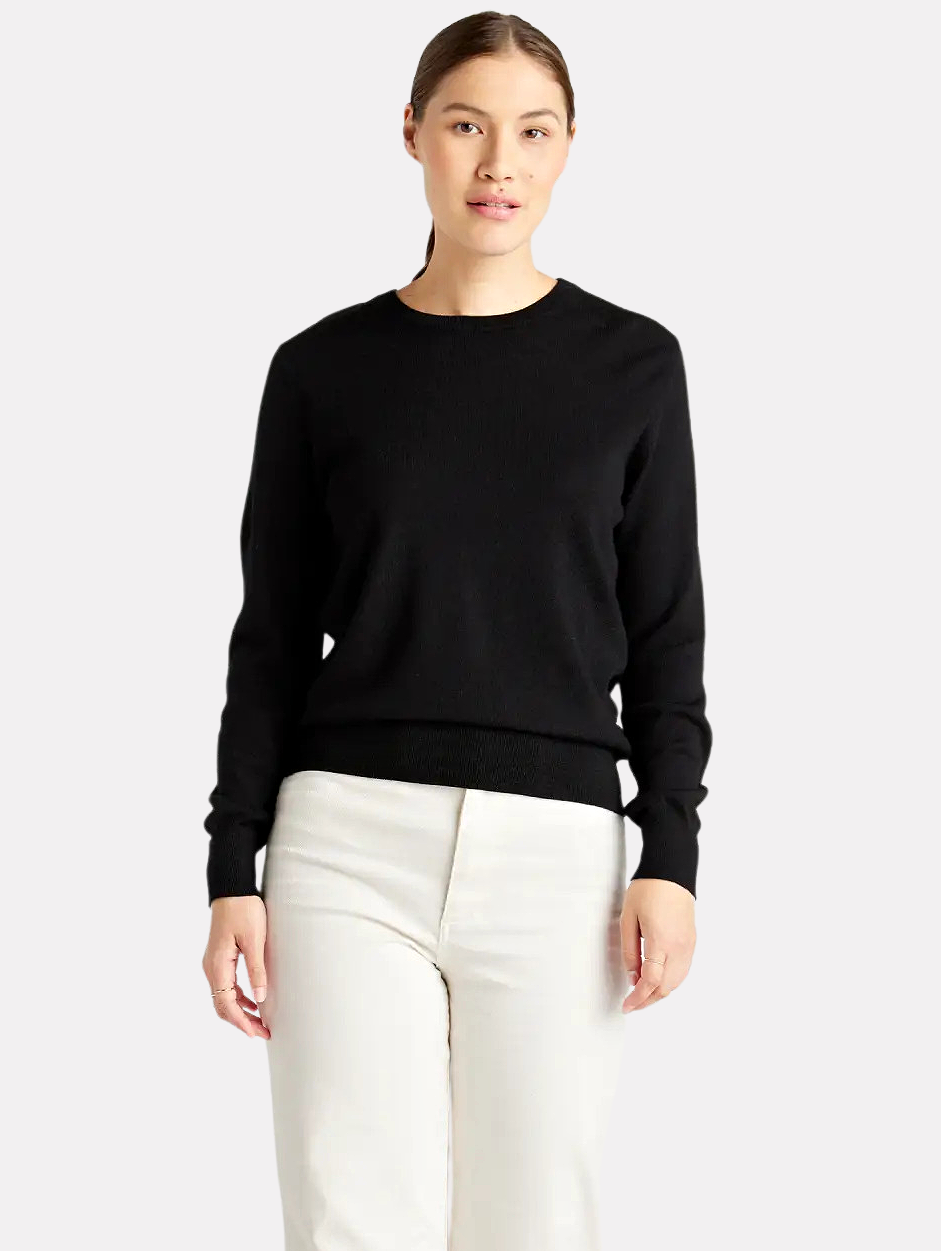 Shop XS-XL: Quince Merino Wool Sweater
Merino Wool Sweater
We love the Quince Australian merino wool sweater, it's always been a huge TFG reader's favorite for travel due to its versatility. It looks great, keeps you warm if temperatures drop at night, and you can go for days without washing it and it won't retain odors. So this also would work for an RV trip too!
What Are the Best Shoes for Rving?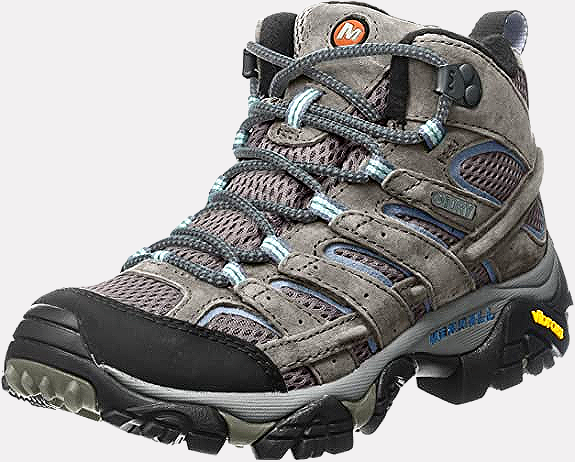 Merrell Moab 2 Mid-Hiking Boot
Shoes can take up a ton of space when packing, so you want to bring as few pairs as possible. Think back to what you NEED, like hiking shoes/boots, if you're hitting the trails, you might need sneakers instead if your trip is more likely to consist of towns and cities.
Then you should also bring a pair of easy to slip on shoes—in the summer, something like flip-flops or sliders, and in the spring, a pair of UGGs would be great. 
Why slip-on shoes? Because when you're RVing, you transition from indoors to outdoors a lot, whether it be to utilize the outdoor space as an additional living area, to head out for food at a rest stop, or simply to admire the view as you drive along the road. 
So if (like me) you opt for comfort and bare/socked feet inside the RV—and why wouldn't you, you don't want to be trailing in the dirt to your temporary home—you want shoes that are easy to slip on in a moment's notice if you stop for gas or at a diner along the way.

Shop Clarks Breeze Sea: Amazon | Kohl's | Zappos | Clarks
We love Clarks flip flops, they are super comfy and the contour curve in the instep is just enough to be supportive, in a cushy way. As a bonus, the strap is adjustable making them ideal for a range of food widths and also a little fancier than standard flip flops, and they come in a ton of cute colors. They're great for throwing on at a moment's notice when you spot an Instagram-worthy view from the RV that you need to take a picture of!
They're also cute enough to pair with a dress if you plan on a dinner or head into town sightseeing.
These are the most comfortable shoes for travel!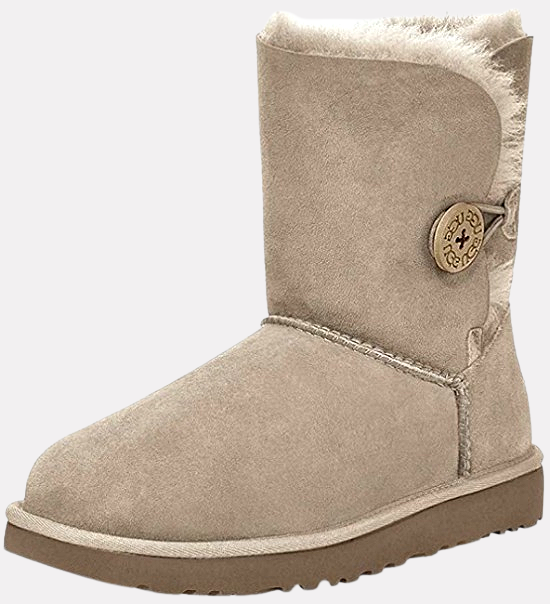 Shop UGG Bailey Button II Boot: Amazon | Nordstrom | Zappos
On RV campgrounds, the temperature can drop, so UGGs make the perfect slip on for these occasions. These Bailey UGGs have the traditional fluffy sheepskin lining that keeps you toasty. They are stain and water-resistant, so the morning dew or evening chill around your RV camping site won't be an issue if you're wearing these!
What Is the Best Luggage for an RV Trip?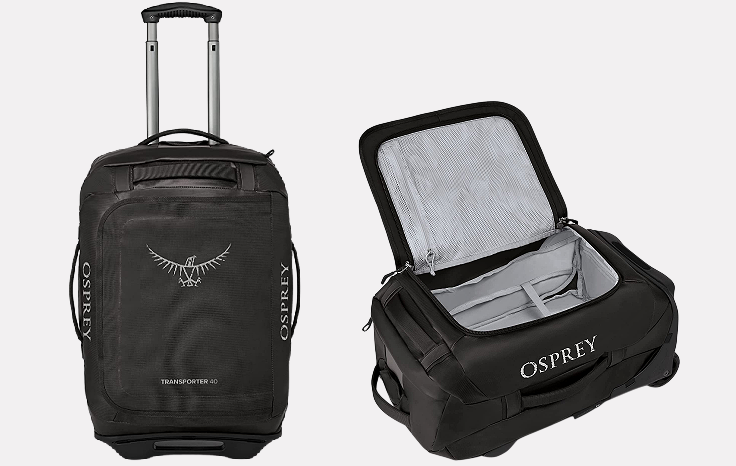 Shop Osprey Transporter: Amazon | Osprey
Wheeled Duffle Bag
If you're taking an RV rental from home, it's much easier to pack up without thinking about storing a suitcase in the RV too, but often you fly to a destination and collect an RV once you're there—so this brings up another issue, luggage!
For an RV trip, I'd say that hard shell luggage is a definite NO! Once unpacked, you don't want to be tripping over it, and there simply might not be enough room to keep it inside the vehicle with you. 
Samsonite bags are well known for their durability, and this Osprey Transporter has wheels which makes it a good option if you are flying and then RVing as you can pull it through the airport with ease!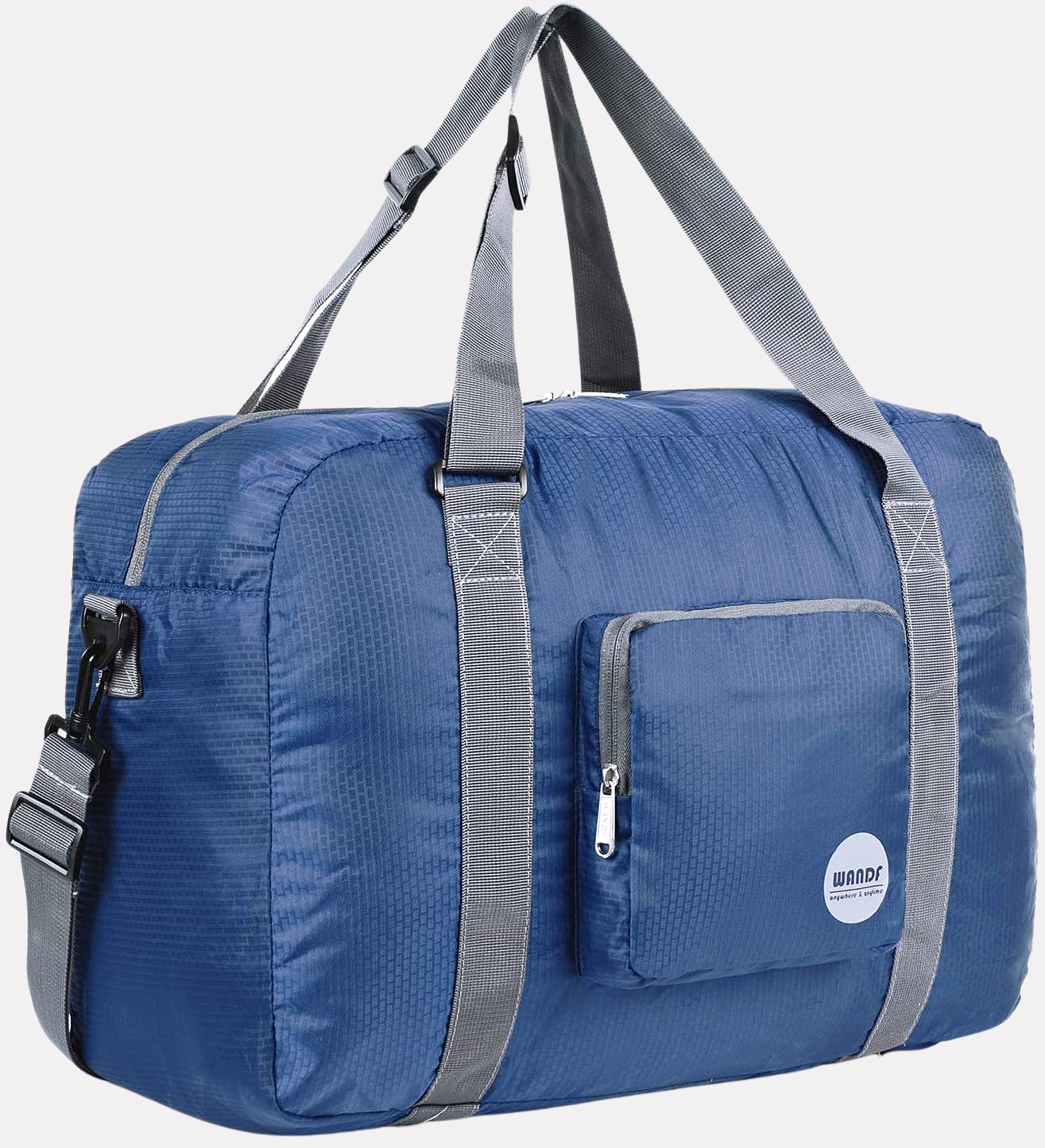 Packable Duffle Bag
A soft duffle bag without wheels or a folding suitcase is another good option, as once you are unpacked, you can fold it into a small bundle and have more chance of storing it away without tripping over it for the rest of your vacay. 
The Wandf Packable Duffle Bag is a versatile duffle that has a ton of pockets to help you get organized. Its size will help you to remain focused when packing as when it's full, you know you can't add more! Plus, at the bargain price point and with the bold and modern color varieties, you can easily get a different color for each family member so you can see in an instant whose things belong to whom!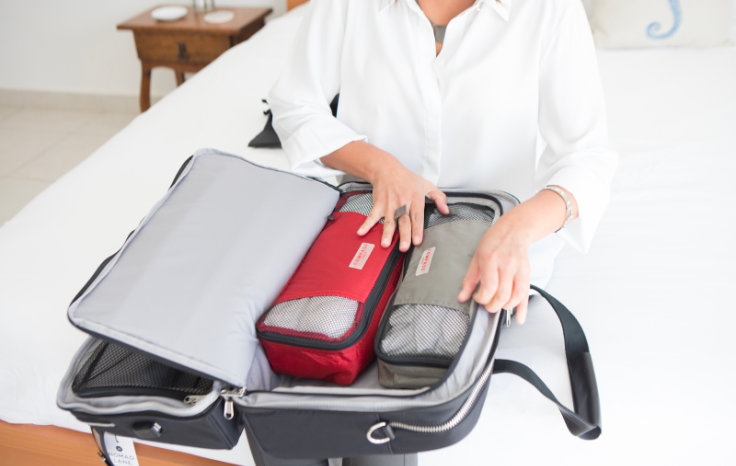 Use Packing Cubes to Stay Organized
You can also sort your RV style using packing cubes for easy to organize garment storage. Compass Rose packing cubes are color-coded and numbered, so you know exactly where everything is! Try organizing by underwear in one cube, tops in another, and bottoms in a third. Or you could pack by day and put a full outfit into each cube.  
See the full list of wheeled duffle bags!
Toiletries
When traveling in an RV, you'll need some of the standard, essential toiletries, including: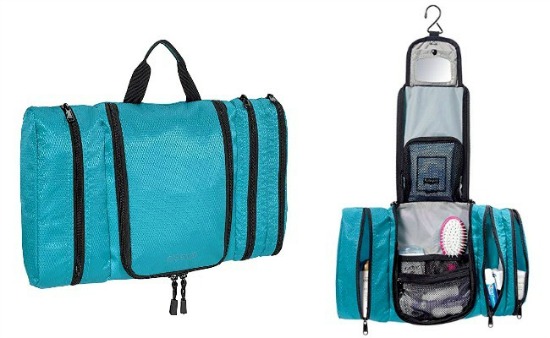 Shop eBags Pack-it-Flat Hanging Toiletry Kit: Amazon | ebags
Hanging Toiletry Bag
Pack your toiletries into a hanging toiletry bag so you can economize on space. The slim eBags designed bag takes up less space than a pair of jeans and stays flat, while having several compartments for your beauty odds and ends!
What Should I NOT Pack for an RV Vacation?
If you take an RV from home, it can be tempting to throw in an odd extra pair of shoes or an extra jumper for "just in case". However, an RV closet space is tiny—much smaller than in a hotel, so even though there may be no airline luggage restrictions if you don't need to fly, you still need to resist overpacking. 
You can maybe avoid packing pajamas, instead, use a pair of sports leggings that are comfy enough to wear during the ride and could also be used for hiking on a warm day too.
Although you may be thinking PJs are super comfy, the beauty of being on an RV trip is seeing the delights of nature and country surrounding you, and you never know when you may spot a view or a landmark by the side of the road that warrants pulling over to snap a quick picture with it for your vacation memories. You want to be wearing an outfit that feels as good for pictures as it will for traveling.
Extra RV Travel Tips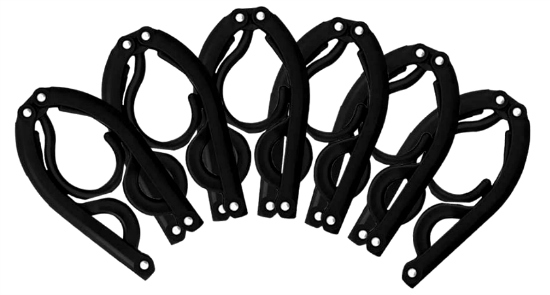 Shop Trubetter Folding Travel Hangers: Amazon | Walmart
If you're in an RV, the chances are your space to hang clothes is limited. You can fit more in though if you have hangers that are slim. These folding hangers are great as they open as wide as you need them (in case your closet is not full standard depth).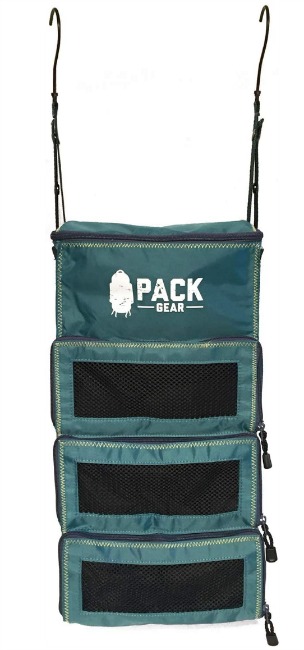 Pack Gear Portable Luggage Organizer
You might also consider using a folding organizer like this Pack Gear portable one. Similar to using packing cubes, this lightweight organizer can hang over a doorway in your RV to give you extra storage room. You can pack all of your stuff inside at home, and then put the whole thing in your luggage, so when you arrive at your RV you can just pull it out and you're already unpacked! 
You may want to split it with a partner too, with you having a pocket each for small bits and pieces, like underwear, bottom layers, or accessories, like scarves or wool hats.
---
What are your tips on how to pack when RVing? Share and comment below!
---
For more tips on road trips, please read:
Suggested travel resources:
---
LIKE THIS POST? PIN THIS PIC TO SAVE IT!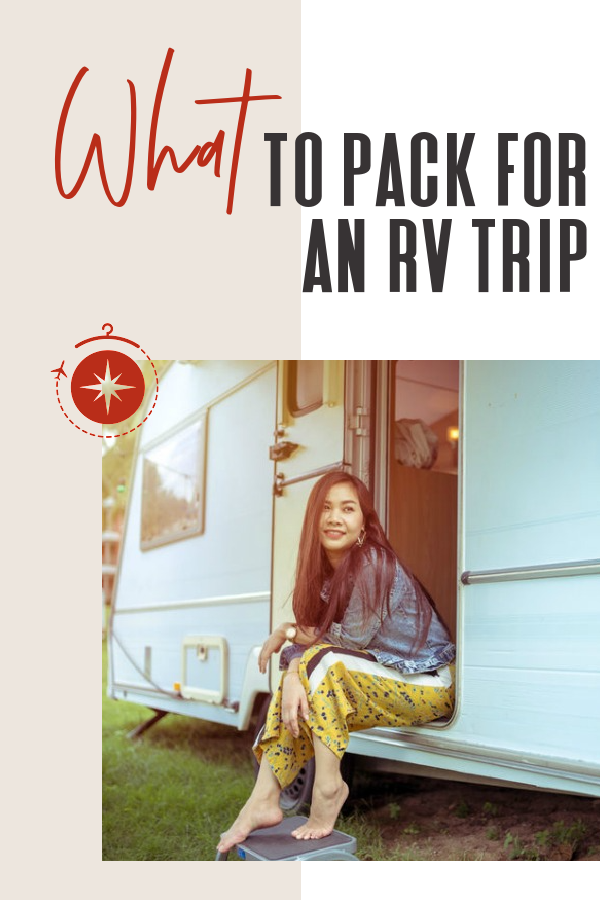 ---
We hope you found this post on what to wear on an RV trip helpful. Please share with your friends on Facebook, Twitter, and Pinterest. Thanks for reading!
---