Support TFG by using the links in our articles to shop. We receive a small commission (at no extra cost to you) so we can continue to create helpful free content. As an Amazon Associate, we earn from qualifying purchases made on Amazon in addition to other retailers featured on the blog. Thank you, we appreciate your support!
One of the reasons why Travel Fashion Girl is an invaluable resource for you is that you can always count on learning from others' mistakes. In fact, TFG is comprised of 6 years of lessons learned while traveling in my quest to find lightweight luggage solutions. Learn from my expensive luggage lessons as I uncover the best suitcase for me. Will it be a rolling duffle bag? Find out!
---
Rolling Duffle Bags
---
Let me make the mistakes for you – especially when they're expensive. In this case, my mistake was spending almost $300 on a suitcase that just wasn't the right fit for me. Ouch!
When I purchased my new Osprey Meridian 22 this year, I delved into unchartered territory: wheeled luggage. I am a backpacker and have been since 2008. However, my increasing back problems have caused me to hand in my backpacker "badge" and get a set of wheels.
I've been absolutely miserable with this bag! The problem doesn't lie with the bag itself – it's a terrific bag for someone without back problems that can actually take advantage of the backpack straps.
Why I have issues finding the perfect bag
The problem lies with the type of traveling I do and the tough terrain in which I cross. It's hard to find the right travel bag to meet my needs. A backpack really is perfect for my type of traveling.
After we created the Guide to Choosing a Suitcase based on expert travelers' opinions (not mine as suitcases are not my cup of tea) I realized where I went wrong. I followed the tips we received in order to create the guide and now I think I know what I really need:
I need a rolling duffle bag
I don't need a backpack with wheels as I can't carry it anyway but I need a bag that's easy to lift when crossing rivers, climbing up ferry steps, or when confronted with massive potholes on the sidewalks. Rolling duffle bags are the perfect solution!
These are the characteristics that are important for me as a long term traveler with back problems:
STRONG wheels
Lightweight (around 5lb ideally)
Shoulder strap
Carry-on size
40 Liters or about 2000ci capacity
Organizational pockets not necessary (I love my own packing organizers!)
Prefer easy to clean nylon or synthetic material as opposed to canvas or fabric
Soft bag preferred
Price tag under $350 (I travel 365 days a year I'm okay with an investment piece)
Use a capsule wardrobe to pack light but create many outfits which can easily fit into your luggage with the help of packing cubes to compress your clothing!
After racking my brain and obsessing over which bag to buy, I thought I'd share my research with you. Which of these wheeled duffle bags would you choose?
16 Wheeled Duffle Bags: Which would you choose?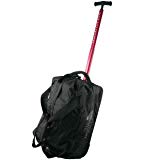 The North Face Wayfinder 19″ Travel Bag
High Sierra Carry On Expandable Wheeled Duffel
Kipling Madison Wheeled Luggage
Samsonite Luggage Andante Wheeled Duffel
LeSportsac Luggage Rolling Duffle
eBags Mother Lode Wheeled Duffel
eBags eTech Mother Lode Wheeled Duffel
Rockland Luggage 22 Inch Rolling Duffle Bag

Wheeled Equipment Duffel
Travelpro Maxlite Rolling Duffel
Tough Traveler Wheeled Prestige
OGIO Business and Luggage Ascender
Bric's Luggage Carry On Rolling Duffle
Piel Leather Soft Carry-On Wheeler
Vera Bradley Grand Traveler
Osprey Ozone 22″ Wheeled Luggage
---
After careful consideration, I purchased the Osprey Ozone and absolutely love it! It's not a duffle but it's super lightweight and spacious too. 
Which of these rolling duffle bags would you choose?
---
For more luggage ideas, please read:
---
I hope you liked my picks for rolling duffle bags. Please share them with your friends on Facebook, Twitter, and Pinterest. Thanks for reading!
---