Support TFG by using the links in our articles to shop. We receive a small commission (at no extra cost to you) so we can continue to create helpful free content. As an Amazon Associate, we earn from qualifying purchases made on Amazon in addition to other retailers featured on the blog. Thank you, we appreciate your support!
Trying to pack your makeup for a trip but can't decide what to take or what to leave behind? Don't worry, we've got some great tips on choosing essentials for a capsule makeup collection!
---
Capsule Makeup Collection
---
Table Of Contents
It happens to the best of us—if you're a makeup hoarder, chances are that your collection is bursting with everything from foundations and blushes to eye shadow palettes and lip kits that you might not reach for that often. But, stripping down to the key items you always count can help keep clutter to a minimum.
We've listed a few high-quality essentials for you to keep in your makeup collection. These absolute must-haves will make your everyday routine simpler and keep your travel kit easier to manage.
From face products to luxurious lipsticks, no more digging through your makeup bag to find your favorites—we've got you covered!
Check out our ultimate guide to travel makeup!
Capsule Makeup Collection Essentials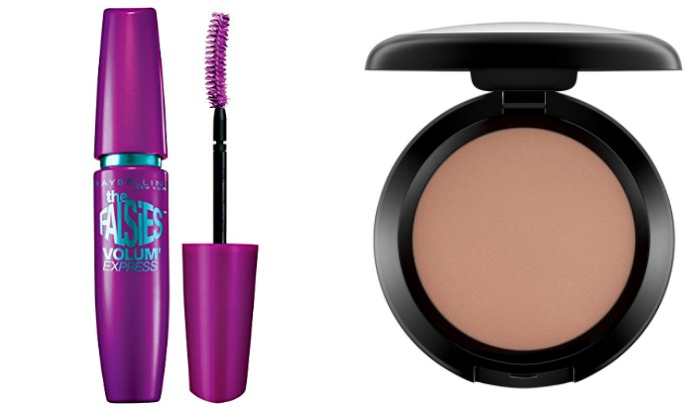 Maybelline Mascara | Mac Powder Blush
Start a Capsule Makeup Collection with Your Faves
This is a very personal step. To figure out what your essentials are, make a list of every product you absolutely can't do without. Include key components to your everyday makeup routine.
Some people may wear a different lipstick every day or choose to skip out on wearing foundation on a daily basis. What you write down is up to you to determine! Being critical in this stage will help define your end goal.
Ask yourself how you want to look at the end of your purge. Are you going for an easy everyday makeup routine or do you love to play with different colors and looks?
If you find it difficult to toss your makeup, start by letting go of products that have already expired.
These are the beauty products to buy when traveling to Europe!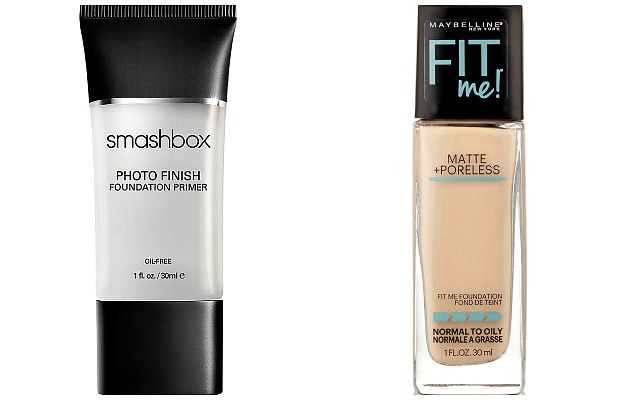 Smashbox Photo Finish Primer I Maybelline's Fit Me! Matte + Poreless
Add Full-face Essentials to Your Minimalist Makeup Kit
The top products you need in your base arsenal are usually primer, foundation, concealer, and powder. However, if your skin is dry, skip out on powder altogether.
If you have large pores, use a smoothing primer like this one by Smashbox to fill them in, particularly around your nose and cheeks. This step will help keep your makeup on for hours, especially on long travel or work days.
If your skin is on the oily side, coverage from a foundation like Maybelline's Fit Me! Foundation will keep shine to a minimum!
Read these tips on the best passport photo makeup!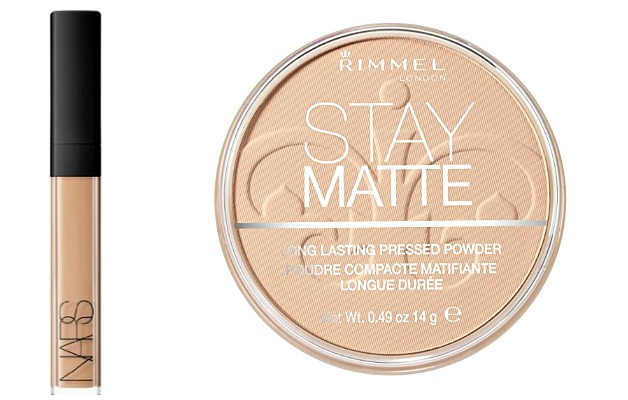 NARS Radiant Creamy Concealer I Rimmel Stay Matte Pressed Powder
Foundation is fairly versatile—it can sometimes double as concealer or it can be thinned out with moisturizer and used as a BB cream to use during the day. But, if you have dark circles under your eyes, you'll need to use a correcting concealer like this one from NARS to cancel out discoloration.
if you prefer to stay minimal with your base, skip foundation altogether and just go for concealer around problematic areas with a light power to set it, like this one by Stay Matte. 
One of the best ways to minimize travel makeup is to choose multi-use products!

L.A Girl Eyeshadow  I Lorac Pro Eyeshadow
For Your Beauty Capsule, Basic Eye Colors Rock it
Let's be honest—we really don't need to own 10+ eyeshadow palettes and crazy-colored eyeliners. You can go ahead and toss most of your brighter-colored eye shadow. Less is definitely more, so go for quality, not quantity, when it comes to making your eyes pop.
All you need are two palettes: one that is all matte with neutral shades like this one by L.A. Girl,  and another with pops of shimmer like this one by LORAC. With so many shade options between them, you can still get away with using these on a daily basis.
Looking to try earth-friendly makeup? Here are our favorite natural beauty products!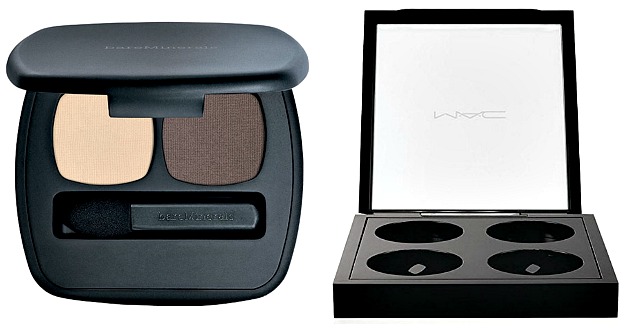 bareMinerals READY Eyeshadow I MAC Pro Palette
Once you figure out your absolute go-to shades, pair down to just two-four color palettes. Choose a neutral compact like the one by BareMinerals shown above.
You can even build your own eyeshadow palette using DIY tutorials like this one. Personally, I like using MAC empty eyeshadow palettes, which allow you to mix and match your favorite shades. I currently travel with a set of four, but ideally, I'd prefer to take only two.
Check out our top five functional and cute travel cosmetic bags!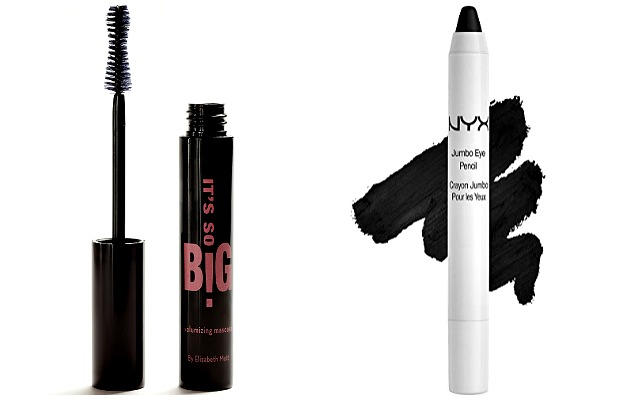 It's So Big Mascara I NYX Jumbo Eye Pencil
Finding the right mascara and eyeliner should be easy: go for what never lets you down, rain or shine. A mascara like Elizabeth Mott's It's So Big lifts and adds volume and is a fail-proof addition to even the most minimalist capsule makeup collection. (Tip: Our readers also swear by this waterproof mascara!)
Whether you love a natural tight line effect or a cat eye, to achieve a perfect look every time, use either a gel liner or pencil like this one by NYX.
Lastly, if your eyebrows are troublesome, stick with a brow pencil for everyday use and keep them looking sharp with these tips on the best eyebrow makeup!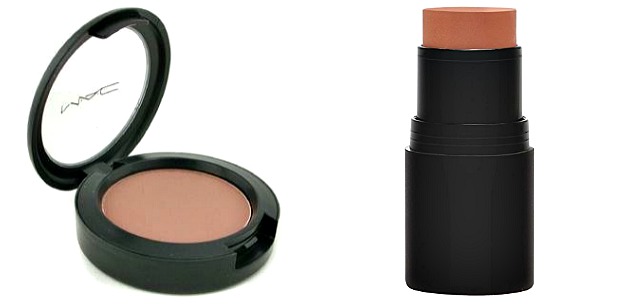 MAC Blush Powder I NARS The Multiple Stick
We Love Blush in Our On the Go Makeup Kit
If you love to contour like an Instagram model, you can get away with sneaking in a versatile kit for special occasions. However, a natural rose blush and highlight is all you need for glowing cheeks. If you prefer to add some color to your skin, use your favorite bronzer with a matte finish that will last all day.
Your blush should be a toned-down hue—think a muted rose shade that can work for both day and evening looks. One matte blush is all you need for the perfect flushed cheek. The above combo is one that we can't live without—it includes our favorites, NARS, the Multiple and MAC's skin-tone friendly Harmony blush!
Add a highlighter like this incredible one from Benefit and you're set to conquer your day! If you don't have a highlighter handy, you can also get away with using a shimmer champagne eyeshadow in its place. Use it on your cheekbones and down the bridge of your nose for an ethereal glow.
Hunting for more great products? Here are travel beauty products every jetsetter should own!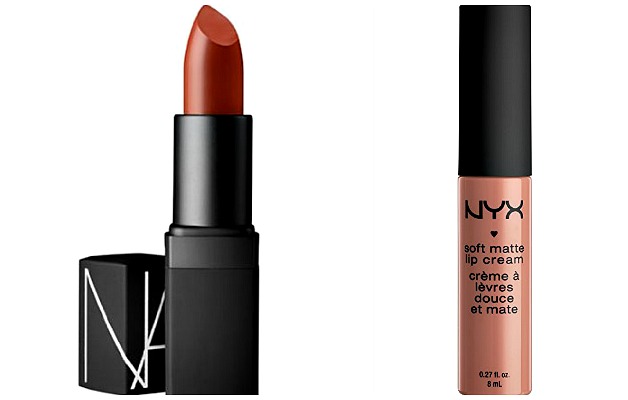 NARS Semi-Matte Lipstick I NYX Soft Matte Lip Cream
Add Lips to Finalize Your Capsule Makeup Collection
Lip products are very personal; some ladies love to wear a bold lip every day, while others can get away with using a tinted lip balm. What do you love using on an everyday basis?
Your lipsticks should have a cream or semi-matte formula for an opaque and comfortable look, like the NARS and NYX products shown above. Go for shades that naturally flatter your skin tone, whether it's a rich berry or a neutral pink-nude.
A lip liner is optional if you want your color to last a bit longer. We recommend this liner by Urban Decay which claims to last 24/7. So far, we love it!
Skip out on gloss if you've picked out a cream finish lipstick—its effects will only last a few hours.
Check out these clever travel makeup hacks!
Product Comparison Chart
| MODEL | BRAND | RATING | PRICE |
| --- | --- | --- |
| | Maybelline Mascara | Check Price |
| | Mac Powder Blush | Check Price |
| | Smashbox Photo Finish Primer | Check Price |
| | Maybelline's Fit Me! Matte + Poreless | Check Price |
| | NARS Radiant Creamy Concealer | Check Price |
| | Rimmel Stay Matte Pressed Powder | Check Price |
| | L.A Girl Eyeshadow | Check Price |
| | Lorac Pro Eyeshadow | Check Price |
| | bareMinerals READY Eyeshadow | Check Price |
| | MAC Pro Palette | Check Price |
| | It's So Big Mascara | Check Price |
| | NYX Jumbo Eye Pencil | Check Price |
| | MAC Blush Powder | Check Price |
| | NARS The Multiple Stick | Check Price |
| | NARS Semi-Matte Lipstick | Check Price |
| | NYX Soft Matte Lip Cream | Check Price |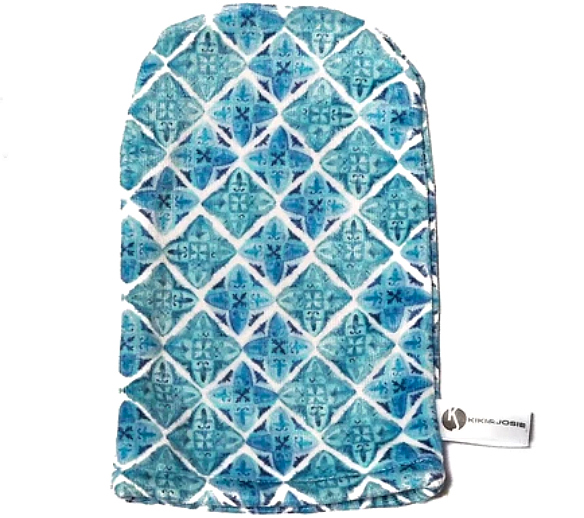 Editor's Top Pick: Liquid-free Makeup Remover Glove
The Makeup Remover Glove from Kiki&Josie has become part of my daily routine at home and while traveling, especially as I'm slightly obsessed with eye lash extensions! I find it easier to clean my face thoroughly while still protecting my eye lashes.
I love the pretty designs from this brand, which also help you know which is the "soft" side to use to wipe your skin. The Moroccan Blue design is my fave!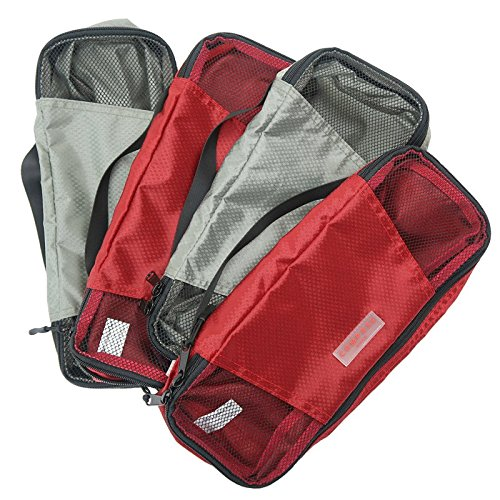 How to Pack a Makeup Travel Kit
When it comes time to pack your makeup, you'll want to consider a makeup bag to keep it separate and neat in your luggage. Consider a small cosmetic bag  like this one from Ms. J.that can fit easily into your toiletry bag.
You also can wrap your makeup bag in clothing and add to your packing cube in your suitcase to better protect it. Even if you travel carry-on only, your bag may be put into an overhead bin, under a seat, or hauled up flights of stairs. You don't want to break your products.
You'll want to look your best when you travel! Read my travel tips to Pack Light Stylishly!
Only pack what you think you really will need and use. Watch the video above for tips on how to downsize your beauty products.
However, if something does happen to your makeup or beauty supplies, if you forget something, or if you need something, you can buy products at your destination.
Get our free printable makeup checklist here!
---
There you have it! The products you constantly use, repurchase, and can't live without will help you put together your perfect capsule makeup kit.
What are your tips for creating a capsule makeup collection? Comment below!
---
For more travel makeup suggestions, please read:
---
LIKED THIS POST? PIN THIS PIC TO SAVE IT!
---
I hope you liked this post on essentials for a capsule makeup collection. Please share it with your friends on Facebook, Twitter, and Pinterest. Thanks for reading!
---