Support TFG by using the links in our articles to shop. We receive a small commission (at no extra cost to you) so we can continue to create helpful free content. Thank you, we appreciate it!
The white t-shirt. It's a wardrobe staple for every woman, regardless of her style or age. We asked our readers to share their recommendations for the best white t-shirt for travel. These are their top picks!
---
Best White T-Shirt
---
Travel Fashion Girl help! A reader asks:
Hi girls, I wanted to ask about the best white t-shirt styles for travel. I love them, they're flattering, and they're great for staying cool in summer. However, they can be a pain because they get dirty easily, have to be washed more regularly, and can end up looking bad if they turn off-white due to extensive use and improper care. Has anyone found a fabulous white tee that stands up to travel and wear?
Just about every woman has likely asked this question. White t-shirts are classic, and a capsule wardrobe staple. They're comfortable, stylish, and match with any outfit. However, they can also look sloppy if they're wrinkled, torn, or stained.
In an attempt to find the perfect white tee, we checked out what our readers recommended. These styles won their vote for the best white t-shirt for women:
Eddie Bauer Favorite Tee
Lands End Cotton Crewneck
Under Armour Threadborne Train V-Neck
Athleta Daily Tee 2.0
J. Crew New Perfect Fit T-Shirt
Adea Modal Tee
Which one will you choose? Take a look at what our readers said below:
Favorite Short-Sleeve V-Neck T-Shirt
Eddie Bauer Favorite Tee
Eddie Bauer's tees are called the Favorite T-Shirt for good reason – they're many women's favorite tees! Made of a superior cotton, the tees are comfortable yet durable, standing up to multiple washes without pilling.
One reader said, "because it's a blend I think you could wash it and it dries fairly fast," which is music to any traveler's ears. Along with white, they're available in many other colors as well as style, such as crewneck and long-sleeve.
Shaped Cotton Crewneck T-shirt
Lands End Cotton Crewneck
Lands End is known for producing high-quality apparel, and this tee is no exception, making it one of the best white tees for travel. The cotton crewneck is cling-free, thanks to its ultra-fine ribs.
It's thin enough for layering, but thick enough to stand up to countless washes. This tee is especially regarded for its longer length, working for women of all heights.
As one reader shared, "Lands End makes great tall sizes (I'm 5'10"). Their tees are heavyweight 100% cotton and come in several cuts."
Under Armour Threadborne Train V-Neck
If you tend to get sweaty, go for a white t-shirt that offers greater breathability. Under Armour is well-known for its high-performance athletic apparel, but who says you can't use it for travel?
The Threadborne Siro fabric is ultra-soft and breathable with great stretch. Anti-odor technology prevents those sweat smells, and the fabric wicks sweat and moisture.
One reader raved about these white t-shirts, saying "wash them in the sink and they're dry by morning."
Athleta Daily Tee 2.0
We are huge fans of Athleta, and so are many of our readers. They provide the perfect balance of comfort and style. The cotton/polyester blend means it's breathable and feels super lightweight, making it comfortable enough for even the longest of flights.
This is definitely one of our favorite t-shirt brands. One reader who says she's a "huge fan" of these tees says, "they travel really well, are easy to wash, and dry quickly. I love them!" We second that.
J. Crew New Perfect Fit T-Shirt
J.Crew is known for its stylish yet classic fits and cuts. They also make a great basic white t-shirt that works well for travel. One reader said they "hold up forever," which is exactly what you need when country hopping.
We love that this tee offers slightly longer sleeves, which can be hard to find. The cotton fabric means it will keep you cool and be easy to wash. It's available in other neutral colors, such as black and grey. Layer them under a blouse or pair them with a bandana for pizzazz.
Adea Modal Tee
TFG's editor loves, loves, loves this white t-shirt! She loves the level of comfort and modest v-neck cut but her favorite part? The sleeves! They're slightly longer than the average tee allowing you to have a bit more coverage for a flattering fit around the upper arms.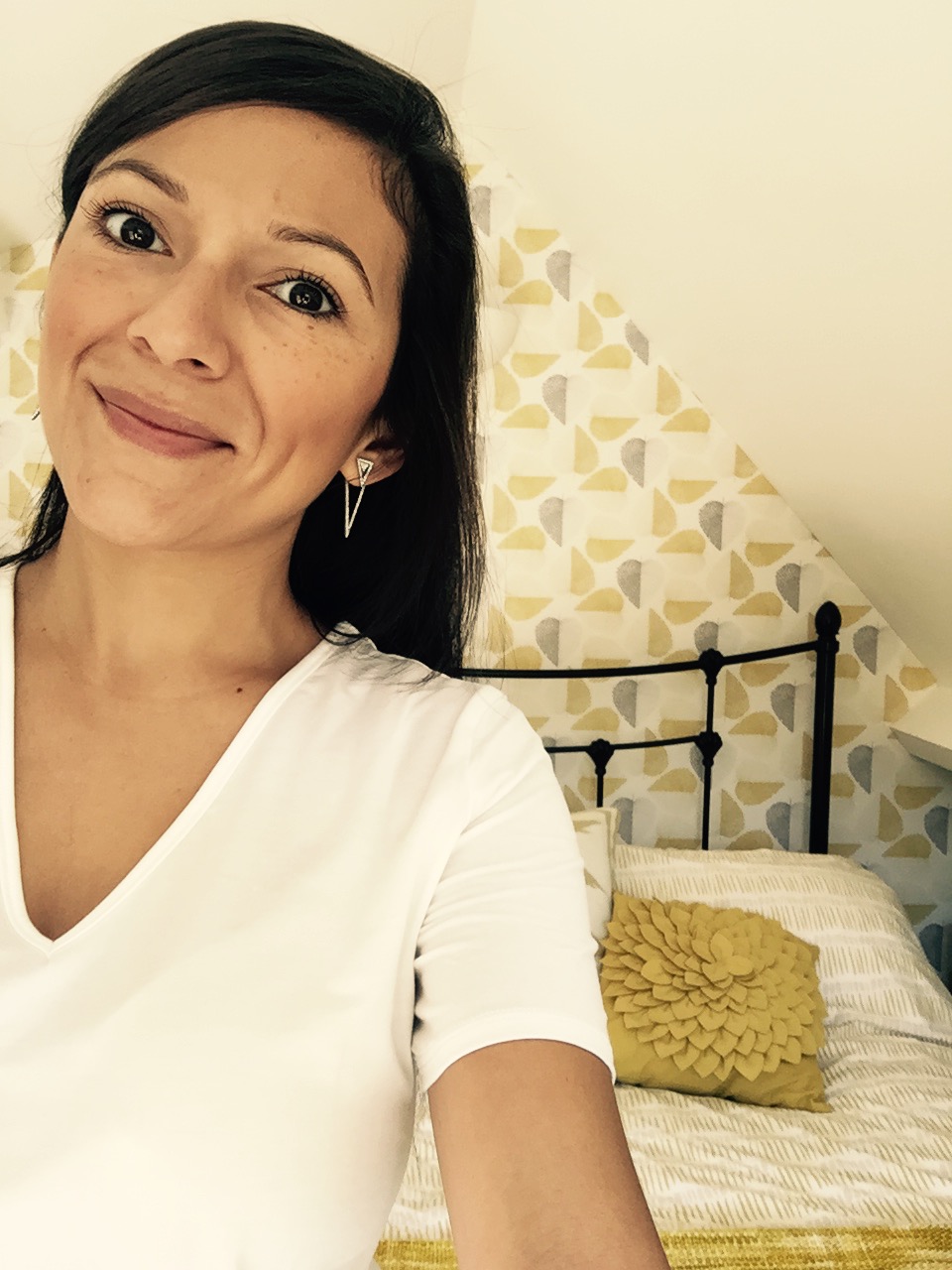 TFG's editor wearing Adea's Short Sleeve V-Neck Tee
This white tee is made from a super soft Italian modal blend, so it stretches easily and forms to your body without clinging. It's not see-through but we always recommend wearing nude bras underneath white clothing (not white bras). Size up for a comfy, yet tailored fit.
There's rarely a trip where TFG's editor goes without a piece from the brand Adea, which is why she ranks it as her best white t-shirt for travel. Read the full Adea's clothing review!
---
What are your favorite white t-shirts for travel? Share in the comments below!
---
For more tips on travel clothing for women, please read:
---
LIKED THIS POST? PIN THIS PIC TO SAVE IT!
---
We hope you liked this post on the best white t-shirt for travel. Please share it with your friends on Facebook, Twitter, or Pinterest. Thanks for reading!
---