Support TFG by using the links in our articles to shop. We receive a small commission (at no extra cost to you) so we can continue to create helpful free content. As an Amazon Associate, we earn from qualifying purchases made on Amazon in addition to other retailers featured on the blog. Thank you, we appreciate your support!
Heading on your first cruise? Unlike other travels, cruises require a few unique items on your packing list. Follow our guide to packing for your first cruise so you don't forget any of the essentials!
---
First Time Cruise Tips
---
Travel Fashion Girl help! A reader asks:
I'm going on my first cruise. Anything in particular I need to bring?
Cruises are a unique type of travel because you can't easily run to stores around the city to purchase any essentials you forgot to pack. Luckily, our readers are here to help. Here, they share tips on what to pack for your first cruise vacation.
Start by reading these general tips for packing for a cruise:
Nike Free Running Motion Flyknit Shoes
Sneakers
While many people head on a cruise to relax, there's only so much lounging by the pool you can do. One reader recommends to bring gym shoes "for working out to counterbalance the food!"
For minimal packing, take a pair of sneakers you can dress up for fashionable walking days. We love our Superga sneakers because we can walk in them for miles while looking cute.
A Dressy Outfit
Some cruises offer dressier dinner options in the formal dining room, so you'll want to be prepared with one outfit. One reader says, "Bring a fancy dress for 'formal night.'"
A versatile maxi dress that you can take from day to night is the best option for minimalist packers. Wear the dress during the day and transform it to formal wear with dressy sandals and jewelry.
Magnetic Hooks Stainless Steel
Magnetic Hooks
Unlike hotel rooms, most cabins on a cruise don't offer a lot of space for organizing your clothing and other essentials. Several readers recommended bringing magnetic or stick-on hooks.
One reader says, "I'm also going on my first cruise with Royal Caribbean in June. I've read that little magnetic hooks are good (since the walls are metal) for hanging things up in your room and reducing clutter," while another adds, "magnetic hooks are great for hanging up your wet bathing suit!"
Nightlight or Flashlight
When you're sharing a small room, turning on a light in the middle of the night can wake up your travel mate. Several readers recommended bringing a light to keep on hand for using the bathroom in the middle of the night.
One reader says, "bring a night light for the bathroom. Sometimes I use those little candle tea lights, too." Another reader adds, "I've never had a bathroom with an outlet for a night light so I bring a little flashlight and keep it on the nightstand."
Battery Alarm Clock
In case you can't rely on your phone, bring a small battery alarm clock if you like to wake up early for breakfast or morning activities. You can find pretty compact and lightweight clocks so they won't take up much room in your luggage.
One reader says, "I never sail without a battery alarm clock. I've found that in some sailing spots, cell phone times can be off by three to four hours."
Tide Pods Laundry Detergent Pacs
Laundry Detergent Pods
Traveling carry-on only or headed on a long-term cruise? One reader swears by laundry detergent so you can hand wash your clothing to keep them smelling and feeling fresh.
She says, "If you're traveling carry-on only, bring a couple of laundry pods or sheets so you can do the wash in your sink. There's no self-service laundry available on Royal Caribbean cruises."
Highlighter Pen
It may sound random, but one of the most commonly recommended items for what to pack for your first cruise is a highlighter pen. Keep one in your purse at all times for easy access and use.
One reader says, "Always bring a highlighter pen for the cruise schedule," while another adds, "use a highlighter to mark down which activities you want to do."
Belkin Surge Protector and Charger
Power Strip
Most cruise cabins have limited outlets, so if you use hair dryers or other tools that require power, readers commended bringing a power strip. There are small compact power strips that are easy and lightweight to pack.
One reader says, "I always bring a power strip for electronic charging in the room. There never seems to be enough plugs," while another says, "I bring a power strip because there are usually only two outlets in the cabin."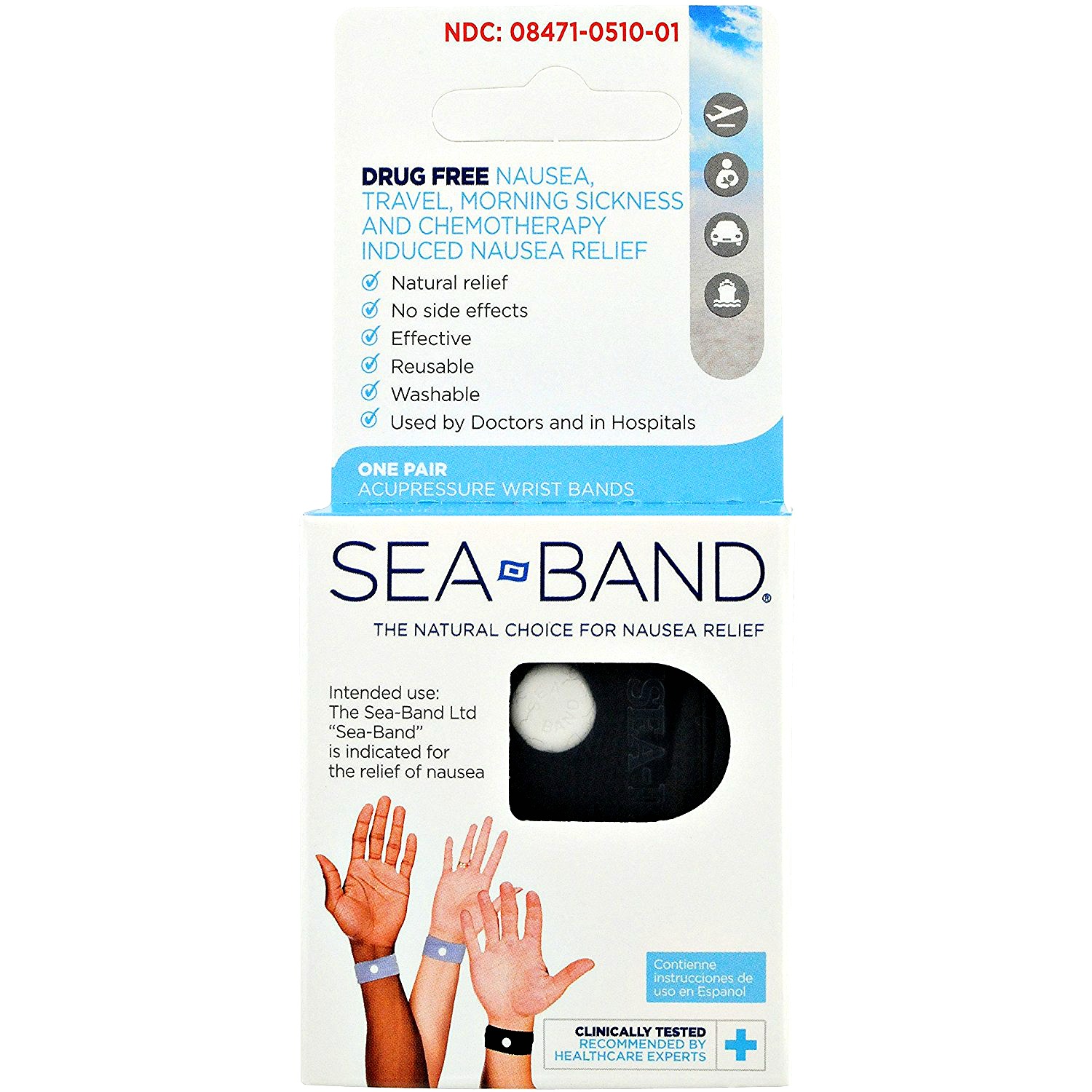 Motion Sickness Medicine
If you've never been on a boat before, you may consider packing motion sickness medicine. There's nothing worse than being sick on a cruise, especially on sailing days where you're at sea for more than 24 hours at a time.
One reader says, "Bring motion sickness medicine or one of the bracelets. You never know," while another reader adds, "I always take sea sickness patches. They're available at any CVS Minute Clinic. Each one lasts three days so you only need to pack a couple of them."
Mini Emergency Kit
Beyond sea sickness medicine, consider packing a miniature first aid kit with any emergency essentials you may need while on board the ship or on a day excursion, such as band aids, painkillers, and sunscreen.
A reader shares, "if you have certain meds you always take for minor illness, take a small amount of each. Make a small first aid kit for yourself, especially if you are going out of the country. I pack ibuprofen, tylenol, lomotil, gas X, Benadryl, topical antibiotic ointment, bandaids, sunscreen, and aloe. Yes, you might be able to locate this stuff on the ship or in port but why waste time and spend a lot of money on it?"
Shoe Organizer
Ask anyone who's traveled on a cruise and they'll tell you that space is limited in your cabin. Our readers have found several creative ways for dealing with this limited space, with one option being to pack a shoe organizer.
One reader says, "Bring an over-the-door shoe organizer with clear pockets. Since there is usually very little counter space in the room, these are great to hold all your things that can clutter the room, like lotion, hair spray, other toiletries, shoes, and underwear."
Lanyard
A lanyard might be one of the most random things to pack for your first cruise, but it will help you save time and money! On Royal Caribbean and similar cruises, you'll need a lanyard for your pass to get on and off the ship and into certain events.
A reader says, "bring a lanyard for your Seapass, otherwise you have to buy one," while another adds, "I'm also planning on bringing a lanyard for our Seapass. It's something I wouldn't normally bring on a trip."
Tote Bag
A tote bag is essential for days around the ship, excursions of the the boat, and other activities. We love the Longchamp Le Pliage because it's a durable, water-resistant nylon fabric that's easy to pack and carry around.
A reader says, "I found a small tote useful. In it I had my Kindle, small wallet with sea pass, daily activities newsletter, and sunscreen. You never know when you may find the perfect reading spot or perfect lounger. Always be ready!" Another says, "Bring a simple tote bag that you can pack flat in the bottom of your suitcase. You will want a tote by the pool or for the beach and other excursions."
Cardigan or Wrap
We think a cardigan or wrap is necessary for any trip, whether or not it's on a cruise. Cardigans or wraps keep you warm if it gets chilly without taking up much space in your luggage.
One reader says, "Bring a cardigan or wrap for chilly dining rooms. They're seriously freezing." Consider an oversized merino wool scarf to use as a wrap, or for something more summery, a linen or cotton cardigan.
Drift Away Twist Bandeau Bikini Top
Two Swimsuits
When you're headed on a cruise to a tropical destination, you'll need more than one swimsuit. As one reader says, "Bring at least two swimsuits and at least two cover ups. One always seems to be wet, and they don't dry quickly."
We recommend bringing two bikinis you can mix and match to create four different looks. You'll feel like you're wearing something different each day without having to pack more than two swimsuits. Or, you may bring one bikini and one one-piece swimsuit depending on the water activities you plan on doing.
Flip Flops
For days lounging by the pool or on the sand by the beach, pack a pair of flip flops. They don't have to be anything fancy or luxurious. A simple pair of Ipanema flip flops you can get wet will work perfectly.
One reader says, "Definitely bring flip flops. I just spoke to someone I work with and she said she wished she'd brought flip flops for her and her kids."
Eucerin Daily Hydration Broad Spectrum SPF 30
Moisturizer
One reader puts it perfectly when she says, "Bring lots of moisturizer. The pool water and sun really dry out your skin."
We love two-in-one products, so we recommend a lotion that also has SPF to keep your skin protected from the sun. This Eucerin lotion is incredibly rich and moisturizing while also boasting SPF 30. Don't forget an SPF lotion for your face, too.
---
What are your tips for packing for your first cruise? Please share them below!
---
For more cruise packing tips, please read:
---
LIKED THIS POST? PIN THIS PIC TO SAVE IT!
---
I hope you enjoyed this post on first time cruise tips. Please share it with your friends on Facebook, Twitter, or Pinterest. Thanks for reading!
---