Support TFG by using the links in our articles to shop. We receive a small commission (at no extra cost to you) so we can continue to create helpful free content. We earn from qualifying purchases made to the featured retailers. Thank you, we appreciate your support!
If you're wondering what to pack for a Mediterranean cruise look no further. This is a complete guide that will show you everything you need to know about packing (including some money saving tips)!
---
What to Pack for a Mediterranean Cruise
Written by: Kate Langille
---
Table Of Contents
Cruising used to conjure images in the mind of prospective travelers of the blissful honeymooners pawing at each other endlessly, or the opposite side of the things, senior citizens lining up to play shuffleboard on top of the deck.
While those tropes still exist on board, cruising is an excellent choice for many modern travelers while still having the old school charm of sailing.
Start by reading these general tips for packing for a cruise:
The Mediterranean is the best example I can think of when traveling, where the old mixes in with the new, hitting some of the most fashionable and modern cities with decades worth of history, art, culture, and culinary styles.
I had an absolute blast city-hopping from Barcelona, Cote d'Azur, Amalfi Coast, Rome, Florence, the Greek Isle, Athens, and Kusadasi/Ephesus in Turkey. Cruising is a great way to sample the best of Europe while only having to pack and unpack every once in a while.
Considering what to pack for a Mediterranean cruise can lead to a lot of confusion. Let's take a look at the essentials along with some time and budget savers; as it's easy to splash out on a cruise with specialty restaurants, alcohol (which is usually not included), and excursions.
Creating an interchangeable capsule wardrobe is the key to simplified packing, which can easily fit into a carryon suitcase with the help of packing cubes to compress your clothing!
I Don't Know What to Pack for a Mediterranean Cruise. Help!
Follow the Maximista packing list for European Destinations and you will have more than enough outfits to choose from to decide what to pack for a Mediterranean cruise. As the weather in the Mediterranean can vary by location, and the season, it's a good idea to consider layering items as part of your overall packing goal. 
When it's warmer out, take your fave hot weather essentials with you, like dresses, lightweight pants, and stylish shorts.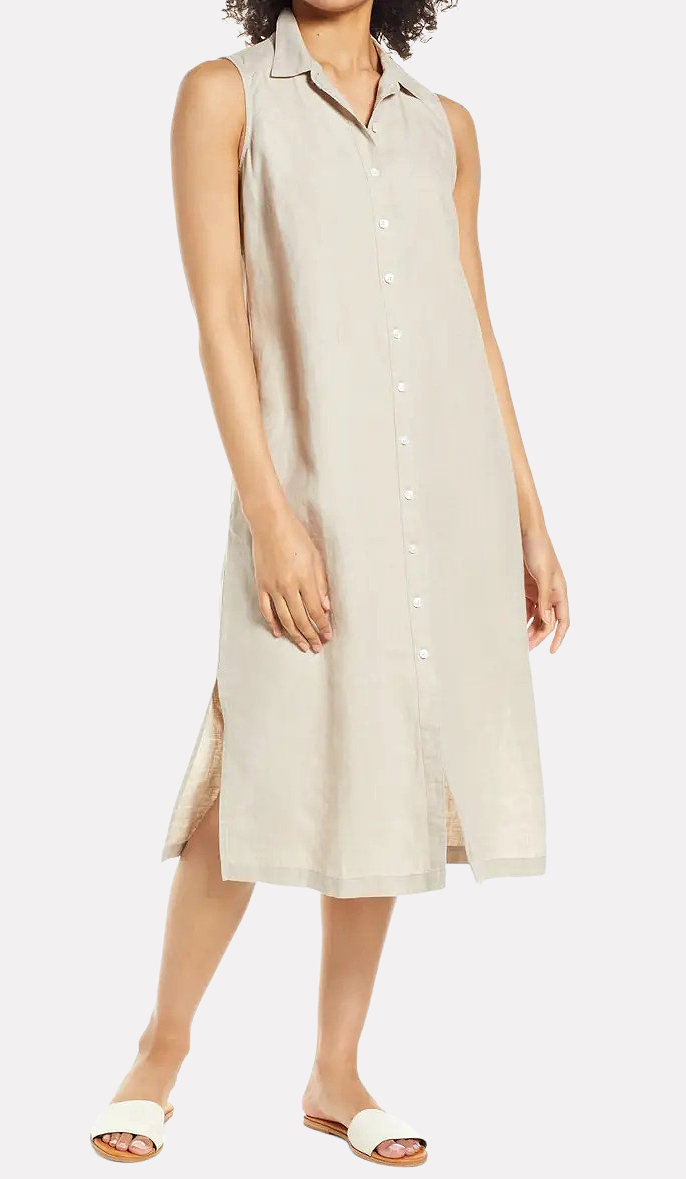 A linen shirt dress like this one from Tommy Bahama is excellent to layer up or wear solo!
Remember, you can peel off thin layers, but warming up when you're underdressed and unprepared can ruin your travel buzz on shore.
It can get incredibly hot in the Mediterranean, even in the late fall, but I was comfortable and prepared on each stop. In Greece and Turkey it was blistering hot in the middle of November, while in Rome and Florence, it was slightly chilly.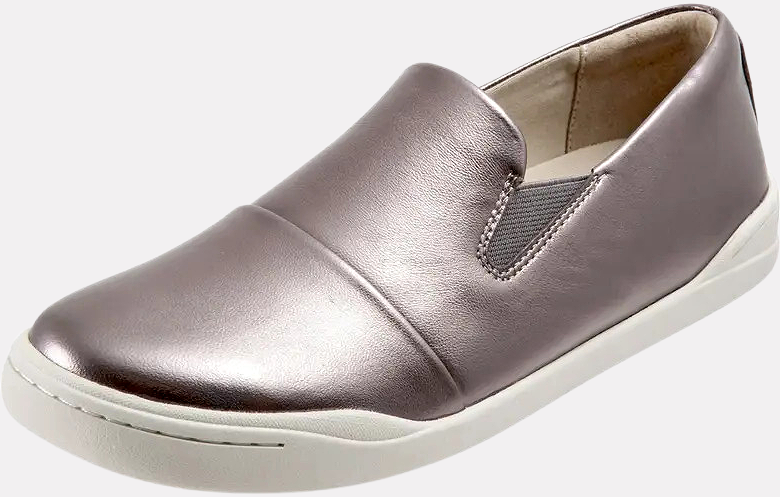 These supportive and chic Softwalk Slip Ons make perfect cruise shoes, and they come in medium, narrow, and wide sizes!
You can expect to do a LOT of walking, too, so be sure that your outfits are comfy to walk around in and that your shoes are super sturdy and supportive. 
While it can be a bit difficult to know what to pack for a Mediterranean cruise, it's not impossible. Let's get started on the break down!
What Bottoms to Pack for a Mediterranean Cruise
With the warm weather and lots of walking that you'll be doing, staying cool and comfortable should be your #1 priority when it comes to pants. And because Europe is known for its chic and refined sense of style, you might want to combine functionality with style!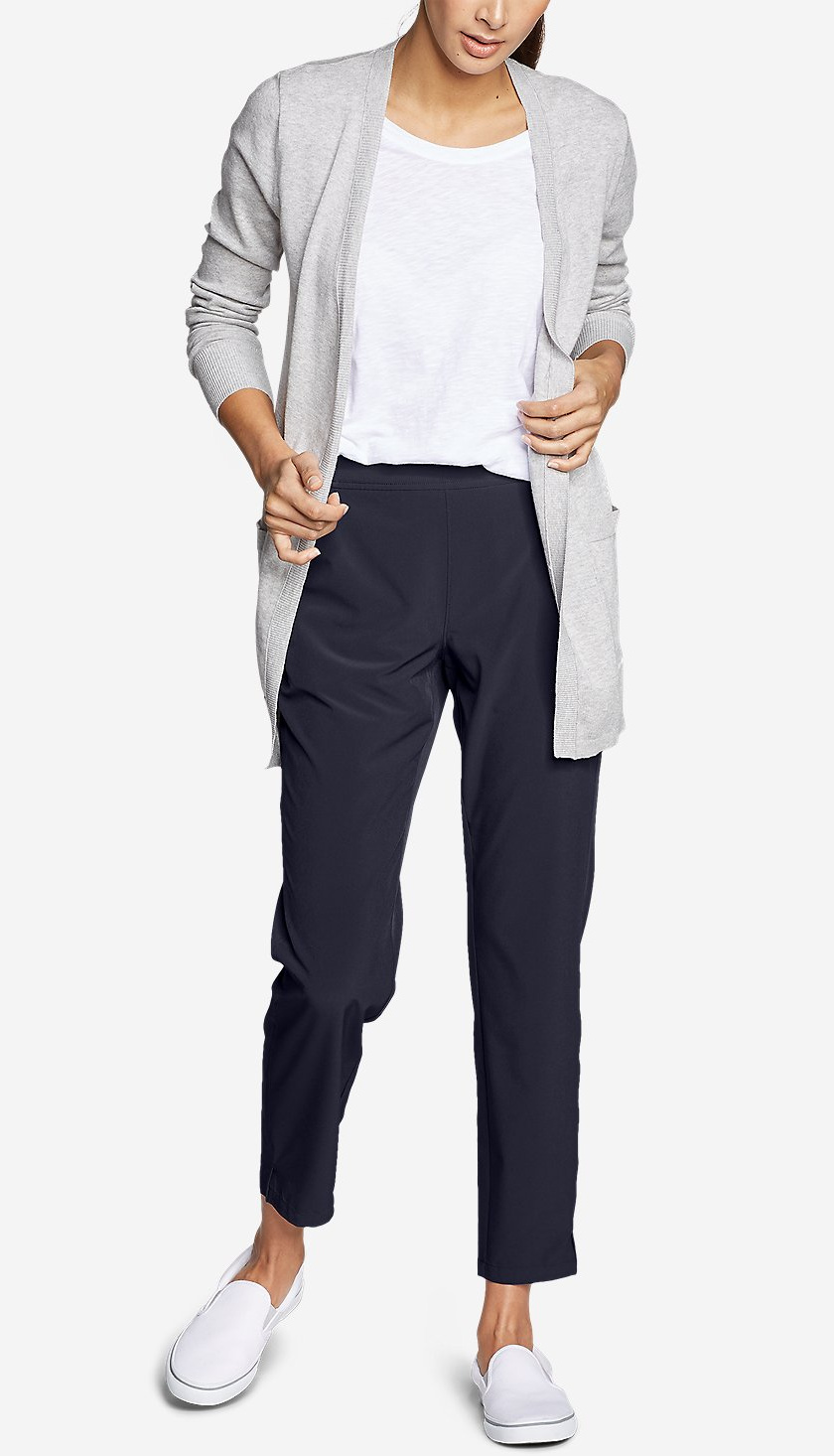 Shop Eddie Bauer Departure Ankle Pants: Amazon | Eddie Bauer | Kohl's | Moosejaw
Sizes: Regular XS-XXL | Petite S-L | Tall M-XXL | Plus 2X-3X
Long Pants
Trousers with sneakers are such an effortless yet stylish combo, and with Eddie Bauer's Departure pants, you get the look of trousers with supreme comfort and functional qualities. 
They're ideal for staying polished on a hot day of exploring, as they're lightweight and super breathable, with its moisture-wicking features and they offer much needed UPF 50+ sun protection. These are always a top reader favorite that can be worn throughout an active day and then dressed up for dinner and drinks!
If you're a style-conscious female traveler that's always on the go, these are THE travel pants for you.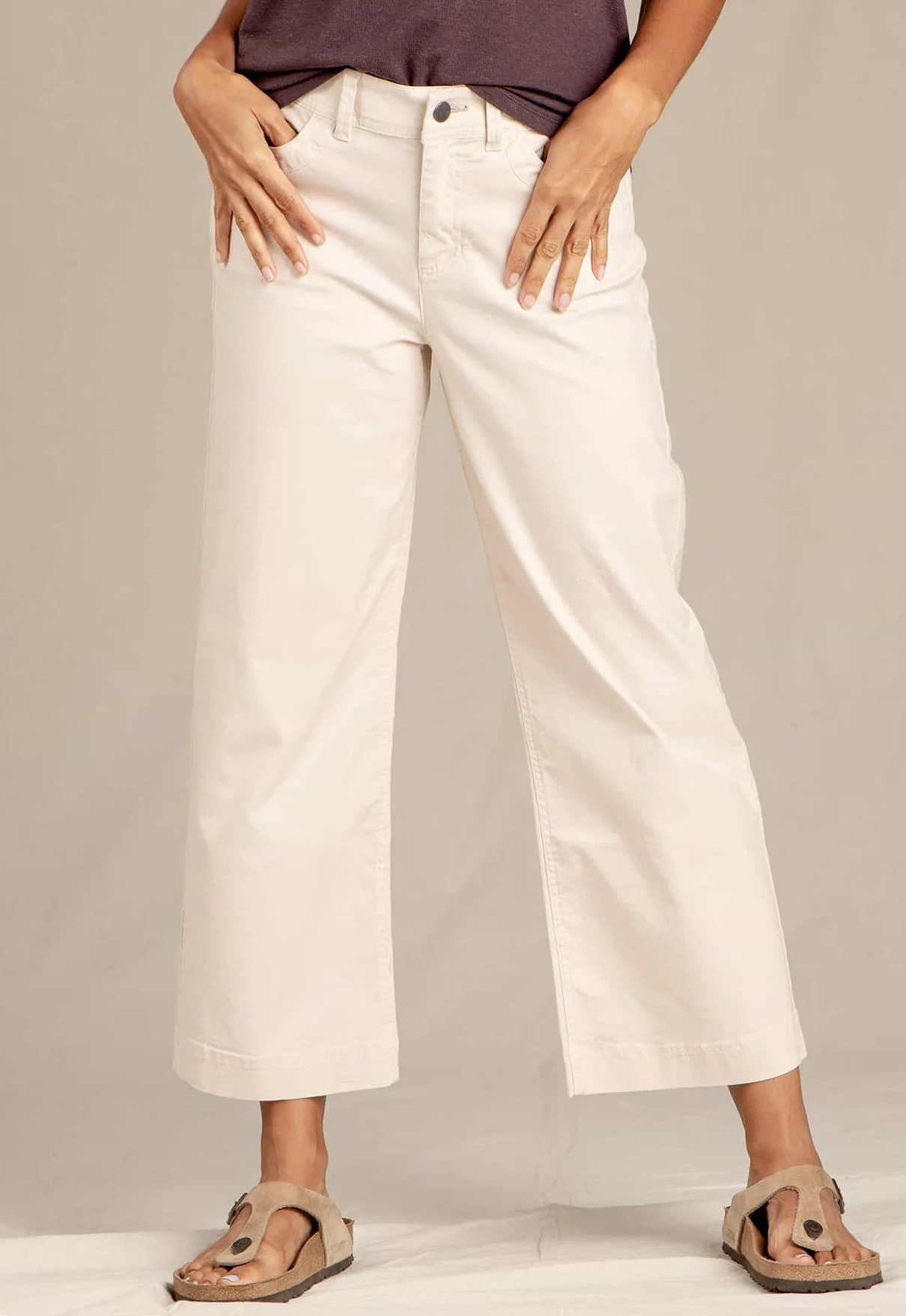 Shop Toad & Co Wide Leg Pant: Amazon | Backcountry | Toad & Co (Sizes 0-14)
Wide leg pants are chic and very trendy, plus they're super comfy! Pick a pair that's lightweight and made from a breathable fabric like linen or cotton. 
In terms of color, you can never go wrong with black or dark neutrals, as they're flattering and versatile. However, white or beige pants are just perfect for summer and can be mixed and matched with all kinds of color combinations. 
The Toad & Co cotton wide leg pants are airy and cool, with a comfortable and relaxed fit that wearers say is extremely flattering and cute! Plus, they can take you into cooler weather with a cozy sweater and sneakers. 
Readers also adore wide leg jeans for European destinations, as well as flowy linen pants. Such an easy way to stay elegant and cozy while you take in the sights!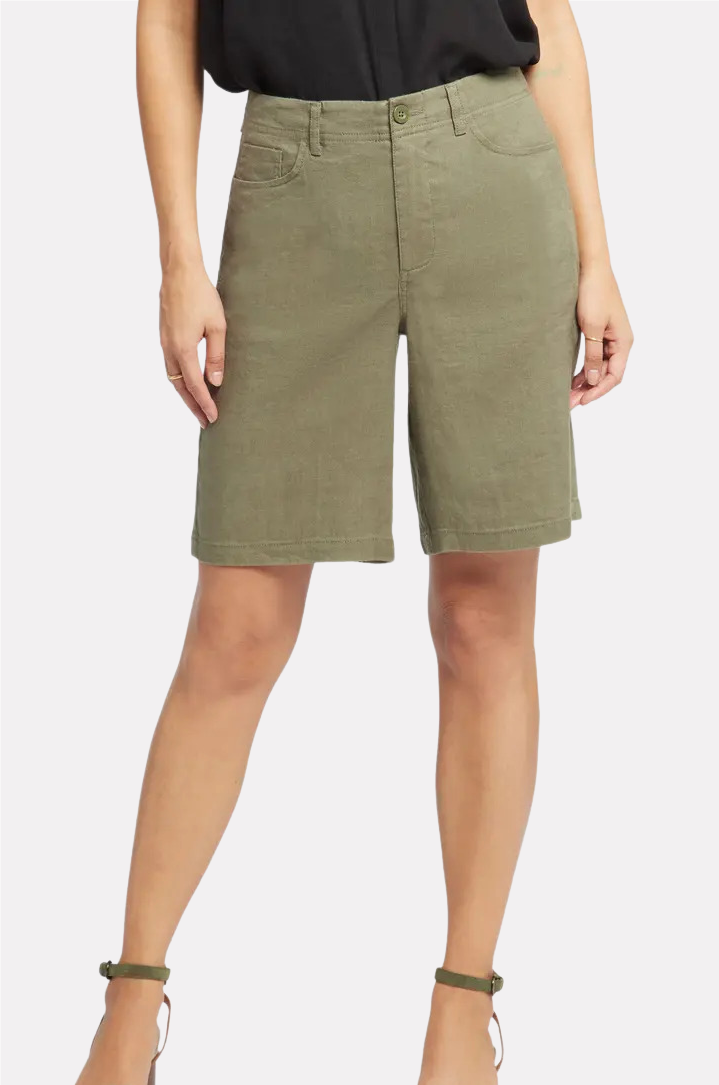 NYDJ Linen Blend Bermuda Shorts | Sizes 00-18
Shorts
On a super hot day, you'll be glad to have a pair of long shorts packed! Let your legs breathe and soak up some vitamin D in a chic pair like NYJD's Bermuda shorts. 
They're made of a lightweight linen blend that's highly breathable and comfortable in the heat, and while the style is relaxed and easy, the longer length makes them a bit more polished for Europe! 
What Tops to Pack for a Mediterranean Cruise
When packing for a multi-country cruise, be sure to bring tops that are suitable for the range of temps that you'll be experiencing, as you bounce from region to region. While you'll definitely want to choose cool and airy tanks and tees, you should consider packing a nice long sleeve button down made from a cooling fabric, as well as some long sleeves for cooler days.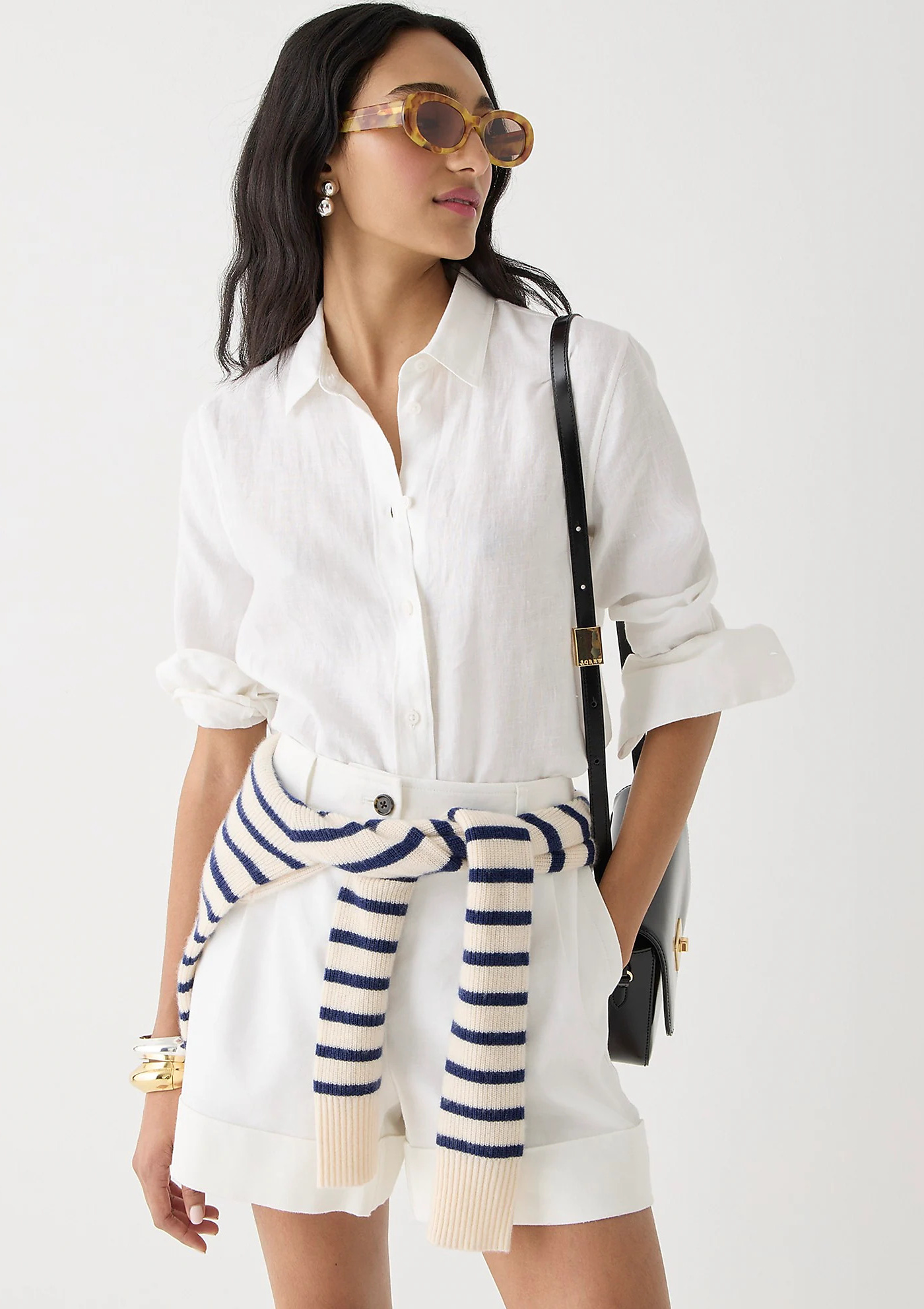 J.Crew Baird McNutt Irish Linen Shirt
Sizes: Regular 00-24 | Petite 00-12 | Tall 2-16
Linen Shirts
Linen is a miracle fabric for hot destinations, as it wicks away moisture and remains cooling throughout a sweltering day. J. Crew's linen button down shirt will have you looking chic and put-together whether paired with joggers for your morning coffee or with jeans and white sneakers for a sightseeing trip in town. It's breezy and lightweight, and you can roll up the sleeves for a more laid-back look and extra airflow. 
Get cool and look cool in these linen shirts women love!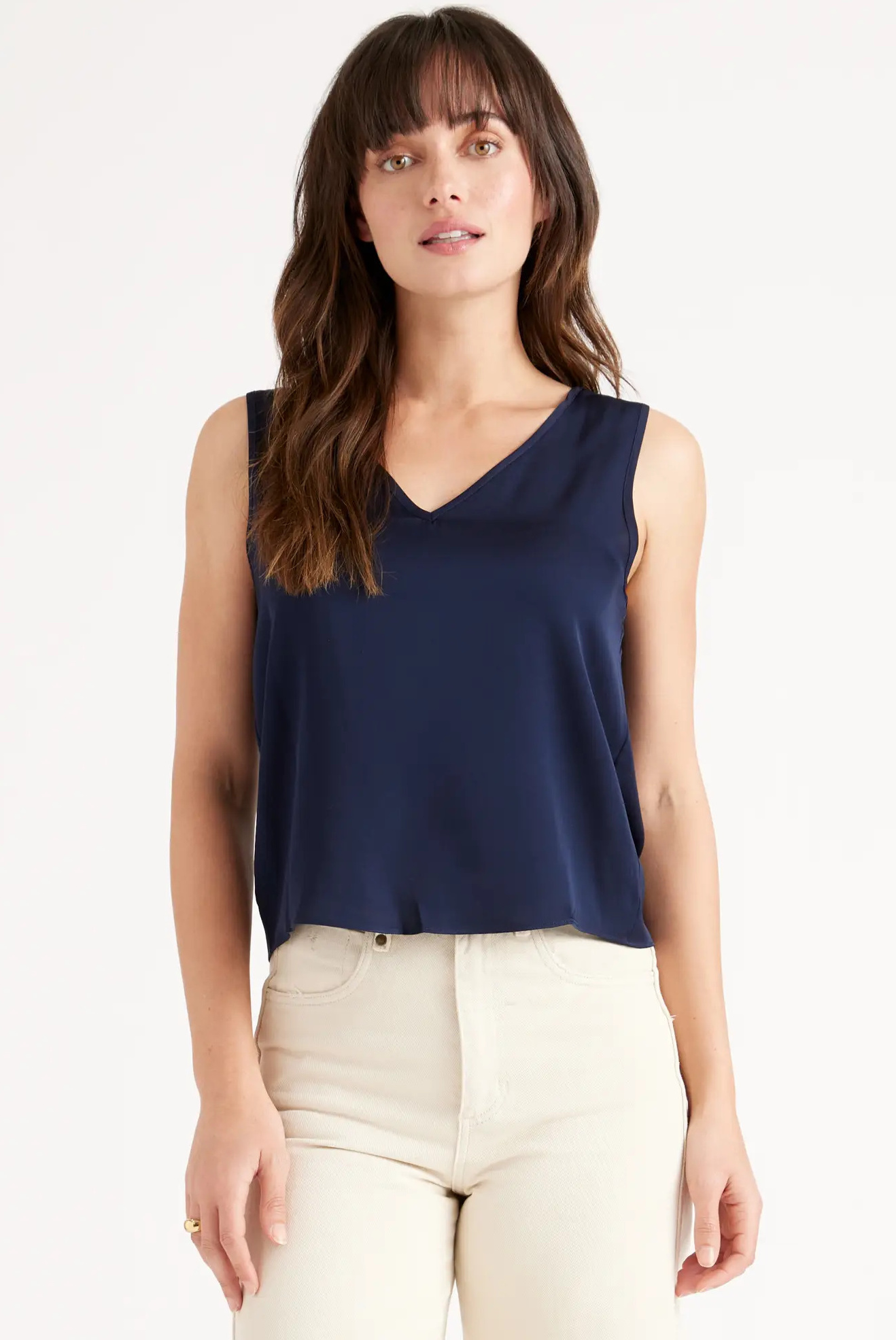 Quince Stretch Silk Tank | Sizes XS-XL
Tank Tops
Hot summer days in the Mediterranean call for some tanks! Keep it cool yet classy with Quince's washable silk tank top which looks elegant but is super practical for an active day. It has wide straps and a flattering a-line shape, and the silk fabric is naturally thermoregulating, making it perfect for the heat. Plus, it's a chic and versatile piece that can be dressed up or down.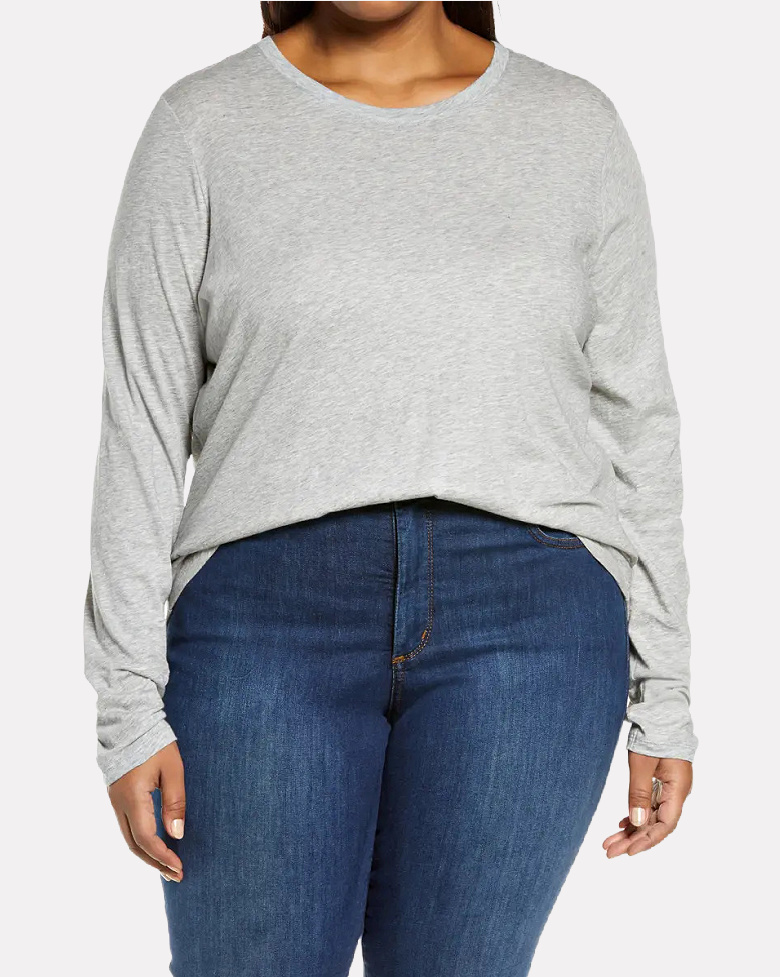 Vince Essential Long Sleeve Pima Cotton Top | Sizes Plus 1X-3X
Layering Shirt
Whether you're enjoying the crisp morning breeze out on the deck or strolling around town on a chillier day, a casual-chic long sleeve top is a must-pack for a Mediterranean cruise. 
Go for something simple, breathable, and lightweight yet cozy enough to offer that extra bit of warmth whenever needed. 
The Essential long sleeve t-shirt from Vince is an ideal option that's perfect for your layering needs! Its classic yet chic fit and the neutral color options allow it to pair with any outfit seamlessly. Readers love that the soft pima cotton has a casual yet high-quality look to it.
What Dresses to Pack for a Mediterranean Cruise
If you love wearing dresses when you travel, there's no better place to flaunt them than in the romantic cities of the Mediterranean. An effortless yet polished and cute outfit; dresses are a perfect addition to your cruise packing list. 
One travel consideration that some cruisers worry about is the formal nights on board. While cruise lines can have evening-wear guidelines ranging from casual, smart casual, to formal, cruises are a great opportunity to get glammed up if you wish! Whether you go formal or more laid-back, dresses are great for any dinner on board.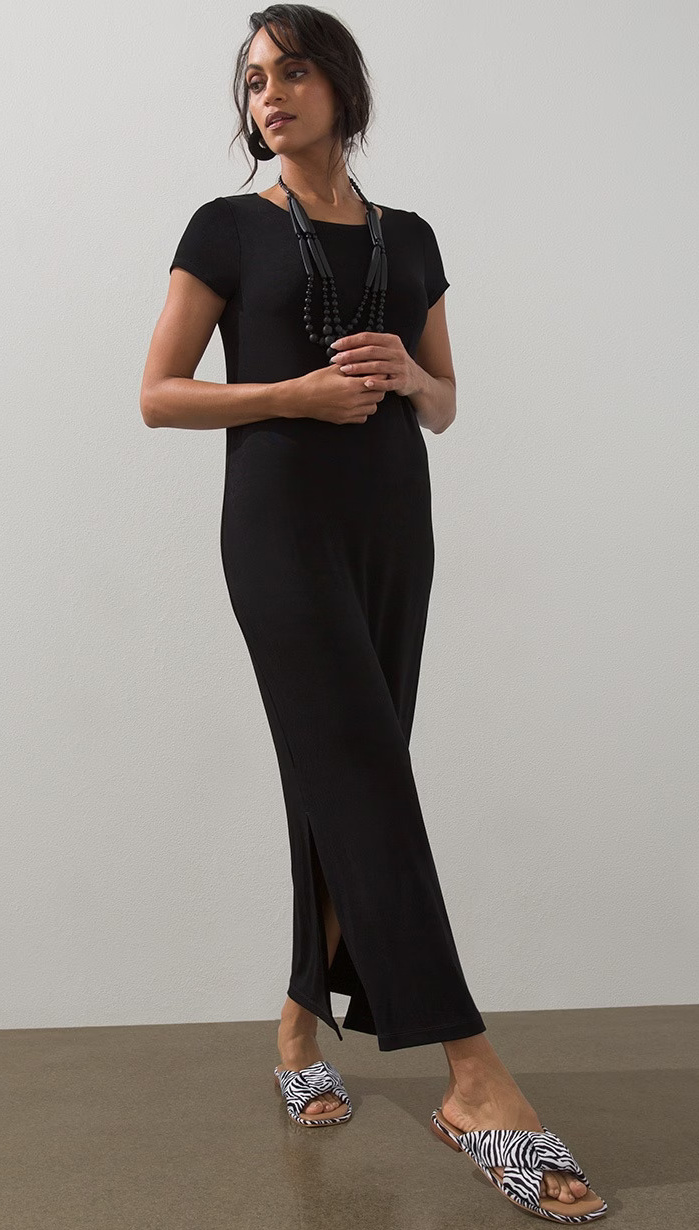 Chico's Classic Short Sleeve Maxi Dress | Sizes XS-XL (Regular & Petite)
Long Dresses
Long dresses have so much going for them — they're stylish, comfortable, feminine, and are a perfect option for touring any religious sites when you need extra coverage. 
The Chico's Travelers Classic maxi dress covers all the bases, as it was designed specifically for travel! It has a straight silhouette that wearers say moves beautifully and hangs on the body in a super flattering way. The fabric is light, soft, a bit stretchy, and wrinkle-resistant! 
Take a look at our carefully curated list of dresses that aren't just pretty, they'll actually help you stay fresh and cool, too!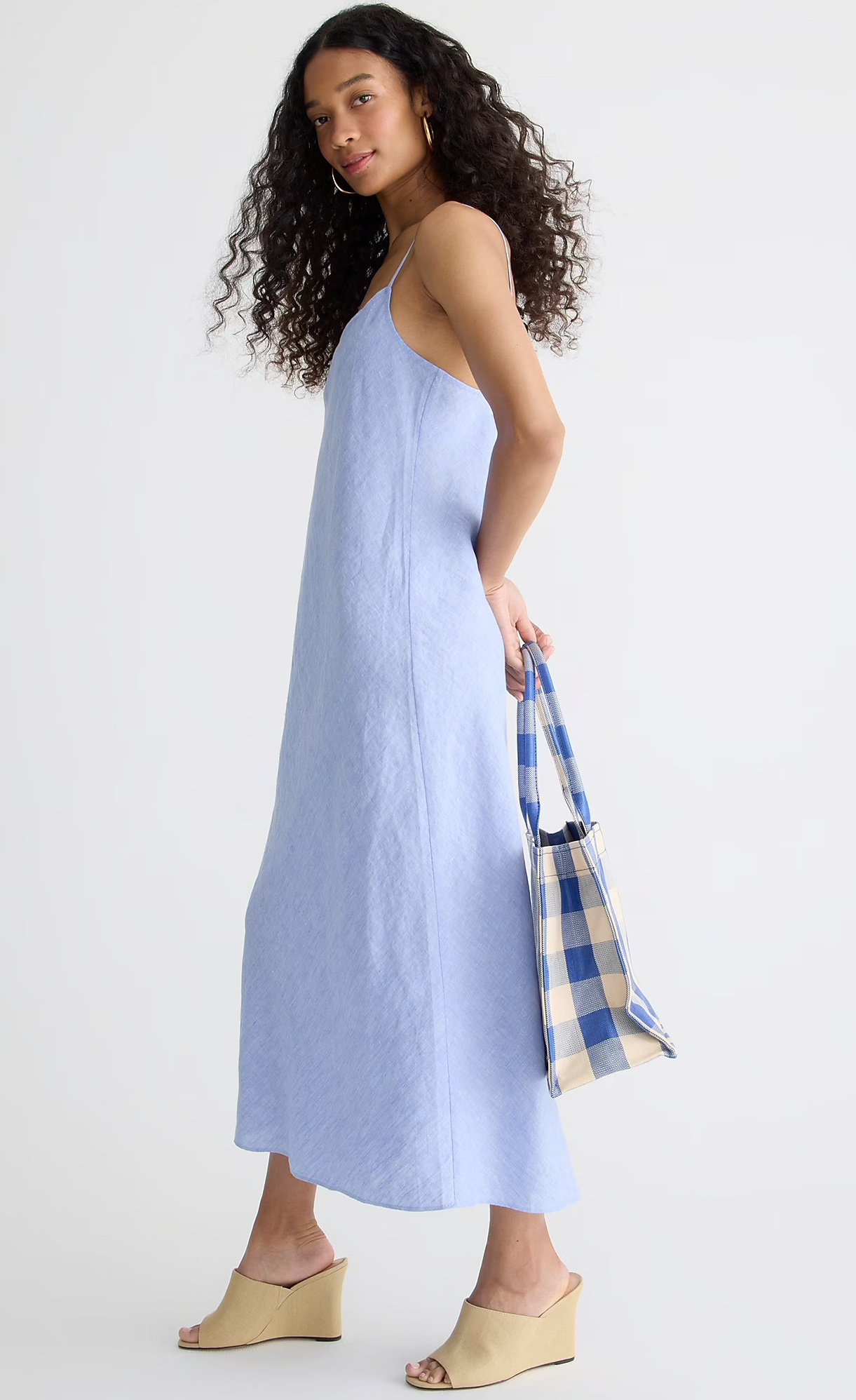 J.Crew Gwyneth Linen Slip Dress
Sizes Regular 00-24 | Petite 00-12 | Tall 2-20
Both midi dresses and maxi dresses have such an elegant allure like the J.Crew slip dress pictured above, and even though there's more fabric than a short dress, their lightweight fabrics with its flowy silhouettes will definitely keep you just as cool and comfy. And, long dresses can be dressed casually or gussied up for an onboard dinner.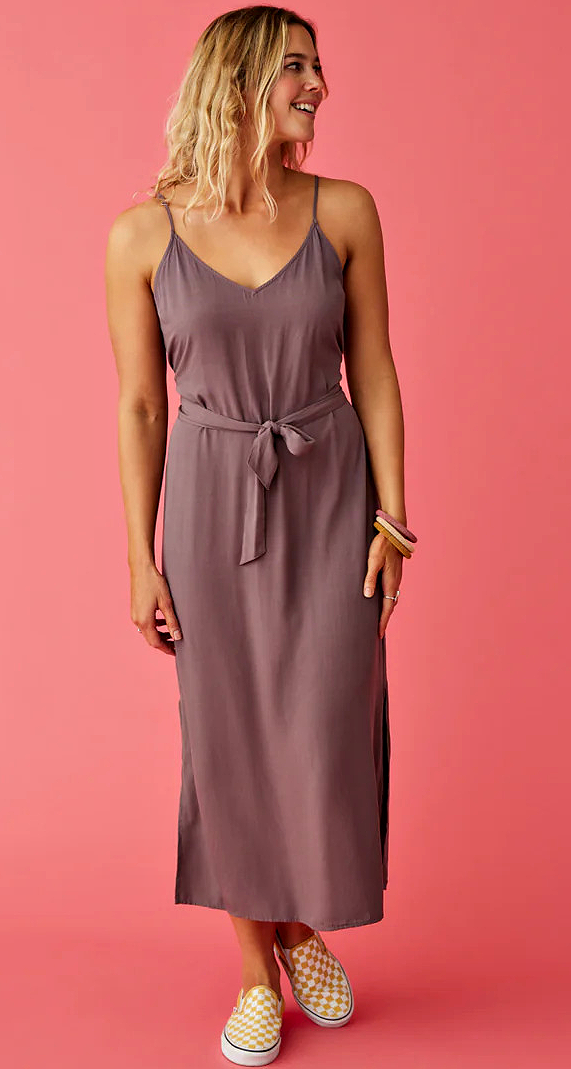 Shop Carve Designs Macy Dress: Amazon | Carve Designs | Backcountry | REI (Sizes XXS-XL)
Rayon is a fantastic fabric for the summer, and readers always love dresses made from this fabric for its comfortable yet lightweight feel. It offers a sleek design that is wrinkle resistant, and has sweat-wicking properties. 
The Carve Designs Macy dress has a waist-accentuating fit that wearers rave about, along with a relaxed fit that has side slits for extra airflow. It also features adjustable straps and a belt that you can tie in the front or the back. This cutie will certainly be a go-to throughout your trip!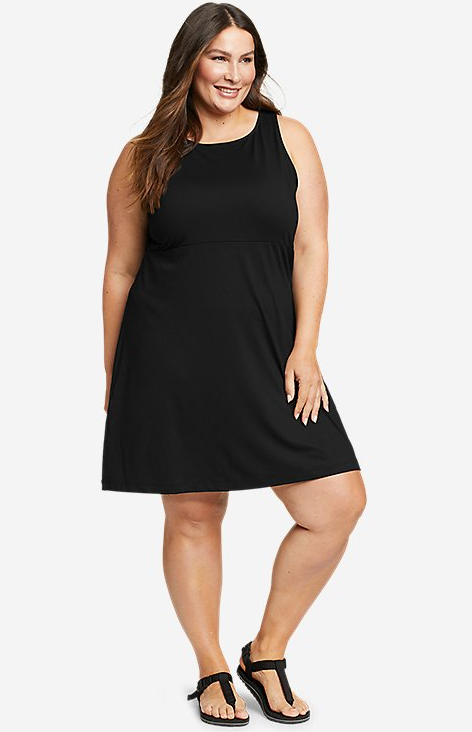 Shop Eddie Bauer Aster Empire Dress: Amazon | Eddie Bauer | Kohl's
Sizes Regular XS-XXL | Petite S-L | Tall M-XXL | Plus 2X-3X
Knee Length Dresses
Shorter dresses, especially those with technical fabrics, are great for summer cruising, especially if you have a diverse itinerary.
 A cute option like Eddie Bauer's Aster dress can be worn everywhere from trekking through ancient ruins to frolicking on the beach or wandering through museums. Or, pair it with your favorite sandals, some classic jewelry, and a small clutch or wristlet, and you're set for nicer dinners on board! 
It's made of moisture-wicking and odor-repellent material, along with a UPF 50+ fabric that'll have you covered on any adventure you embark on. And readers love the simple yet flattering fit.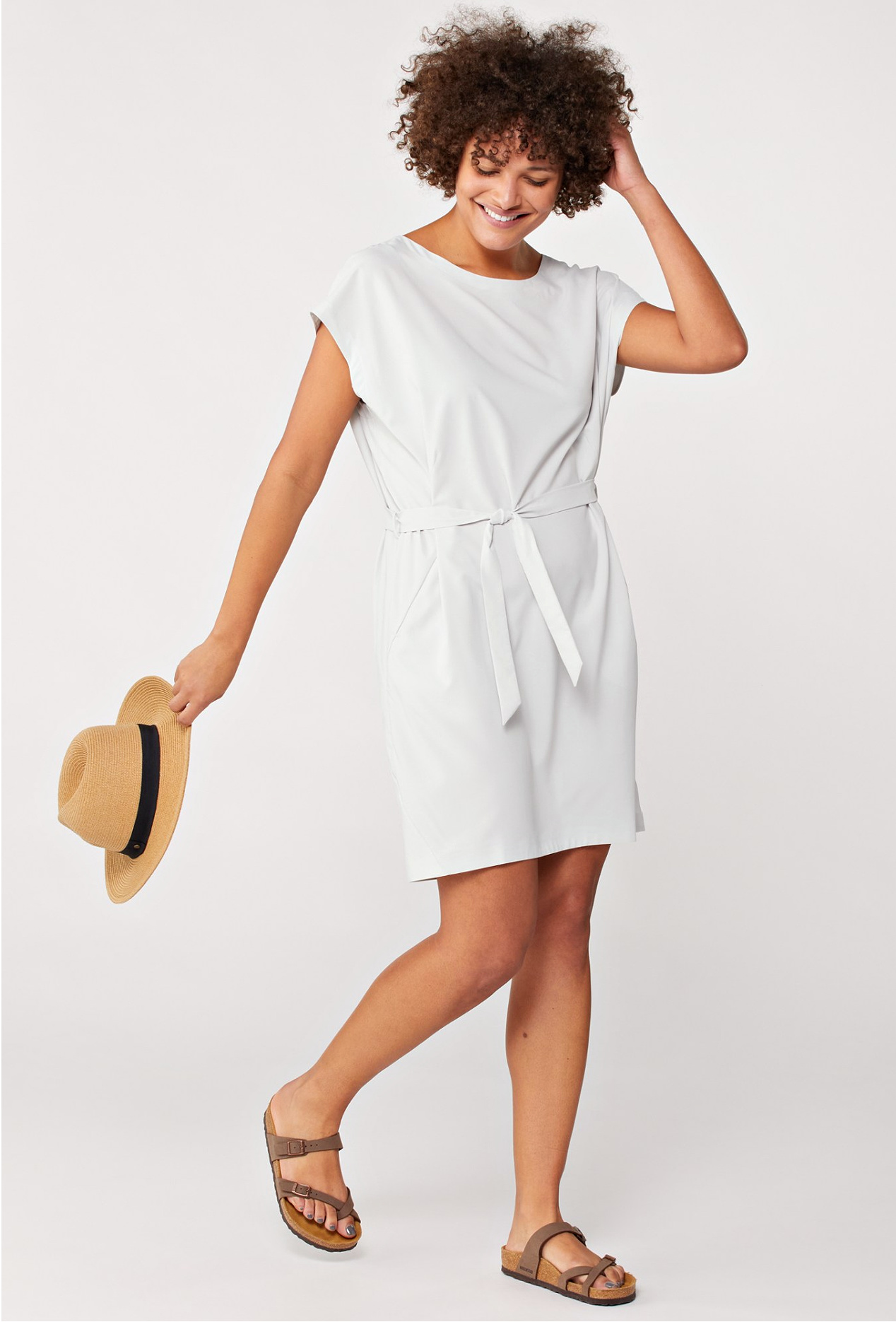 Arc'teryx Contenta Dress Melange | Sizes XXS-XXL
Moisture-wicking dresses are ideal in the summer heat, as they won't show sweat marks, and help regulate heat, keeping you feeling fresh and dry without any odor, so you can re-wear it multiple times. 
The Arc'teryx Contenta dress is another cute, moisture-wicking option with short sleeves and a flattering tie waist. It's lightweight, breathable, stretchy, and wrinkle-resistant. Wearers love its practical yet stylish design!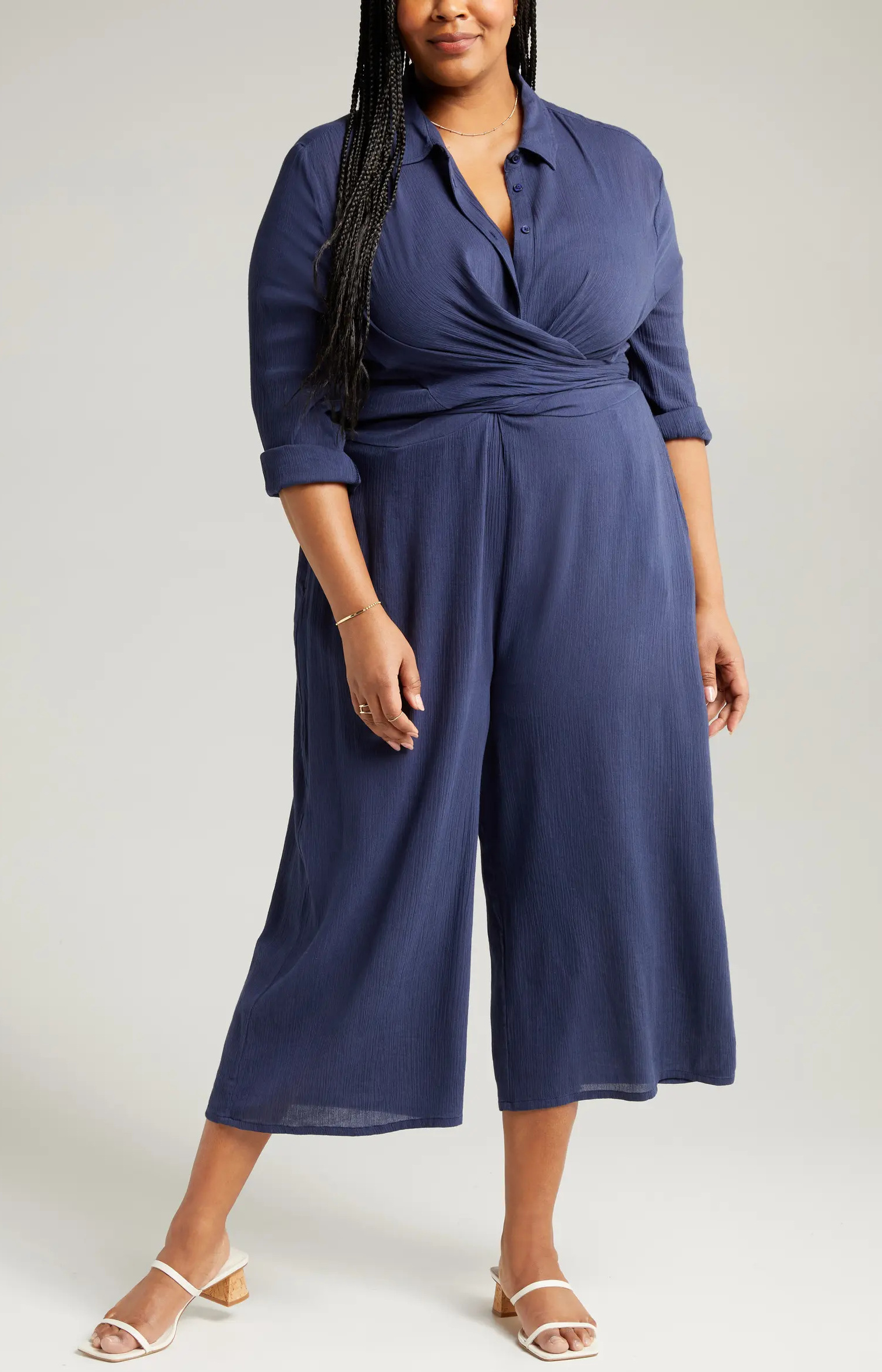 Caslon Tie Front Long Sleeve Jumpsuit | Sizes Plus 1X-3X
Jumpsuits are a fantastic alternative to dresses. They're an easy, comfortable, all-in-one outfit, just like a dress, and even if they have a more casual vibe, they can easily be dressed up for nicer occasions! 
Caslon's tie front jumpsuit will add some airiness to your wardrobe with its lightweight, cotton blend fabric and drapey fit. The tie front can be adjusted in the back for a cinched-in or relaxed waist, and the color will look perfect along Europe's stunning coasts.
What Swimwear to Pack for a Mediterranean Cruise
Don't forget a swimsuit or two! Whether you're planning on swimming in as many beaches as you can, or just want to enjoy some evening jacuzzi sessions on board, a bathing suit is a must-have for your cruise. It's always a good idea to bring at least two different options so that one of them will always be dry and ready to wear. 
While bikinis are the go-to among European locals, anything goes! Wear whatever you feel most comfortable and confident in.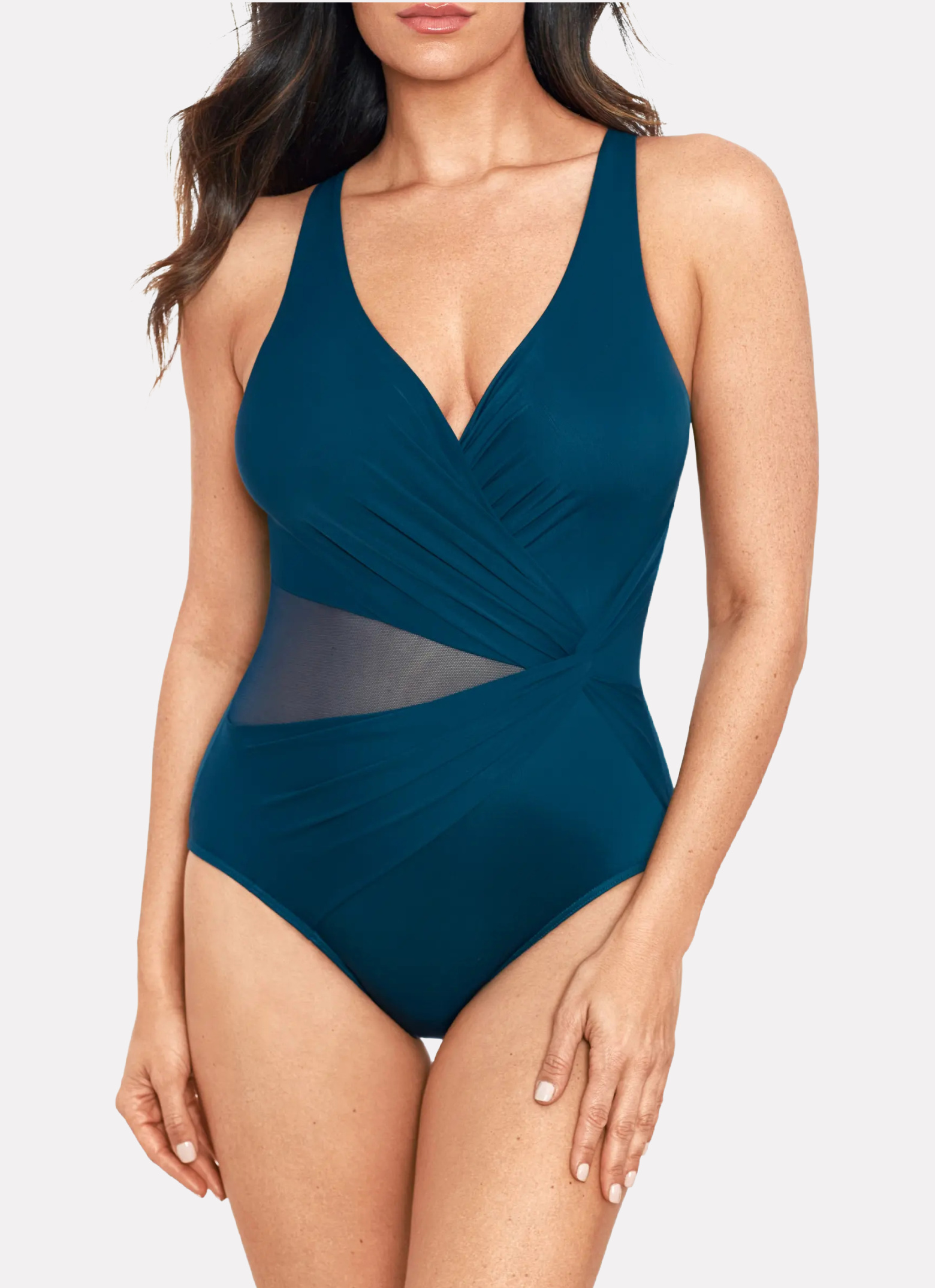 Miraclesuit Illusionists Swimsuit | Sizes 6-16
Bathing Suits
If you want a bit more coverage, choose a classic one piece. Miraclesuit's Illusionists Circe one piece is beyond flattering, with special fabric that's designed to smooth, hold, and shape. It has a v-neck, full-coverage bottoms, and a cute mesh inset for added style! 
TFG shows you expert tips and tricks to find the most flattering styles for your body type!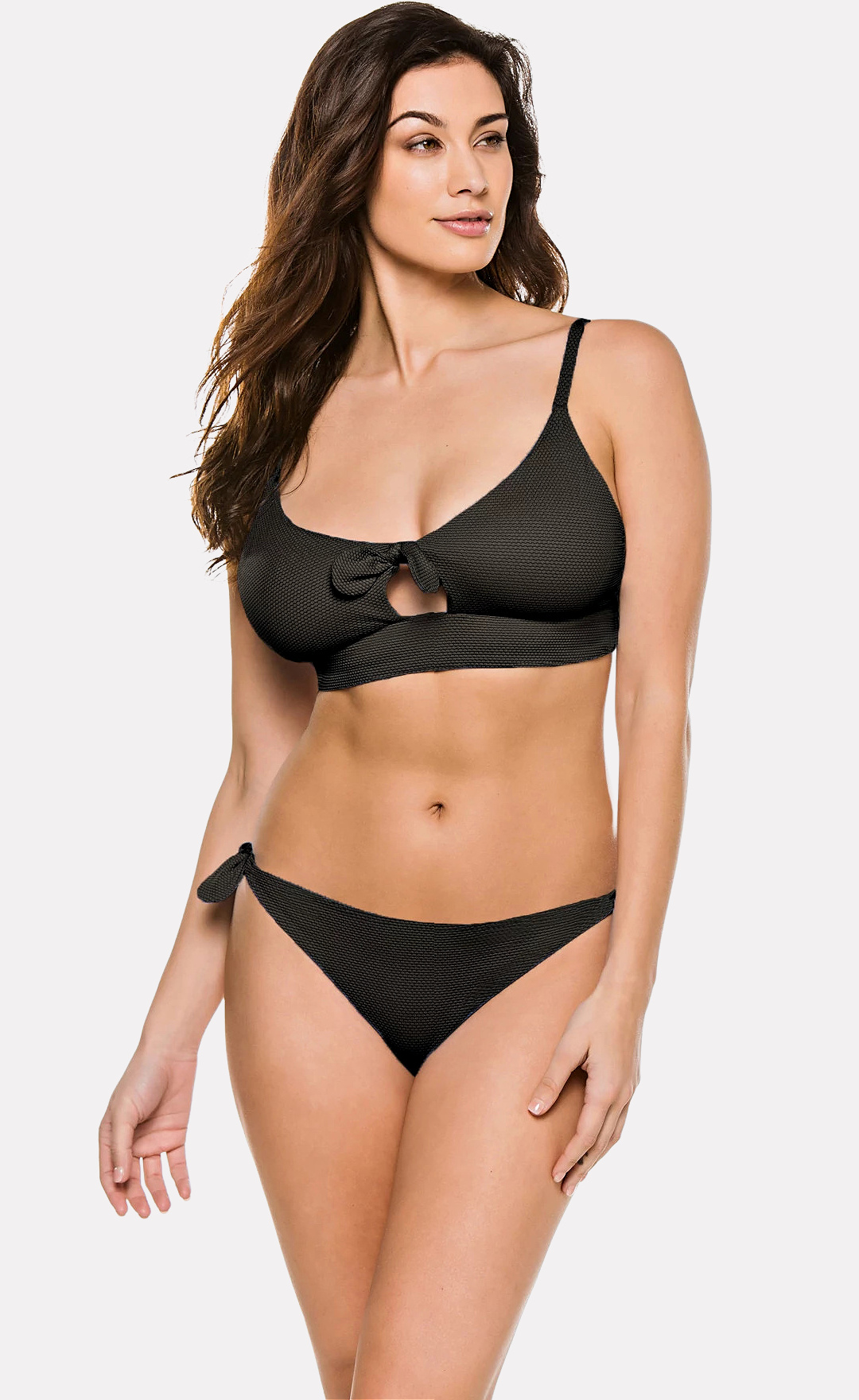 Charlie Textured Bralette Bikini Top | Dylan Textured Hipster Bottom
If you want to rock a two-piece, the Charlie top and bottoms by Everything but Water are cute, flattering, and super supportive for bustier gals. The top offers a personalized fit with adjustable back straps and a double hook back closure, with the perfect amount of lift and support, and the bottoms have adjustable tie straps, too. 
It's also really comfy and practical for sunbathing, swimming laps in the pool, or just strolling along the beach. This is a reader-fave for good reason!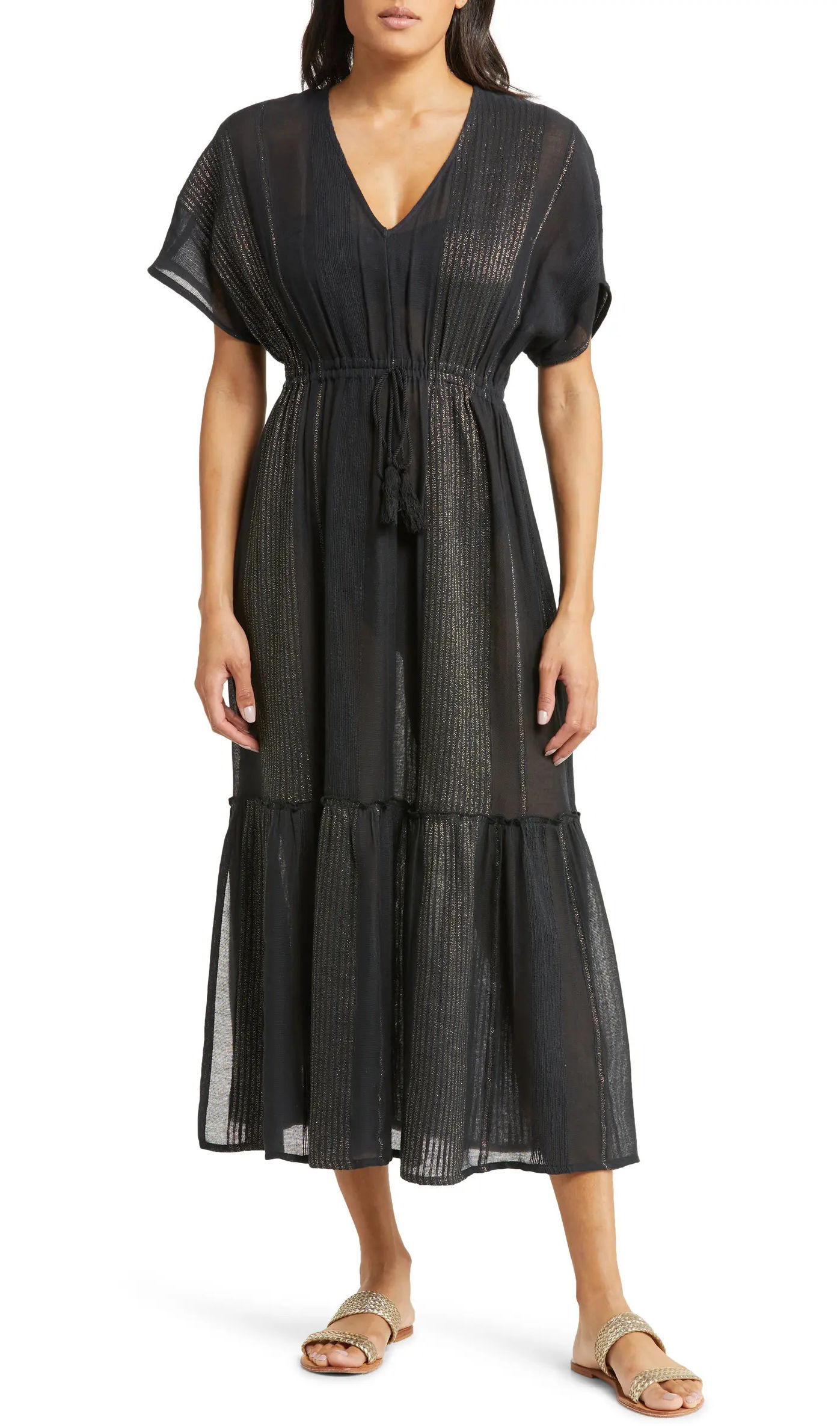 Elan Metallic Cover-Up Maxi Dress | Sizes XS-XL
Swimsuit Cover Ups
You'll also need a swim coverup for when you're spending time at the beach and want to go into town for a drink or gelato. It's super convenient to wear to and from the pool on board, rather than lugging around a towel. 
Elan's metallic cover up is an elevated option that's cute and easy for the beach, and perfect for grabbing lunch in town, too. It's lightweight and breezy so it dries quickly. Wearers love that it looks chic and sophisticated!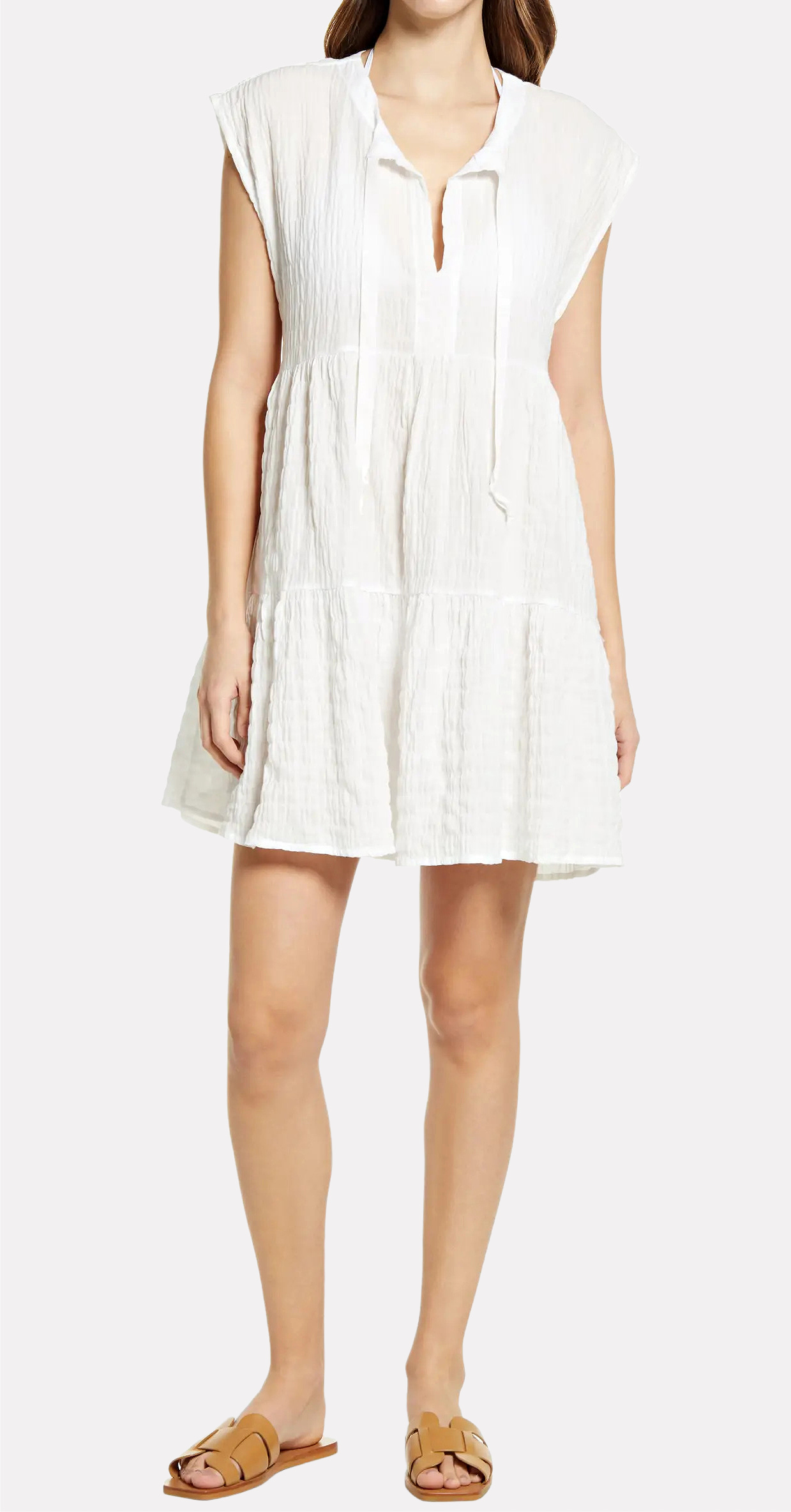 Robin Piccone Fiona Cover-Up Dress | Sizes XS-L
Robin Piccone's Fiona cover-up dress is so adorable, you'll want to wear it to more places than just the beach! This option is definitely an eye-catcher, with cute cap sleeves, a flouncy skirt, shirred fabric, and offers an overall feminine and flattering shape. It's made of cotton with a teeny hint of stretch, making it breathable, durable, and ideal for a hot day by the water, and you could totally dress it up with flats and accessories for dinner!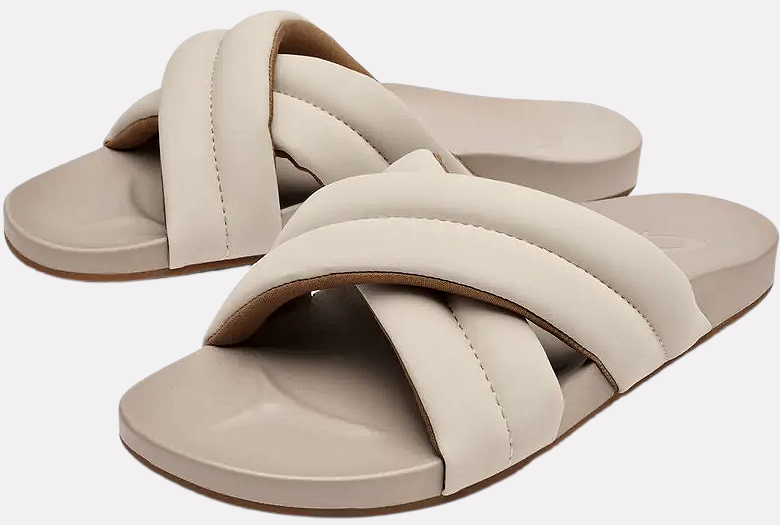 Shop Olukai Hila Sandals: Nordstrom | Zappos | Backcountry | Dick's Sporting Goods
Beach Sandals
Don't forget your beach sandals! Aside from your sightseeing shoes, you'll want a water-friendly pair that you can wear around casually, on pool or beach days. While these aren't going to be your walking shoes, make sure that they're supportive and comfortable enough for quick strolls into the various seaside towns that you'll be exploring.
Slides are a great beach vacay sandal, with a laid-back look and a practical design, it's easy to slip on and off. Olukai's water-resistant slides is an awesome beach shoe with a secure, comfy fit that has a sole that won't slip.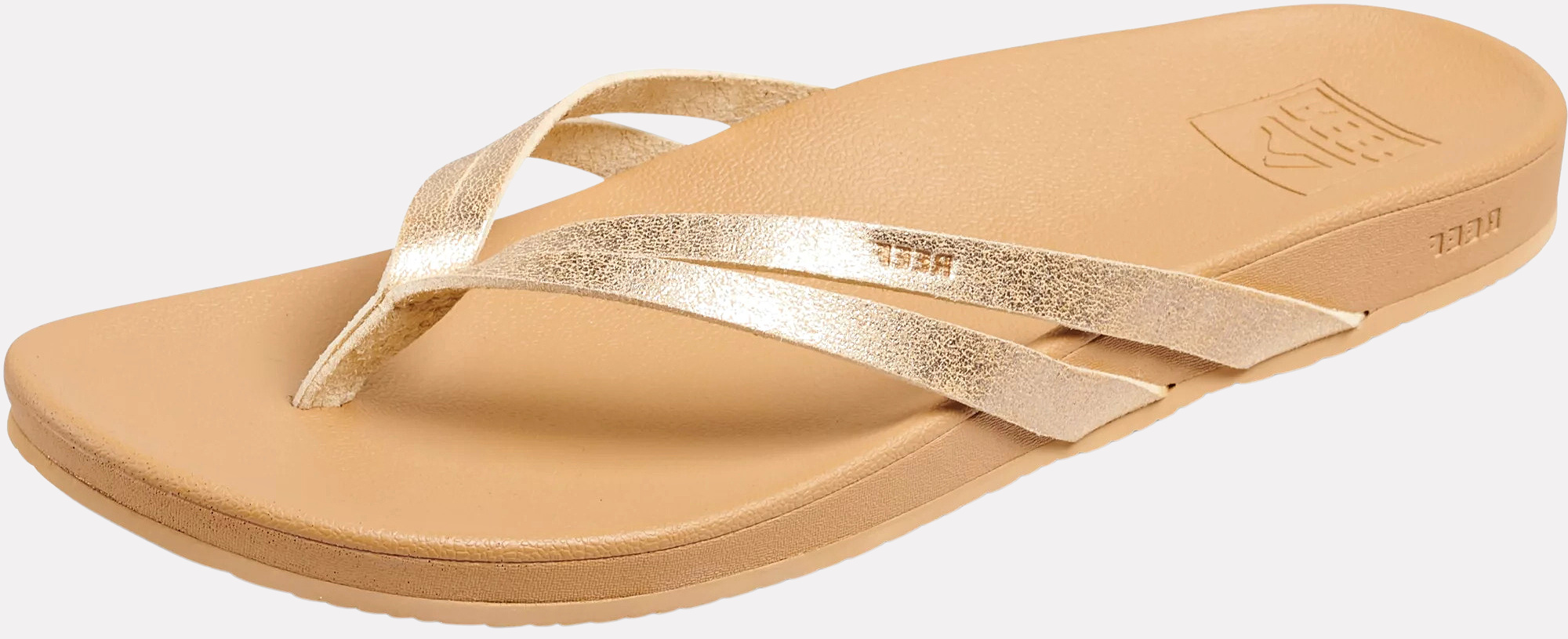 Shop Reef Cushion Sandals: Amazon | Zappos | Dick's Sporting Goods
Readers love Reef flip flops for its highly cushioned soles and superb arch support. If you want to take a break from the beach to get some sightseeing in, these cuties will keep your feet comfortable throughout your walk.
And while they're a more laid-back pair, they're accentuated with stylish metallic straps for a leveled-up look that you can wear with dresses for casual dinners, too.
What Shoes to Pack for a Mediterranean Cruise
The beautiful Mediterranean cities you'll be stopping at are best explored by foot, so when it comes to footwear, comfort should be the #1 priority! You'll be logging some serious miles as you wander through various towns and see all the sights, so choose pairs that are amply cushioned and have enough support that your feet will need. 
And keep in mind that Europe is full of those charming but uneven cobblestones, so make sure your shoes are sturdy, too! We'll dig into more shoes, but also check out the most cute and comfortable walking shoes as voted by readers!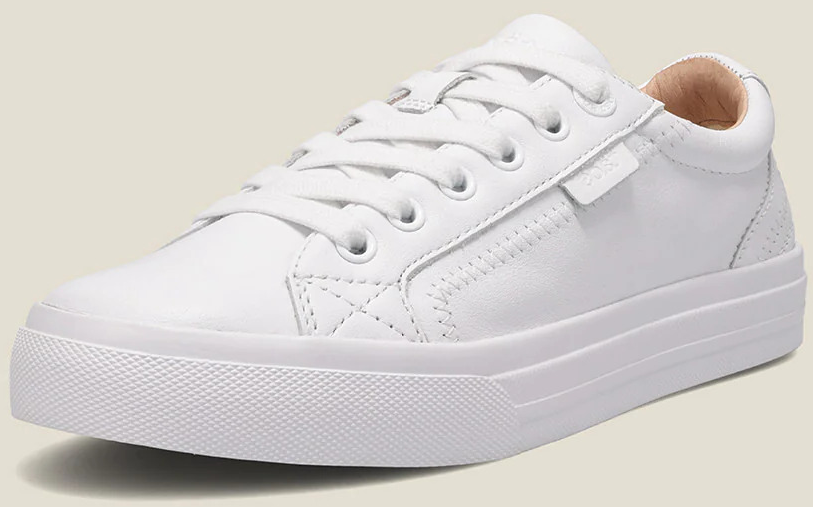 Shop Taos Lux Sneaker: Amazon | Dillard's | Zappos | Taos
Sneakers
On a heavy-duty walking day, sneakers will keep your feet stable and protected from the elements. The top pick among readers for a stylish yet amazingly comfortable sightseeing sneaker is the Taos Plim Soul Luxe. This sneaker is classic yet polished pair that's perfect for strolling through chic European cities, and will look great with any outfit, whether wide leg jeans and a tee or a summery dress.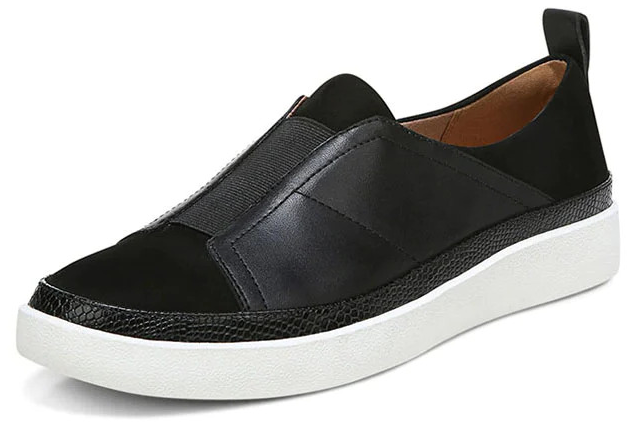 Shop Vionic Zinah Sneaker: Amazon | Zappos | DSW | Vionic
Another stylish pair that certainly doesn't skimp on comfort is the Vionic Zinah slip on sneaker. This pair is beautifully designed and can both elevate a simple sightseeing look and compliment a dressy dinner outfit! And we can't forget about the podiatrist-designed footbed with cushioning, arch support, and a deep heel cup that'll keep your feet happy as can be throughout a long day of walking.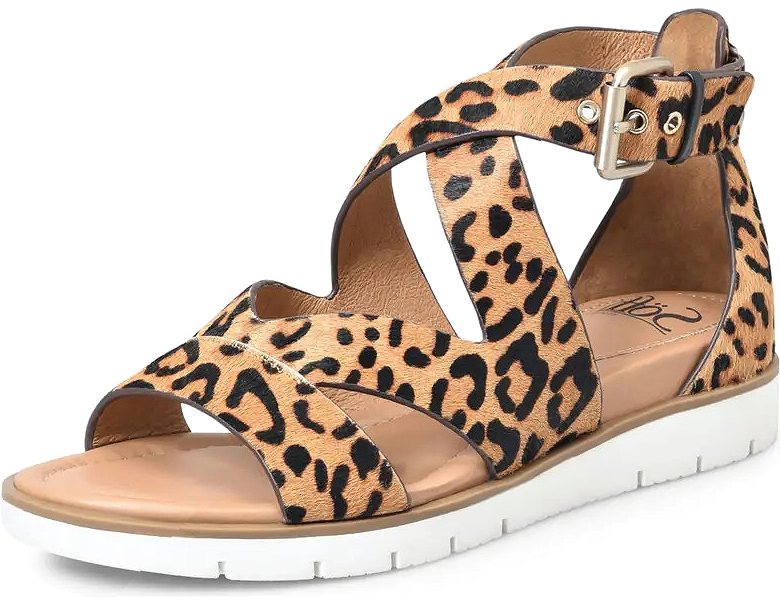 Shop Sofft Mirabelle Sandal: Amazon | Nordstrom | Zappos | Sofft
Sandals
In the summer heat, let your feet breathe with a comfy pair of walking sandals. Opt for a pair that has supportive straps, a cushioned sole, and a durable outsole that can tackle rough and uneven streets. 
The Sofft Mirabelle sandals are perfect for an active day, with a cushy and supportive footbed, and offer great traction. Plus, they're really cute. The leather straps make them a tad less casual, so can easily be dressed up.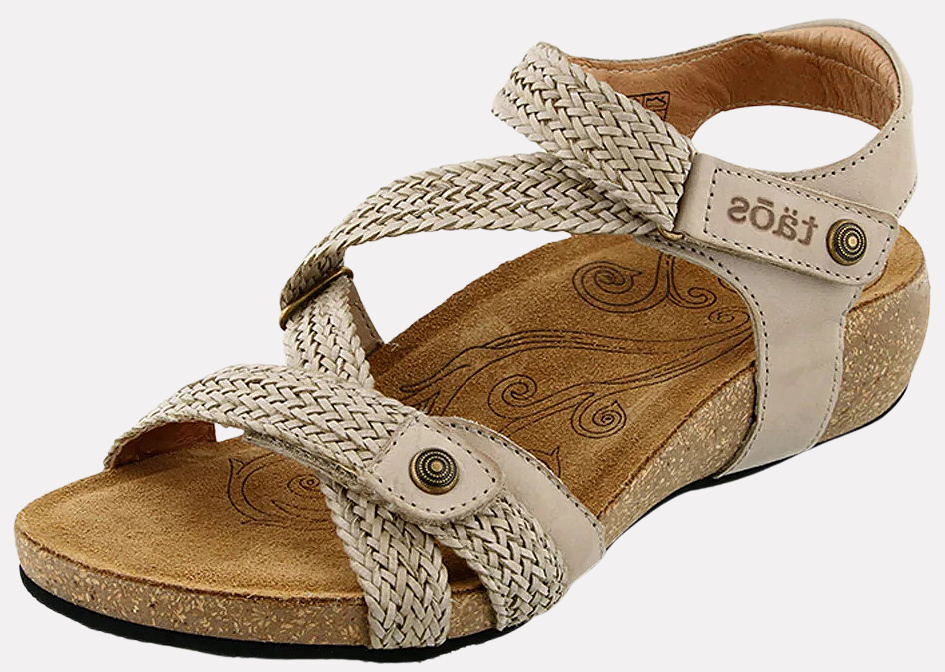 Shop Taos Trulie Sandal: Amazon | Zappos | Dillard's | Taos
Another ultra-comfy pair is the Taos Trulie sandals, decked out with woven leather straps, a slight wedge heel, and excellent support. Readers say they're a dream in the heat and perfect for a long day of walking. 
This is another pair that'll be perfect for sightseeing during the day and then enjoying a fun night on board!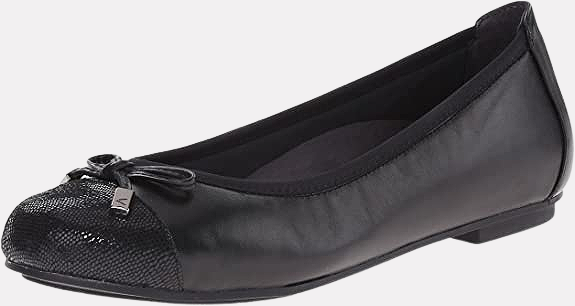 Shop Vionic Minna: Amazon | DSW | Vionic
Flats
If you want to bring a dressy shoe for special dinners in town or any formal nights on board, readers always suggest flats because they're practical, easy to pack, and won't take much space in your luggage. 
Heels, especially stilettos, are not recommended (unless you're an absolute pro), since your balance can get unstable on board especially if hitting rough waters. But if you want a bit of height, go for some travel-friendly wedges! 
Readers love flats like the Vionic Minna, because they're simple and classic but have cushioning, arch support, and heel support hidden inside. You could go for a little evening stroll into town with these if you want to! Remember that when it comes to dress shoes, comfort is always an important factor to consider. 
Here are the most comfortable flats to walk in and the best part is, most of them are under $100!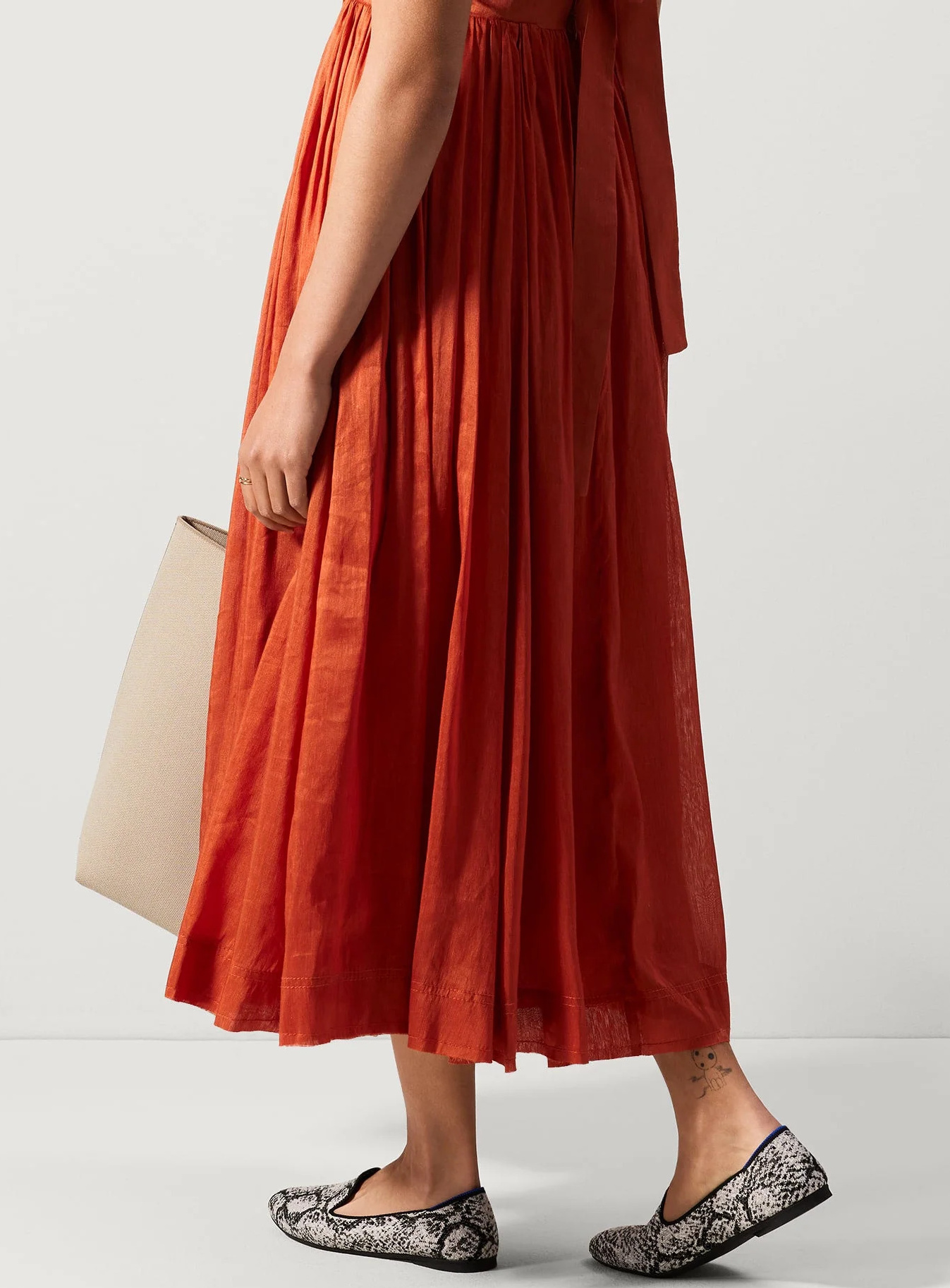 Rothy's The Loafer Ballet Flat
Another all-time fave flat is the Rothy's loafer, which is amazingly lightweight and breathable, perfect for a super hot day on or off board. While they're flexible and slim, they offer a great amount of arch support and cushioning. They're also super durable and easy to keep clean, and, of course, super chic and stylish! 
What Jackets to Pack for a Mediterranean Cruise
If you're cruising in the summer months, a jacket typically won't be necessary during the day, but you'll be glad to have a cozy option packed while enjoying the chilly ocean breeze at night or early in the morning.  
For early- and late-season sailings, you'll want to bring a lightweight yet warm jacket, as the weather can be a bit more unpredictable, and evenings will definitely be on the cooler side. 
There might be some rain in the spring and fall, too, so a lightweight rain jacket that you can store in your day bag for sudden shifts in weather will come in handy. (Be sure to keep up with the weather forecast leading up to your trip!)  
In any season, when traveling through the Mediterranean, bring something light and packable yet warm enough for the air-conditioned rooms on the ship and the breezy shorelines at the beach.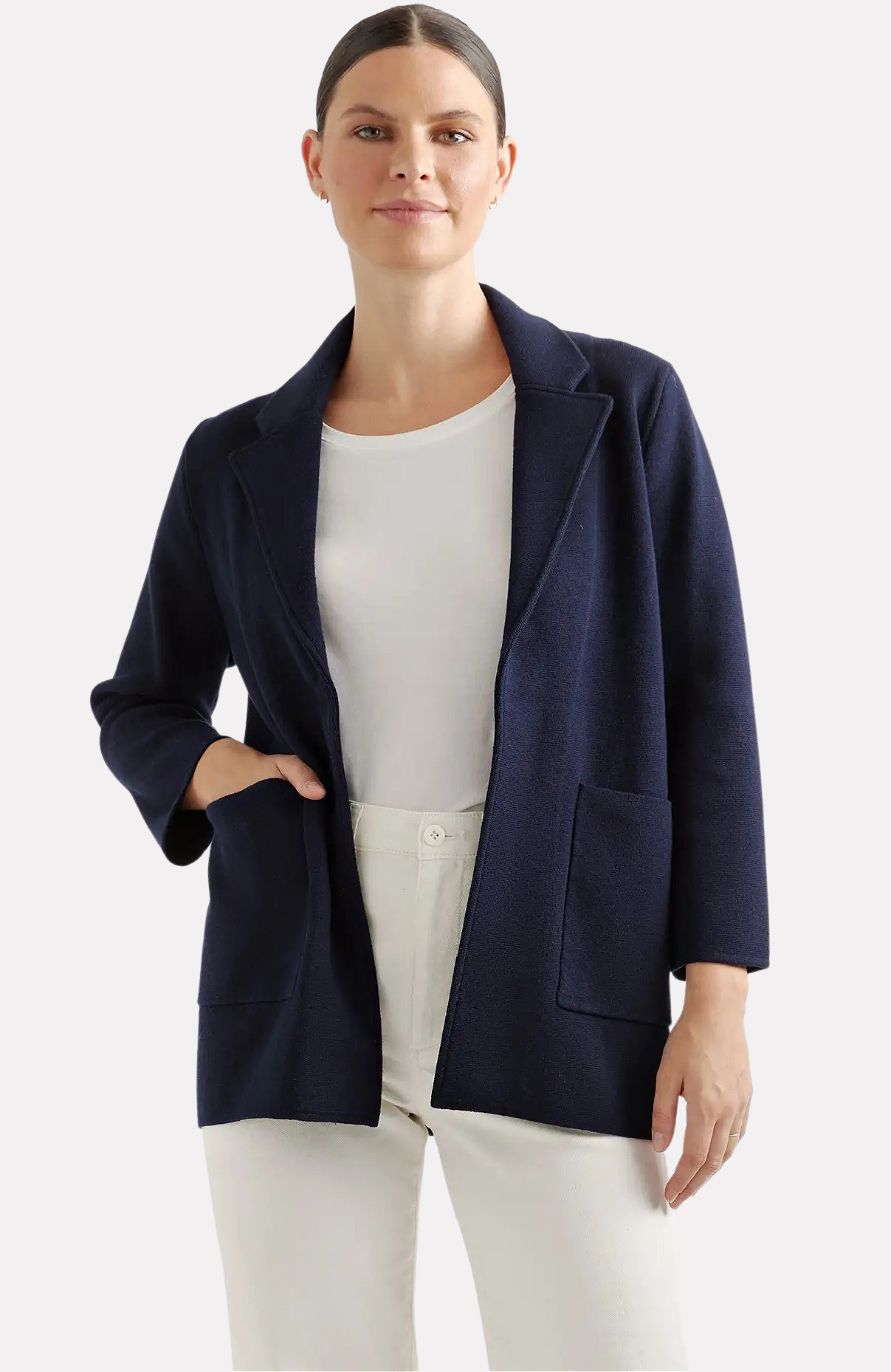 Quince Organic Cotton Knit Blazer | Sizes XS-XL
Lightweight Jackets
If you want to lean into the elevated and polished style of European locals, opt for a blazer! Readers love the versatility and effortless style of a comfortable knit blazer for their travels.
The Quince knit blazer is a reader-favorite, made of 100% organic cotton for soft yet breathable warmth. Plus, it'll look great over a t-shirt or even a fancy dress!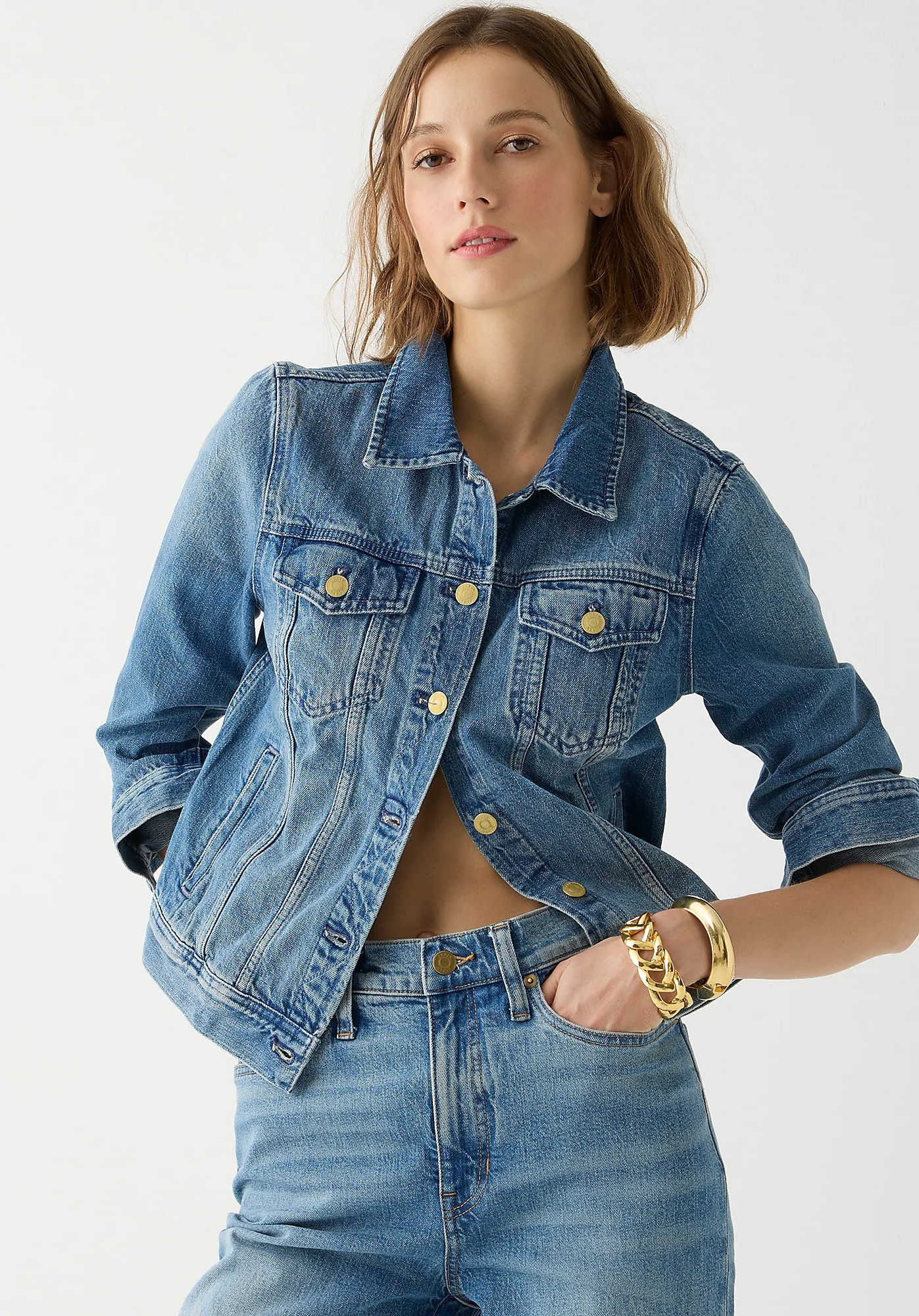 J.Crew Classic Denim Jacket | Sizes XXXS-3X
A denim jacket is as classic and cool as they come, and couldn't be more perfect for the summertime! They're lightweight and make the perfect layer for chilly summer nights, and they can be layered over a sweater in the spring season for extra warmth, too. 
J. Crew's Classic denim jacket is perfect. It has a relaxed fit, that's still nice, coupled with a faded wash, and pretty gold hardware, and is such a versatile piece that you'll be wearing throughout your trip and on every warm-weather trip to come!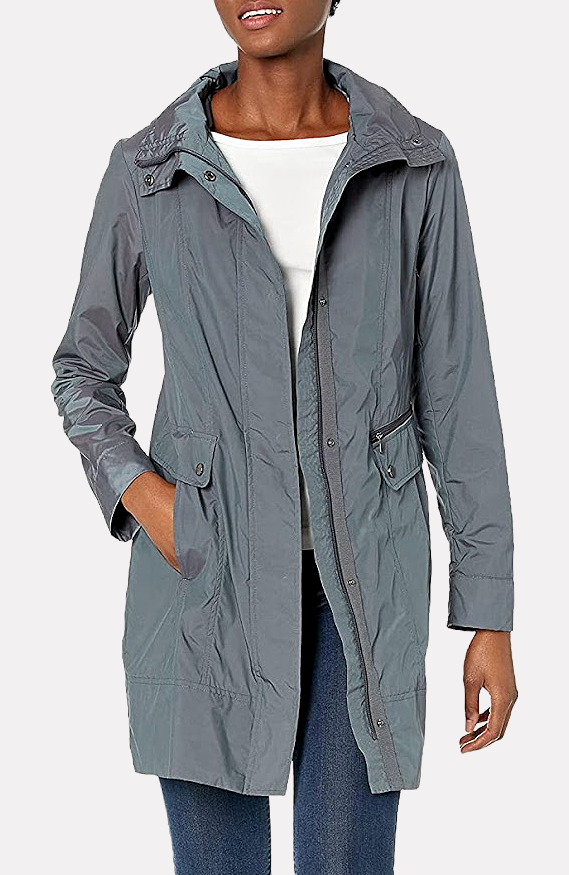 Shop Cole Haan Hooded Jacket: Amazon | Nordstrom Rack
Sizes: XS-XXL (Regular & Petite) | Plus 1X-3X
Rain Jackets
While your spring and fall cruising might involve a bit of rain, don't let that ruin the fun! If you're prepared with a chic and lightweight rain jacket, you'll be ready to explore in comfort and style. Plus, there's nothing like the romantic atmosphere of a rainy day in Europe! 
Cole Haan's packable rain jacket has a long length and a full-coverage hood yet is super packable. Its classic look and lightweight construction will make you look and feel great in every season, too.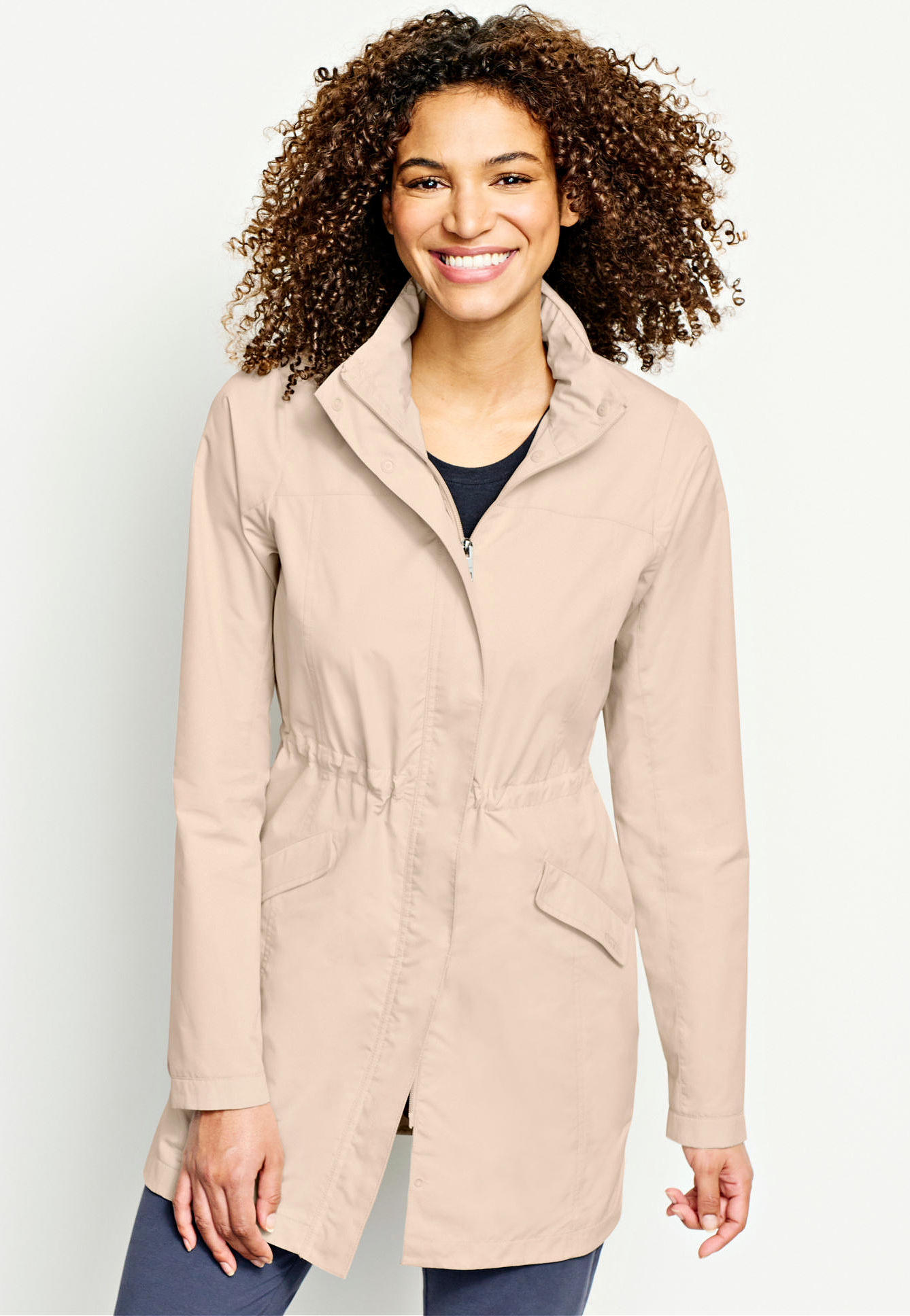 Orvis Pack-And-Go Jacket | Sizes XS-XL
Pick a rain jacket that's breathable, slim, and will give you plenty of mobility. And while black and dark neutrals are always travel-friendly colors, there's nothing wrong with a subtle pop of color to layer over your outfits — especially on a gloomy day!
Orvis' Pack-And-Go rain jacket was made for travelers. It has a clean, simple look but is full of chic features; from a vented back for extra breathability, an interior sunglasses pocket with an attached cleaner, to an adjustable waist, and a removable hood.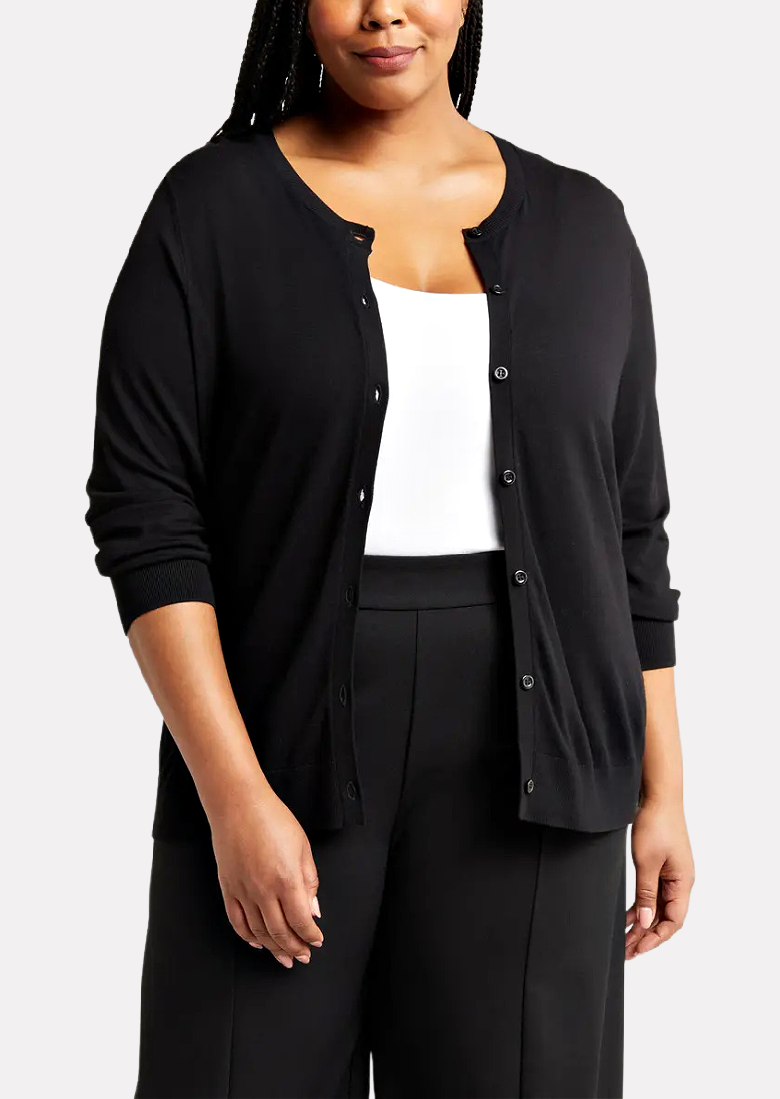 Nordstrom Crewneck Cardigan | Sizes Plus 1X-3X
Cardigans
When you need to layer, a cardigan is the best way to go. It'll add an instant warmth and comfort while being slim and easy to carry. They're also more elevated than a zip-up hoodie, so they can be worn day to day but also be paired with your more dressed up evening wear. 
Nordstrom's crewneck cardigan is a cute and simple piece that's soft, stretchy, and makes the perfect travel staple. It's warming for slightly chilly days and evenings and is perfect for cruising in transitional weather.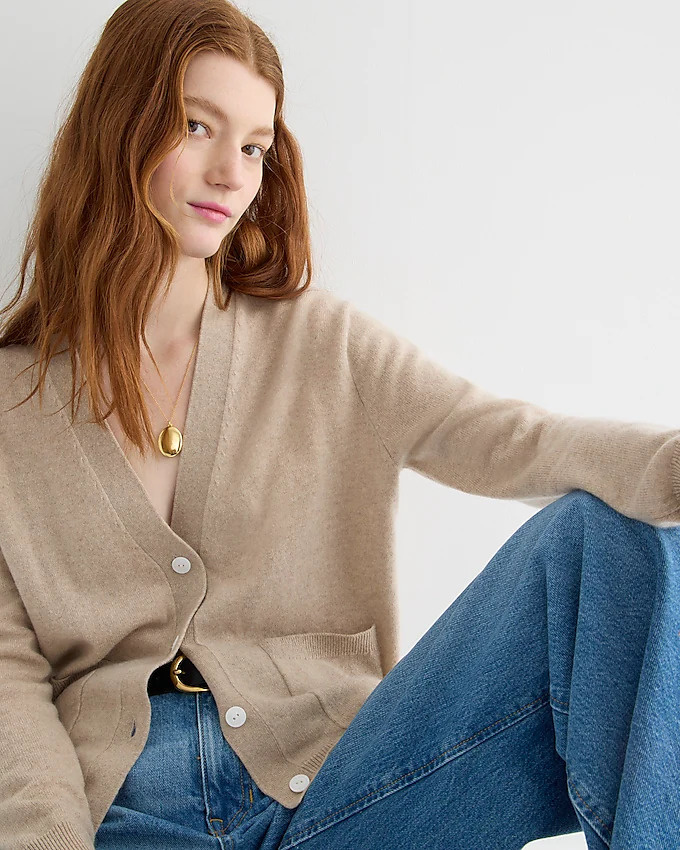 J.Crew Cashmere Cardigan Sweater | Sizes XXXS-3X
Cashmere sweaters will keep you super warm without any bulkiness, so readers love bringing J. Crew's cashmere cardigan with them when they're heading out on a multi-country trip, through different climates – like a Mediterranean cruise! It has a cozy, relaxed fit with a super elegant feel. 
What Accessories to Pack for a Mediterranean Cruise
Aside from the clothing staples, you'll want to pack some key accessories, too. 
Be sure to bring sun hats and sunglasses to keep your face shaded away from the sun. Readers often suggest a wrap or pashmina for its excellent versatility, too. 
It's best to keep jewelry to a minimum, but bringing some fun statement pieces, or even scarves, to change up the look of your dressier outfits is always a great idea!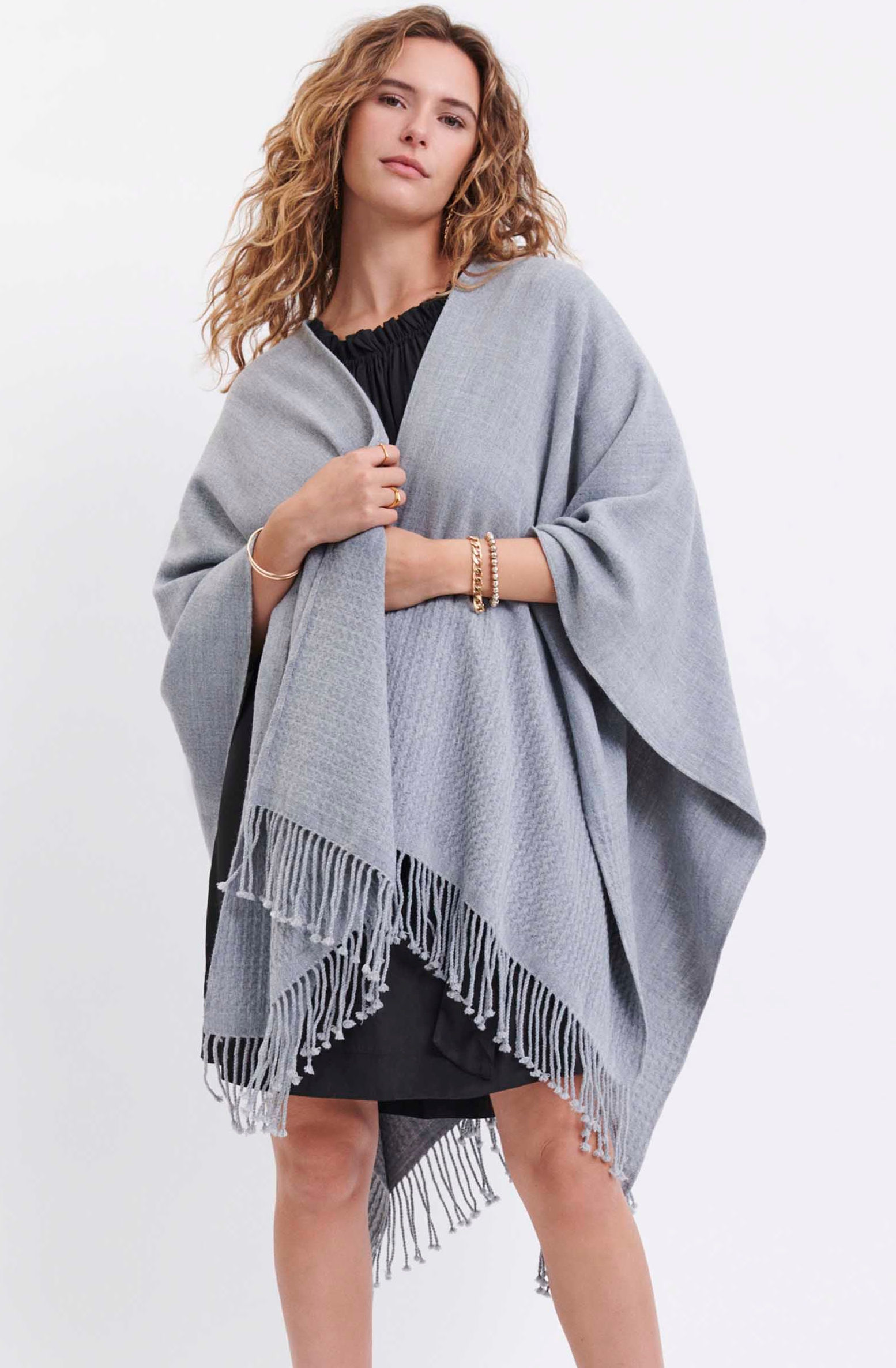 Whether using it as a pillow on your flight, a blanket on the chilly deck, or a chic addition to your dinner look, a wrap or pashmina is a perfect addition to your packing list. It's also a great coverup for your swimsuit or shoulders and legs in more modest countries and cathedrals. 
The Mersea Classic Travel Wrap is the TGF-reader top pick. It's gorgeous, high quality, cozy, and super functional!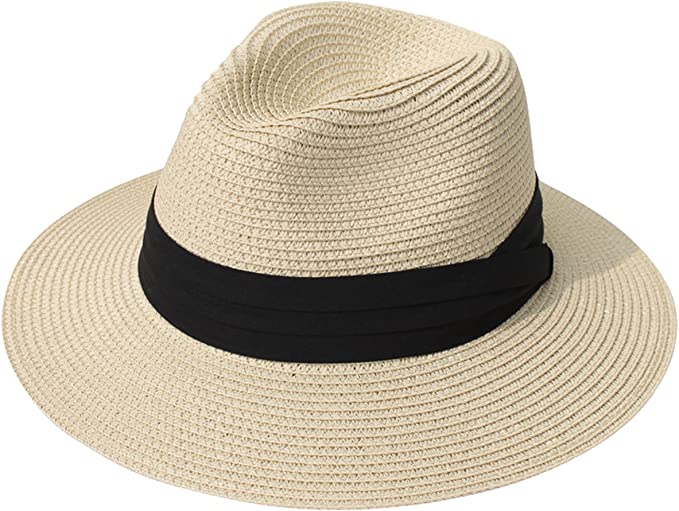 Protect your face from the sun with a cute straw hat! They're a trendy addition to any outfit and will keep things breezy and cool on a hot day. 
The Lanzom Panama hat is perfect for travel because it can be rolled or folded up and stuffed into your day bag, and will come out looking neat when you're ready to put it on! It's adjustable, comfy, and has UPF 50+ sun protection, too. This is definitely a summer cruise essential! 
What Luggage to Bring for a Mediterranean Cruise
Readers strongly suggest a carry on suitcase for cruises due to the limited amount of space in the cabin. Traveling carry on is especially handy if you'll be taking an international flight to get to your cruise ship, as it saves the need to pay for check-in luggage. Below, there are some great tips but also check out the best international carry on suitcases, with selections for Europe too!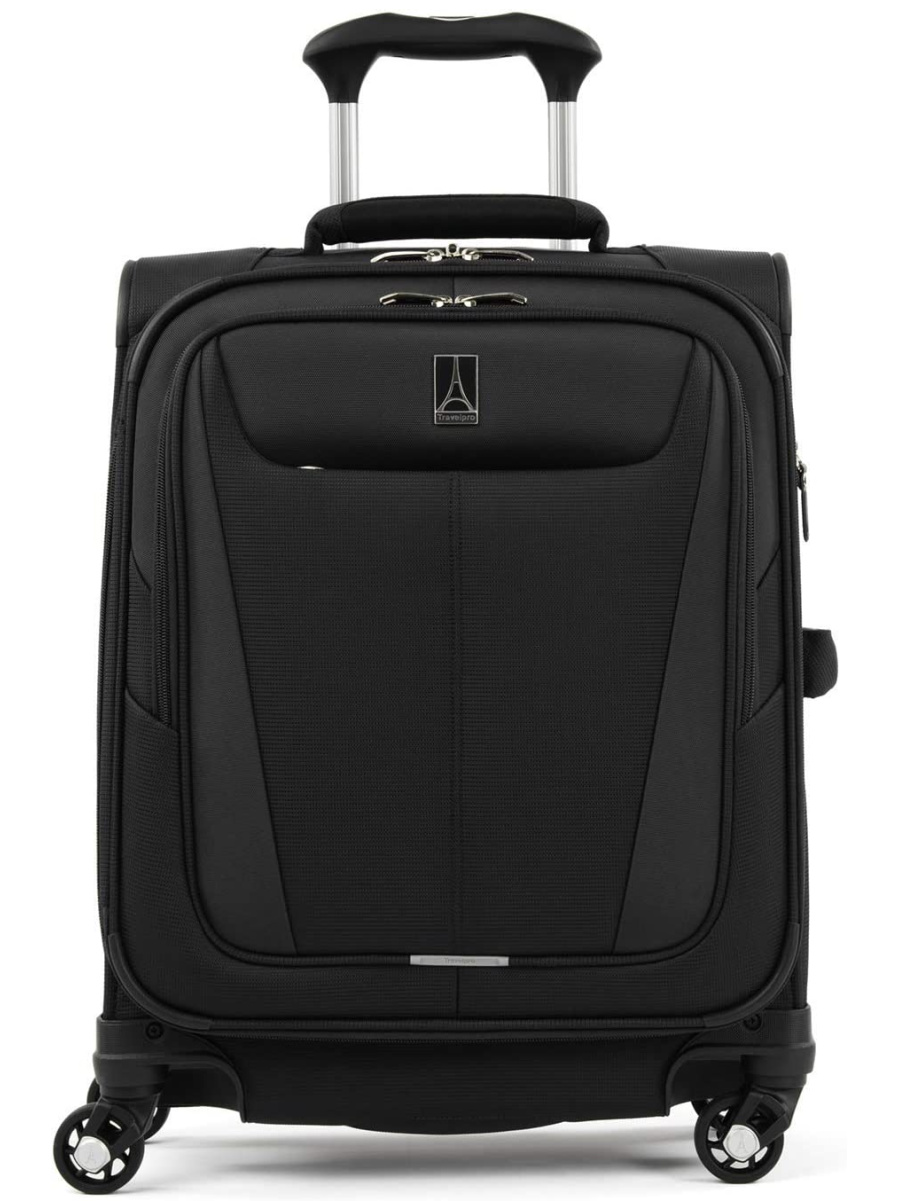 Shop Travelpro Maxlite 5 (19-Inch): Amazon | Travelpro
Suitcase
Make your travels easy breezy with Travelpro's Maxlite 5 suitcase! At 19", it'll comply with European airlines and won't take up much space on board the ship. While it's compact and lightweight, it's super easy to maneuver, and readers always rave about how spacious it is inside! 
To help you avoid overweight baggage fees, we've rounded up the best lightweight luggage!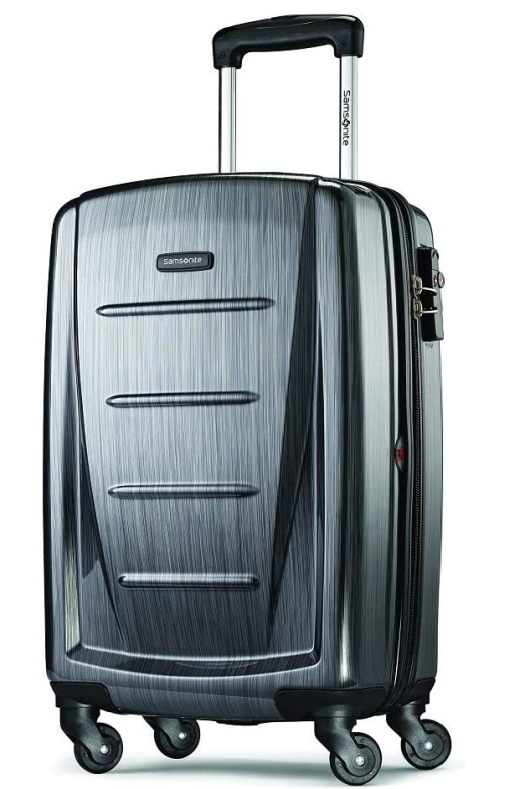 Shop Samsonite Winfield 2 (20-Inch): Amazon | Kohl's
If you're looking for a hardside option, the Samsonite Winfield 20" is a winner. It's sleek, ultra-light, super high quality, and rolls like a dream. The dimensions make it carry-on friendly for European travel, but the inside is definitely roomy and allows for great organization.
What Personal Item to Bring for a Mediterranean Cruise
The perfect personal item for a Mediterranean cruise can vary depending on what activities you'll be doing and how much you like to carry with you. 
If you have a beach day or a more active and outdoorsy day planned, a lightweight backpack is a perfect option that can hold a towel, a coverup, sunscreen, and your other must-haves. A backpack or tote bag is also perfect if you're spending the day souvenir-hunting! 
And if you'll be in an especially touristy or crowded area, you'll want to keep your things as safe as possible, opt for an anti-theft purse that has top-notch security features.  
If you need some help deciding what's the best purse for Europe, read our tip filled post here.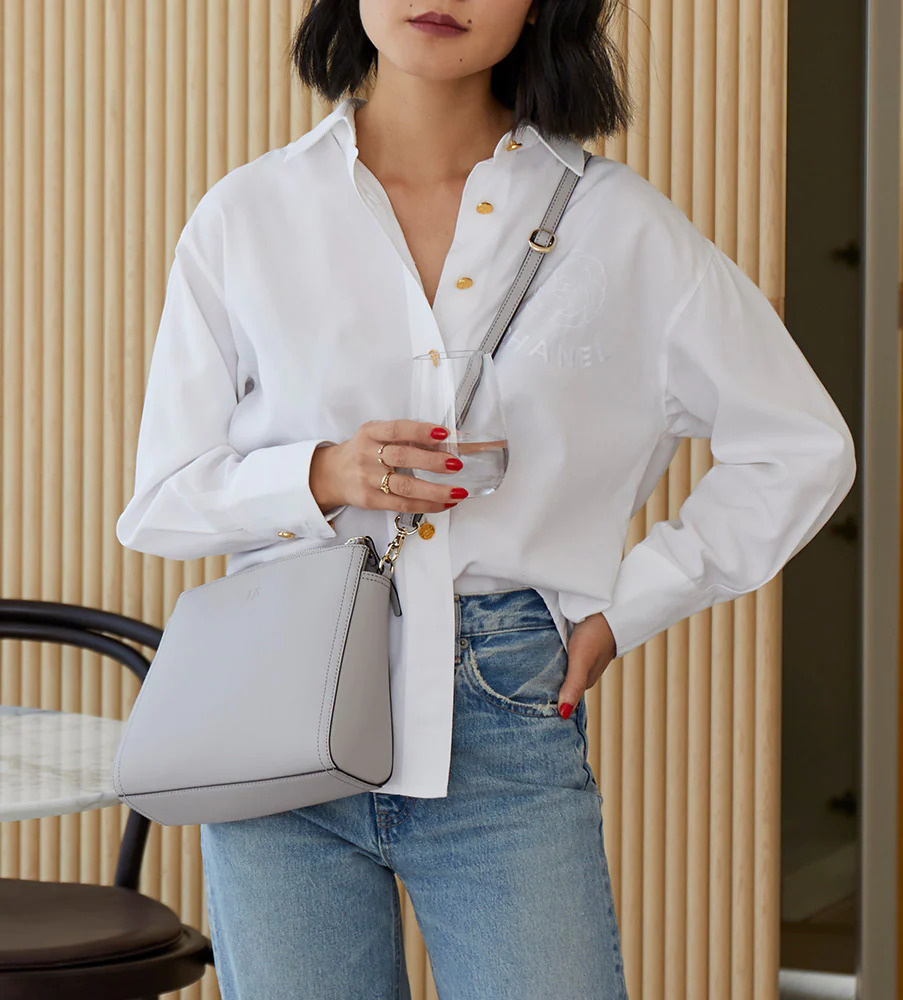 Purses
For days when you want to keep things relatively light and just want to carry a purse, a crossbody bag is perfect for keeping your belongings securely attached to your body and keeps your hands-free! Plus, they give you quick and easy access to your things, too. 
Readers love the Lo & Sons Pearl crossbody, which is both beautiful and full of function. Inside the sleek, high quality leather exterior, you'll find plenty of pockets and ample space for the day's necessities. It has a sophisticated look and holds up well despite the wear and tear of travel.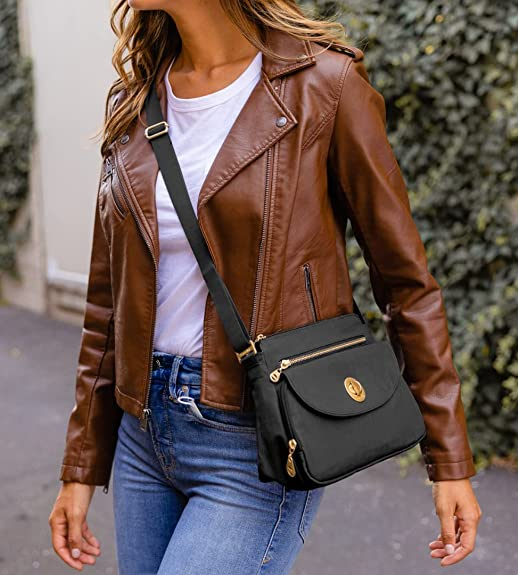 Baggallini Calais Crossbody Bag
If you don't want to worry about rain, splashes from the pool, or a spilled drink, Baggallini's Calais crossbody can handle it all with its water-resistant material. It's a more lightweight option with a super cute look and amazing interior organization to boot.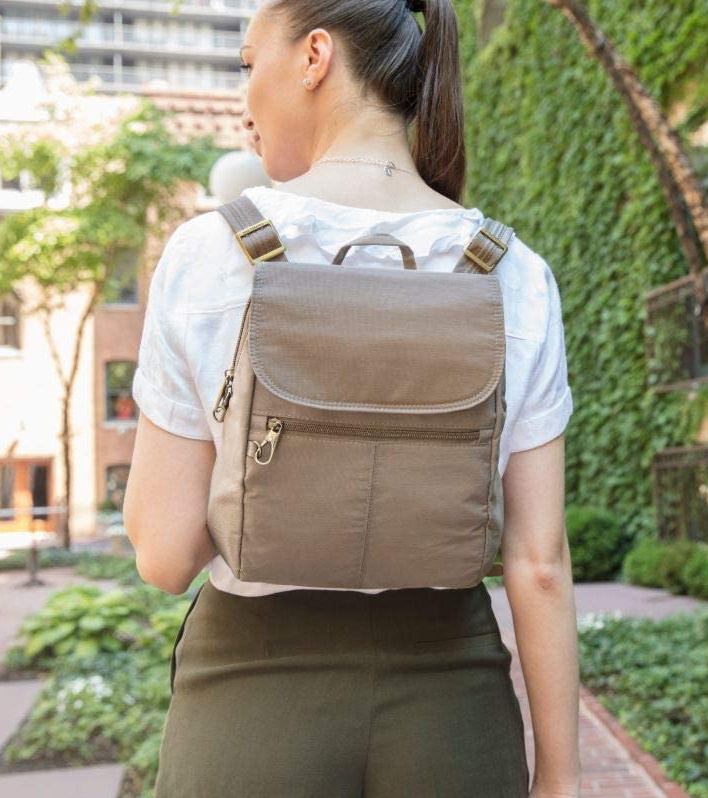 Travelon Anti-theft Signature Slim Backpack
Backpacks
Adventurous excursions or long sightseeing days in port may require some additional items, so a comfy and secure backpack is the way to go. Readers love having the peace of mind that an anti-theft backpack brings, especially since it's carried out of sight. 
Travelon's Signature Slim backpack is sleek and cute but doesn't call attention to itself, and it comes with a host of anti-theft features, from slash-resistant material to locking zippers. Plus it's super lightweight and has adjustable straps for a more comfortable fit.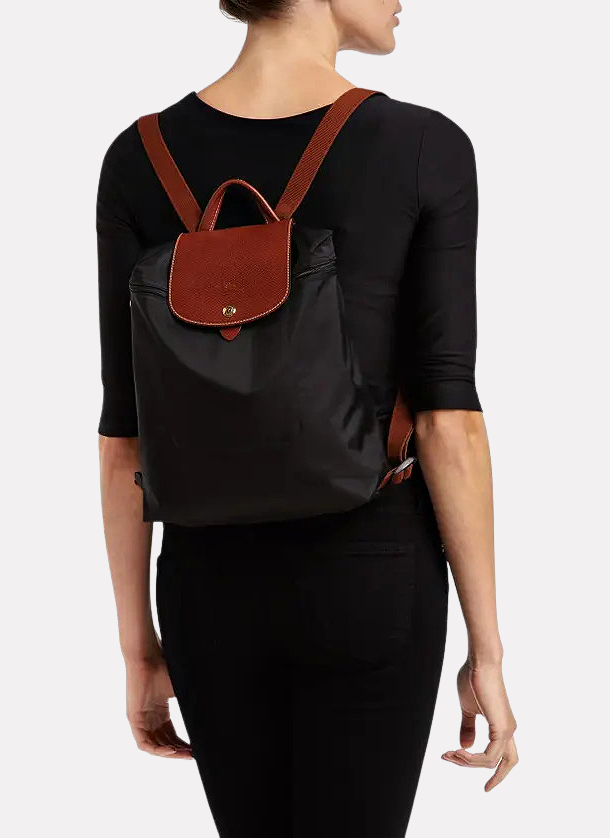 Nylon is a great fabric for bags, especially when travelling, because it's sleek, highly durable, and lightweight.  
The Longchamp Le Pliage backpack is made of sturdy nylon and finished off with its signature leather trim. It's a super chic backpack and perfectly sized for daily wear. As a bonus, it folds flat for easy packing!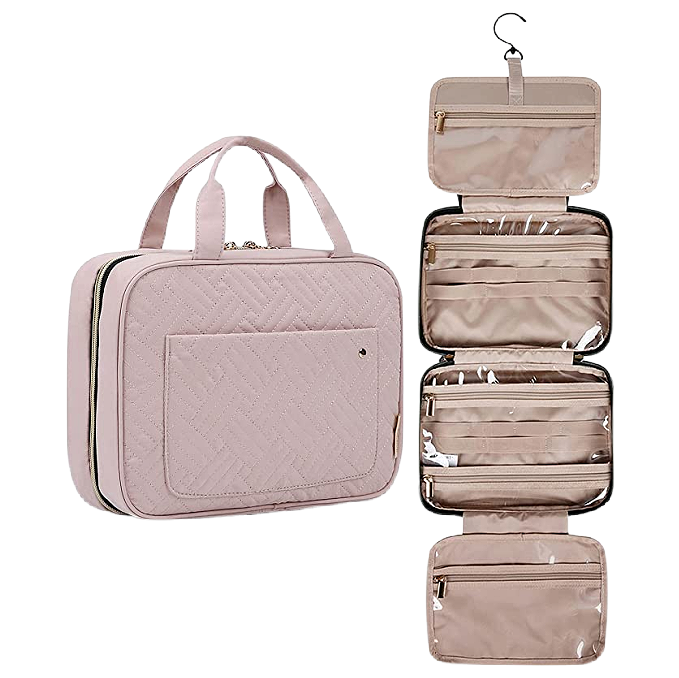 What
Toiletries t
o Pack for a Mediterranean Cruise
When it comes to makeup, try to pack strategically and think logically about how much time you want to put into your routine on a cruise, especially because early mornings and long days are common. That said, a cruise is a great opportunity to get dolled up! If you're a makeup lover, take a look at the Beauty Junkie's makeup packing list for ideas on how to keep it efficient. 
Take a look at our top 10 toiletry bags for all your beauty essentials!
Can't Live Without Cruise Item: A small magnified mirror makes for easier makeup application on the go and in cramped cruise cabins. You won't realize how much you it until you travel without it.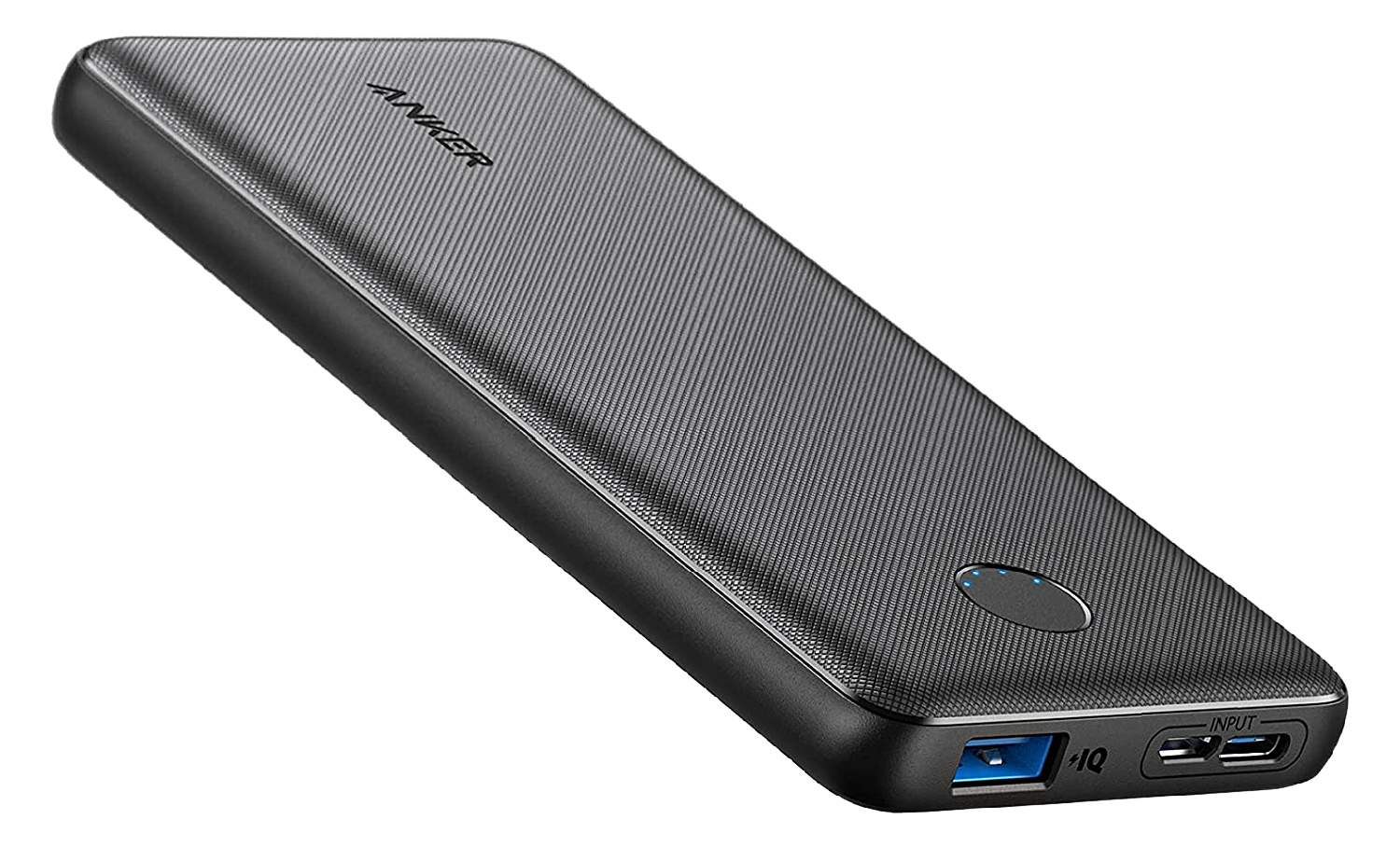 Final Mediterranean Cruise Tips From Readers
---
What are your tips on what to pack for a Mediterranean cruise? Please comment below!
---
For  more ideas on cruise travel, please read:
Suggested travel resources:
---
​​LIKED THIS POST? PIN THIS PIC TO SAVE IT!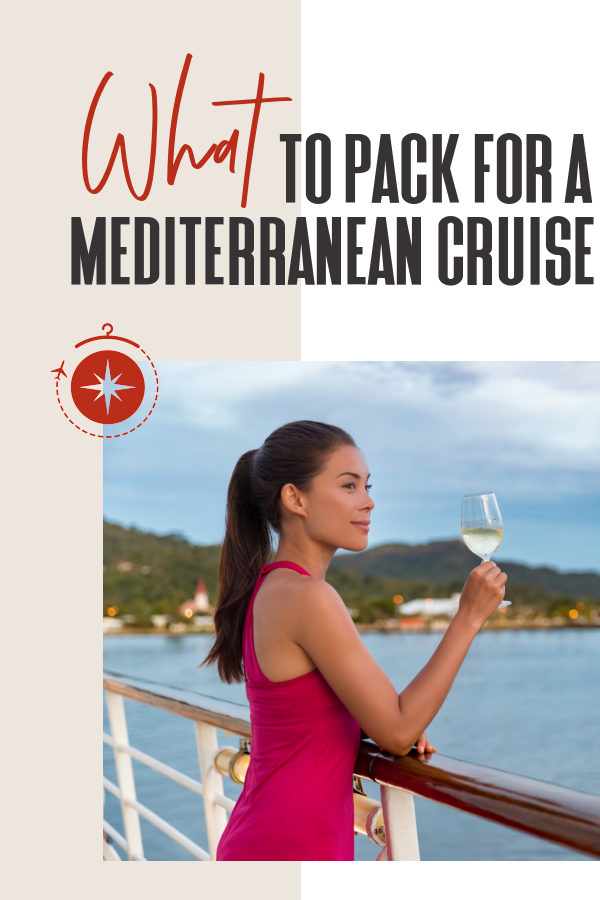 ---
Hope you liked this post on what to pack for a Mediterranean cruise. Please share with your friends on Facebook, Twitter, and Pinterest. Thanks for reading!
---

Author Bio: Kate is a small town girl looking to explore the world on a budget with a carry on bag in hand, all while looking smugly proud of her packing skills. Traveling internationally since 2008, Kate has stayed in dive hostels to high end hotels with every mode of travel getting her there. Kate has a passion for makeup, skin care, hair care and is obsessed with finding the best way to take her beauty routine in the road with her.
---