Support TFG by using the links in our articles to shop. We receive a small commission (at no extra cost to you) so we can continue to create helpful free content. As an Amazon Associate, we earn from qualifying purchases made on Amazon in addition to other retailers featured on the blog. Thank you, we appreciate your support!
Paris is, hands down, my favorite destination to pack for, and there are two reasons for this. I adore how glamorous this city is and that it's the perfect opportunity to bring my designer purses and shoes. Read our Paris packing list to find out what to wear and what to leave behind!
---
Packing List for Paris
---
Traveling to France? You're in for a treat as you explore one of the most beautiful countries in Europe. No trip to France is complete without a vacation in Paris, the country's capital and one of the fashion capitals of the world.
Regardless of their interest in fashion, many women wonder what to wear in Paris so they can be well prepared and avoid overpacking. This post is going to show you how to dress in Paris in a way that is appropriate for the weather, your planned activities, and suitable for your own personal style.
These tips will help show you how to build a Parisian capsule wardrobe so you'll be comfortable for your trip and know what pieces might be most appropriate for the time of year when you're traveling.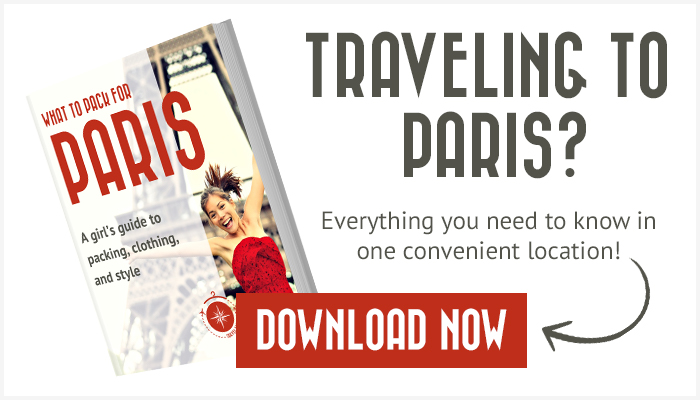 Please use these tips only as a guideline, adapting the packing principles to suit your own personal preferences and trip itinerary.
Paris Packing List: Documents & ID
Let's start with the essentials. These are the items that you can't forget, regardless of where you're traveling. Before you can decide how to dress in Paris, you have to get to Paris, and you can't get there without a few necessities.
Make sure these items are packed and secured in your bag so you don't lose them.
Identification

: In your wallet, make sure you

have your passport

and state ID/driver's license. If you need a visa, make sure you get that in advance.
Money:

You may want to take two different credit cards in case one doesn't work abroad. Bring a little bit of cash, too, in case you have trouble with the ATM. These are our readers' best

tips on getting currency

.
Travel insurance:

If you have

travel insurance

, you'll want the company contact information, as well as the policy number and pertinent information. You don't need to print this out; you can send it to yourself via email so you can access it no matter what.
Medications:

Bring enough for the duration of your trip PLUS some an extra few days should there by any unexpected delays. You should also pack a copy of a prescription.
Download our editable, vacation packing list so you remember to bring these and everything else!
Paris Packing List: Personal Item
You likely travel with a personal item for every trip, whether or not you travel carry-on only. We recommend making bringing these items on your flight for your vacation in Paris.
Bose QuietComfort 20 Acoustic Noise Cancelling Headphones
What to Pack in Your Personal Item for Paris
Mini

toiletries

(hand sanitizer, lotion, sunscreen, deodorant, and lip balm for staying fresh, clean, and hydrated)

Toothbrush with travel size toothpaste

Mini first aid kit

(ibuprofen and band-aids are always good to have on hand)

Scarf or warm layer to keep your warm on the flight

Glasses

Reusable water bottle

Makeup

(if you wear it)

An extra set of clothing (if you check your bag)
You can pack your purse inside your personal item if you travel carry-on only or you can use your purse as a personal item if you check your bag.
Rebecca Minkoff Julian Backpack
Paris Packing List: Travel Purse
Our favorite travel purse is the Rebecca Minkoff Julian backpack, which works perfectly for a carry on personal item and a day pack. This backpack in black perfectly matches Paris everyday fashion plus it's hands-free, which extremely convenient while you're on the go!
For travelers that prefer a traditional purse to a backpack, crossbody purses are the most popular option.
Readers concerned about security and safety might consider carrying an anti-theft travel purse. Our readers LOVE this style by Travelon!
Whatever bag you choose to match your Paris attire, it should mix and match with all your clothing and have sufficient space for your daily essentials.
Osprey Ozone Convertible 21.5″/42L Wheeled Luggage
Paris Packing List: Luggage
The best suitcase to have when traveling Paris is a rigid trolley case, ideally with four castors. The trolley should be divided into two compartments (not just one big compartment) for easy packing. These are easy to travel with on bumpy terrain.
As you're headed to fashionable Europe, use an equally stylish carry-on, such as the Osprey Ozone, which is a personal favorite. Keep in mind that most of Europe's budget airlines have a carry-on bag allowance of 55cm x 40cm x 20cm. Always check your airline's individual baggage rules and regulations in advance.
Depending on how many days or weeks you're traveling, you may want to use packing organizers, which allow optimum use of the space in your luggage, keeping everything organized and in place during your travels, and making the task of unpacking and repacking simple and stress-free.
Find out the most popular Europe travel bag styles according to our readers along with their tried and tested reviews.
eBags Pack-it-Flat Hanging Toiletry Kit for Travel
Paris Packing List: Toiletries 
Beyond the few toiletries you bring in your daypack, you'll need your other toiletries for daily use while traveling. We prefer to travel carry-on only, so make sure you follow TSA's 3-1-1 rule when packing.
For your toiletry bag, pack the following:
Moisturizer/face cream

Body lotion

Deodorant

Shampoo

Conditioner

Soap

Makeup

Toothbrush

Toothpaste

Razor

Hair brush
Worried that all your toiletries, makeup, skincare, and hair styling tools won't fit into your suitcase? Read these tips on how to make the most of limited space without sacrificing your beauty routine!
Best International Travel Adapter
Paris Packing List: Electronics
Along with a toiletry bag, you'll need several technology items, especially if you're traveling from outside of Europe. An adapter is a must, and depending on the devices you bring, you may also need a converter. If you plan to use your phone, you may need a Wi-Fi hotspot, pre-paid phone, or international SIM card.
Converter

(if you aren't using a dual voltage item)

Laptop/tablet charger (if you bring a laptop or tablet)

Battery pack

Camera charger (if you bring a camera)

Personal Wi-Fi hotspot or SIM card (if you won't have phone connectivity and need access)
Blondo Villa Waterproof Ankle Bootie
Paris Packing List: Clothes
When considering how to dress in Paris, it is important to remember that the city style is tailored and chic, yet conservative with an edge. Paris clothes look presentable at all times; your goal is to maintain a comfortable look, while exuding femininity and edge.
When choosing what to wear in Paris, leave the beachwear on the beach because it doesn't translate well to streetwear in the city.
Regardless of the time of year you're traveling, these are a few Paris clothing essentials you will want to pack.
Socks and underwear

Black or dark wash skinny jeans

Ankle length trousers

Neutral color blouses

Feminine dresses (layer with tights or leggings in fall and winter)
Basic t-shirts (for layering and/or extensive walking)

Lightweight cardigan or blazer

Black or white leather sneakers
Black flats (for dressy dinners out)
Columbia Pardon My Trench Rain Jacket
Tips for Packing for Paris Weather
The most important factors in packing for Paris are the activities you'll be doing on your trip AND the weather. Always, always, always check the weather forecast before your trip. What to wear in Paris now could be different a week later.
Nothing will ruin your trip faster than being unprepared with the wrong clothing for the weather. Paris summer fashion is very different than winter fashion. Knowing the weather will also make it much easier to pack only the essentials.
The following are temperature averages for Paris by season:
Spring (March-May): 40-70 F
Summer (June-August): 55-75 F
Fall (September-November): 45-70 F
Winter (December-February): 35-45 F
Generally speaking, July is the hottest month and January is the coldest month in Paris. Just remember, these are just averages based on historical data- the weather is always changing and Paris may be experiencing a heat wave or cold chill, so double check the weather in the days leading up to your trip.
Depending on the season you're traveling to Paris, you may also need to pack:
Zella Live In High Waist Leggings
Other Packing Essentials
Beyond everything we've shared so far, you may want to include some of these items in your luggage:
Reusable shopping bag

Jewelry

Leggings (for the plane and for lounging)

Paris travel guide
What to Do in Paris
Paris is one of the most amazing cities to visit because there are so many beautiful sites to take in. Follow our recommendations before you travel to Paris.
Top Paris Sites
Paris is the home to some of the most famous landmarks in the world. From museums to gardens to monuments, there are a number of sites you'll want to see.
Paris Tours
Some travelers prefer the guidance of professionals for planning their trip. If you're a fan of tours, check out these top tours for Paris.
Day Trips from Paris
While Paris may be the center, there are so many other cities in France worth a visit. There are several places to see outside of Paris that you can get to by train. Depending on the length of your trip, consider adding one of these cities or sites to your Paris itinerary.
Compass Rose Secret Bra Wallet
Staying Safe in Paris
Be cautious about where you stash your cash so you don't fall prey to muggings and pickpocketing. Make your clothing theft-proof and choose items with strong zippers. Jeans are handy for this reason: you can put important items, like your wallet and phone, in your front pockets, where it's very difficult for a wandering hand to snatch it.
And be mindful of purse snatchers! They either slash the bottom of your bag so the content fall out or slash the strap. Wear your purse strap across your body and the zipper towards the front. For extra security, check out the "theft-proof" bags featured in this post about crossbody purses.
Remember, the safest place for your passport is locked in your accommodation. Carry a photocopy or other ID when you're sightseeing or are out at night.
Read these tips on how to keep your passport safe when you travel!
Anti-theft accessories for Paris
Paris is on many travelers' bucket lists for a reason – it's an incredible city that's worth a trip any time of year. While you'll need to change up the specifics of what to wear in Paris depending on the season, you can never go wrong with classic and sophisticated pieces in neutral colors in this stylish city.
Also, always check the weather in the week leading up to your trip so you can adjust your Paris packing list from there. You never know when a heat wave or cold front can strike and there's nothing worse than sweating or freezing on your travels!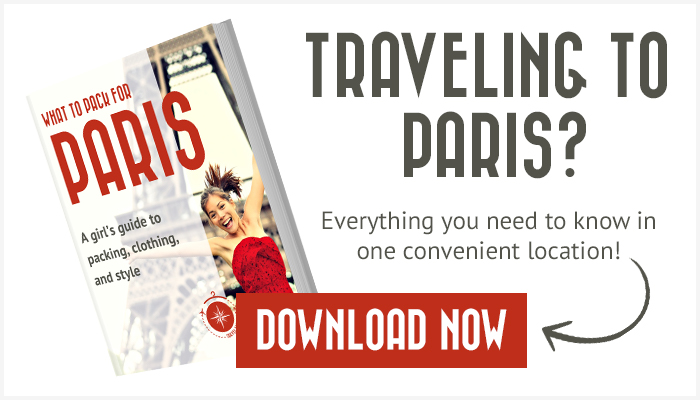 ---
What are your tips when planning what to wear to Paris?
---
For more Paris packing tips, please read:
Suggested travel resources:
---
LIKED THIS POST? PIN THIS PIC TO SAVE IT!
---
I hope you've found these packing tips on what to wear to Paris. Please share with your friends on Facebook, Twitter, and Pinterest. Thanks for reading!
---