---
Join our community of 500,000 stylish female travelers! Sign up for Travel Fashion Girl's newsletter and never miss a thing!
---
Dresses are multi-purpose making them the perfect staple in your travel wardrobe. Find out how to turn any one of your dresses into versatile dresses!
Here's a similar dress to the one shown above!
---
Wear One Dress, Many Ways
---
Not only are dresses a one-piece outfit, but if layered and accessorized strategically, they can take you in between seasons and accommodate changes in weather. One dress, many ways!
Sunglasses | Watch | Necklace | Wrap Dress | Crossbody | Flats
In winter, you can wear dresses with knit tights or leggings, tall boots, a scarf, a sweater and/or a coat.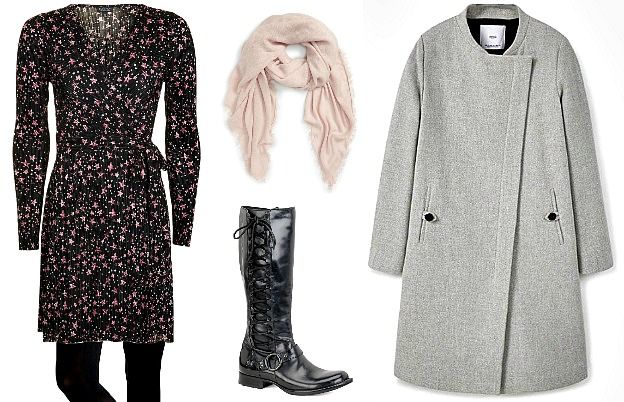 Wrap Dress | Scarf | Tall Boots | Coat
You can easily wear a thermal long sleeve top underneath for extra warmth and even wear plain black tights underneath your leggings or knit tights.

Tights are one of the most underused accessories to maximize a travel wardrobe. In Europe, it's very popular to wear them with dresses in cooler climates.
Matte Tights | Cable Knit Tights | Knit Tights
Tights can vary in colors and textures, but just two pairs can easily take you from fall to winter and into spring weather.
A solid pair of matte black tights in a 70 denier density (which is not see-through) can be worn under a nice dress with heels for lovely dinners. They can also be used alone with daytime dresses and boots in fall or spring or on mild winter days.
As a plus, these tights can be layered under thicker knit or wool tights in colder weather. For extra versatility, you can also replace knit tights with solid black leggings, like the ultra-popular Zella "Live In" leggings (also available in Plus size).
These are the 10 best leggings for women who travel!
Smartwool Tight | Merino Tights
Wool is one of the best fabrics for travel in cold weather, and a great option for tights or leggings. Wool leggings can easily be worn under dresses and also used to work out, go hiking, or spend time in the great outdoors.
For knit tights, choose a color such as gray instead of black to add interest to a neutral wardrobe, especially if you have black shoes and black clothing.
Learn more about how to pack for cold weather!
Chambray Dress Plus | Jersey Minidress | Cap Sleeve Dress | Maxi Dress
In the summer, dresses can be worn without tights and act as a stand-alone outfit that can keep you fresh while exuding femininity. Choosing lightweight fabrics such as silk, cotton, rayon, or polyester (with a breathable weave), don't take up much space.
Hat | Earrings | Shirtdress | Crossbody | Sunglasses | Sandals
You can easily pack seven summer dresses for a one-week trip and not have to worry about mixing and matching. You'll have seven completely unique looks if you choose a variety of colors and prints.
Crossbody | Boots | Shirtdress | Scarf | Tights
In the winter, you can also use this strategy but you may need to pack (and alternate between) three to four versatile dresses for a one-week trip because winter fabric weights tend to be bulky.
Find out other clothing combinations with our capsule wardrobes!
Thermal Top | Tights | Dress | Jacket
However, you can pack lighter-weight fabric dresses in moderately cold weather, too, as long as you wear warm layers underneath and over the dress. This is actually one of the most strategic ways to pack for trips with different weather or when traveling in between seasons. Layering!
Learn more about this strategy here!
Another useful trick for traveling in between seasons or weather systems is to pick a combination of summer and fall/spring versatile dresses that can mix and match.
For example, you can pack a slip dress in a neutral color to wear alone in summer then wear it underneath a sheer, sleeved dress (instead of a regular slip).
What's a neutral color? Find out!
Crushed Velvet Slipdress worn two ways
Alternatively, you can wear a short-sleeve crewneck tee or long-sleeve top underneath a slip dress to transition it into autumn or spring.
Turtleneck | Short Sleeve | 3/4 Sleeve
Instead of a slip dress, you can choose a different type of sleeveless dress if you prefer more coverage or want to cover bra straps. Are you wearing the wrong bra size? Most likely! And it's ruining your outfits.
Draped Dress | Minidress | Scoop Neck Dress Plus
It's always good to have a classic LBD in your travel wardrobe but when it comes to dresses, you don't have to limit yourself with prints and colors. Just remember to choose basic-colored layers that you can wear over and under your dresses.
Cardigan | Sunglasses | Dress | Crossbody | Watch | Necklace | Boots
When it comes to convertible dresses, you might not be able to wear them over basic tees, but they can be worn in other ways that make them beneficial for travel.
Take a look at our round-up of the best convertible dresses for travel!
Braided Belt | Neck Scarf | Infinity Scarf
Lastly, don't forget about accessories–and I'm not just talking about scarves. Belts are an absolute must! They not only help define your waist and keep dresses from looking bulky (adding imaginary weight to your travel pictures), but they can completely transform your look.
Clutch | Belt | Sandals | Dress | Bangle | Earrings | Lipstick
Take your outfit from day to night by adding a woven or dressy belt. Choose a belt that is long enough to fit on your waist or looped into your jeans for added versatility.
Avoid packing belts with heavy hardware. They may be cute, but will easily add weight to your suitcase or travel backpack.
Take a look at these fashionable summer accessories!
Shirt | Cardigan | Striped Shirt | Vest
In addition to belts, sleeveless vests and cardigans can change the look of a dress while adding a bit of extra warmth. Again, make sure they're in a neutral color that can be paired over the rest of your wardrobe, too.
If the vest or cardigan has buttons, this is also a plus because it means you can fully cover the top half of versatile dresses , further enhancing your travel outfit options.
Don't forget one of the best tricks in the travel fashion book! You can transform versatile dresses  into a skirt by wearing a classic crew neck cardigan or tee on top. Again, by choosing neutral-colored cardigans and tees, your travel wardrobe options are increased even more.
Next time, we'll look at the best basic tees and cardigans for travel. Stay tuned!
SHOP OTHER VERSATILE DRESSES:
---
Midi Slip Plus | Cap Sleeve Dress | Body Con Plus | Scooped Back Plus / Racerback

---
What are your best tips on transforming versatile dresses worn as one dress many ways? Share your thoughts below!
---
For more tips on travel fashion, please read these posts:
---
LIKED THIS POST? PIN THIS PIC TO SAVE IT!
---
I hoped you liked this post on versatile dresses. Please share with your friends on Facebook, Twitter, and Pinterest. Thanks for reading!
---
Liked this article? Check out similar posts: