Support TFG by using the links in our articles to shop. We receive a small commission (at no extra cost to you) so we can continue to create helpful free content. As an Amazon Associate, we earn from qualifying purchases made on Amazon in addition to other retailers featured on the blog. Thank you, we appreciate your support!
Dresses are multi-purpose making them the perfect staple in your travel wardrobe. Find out how to turn any one of your dresses into versatile dresses!
Here's a similar dress to the one shown above!
---
Wear One Dress, Many Ways
---
Preparing your travel capsule wardrobe and carry-on for one climate can be stressful enough, but what about when you travel between destinations with significant weather changes?
Packing for a trip with various climates is one of the most common issues for travelers. One day you could be soaking up the sunshine in the Caribbean and the next, you could find yourself braving the cold winds of the Scottish Highlands. Enter the perfect solution: a dress.
Not only are dresses a one-piece outfit, but if layered and accessorized strategically, they can take you in between seasons and accommodate changes in weather. One dress, many ways!
Sunglasses | Watch | Necklace | Dress | Crossbody | Flats
Choose a Versatile Dress Style
It may come as a surprise to learn that dresses are one of the best items of clothing to travel with when it comes to preparing for different types of weather. When we think about the 'perfect travel dress,' it's tempting to pack the same little black dress that's been there for us since the beginning of time!
However, wearing the same black dress each time you go out can get a little tedious and boring. Instead, choose a super versatile option. I really love shirt and wrap dresses. You can get really nice and inexpensive shirt or wrap dresses. You probably even have one hanging in your closet. These styles of a dress give you a lot of versatility and styling options.
If the sun is shining, the dress looks great on its own, but if the weather drops slightly, it's a good idea to layer the dress with a basic tee to keep you warm. In winter, you can wear dresses with knit tights or leggings, tall boots, a scarf, a sweater and/or a coat. 
From stylish maxis to convertible travel dresses, we have dozens of articles featuring the top travel dress styles!
Dress | Tights | Scarf | Tall Boots | Coat
Add Tights, Leggings, or Thermals
In colder weather, warm up your legs with a pair of cable knit tights. I love them – not only are they incredibly fashionable but they're also very versatile, lightweight and easy to pack. If a cable knit pair is too warm, go for traditional black tights instead. Tights give you the power to transition your dress for both hot and cold climates, making them a must-have piece for traveling abroad.
Check out these stylish and cozy warm winter dresses all recommended by TFG readers!
Matte Tights | Cable Knit Tights | Knit Tights
Tights are one of the most underused accessories to maximize a travel wardrobe. In Europe, it's very popular to wear them with dresses in cooler climates.
Tights can vary in colors and textures, but just two pairs can easily take you from fall to winter and into spring weather.
A solid pair of matte black tights in a 70 denier density (which is not see-through) can be worn under a nice dress with heels for lovely dinners. They can also be used alone with daytime dresses and boots in fall or spring or on mild winter days.
As a plus, these tights can be layered under thicker knit or wool tights in colder weather. For extra versatility, you can also replace knit tights with solid black leggings, like the ultra-popular Zella "Live In" leggings (also available in Plus size).
These are the top leggings for women who travel!
Wool is one of the best fabrics for travel in cold weather, and a great option for tights or leggings. Wool or fleece leggings can easily be worn under dresses and also used to work out, go hiking, or spend time in the great outdoors.
For knit tights, choose a color such as gray instead of black to add interest to a neutral wardrobe, especially if you have black shoes and black clothing.
Learn more about how to pack for cold weather!
Hat | Earrings | Shirtdress | Crossbody | Sunglasses | Sandals
Styling Dresses in Summer
In the summer, dresses can be worn without tights and act as a stand-alone outfit that can keep you fresh while exuding femininity. Choosing lightweight fabrics such as silk, cotton, rayon, or polyester (with a breathable weave), don't take up much space.
You can easily pack seven summer dresses for a one-week trip and not have to worry about mixing and matching. You'll have seven completely unique looks if you choose a variety of colors and prints.
Tote  | Boots | Shirtdress | Scarf | Tights
In the winter, you can also use this strategy but you may need to pack (and alternate between) three to four versatile dresses for a one-week trip because winter fabric weights tend to be bulky.
This Blondo Villa boot shown above is a reliable and comfy choice for winter. Our readers and the Editor-in-Chief love these so much did a video review on them and a post. 
Watch this video review on the Blondo Villa Waterproof boot!
Find out other clothing combinations with our capsule wardrobes!
Thermals | Dress | Jacket | Boots
Don't Forget about Basic Layers
You can pack lighter-weight fabric dresses in moderately cold weather, too, as long as you wear warm layers underneath and over the dress. This is actually one of the most strategic ways to pack for trips with different weather or when traveling in between seasons. Layering!
You can't go wrong with a few basic layers in your wardrobe. A basic tee in white or black with a crew neck is essential for any travel wardrobe. Wear it alone on a hot, sunny day or layer it underneath your dress for extra warmth in cold weather.
If you're traveling to a very cold destination with low temperatures, it's worth packing a warmer piece for layering such as a classic turtleneck. You can wear a turtleneck under your dress to provide you with an extra layer of insulation in colder climates.
The video below might also help you figure out what to buy to better prepare for colder temperatures. 
Get started on organizing for cold-weather travel with this video!  
Additionally, if low temperatures and heavy rainfall are on the horizon, it's worth packing a small umbrella for your trip. If you have limited luggage space, try to avoid packing anything too bulky and instead choose something to layer over your dress such as a cardigan or crew neck sweater. Throw it on over your dress and instantly transform your outfit into a two-piece with a cute top and a fashionable skirt.
These are the top thermal brands according to our readers!
Another useful trick for traveling in between seasons or weather systems is to pick a combination of summer and fall/spring versatile dresses that can mix and match.
For example, you can pack a slip dress in a neutral color to wear alone in summer then wear it underneath a sheer, sleeved dress (instead of a regular slip).
What's a neutral color? Find out!
Crushed Velvet Slipdress worn two ways
Alternatively, you can wear a short-sleeve crewneck tee or long-sleeve top underneath a slip dress to transition it into autumn or spring.
Like short sleeve tees, the right long sleeve t shirt is a versatile travel staple. These are our readers top picks!
Turtleneck | Short Sleeve | 3/4 Sleeve
Instead of a slip dress, you can choose a different type of sleeveless dress if you prefer more coverage or want to cover bra straps. Are you wearing the wrong bra size? Most likely! And it's ruining your outfits.
Draped Dress | Minidress | Scoop Neck Dress Plus
It's always good to have a classic LBD in your travel wardrobe but when it comes to dresses, you don't have to limit yourself with prints and colors. Just remember to choose basic-colored layers that you can wear over and under your dresses.
Check out our roundup of the ultimate little black dresses!
Cardigan | Sunglasses | Dress | Crossbody | Watch | Necklace | Boots
When it comes to convertible dresses, you might not be able to wear them over basic tees, but they can be worn in other ways that make them beneficial for travel.
Take a look at our round-up of the best convertible dresses for travel!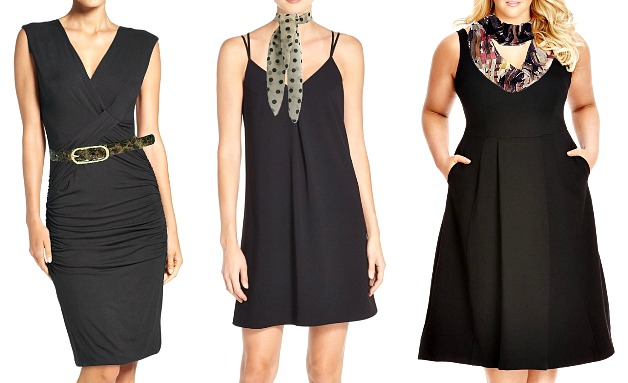 Braided Belt | Neck Scarf | Infinity Scarf
Accessorize the Look
Don't forget to change up your look with some suitable fashionable accessories. A black belt will cinch you in at the waist and give you an attractive hourglass silhouette. This great trick can be used with a dress that comes with a defining waist, or you can create your own by pairing it with a loose-fitted piece to help accentuate your curves.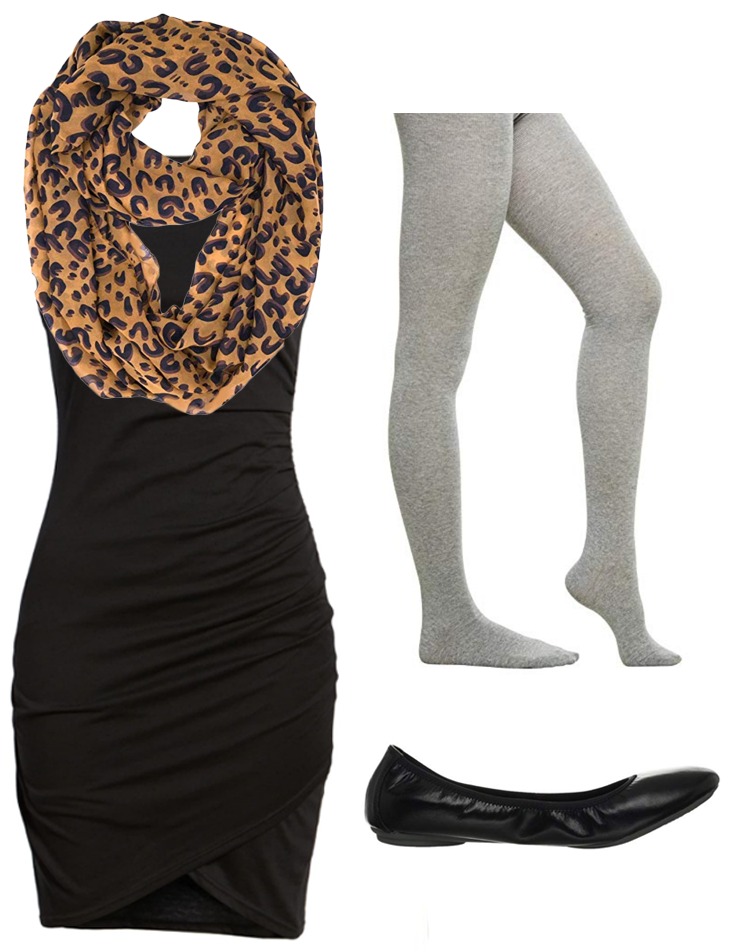 Scarf | Dress | Tights | Flats
Another great accessory to pack for different weather types is a scarf – a must-have when traveling somewhere in a cold climate. If you're wearing a black dress, choose a bold scarf to breathe life into your outfit and add a pop of color to your travel wardrobe.
Clutch | Belt | Sandals | Dress | Bangle | Earrings | Lipstick
Take your outfit from day to night by adding a woven or dressy belt. Choose a belt that is long enough to fit on your waist or looped into your jeans for added versatility.
Avoid packing belts with heavy hardware. They may be cute, but will easily add weight to your suitcase or travel backpack.
Take a look at these fashionable summer accessories!
Cardigan | Dress | Sunglasses | Boots
In addition to belts, sleeveless vests and cardigans can change the look of a dress while adding a bit of extra warmth. Again, make sure they're in a neutral color that can be paired over the rest of your wardrobe, too.
If you need some additional warmth, these cardigan are a sound pick!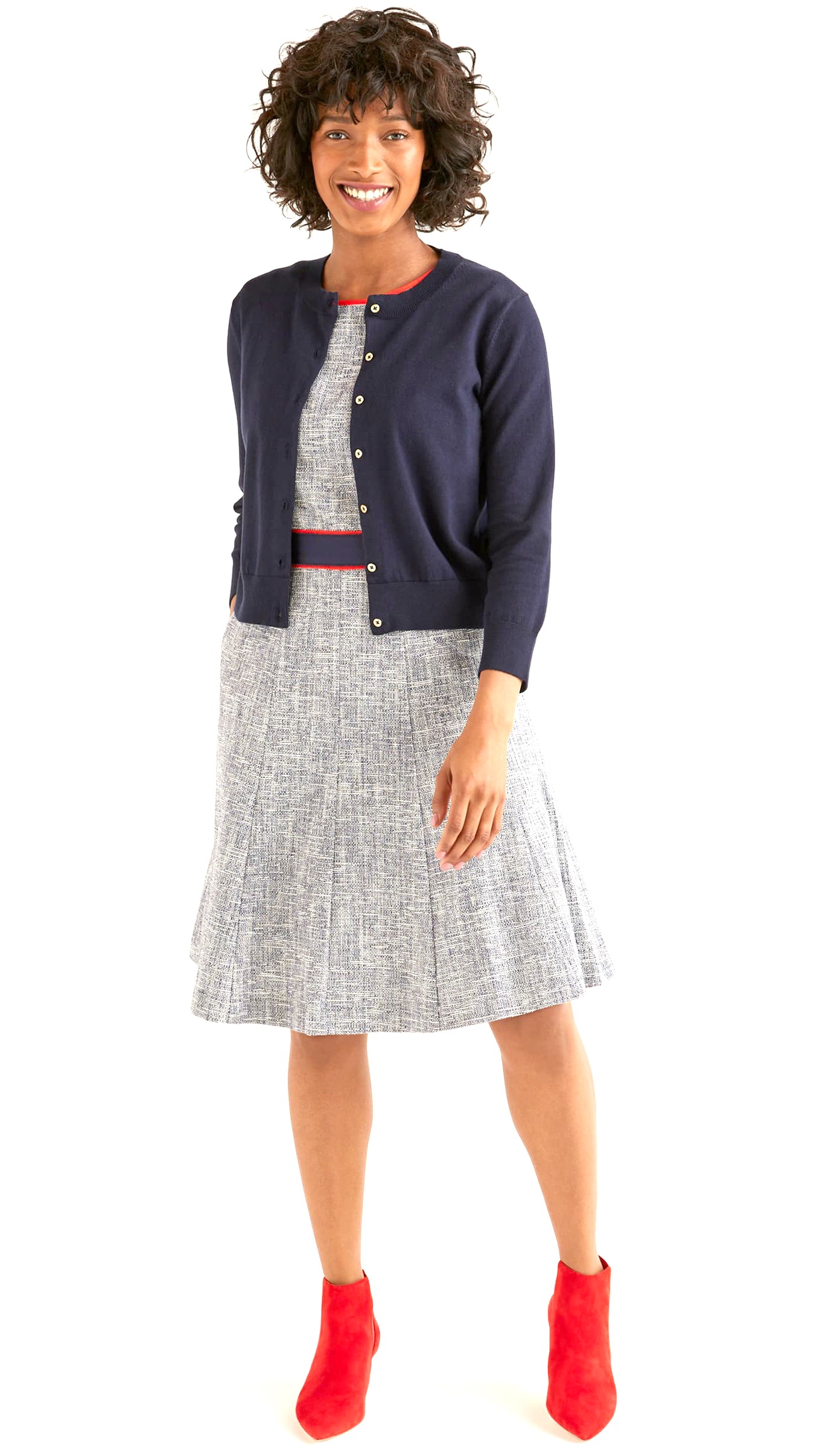 If the vest or cardigan has buttons, this is also a plus because it means you can fully cover the top half of versatile dresses, further enhancing your travel outfit options.
Dress | Crewneck Long Sleeve Tee | Backpack | Flats
Don't forget one of the best tricks in the travel fashion book! You can transform versatile dresses into a skirt by wearing a classic crew neck cardigan or tee on top. Again, by choosing neutral-colored cardigans and tees, your travel wardrobe options are increased even more.
Choose High-Quality Fabrics
Wearing fabrics that are suitable for cold weather is vital for traveling to regions with extreme weather fluctuations. In warmer weather, it's easy to lose a few layers whereas cold climates need slightly more work.
The J.Crew Tippi Sweater (sold out) but the similar Halle Sweater which is featured above and made of 100% merino wool is a packable item that will provide warmth, without overheating the body. TFG readers love it so much we did a full review on the sweater and check out the video below on why it's a great for layering in chilly to mild destinations.
This video reveals why the J. Crew Tippi sweater is awesome for travel!
A dress made from merino wool is fantastic for cold weather because its warm, breathable and feels soft against the skin. It's a natural fabric that you can re-wear several times without washing, which makes it perfect for longer trips.
Check out our readers picks for merino wool dresses. 
Earrings | Belt | Flats | Sweater| Dress
Maximize your luggage space in transitional weather by choosing high-quality fabrics that will keep you warm. A bodycon knit dress is an excellent choice and easy to layer with a cardigan or light jacket. You can dress it up in the evening or wear it as it is for a casual daytime look.
Or, as the weather changes, you can wear leggings underneath. You can also throw it on over a basic black dress – a great option for business travelers.
Video Review
Watch this video on how to make any dress versatile for travel
How to Organize Your Dresses
Packing cubes can help organize all the clothes you intend to bring, along with your dresses! We designed our own brand of slim packing cubes, with a unique color and numbering system, so it's easy to remember where you've packed everything. See the video below for more.
Learn our packing hacks with packing cubes in the video!
We also put together a five-part YouTube series showing the different methods to use packing cubes for travel. If you use this specific packing strategy, packing cubes can also compress your belongings. This is the secret to traveling carry-on only!
SHOP OTHER VERSATILE DRESSES:
---
TFG Editor wearing Encircled Chrysalis Cardi
Read my review to learn more about the convertible wrap dress you can actually wear everywhere!
---
What are your best tips on transforming versatile dresses worn as one dress many ways? Share your thoughts below!
---
For more tips on travel fashion, please read these posts:
---
LIKED THIS POST? PIN THIS PIC TO SAVE IT!
---
I hoped you liked this post on versatile dresses. Please share with your friends on Facebook, Twitter, and Pinterest. Thanks for reading!
---