Support TFG by using the links in our articles to shop. We receive a small commission (at no extra cost to you) so we can continue to create helpful free content. As an Amazon Associate, we earn from qualifying purchases made on Amazon in addition to other retailers featured on the blog. Thank you, we appreciate your support!
Even though I like to feel comfortable in my clothing during flights, I don't want to necessarily throw away style either. Check out a few airplane outfit ideas to feel relaxed but still look chic when traveling!  
---
Best Real People Airplane Outfit Ideas
---
Table Of Contents
Mastering the right outfit to wear on an airplane is no easy feat. You have the plane climate and destination climate to consider, and you want to still look stylish while feeling comfortable.
One of the key ways I come up with flight outfit ideas is by creating an interchangeable capsule wardrobe. Not only does it help with simplified packing, which can easily fit into a carryon suitcase, but I can revolve what I wear on the airplane to sightseeing, nature excursions, and even nights out on the town.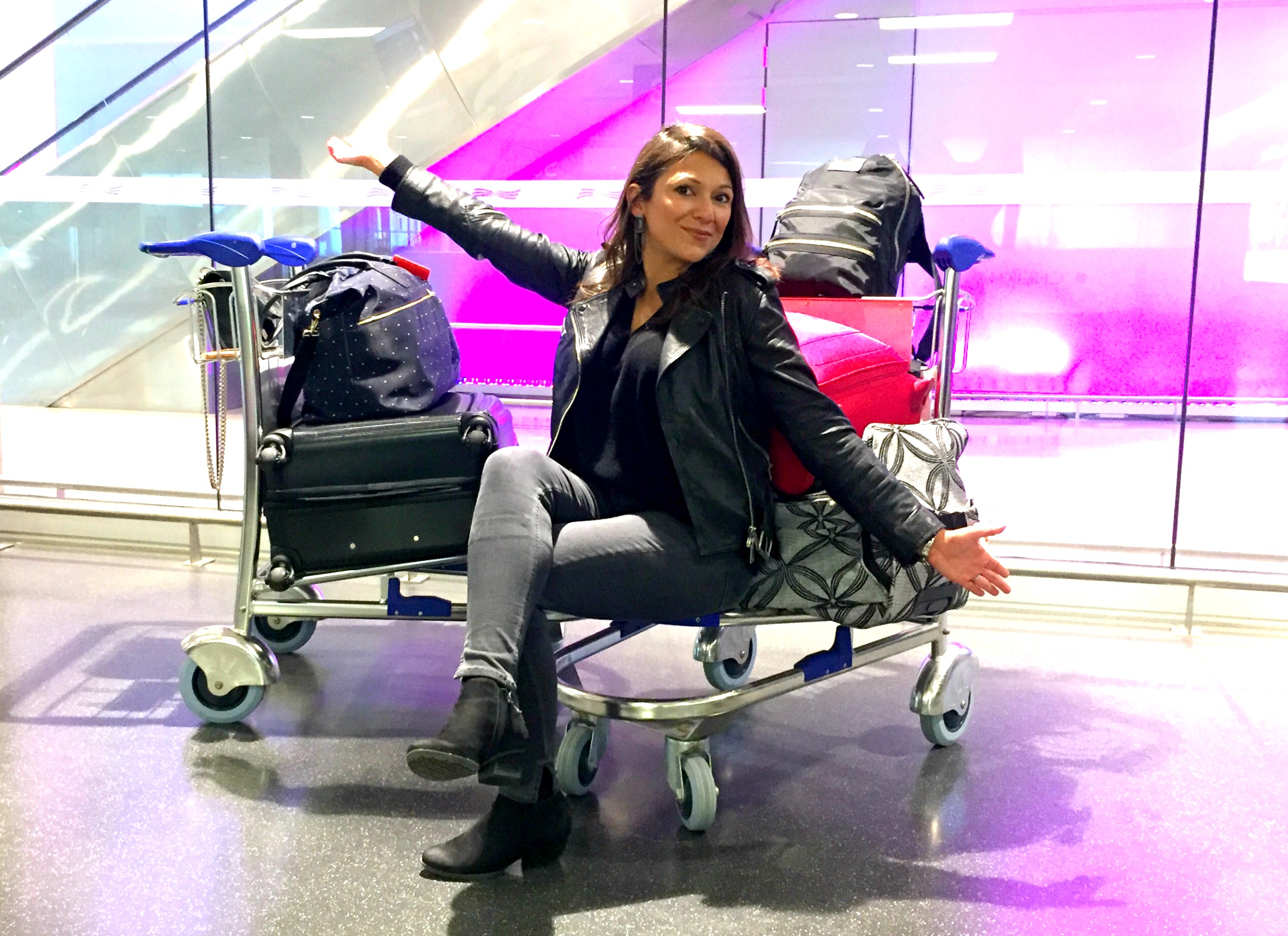 A travel capsule wardrobe should be composed of soft, yet packable fabrics that can compress and be organized into packing cubes. And each item should mix and match with each other, be super versatile, so that means I can pack less but still cover all my activities. And, of course, have nice styling details too!
Anyway, recently I felt moved to think about the best airplane outfit ideas due to people-watching at the airport and noting some real-life travel looks that fit well in capsule wardrobes. (They basically rocked!)
Regardless of your style, we've recreated these looks that may spark something in you as well:
You can also take a peek at my personal airplane outfits by season: 
Now, check out some of the best airplane travel outfits for each of these looks, along with my own! 
Best Airplane Outfits for Women
Cardigan | V-neck | Leggings | Boots | Duffel
Easy Comfort Airplane Outfit
This by far is the easiest airport outfit for anyone to duplicate. Easy to wear basics in neutral interchangeable colors plus a few stylish accessories – simple flight fashion!
The perfect formula for an easy to wear comfortable airplane outfit is a classic combo of fitted tee plus leggings. Pair with a cute yet cozy layer such as a long cardigan and shoes that are easy to remove to go through security.
Button Up | V Neck | Jeans | Boots | Earrings | Jacket | Sunglasses | Suitcase | Handbag
Editor's Tip Pick for an Airplane Outfit
This look is definitely for the ultra-glam jetsetter. I saw this airport outfit on a woman as she went through security and I couldn't help but stare in awe at her elegance and designer style. I'm not sure I could pull this off but cheers to you if you can!
Dress | Scarf | Sandals | Handbag
Airplane Outfit for a Beach Vacation
One of the loveliest airplane travel outfit ideas—what a great look if you're headed to a warm destination! I'd definitely carry a cardigan with me in my personal item for the in-flight chills but this is sexy, sophisticated, and a cool take on this season's neutral – military green.
Boots | Jeans | Shirt | Jacket | Bag | Carry-On
First Class Airplane Outfit
This outfit is definitely more up my alley, at least when traveling to cities. The one issue is the metal on the jacket and boots but they're easy to take off as you go through the security line. Totally worth a little effort.
Trench | T Shirt | Denim | Trainers
Casual yet Chic Airplane Outfit
Understated elegance, this classic look seems to be a timeless airport outfit in Europe since I saw women of all ages sporting an ensemble such as this. The trench was EVERYWHERE at Heathrow airport in November and rightfully so. It's an investment piece that's sure to stand the test of time. Seriously, one of the top outfits to wear on airplane trips!   
Boots | Longsleeve | Jeans | Coat | Spinner | Handbag
Feminine Airplane Outfit
I absolutely love this airplane style outfit and can imagine an epic picture in front of the Eiffel Tower in Paris. The neutral wardrobe is offset by the bold statement coat which is a great travel strategy when traveling in the winter. After all, your pictures will mostly be of you in a coat, why not make it a great one?
Trousers | Top | Boots | Bracelets | Watch | Sunglasses
Boho Cozy Airplane Outfit
This look took me by surprise but I really like the unexpected combination. Easy to wear, comfortable pieces with weather-friendly boots, and a few key boho pieces that exude editorial-worthy confidence. Love it!
My Best Airplane Outfits
Now that we've given you some real-people inspiration, check out some of my favorite flying outfit ideas from yore, along with the seasons I wore them!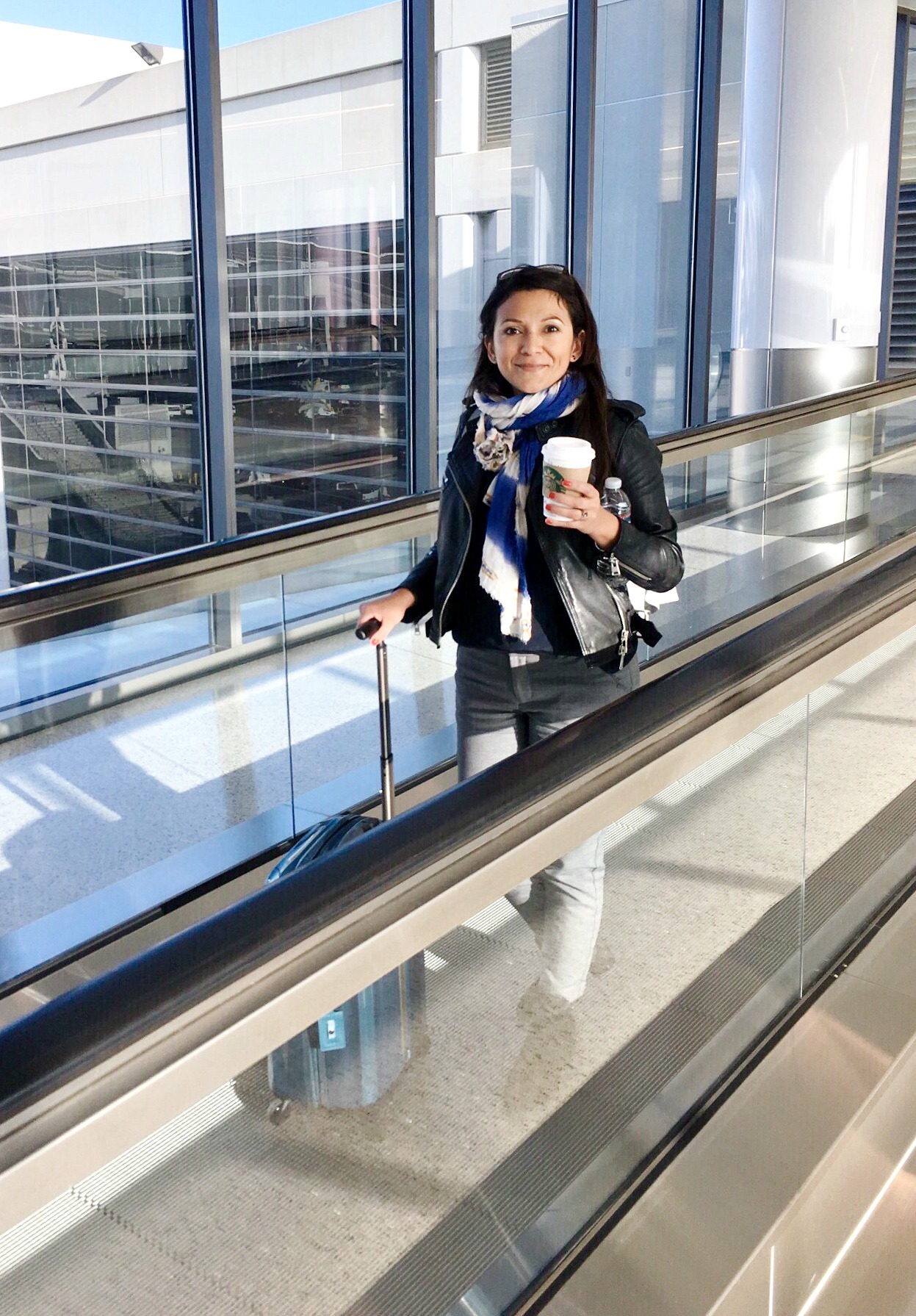 Wearing my All Saints leather iacket with Delsey Suitcase during my flight to Thailand
Fall: Comfy Jetsetter Airplane Outfit
Fall can be a tricky time of year. I try to avoid going full-on winter and in this case, I was traveling to Thailand during October, so knew I'd shed things like scarves for an airy tank top upon landing.
I love this look because it's clean and easy to put together. The pants have a give and the coat is fitted but I can move my elbows and arms with ease.  A scarf is particularly topical for fall because when there's a slight chill it instantly warms me up.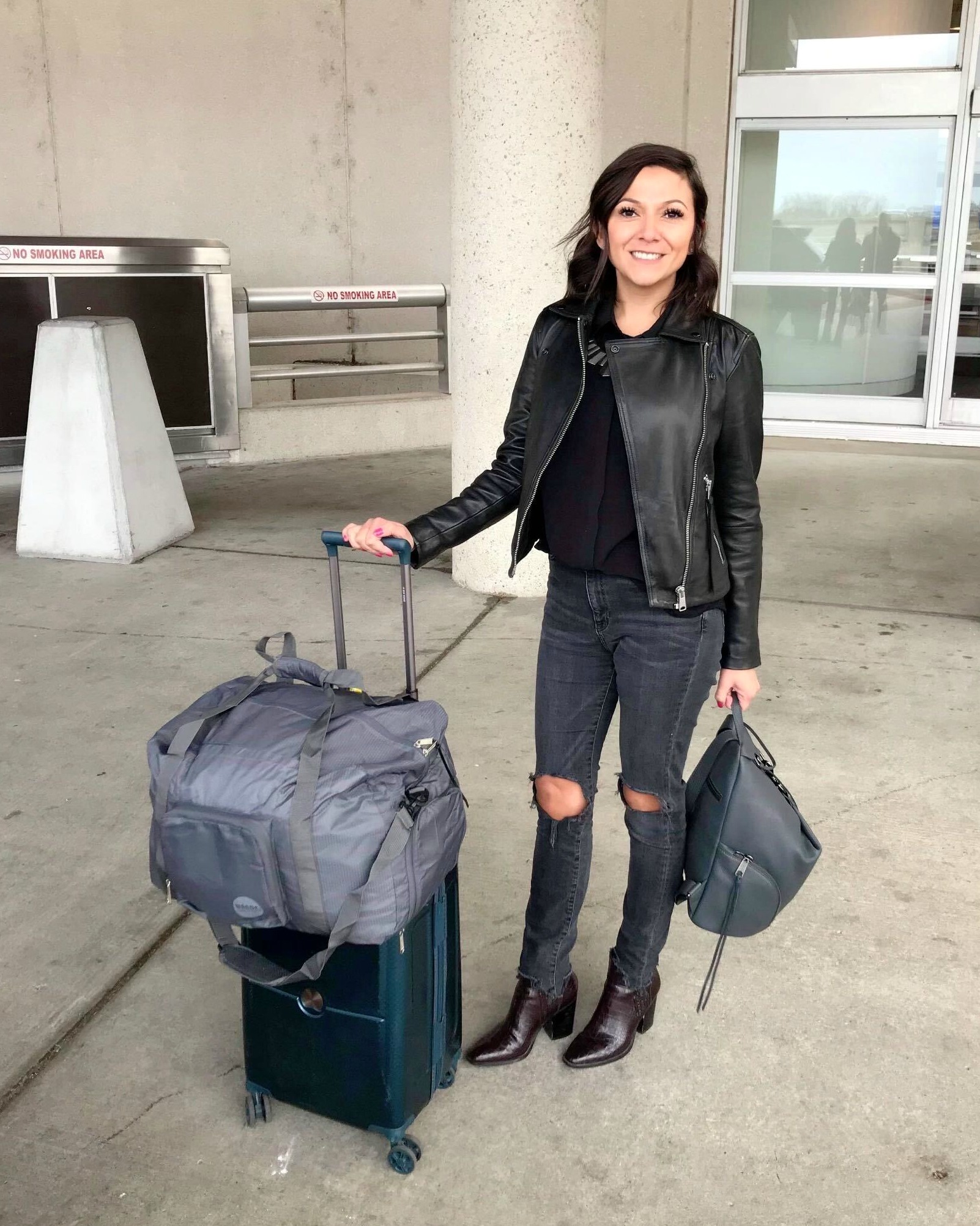 My flight from US to England with All Saints leather jacket, Delsey suitcase and Rebecca Minkoff backpack
Winter: Indie Edge Airplane Outfit
While I tend to wear simple colors, I still like a bit of rock n' roll edge to my look every so often!  
For this airplane outfit, I was traveling during the wintertime from the US to England and wanted some warmth, so I wore a leather jacket and layered a shirt underneath that. I then put on my fave jeans and then slid in some funky low-heeled ankle boots. I was comfy and cozy I tell you!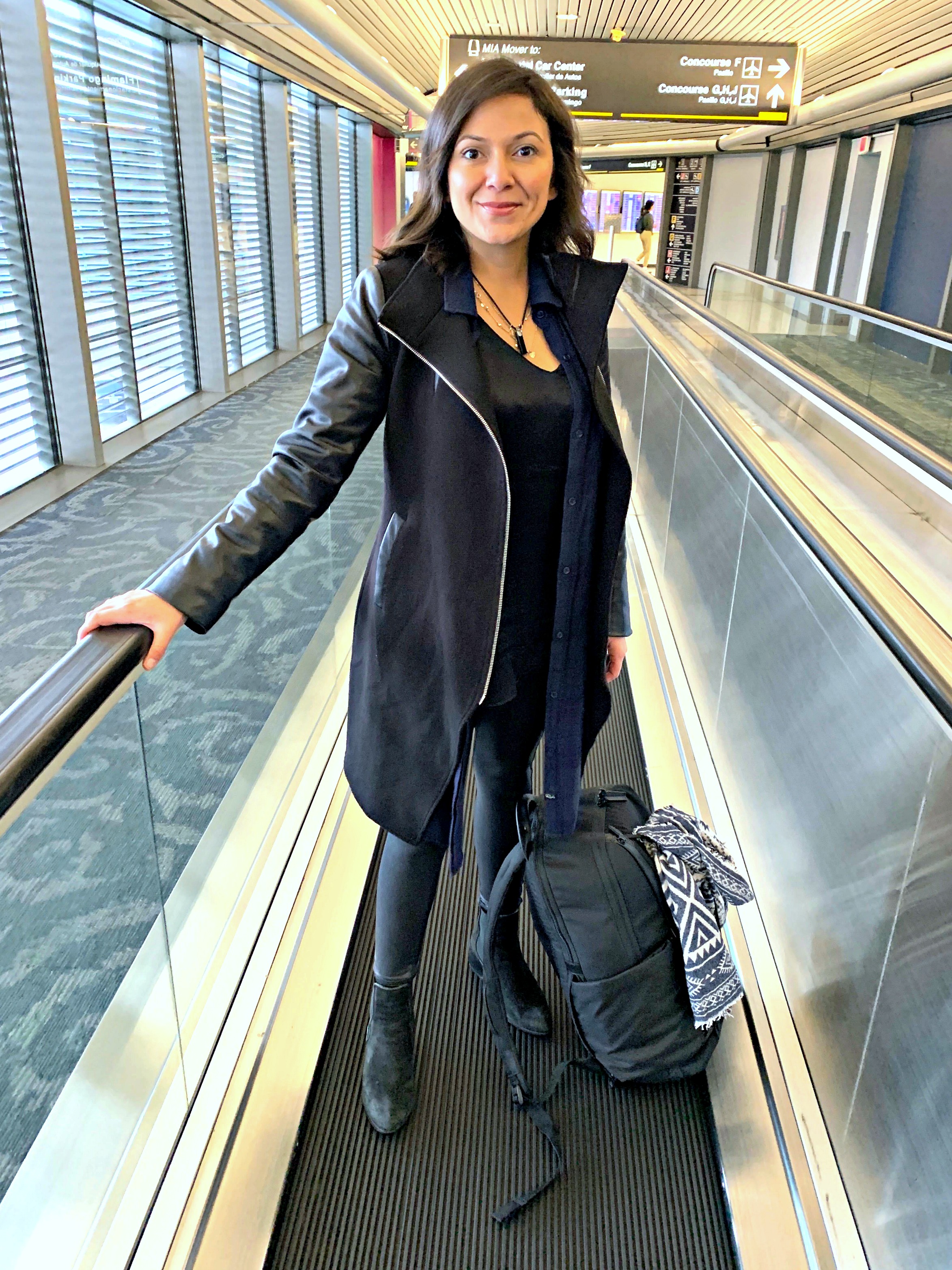 Wearing leggings and black ankle boots as my favorite airplane outfit
Editor's Winter Favorite: All-Black Chic Airplane Outfit
This is by far, my FAVORITE and best outfit for airplane travel during the winter! It's warm and layered, so I can take things off/on when needed, and I still feel fashionable. 
I was actually going from cold to warm weather, so I wore my heaviest items on the plane and changed once I arrived at my destination of Bonaire. And when I say "heavy" that refers to my coat and boots. 
The secret to a capsule wardrobe is to include packable items. My coat is Anatomie, it's well made and can compress down fairly well, and my boots were a little bulkier but I always look for ones that are as lightweight as possible. And these ones are waterproof so it can handle the elements and still look cute!
Feel free to check out the best waterproof ankle boots for more inspiration!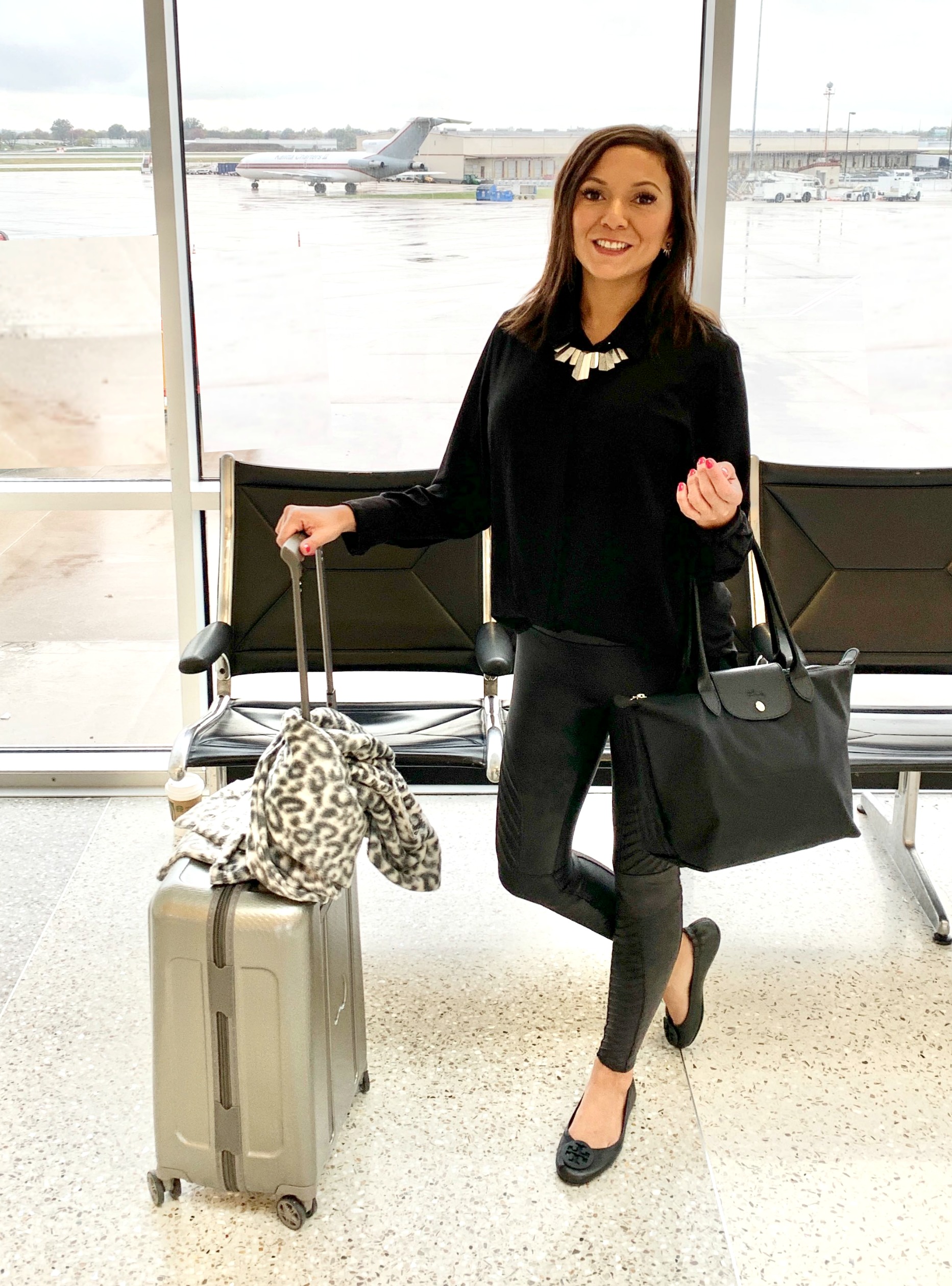 Blouse | Spanx Leggings | Tory Burch Flats | Longchamp Tote | Delsey Suitcase
Spring: Sleek Airplane Outfit
This beauty is my new fave airplane outfit that's awesome for spring (or early fall)! 
The look is super stylish but seriously comfortable. I prefer movement and stretch in my pants when I fly and these Spanx faux leather leggings have give in the elastic waistband and knee area. They're kinda my go-to's now!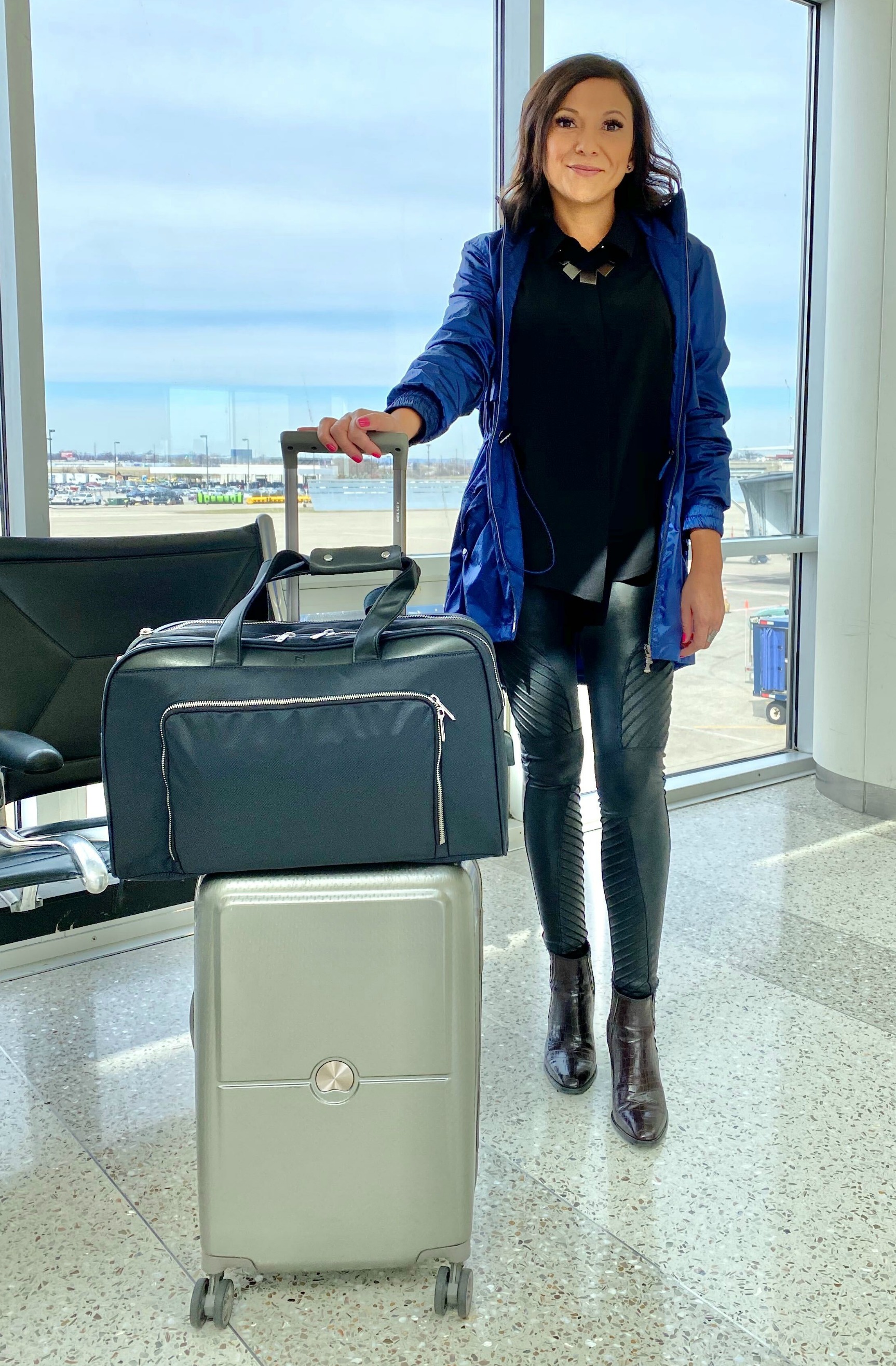 Another version with Merika jacket and Blondo Elvina waterproof boots
Good flight shoes are a must so I seek out flexible flats, comfy boots,  or slip-ons that don't pinch my feet and can be easily removed through security. These Tory Burch Minnie flats were a new buy and so surprisingly comfy and I walked from terminal to terminal with no problems! 
Check out reviews for both the Tory Burch Minnie flats and the Spanx faux leather leggings!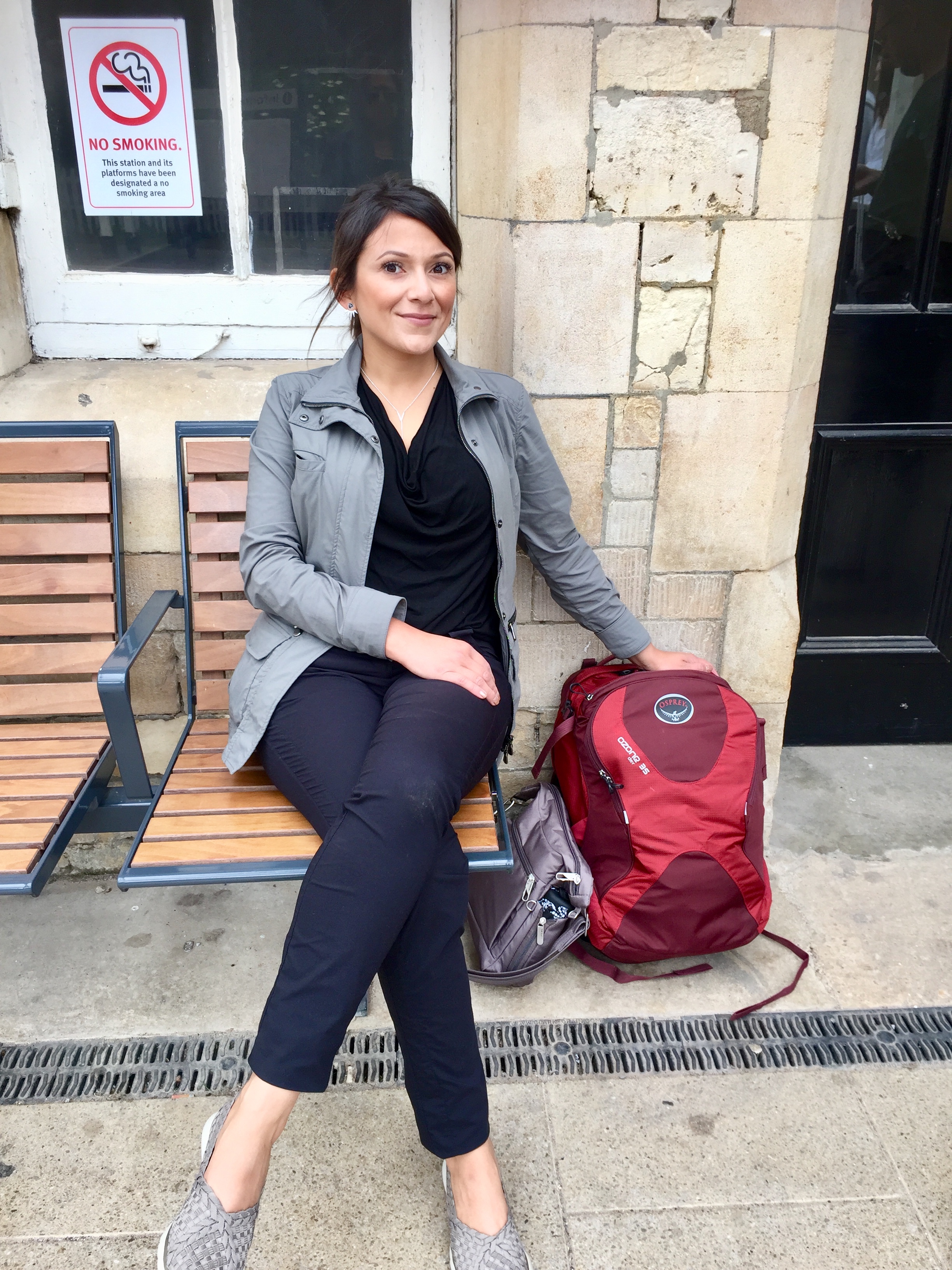 Anatomie Kenya Jacket | Michael Stars Top | Skyler Pants | Slip-ons | Messenger Bag
Summer: Light and Breezy Airplane Outfit
I wore this when I hit Europe in the summertime and it was a durable, adorable ensemble I remember fondly!
For me, it's important to have a comfy flight outfit, and I usually re-wear the same outfit for travel days thereafter, whether I'm flying or taking a train. If I've really nailed down an outfit that works for me, then it's a keeper! 
I swear by Anatomie Skyler Pants and their Kenya jacket . The company uses lightweight fabrics that don't retain moisture so I feel airy in hot climates. For a top, the Michael Stars sleeveless blouse comes with me for every summer trip! It's comfortable and breathable, and I can layer it with a cardigan or light jacket if need be. 
Again, shoes need to feel right, on or off a flight, and I discovered these Skechers Mary Jane slip-ons (which are now sold out but here's a similar one) because readers raved about them for years! Their memory foam insole means my feet feel cushioned all the time!  
More of My Airplane Outfits
I hope you found these cute airplane outfits motivating to begin piecing together your own personal capsule wardrobe that can move from "up in the air" to "on the ground!"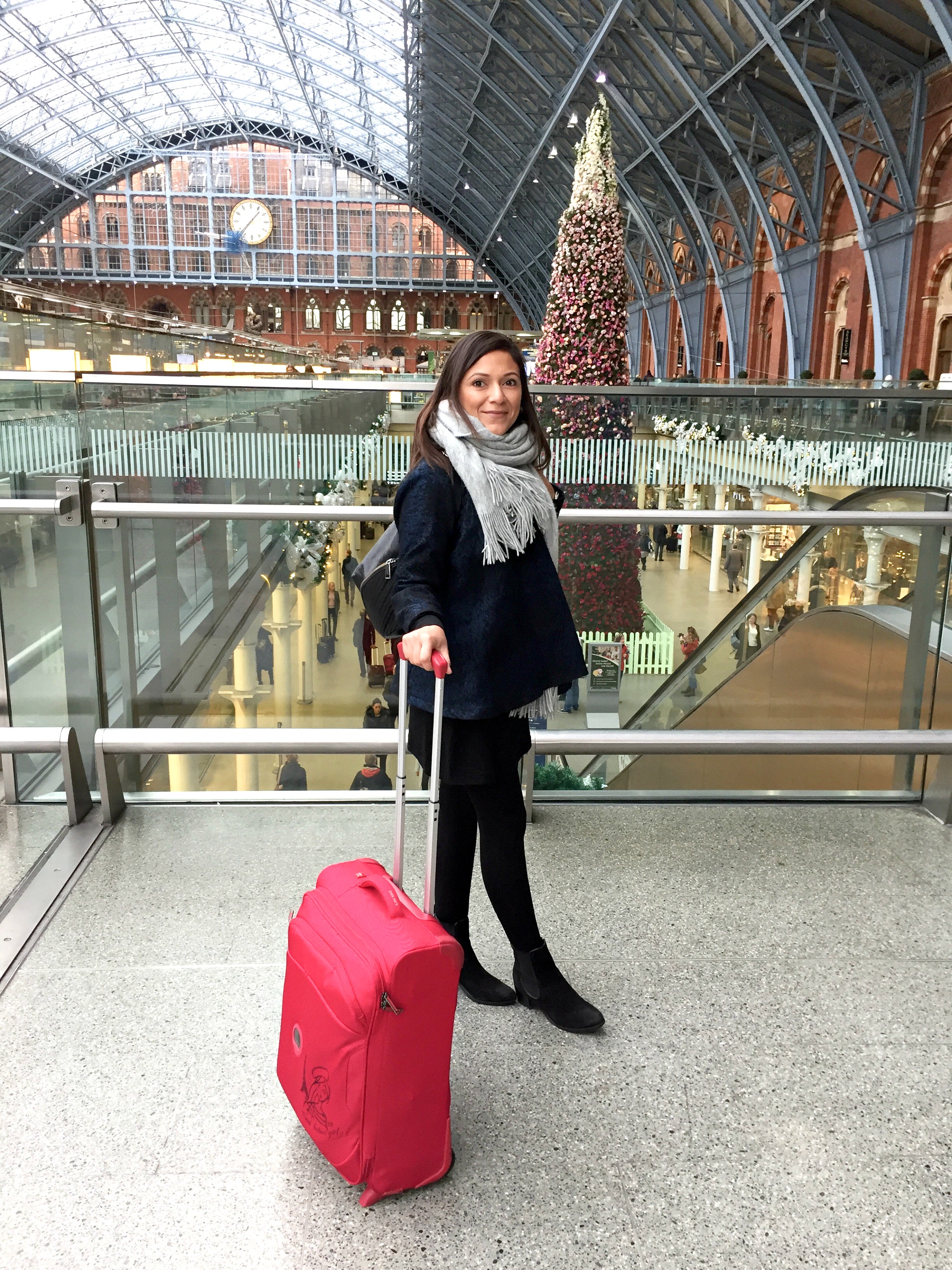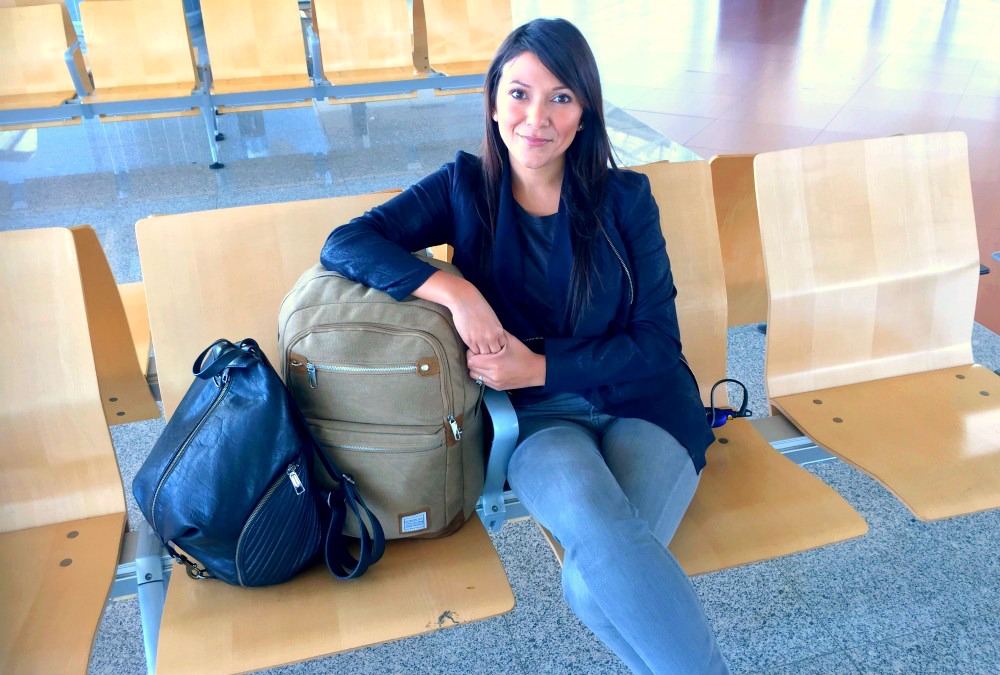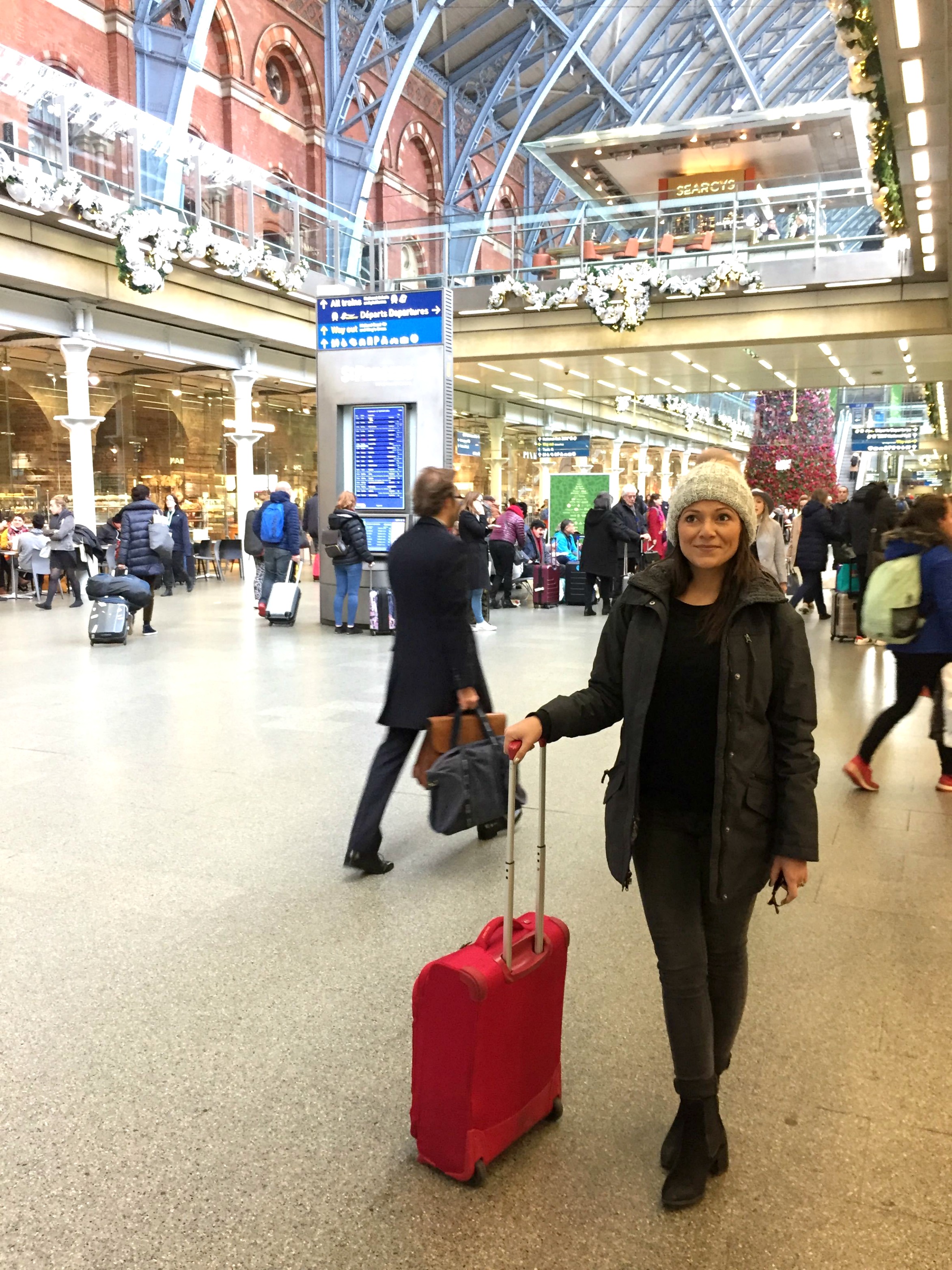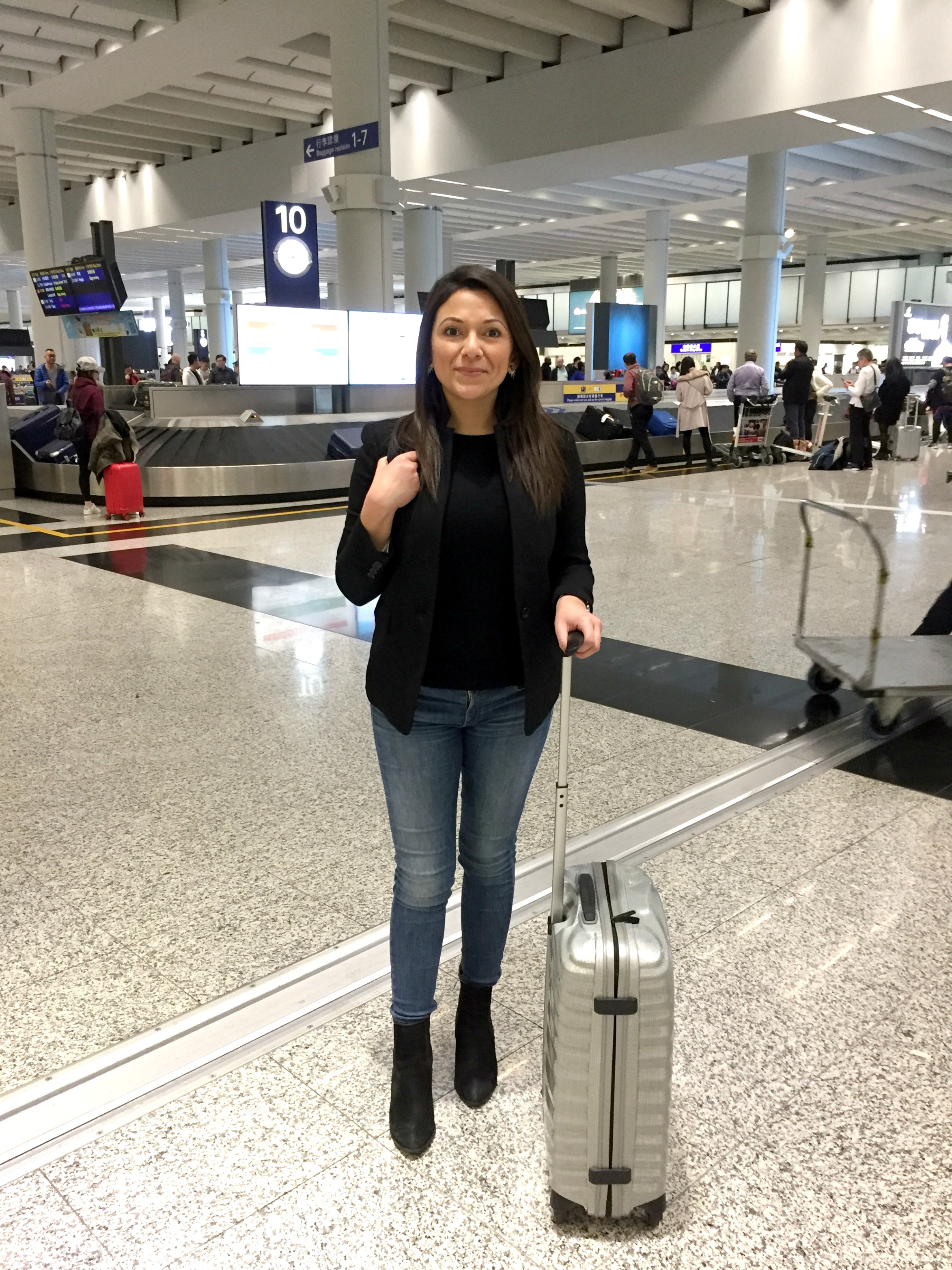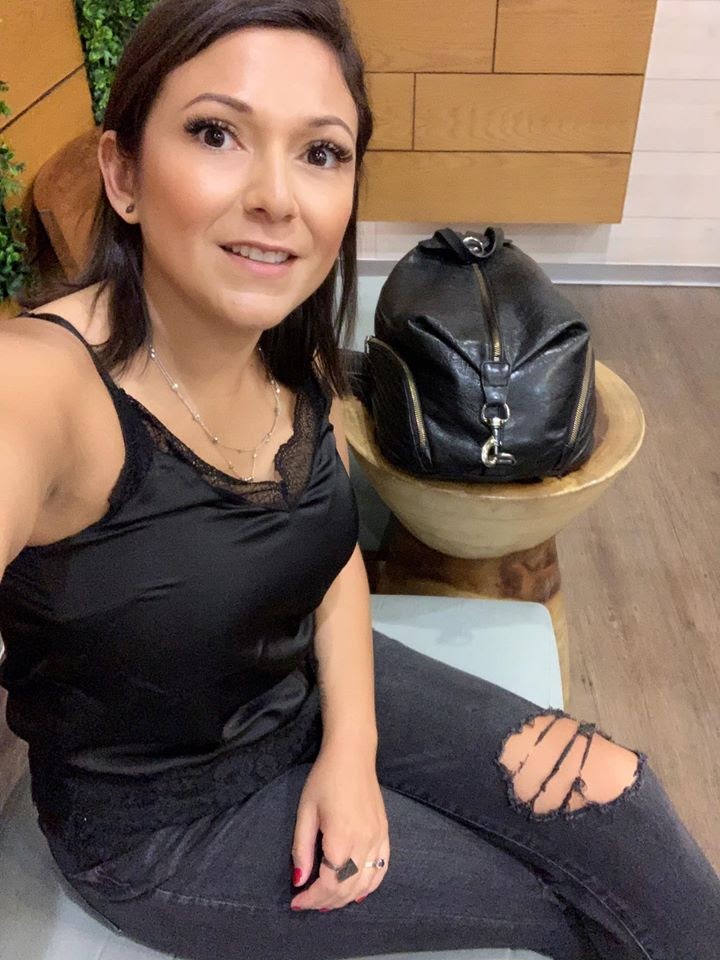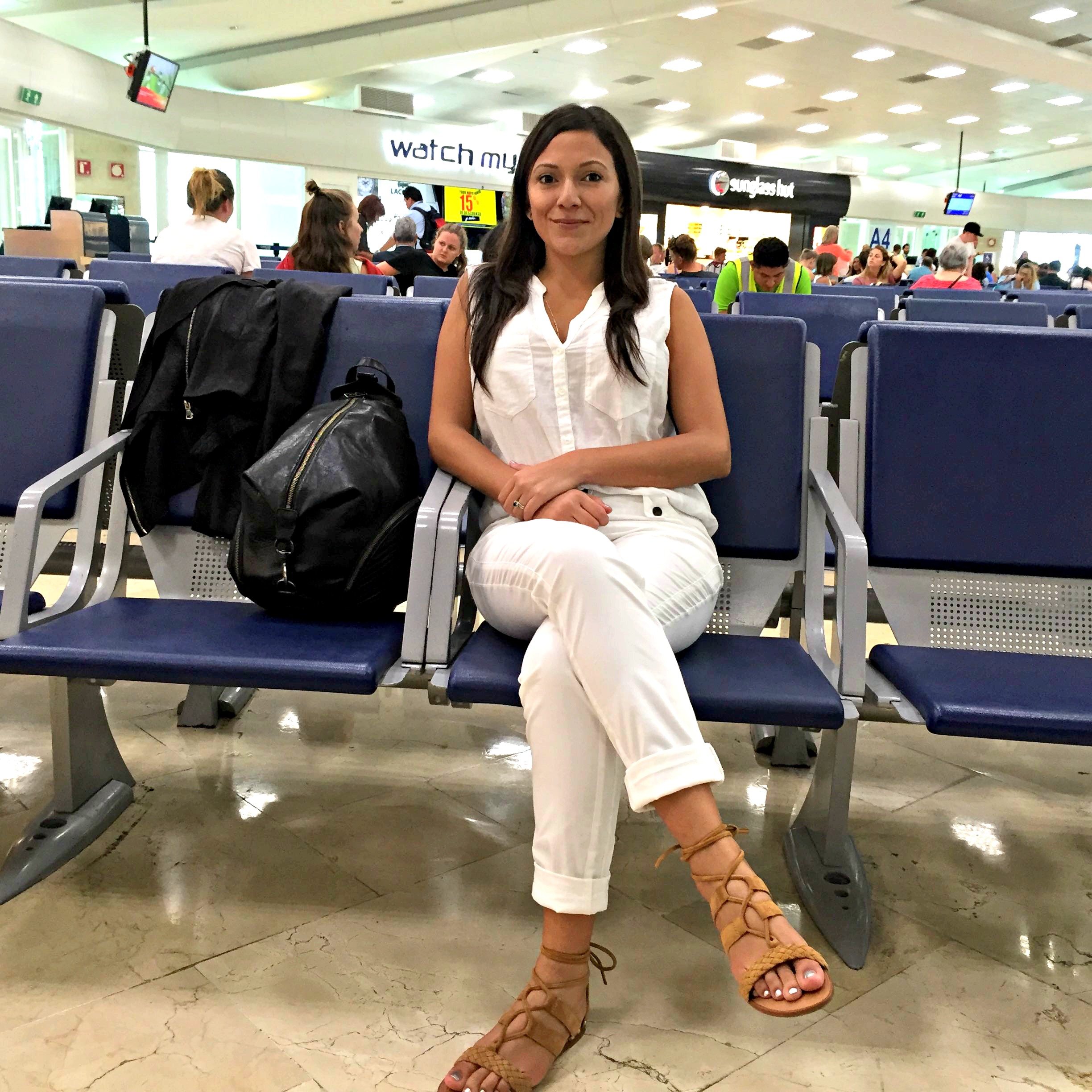 ---
Aside from the wardrobe choices above, what stood out above all was that all these travelers had freshly styled hair and makeup, which really adds the finishing touch to even the most casual of airport ensembles. Don't forget that a good blow dry and mascara goes a long way!
What's your go-to airplane outfit ? Share in the comments!
---
For more ideas and tips on air travel, please read:
---
LIKED THIS POST? PIN THIS PIC TO SAVE IT!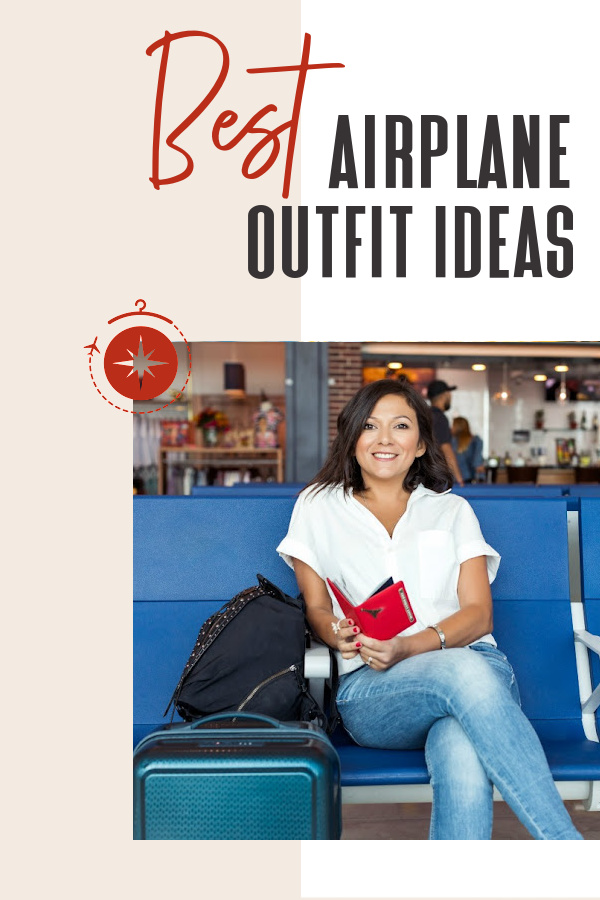 ---
Hope you liked this post on these airplane outfits. Please share it with your friends on Facebook, Twitter and Pinterest. Thanks for reading!
---