Support TFG by using the links in our articles to shop. We receive a small commission (at no extra cost to you) so we can continue to create helpful free content. As an Amazon Associate, we earn from qualifying purchases made on Amazon in addition to other retailers featured on the blog. Thank you, we appreciate your support!
How do you pack everything you need for a two-week trip to Europe and how do you pack it all traveling carryon only? In Part 3 of my 3-Part series on what I packed for 2 weeks in Europe, I'm showing you the exact luggage, purses, and travel accessories that I packed.
In other articles, I discuss my clothing and travel shoe choices. Read Part 1 and Part 2.
---
Travel Gear for 2 Weeks in Europe
---
Table Of Contents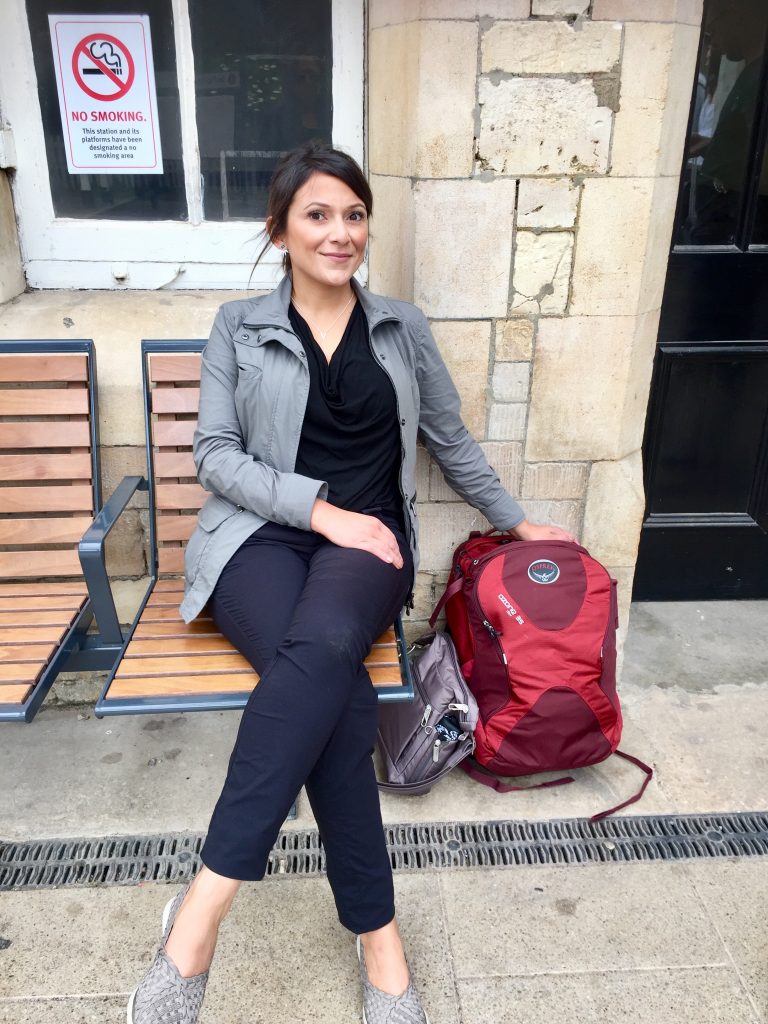 At train station with my Osprey backpack
My Luggage
For this particular trip, I wanted to backpack because I find it easier to maneuver up and down stairs – which proved to be particularly helpful in Venice!
If you travel with wheeled luggage, make sure you pack light because you'll need to be able to lift it and carry it up steps, hills, and trains. Read this to learn more about the most recommended luggage for Europe!
Osprey Farpoint 40 Travel Backpack similar to Osprey Ozone 35 L Travel Pack
Carryon Luggage: Osprey Ozone 40 L Backpack
My Osprey Ozone 46L wheeled bag is my all-time favorite suitcase for my long term travels. When they released a backpack version, I had to have it and it's just as awesome as the wheeled bag.
The Osprey Ozone 35 L Travel Pack (which is currently sold out) was the perfect sized bag for a backpack for 2 weeks in Europe, because it was big enough to carry everything I needed, but it was still lightweight and easy to move around with. It was also comfortable enough for me to carry it through the airport and train stations. This Osprey Farpoint 40 Travel Backpack is a similar backpack to Ozone 35L.
Read about traveling with wheeled bags vs backpacks!
Travelon Anti-Theft Classic Messenger Bag
Personal Item (and Sightseeing Bag): Travelon Messenger Purse
In addition to my backpack, I also brought my Travelon Anti-Theft Messenger Bag as my personal item. I was really looking forward to using it because I got it earlier in the year based on TFG readers' rave reviews. I do like the style and the color, too.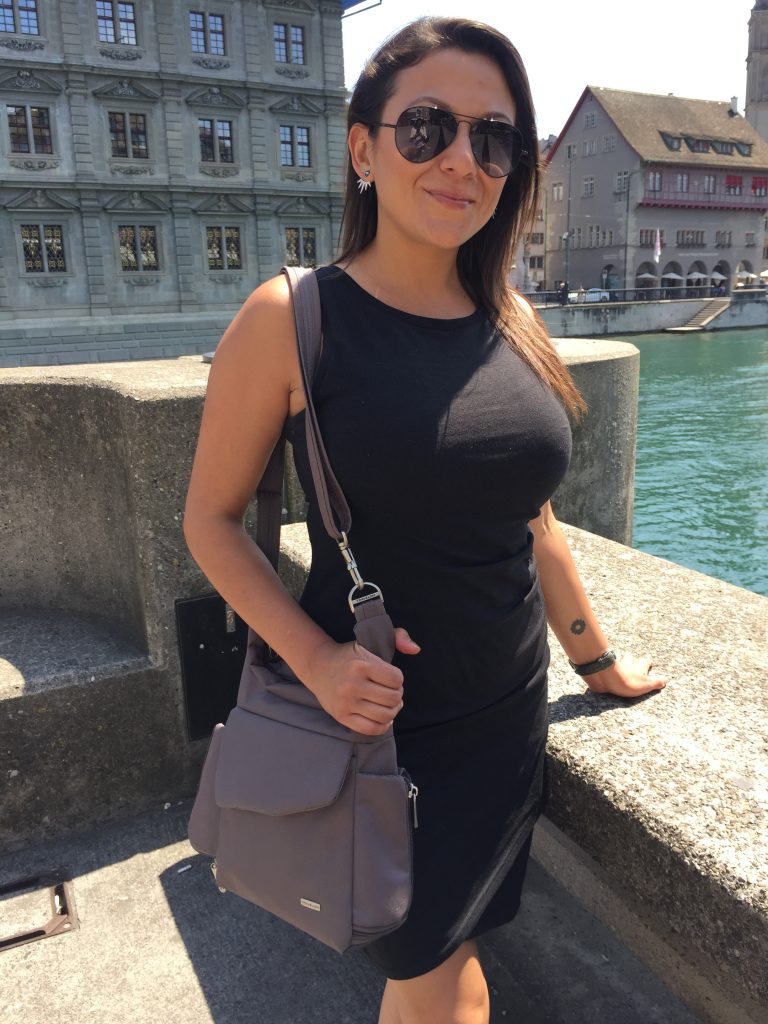 In Venice with my Travelon Anti-Theft Messenger Bag
I absolutely loved the Classic Messenger Bag for my recent trip to Europe. It was very spacious, offered RFID protection, plus it had two compartments for a water bottles and a travel size umbrella. That was really useful, because water was an absolute must in the heat!
Here are more anti-theft travel bags!
Rebecca Minkoff Julian Black Leather Backpack
Sightseeing Bag: Rebecca Minkoff Backpack Purse
One of my absolute favorite travel items is my Rebecca Minkoff Julian bag! I first purchased this purse-style backpack in 2015, and it's still one of the best purchases I've ever made. In fact, it's the ONLY purse I owned for two years, aside from one small cross body bag.
This bag has a really cool pocket where I can safely store my passport when I'm traveling, along with my wallet and phone. There are also pockets where I can organize my sunglasses, tissue, chapstick, a water bottle, or any other items I need for the day.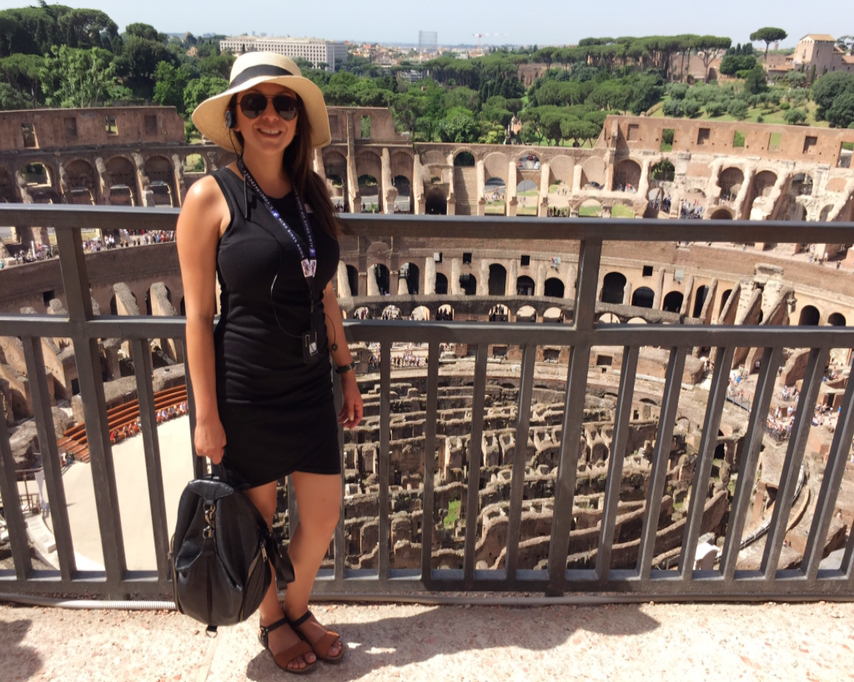 Enjoying Rome in my Little Black Dress (similar) and holding Rebecca Minkoff Backpack
Even though it's a compact bag, I can fit so much, including my sweater, a scarf, hat, and gloves, which makes it a great year-round bag. I like to carry at least one layer in my sightseeing bag so I can use it indoors for chilly museums or cathedrals.
My Rebecca Minkoff Julian Backpack review explains why this is one of THE best purses for travel ever!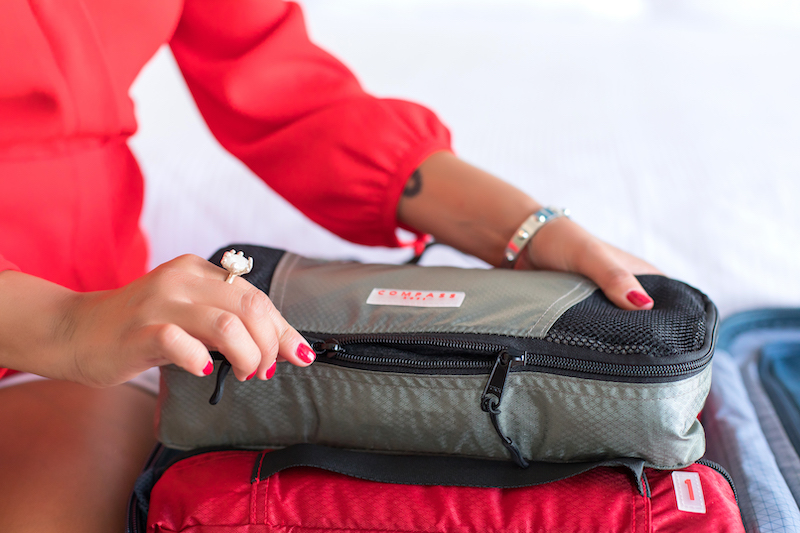 Packing with my Compass Rose Carryon Packing Cubes
My Luggage Accessories
I use luggage organizers to keep my belongings nice and tidy inside my suitcase, backpack, personal item, or sightseeing purse. By having your things organized by categories within a container, it helps you pack and unpack easily.
Everything goes into the smaller bags, which then go into the larger bags. That way you have less to pack inside your actual luggage. Read this full step-by-step packing strategy here.
Compass Rose Carryon Packing Cubes
Organizers for My Carryon: Compass Rose Packing Cubes
I never travel without my Compass Rose packing cubes. They make packing such a breeze as I can organize by color or number. The great thing about these cubes is that they also compress, so you can fit so much more in them than if you just packed your items in your suitcase.
There are four cubes total, and for this trip I used three. I organized them by clothing item, such as tops, dresses, and undergarments. Read Part 1 to find out exactly what clothes I packed in which cubes. Watch this five-part video series showing you the different methods to use packing cubes.
If you use this specific packing strategy, they can also compress your belongings. This is the secret to traveling carry-on only!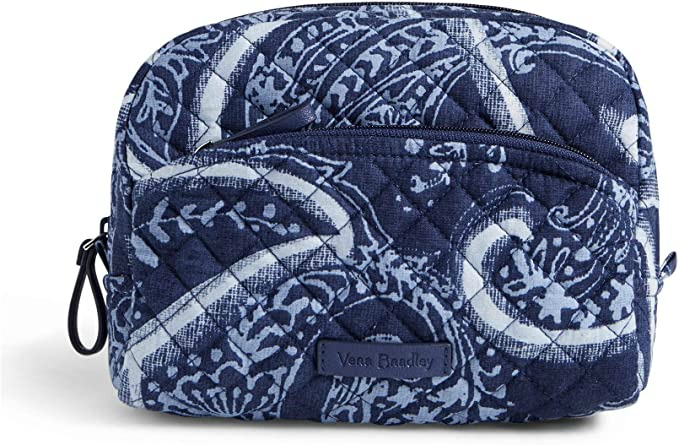 Vera Bradley Signature Cotton Medium Cosmetic Makeup Bag
Organizer for my Sightseeing Bag: Cosmetic Case
For my daily essentials, I like to use a lightweight bag like this one from Vera Bradley for organizing my random accessories, such as antibacterial wipes, motion sickness bands, nail file, Listerine pack, mints, pantyliner, small floss, and allergy pills.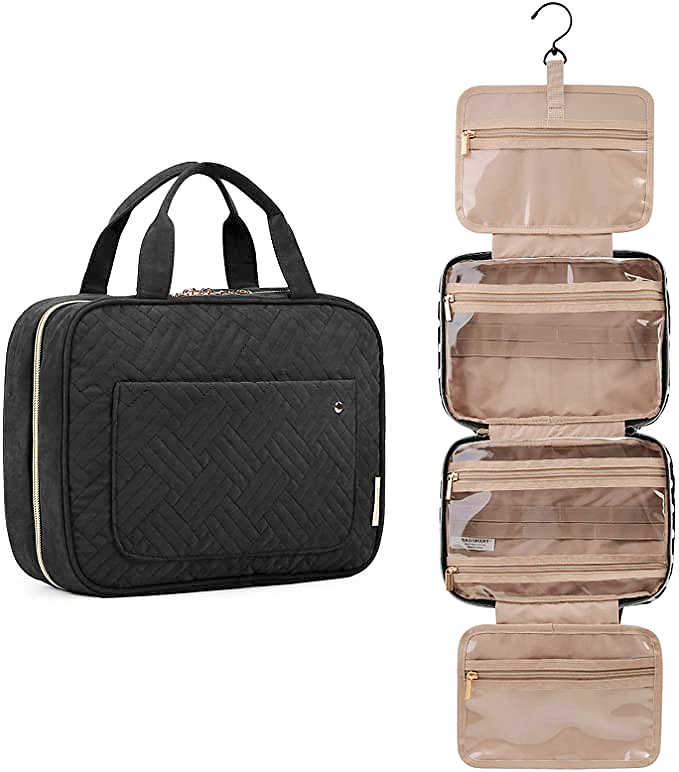 BAGSMART Cosmetics and Toiletries Travel Bag
Organizer for My Toiletries: Black Hanging Toiletry Bag
The toiletry bag I used for this trip is no longer available and I've recently replaced it with the BAGSMART toiletry bag. Inside of this bag, I have my full-size razor, my electric toothbrush head, electric toothbrush, deodorant, and a Ziploc bag full of my liquids with reusable containers that have my shower gel, shampoo, and conditioner.
This toiletry kit looks small but it carries everything I need. Learn more about how to downsize your toiletries here.
Find out the best toiletry bags for travel!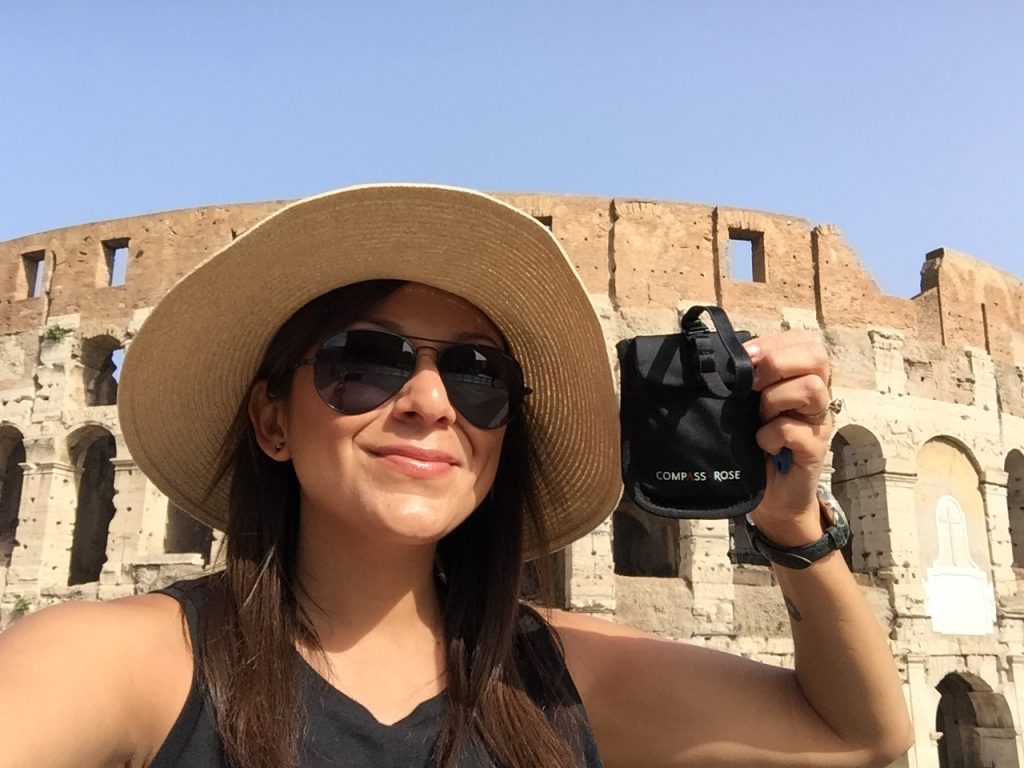 Staying safe in Rome with my Compass Rose RFID Secret Bra Wallet (similar)
My Essential Travel Accessories
There are always certain travel accessories I pack for every trip. The items below are usually stored in my personal item on a flight and I also use several of them as daily essentials inside my sightseeing bag.
 International Universal All in One Travel Adapter
International Travel Adapter
In my backpack, I always have my international travel adapter, and it came in handy for this trip so I could use it in England, France, Switzerland, and Italy. This is a great device, because you can use it anywhere!
This travel adapter is particularly awesome because it has two USB plugs, so I can charge three items at once. Plus, it's black so you don't have to worry about forgetting it in your hotel or Airbnb. A travel adapter is an absolute necessity for a trip to Europe!
I don't travel with a converter as all of my electronics are dual voltage. Read this easy guide on voltage converter vs. travel adapter for a simplified explanation!
Noise Cancelling Headphones
If you've read my Bose review, you know how much I love my Bose noise cancelling headphones. I've had these for about a year, and they have been life changing. I don't know how I traveled so long without them!
The QuietComfort 20 earbuds are compact, light, comfortable, and have excellent sound quality. If there are loud noises, such as the plane engine during take off and landing, the sound is extremely muted and very minimal.
These are the best noise cancelling headphones according to the experts, TFG readers! 
Compass Rose RFID Bra Stash (similar)
RFID Secret Bra Wallet
Underneath my bra, I wore my RFID Secret Bra Wallet (similar). This bra stash is an anti-theft travel product that's part of my own travel line: Compass Rose. It's RFID lined for digital protection, and it actually has an extra long bra strap that allows women of all bra sizes (including DD+) to wear it. I wear it on the inside of my bra, underneath my arm, and I use this instead of a money belt.
Here are more of the best money belts and anti-theft travel accessories!
Repel Windproof Travel Umbrella
Travel Umbrella
Even in summer you sometimes need an umbrella! I find that a travel umbrella comes in handy so many times. Even though it was summer, I used this in Paris.
While some people prefer wearing a rain jacket with a hood, I prefer a travel umbrella. Hoods always mess up my hair, and they don't always lay flat. A travel umbrella is easy enough to pack and take with you.
Take a look at these travel necessities!
Wide Brim Straw Panama Roll-up Hat
Sun Hat
While this accessory isn't exactly packable, I still love to take a sun hat with me when traveling in the summer. Hats save my face from the heat and sun, even when I'm wearing sunscreen. I love a stylish sun hat because it also covers my head if I'm having a bad hair day or don't want to style it.
The sunhat in all my pictures is from H&M but it's no longer available.
AmazonBasics Nylon Braided Lightning Cable
Phone/Device Chargers
Along with an adapter, I always travel with my iPhone charger and my iPad charger. As much as I love my Apple devices, the battery life isn't too impressive, so even on weekend trips I need to take my chargers. Luckily, they're small and compact.
Tablet
I love having an iPad for travel! I even take my keyboard with it. Traveling with an iPad is so much easier than a laptop, and with the keyboard, I can easily use it just like a computer. It's so much lighter than a laptop and easier to carry around.
As a blogger, I'm always writing, so an iPad is a must for me. It's also a great device for any traveler as you can use it to watch movies on the plane, play music in your hotel, and research restaurants and sites to see.
Our readers recommend the best reading device for travel!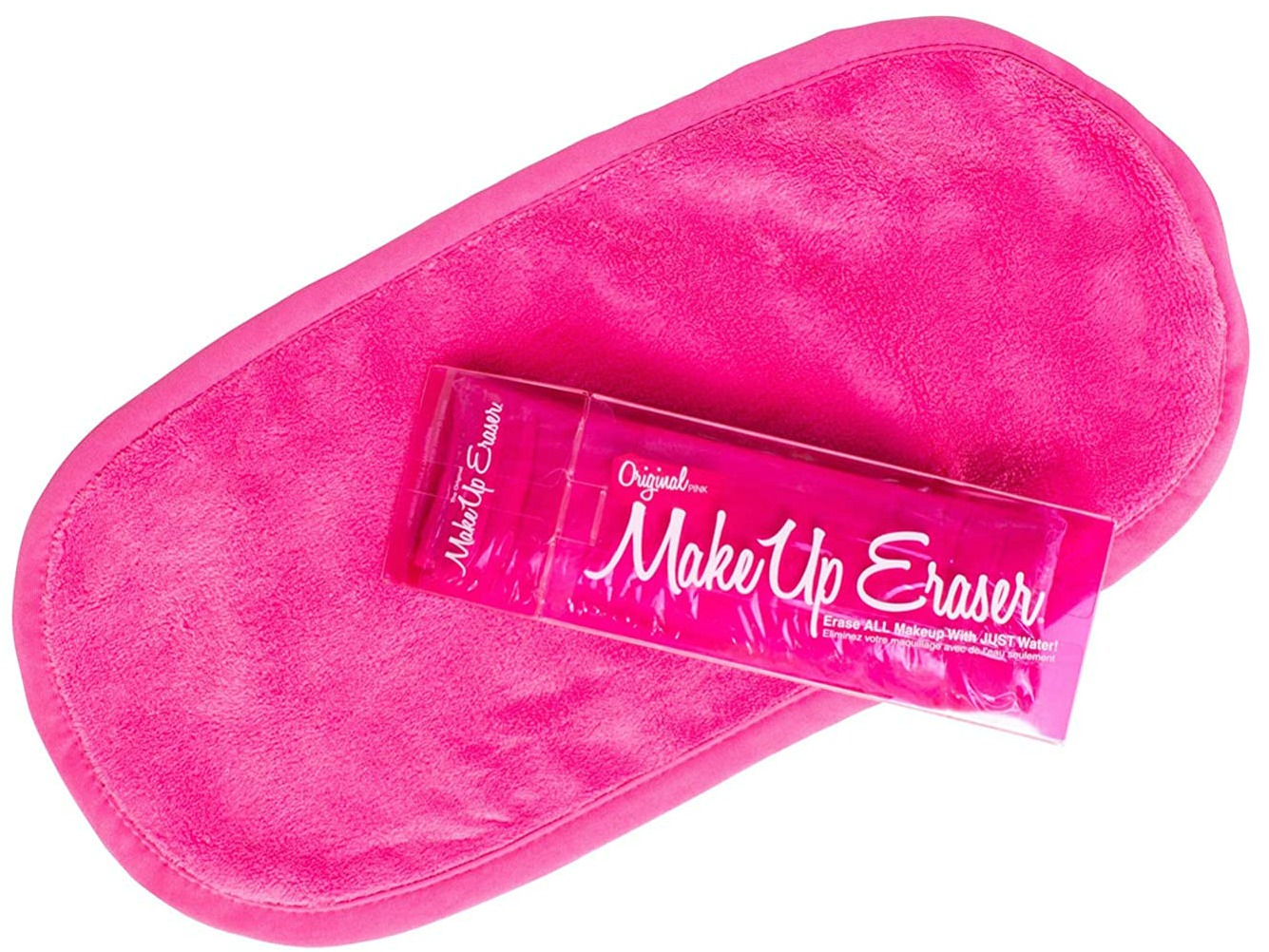 Minimal Makeup
When traveling, I like to keep my makeup light. For this trip in particular, I packed really light in the makeup department. I had temporary lash extensions, which cut down on my makeup routine as I don't need eyeliner, eye shadow, or mascara. It's really my lazy girl's guide to makeup.
All I packed was a travel hair brush, blush, blush brush, brow gel, and NARS concealer. All of these were mini travel size versions of the products, so they were easy to pack in a small bag. 
When I have temporary lashes, I use a soft makeup cloth like the one shown above. This allows me to clean my face without worrying about ruining my lashes.
Packing Video of My Trip
Watch this video to learn everything I packed for my 2 week trip to Europe using my Osprey Carry-on Backpack
I hope you liked Part 3 of this series about all the clothing that I packed for Europe in the summer. In the other two parts, I discuss my shoe choices and clothing.
---
What are your must-have travel essentials for Europe? Please comment below!
---
For more Europe packing tips, please read:
Suggested travel resources:
---
LIKED THIS POST? PIN THIS PIC TO SAVE IT!
---
I hope you liked this post on my travel essentials for Europe. Please share it with your friends on Facebook, Twitter, and Pinterest. Thanks for reading!
---