Support TFG by using the links in our articles to shop. We receive a small commission (at no extra cost to you) so we can continue to create helpful free content. Thank you, we appreciate it!
Ever looked at airline baggage rules and wondered: what exactly is a carry-on "personal item"? Find out what it is, how to choose one, and a few of our top picks!
---
How to Choose a Carry-on Personal Item
Written by: Josie Reim
---
Table Of Contents
What is a carry-on "personal item"?
Most airlines allow you to take two pieces of luggage on board with you that you don't have to check-in. This is the general guideline on major flights:
One carry-on bag, max size of 14 x 22 x 9, such as a suitcase, duffle, backpack, etc.

One personal item, smaller than a carryon such as a shoulder bag, backpack, laptop bag or other small item.
Some airlines only allow one carry-on bag and no personal item especially on budget or domestic flights. TFG has an airline baggage allowance cheat sheet but sizes are constantly changing. Always check your airline's website for their rules before traveling.
Your carry-on personal item is small but can accomplish many things! While your main carryon luggage should be able to fit in the overhead bin, your smaller personal item should be able to fit underneath the seat in front of you. 
The type of bag you choose to use depends on the length of your trip and your planned activities. Take the time to pick out the right piece for your unique needs. 
A handy tip: use a packing cube in your personal item to keep your belongings and in-flight essentials organized for your journey!
Here are some things to consider when choosing a personal item:
Size – Don't waste your carry-on personal item on a small clutch – but that doesn't necessarily mean you leave the clutch at home. Pack it away in a bigger piece! If you have a larger bag, you'll have the room to consolidate smaller, important items, like a small purse, cosmetics, or electronics.
A large bag with some wiggle room is great for placing any last-minute items you need to bring but forget to pack. Use organizers like these in different shapes and sizes to keep everything in place!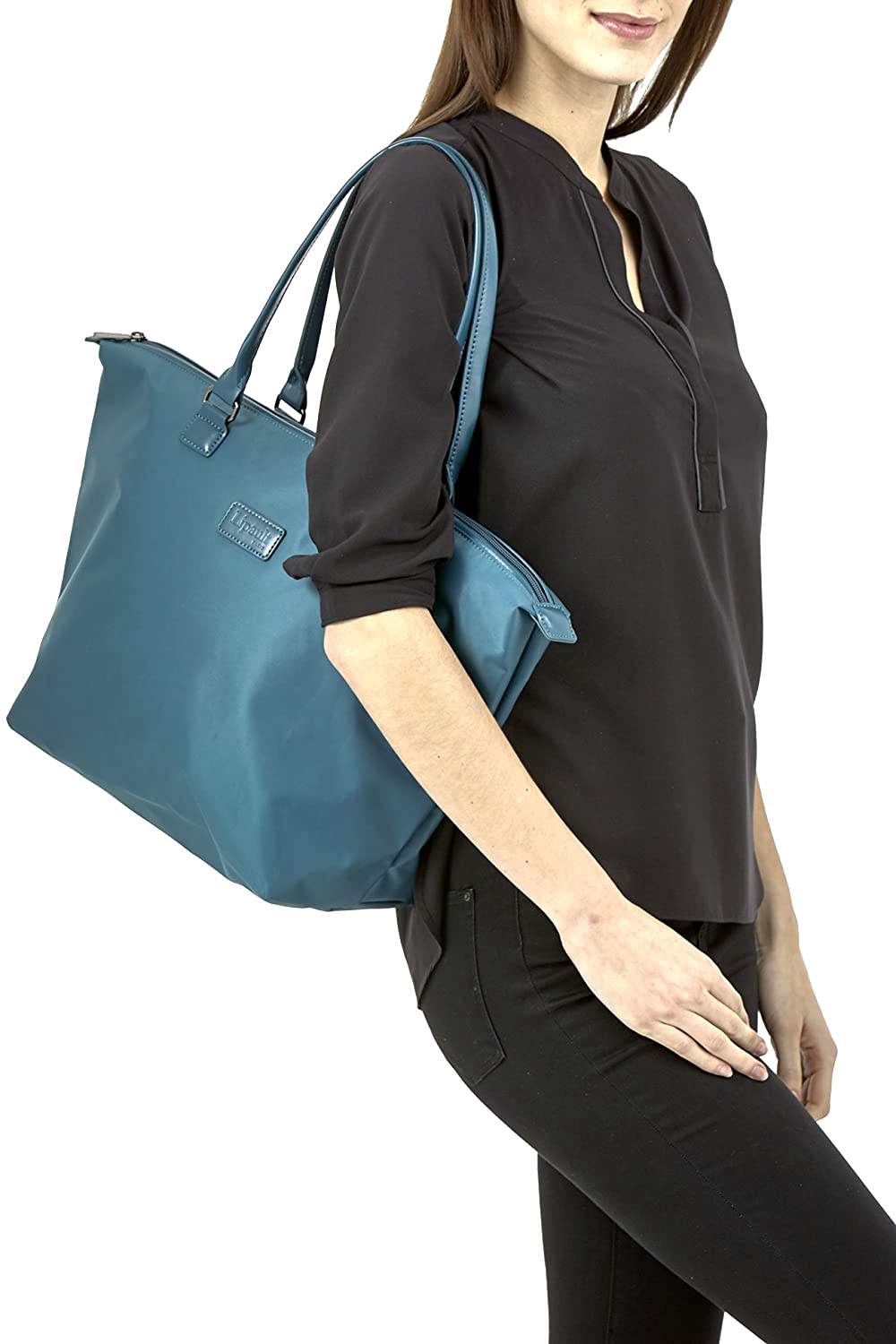 Always check with your airline about the maximum dimensions you're allowed to bring for a personal item. This can vary as well as the staff that enforces certain rules. At the very least, make sure it's not too bulky and would comfortably fit underneath an airplane seat.
Shape – Find a carry-on personal item with an open design that allows you to put multiple items inside. Something with a bucket-like feel that can grow or minimize with your packing needs gives you more options than a bag that's completely compartmentalized and sectioned off.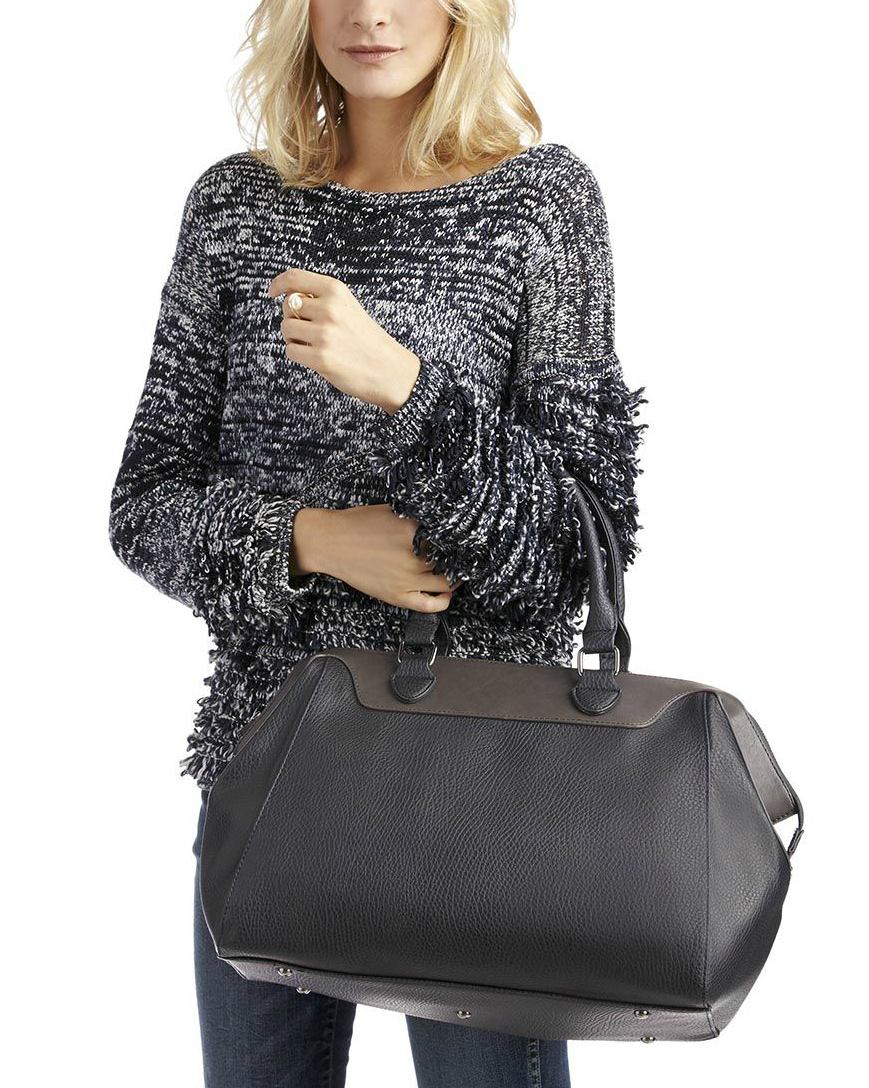 The more flexible the shape, the easier it is to bring whatever your travels require including random items you throw in last-minute such as food or a bottle of water you buy at the airport.
You might also want to stick with fabrics that are easy to clean – whether it gets dirty from the floor or from your feet resting on it on the flight.
Closures and Pockets – Something with a zipper is key! You don't want the bag to accidentally open while it's under the seat in front of you – nothing can ruin a trip like a lost passport or keys. Plus, it's not the easiest thing to stick your head under an airplane seat and search for items – it's pretty cramped and the person sitting next to you may not appreciate you in their space.
Pockets are also useful because they're like built-in packing cubes because of the way they corral your items into designated spots. The more pockets you have (inside and outside the bag), the more organized you can keep your stuff while you're on the go!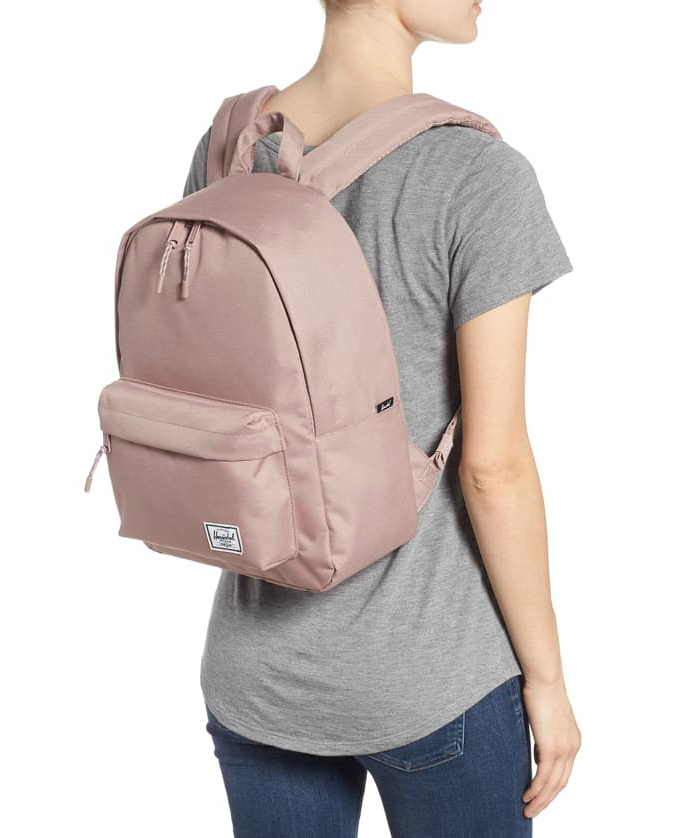 A gym bag or a diaper tote can also make a great carry-on personal item – they have multiple pockets and are large enough to house a variety of things. If you don't have either one in your closet and want to go a bit fancier, choose a bag that's more stylish and cute, yet still practical! 
Here's a great round-up of bags, from totes to backpacks, or duffles, these can serve as your carry-on personal item which hits all the points we've mentioned above:
Best Tote for a Personal Carry-On Item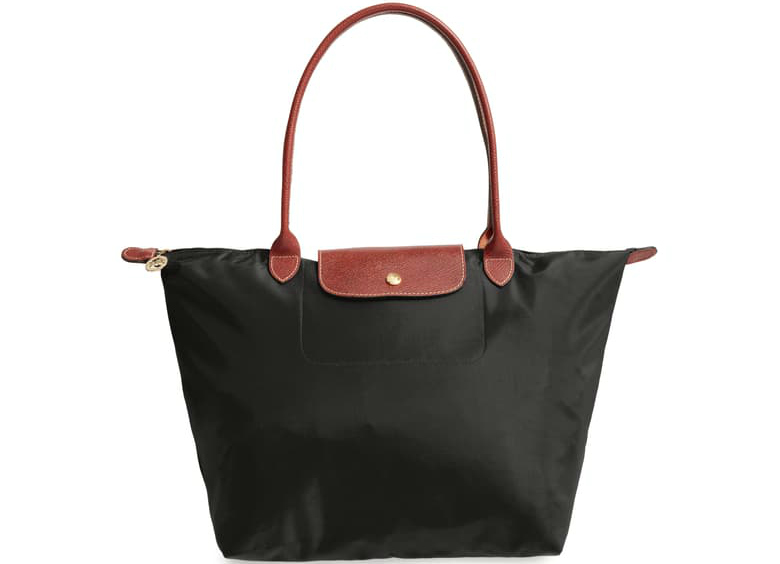 Shop: Amazon | Nordstrom | Bloomingdale's
Longchamp Le Pliage Large Shoulder Tote Bag

 
Classic in style, Longchamp is a brand known for quality and design. The Le Pliage tote is made from water-resistant nylon with embossed leather trim.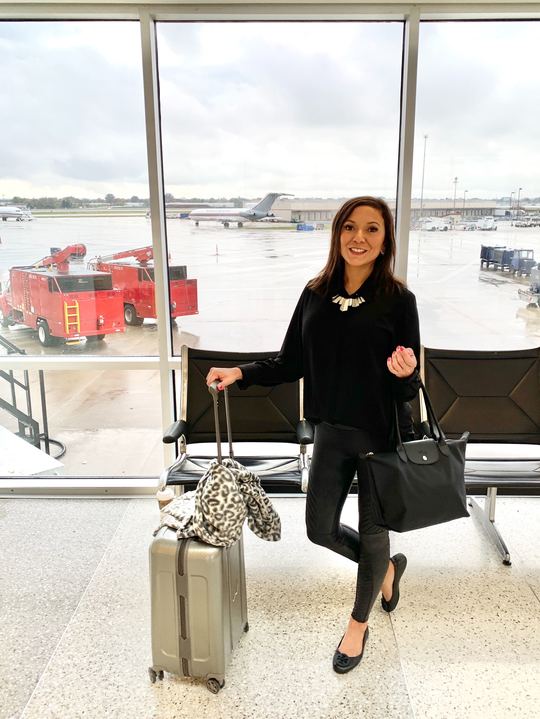 Editor-in-chief Alex with her Le Pliage tote
This best-seller is versatile enough for everything, including your carry-on item. It comes in a range of chic shades and has enough storage to store your in-flight things. It's definitely TFG editor-in-chief approved!
For more pretty choices, see our post on the best travel tote to bring your essentials on board!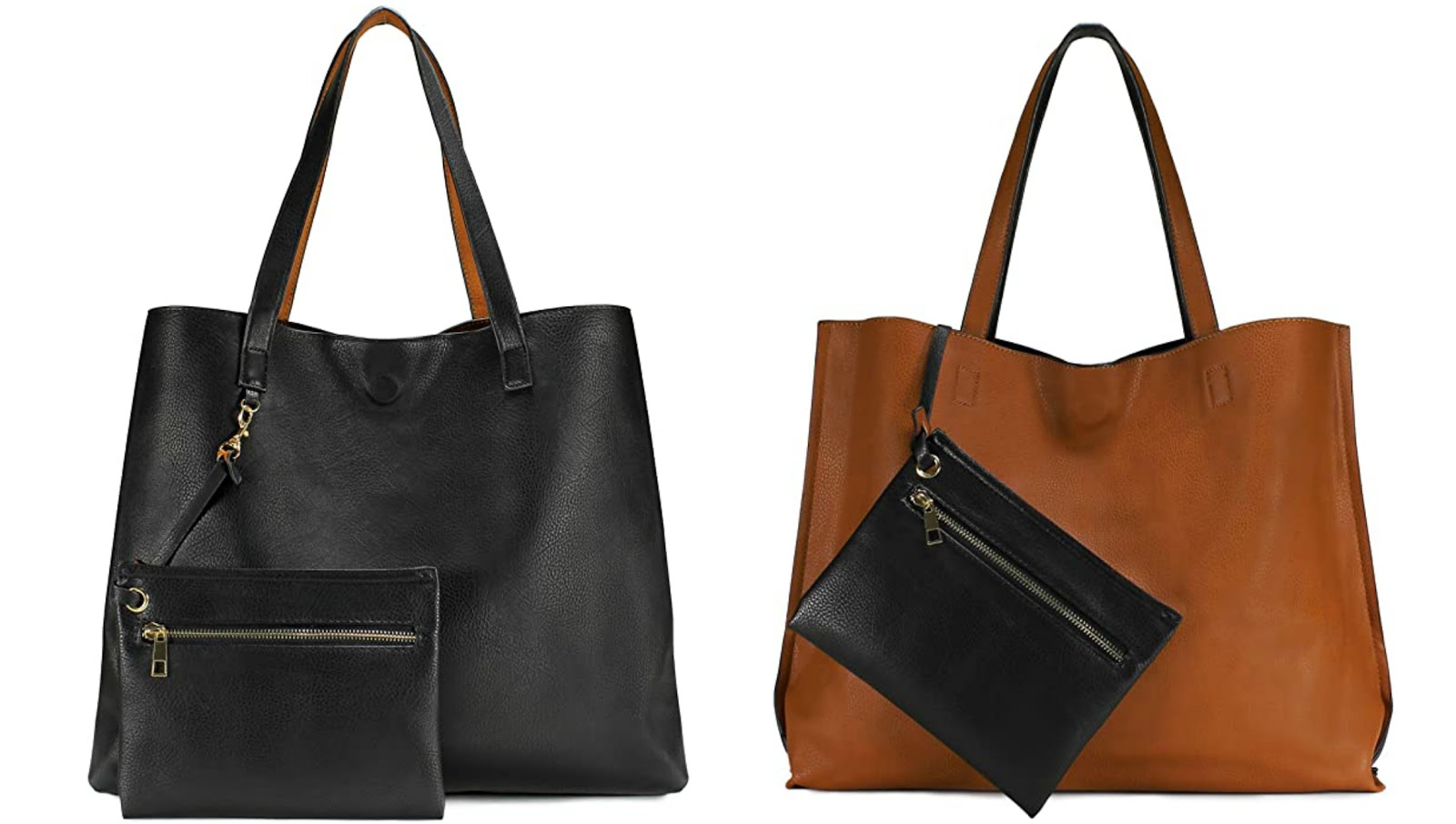 Scarleton Stylish Reversible Tote Handbag
This adorable, fashionable tote from Scarleton is reversible (in two colors), allowing you to adopt different looks or moods depending on what you have planned on a travel day. It's also roomy enough to fit your travel essentials.
Made of vegan leather, it comes with a cute coin bag and has lovely gold hardware detailing that makes it chic, yet classic. Choose from nine different shades to fit your personal style!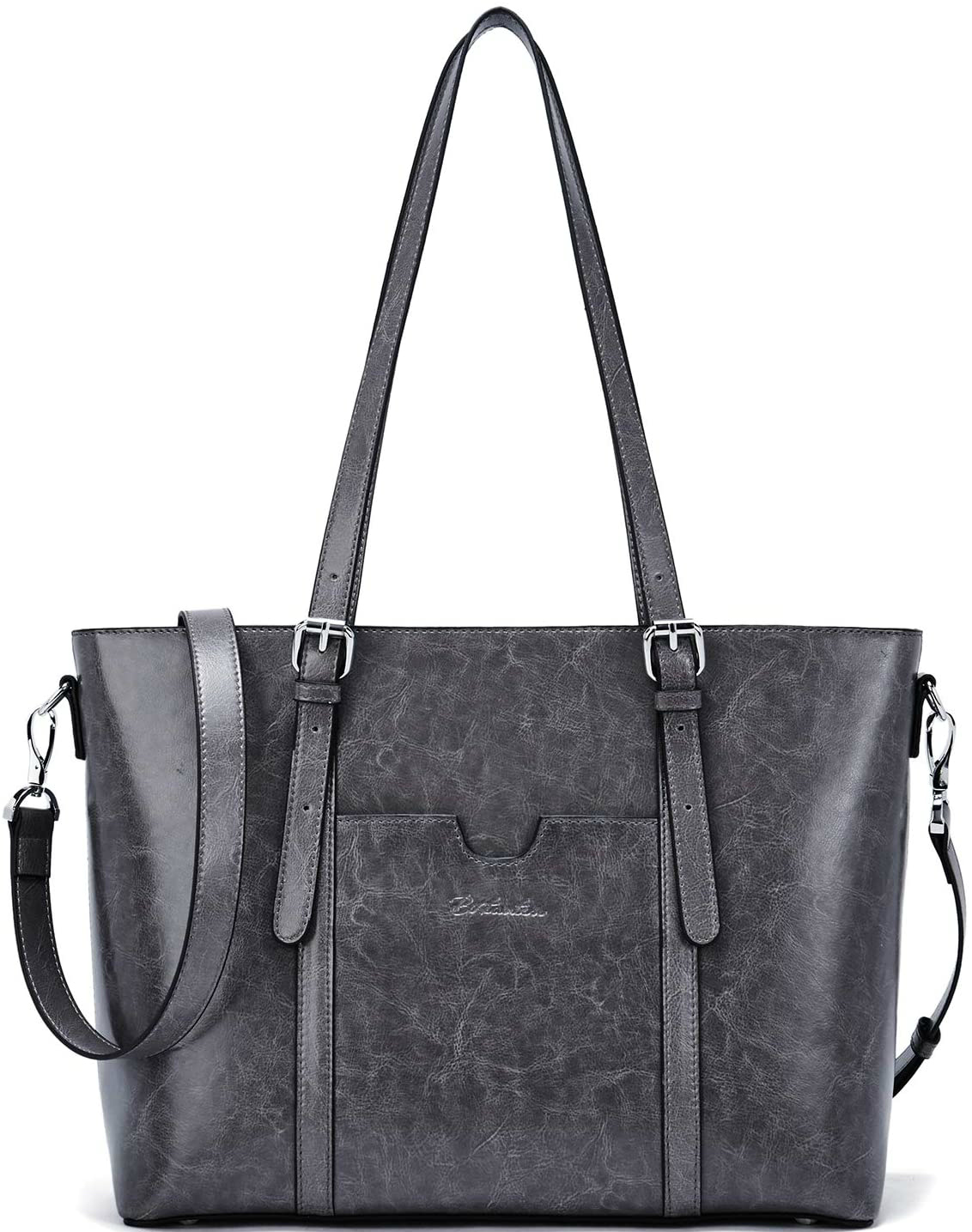 BOSTANTEN Large Leather Travel Totes
While nylon is very practical for travel, leather offers a chic addition to any outfit. Business travelers might like this style by BOSTANTEN. It fits up to a 15" laptop and has a zippered enclosure. Plus, it's available in various colors.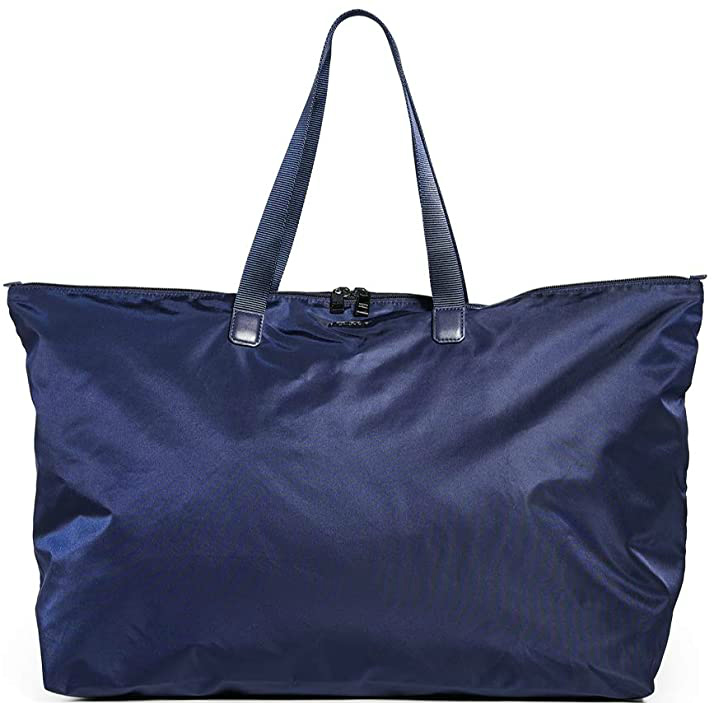 Tumi Voyageur Just In Case Bag
The Tumi Voyageur strikes the right balance between a carry on tote and purse very well. Designed with travelers in mind, this lightweight design folds down small but opens wide enough to hold a laptop, a purse, a jacket, and a bottle of water.
Best Crossbody Bag for a Personal Carry-On Item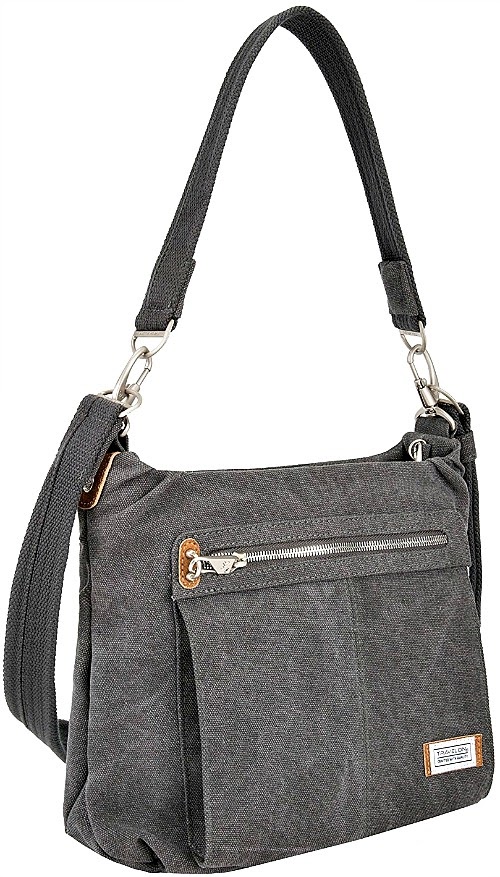 Travelon Heritage Hobo Bag 
TFG readers love the convenient size and storage of this Heritage hobo bag that can be converted to crossbody is large enough to store a tablet in without looking bulky. This piece is ultra-spacious and comes with a zippered RFID blocking pocket and two open-top wall pockets to provide additional organization.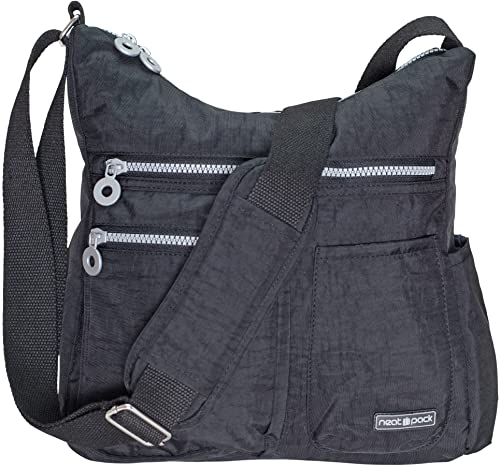 Neatpack Crossbody Bag With RFID Pocket
This affordable and versatile piece from Neatpack is a terrific option for your travels. Not only will this piece give you storage to keep your essentials neat and organized, but with its thoughtfully designed exterior and interior pockets, you also have got style and security with RFID!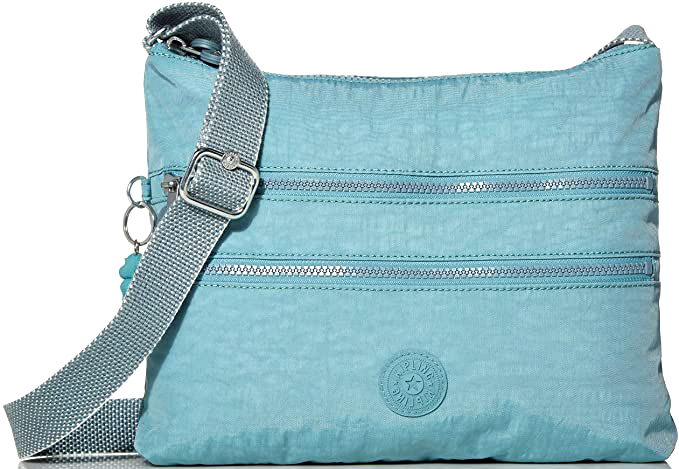 Shop: Amazon | Zappos | Kipling
Kipling Alvar Crossbody Bag
The compact Alvar Crossbody bag from Kipling can fit conveniently into larger travel bags, providing travelers with a bit more storage and organization along their journey.
Our readers love how this bag is small enough that it's not bulky to carry around but big enough to comfortably pack your essentials.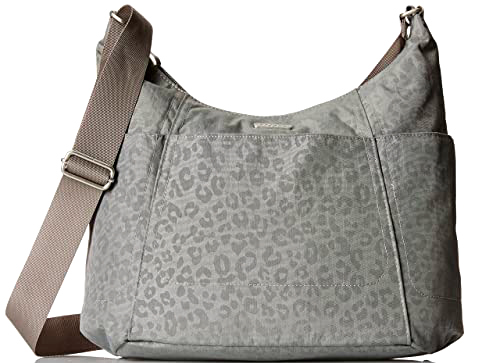 Shop: Amazon | Overstock | The Paper Store
Baggallini Hobo Charcoal Tote
Baggallini is a huge favorite among Travel Fashion Girl readers with the Hobo tote being a popular selection from the brand. It's stylish and uber practical!
This one has a wide assortment of pockets and sleeves and it can hold a lot while still remaining lightweight. A functional option for on or off the plane!
Suss out more picks with this list of best crossbody purses for travel!
Best Backpack for a Personal Carry-On Item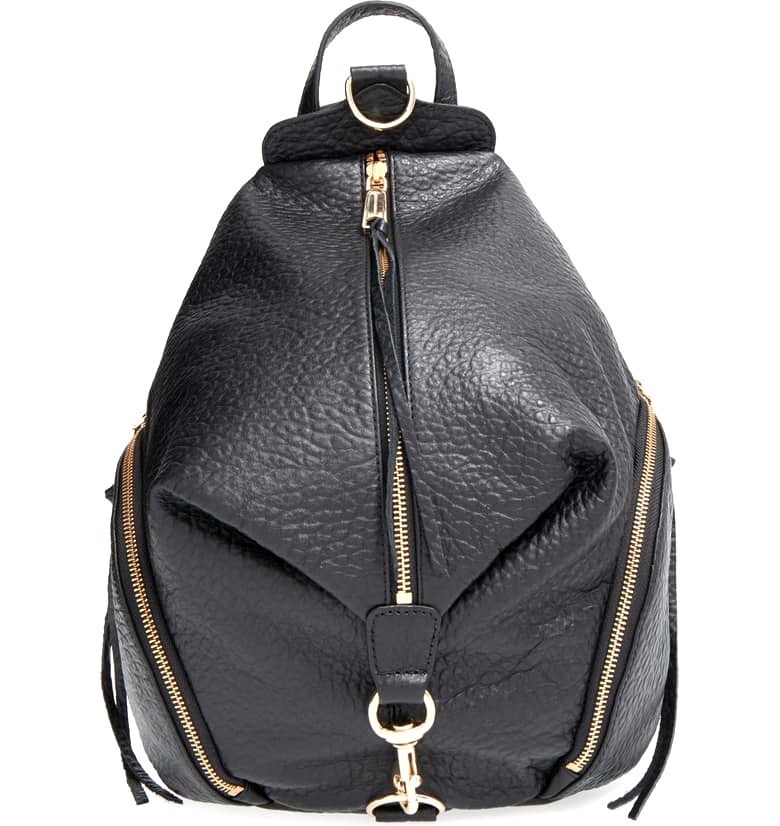 Shop: Amazon | Nordstrom | Bloomingdale's
Editor's Pick: Rebecca Minkoff Julian Backpack
The Rebecca Minkoff Julian Backpack is ideal for many needs. It's stylish, versatile, and perfect for carrying all your essentials. Although this backpack-style purse wasn't necessarily designed for travel, it has various features that make it the ideal traveling purse for women looking for an alternative to the popular cross-body bag.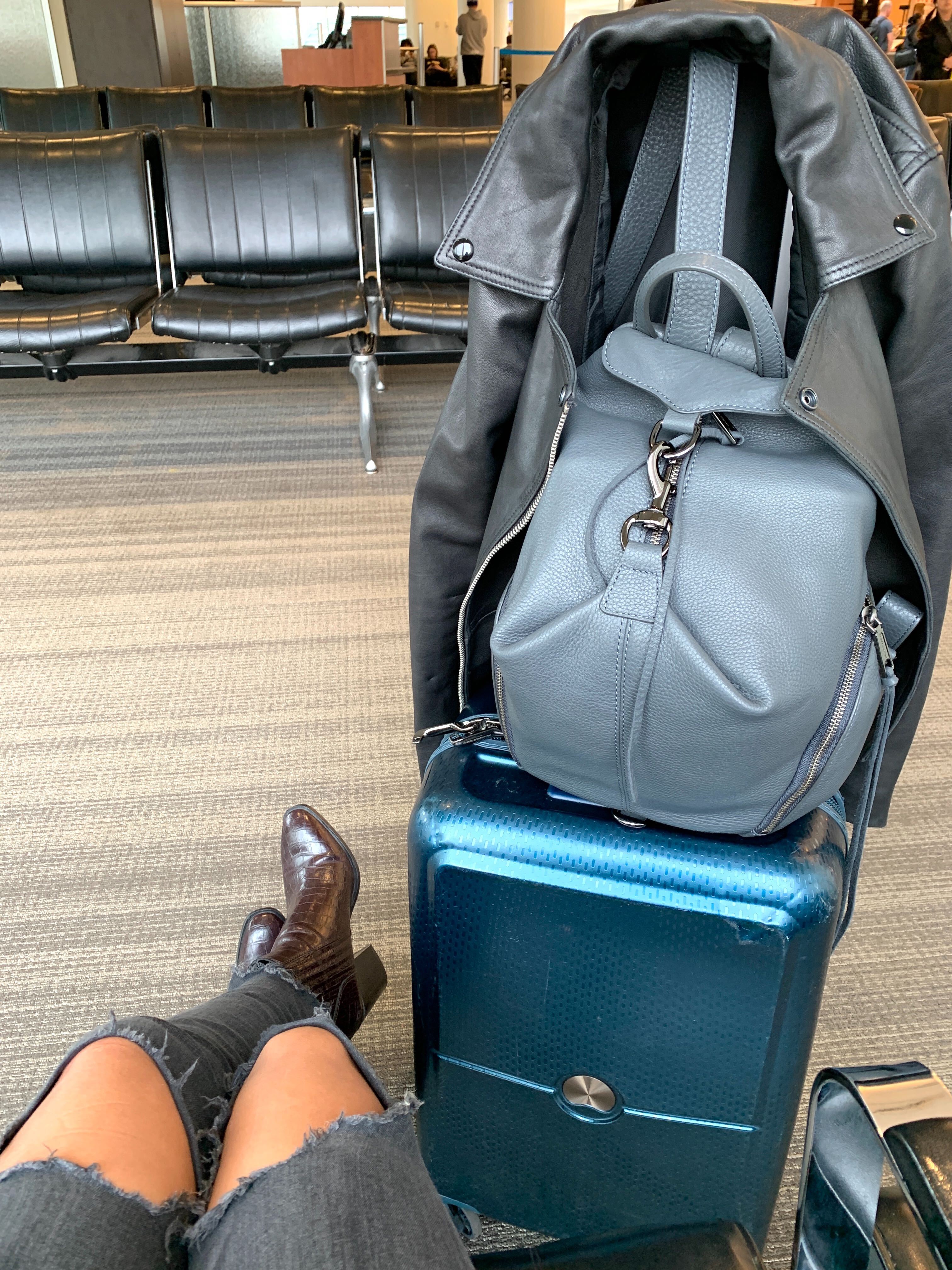 TFG editor-in-chief Alex with her Rebecca Minkoff bag
TFG editor-in-chief Alex has had hers since 2015 (and bought other colors since then) and it works for all her needs; she uses it for everything. She even used it to travel for one-week luggage-free! (Don't forget to read our full review on the Rebecca Minkoff backpack!)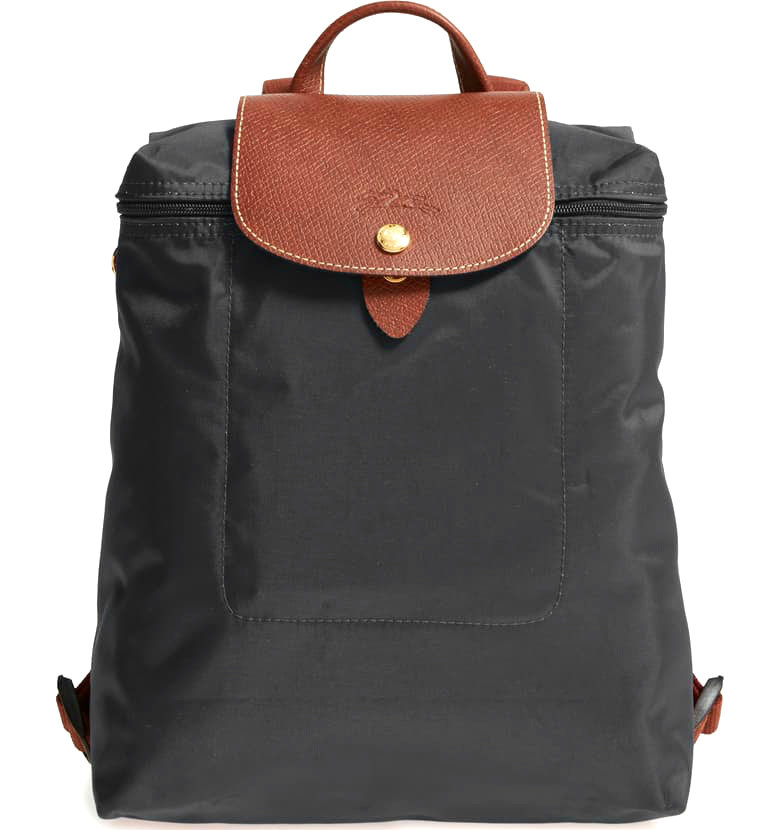 Shop: Nordstrom | Bloomingdale's | SELFRIDGES&Co
Longchamp 'Le Pliage' Backpack
The Longchamp Backpack is a super popular bag for toting around on a flight or for sightseeing. It's water-resistant, packable, and lightweight, at less than a pound! Though not a ton of pockets in this one, it does have a lot of space to hold various things. It does have a small pocket that can fit a phone and sunglasses. 
Check out a comparison of the Le Pliage backpack and the Rebecca Minkoff in this review!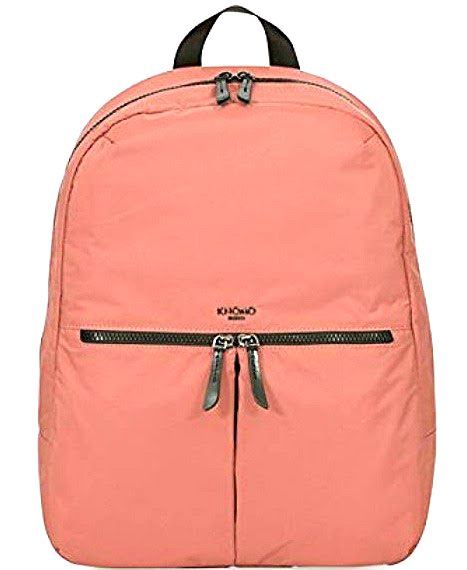 Shop: Amazon
Knomo London Dalston Backpack
This simple Knomo backpack can easily be used for business or casual travel. It features a generous amount of space and can fit a 15" laptop. It's made out of an ultra-lightweight, water-resistant fabric and would work super well as your personal carryon item!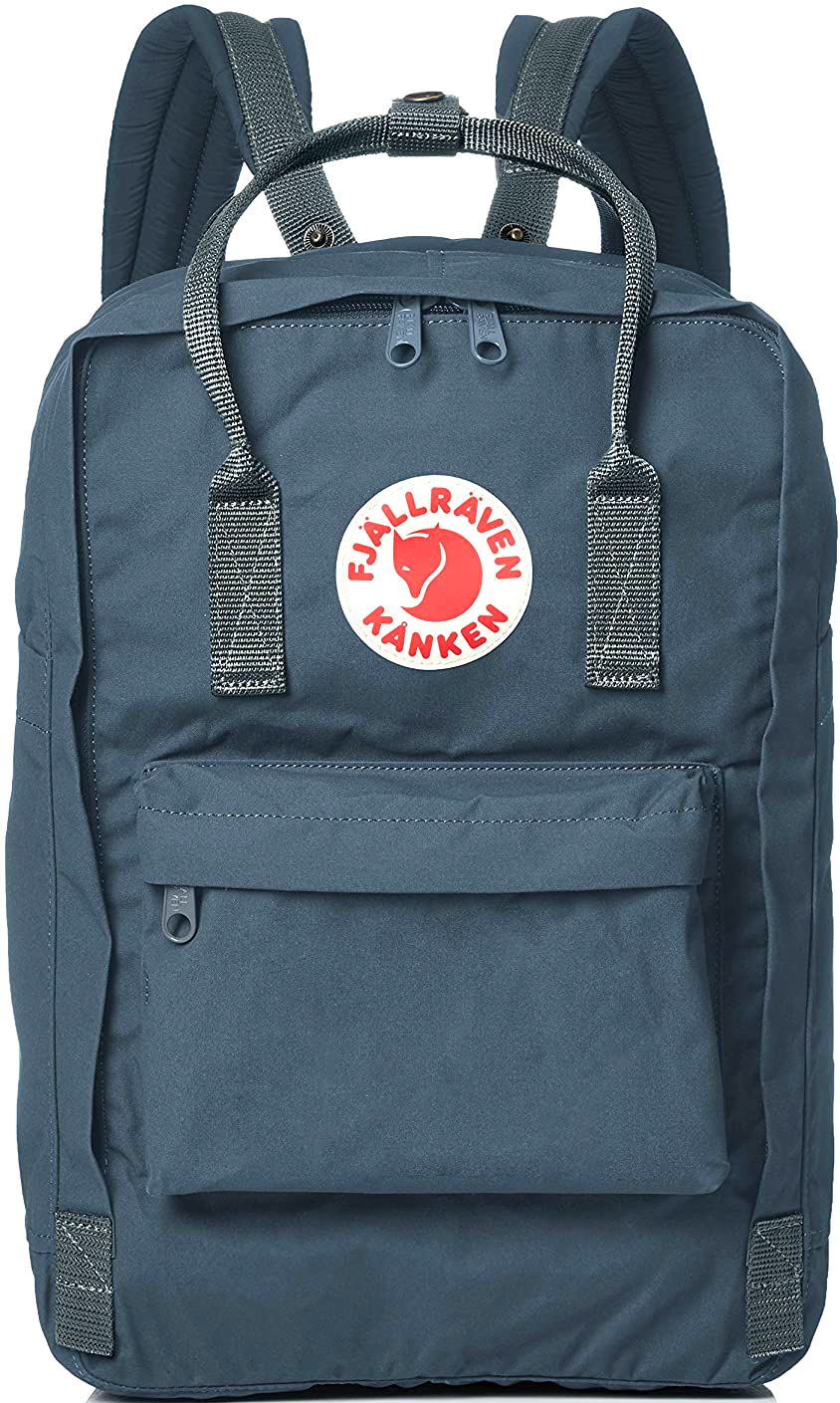 Shop: Amazon | Zappos | Walmart
Fjallraven Kanken Backpack
TFG readers love the Fjallraven Kanken backpack for travel. Beyond the classic mini and regular sized versions, the brand also makes a backpack with a separate padded compartment that can fit a 15" laptop in case you want to use yours in-flight. Bonus: the whole bag weighs about a pound!
Get more daypack inspiration with these top picks!
Best Duffle Bag for a Personal Carry-On Item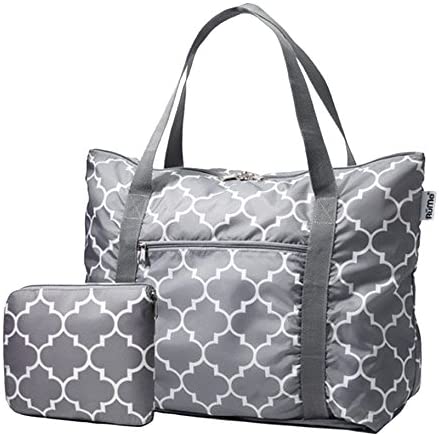 RuMe cFold Downing Duffle
If you prefer a duffle for your personal item, then perhaps the RuMe cFold Downing is the answer to your prayers. It can hold a lot inside it, but can also be zipped into its own little folding pouch making it easy to take along just in case it's needed.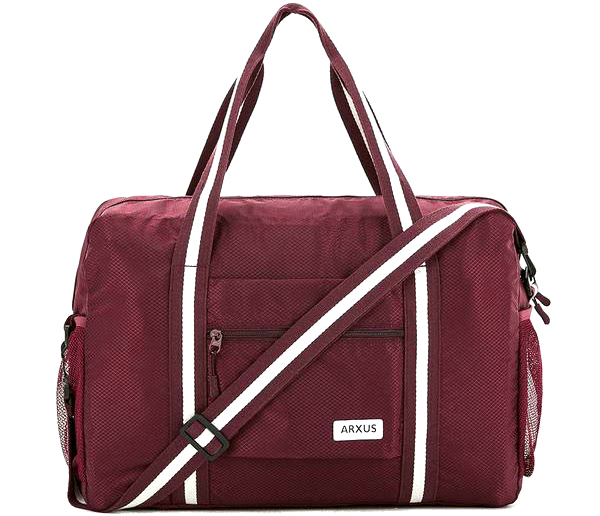 Arxus Fodable Duffle Bag 
The Arxus is a great bag to carry on to the plane. It's lightweight, with multiple pockets, and is made of waterproof and tear-resistant fabric. It can fold up after use. Also, it weighs less than a pound!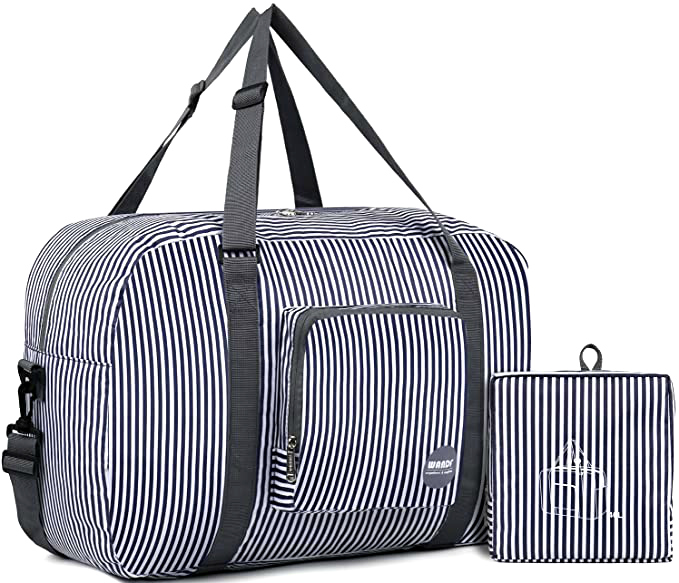 Wandf Foldable Travel Duffle Bag
The Wandf duffle bag is a lightweight duffle bag packable that can act as your personal item. It weighs ways just over 1 lb and is wearproof, waterproof, and tear-resistant. Users say the quality is nice and it comes with its own carrying case!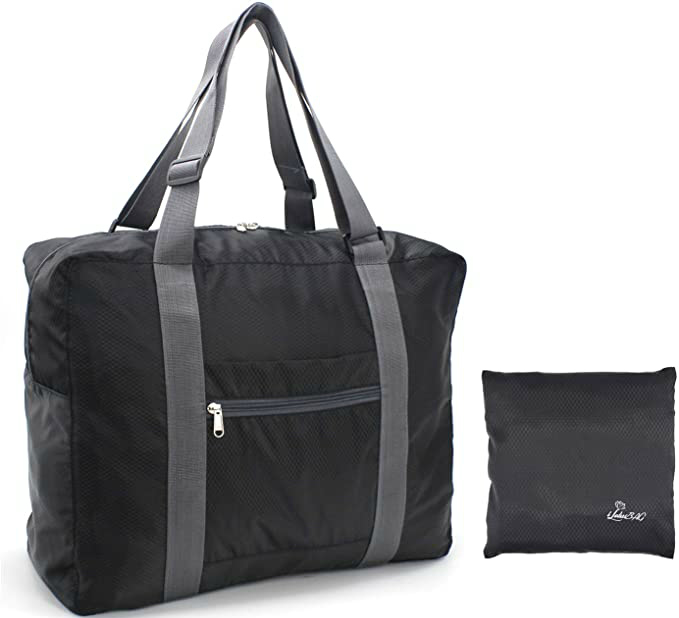 iLotusBAG Travel Duffle Bag
The iLotusBAG duffle is durable and ultra-lightweight at only 0.47 lbs. It's easy to carry around the airport with a luggage sleeve or its two top handles. It meets most airline requirements and is waterproof, wearproof, and tear-resistant. To clean it off, just slip it into the washing machine. 
Check out more selections of the best duffle bag for travel!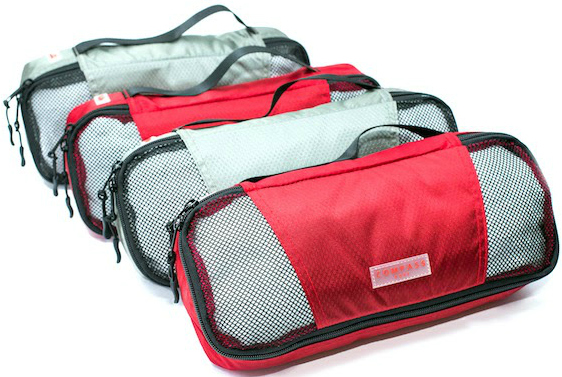 How to Pack Your Carry-On Personal Item
Once you decide on your personal item, it's time to pack it! One way to organize is by using packing cubes. We designed our own brand of slim packing cubes, with a unique color and numbering system, so it's easy to remember where you've packed everything which is illustrated in this video below.
Learn our hacks with packing cubes in the video above!
We also put together a five-part YouTube series showing the different methods to use packing cubes for travel. If you use this specific packing strategy, packing cubes can also compress your belongings. This is the secret to traveling carry-on only!
Now, here are some tested ways (I've done them all) on how to pack your carry-on personal item:
Bottom

–  Place heavier items that you won't be using right away, such as snacks and entertainment, near the bottom. I rarely use my jewelry or my chargers when I'm on the go so I usually put those items at the bottom.
Top –

You'll want to pack any items you need to show security (e.g.

the 3-1-1 bag of liquids

and identification) at the top of the bag so you can easily take it out and put it back in. 

You can rearrange it after you've gotten through security so that your in-flight necessities are easy to reach.
Pockets –

Pockets are great for keys and other important documents.  The act of zipping up is a good way to ensure that any important items are secured into your bag.
When it comes to carry-on luggage, the main piece gets all the attention. The hand luggage is the quiet sidekick but its potential is so much greater than most people give it.  Hope these tips help you make the most of your luggage workhorse: your carry-on "personal item"!
Editor-in-Chief Alex and Her Favorite Carry-on Personal Items
---
On your next trip, don't forget these tips so that you can maximize that extra piece of luggage that the airlines let you carry on!
What kind of bag do you use for your carry-on personal item? Please comment below!
---
For more packing tips, please read:
---
LIKE THIS POST? PIN THIS PIC TO SAVE IT!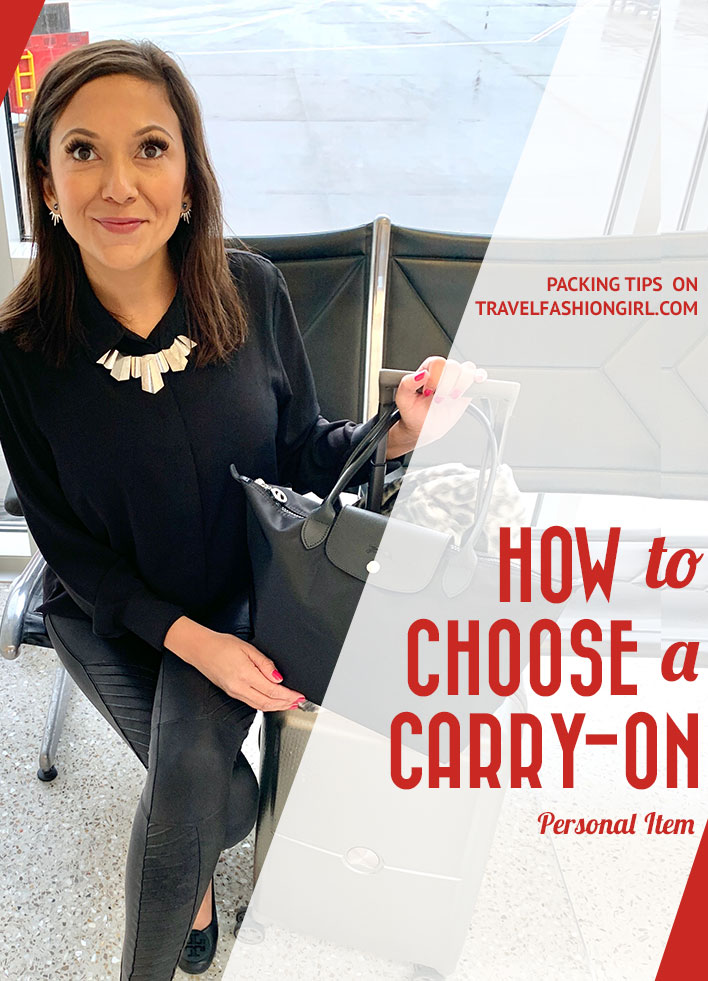 ---
We hope you liked this post on how to choose a carry-on personal item. Please share with your friends on Facebook, Twitter, and Pinterest. Thanks for reading!
---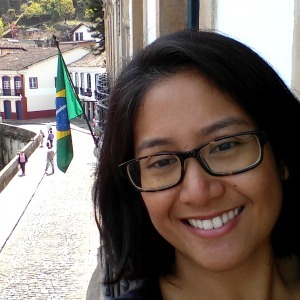 Author Bio: Josie Reim has been traveling the world with a carry-on luggage since 1995 and has visited 18 countries. She loves immersing herself in the local culture, including learning the language and seeking out local wildlife. Packing is a way of life for Josie as she and her husband move their home around the United States often.
---