Support TFG by using the links in our articles to shop. We receive a small commission (at no extra cost to you) so we can continue to create helpful free content. Thank you, we appreciate it!
Ever looked at airline baggage rules and wondered: what exactly is a carry-on "personal item"? Find out what it is, how to choose one, and a few of our top picks!
---
How to Choose a Carry-on Personal Item
Written by: Josie Reim
---
What is a carry-on "personal item"?
Most airlines allow you to take two pieces of luggage on board with you that you don't have to check in. This is the general guideline on major flights:
one carry-on bag, max size of 14 x 22 x 9, such as a suitcase, duffle, backpack, etc
one personal item, smaller than a carryon such as a shoulder bag, backpack, laptop bag or other small item
Some airlines only allow one carry-on bag and no personal item especially on budget or domestic flights. TFG has an airline baggage allowance cheat sheet but sizes are constantly changing. Always check your airline's website for their rules before traveling.
Things to consider when choosing a personal item:
Your carry-on personal item is small but can accomplish many things! While your main carryon luggage should be able to fit in the overhead bin, your smaller personal item should be able to fit underneath the seat in front of you. Use a packing cube in your personal item to keep your belongings and in flight essentials organized for your journey!
The type of bag you choose to use depends on the length of your trip and your planned activities. Take the time to pick out the right piece for your unique needs. Consider the following:
save: Lipault City Tote Bag $89 | splurge: Tumi Voyageur M-Tote $235
Size
Don't waste your carry-on personal item on a small clutch – but that doesn't necessarily mean to leave the clutch at home. Pack it away in a bigger piece!
If you have a larger bag, you'll have the room to consolidate smaller, important items, like a small purse, cosmetics, or electronics. A large bag with some wiggle room is great for placing any last minute items you need to bring but forget to pack. Use organizers like these in different shapes and sizes to keep everything in place!
Always check with your airline about the maximum dimensions you're allowed to bring for a personal item. This can vary as well as the staff that enforce certain rules. At the very least, make sure it's not too bulky and would comfortably fit underneath an airplane seat.
Tip: Want to pack light, creating the perfect capsule travel wardrobe is the key to simplified packing. 
save: Sole Society Duffel Bag $64.95 | splurge: Ted Baker London Duffel Bag $285
Shape
Find a carry-on personal item with an open design that allows you to put multiple items inside. Something with a bucket-like feel that can grow or minimize with your packing needs gives you more options than a bag that's completely compartmentalized and sectioned off.
The more flexible the shape, the easier it is to bring whatever your travels require including random items you throw in last minute such as food or a bottle of water you buy at the airport.
You might also want to stick with fabrics that are easy to clean – whether it gets dirt from the floor or from your feet resting on it on the flight.
save: Ecosusi Shoulder Bag $33.99 | splurge: Lo & Sons O.M.G. Bag $221.25
Closures and Pockets
Something with a zipper is key! You don't want the bag to accidentally open while its under the seat in front of you – nothing can ruin a trip like a lost passport or keys. Plus, it's not the easiest thing to stick your head under an airplane seat and search for items – it's pretty cramped and the person sitting next to you may not appreciate you in their space.
Pockets are also useful because they're like built-in packing cubes because of the way they corral your items into designated spots. The more pockets you have (inside and outside the bag), the more organized you can keep your stuff while you're on the go!
save: Herschel Backpack $55 | splurge: Tumi Backpack $325
A gym bag or a diaper tote can also make a great carry-on personal item – they have multiple pockets and are large enough to house a variety of things. If you don't have either one in your closet, consider getting one of the featured items above.
How to pack your carry-on personal item:
Once you decide on your luggage, it's time to pack it!
BOTTOM: Place heavier items that you won't be using right away, such as snacks and entertainment, near the bottom. I rarely use my jewelry or my chargers when I'm on the go so I usually put those items at the bottom.
TOP: You'll want to pack any items you need to show security (e.g. the 3-1-1 bag of liquids and identification) at the top of the bag so you can easily take it out and put it back in.  You can rearrange it after you've gotten through security so that your in-flight necessities are easy to reach.
POCKETS: Pockets are great for keys and other important documents.  The act of zipping up is a good way to ensure that any important items are secured into your bag.
When it comes to carry-on luggage, the main piece gets all the attention. The hand luggage is the quiet sidekick but its potential is so much greater than most people give it.  Hope these tips help you make the most of your luggage workhorse: your carry-on "personal item"!
---
On your next trip, don't forget these tips so that you can maximize that extra piece of luggage that the airlines let you carry on!
What kind of bag do you use for your carry-on personal item? Please comment below!
---
For more packing tips, please read:
---
LIKED THIS POST? PIN THIS PIC TO SAVE IT!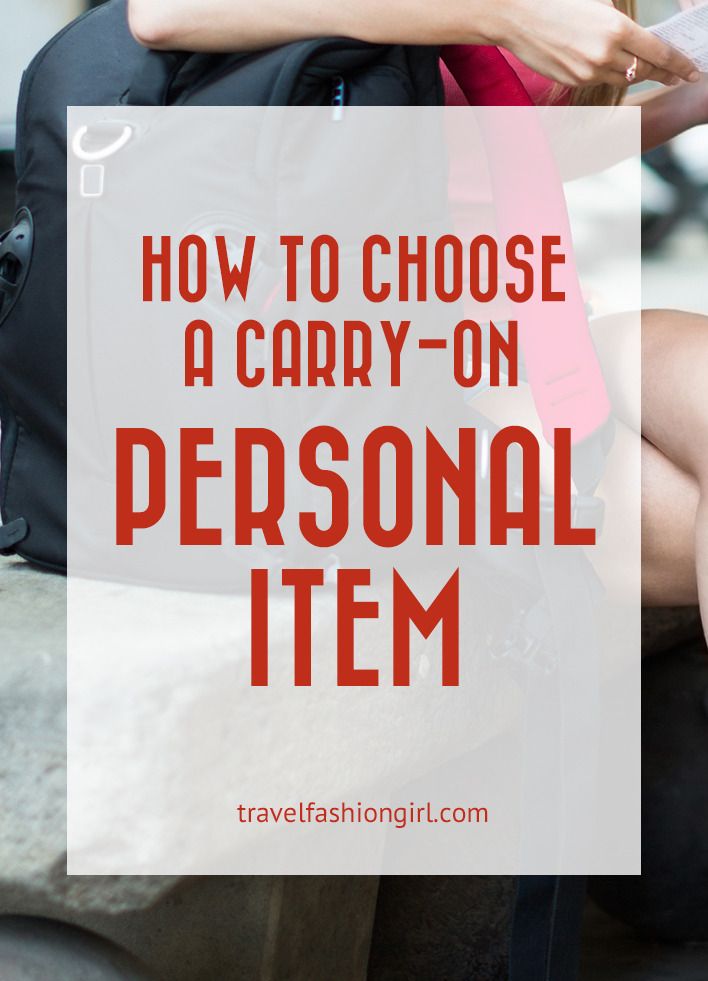 ---
Hope you liked this post on how to choose a carry-on personal item. Please share with your friends on Facebook, Twitter, and Pinterest. Thanks for reading!
---
Author Bio: Josie Reim has been traveling the world with a carry-on luggage since 1995 and has visited 18 countries. She loves immersing herself in the local culture, including learning the language and seeking out local wildlife. Packing is a way of life for Josie as she and her husband move their home around the United States often.
---