Support TFG by using the links in our articles to shop. We receive a small commission (at no extra cost to you) so we can continue to create helpful free content. As an Amazon Associate, we earn from qualifying purchases made on Amazon in addition to other retailers featured on the blog. Thank you, we appreciate your support!
One of the best ways to choose the right clothing for travel is to research your destination and gain valuable inspiration from how the locals dress.
---
Packing for Paris: The Ultimate Summer Style Guide
Written by Chantelle Mallin
---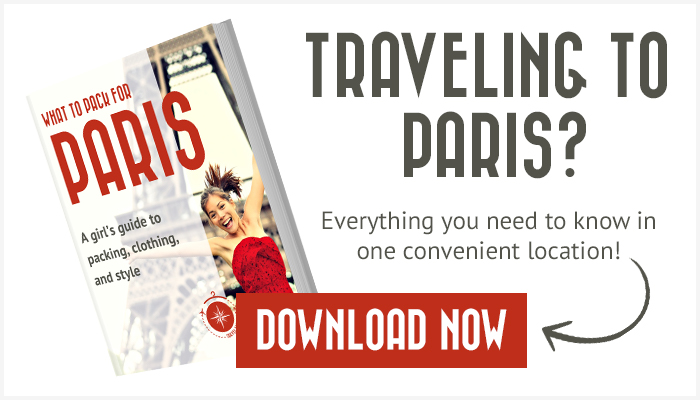 Paris's chicest fashion bloggers share their top tips on packing for paris in the summer. Find out how to dress with Parisian style!
For a full Paris Packing List, please read What to Wear in Paris!
Top | Skirt | Bag | Shoes | Hat
Style photograph courtesy of Anne-Laure. Check out her awesome blog Adenorah and Facebook Page
When packing for Paris, be prepared because summer can get HOT. However, the weather can be quite unpredictable, a particularly pleasantly morning stroll can be rudely interrupted by a downpour – be sure to pack a trusty fold away umbrella and lightweight raincoat, a sleek trench would be ideal!
Always check the weather forecast before your trip. Once you've researched the weather, you can focus on creating a summer travel capsule wardrobe, which should easily fit in a carryon suitcase with the help of packing cubes to compress your clothing.
It may seem cliché, but you won't go a miss wearing black, yes, even in summer, stick to a neutral color pallet for your trip to Paris, avoiding garish hues and out there prints.
A simple color pallet is great for travel as it means you can easily mix and match garment, eliminating the need to pack excessively and leaving more room for (stylish) souvenirs, bonus.
Watch this packing video tutorial to ensure you always have room in your bag for souvenirs!
Style photograph courtesy of Haleigh Walsworth. Check out her stylish blog Making Magique. 
It's well-known that this city is one of the major fashion capitals of the world, so when packing for Paris plan to dress to impress.
Parisian style is a state of mind, the locals elude femininity with a masculine edge, creating an oh so effortless look, they are the queens of tailored chic and their outfits scream quality not brass, Parisian fashionistas rock!
Summer is a great time to visit Paris, the city is buzzing with tourists exploring the picturesque views – it's the perfect season to enjoy a boat tour of the Seine or the Paris canals and waterways, make sure to indulge in dinner on the boat for a truly memorable experience.
Jacket | Shirt
 | Shorts
 | Heels
Style photograph courtesy of Haleigh Walsworth. Check out her amazing blog Making Magique.
When packing for Paris in summer fabulous basics are key, pack a classic white shirt, oversized tanks and t's, a pair of dark denim or black skinny jeans (go high waisted if you're after a truly chic look), a structured blazer, tailored shorts or skirts and a couple of monochrome dresses – there is no better way to feel French than when wearing stripes.
Remember to pack a leather jacket and navy sweater for your travels, the temperature tends to drop cooler at night so a cover up is great for when the evening temperatures turn chilly.
When debating whether or not to pack heels for Europe, our readers recommend these cute and comfortable wedges.
Jacket | Dress | Sneakers
 | Sunglasses
Style photograph courtesy of Typhaine Augusto. Check out her inspirational fashion blog Cuillere Á Absinthe and Facebook Page.
The way Parisians put their outfits together is admirable, try and mix labels with high street and vintage with contemporary to nail the eclectic look, try and stick to their rule of silhouette – wear wide full pants and skirts with fitted tops and pair tight trousers and pencil skirts with loose baggier tops.
As the key to Parisian style is all about fabric, fit and key basics, accessorize are essential, layer up your outfits with statement necklaces and chunky cuffs, ethnic and Aztec style jewelry is perfect for spring summer 14, top off your outfit with a chic hat and oversized wayfarer style sunglasses for the perfect look.
A scarf is the perfect accessory for travel to Paris; it's great for changing up outfits, being used in the traditional way or as a belt, headband or necklace, choose a lightweight sheer one for the summer.
Pack these stylish travel accessories for an instantly easy and chic look.
Cardigan | T-Shirt | Shorts | Sandals | Sunglasses
Style photograph courtesy of Anne-Laure. Check out her stylish blog Adenorah and Facebook Page.
The key to completing your Parisian look is a stylish bag, you're sure to stand out as a tourist exploring the city with a backpack or fanny pack, instead opt for an oversized tote bag or satchel, ensuring you can still fit all the tourist essentials in (camera/map etc.) whilst nailing the city's chic look.
Ballet flats are a great shoe option whilst exploring Paris in the summer, they are uber comfortable and will go will everything from pants to skirts – it's impossible to get through summer without a pair.
As well as the pumps opt for a pair of open toed sandals, leather brogues or loafers and a pair of classic black heels or wedges you feel comfortable walking in, stays away from stilettos unless you want to keep getting caught in the cobbles and subway grates.
 These are our ten top picks for cute and comfortable travel flats.
Blazer | Vest | Shorts | Flats | Headband
Style photograph courtesy of Typhaine Augusto. Check out her awesome blog Cuillere Á Absinthe and Facebook Page.
Parisians radiate confidence, so ensure you feel good in what you wear!
These are our travel essentials for Paris: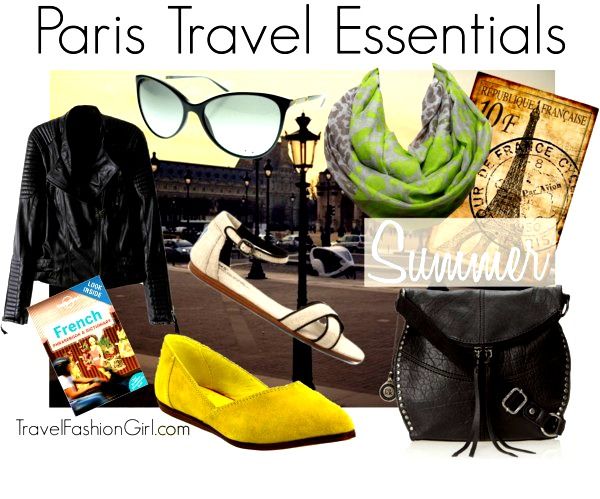 Jacket | Sunglasses | Scarf | Bag | Sandal | Slip-Ons | Phrasebook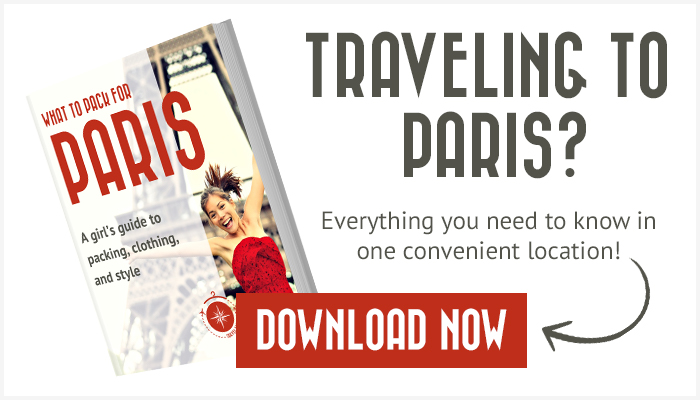 ---
What are your tips on what to wear in Paris in summer? Share in the comments!
---
For more ideas on packing for Paris, please read the following:
Suggested travel resources:
---
LIKED THIS POST? PIN THIS PIC TO SAVE IT!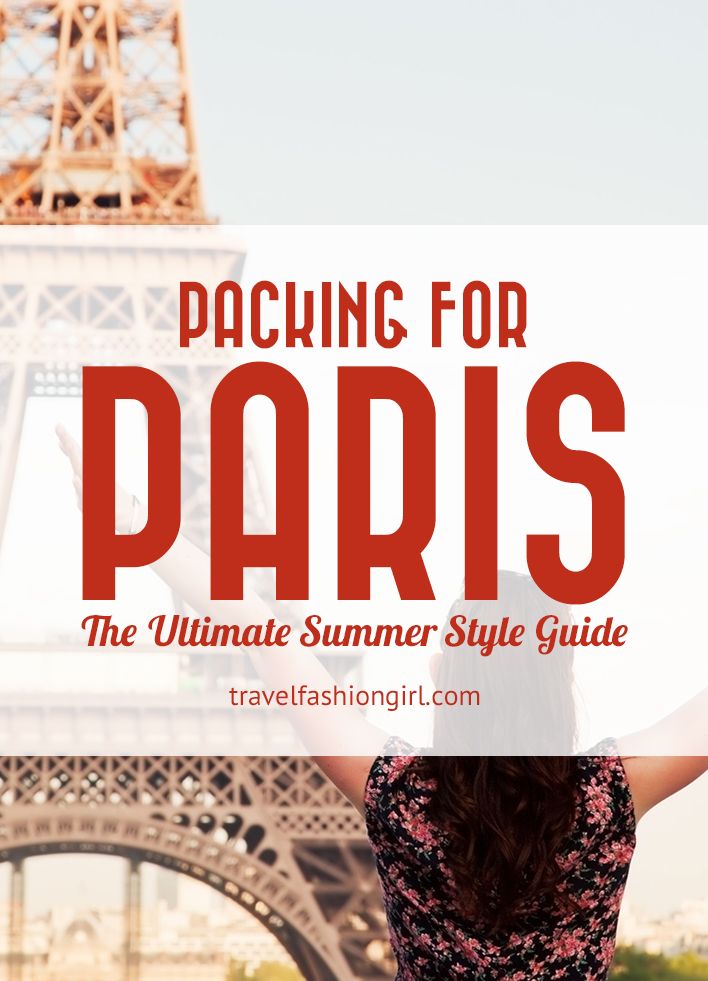 ---
If you found these tips on packing for Paris helpful, please share with your friends on Facebook, Twitter, and Pinterest. Thanks for reading!
---